One of our Boston Terriers is a huge swimmer. Howie loves to dive down to the bottom of the pool and fetch his frisbee! Check out these pictures and videos of our diving dog!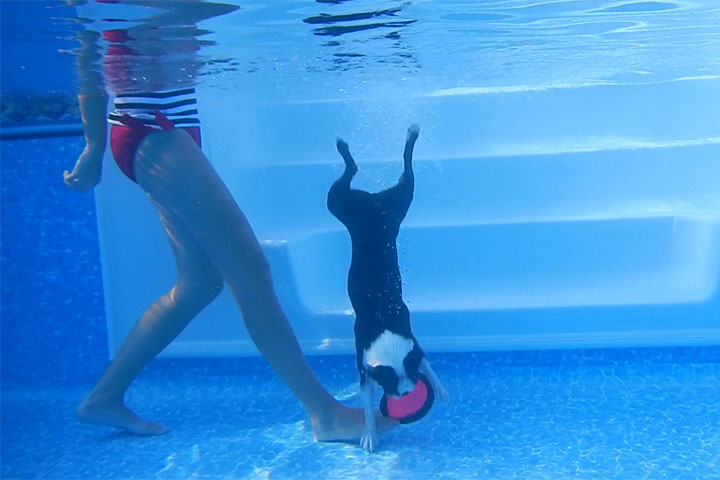 Dog Diving to The Bottom of The Pool
Miley and Howie are OBSESSED with swimming!! :) We cannot keep them out of the pool in the summer! They love jumping off the diving board, and sometimes they can even catch the frisbee in mid air.
Here's a video of them last summer jumping off the diving board.
And here's what Howie learned how to do over the weekend!
We noticed that when jumping off the diving board after his frisbee, he'd sometimes land on top of it, sinking it down a few inches. When it didn't see it floating on the surface, he'd dive down in the water searching for it and come back up with the frisbee in his mouth.
We'd seen lots of videos on YouTube of diving Boston Terriers (even one going 7 feet deep!), and wanted to see if Howie would do it too. We practiced on the steps, gradually lowering the frisbee an inch or two at a time. In no time at all he was going lower than we could hold it, even all the way down to the bottom of the pool.
Here's the video if you want to watch. There's even a slow-mo replay of Howie's wiggling little booty underwater!
We used this Nikon COOLPIX Waterproof Camera to make this video. (Not sponsored!) It takes great underwater photos and videos, and I can even send photos from the camera to my iPhone without the need for a WiFi connection using the free Nikon Wireless Mobile Utility iPhone app.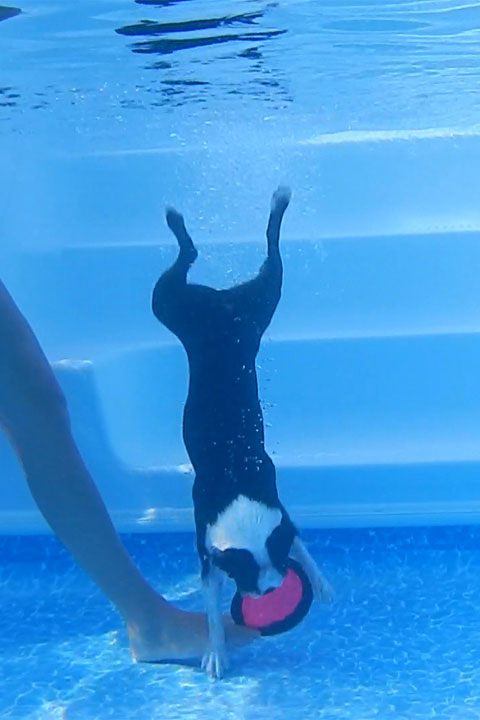 Thanks so much for looking! Happy summer!! :) xoxo