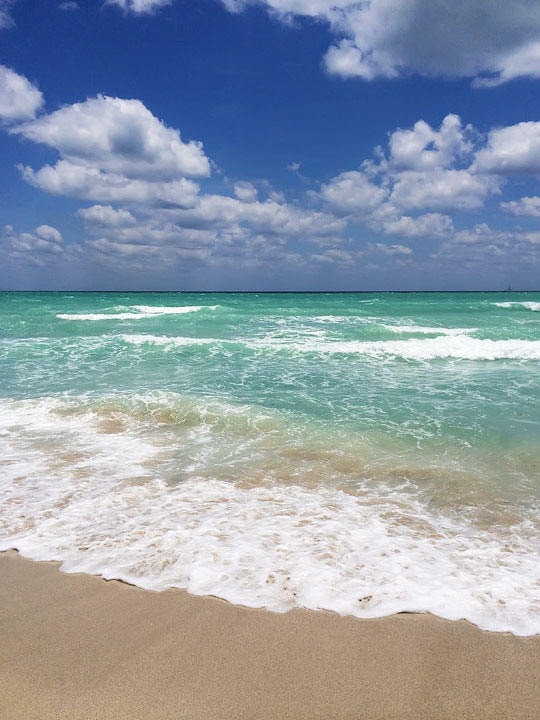 Happy Monday! So excited to finally be sharing a little recap of my weekend in Miami for the BlogHer Food Conference this year. This was my 5th year to attend the annual conference. It's always so much fun seeing all of my food blogging friends that I talk to and keep in touch with on social media every day. Of course when we get together, you know we always find some AMAZING places to eat!! So if you're planning a trip to Miami anytime soon, keep reading for some restaurants you don't want to miss. Even if you're not planning a trip to Miami, you may just want to after this!! ;)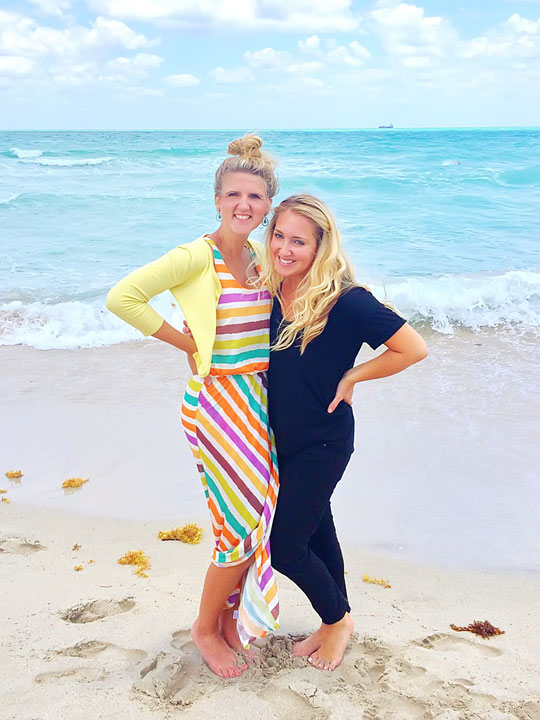 Was so great seeing my blogging BFF Jenny from Picky Palate again! We've been going to the BlogHer conferences together for the past 5 years. We've made it a tradition to pop in as many fun bakeries as possible any time we are together. Since it's in a difference city every year, we've gotten to check a lot of these places off these great Buzzfeed lists: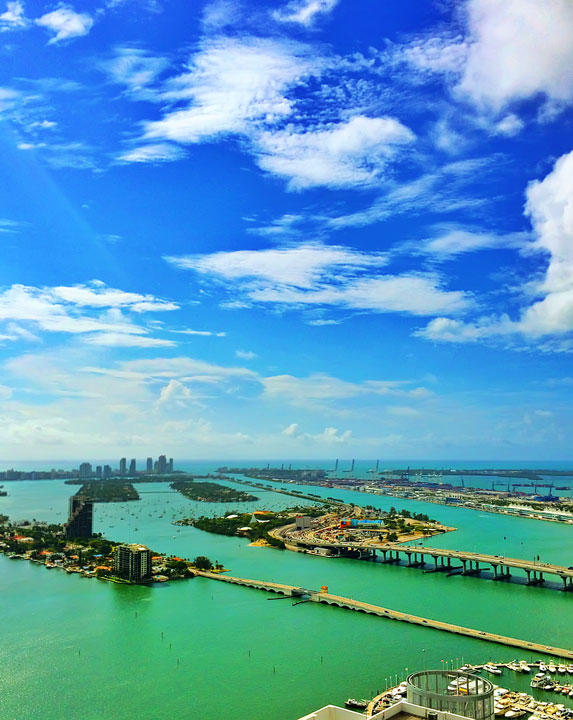 Normally we stay at the conference hotel, but this year we were hosting a couple fun parties with CliqueMe, so we used Airbnb to rent out a penthouse overlooking the bay.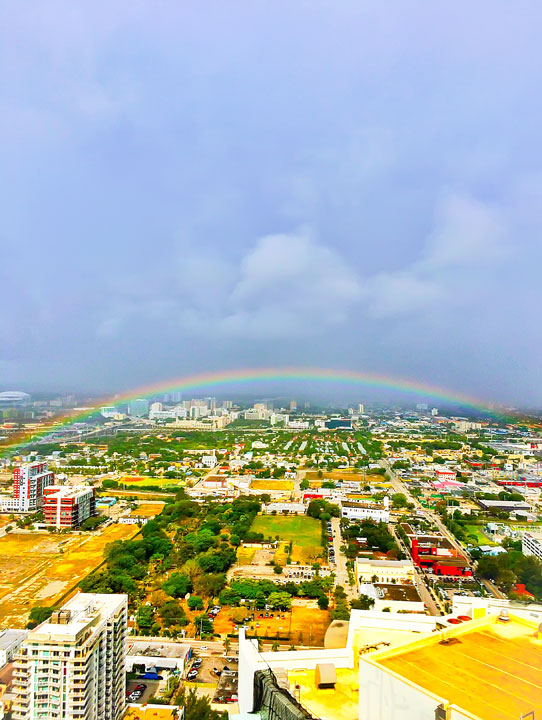 This was our incredible view every morning!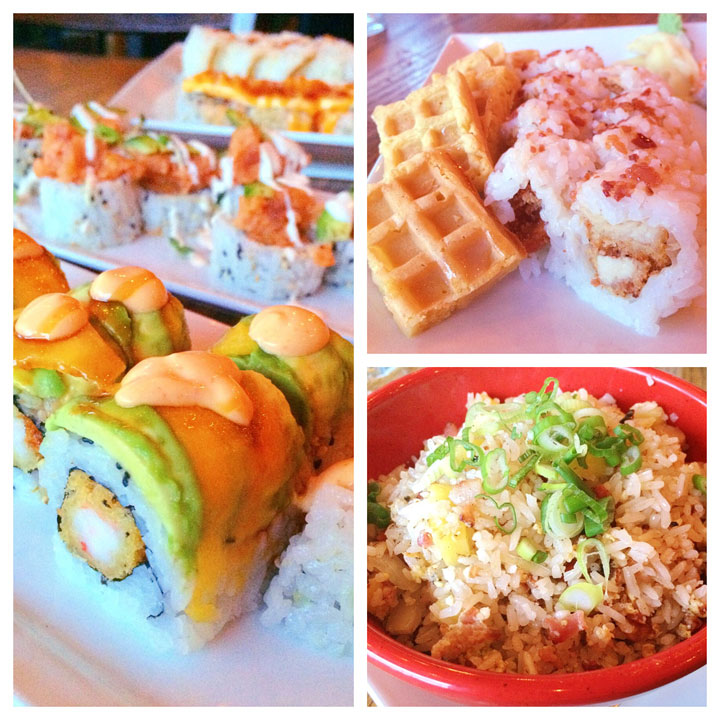 My first meal in Miami was at Sushi Maki in Coral Gables. They had some seriously fun sushi rolls with Miami flair! My favorite was probably the tempura shrimp with avocado and mango roll on the left. And check out that Chicken & Waffles roll up top??! :) Oh, and the Bacon Fried Rice with pineapple was AMAZING!!!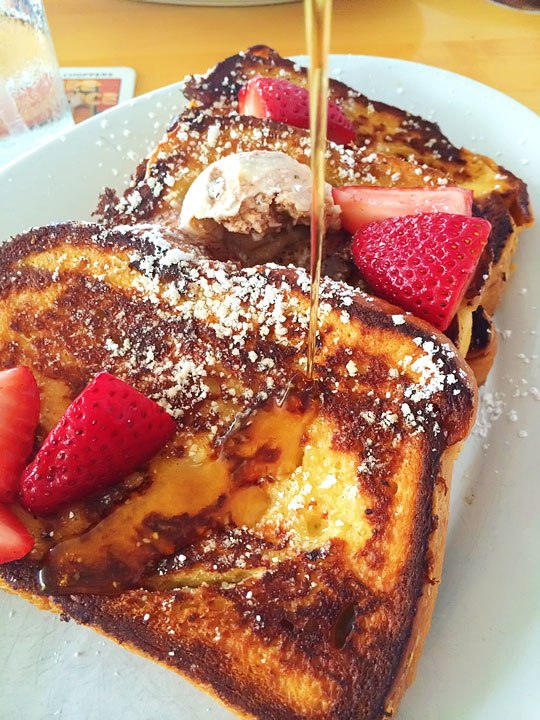 The next morning my seriously awesome friend Lauren from Lauren's Latest and I had brunch at The Morgans. Okay, if you only eat at one place in Miami, let it be here!! You HAVE to get this french toast!! :) This is some of the BEST French toast I have ever had. Ever since having the Mom's French Toast at The Griddle Cafe in Hollywood, I've been obsessed with French toast and I always try it everywhere we go to see if anything can even hold a candle to their version. It is seriously one of the best things I've ever had, and anytime we ever go anywhere near LA, a trip to The Griddle Cafe is a must!!
I am very, very pleased to report that this French toast from The Morgans in Miami is PHENOMENAL!! It's very close to The Griddle Cafe's version. Super thick, perfectly buttery and toasted on the outside, and super soft and dreamy on the inside. What makes The Morgans version special is the generous amount of cinnamon honey butter it's served with. Swoon!!! Put this on your must-try list for sure!! :)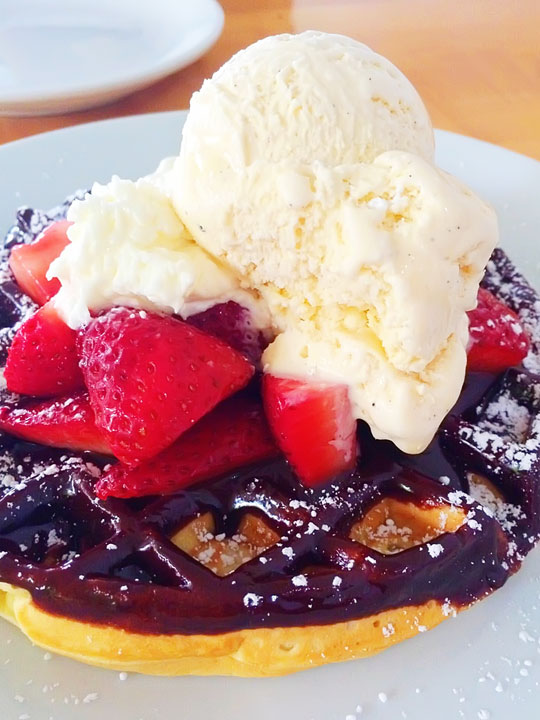 They also had a fun chocolate dipped waffle on the menu. :)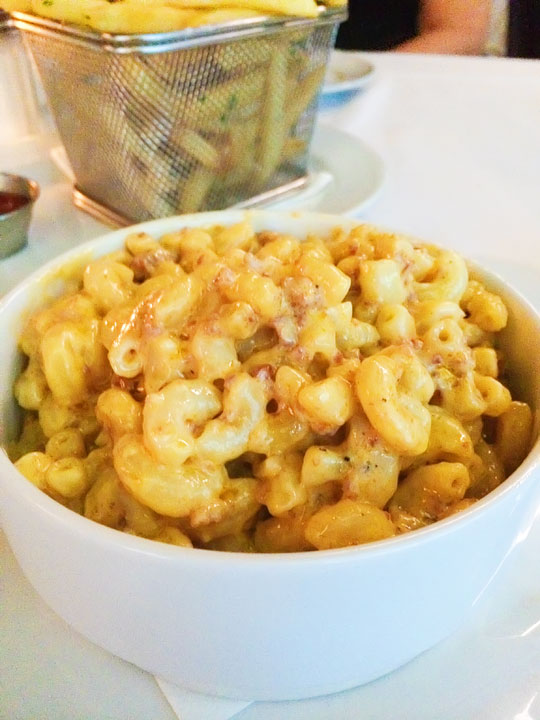 That night we had dinner at City Hall. How amazing does this Chorizo Maple Mac and Cheese look??!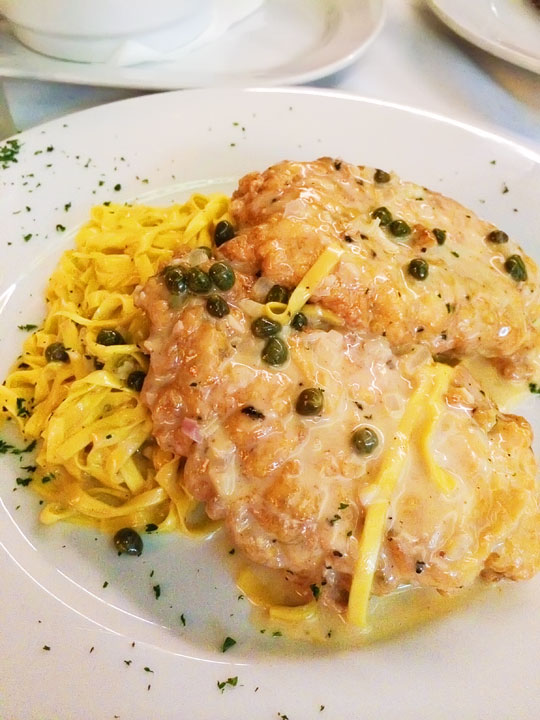 I had the Chicken "Limon" in a lemon-caper butter sauce over fresh linguine. Delicious!
But my favorite part of the meal was the complimentary Pecan Maple Butter that came out with the bread. Worth going again just for that!! I would love to recreate a cinnamon bun with that butter. It would be phenomenal!!!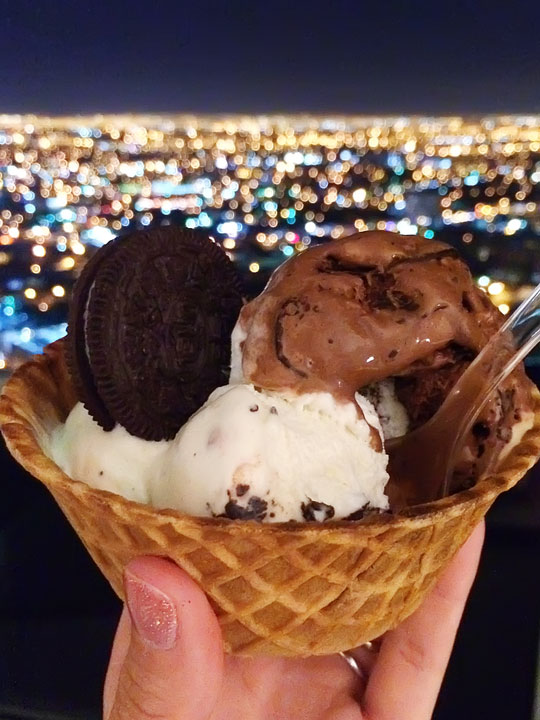 Later that evening we had our first party at the penthouse. It was a create-your-own Ice Cream Sundae party with a view of Miami. Was so fun seeing everyone who came out to the party!! :)
Okay, I wasn't kidding about that French toast. We loved it so much we went back the next day!! I would just like you to know I ate every single bite both days, lol!!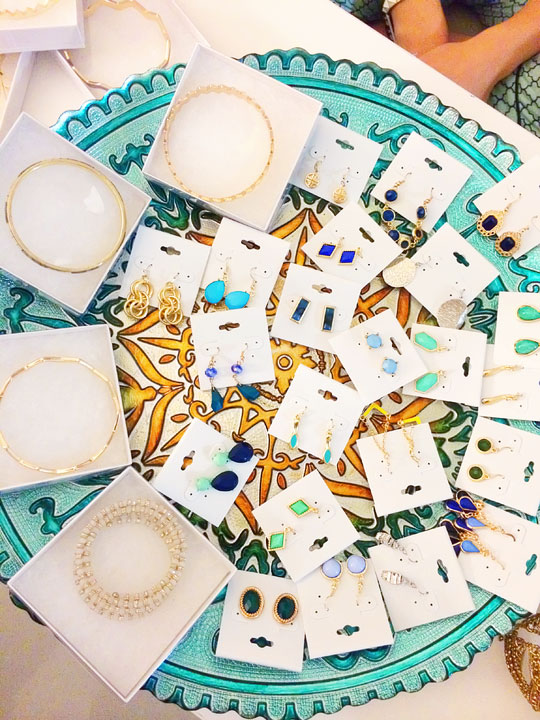 That night we went to Lauren's Stitch Fix party and got to take home some seriously fun jewelry!!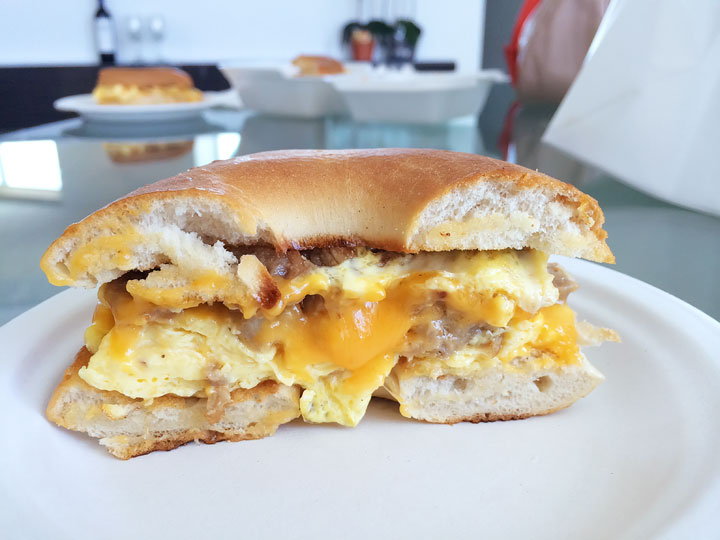 Oh my goodness. A breakfast bagel sammy is one of my favorite things in the world. We got this from La Bottega On The Bay for breakfast the next morning.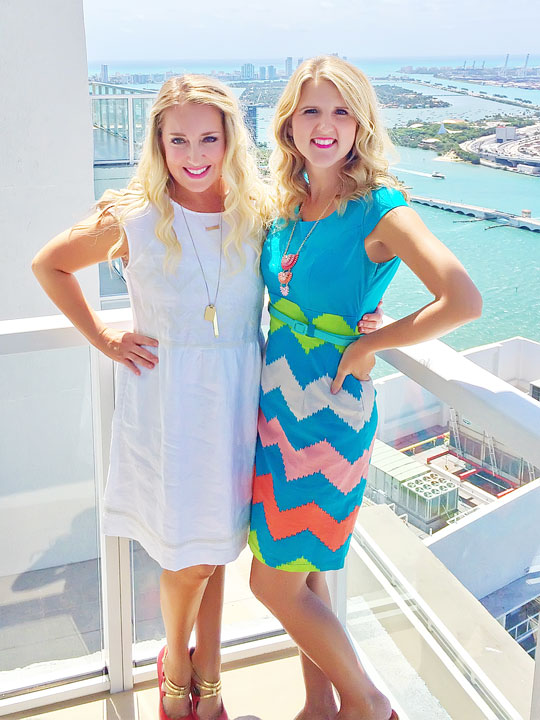 For lunch, Jenny and I hosted our second penthouse party for the weekend.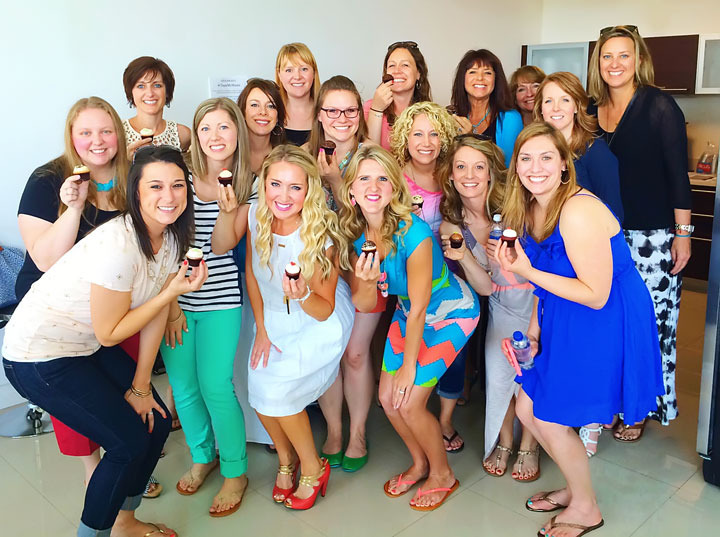 It was a spa and cupcakes party! We had about a dozen different flavors of mini cupcakes to sample, and everyone got mini massages. A perfect way to refresh after a few days at the conference! We also had cuban sandwiches and plantain chips for lunch. :)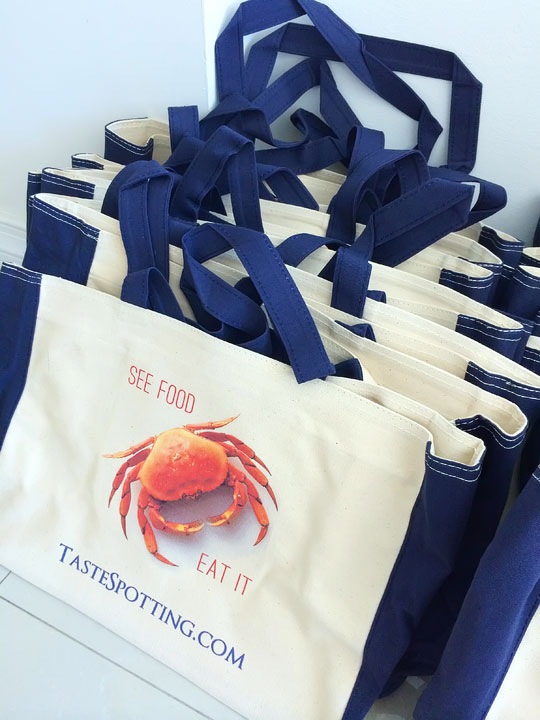 Our sweet friend Sarah from TasteSpotting provided these fun swag bags.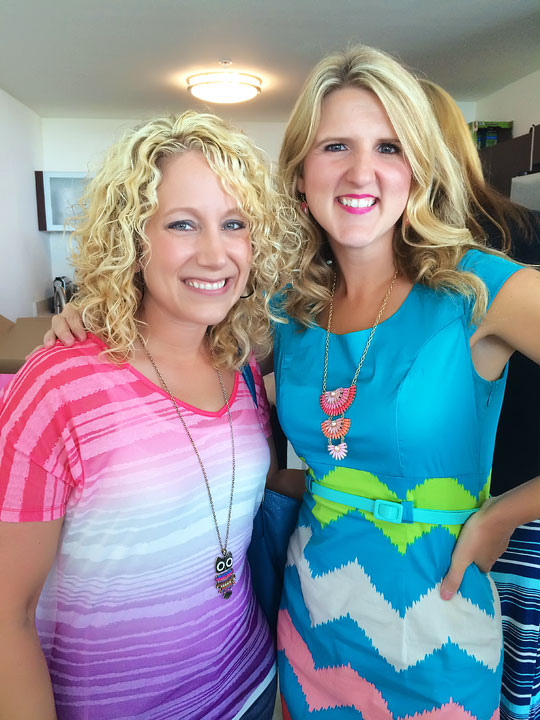 Was so great seeing the beautiful Jocelyn from Inside BruCrew Life at the party! If you are looking for some seriously decadent desserts, be sure to check out her blog!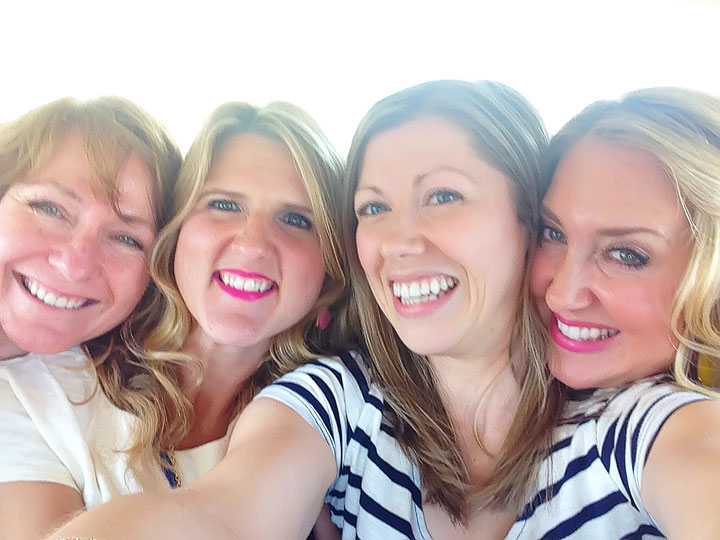 Barbara, Amanda, Lauren, Jenny
These were my sweet roomies for the weekend at the penthouse. After the party, we went on a little bakery tour of Miami.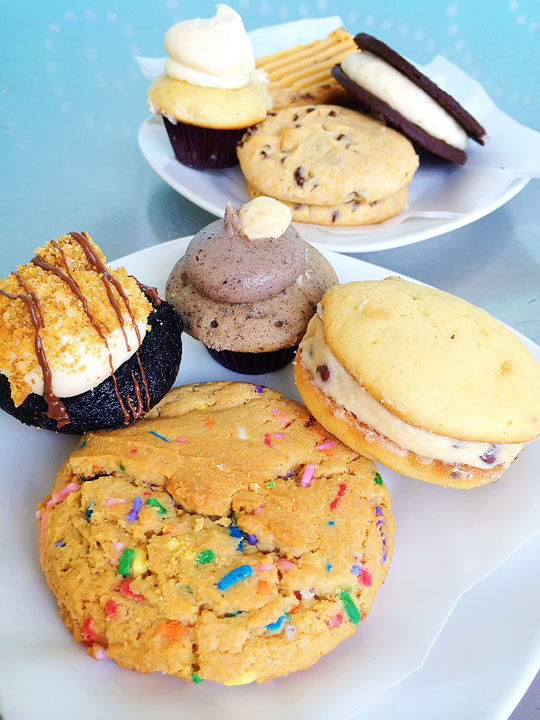 We started at Sweetness Bake Shop. Can you get a load of all these these amazing treats??! Cupcakes, cookies, bars, and whoopie pies galore!!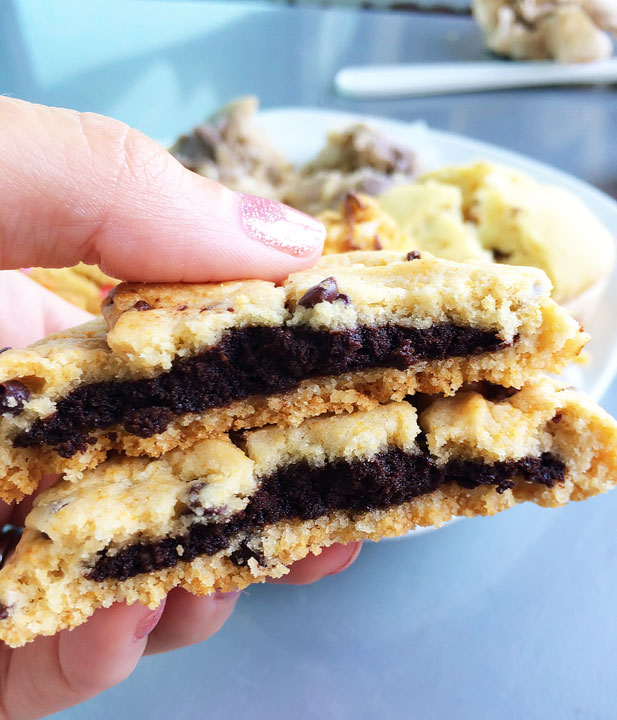 Look at this Brownie Stuffed Chocolate Chip Cookie!!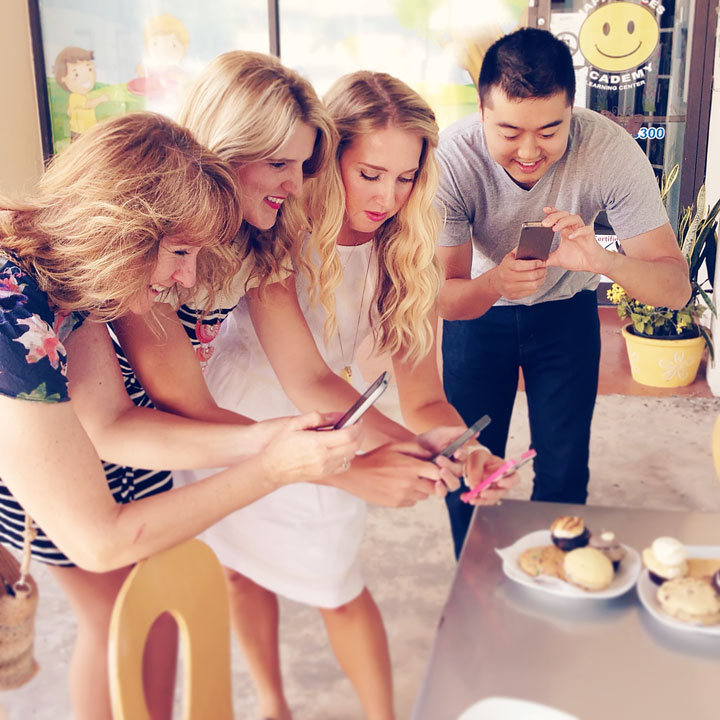 Fortunately there were several of us so we could get a bunch to try. That's Harrison from CliqueMe in back, who was gracious enough to chauffeur us around for the afternoon!! :)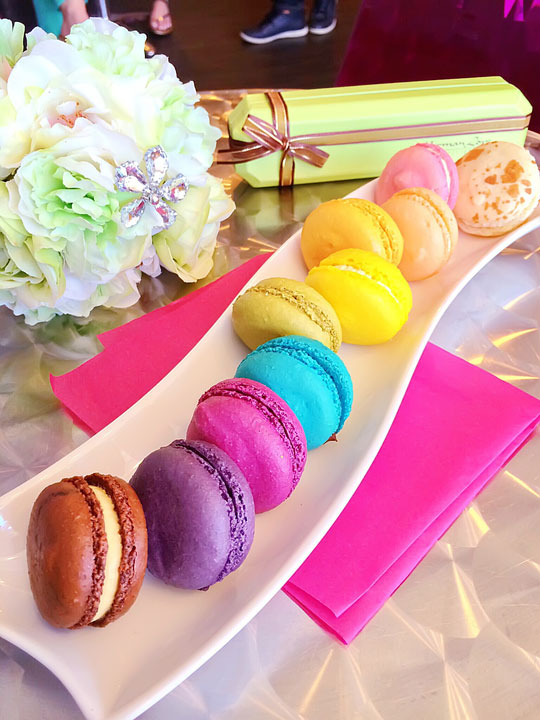 Our next stop was Janette&Co for some gorgeous french macarons and amazing chocolates! They have beautiful gift boxes of chocolates to take home as souvenirs.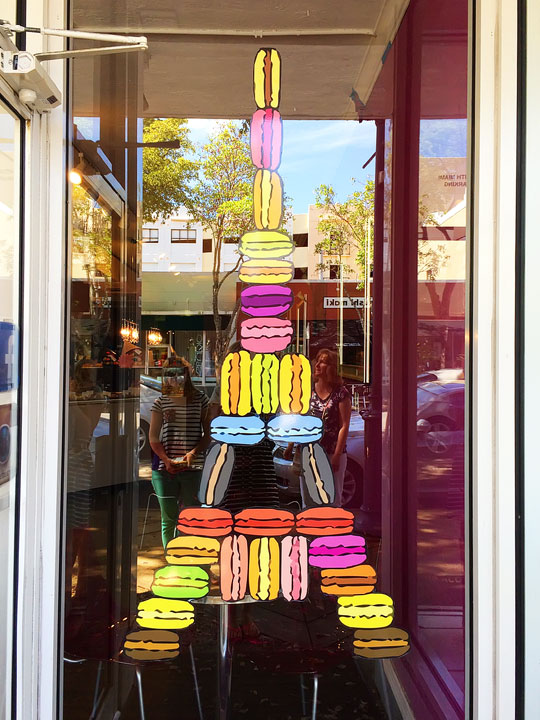 Love the Macaron Eiffel Tower on their door!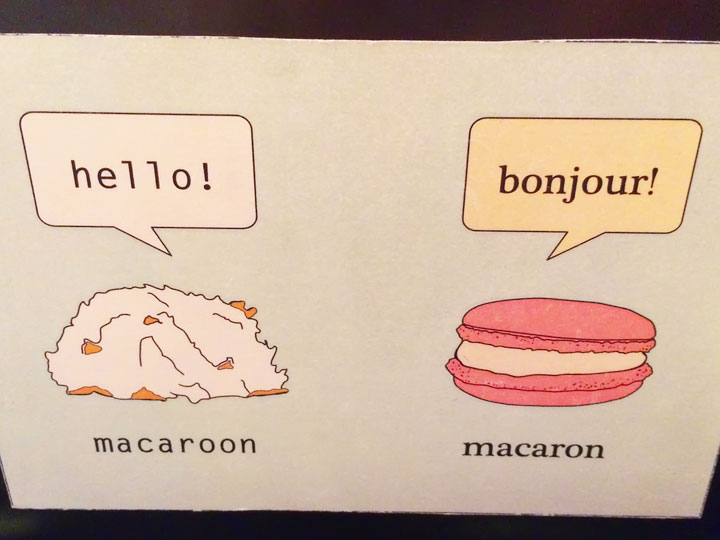 And how cute is this Macaroon / Macaron sign?? :) In case you've ever wondered the difference! :)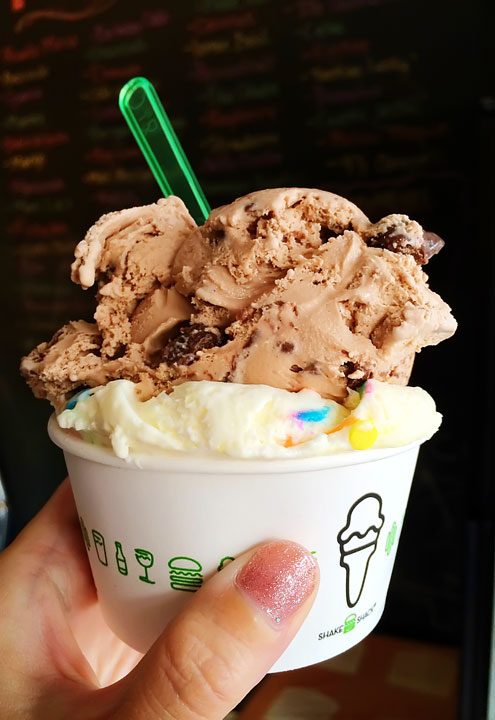 We ended the afternoon with ice cream at Azucar. They had so many fun flavors that change daily. This is Nutella and Birthday Cake. I have no idea why it's in a Shake Shack cup?? Lol!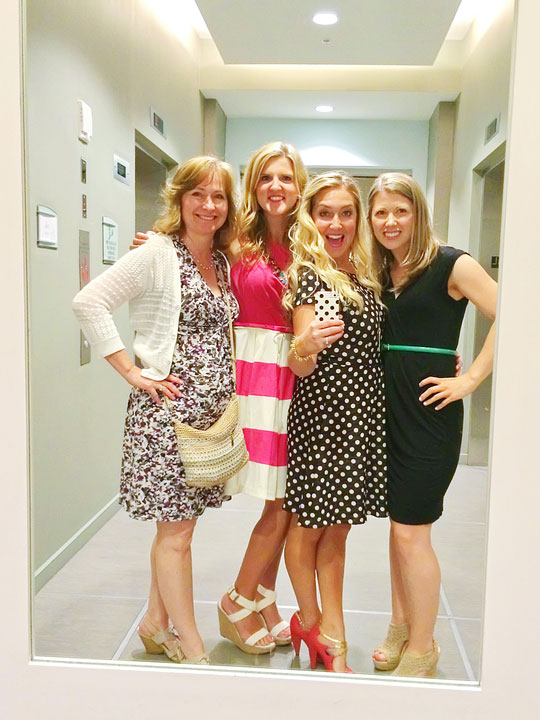 That night was the final closing party hosted by Ree from The Pioneer Woman, Jaden from Steamy Kitchen, and Elise from Simply Recipes. We stayed for a few minutes, then went back to the room, changed into PJs, and had freshly baked chocolate chip cookies from The Morgans delivered to the penthouse. :)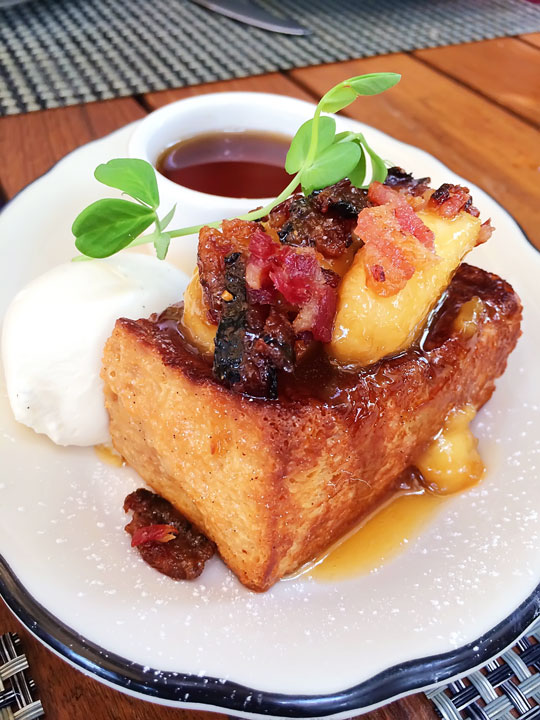 Our last morning in Miami, we had an incredible brunch at Michael's Genuine Food & Drink. It was all small plates, so we were in foodie heaven!! We ordered a ton off the menu and everyone got to try a bite of everything. How gorgeous is this Elvis French Toast?? :)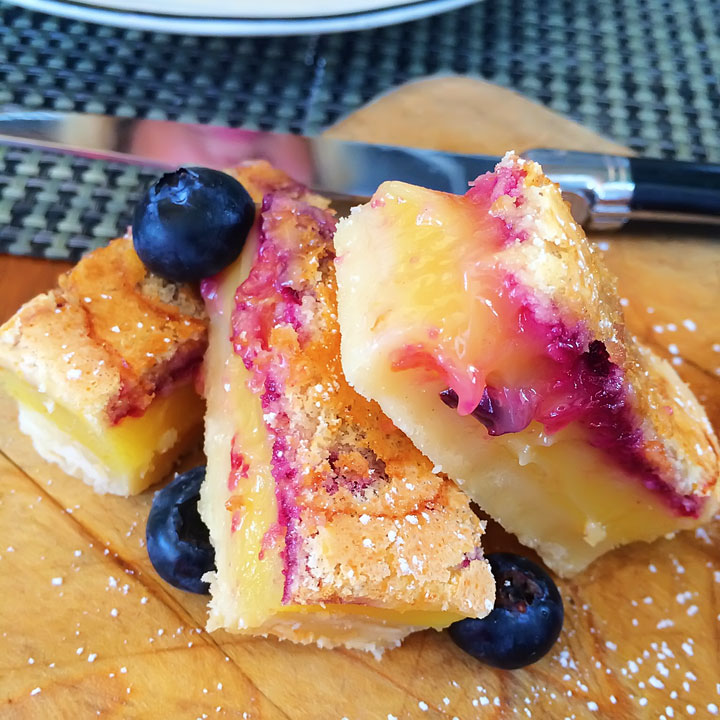 Oh my gosh you guys. We were all DYING over this Lemon Blueberry Shortbread!! UNreal!!!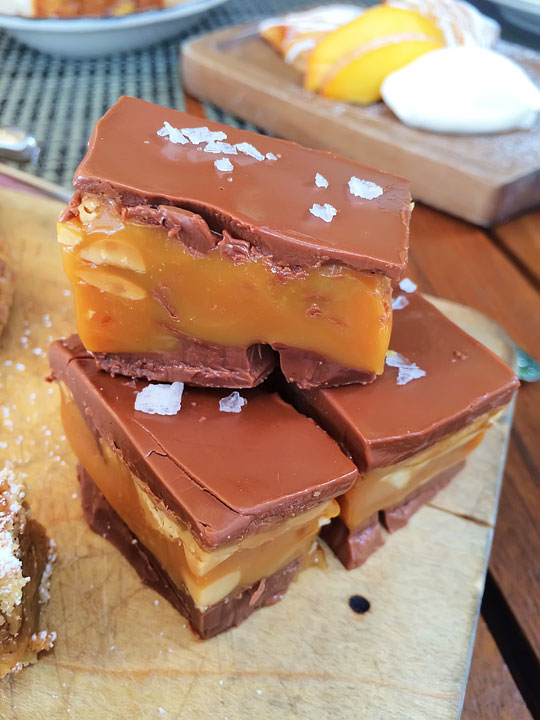 The homemade snickers bar was also a treat!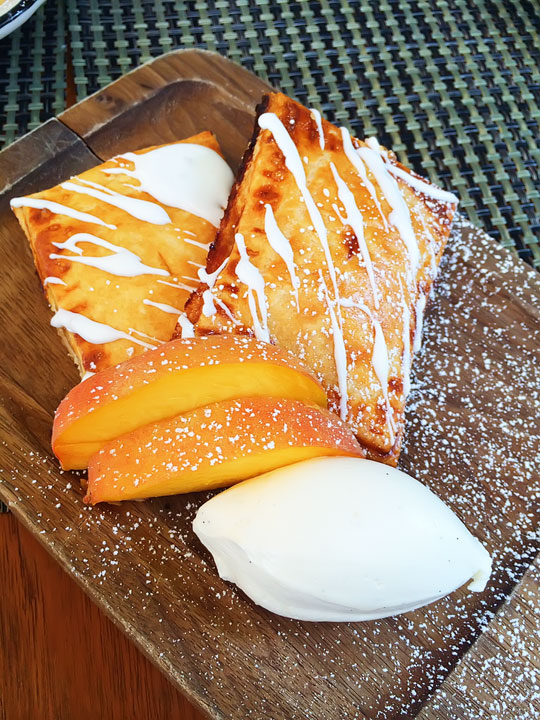 And the homemade peach pop-tarts. Another fav!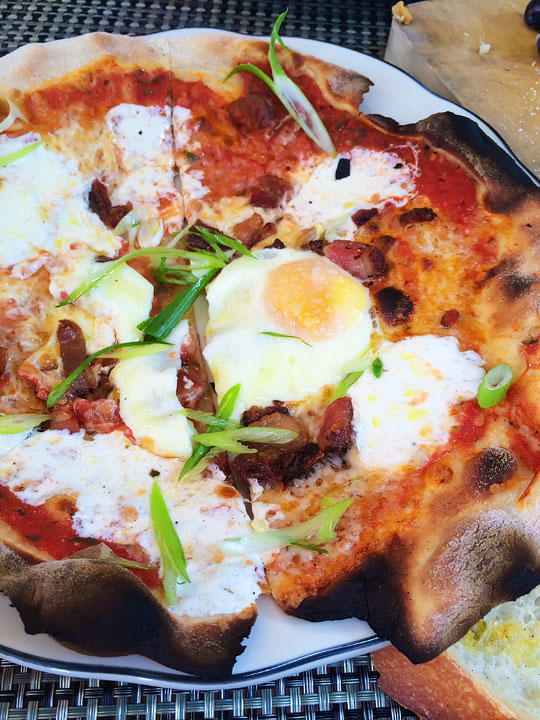 Beautiful breakfast pizza.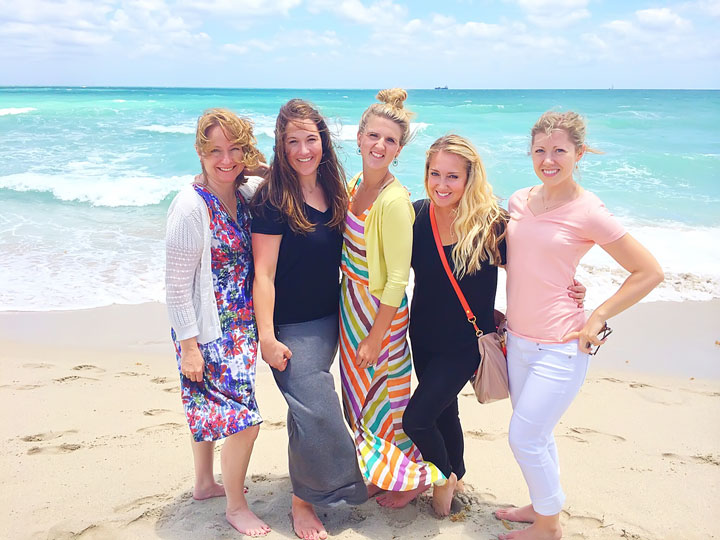 Barbara, Deborah, Amanda, Jenny, Lauren.
That afternoon we headed to South Beach to dip our toes in the ocean and walk along the beach until it was time to head to the airport.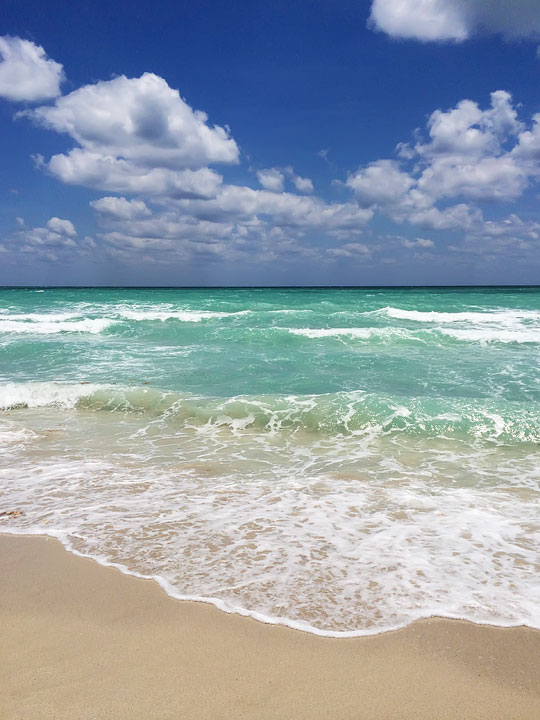 Gorgeous turquoise waters!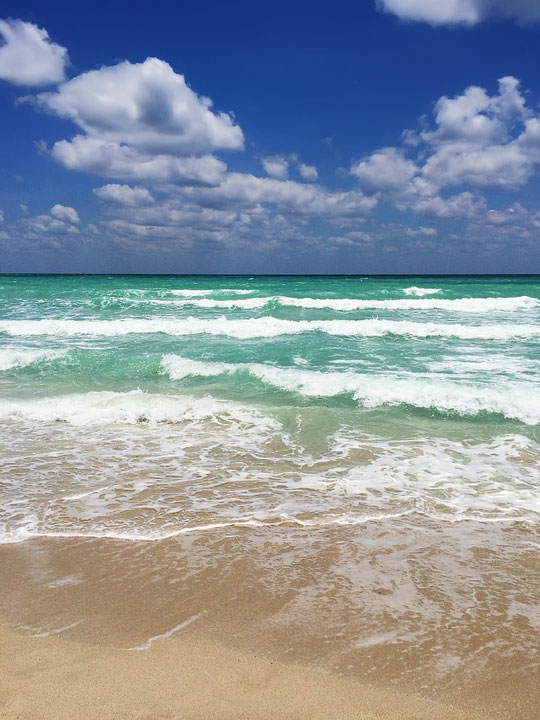 But the sand was my favorite! I've never seen so much variation in the color of sand before. I wanted to take some home with me!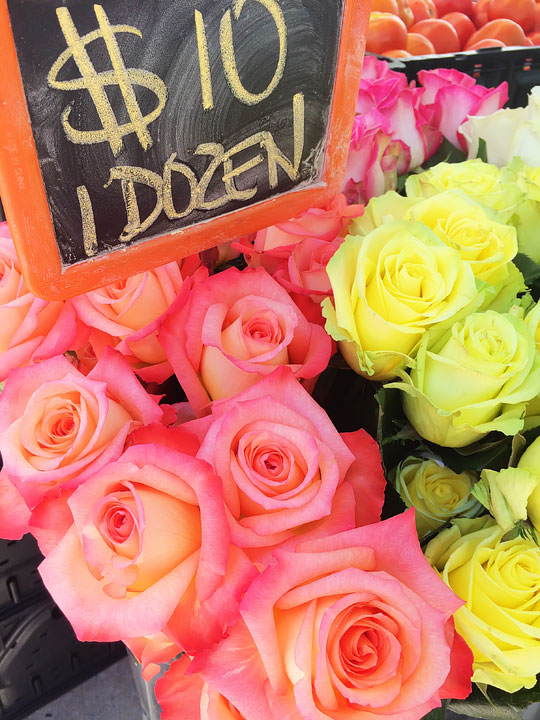 After I got to the airport, I got a notification that my flight was cancelled until the next afternoon. Super bummer, but my sweet friend Barbara from the awesome blog Barbara Bakes was also staying in South Beach another night, and graciously invited me to stay with her.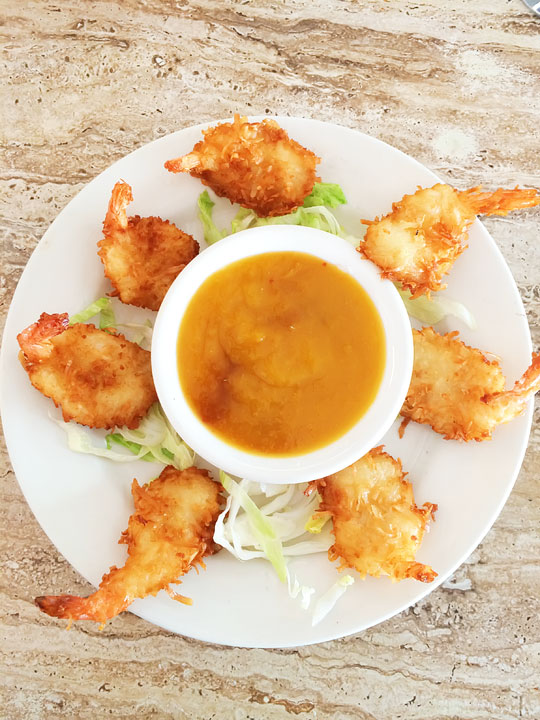 For dinner we grabbed some coconut shrimp from Puerto Sagua.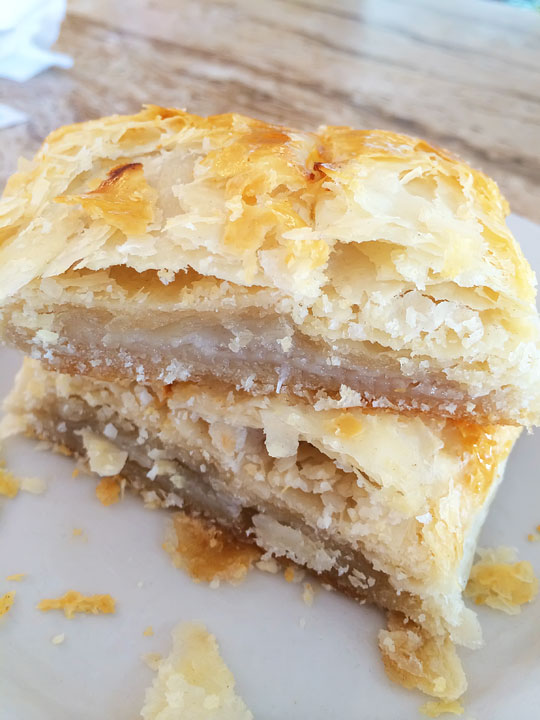 And we had to try this ultra flakey coconut pastry!!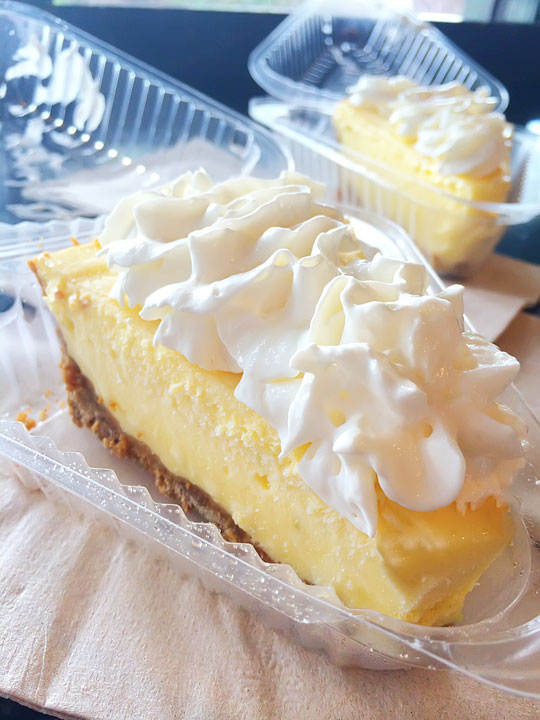 All weekend everyone kept telling me that the best Key Lime Pie in Miami was at Joe's Stone Crab. I LOVE Key Lime Pie, and I was super bummed that I didn't get a chance to get out there. But after my flight got delayed, Barbara and I made it a priority to get out there!! Since all we wanted was the Key Lime Pie, we avoided the long waits and went to Joe's Take Away.
Funny story about this pie. After we placed our order for one slice of pie, the cashier said, "That'll be $9." Barbara and I looked at each other and asked, is that for one slice or the entire pie? She said it was for one slice. Still, we had to try this pie, so we paid the $9. They had a bowl of free chocolates in front of the register, so in an attempt to recoup some of our losses we each took a chocolate. But just one each. Although we must've been looking longingly at the chocolates, because the cashier then said with a big grin and a laugh, "Honey, you just paid $9 for a slice of pie, go ahead and take as many chocolate as you want!" Lol!!
Then, at the counter where we picked up the pie, on the complete opposite side of the restaurant (so this cashier had no way of hearing our conversation with the other cashier), we hand the guy our receipt for our one, lonely slice of pie. He looks at the receipt, then looks at us and says, "So you want two slices of pie, right?" and we quickly say, "Oh no sir, we only paid for one slice." "Ahem," he says, "So you want two slices of pie??" this time with a more pronounced *wink wink nudge nudge.* "Oh! Oh, sure! We'd love two slices" we say innocently. So that's how we ended up with two slices of Key Lime Pie at Joe's Take Away. ;) And it was a good thing too, because we devoured both. It was delicious! Definitely worth a try!! :)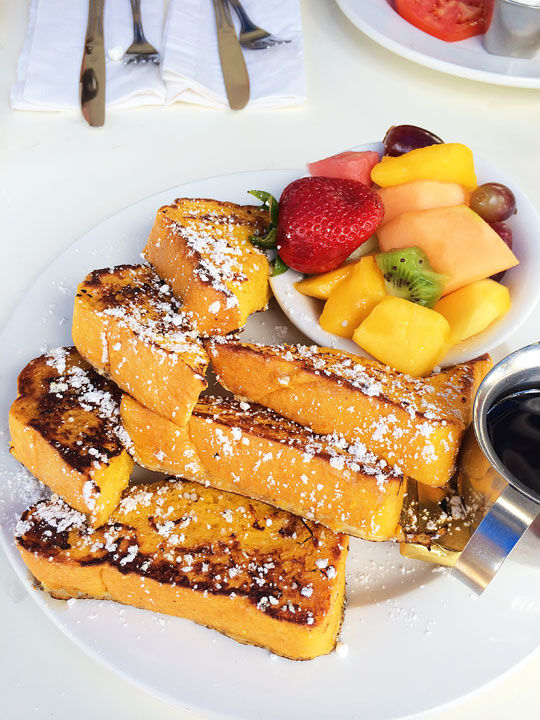 The next morning, Lauren was still in town in South Beach too, so we had breakfast at The Front Porch Cafe. My Orange Zest Challah French Toast was pretty good, but I was still dreaming about The Morgans French toast!! :)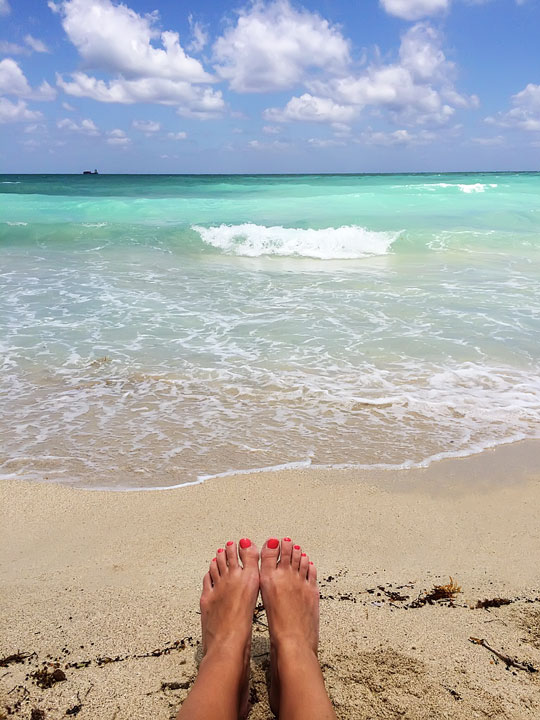 We spent the afternoon laying out on the beach before it was time to head back home to my three little stinkers.
Be sure to check out Jenny's Recap for more fun pictures from our weekend, and Lauren's Recap for more amazing Miami restaurant recommendations. She's the one that found The Morgans, so I now I am obsessed with trying every restaurant she recommends!! ;)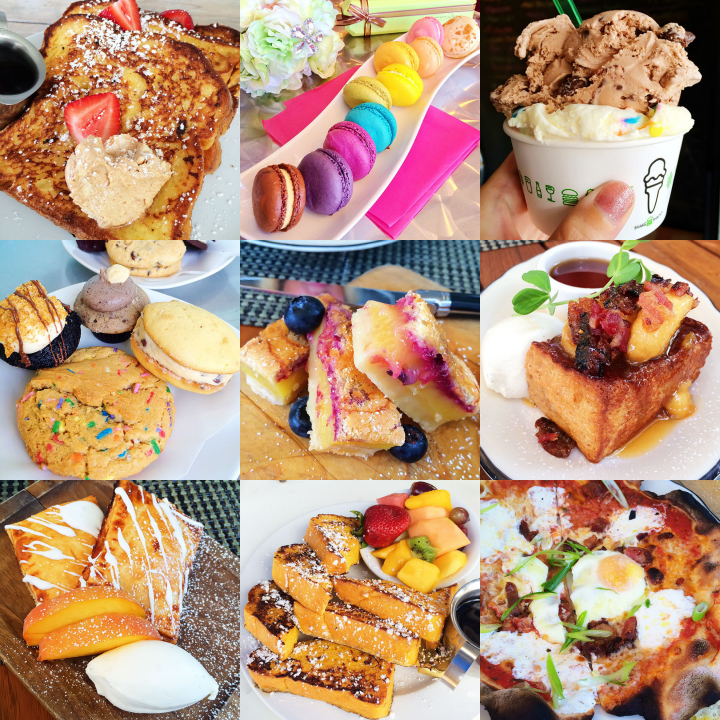 Thanks so much for looking! xoxo