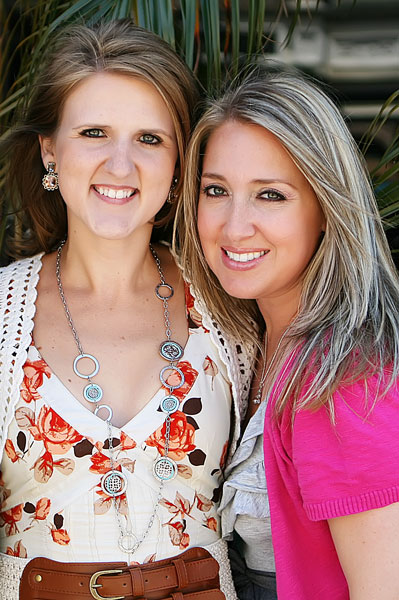 It had been an amazing, whirlwind week in LA– I'd met wonderful new friends, experienced so many unique flavors, and traveled to places I'd only dreamed about- or seen in movies! On my last full day in sunny CA, I drove down the coast from Santa Monica to Newport Beach. I drove through the seaside towns of Venice, Playa del Ray, Redondo Beach, Long Beach, Huntington Beach, and many more.
I was headed to Orange County with one destination set on the GPS… the Picky Palate kitchen! :)
The *very* first thing I did after finding out for sure I was definitely going to LA was email Jenny at Picky Palate and ask… "Are you going too??!" I was so excited to meet my fellow blogging buddy- and when I found out she was only an hour and a half away from where we were staying, the very next thing I did was say… "Let's get together and BAKE!" :)
Have you seen all the amazing, jaw dropping treats on Jenny's blog? I have like every single one of them bookmarked to try. Like this. And this. And this. And this.
I was too excited to be baking with Jenny, and especially getting to taste one of her yummy treats- made by Jenny herself! :)
We had been thinking about what we could make all week, but suddenly, while we were in The Cheese Store of Beverly Hills, inspiration hit us: The Ultimate LA Cookie. Everywhere in LA we'd been seeing chocolate, caramel and sea salt. Like the Salty Chocolate & Salty Caramel gelato I had at Scoops. Or the Smoked Salt Milk Chocolate Caramels I'd gotten at the Farmers Market. I'd even picked up a gourmet sea salt assortment.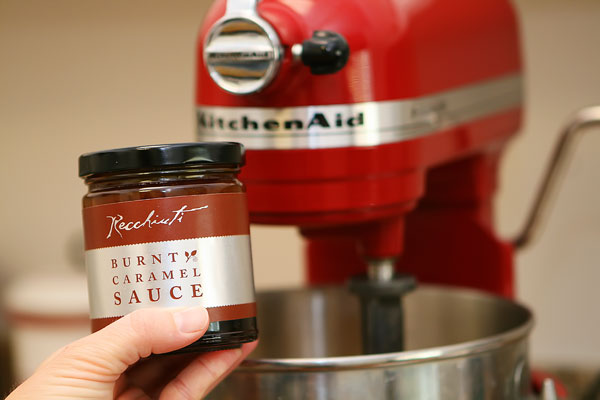 And then at the cheese store, we came across this burnt caramel sauce. And some extra, extra dark chocolate. And combined with my sea salt from the Farmers Market? We knew what we had to do. :)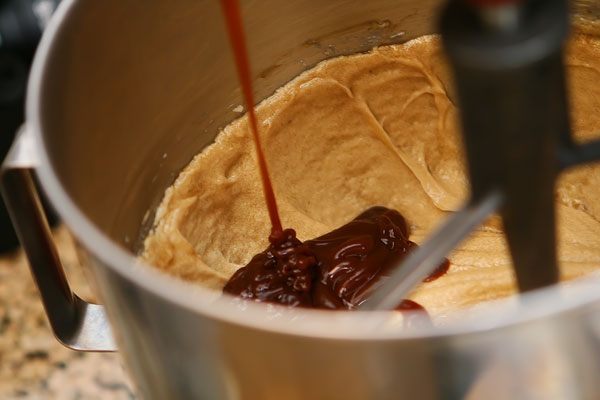 Salted Caramel Dark Chocolate Chunk Cookies… Jenny came up with the Ultimate LA cookie!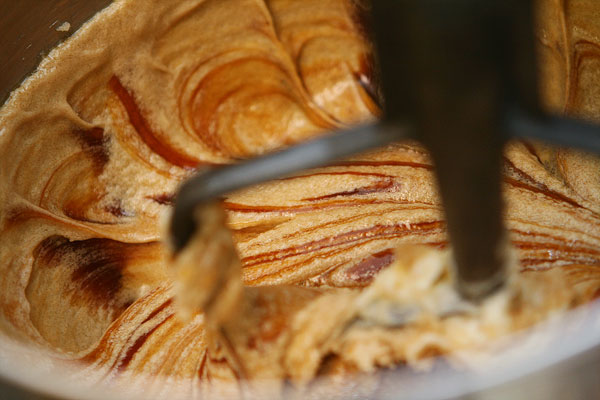 We combined the softened butter & sugar, then swirled in the delicious, decadent caramel sauce.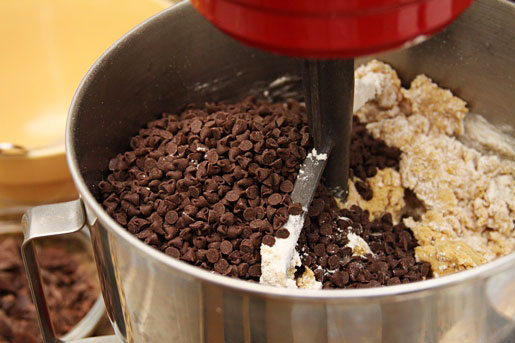 Photo via Jenny
Then added tons and tons of mini chocolate chips!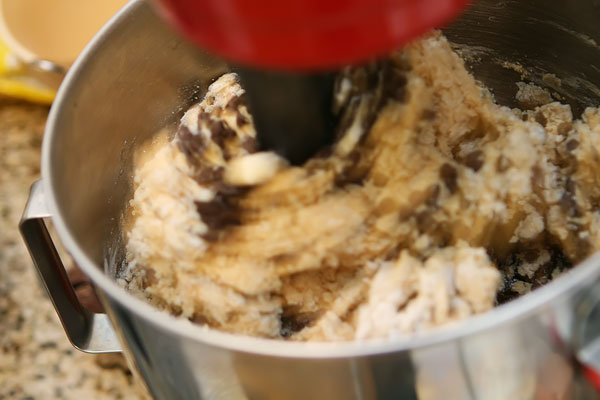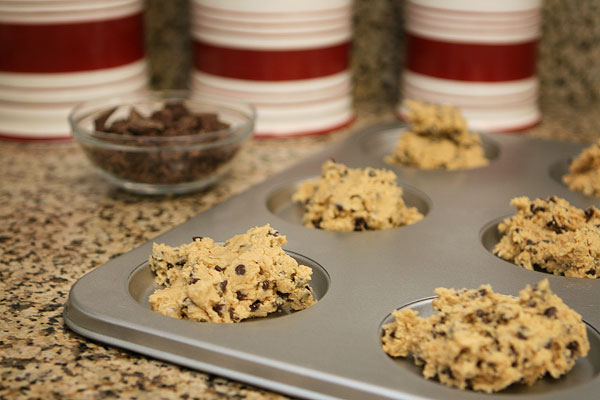 Okay, now this was the coolest thing ever. Jenny baked our cookies in this awesome Muffin Top Pan!! Look at these huuuge scoops of cookie dough! :D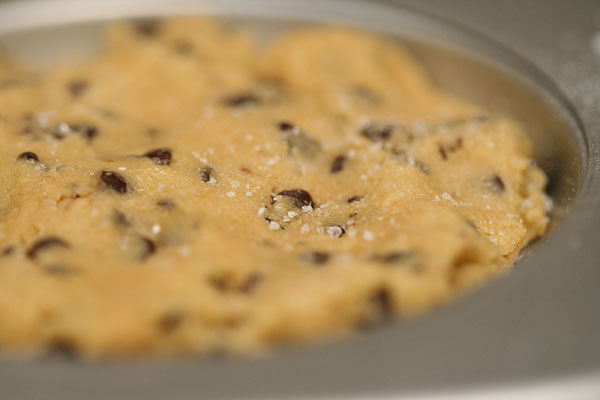 Adding our freshly ground sea salt… Don't be afraid of the salt! :) This is about how much we added, but we were wishing we'd added more! :) Love the sweet & salty combo!! :)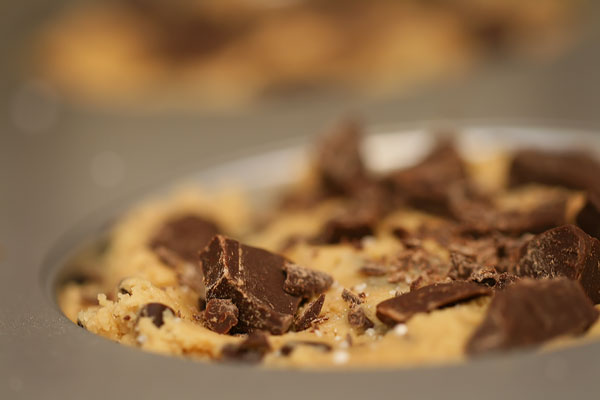 Jenny even let me borrow her sweet macro lens, the 100mm f/2.8, for some super close ups of the salt. Love this lens!! :)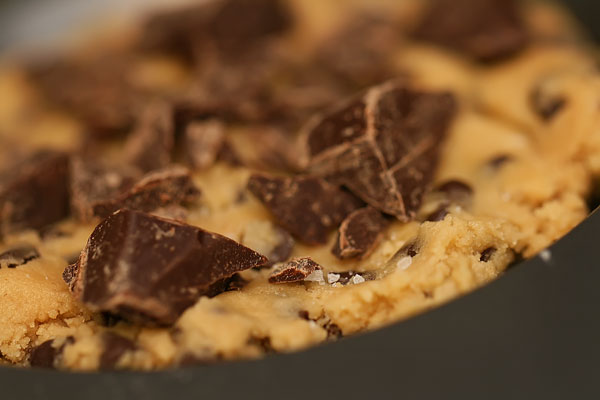 After the salt, we topped with our large chunks of super dark, super delicious chocolate.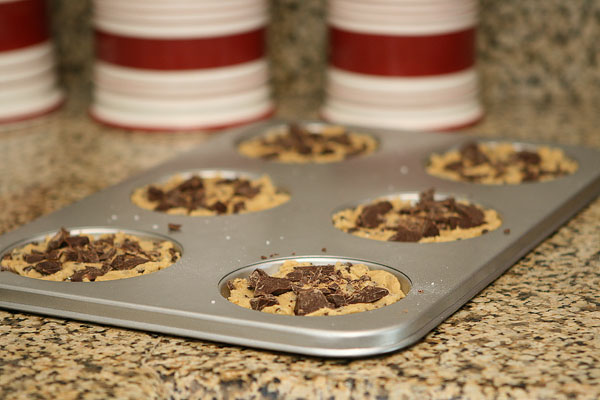 Ready for the oven!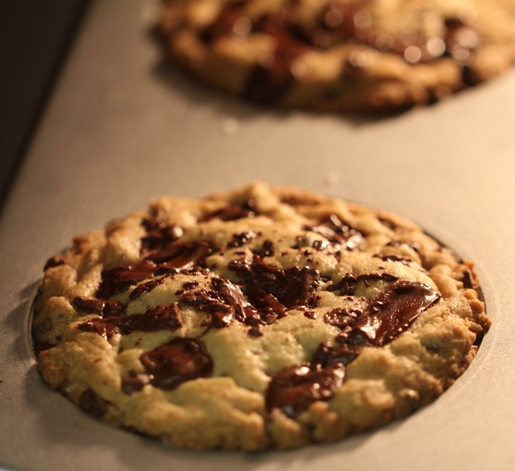 Photo via Jenny
The result??! :)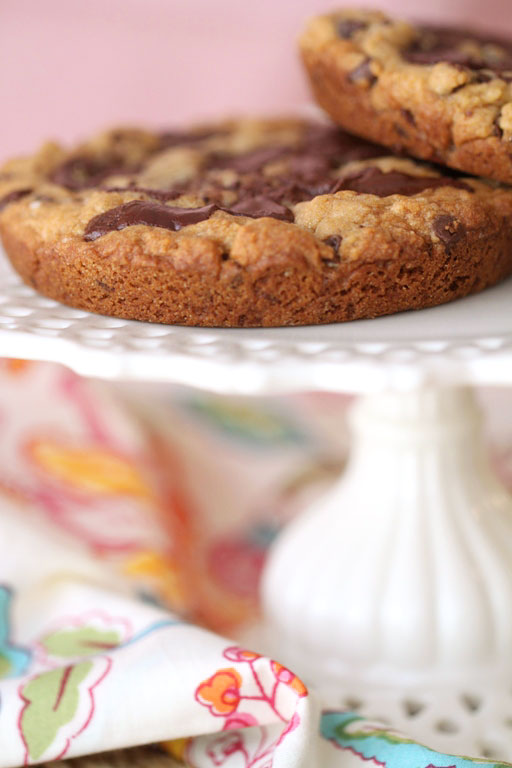 Photo via Jenny
Giant, perfectly round, insanely soft, delicious cookies.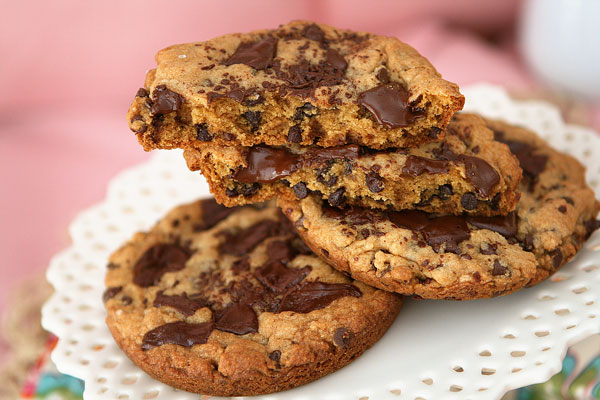 Chewy & Caramel-y…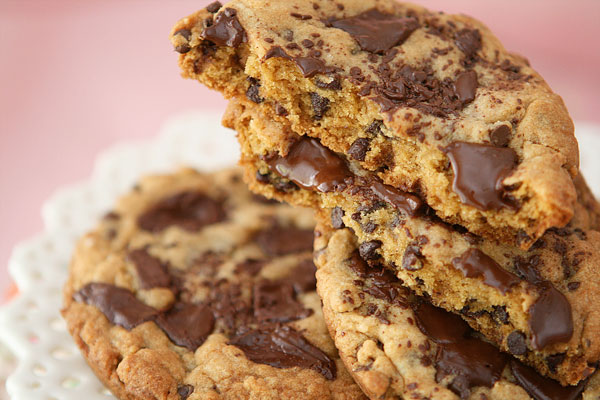 Beautiful, gooey dark chocolate…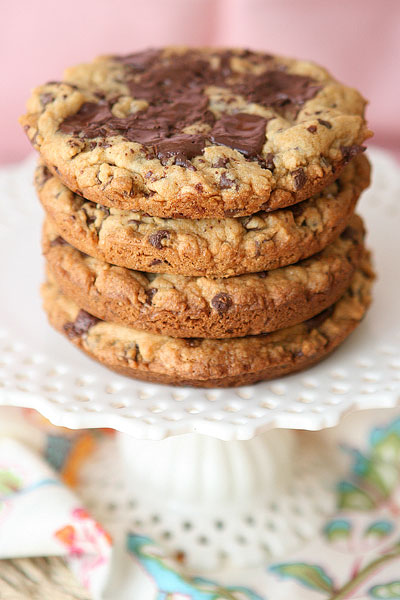 And perfectly round & stackable! I totally have a muffin top pan on my wishlist now! :)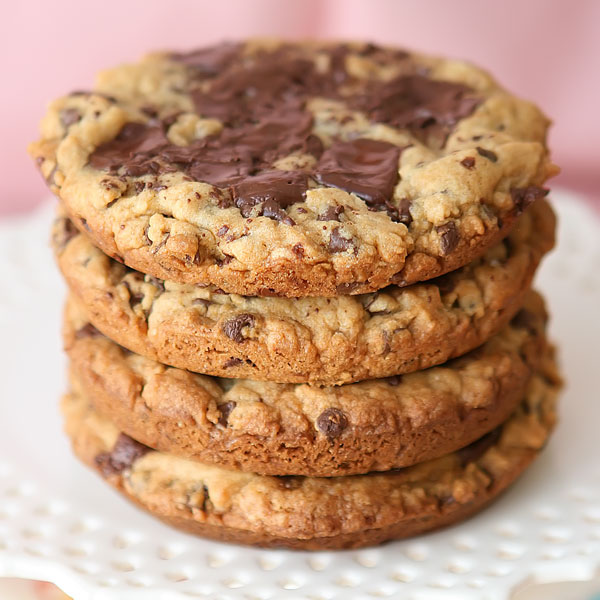 These cookies were so incredible (and soooo LA ;)), they were even
featured on Tastespotting!!! :)
Salted Caramel Dark Chocolate Chunk Cookies – The Ultimate LA Cookie
Courtesy of Jenny Flake, Picky Palate
2 sticks softened butter
3/4 Cup granulated sugar
1 Cup packed light brown sugar
2 large eggs
1 1/2 Tablespoons pure vanilla
1/4 Cup burnt caramel sauce (you can use any caramel sauce here, like Smuckers)
3 3/4 Cup all purpose flour
1/2 teaspoon salt
1 1/2 teaspoons baking soda
12 oz bag mini chocolate chips
1 1/2 Cups chopped good quality chocolate

1.  Preheat oven to 350 degrees F.  In a stand or electric mixer, beat the butter and sugars until well combined.  Beat in the eggs and vanilla, and swirl in the caramel sauce until well combined.

2.  Place the flour, salt and baking soda into a large bowl and mix.  Slowly add to wet ingredients then add the chocolate chips.  Save chunks for later.

3.  Place a 1/4 cup scoop of cookie dough into muffin top cups.  Press down, then sprinkle with a pinch or two of sea salt then press the chocolate chunks over top.  Bake for 12-15 minutes or until just golden around edges.  Remove and let cool for 5 minutes before transferring to a cooling rack.  Serve with milk!!

Makes 18 Large cookies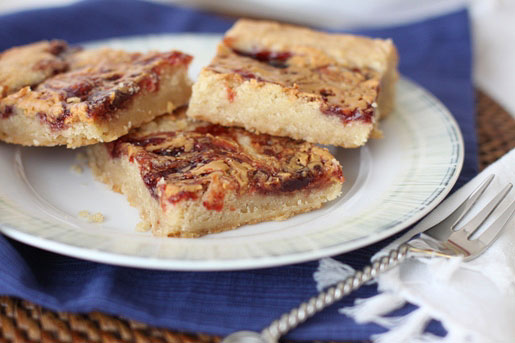 Photo via Jenny
And guess what else Jenny had baking that day… :)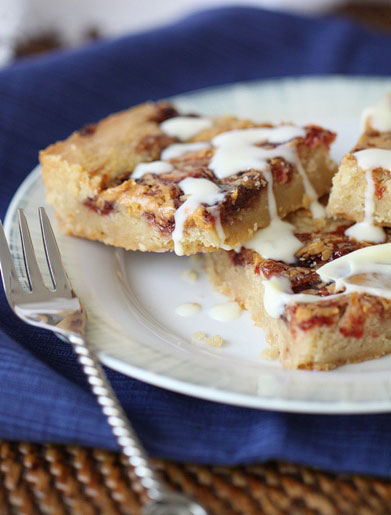 Photo via Jenny
Peanut Butter & Jelly Shortbread Cookie Bars…
I'm not really sure how Jenny was able to pour on the delicious, sugary glaze, take pictures, and restrain me from leaping over the table and consuming every last delicious bite… all at the same time.
It must've involved duct tape. But I'm not entirely sure because I think I fainted after I saw these come out of the oven.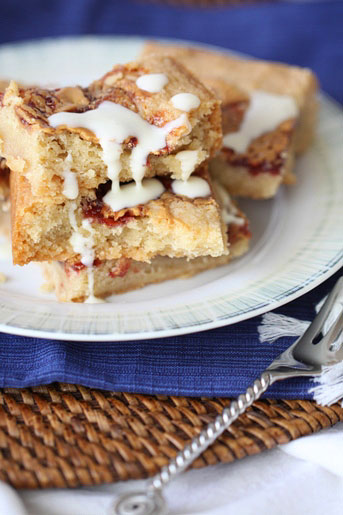 Photo via Jenny
I took one bite and honestly just about died. They were the softest, buttery-est, most decadent cookie bar I had ever tasted. And the PB&J on top?? Perfection!! Loved it! :) The best thing I ever ate. If I were ever on that show, I would totally proclaim these PB&J shortbread cookie bars, The Best Thing I ever Ate.
I came home and made them immediately. Jenny sent a whole truckload back with me, to take home and share with Kevin, but uh, they never even made it back to LA. I ate them all. On the way back. In one sitting. Hey, what can I say? I was driving back to LA on the 101 in 5 o'clock traffic… on a Friday! I needed sustenance. :D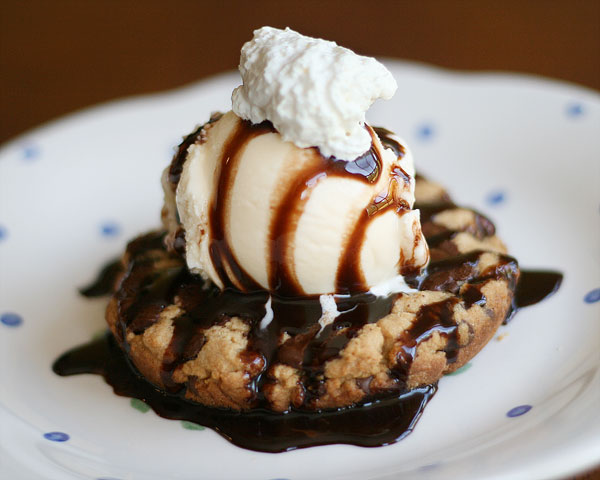 But some cookies did make it home with me! And look what I did with them…… :D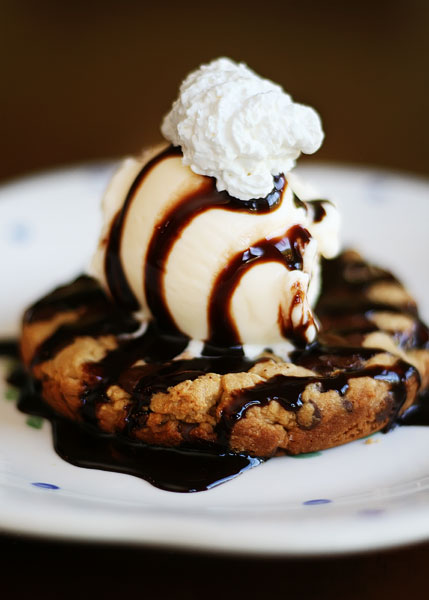 These giant cookies are the perfect size for a scoop of ice cream… or two! :D I heated the cookie in the microwave for about a minute- just until the cookie was soft, warm, and the chocolate on top was alllll nice and melty. Then added my sundae toppings. :D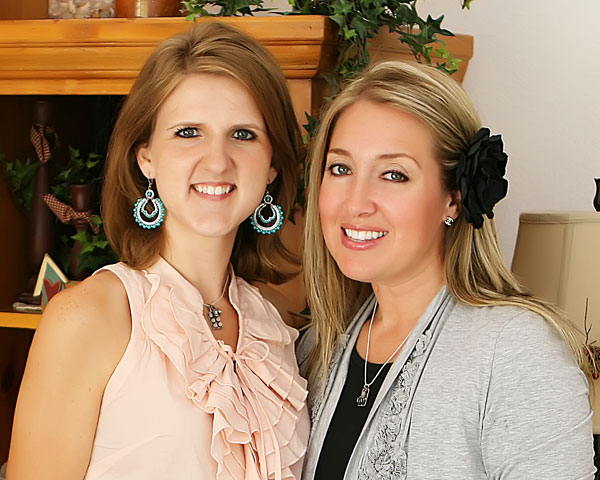 Thank you so much for having me, Jenny! I had the best time ever! :) Thank you so much for the wonderful lunch, the decadent treats, the giggly girl-talk, and all the blogging advice. I can't wait to do again. :)
Definitely check out Jenny's blog for her account of our day!! :) She wrote the sweetest post ever, and her photos are AMAZING. I just copied everything she did. :)
Oh! And Mandy, one of the other amazing ladies we met in LA was there with us in spirit while we baked! The first night we met in LA, Mandy gave us these adorable, matching muffin tin and measuring spoon necklaces!!! How sweet!! I just about melted. Thank you, Mandy! :) Check out a better pic on Mandy's awesome blog.
There's More??!
Up next! Highlights from LA – a post about my very, very favorites… What I'll never forget, where I'll definitely go, and what I'll definitely eat again… next time! :)
Thanks so much for looking!! :)