Bacon Cheeseburger Chicken is definitely one of Kevin's top 3 favorite meals. I love it too, because it's an easy way to amp up boring chicken breasts into an exciting, mouth-watering dish!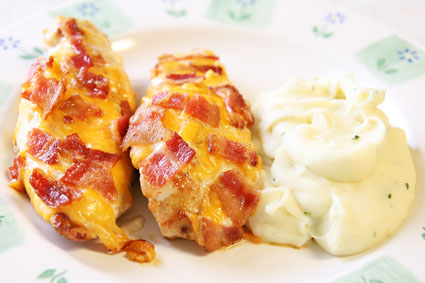 Intrigued? Let's get started. :)
First, let's start by making our own bacon bits. Yes, you can use store bought bacon bits, but I just love making my own because real bacon adds such an amazing flavor that you just cannot buy in a bottle. Now, let me be honest with you. Frying bacon used to be the bane of my existence. I ruined at least the first 5 batches of bacon I tried to cook. I tried cooking it every way possible. On the stove top. In the oven. In the microwave. They all ended the same way. Everyone running out of out a smoke filled house gasping for air. :p Then, The Pioneer Woman taught me how to fry bacon and I will never, ever go back to using bacon bits ever. I absolutely LOVE frying bacon now!
Let me pass along her words of wisdom. The first trick is to cut your bacon in half. She does it while it's still unopened in the package, just cut it in half so the bacon strips aren't so long.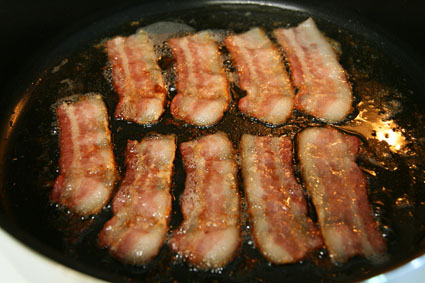 How to Make Bacon Cheeseburger Chicken
Arrange the bacon in a single layer in a large skillet over LOW to medium-low heat. On my electric stove, which ranges from 1 – 9, I put the heat on 4. Leave the bacon on one side (without flipping) until the fat starts turning translucent and the red part starts getting browned on the bottom (use tongs to lift up the bacon and check). You really just have to watch it and keep checking, but it'll probably take around 10 mins. But that's not exact so just keep checking on it. ;) When that happens, flip all the bacon slices over to the other side. In another 5-10 mins, the other side will be nice and brown and done. If both sides are nice and browned, drain bacon slices on paper towels (make layers of bacon and paper towels). If you need to flip the bacon over again, that's fine too, I usually have to do that because I didn't get the first side done enough the first time. :p
Okay! So now you have some awesome bacon!! Go ahead and try a piece, I never can resist. :D
In the skillet you used to fry the bacon, you have some bacon grease. Go ahead and pour most of it out into a coffee cup (or something, don't pour it down your drain, that's bad) but leave 1-2 tbsp of grease in the skillet (enough to make a thin layer of grease in the bottom of the pan). This is what we're gonna use to sear our chicken! If you didn't fry your own bacon, just use about 2 tbsp of olive oil and 2 tbsp of butter, like I said earlier, just enough to give the bottom a nice layer of oil. Using butter with olive oil will help it not smoke up the house so much. :) Heat the grease (or oil) over medium-high heat.
Preheat your oven to 350, and spray a 9×13 or 8×8 baking dish with Pam (depending on how much chicken you have, if you use more than 2 breasts, go with the 9×13).
Take a few boneless, skinless chicken breasts and cut them in half, right down the middle, and put them in the skillet.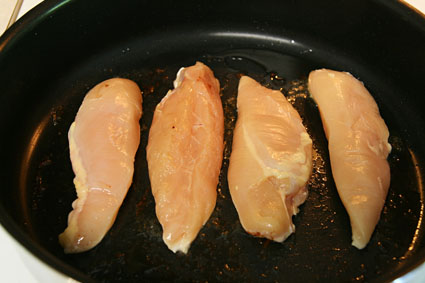 Sear 4-5 mins each side until lightly browned. Like this: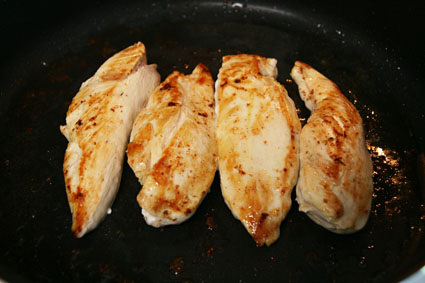 With both sides of the chicken are browned, remove from skillet and place in baking dish that has been sprayed with Pam.
Now it's time to make our bacon bits! Take the bacon slices from earlier, which should be cooled and drained by now, and stack them up: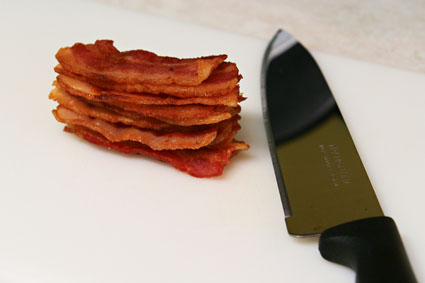 Using a big, sharp knife, slice up your bacon into bits! :D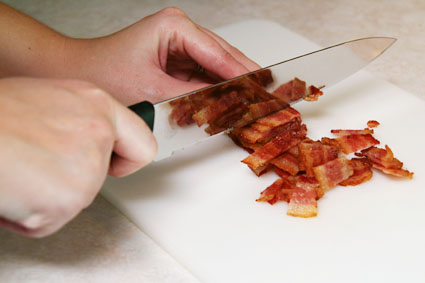 Yummy, flavorful bacon bits :D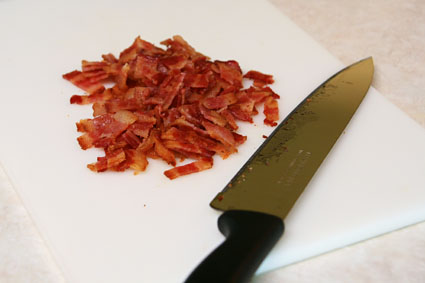 Back to the chicken. Pour about 1/4 cup of teriyaki sauce onto the chicken breasts.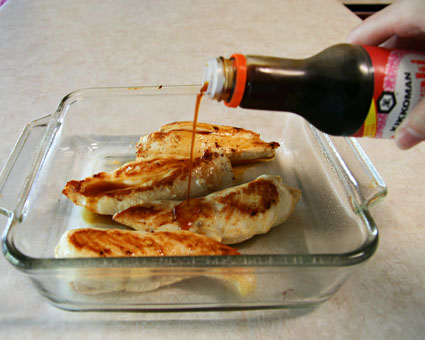 I've made this so many times, I know about how much teriyaki sauce I like, so I just pour it straight from the bottle. But you may want to measure it the first couple of times because I don't like the way it tastes if I use too much teriyaki sauce. I do just enough to cover the pieces, about like this: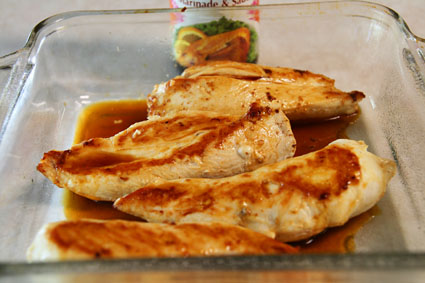 Next, cover the chicken with ranch dressing. :D I love ranch dressing :D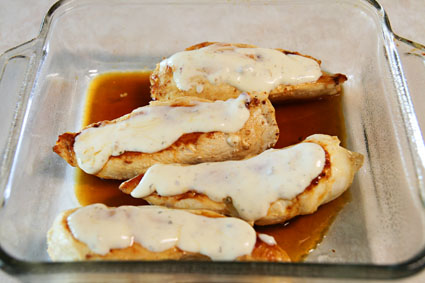 You can use plain old ranch dressing, but I like using Ranch with Bacon. Gives it a little something extra. :D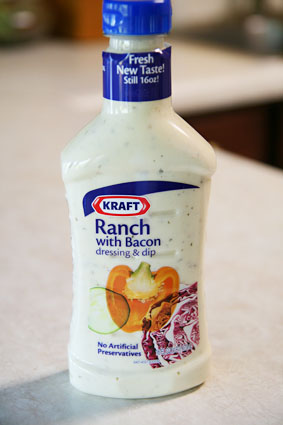 Now top with cheese…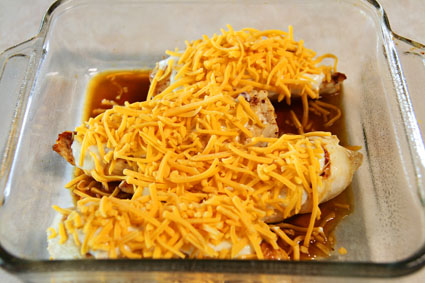 And your bacon bits!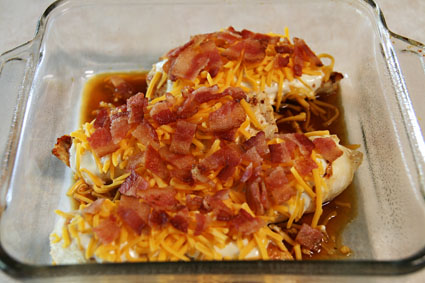 If you have any left over bacon bits, just put them in a ziploc bag and stick them in the freezer. Bacon keeps *great* in the freezer, and now you have your own, homemade bacon bits to use whenever you need them! They'll add so much more flavor to meals than store bought bacon bits. :)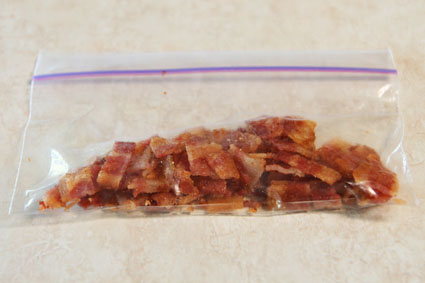 Now bake your chicken in the oven at 350 degress for 25 to 35 minutes, until chicken is no longer pink and juices run clear.
Bacon Cheeseburger Chicken goes great with mashed potatoes!! :D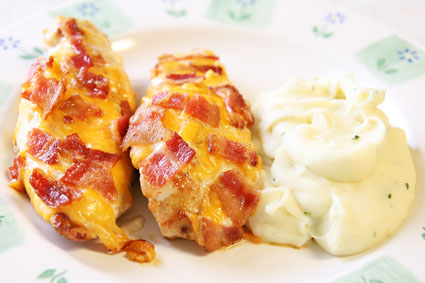 Print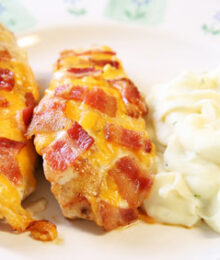 Bacon Cheeseburger Chicken
Prep Time:

15 minutes

Cook Time:

30 minutes

Total Time:

45 minutes

Yield:

6

chicken breasts

1

x
Category:

Dinner

Method:

Oven

Cuisine:

American
Description
Bacon Cheeseburger Chicken is definitely one of Kevin's top 3 favorite meals. I love it too, because it's an easy way to amp up boring chicken breasts into an exciting, mouth-watering dish!
Scale
Ingredients
2 tablespoon

olive oil

2 tablespoon

butter

6

skinless, boneless chicken breasts, split

1/4 cup

teriyaki sauce

1/2 cup

Ranch dressing

1 cup

shredded Cheddar cheese

1/2

lb bacon (or bacon bits)
Instructions
Preheat oven to 350 degrees F (175 degrees C).
In a large skillet, heat oil and butter over medium-high heat. Add chicken breasts, and saute 4 to 5 minutes each side, until lightly browned.
Place browned chicken breasts in a 9×13 inch baking dish. Cover with teriyaki sauce and dressing. Sprinkle with cheese and top with bacon bits.
Bake for 25 to 35 minutes, or until chicken is no longer pink and juices run clear.
Keywords: best chicken recipe, best chicken recipe ever, best chicken breast recipe, easy chicken breast recipe, easy baked chicken recipe, best baked chicken recipe, baked chicken breast recipe, best baked chicken breast recipe, easy baked chicken breast recipe