I grew up on classic southern chicken and dumplings. It's one of my all-time favorite comfort food meals. This easy chicken and dumplings recipe is my favorite because the soup is so creamy and full of flavor and the Bisquick dumplings are so fluffy and delicious!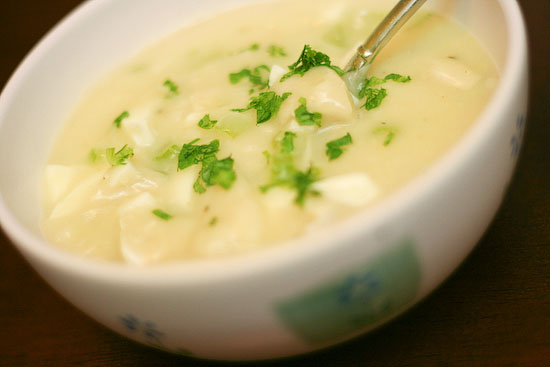 This easy chicken and dumplings recipe is a great way to use up leftover chicken, and it's perfect when you need a warm, filling, comforting soup.

Easy Chicken and Dumplings Ingredients
Here's all you need to make this easy chicken and dumplings recipe: chicken breasts, bouillon cubes, Bisquick, milk, butter, eggs, celery, salt and pepper.

How To Make Chicken And Dumplings (Step by Step)
Begin by placing chicken breasts and bouillon cubes in a large pot and cover with 2 quarts of water. I'm using bone-in, skin-on breasts here. But I've also used boneless/skinless breasts before too and they work just fine. Bring to a boil, reduce heat to medium and simmer for 20-25 mins until chicken is done. If you're using the boneless/skinless breasts, they'll probably be done much quicker, like after 10-15 mins.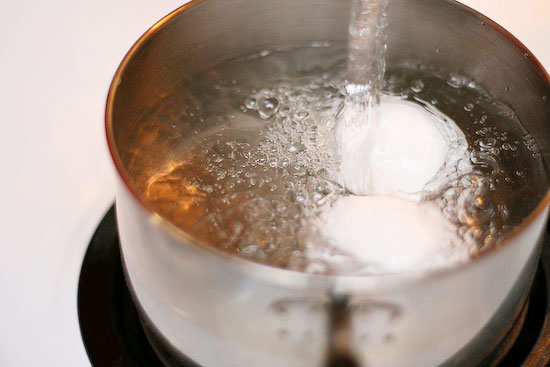 How to Boil Eggs
Meanwhile, boil the eggs. I know there's tons of different theories on how to boil an egg, but here's what works best for me: I put the eggs in the bottom of a small pot, cover with water, bring to a boil and boil for 10 mins. After exactly 10 mins, I remove immediately from the heat, pour out the hot water and cover the eggs with cold water to stop the cooking. This keeps the yolk from turning green.

Bisquick Dumplings Recipe
When the chicken is almost done, mix together the Bisquick and milk until a soft dough forms.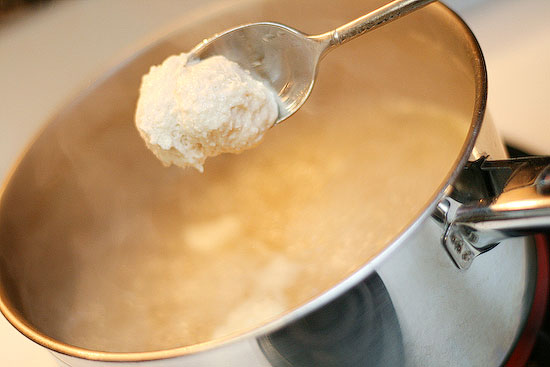 When the chicken is done, remove from the pot and set aside to cool. Drop spoonfuls of the Bisquick dumplings into the chicken stock.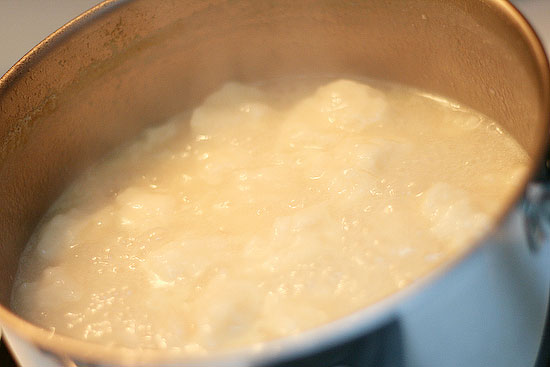 Simmer the Bisquick dumplings over low heat, covered, for 10 mins, then uncovered for an additional 10 mins.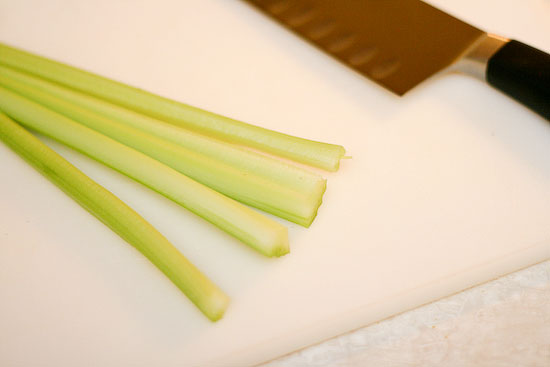 Meanwhile, dice 2-4 stalks of celery (depending on how much you like! I usually do 2.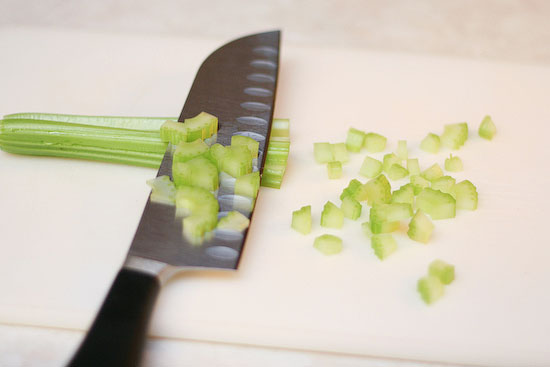 Now, you could use any vegetable you want here. You could add in onions, bell peppers, carrots, even frozen veggies from a bag. Any mixture of vegetables you like. You want to end up with about 1/2 to 1 cup of vegetables when you put them all together. As soon as your chicken is cool enough, cut or shred into bite-sized pieces.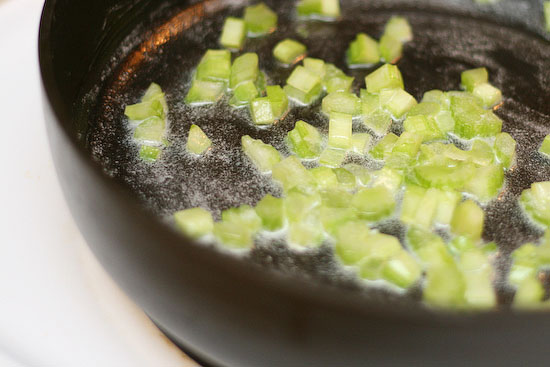 Melt 2 tbsp of butter over medium heat. When foamy, add in celery/vegetables and saute for 3-5 mins.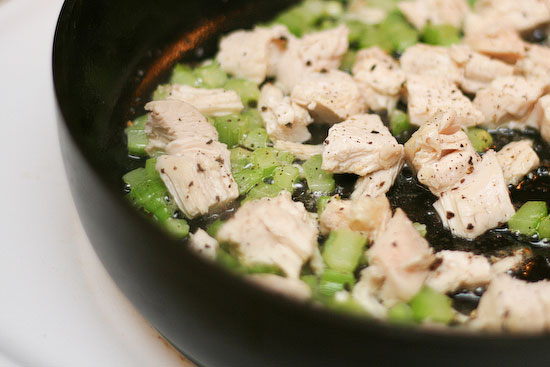 Add in chopped chicken and season well with salt and pepper. Stir to combine. By this point, the Bisquick dumplings should be done. Add the chicken and celery to the soup and dumplings. Remove the yolk from boiled eggs, chop up the whites and add them to the soup. Stir all to combine.

The Best Easy Chicken and Dumplings Recipe!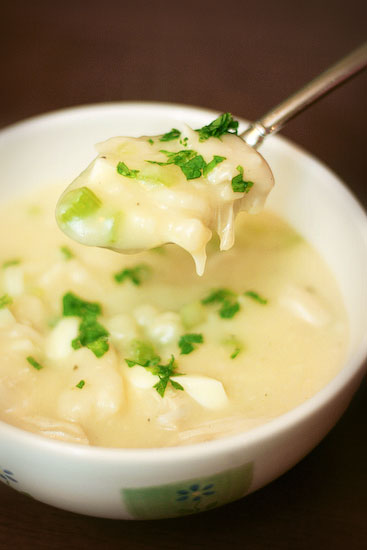 Every bite of this chicken and dumplings Bisquick recipe is chock full of hearty chicken,  healthy vegetables, creamy soup, and so, so much flavor. If you need a soup to make you feel all warm and happy inside, this is it!
Print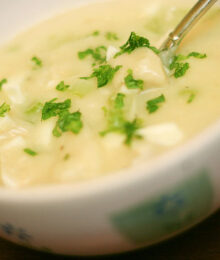 Easy Chicken and Dumplings
Prep Time:

10 minutes

Cook Time:

20 minutes

Total Time:

30 minutes

Yield:

4

servings

1

x
Category:

Dinner

Cuisine:

Soup
Description
Easy chicken and dumplings recipe with Bisquick dumplings.
Scale
Ingredients
1

pound chicken breasts

10

bouillon cubes

2 quarts

water

2 cups

Bisquick

2/3 cups

milk

2 tablespoon

butter

4

eggs

2

stalks celery
Instructions
Place chicken breasts & bouillon cubes in a large pot & cover with 2 quarts of water. Bring to a boil, reduce heat to medium and simmer for 20-25 mins until chicken is done.
Meanwhile, boil the eggs. Then mix together the bisquick and milk until soft dough forms. When chicken is done, remove from pot and set aside. Drop spoonfuls of dough into the chicken stock. Simmer over low heat, covered, for 10 mins, then uncovered for 10 mins.
Meanwhile, dice 2-4 stalks of celery until you have approximately 1/2 – 1 cup of diced celery. Cut or shred chicken into bit sized pieces. Saute celery in 2 tablespoon of butter for a couple of mins. Add in chicken & season well with salt and pepper. Stir to combine. Add the chicken and celery to the soup. Remove yolk from boiled eggs and chop whites and add to soup. Stir all to combine
Keywords: easy chicken and dumplings recipe, chicken dumpling soup, chicken and dumpling soup, homemade chicken and dumplings, how to make chicken and dumplings, chicken and dumplings bisquick,