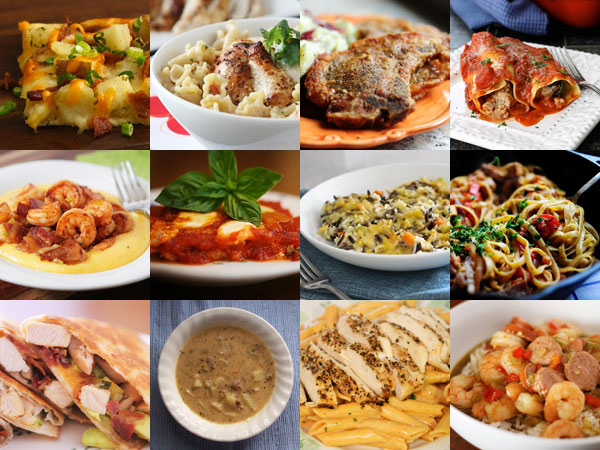 Last fall I tried something something new. I normally try to figure out what we're going to have for dinner each night about once a week. I write down 5 or 6 meal ideas and grocery shop for the week accordingly. But as our schedules picked up around the holidays, I found myself neglecting the weekly menu, and subsequently scrambling at night trying to come up with what to make for dinner. This resulted in a few weeks of running to the grocery store every night, and wouldn't you know it, right at dinnertime when we were already getting pretty hungry. Then of course we'd end up eating really late. Or we'd just settle for something something scrounged from the back of the pantry. Or freezer. Yikes!
I knew I had to get myself back on track, so I went in the total opposite direction from where I was headed.
I took all of our favorite recipes, plus several new ones I wanted to try, and planned out 6 weeks worth of dinner ideas. It worked! I loved not having to try and figure out what we were going to have for dinner every night. Or even once a week! I sorted the recipes into categories like soups, pasta, chicken, red meat, and seafood and tried to plan one meal from each category for each week, so we'd have something different every night. And I didn't plan it out down to the day, so after grocery shopping for the week, we would have a few options available to pick from on a day to day basis, depending on what we were in the mood for that night. Oh, and I definitely made sure to include at least one "quick and easy" recipe every week!
I'm trying it again for the next six weeks, and here's what we're having. I don't have recipes for all of them yet, but I promise to add them as we go. Hopefully there are a few new ideas in here for you, if you're struggling like I was. And if you have any suggestions for what I should add to the menu for next time, I'd love to hear it! Feel free to leave me a link in the comments.
Week 1
Bacon & Basil Ricotta Gnocchi
Chicken Paella
Pork Chops & Mashed Potatoes
Shrimp & Sausage Gumbo
Zucchini Bacon Lasagna
*This gnocchi is out of this world delicious. For this recipe I use bacon instead of prosciutto and leave out the pine nuts. Ree's pork chops are also one of our absolute favs.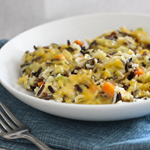 Week 2
Toasted Walnut & Sage Ravioli
Cheesy Chicken and Wild Rice Casserole
Creamy Chicken Enchiladas
Red Beans & Rice
Chicken & Veggie Nuggets with Green Beans Fries
*I love these Chicken & Veggie nuggets. I usually make a double batch and freeze them in a big Ziploc bag, then pull them out whenever we need a quick and easy dinner. I can make as many or as few as I want. They're even better with these green beans fries. They really do taste just like french fries!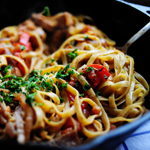 Week3
Cajun Chicken Pasta
Shrimp & Grits
Baked Potato Pizza
Ranch Pork Roast with Mac & Cheese
Kev's Favorite Lasagna
*Ree's Cajun Chicken Pasta is THE best thing I make. Hands down. It's better than anything I've ever had in a restaurant. My recipe for Shrimp & Grits is coming this week. It's of our favorites!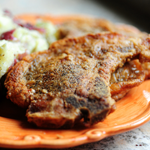 Week 4
Mexi-Chicken Campanelle Dinner
Turkey Panini's with Tomatoes, Provolone, Avocado, and Basil Pesto
Pan Seared Salmon & Rice
Cheesy Chicken, Bacon & Avocado Quesadillas
Antipasto Squares
*Kevin claims he could eat this salmon three times a week. And to make the Baked Potato Pizza even easier, I use Ore Ida Steam & Mash frozen cubed potatoes. I just throw them onto the pizza frozen and straight from the bag, and they turn out just right.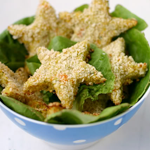 Week 5
Turkey Cannelloni with Roasted Peppers & Spinach
Chicken and Dumplings
Taco Ring
Steak & Roasted Potato Wedges
Cheeseburger Soup
*This steak is perfect. Every single time.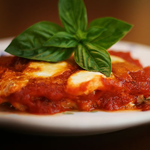 Week 6
Grilled Chicken Pasta in Tomato Cream Sauce
Cheeseburger Macaroni
Jamabalaya
Spaghetti
Chicken Packets
*I make my jambalaya a little differently, but this recipe is pretty close. I usually add some tasso to mine if I can find it.