A few weeks ago I spent four days in the gorgeous little town of Kohler, Wisconsin with some sweet girlfriends. It was my first time to visit Kohler, Wisconsin and I had no idea what to expect, but I fell so much in love with this cozy little village that I had to share it with you.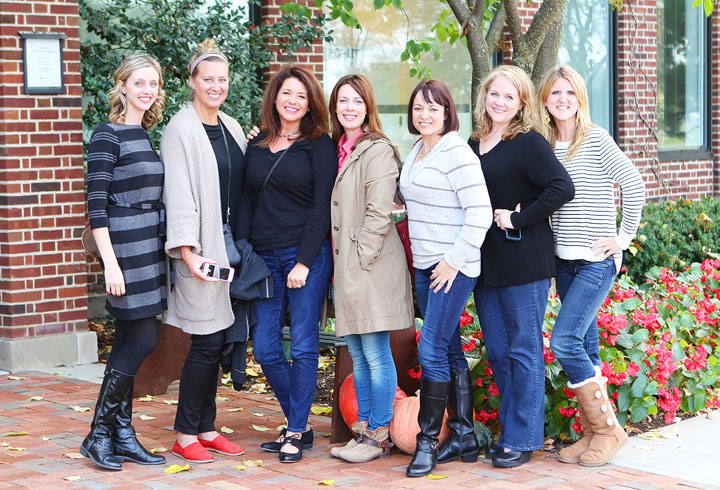 Ali, Heidi, Sandy, Sommer, Dara, Amy, Me
We shopped, stayed up way too late, ate chocolate, relaxed at the spa, explored the golf course, and I honestly had some of the best meals of my life here. I was in foodie heaven.
The American Club Resort Is The Best Place To Stay
Kohler's American Club Resort was just named the Top Resort in the Midwest by Conde Nast Traveler Magazine's Readers Poll, so if you're looking for a romantic and unique weekend getaway, I would highly, highly recommend Kohler!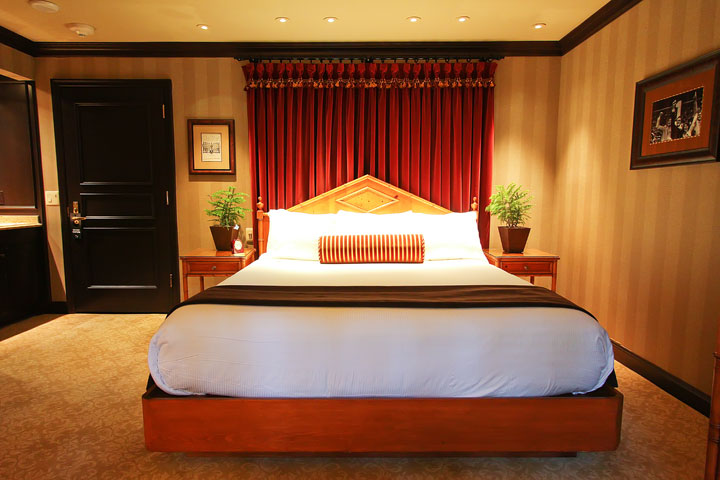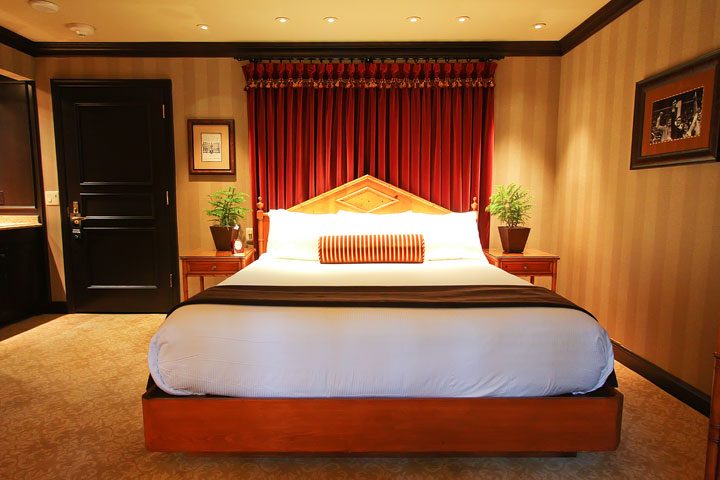 Here was my beautiful room for the weekend at the American Club Resort.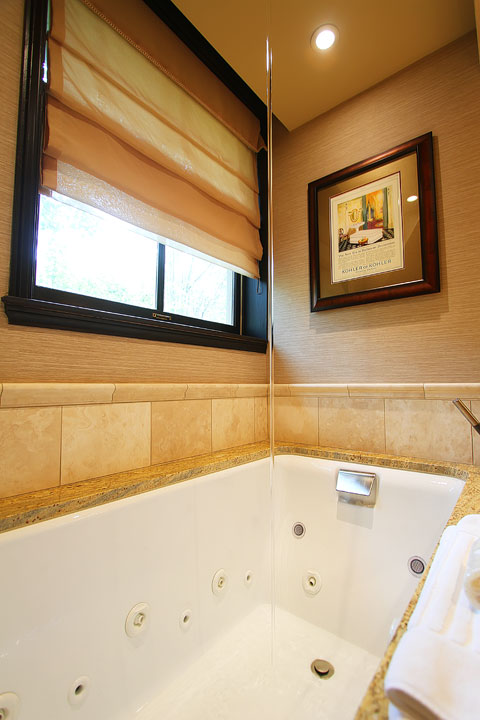 I was in LOVE with this tub! Look! The water is coming from the ceiling! :) It was like my own personal waterfall. All the fixtures were by Kohler, so the bathroom was ultra swanky. :)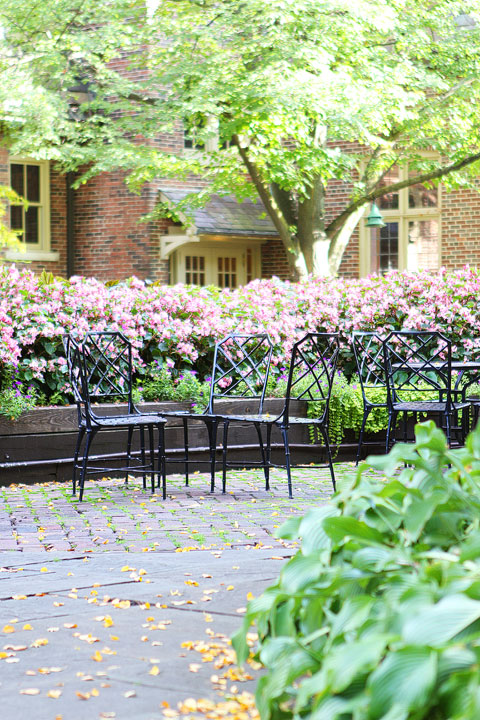 The quiet courtyard outside of our rooms. The hotel reminded me of being on an Ivy league college campus. So beautiful, massive, and quiet, with outdoor hallways, long corridors, and coffee shops tucked in the midst of gardens.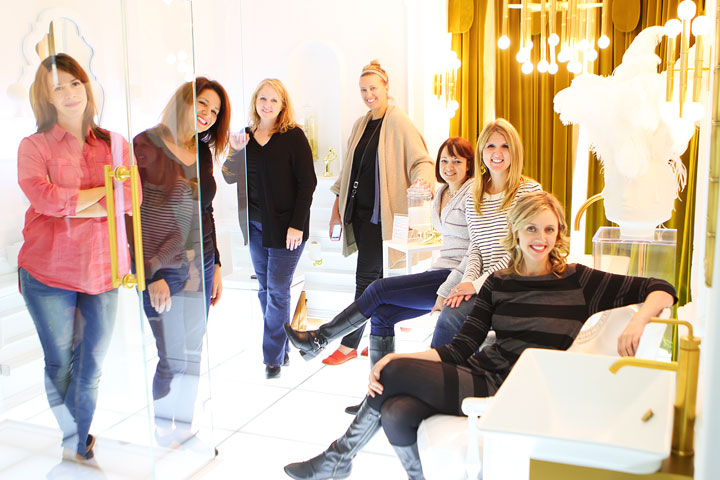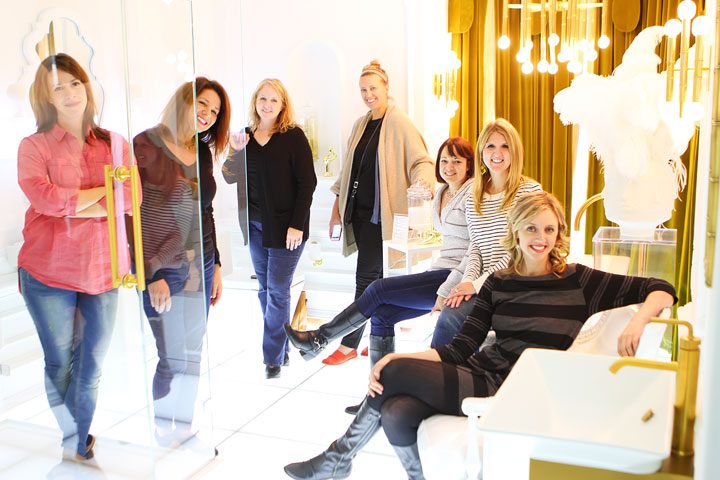 This Museum In Kohler Is Great For Remodeling Inspiration
We took a tour of the Kohler Design Center and Museum and saw so many good ideas for gorgeous bathrooms. A great place to visit if you are remodeling or redecorating! Or just need some new ideas to make your home bathroom feel more like a spa. :)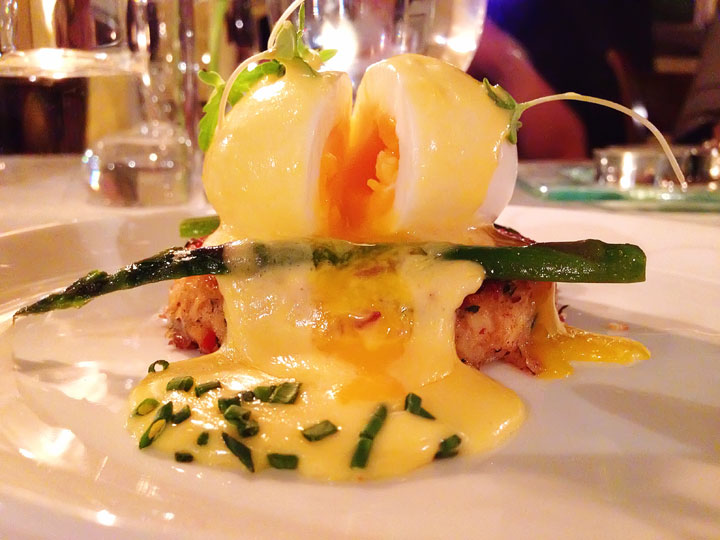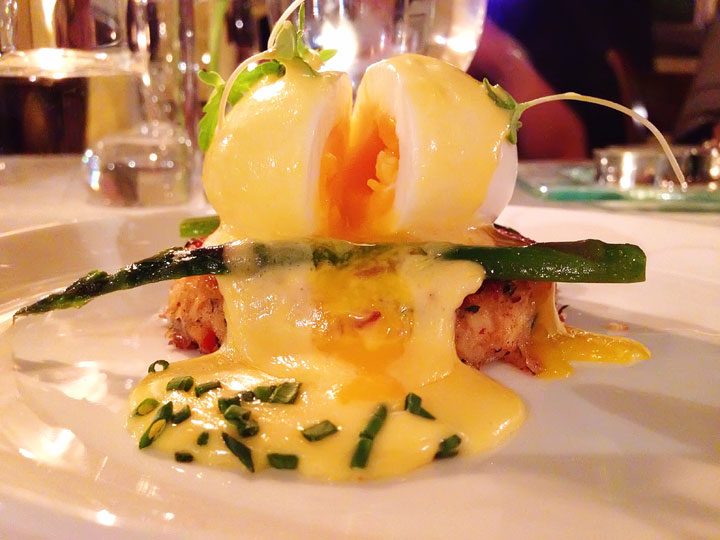 Kohler, Wisconsin Has Some Of The Best Places To Eat
Okay, now onto the food. :) The first night there we had dinner at The Immigrant Restaurant and had the Chef's Tasting Menu. Seriously one of the best meals of my life. Every single bite was amazing. We started with this appetizer, a Tasmanian Red Crab Cake with soft boiled egg and Lobster Hollandaise. Incredible.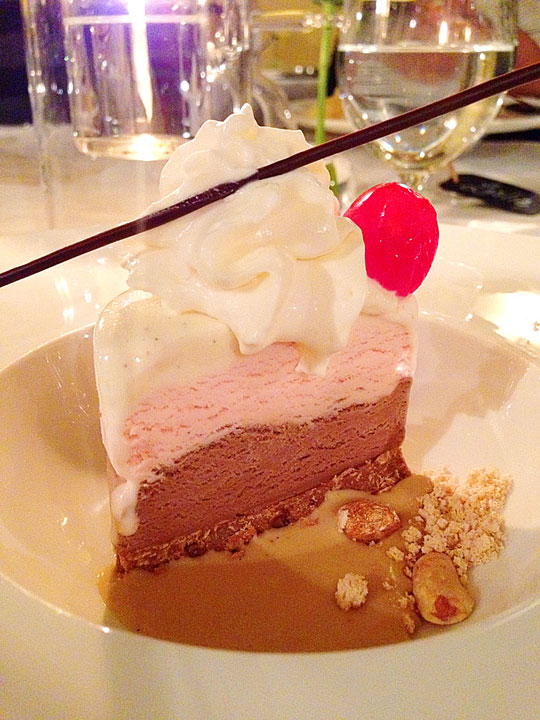 Dessert was this amazing Strawberry, Chocolate, and Vanilla Ice Cream Cake with Bruleed Bananas and Pineapple Compote all swimming in a Peanut Butter sauce and topped with Caramelized Whipped Cream. Heaven in a bowl!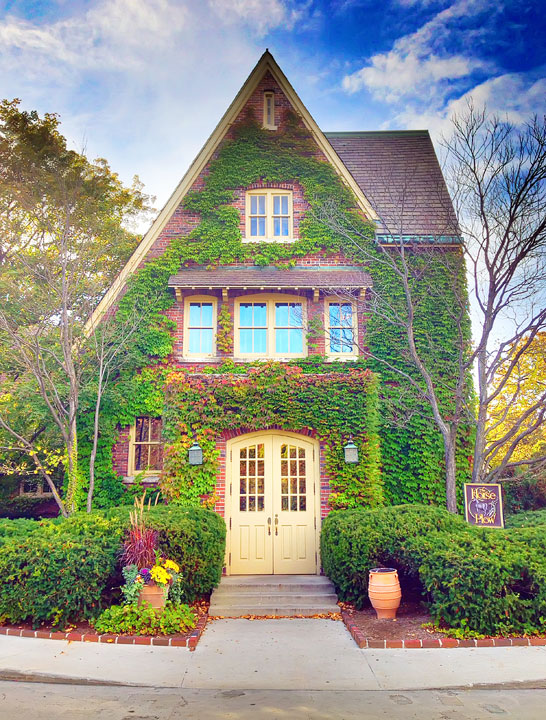 Another favorite, totally casual meal was at the Horse & Plow.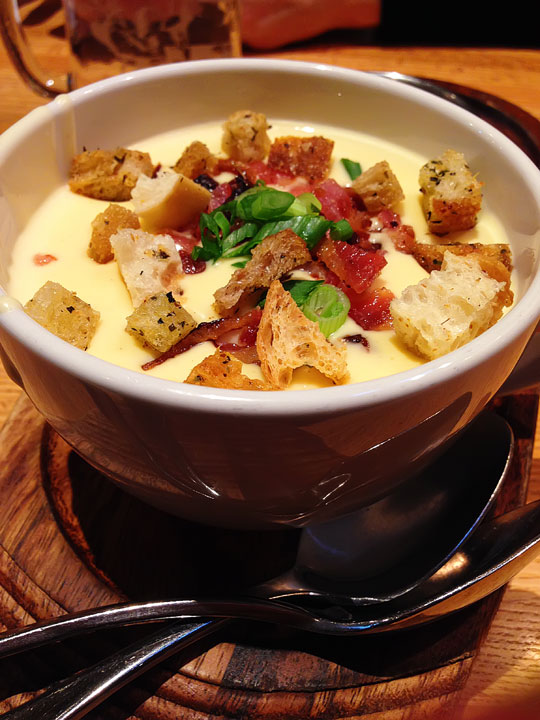 I started with this warm, comforting bowl of Wisconsin Cheese Soup. A must.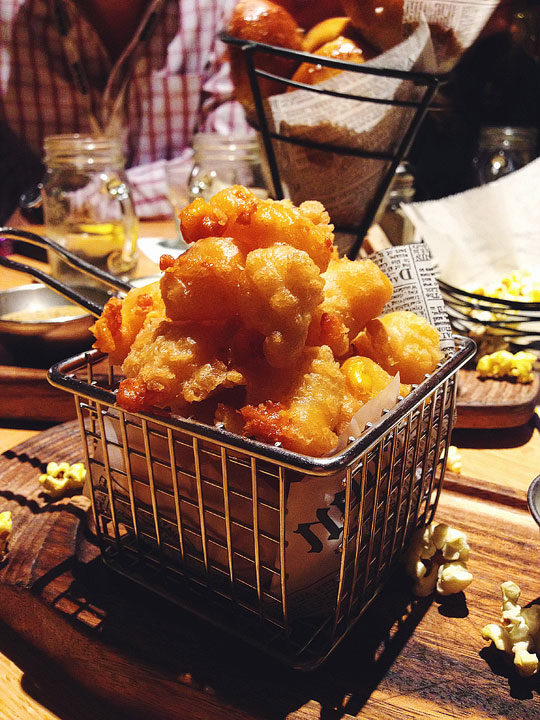 I am still dreaming about these Beer-Battered Cheese Curds with country buttermilk ranch dressing!! I didn't get a picture of the House-Made Pretzel Bites, but those are an absolute must too. :)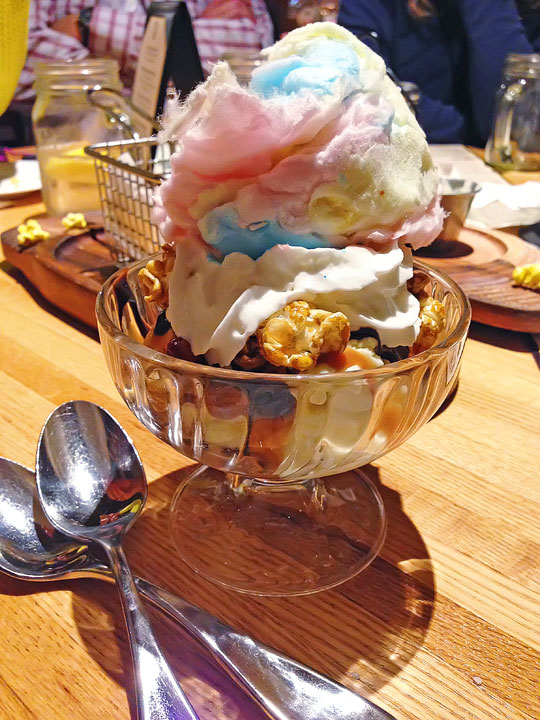 For dessert we split this seriously fun State Fair Sundae. Buttered popcorn ice cream topped with caramel popcorn, cotton candy, and chocolate & caramel sauces. I didn't eat the cotton candy, but I LOVED the ice cream and caramel corn combo!! I am totally doing this the next time I have ice cream. :) So good! :)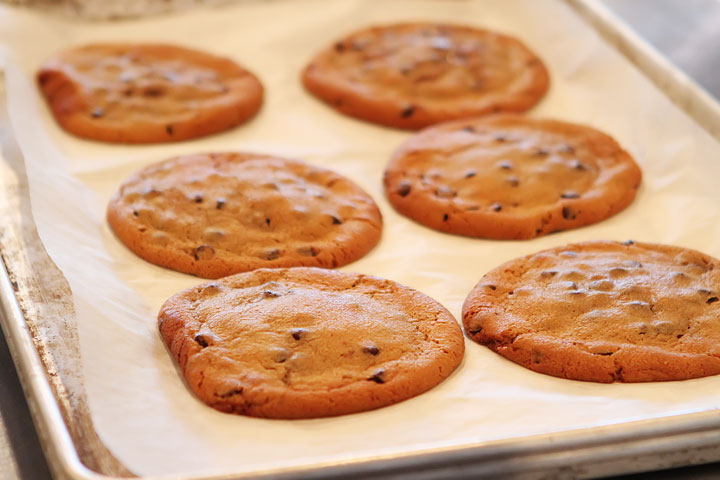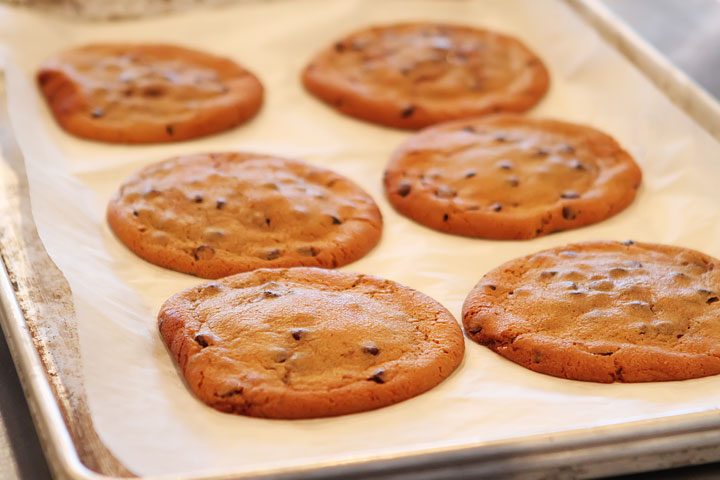 Check Out This Bakery In Kohler If You Love Sweets
Kohler also has an amazing chocolate cafe and bakery, the Craverie Chocolatier Café. These cookies were to die for! :)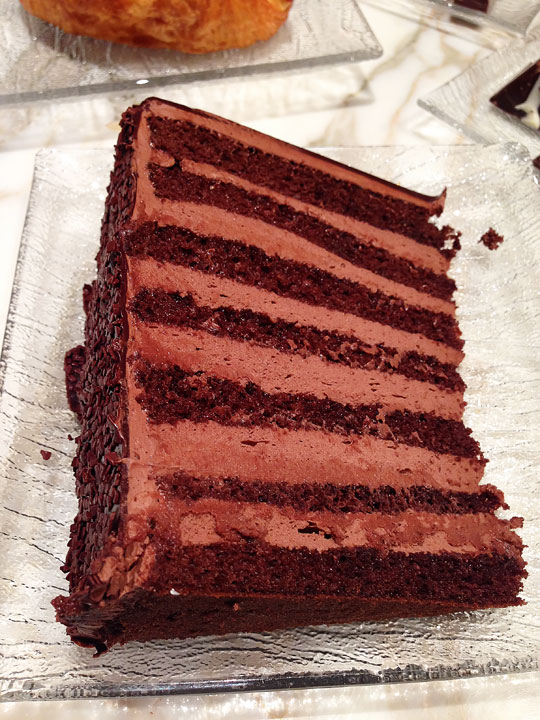 How swoon-worthy is this massive chocolate cake?? A taste-testing here is a must for sure. :)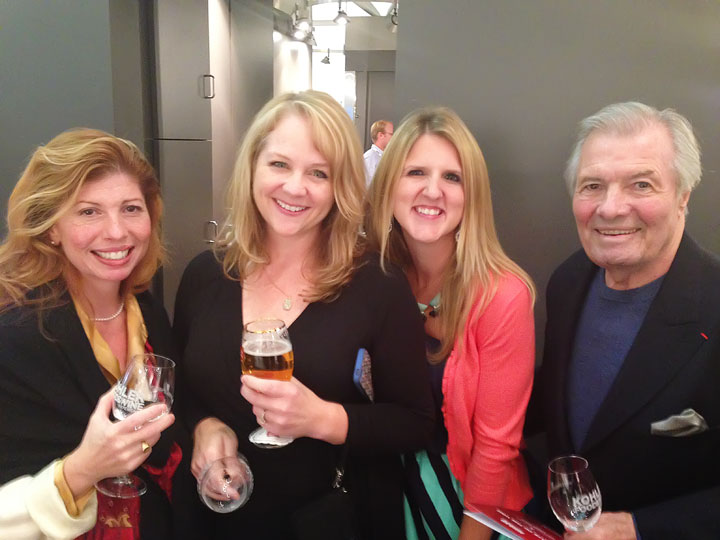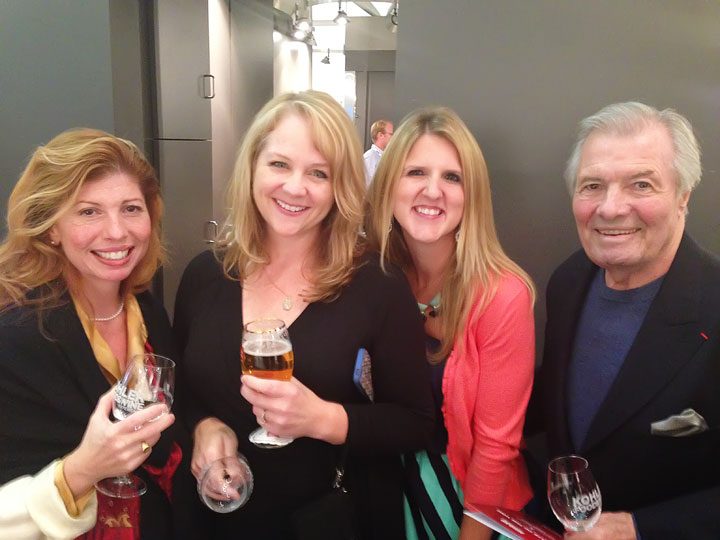 Claudine Pepin, Amy, Me, Jacques Pepin.
The Kohler Food & Wine Experience Was So Much Fun
We were there during the annual Kohler Food & Wine Experience, so in our free time we got to attend a few classes and cooking demos with renowned chefs like Jacques Pepin. Jacques and his daughter Claudine had a wonderful cooking demo! They have such great onstage chemistry. The best part was that everyone in the audience gets to taste-test what they're making. :)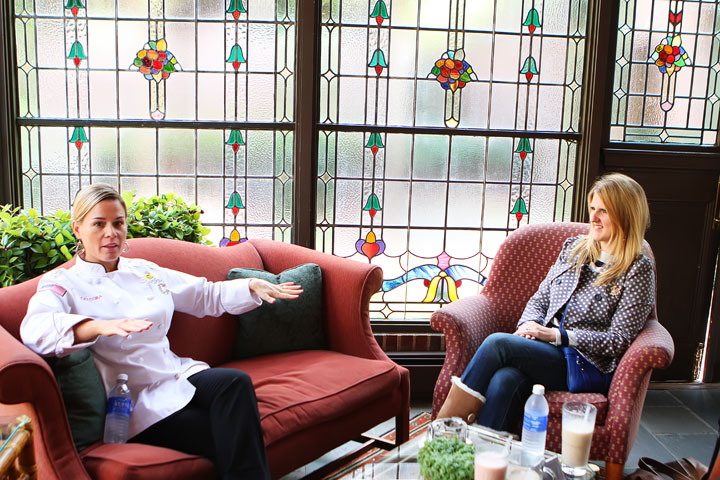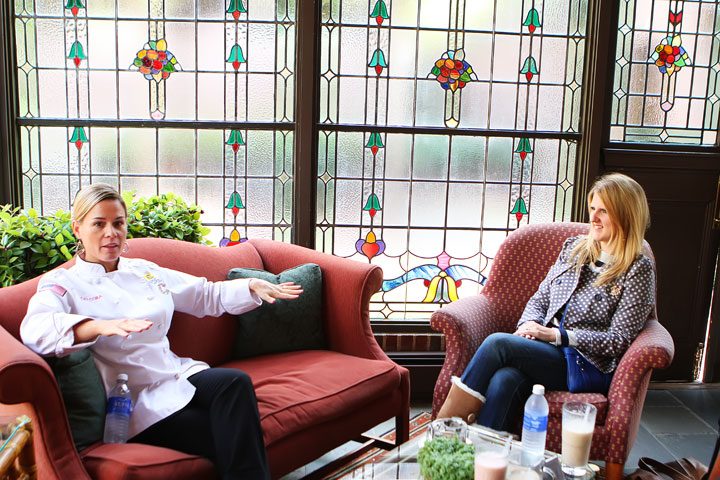 Iron Chef Cat Cora was there doing a cooking demo as well, and after her session we got to sit down and chat with her.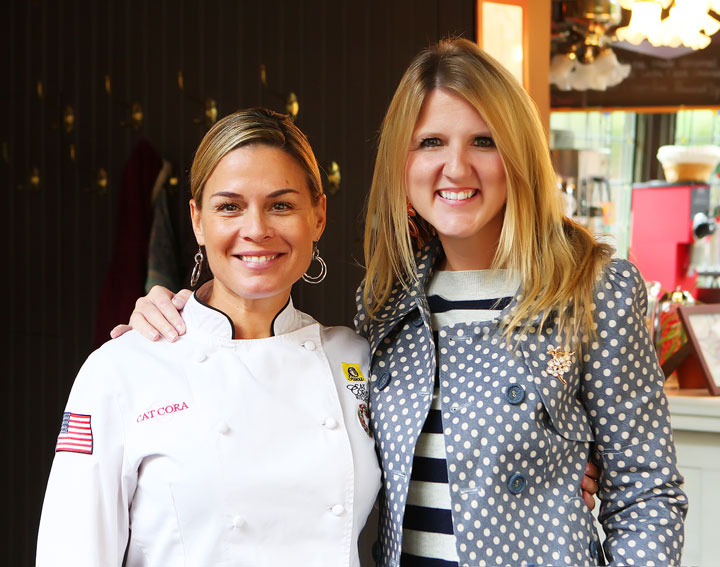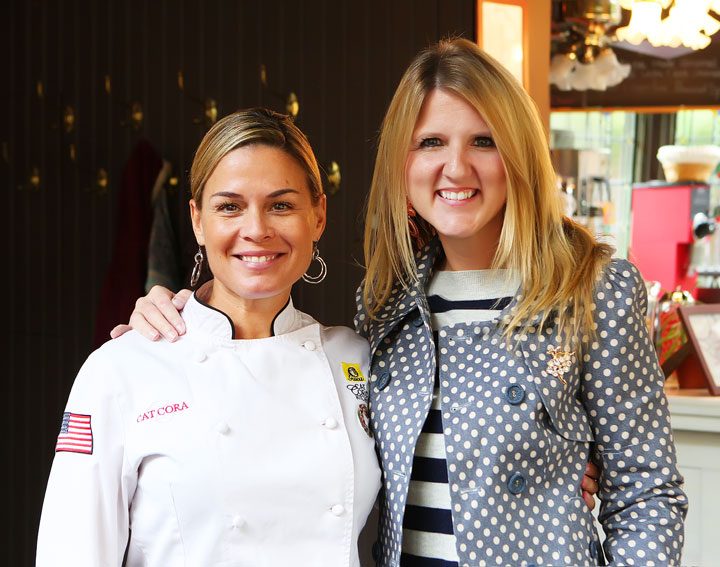 She was so sweet and totally down to earth!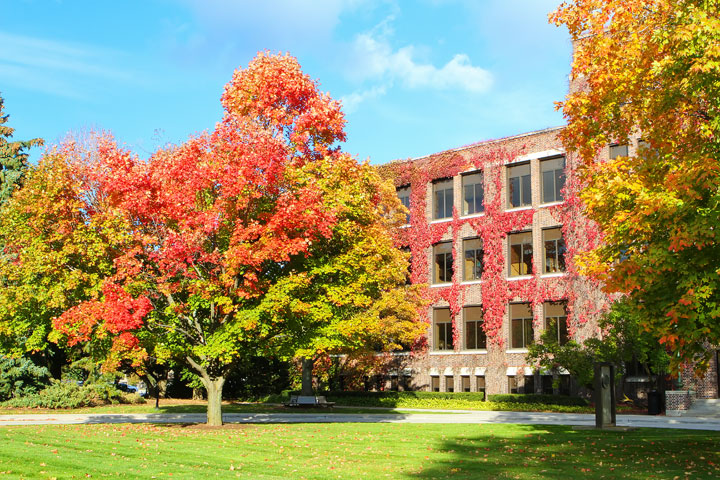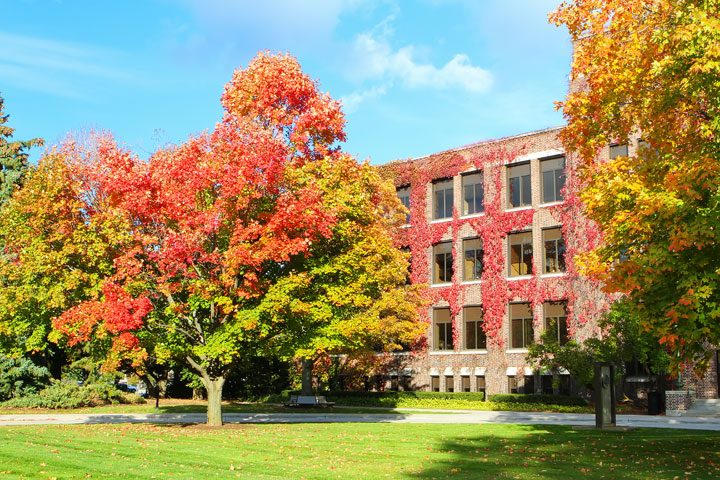 There are So Many Great Places To See In Kohler
I loved being on Kohler's stunning campus. We were there Oct 17-20 and the fall leaves were at their peak.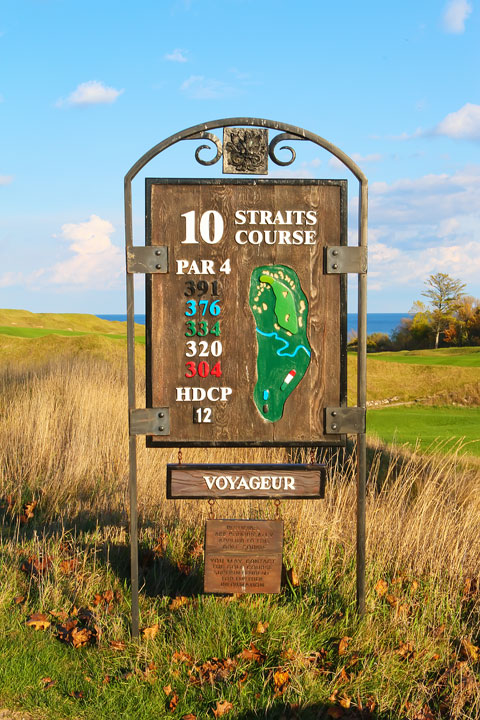 On Saturday afternoon we explored the award-winning Whistling Straits Golf Course.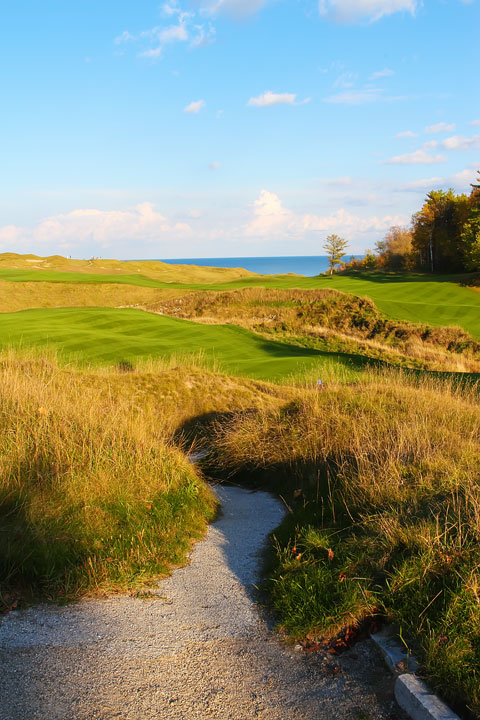 I am not a golfer, but I loved just walking along the quiet trails and taking in the beauty of this course.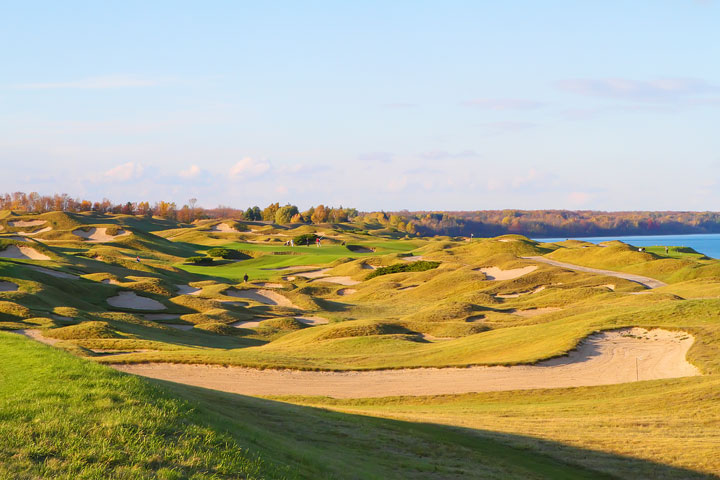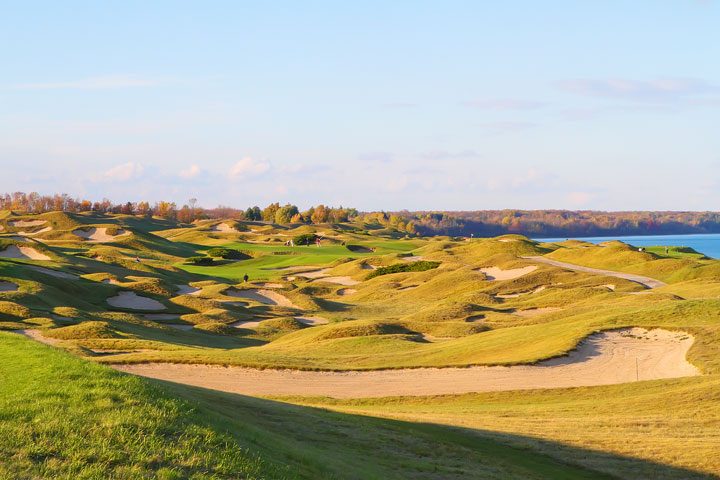 Looks like a breeze, huh?? Lol!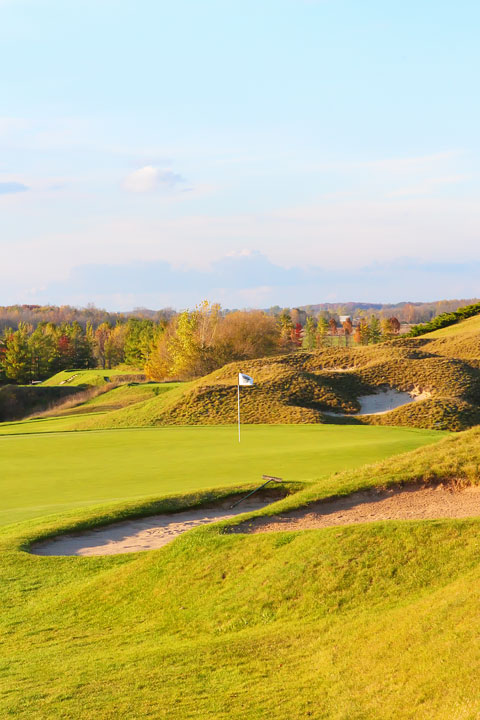 The Whistling Straits golf course hosted the 2004 and 2010 PGA Championships and boasts sweeping views of the shores of Lake Michigan.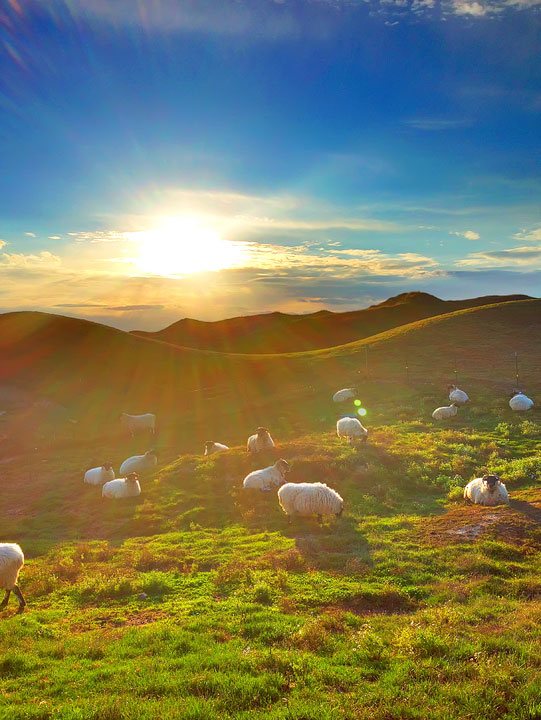 The golf course is also home to a herd of sweet Aberdeen sheep, brought over from Scotland.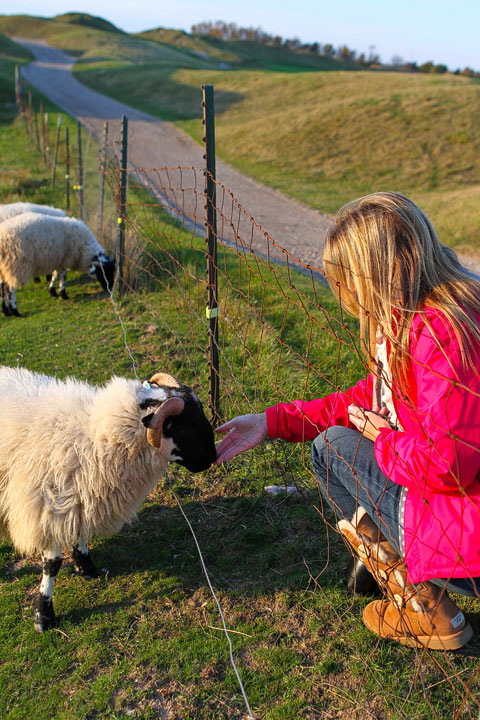 Photo via Dara
This little guy came over to say hi. :)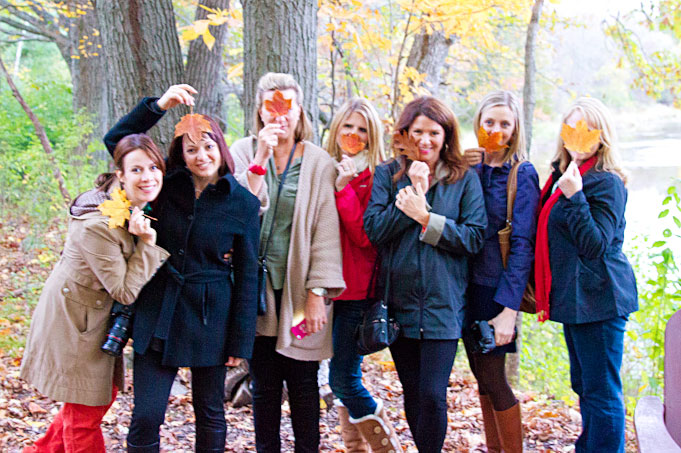 This Rustic Restaurant Has Amazing Food
Our final meal in Kohler was at the River Wildlife Lodge, a private cabin tucked away in the middle of the woods.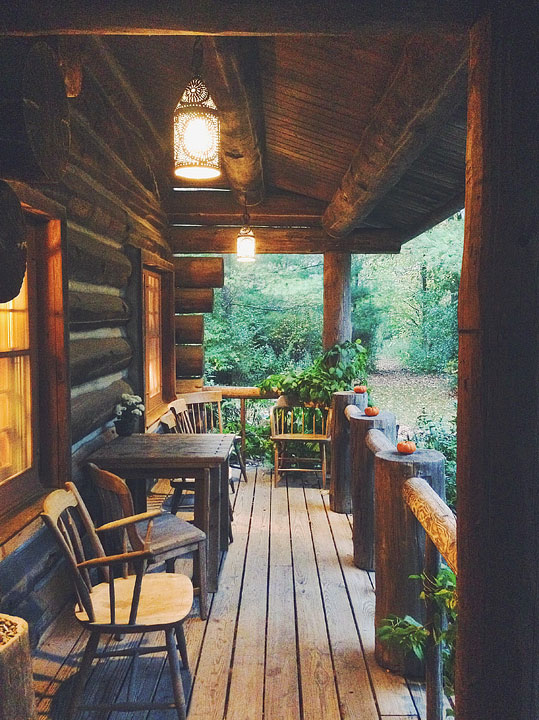 We walked down a leaf-covered trail through the lush forest to reach this cozy, rustic log cabin.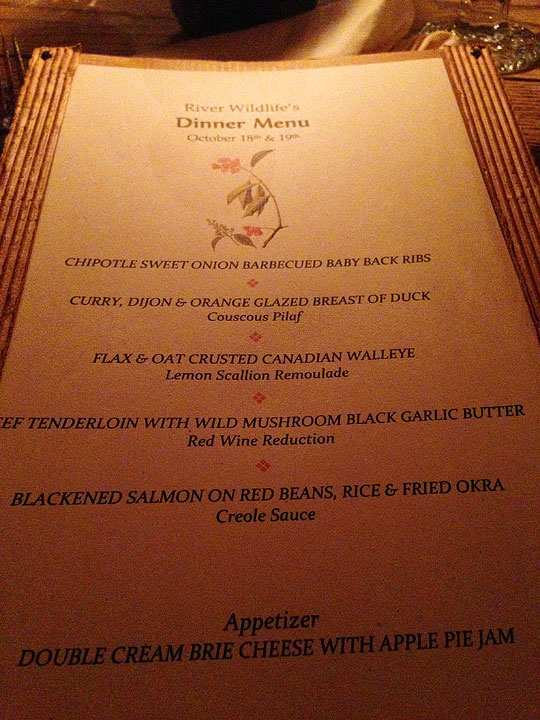 Everything on the menu looked amazing. I had no idea how I was going to choose! I decided on the Flax & Oat Crusted Canadian Walleye with Lemon Scallion Remoulade and it was phenomenal.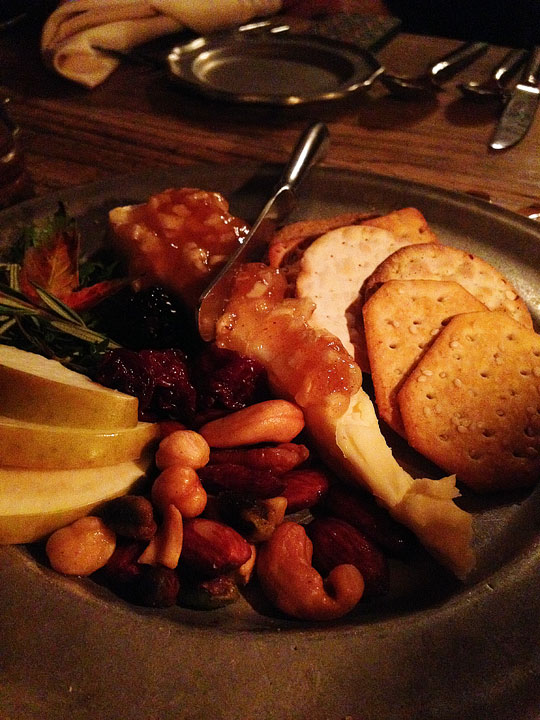 And of course, the Brie is always a must!! :) Such a perfect night. This was seriously one of the most unforgettable meals of my life. I feel so lucky to have been a part of such an amazing weekend. Thank you so much to Kohler for hosting me for this event!
Plan Your Own Kohler, Wisconsin Weekend Getaway
If you get the chance to visit Kohler, here's what I suggest you put on your must-do list :)
Where to Stay
Where to Eat
The Immigrant Restaurant
Horse & Plow
River Wildlife Lodge
Craverie Chocolatier Cafe
What to do
Relax at the Waters Spa
Play golf at (or just explore!) one of the Award-Winning Courses
Shop in Kohler's Shops at Woodlake
Visit the Kohler Design Center
Plan for the Kohler Food & Wine Experience 2014