I am in the bad, bad habit of watching Food Network Nighttime in bed, before falling asleep. I love all the shows- Good Eats, Throwdown with Bobby Flay, Chopped, The Best Thing I Ever Ate. It works out good for me too- sometimes I have trouble turning off the brainwaves at night, so I either watch TV until I fall asleep… Or until I pass out from hunger.
The Best Thing I Ever Ate is especially gut-wrenching because they never post any of the recipes- and it always inevitably makes me want to hop the next red-eye flight to the nearest 3,000 miles away, sophisticated big city where they are and immediately order whatever it is that they are having- the thing that makes one's life not worth living until you've had it.
The other night the show was titled "Snack Attack." Oh man, was that the wrong show to be watching at midnight.
The founder of Sprinkle's Cupcakes was on, and she was talking about her favorite "Snack Attack"- Doughnut Muffins. Muffins, which really taste more like a sweet doughnut cupcake, flavored with just a hint of freshly ground nutmeg, and when fresh out of the oven, brushed all over in warm, melted butter and rolled in cinnamon sugar. I just about fainted on the spot.
Instead, I threw back the covers, leapt from the bed, ran to the office and immediately started Googling doughnut muffin recipes. It was the right thing to do. The next morning, I had these: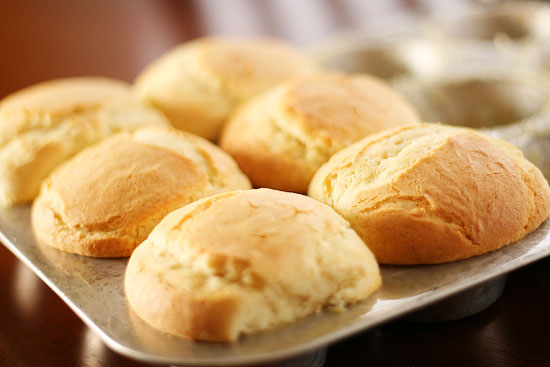 Oh man. They were so light and fluffy. So sweet and airy. So buttery and rich. Yes. Buttery and rich. But light and fluffy. I don't know how they did it. But oh, that muffin top. I love, love loved the crackly, crispy top.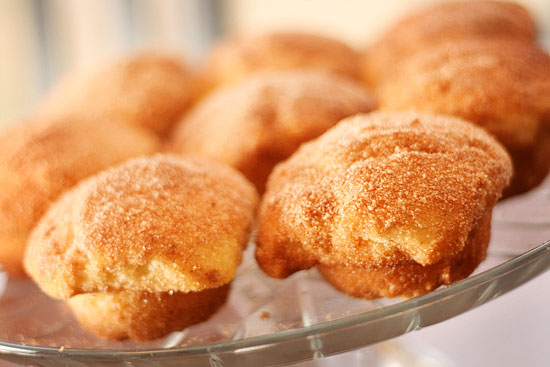 And then, when I brushed the entire muffin with melted butter, and covered them all over in a crispy, cinnamon sugary crust…  It was like eating that best part of a muffin, the muffin top- but allllll over. Then biting into the most decadent doughnut cupcake you've ever eaten.
If you wanted to be extremely indulgent, you could swirl on a little of my favorite glaze: 1 cup powdered sugar, 1 tbsp melted butter, and 1-2 tbsp milk, whisked to combine.
Just like a doughnut.
Perfect, perfect, perfect for a cozy, weekend brunch- and for sharing with friends! :D
Doughnut Muffin Recipe
*I also found this article on Doughnut Muffins helpful! :)
♥♥♥
And now, If I haven't sent you over the edge yet… I've posted about these Blondies before– I'm kind of obsessed with them. They're easily one of my Top 5, all-time favorite desserts. Give me a choice of cookies, brownies or blondies and I'll pick these Blondies, hands down, every single time.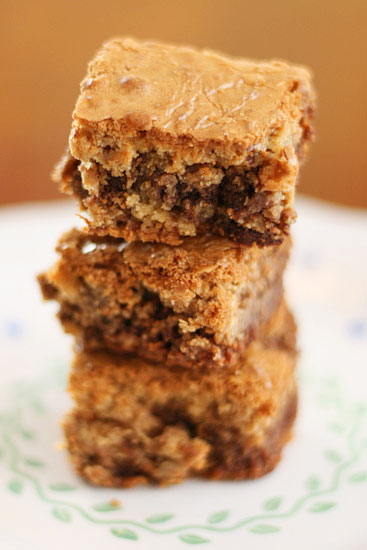 I usually make Blondies just plain- I am in love with this simple, original Blondie recipe- I want to marry it. But today I decided to add in a little extra chocolatety and hazelnutty goodness- yes, I am talking about those creamy, delightful swirls of Nutella. *swoon*
I posted about them today, over on my recipe blog.
♥♥♥
Okay. One last thing. I promise.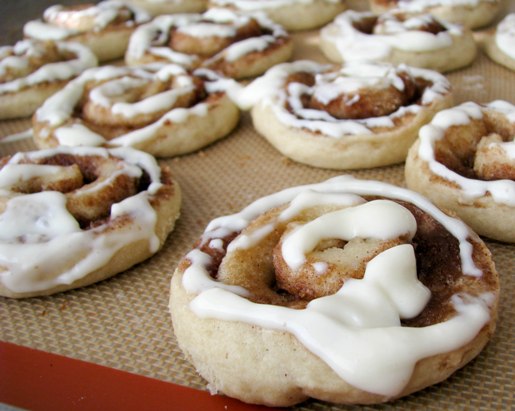 *Photo by Jenny Flake
Make these. Cinnamon Bun Sugar Cookies. Right now. You'll thank me.
♥♥♥
Thanks for looking! :D