Blondies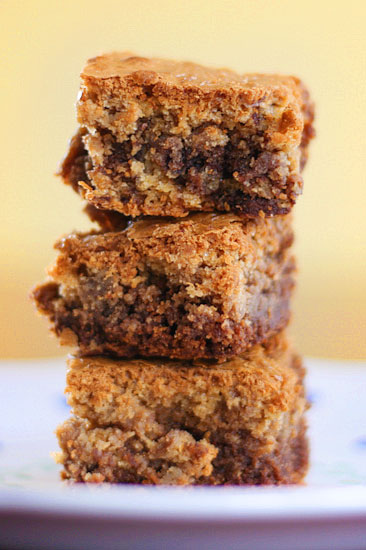 Hi. My name is Amanda. And I am totally addicted to Blondies.
Buttery and brown sugary, soft and chewy, rich and delicious- they're squares of pure heaven. How can you go wrong with a combination like that? They're super easy to make and you can totally customize them with your favorite drop-ins and add-ins. Blondies are definitely in my Top 5, all-time favorite desserts.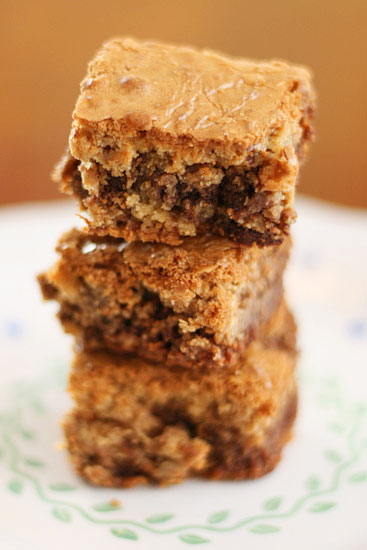 Now, I usually make Blondies just plain- I am in love with this simple, original Blondie recipe- I want to marry it. But today I decided to add in a little extra chocolatety and hazelnutty goodness- yes, I am talking about those creamy, delightful swirls of Nutella. *swoon*
Here's how I did it- along with some other suggestions of how you can customize these Blondies to make them totally your own! What would *you* add in to these Blond Bombshell Beauties?? :)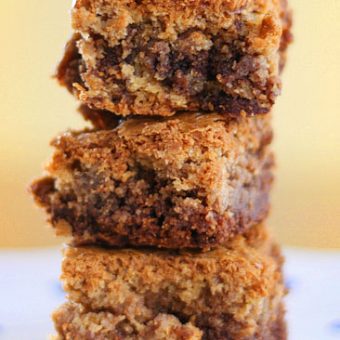 Blondies
Ingredients:
1 1/2 cups butter
1 1/2 cups all-purpose flour
1 teaspoon baking powder
1/2 teaspoon salt
1 cup light brown sugar
1/2 cup dark brown sugar
2 eggs
1 teaspoon vanilla extract
Nutella (optional)
Directions:
Preheat oven to 350 degrees F. Grease an 8×8″ baking dish. (Line with foil, wax or parchment paper if desired. Grease the lining too.)
Melt the butter in a medium, heavy-bottomed saucepan over medium heat; add both sugars and whisk until combined and sugar is melted, about 5 minutes. Remove from heat and set aside to cool slightly.
Meanwhile, whisk together the flour, baking powder and salt in a medium bowl.
Next, in a large bowl, whisk together the eggs and vanilla extract until combined. Slowly drizzle in the butter and sugar while whisking constantly. Then add the flour and whisk until just incorporated.
Now, at this point you could fold in your favorite add-ins: chocolate chips, milk chocolate chunks, nuts, etc. Me? I like mine just plain, baby.
To make Nutella Swirl Blondies
Pour the batter into the prepared dish, then drop spoonfuls of Nutella over the surface. (I did probably 9-10 spoonfuls) Swirl the batter in the pan making "S" shapes with a butter knife.
Other optional variations
You could swirl in peanut butter or caramel. Or you could make a batch of cookie dough (my favorite would be peanut butter cookie dough or double chocolate chip cookie dough) and press chunks of cookie dough down into the batter. The options are limitless! :)
Bake for 25-30 minutes or until the top cracks slightly and is firm to the touch and a toothpick inserted into the center comes out with moist pieces clinging to it. Remove to a wire rack and let cool completely. Or until you can't stand it any more and have to dig in!