These decadent Vanilla Bean Macarons are topped with gorgeous edible glitter for a completely magical, festive holiday treat. Get creative with these vibrant Christmas pastries! Learn to make 3 tasty macaron variations.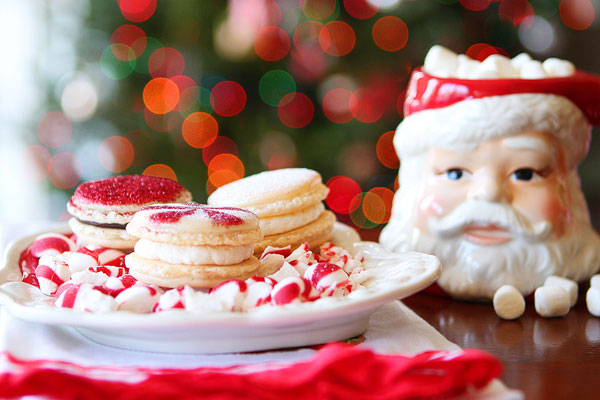 Vanilla Bean Macarons with Christmas Frosting
Oh my gosh, I am absolutely  in love with our latest edition of Christmas macarons! Stephanie and I are at it again, and we had seriously way too much fun making these sparkly holiday macarons. We got glitter everywhere!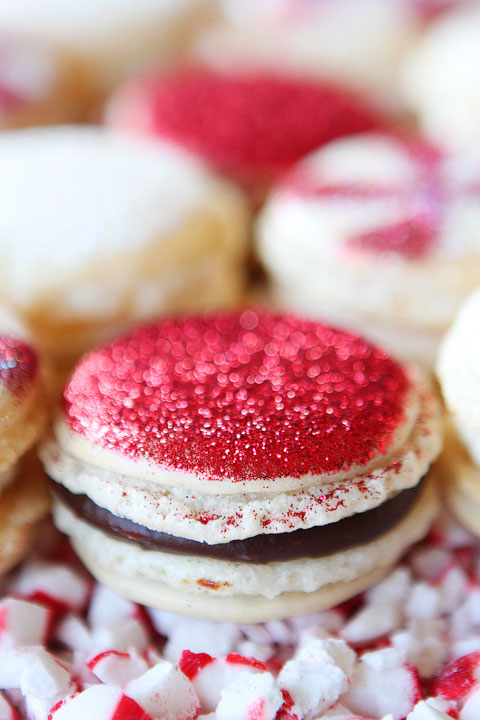 I took a tray of these beauties to a holiday party this year and I cannot tell you how much everyone's eyes lit up! They are definitely the star of the show, and people are so surprised when they bite into these fabulous cookies for a light, fluffy, decadent surprise. Not only are they stunning, but we also filled them with three festive holiday frostings. Like these red macarons, filled with Spicy Milk Chocolate Mocha Ganache.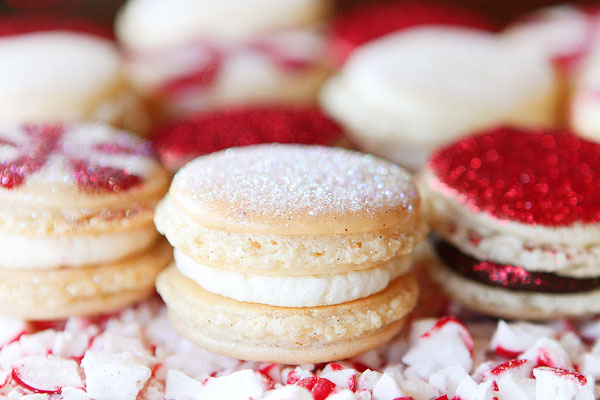 And our white macarons, filled with Eggnog Marshmallow Fluff.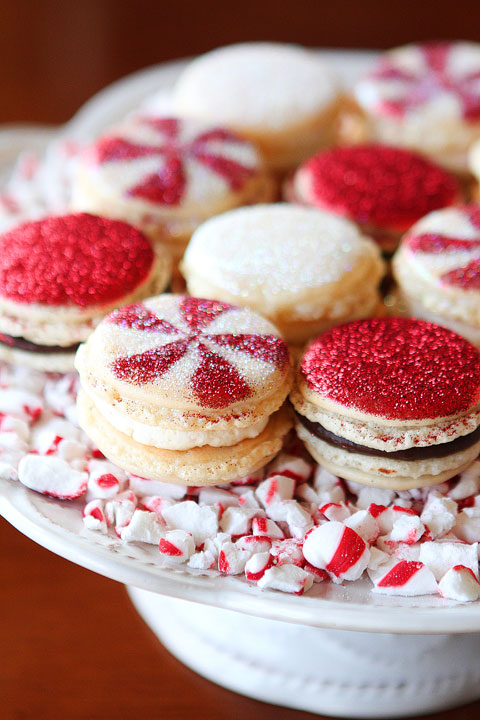 These fun candy cane swirled macarons are filled with White Chocolate Peppermint Buttercream. Can you say yum??
You guys totally know how to make macarons now, but if you need a refresher, check out our Thanksgiving and Halloween macarons for step by step photo guides.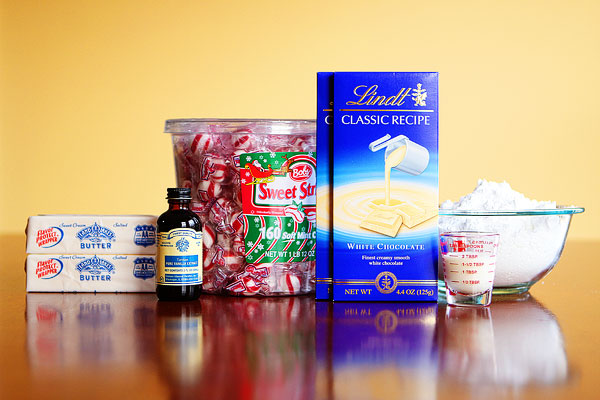 White Chocolate Peppermint Buttercream Macarons
Here's how we made our White Chocolate Peppermint Buttercream. I looked for soft candy cane sticks to use for this buttercream, but I couldn't find them, so I went with these soft peppermint candies. I wanted that fun look of crushed peppermint in my frosting, but I didn't want to hurt anyone's teeth with rock hard candy!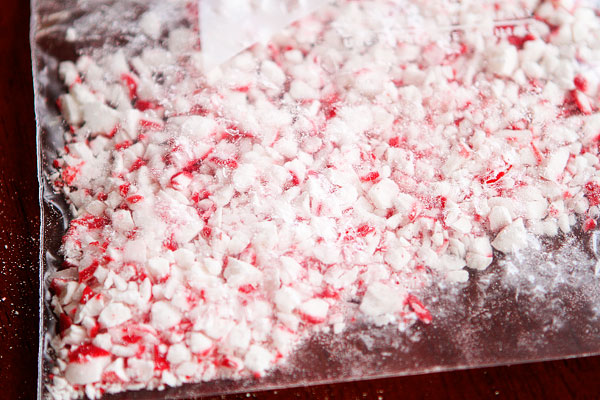 Unwrap a few peppermints and crush, crush, crush until you have approximately 1/4 cup.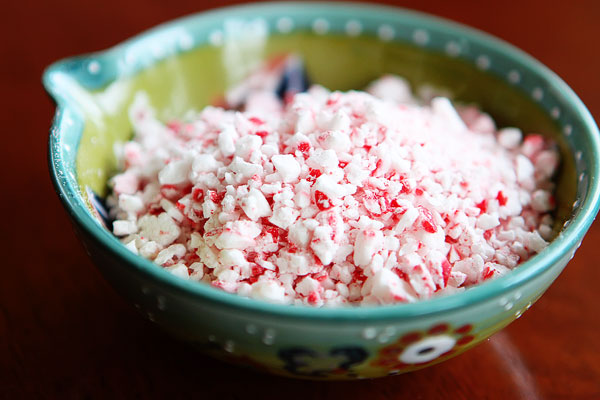 I didn't want my frosting to be too chunky, so I crushed mine pretty fine.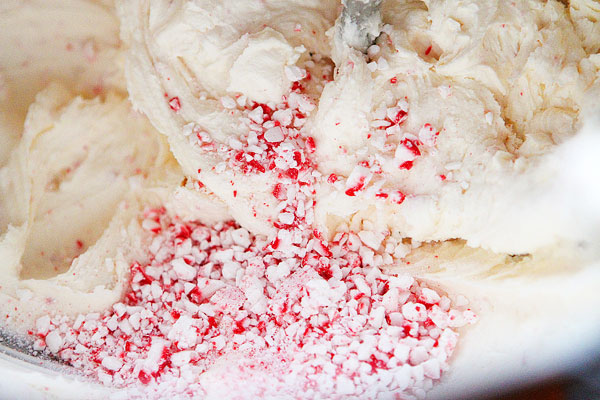 This will give your frosting just a hint of peppermint, but feel free to add more if you want a stronger peppermint taste!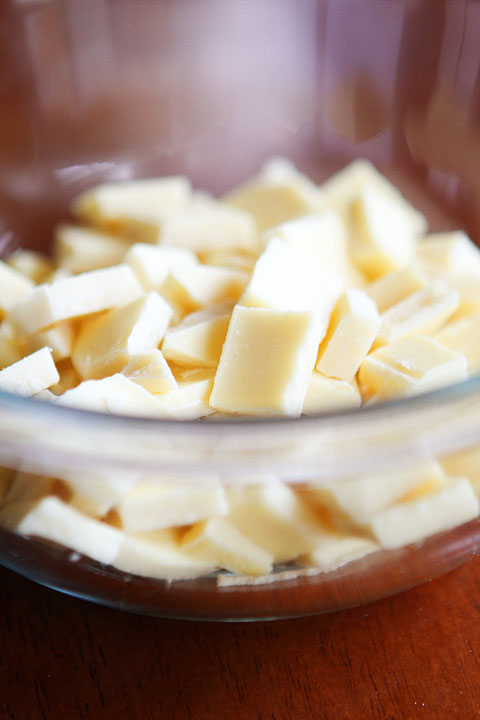 Now for your white chocolate. Just grab a bar of white chocolate and chop it up here. But don't use white chocolate chips, they're too waxy and will give your frosting a funky texture.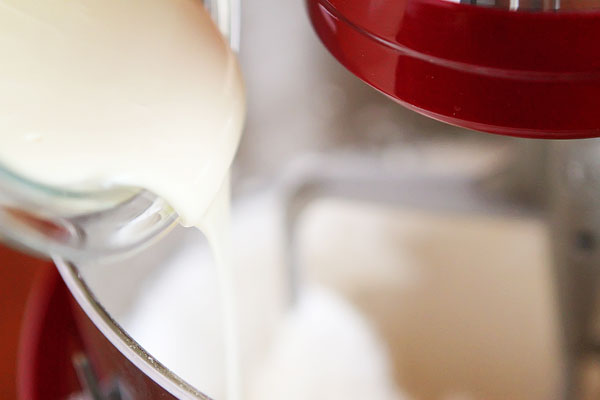 Melt your white chocolate in the microwave, stirring every 30 seconds and add it to your frosting.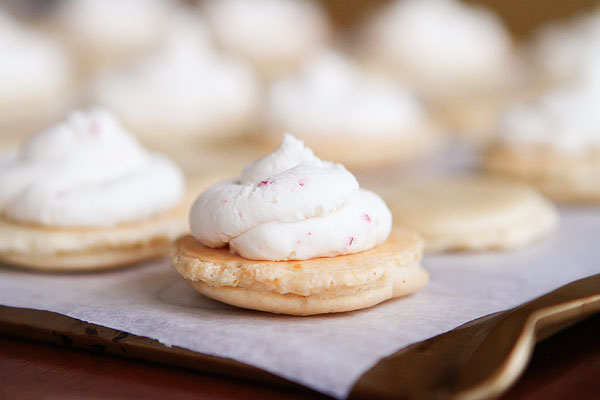 Love these peppermint specks! This frosting is not too sweet and the flavor of the macaron really shines through here.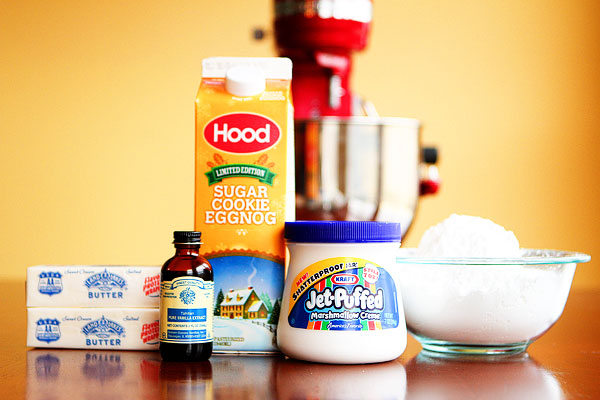 Eggnog Marshmallow Fluff Macarons
Next up is our Eggnog Marshmallow Fluff! Oh my gosh, I love, love, loved this one! This one totally turned out to be my favorite and I will definitely be making it again ASAP. Now I'll admit, I don't like eggnog, but I can handle this fun Sugar Cookie Eggnog! It's sweet and tastes like a milkshake. In other words, it doesn't taste like eggnog at all. :) If you really can't stand the thought of using eggnog, feel free to use heavy cream instead, but trust me, you must make this sweet, fluffy frosting! It is to die.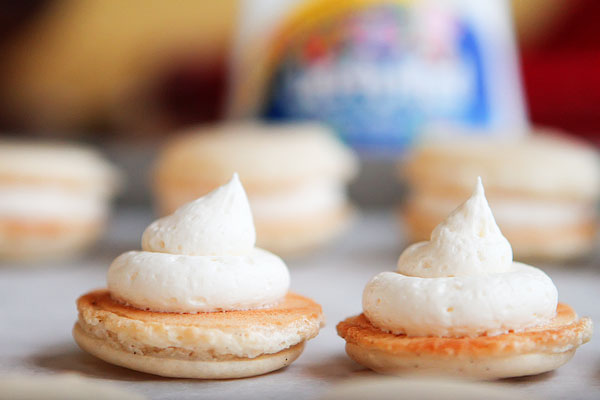 So light and fluffy.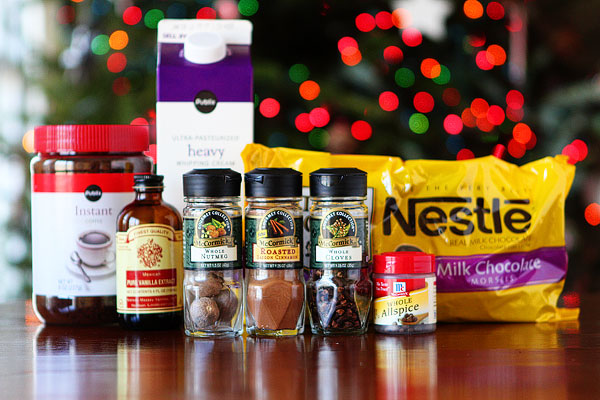 Spicy Milk Chocolate Mocha Ganache Macarons
And finally we have our Spicy Milk Chocolate Mocha Ganache. This beautiful chocolate ganache has so many wonderful flavors going on. Milk chocolate, a hint of coffee, and warm Christmas spices like nutmeg, cinnamon, and allspice. These warm flavors pair perfectly with Mexican vanilla, if you have some on hand.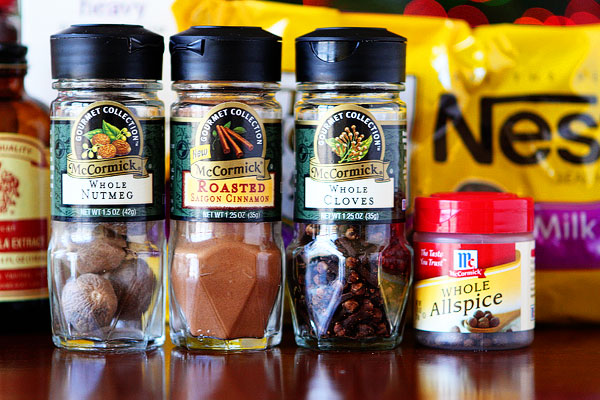 Feel free to use ground spices here, but sometimes, on special occasions, I like to grind them myself. They pack so much flavor and fill the kitchen with such an incredible fragrance all day.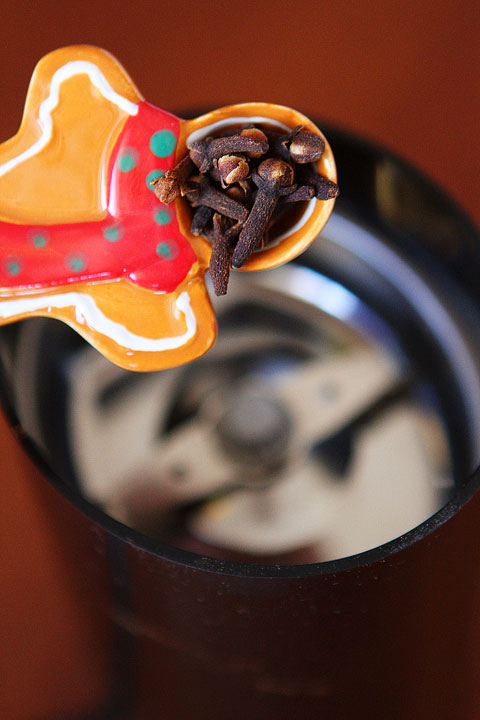 I use a $20 coffee bean and spice grinder from Krups to do the job. Just add a few whole spices to grinder, add the lid and press the button to grind into a fine powder.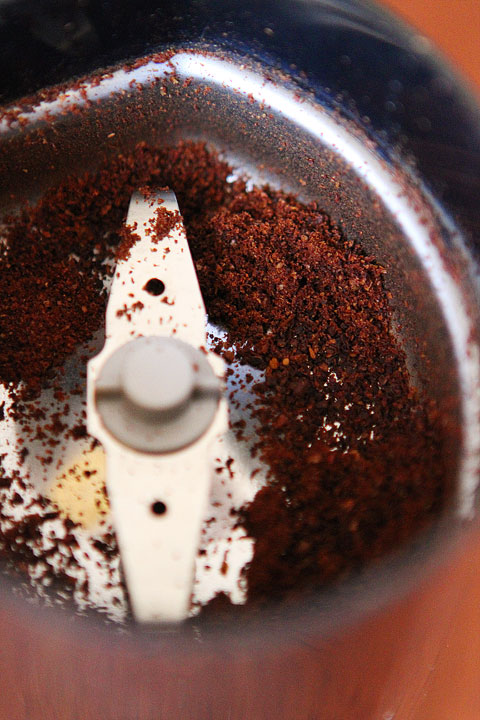 Perfect. Usually by the time I can't hear the spices clanging around in there anymore, it's ready!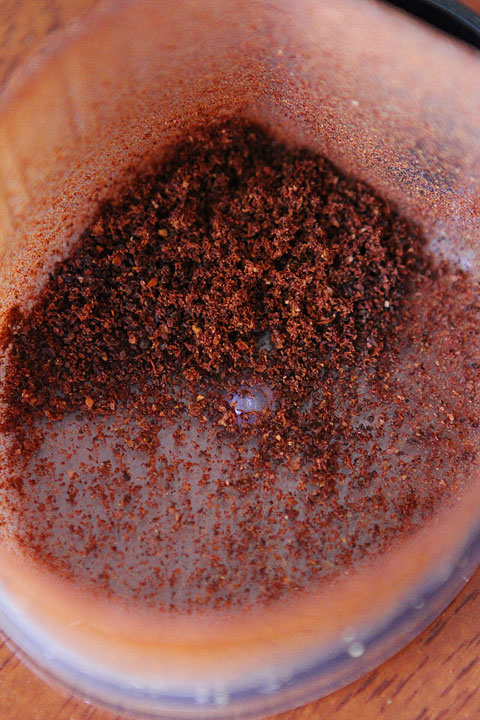 Just turn the grinder over and tap and the lid becomes a bowl for all your freshly ground spices. Makes scooping out the right measurement a cinch.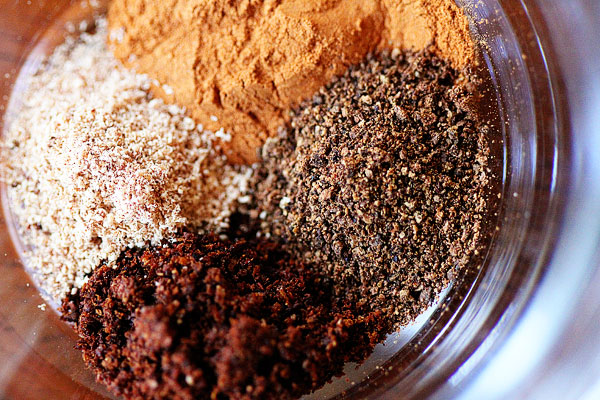 Cinnamon. Allspice. Cloves. Nutmeg. I cannot tell you how fabulous this smells!
Note: I only used the spice grinder for the allspice and cloves, I use a fine grater or zester for the nutmeg and the cinnamon was pre-ground.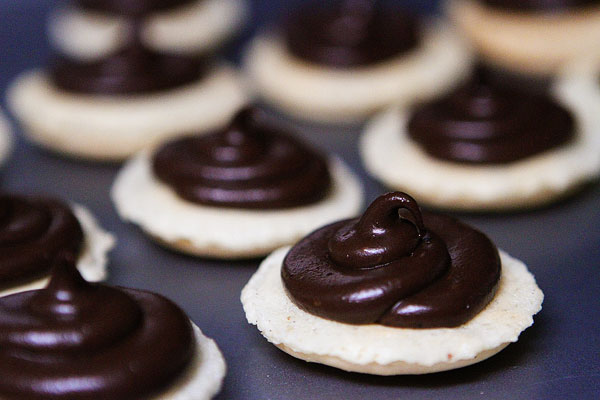 This spicy ganache will warm you right up!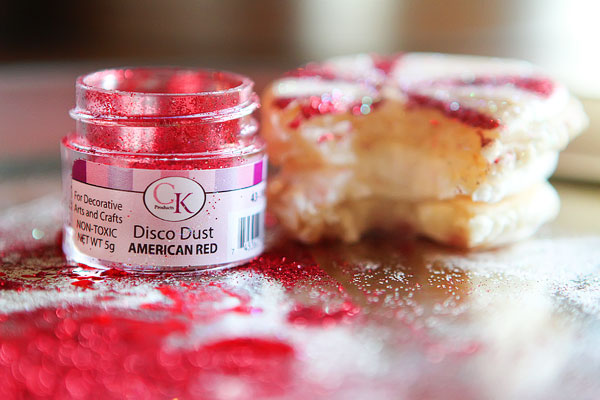 Decorating Your Merry Macaroons
Now for the fun part! Oh my gosh, we got glitter everywhere! It was all over our hands, faces, clothes, cameras, and even Miley and Howie were pretty sparkly by the end of it. It was so much fun. We used Disco Dust edible glitter in American Red and Rainbow. I was worried the glitter would add a funky texture to the macarons, but you actually can't tell it's there at all.
To prepare the macarons for the glitter, we brushed them with a simple syrup, which is just equal parts sugar and water boiled until the sugar dissolves and then cooled. I did 1/2 cup sugar and 1/2 cup water, but you could probably get by with 1/4 cup here. I forgot to get a picture of this step!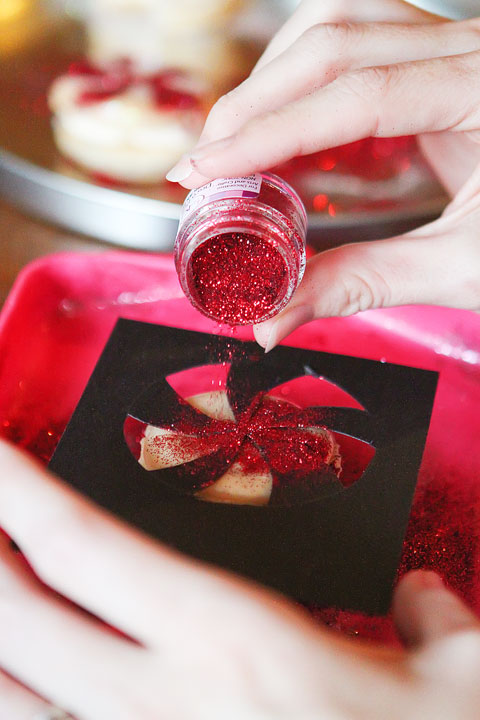 For the candy cane swirl macarons, Stephanie made this pinwheel template for us. Just lay it on the macaron, sprinkle with red glitter, gently lift off the template, and then quickly flip the macaron over to remove excess glitter.
Download Stephanie's pinwheel template here.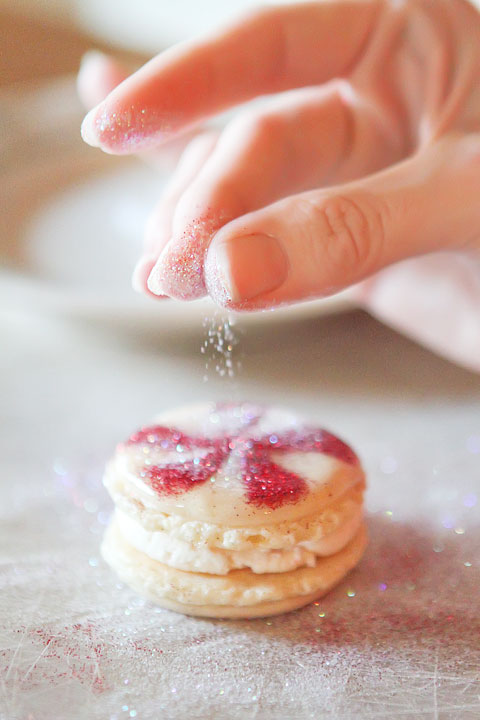 Now sprinkle the whole thing with rainbow glitter!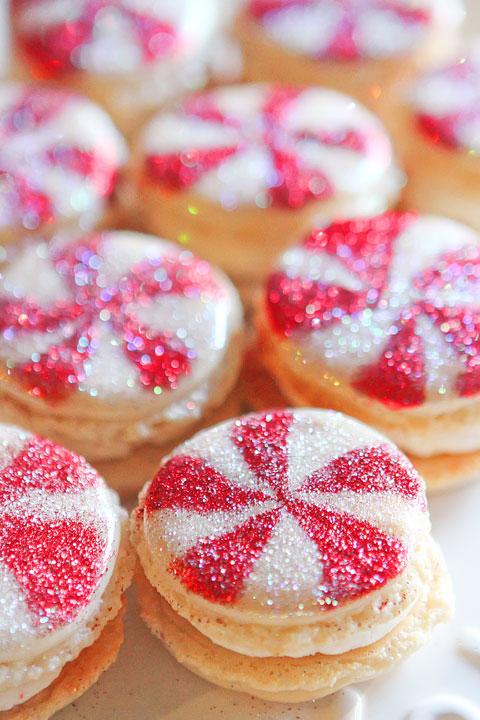 Eek! I love these!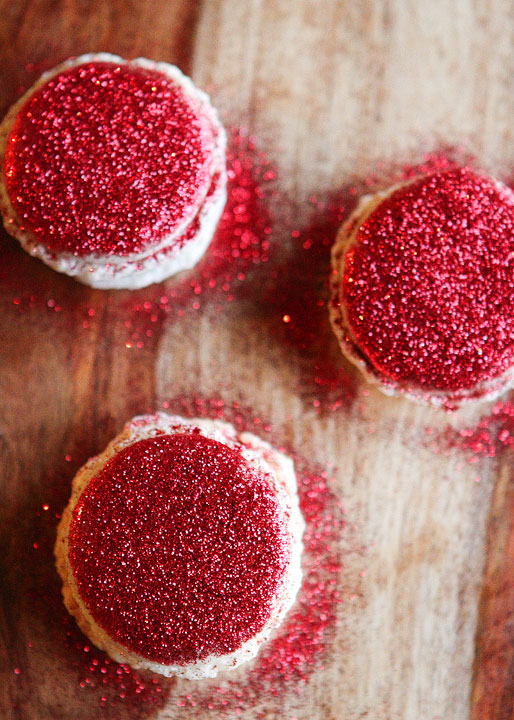 And for the red and white macarons, just sprinkle the whole thing with glitter!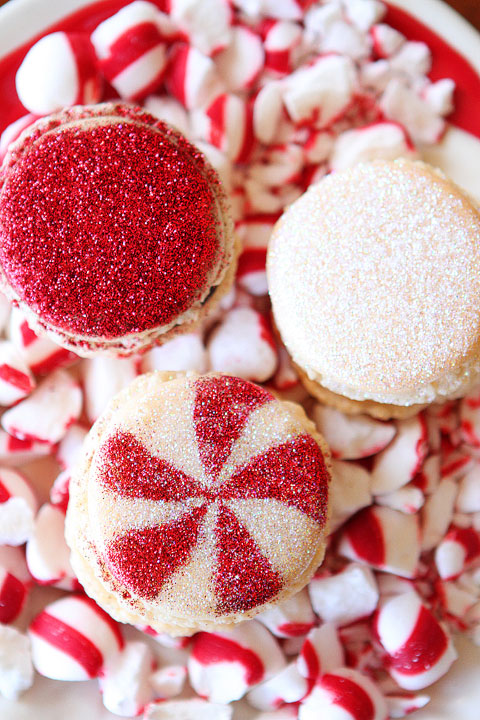 These magical macarons are a must for the holidays.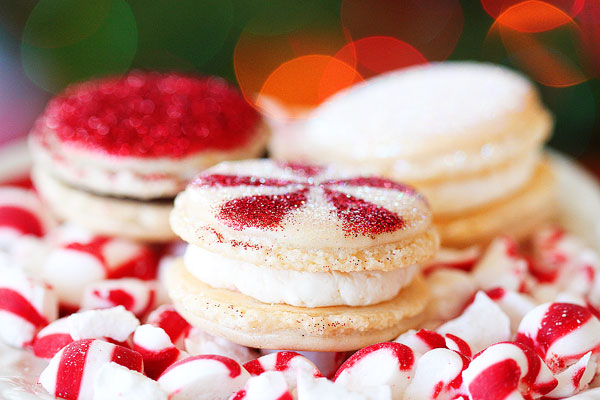 Plus they're the best way to get glittery fairy dust lips. :)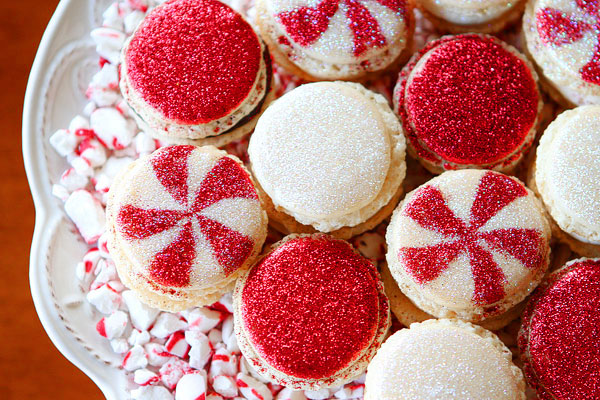 Be sure to check out Stephanie€™s photos and recap
of our Christmas macaron making day!
Print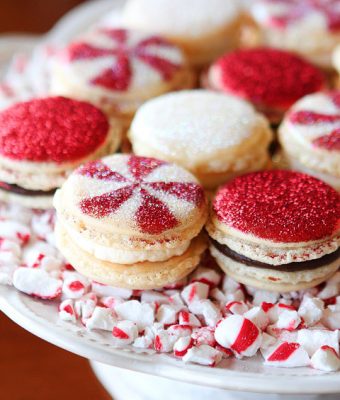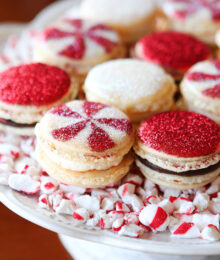 Vanilla Bean Macarons with Christmas Frosting
Prep Time:

25 minutes

Cook Time:

20 minutes

Total Time:

45 minutes

Category:

Dessert

Method:

Oven

Cuisine:

French
Description
These decadent Vanilla Bean Macarons are topped with gorgeous edible glitter for a completely magical, festive holiday treat. Get creative with these vibrant Christmas pastries! Learn to make 3 tasty macaron variations.
Scale
Ingredients
Sparkly Vanilla Bean Macarons
90 grams

aged egg whites

110 grams

almond flour

200 grams

powdered sugar

1

vanilla bean

25 grams

white granulated sugar

1 tsp

cocoa powder or powdered food coloring (optional)
White Chocolate Peppermint Buttercream
1/2 cup

butter, softened

1 1/2 cups

powdered sugar

3 oz

. good quality white chocolate (no chips), chopped, melted, and cooled to room temperature

1 tbsp

milk

1 tsp

Tahitian vanilla extract

1/4 cup

crushed soft peppermint candies
Eggnog Marshmallow Fluff
Spicy Milk Chocolate Mocha Ganache
3/4 cup

milk chocolate chips

1/2 cup

heavy cream

1/2 tsp

Mexican Vanilla extract

1 tbsp

instant coffee powder

1/2 teaspoon

ground cinnamon

1/4 teaspoon

freshly ground allspice

1/4 teaspoon

freshly cloves

1/8 teaspoon

freshly grated nutmeg
Simple Syrup
1/4 cup

sugar

1/4 cup

water
Instructions
For the Macarons
Up to 5 days before making macarons, separate the egg whites, cover loosely with a paper towel, and store in the refrigerator. The night before making macarons, set them out on the counter to come to room temperature.
The next morning, place almond flour, powdered sugar, and the contents of a vanilla bean into a food processor and process until fully combined. Move to a large bowl and whisk in one teaspoon of cocoa powder for chocolate macarons, or one teaspoon of powdered food coloring for colored macarons. Leave plain for vanilla macarons. Whisk to combine, then sift and set aside.
With a mixer, whisk the egg whites on medium-high speed until foamy. Add in granulated sugar and continue whisking until the the egg whites have stiff peaks. Add the egg whites to the flour and fold to incorporate until the mixture is just smooth, using no more than 50 strokes. Fit a pastry bag with a large round tip, and fill with macaron batter. Pipe approximately 1-inch circles onto a baking sheet lined parchment paper. Let the batter rest on the pan at least 30 minutes before baking, to form a strong skin to help keep the macarons from cracking in the oven.
Bake the macarons at 280 degrees F for 15-20 minutes directly in the middle of the oven. To test for doneness, gently touch the top of a macaron to make sure it's dry. Then gently try to lift the macaron from the parchment paper. If it comes away pretty easily, they're done. If it doesn't come up and the top breaks away, they need to cook longer. Keep checking on them every two minutes until the bottom is dry. Once removed from the oven, allow the macarons to rest on the pan for 10 minutes to finish cooking before trying to remove. Cool completely before frosting.
For the White Chocolate Peppermint Buttercream
Place the butter, sugar, melted white chocolate, milk and vanilla in a large mixing bowl. Beat on medium speed until smooth and creamy, about 3-5 minutes. Add crushed peppermint and beat until fully combined.
For the Eggnog Marshmallow Fluff
Place butter, sugar, marshmallow fluff, eggnog, and vanilla in a large mixing bowl. Beat on medium speed until smooth and creamy, about 3-5 minutes.
For the Spicy Milk Chocolate Mocha Ganache
Place chocolate chips in a glass or heat-proof bowl. In a medium saucepan, whisk the heavy cream, vanilla, instant coffee power, cinnamon, allspice, cloves, and nutmeg and bring to a simmer. Pour over the chocolate chips, let sit for 5 minutes, then whisk until completely smooth. Chill in the fridge for 1 hour or until the ganache reaches a thick, frosting consistency.
For the Simple Syrup
Bring the sugar and water to a boil until the sugar dissolves. Remote from heat and cool. Brush over the tops of the macaron shells with a pastry brush and sprinkle with glitter.
Notes
Nutrition facts apply to Vanilla Bean Macaroons with White Chocolate Buttercream. Other flavors vary.
Keywords: homemade macaroons, french macaroons recipe, easy macaroons recipe, best macaroons recipe, vanilla macaroons recipe, christmas dessert idea, christmas dessert recipe, dessert recipe for christmas, christmas desserts