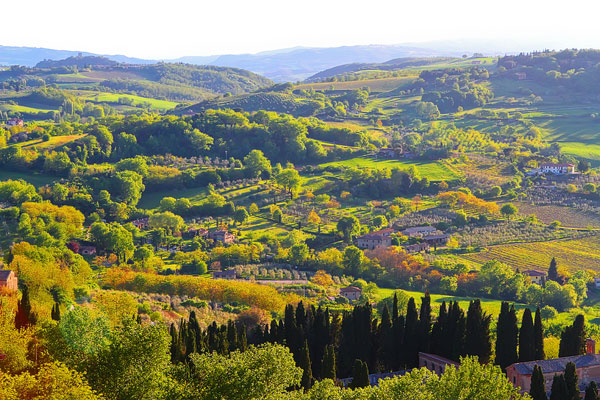 Without a doubt, one of my favorite things we did during our entire two weeks in Italy was spend a few nights in Siena, rent a car, and take a few days to drive through some of Tuscany's most scenic landscapes.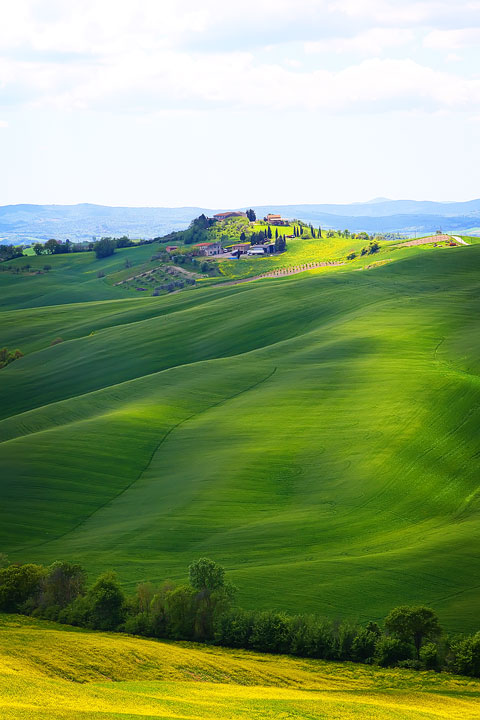 It was something I've always wanted it do, and it was even more stunning than I could've ever imagined. If seeing Cinque Terre was number one on my Bucket List, this was definitely number two!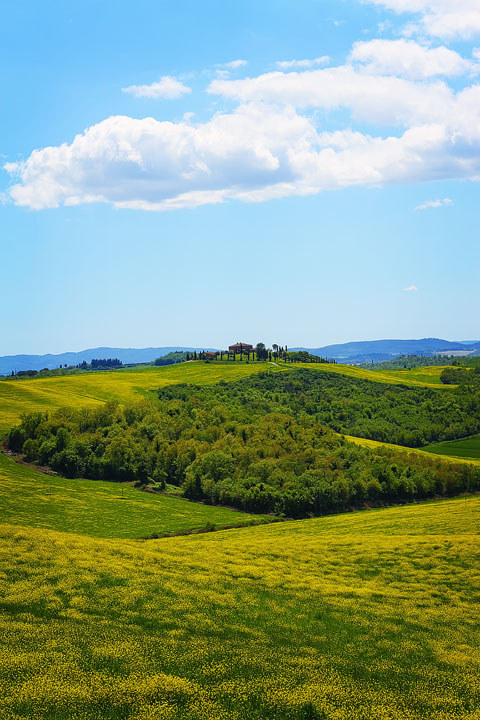 On Friday afternoon, we rented a car from Europcar in Siena. If you're staying in Siena and looking to rent a car, I highly recommend these guys. It would probably also be a good idea to call (or have your hotel call) a few days in advance to make sure they can reserve the type of car you want — which is probably a small car with automatic transmission if you just want to drive around a site-see. We just showed up that Friday looking to rent a car and it worked out fine, we just had to get a medium-sized car instead of a small one, which was just a little more expensive. If we'd called ahead, we could've reserved a small car and saved a little bit. So there! I'm passing on our learning experience to you. :)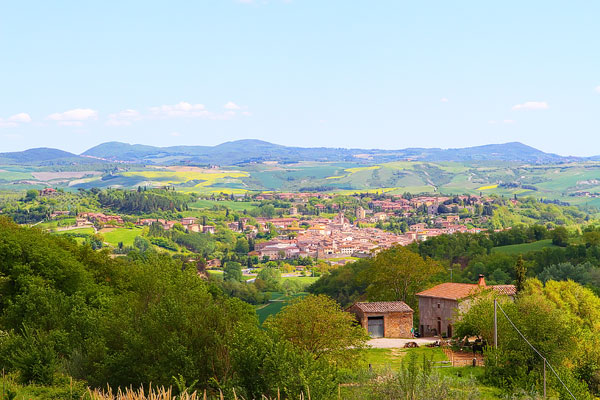 We stopped for lunch here in Asciano, then continued south to Montepulciano.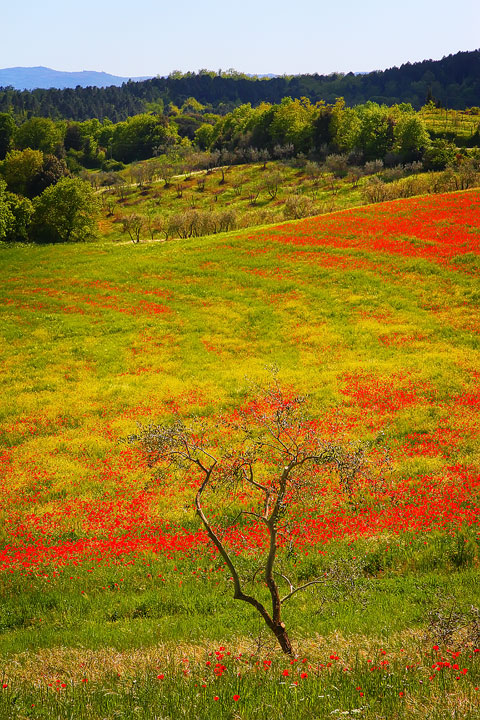 I wasn't sophisticated enough to get the GPS coordinates for all of these photos, but I've got a map below that shows you our driving routes through Tuscany, plus a few other routes that were suggested as the "Most Scenic Drives in Tuscany." As I'm going through these photos, I'll tell you where we are, and if you like, you can follow along on the map to get an idea of where we were.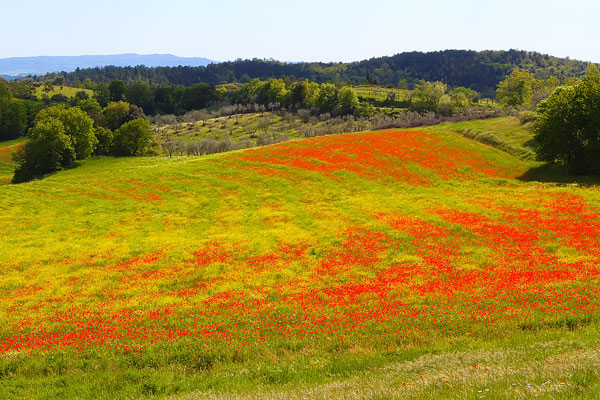 The photos are in the order in which I took them, so for instance, the first four photos in this series were taken along the Red route from Siena to Asciano, and this beautiful blooming poppy field was found on the Pink route from Asicano to Montepulciano.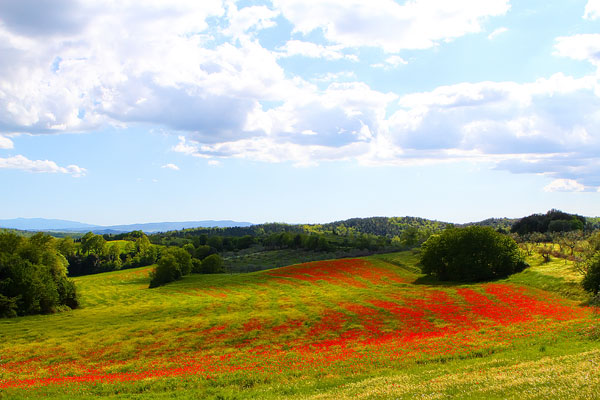 The Red route was absolutely fabulous — probably my favorite — and we ended up driving it three times on our way to and from Siena. The Pink route wasn't my favorite, but it was the only place we ever saw poppies, so I'm definitely glad we came this way.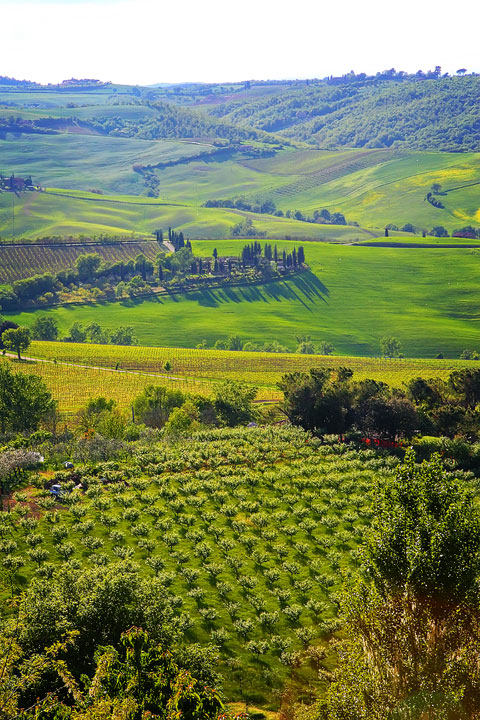 See GPS Location on Map
This was taken after we arrived in the incredibly charming hilltown of Montepulciano.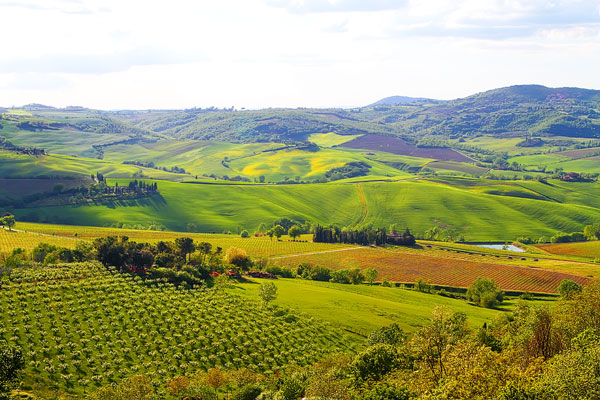 See GPS Location on Map
We stayed here exploring and shopping and grabbed dinner at the top of the hill. Oh! There's also this amazing little pastry cafe, you have to stop here for some delicious Nutella-stuffed sweets. I've marked it on the map for you. :)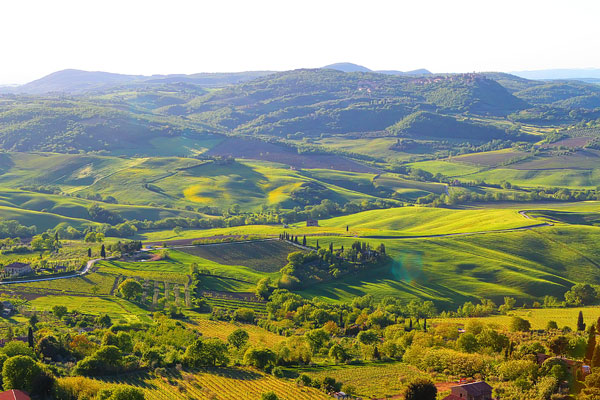 See GPS Location on Map
On the way up there is this perfect overlook.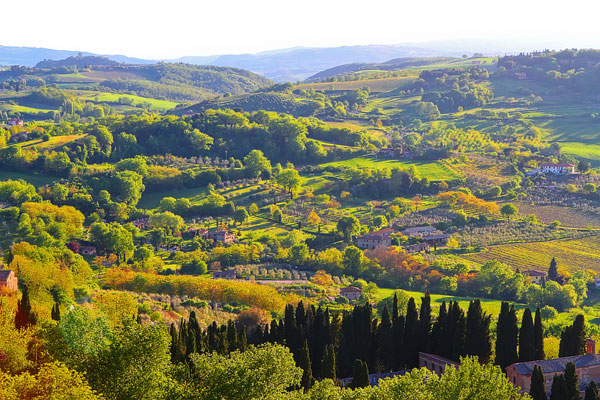 See GPS Location on Map
It's near a church, and there's a break in the buildings, and the view just opens up to this gorgeous panoramic view of the Tuscan countryside.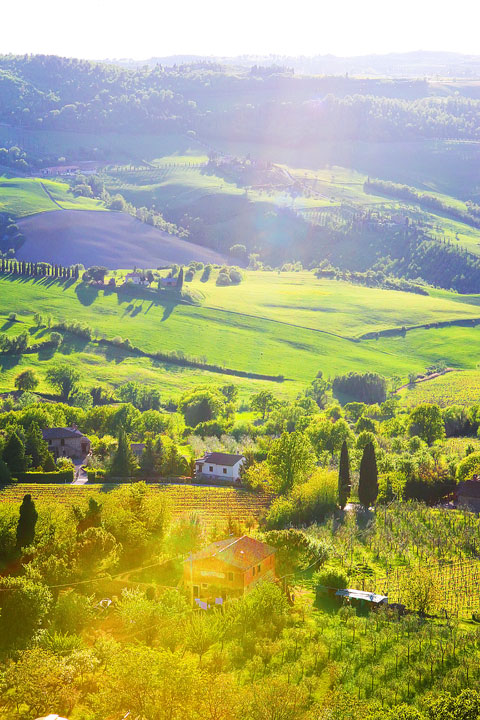 See GPS Location on Map
Sun flare in Tuscany.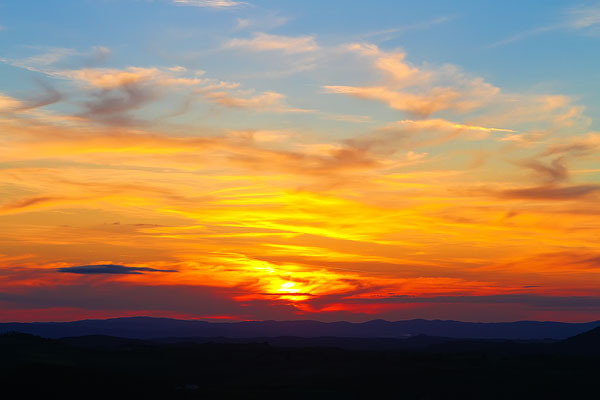 See GPS Location on Map
It's also the best spot to watch the sunset.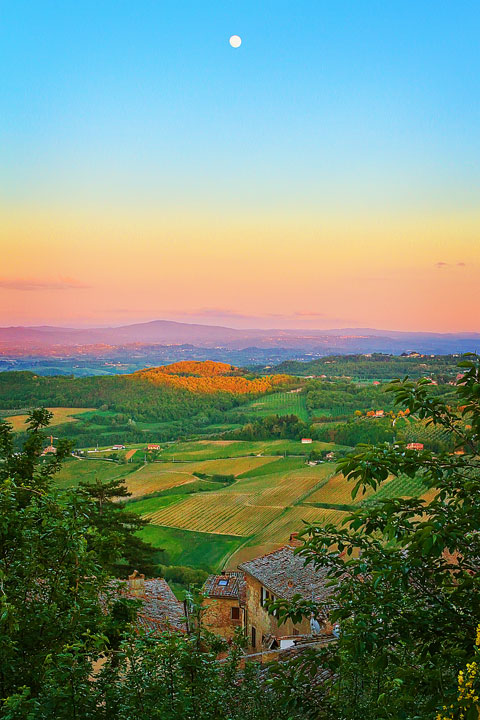 If you continue up the hill a bit, and cross to the other side of town, you'll see the moon view in the opposite direction.

View Tuscany in a larger map
Here's a map of some of the routes we drove along during our two-day itinerary in Tuscany. On Day 1, we got a late start around lunchtime in Siena, and took the Red Route to Asciano. We grabbed lunch in Asciano (be sure to get there before 2 pm, or everything will be closed!) then took the Pink route to Montepulciano.
Next up I've got our Day 2 itinerary. We took the Orange, Yellow, Green, and Blue routes. Can't wait to show you those photos!
Thanks so much for looking! :)