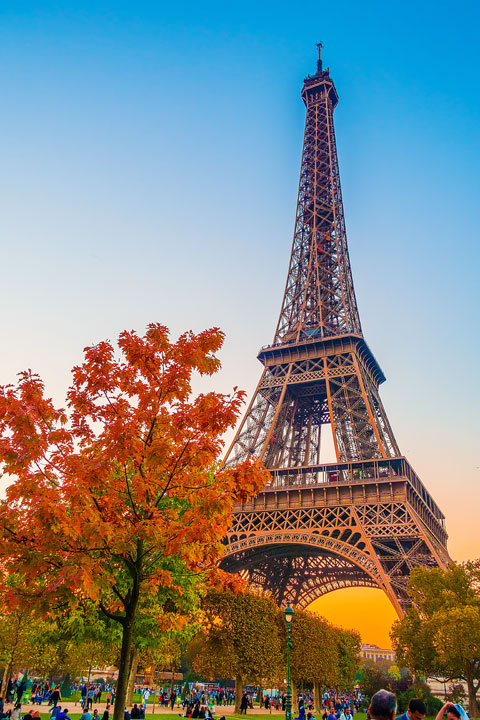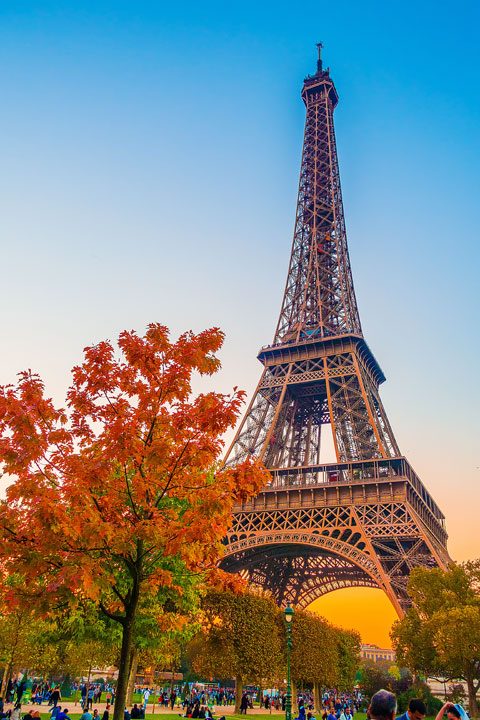 This fall I was lucky enough to spend 8 beautiful days in the City of Lights with three of my favorite friends. We sat in cafes under brilliant blue October skies. We laughed harder than I've ever laughed before. We Instagrammed pictures of our food and each other.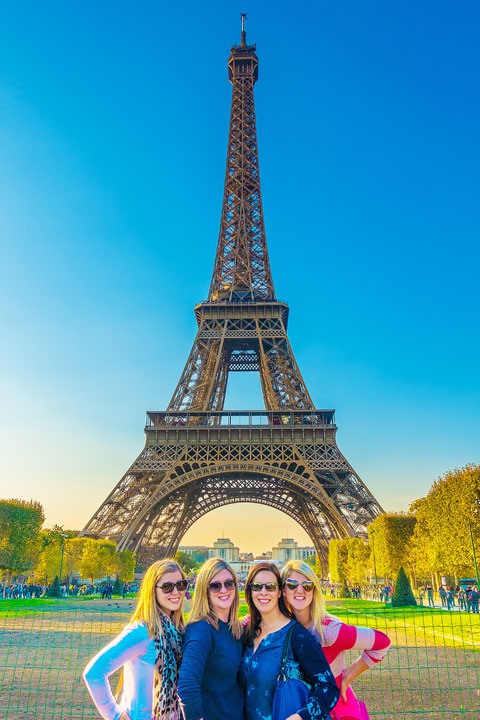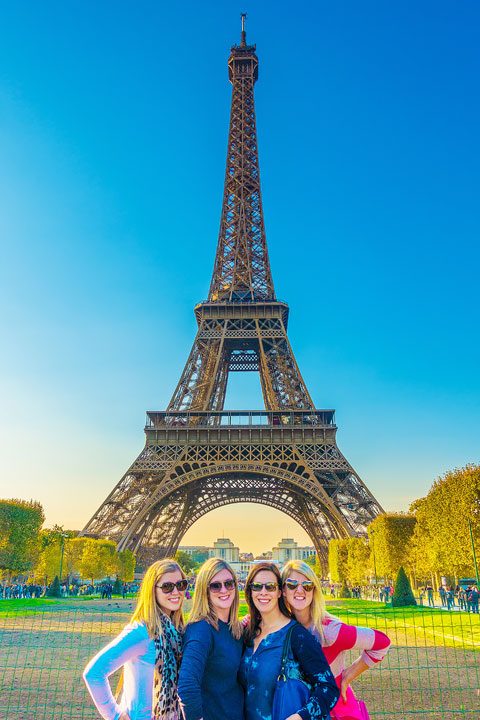 Lauren, Stephanie, Sommer, Amanda
We were there just over a month before the tragic terrorist attacks in November occurred. Since then my thoughts and deepest sympathies have been with the victims and their families of this senseless attack. I can't imagine the horror and terror they had to go through.
Whenever something like this happens, people invariably ask me, "Doesn't that make you nervous to travel?" It does make me deeply saddened for those affected, and sincerely grateful for the health and wellbeing of my loved ones. However the reality of this world is that tragedies can happen anytime, anywhere, at home or overseas. In our schools. In our theatres. In our shopping malls. It's horrific. But what kind of life is spent constantly worrying about what might happen? The only thing we can do is not let it stop us. We can't let uncertain possibilities keep us from living this short life we've been blessed with to the fullest.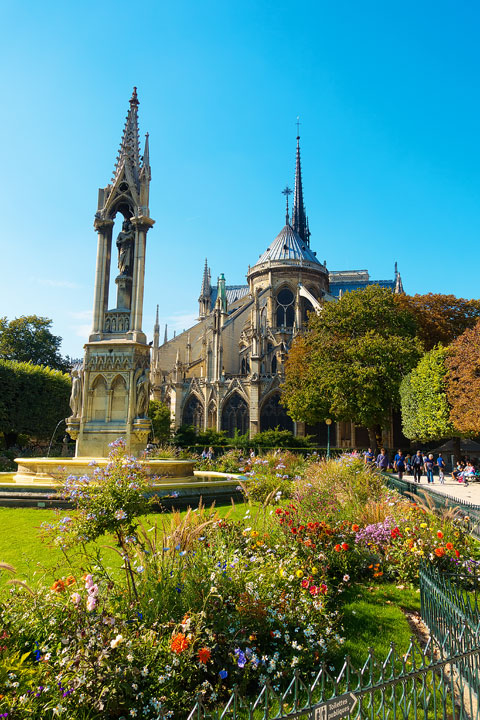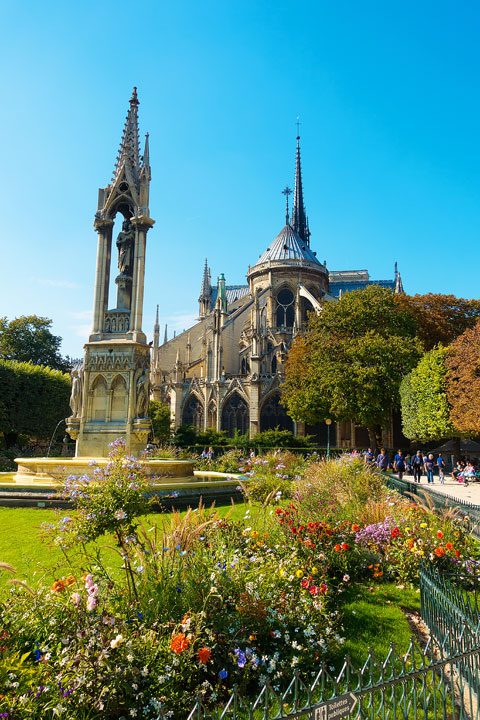 In light of the attacks the tourism industry in Paris will suffer. Local shops, cafes, and businesses will suffer. Their owners and employees and families will suffer. On top of the tragedies they have already suffered. The best thing we can do for Paris right now is to not stop traveling, but to keep traveling, and keep supporting these local businesses. They need us now more than ever.
In this article I'd like to share my favorite things to do in Paris — walking tours, neighborhoods, cooking classes, famous sites, landmarks. All the things that make Paris the city of lights, the city of love, and the city of romance.
If you've ever considered traveling to Paris, here are the things you definitely don't want to miss.
Notre Dame to Arc de Triomphe Walk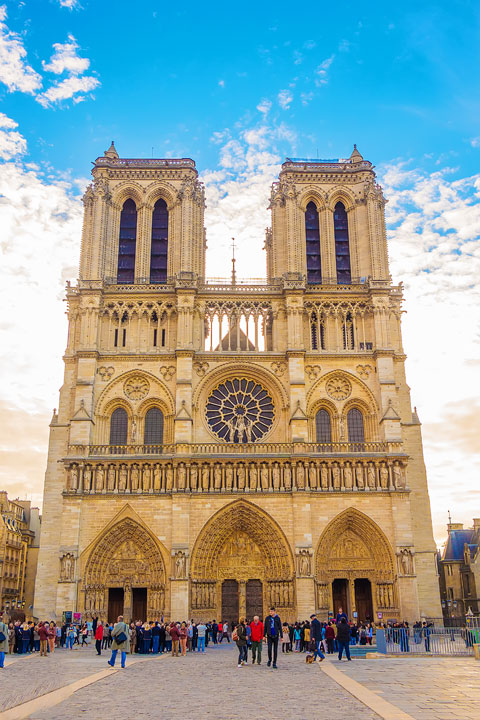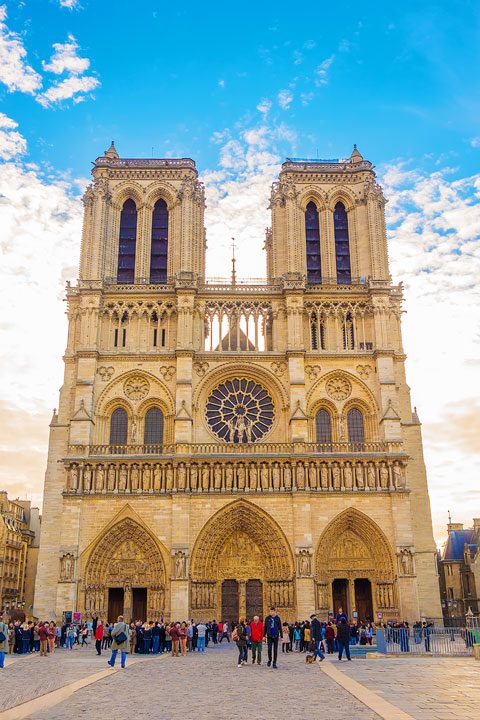 This is one of my favorite walks in Paris. You start at the gothic Notre Dame cathedral, cross the Seine River, pass the Louvre museum with it's iconic glass pyramids, walk through the Tuileries Garden and the golden Place de la Concorde, then stroll down the ultra swanky, high-end boutique-lined Champs-Élysées before arriving at the Arc de Triomphe.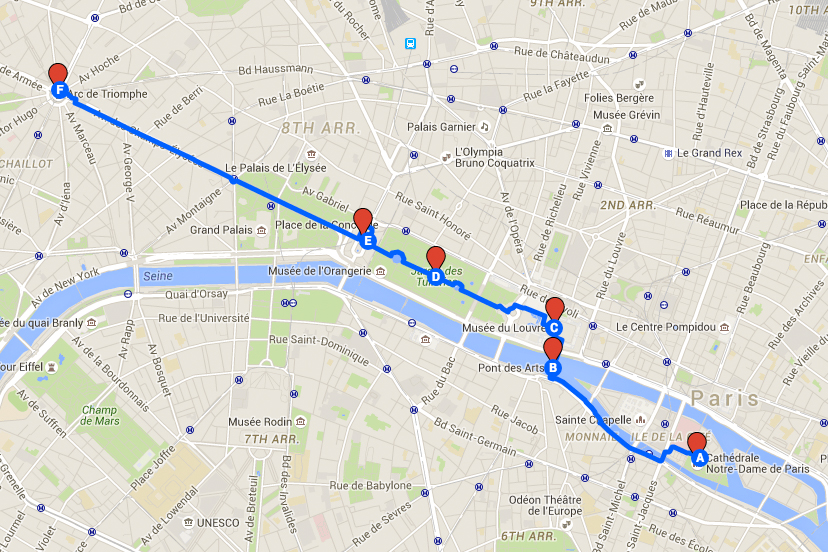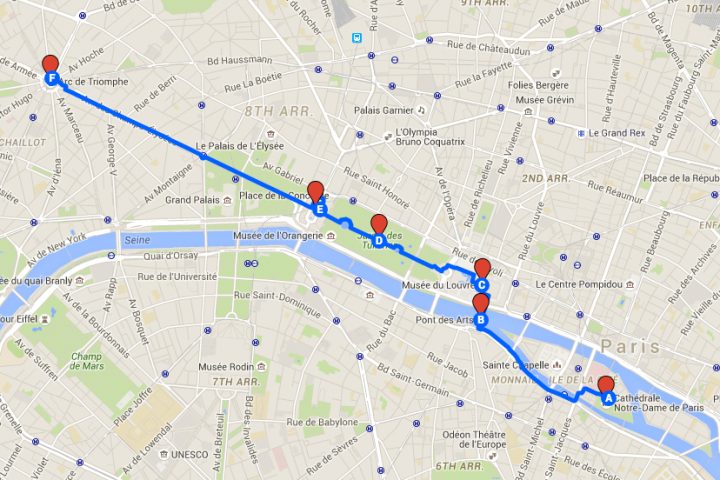 From beginning to end it's about 3 miles, and will take around 2-4 hours. A good half-day walking tour / activity.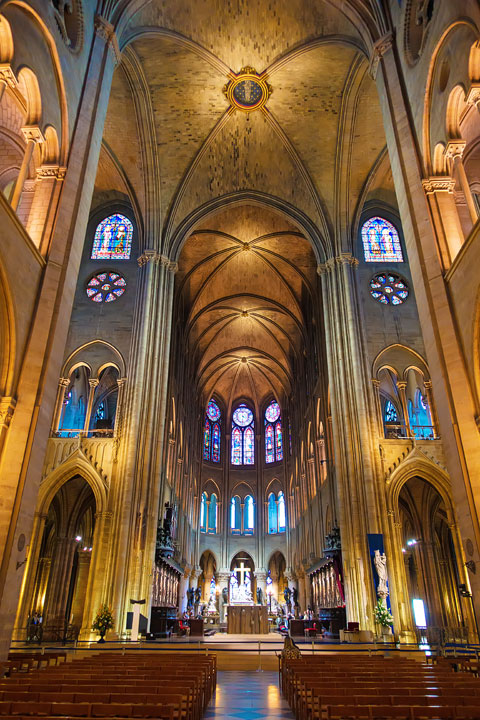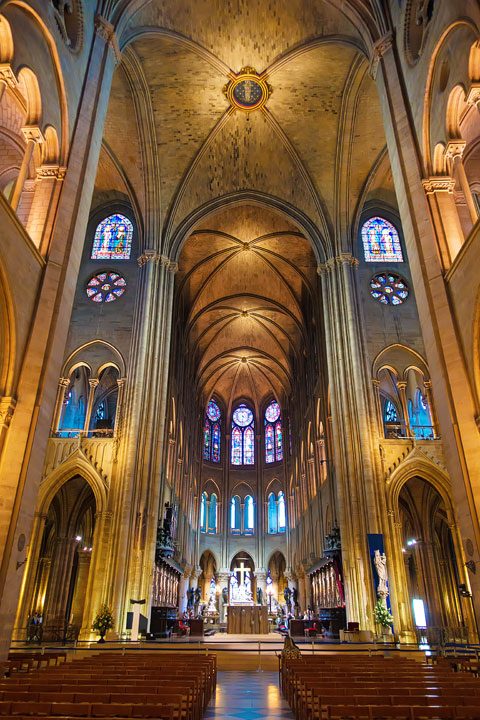 I like to start at Notre Dame early (they open at 8am), when it's quieter and less crowded.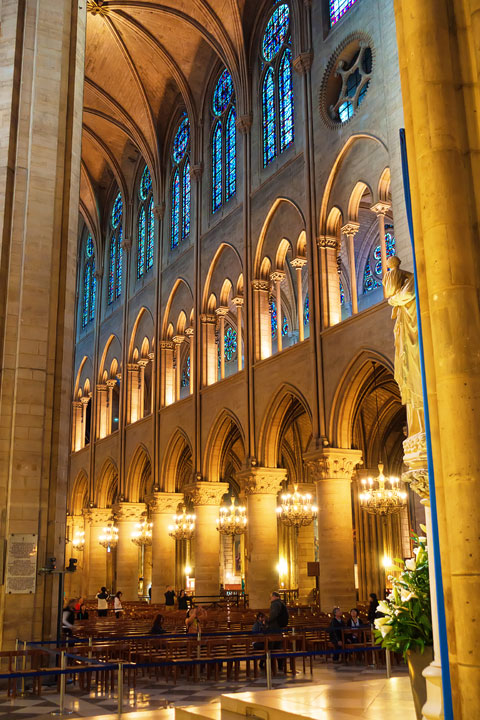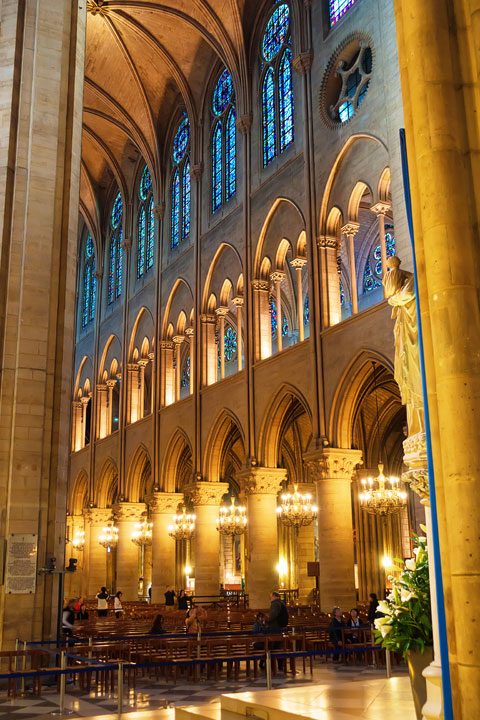 There are hardly any lines at this time and you can easily get right in to see the cathedral.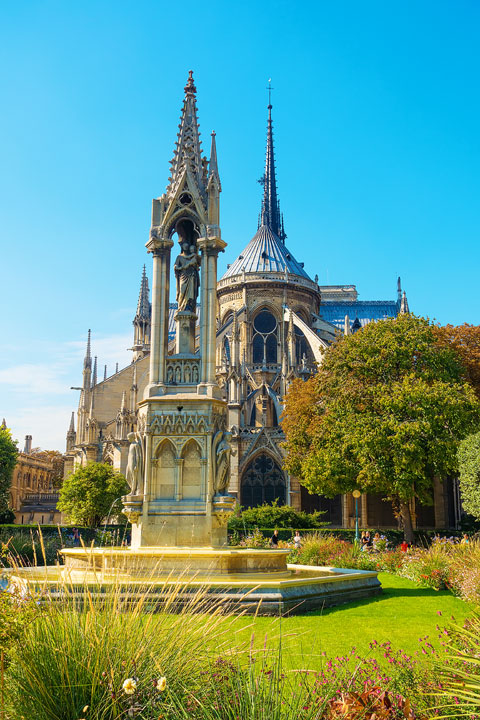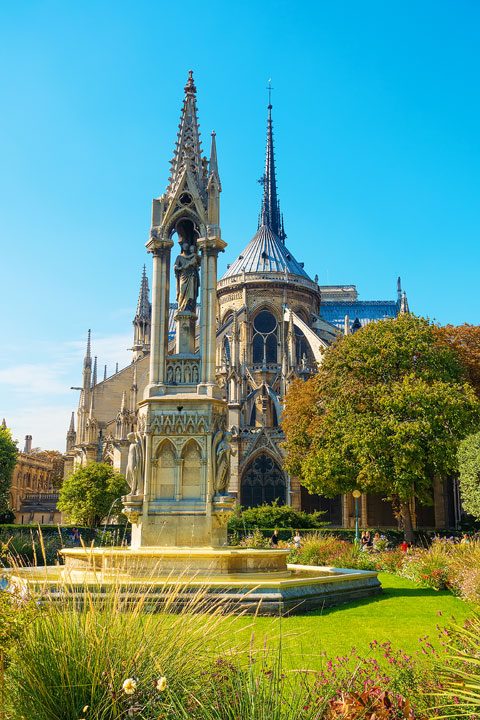 After a quick walk through the cathedral, be sure to walk around and see the back! This is my favorite view of Notre Dame.
You can also go up to the top, but I don't think it's worth it. When Kevin and I went last spring, we got there 30 minutes before they opened, waited in line for an hour, and you only get to stay at the top for 5 minutes. The view is okay, (click here for our photos from the top of Notre Dame) but not worth the wait if you only get to spend 5 minutes. Wait and go to the top of the Arc de Triomphe!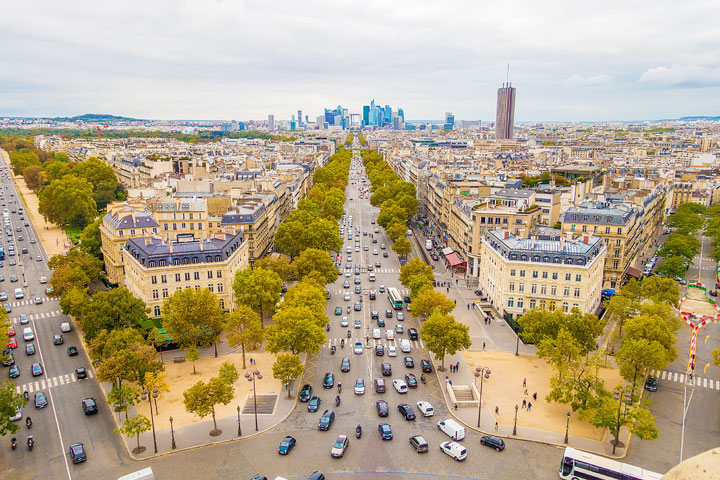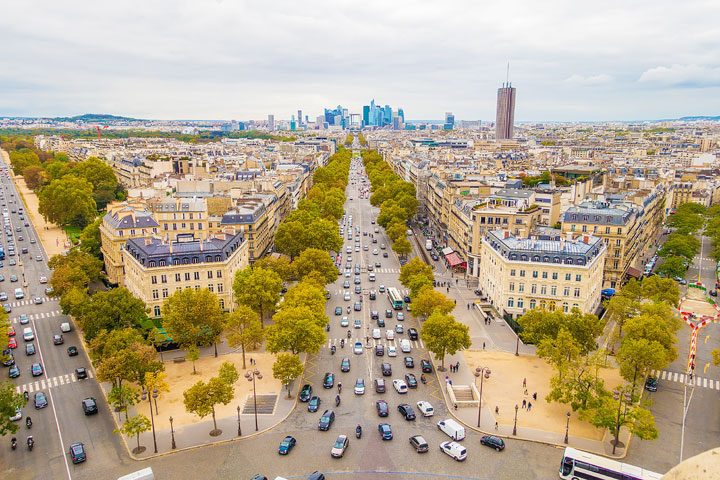 Here's the view from the Arc de Triomphe. Around the Arc de Triomphe is an 8 lane roundabout with NO lines separating the lanes. It's a free for all! The roundabout at the Arc de Triomphe is the only place in Paris where car insurance doesn't cover. If you get in a wreck at the Arc de Triomphe, your insurance won't cover it! It's fun to go up and watch all the cars and crazy tourists trying to cross the street!
Note: There is an underground entrance to the Arc de Triomphe so you don't have to be one of those crazy tourists crossing all those lanes of traffic! :)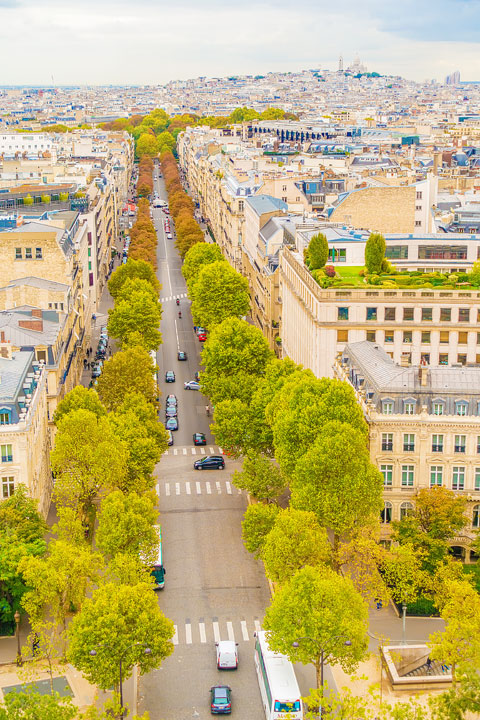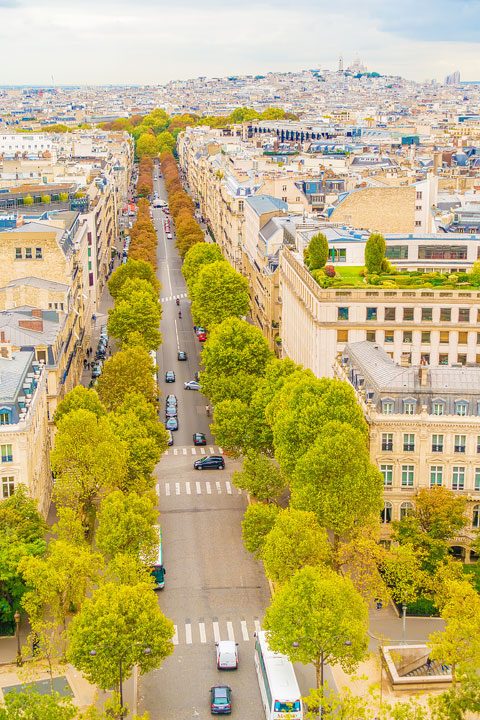 You can see all over Paris from the top of the Arc de Triomphe. Up at the top of the hill is Montmartre, one of my favorite neighborhoods in Paris. More on that below.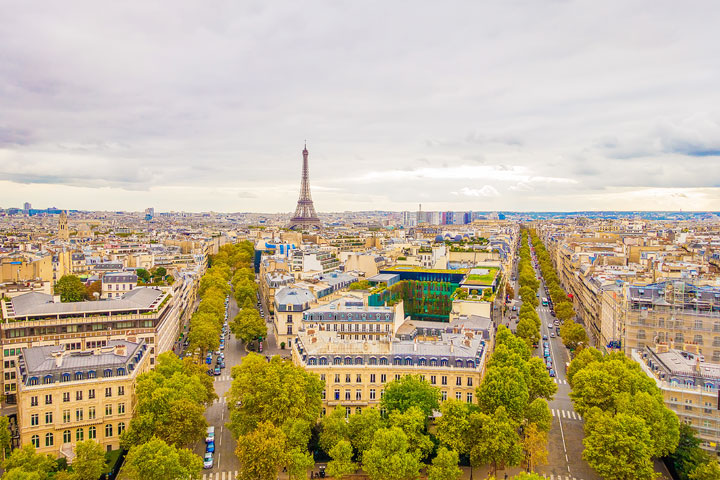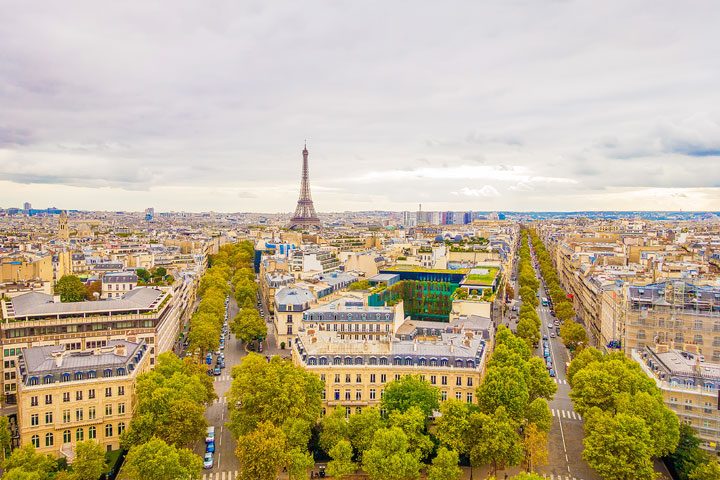 And of course, the one and only Eiffel Tower.
Here's a map from Notre Dame to the Arc de Triomphe, with all the highlights along the way.
Montmartre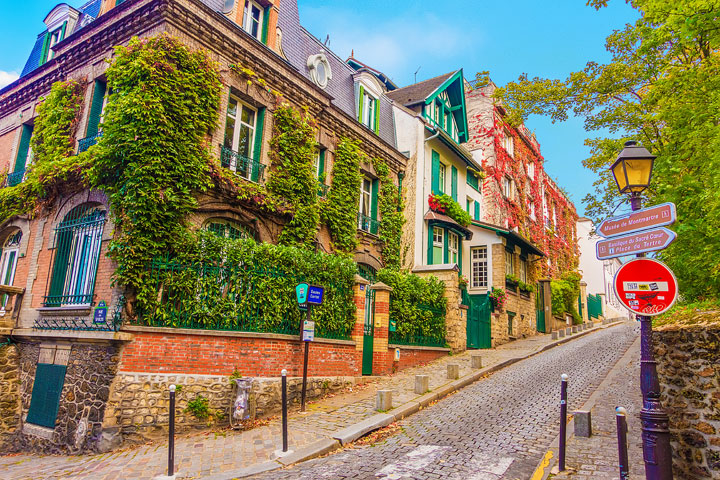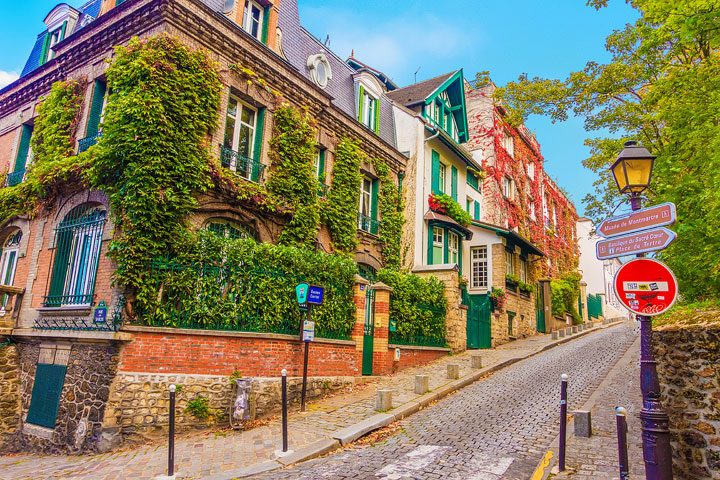 Montmartre is one of my favorite neighborhoods in Paris. If you have another half-day in Paris, spend it getting lost in Montmartre.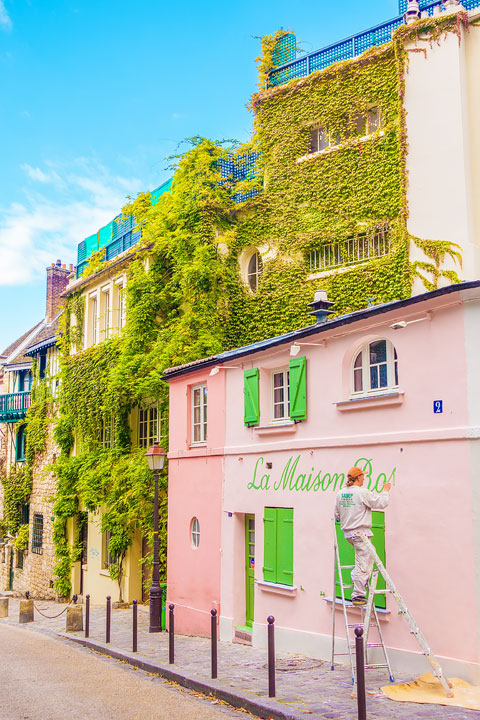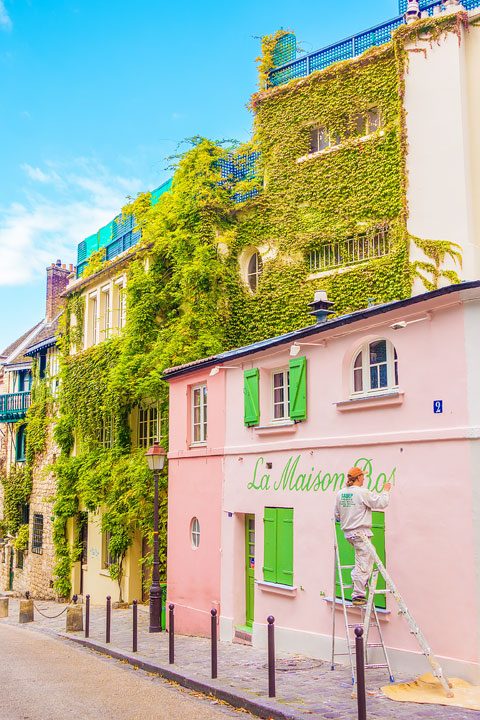 Montmartre is the highest point in the city, and home to the Sacre Coeur Basilica, which has a stunning view of the city right on the steps of the church.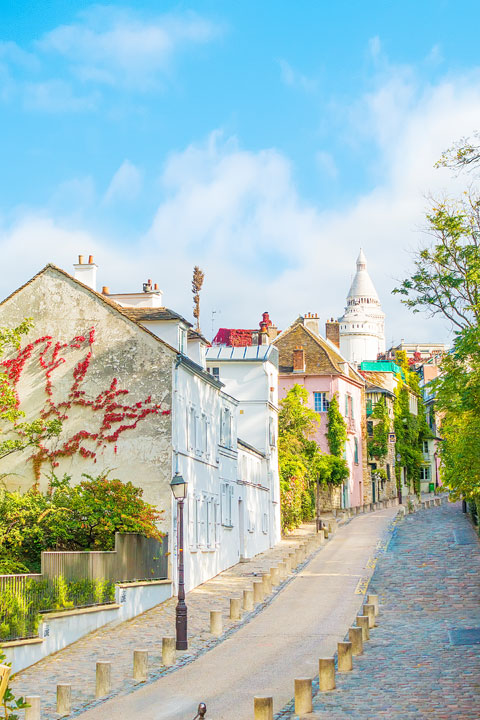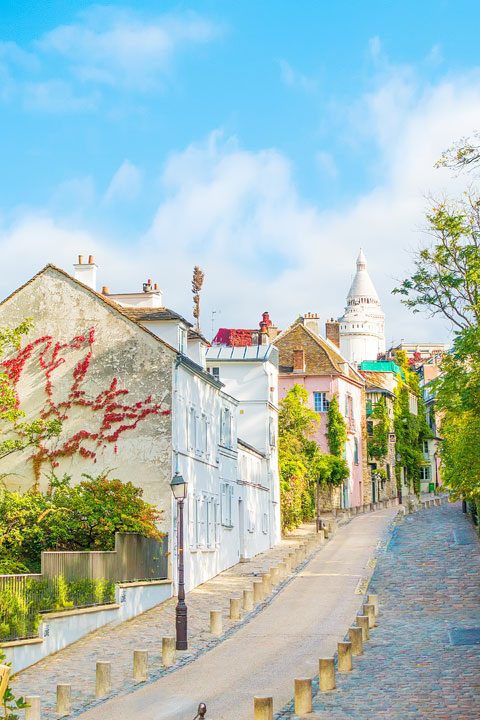 It's also the home to many of the great artists and writers living in France for the past 200 years. Picasso, van Gogh and countless others lived and worked in these cobblestone streets.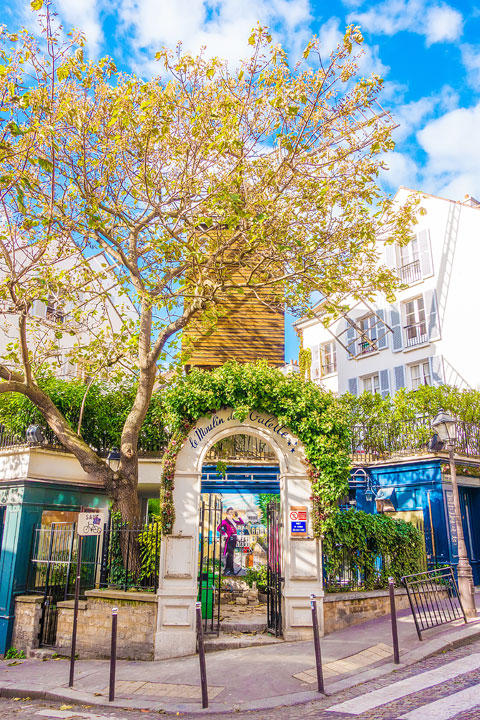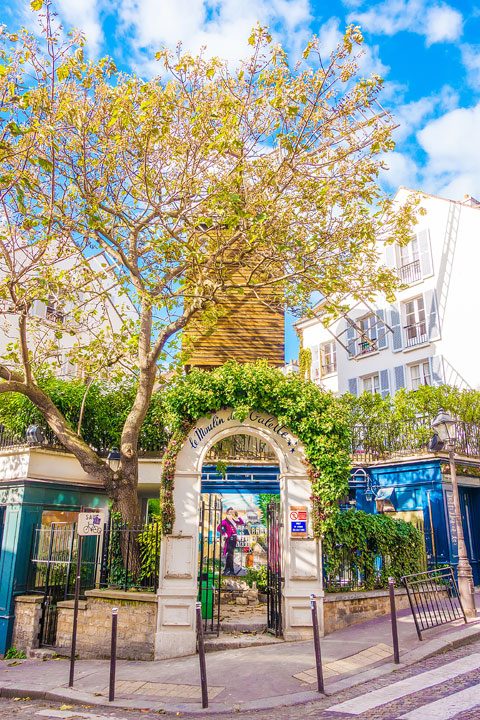 Montmartre is filled with colorful cafes, windmills, watercolor paintings, and charming narrow side streets that should not be missed.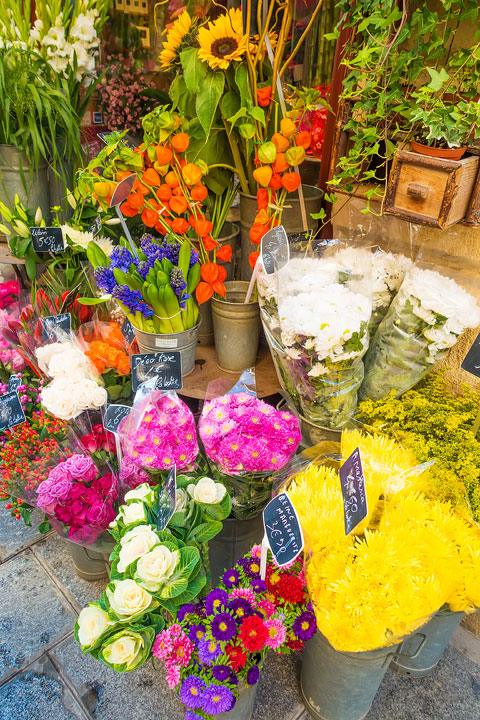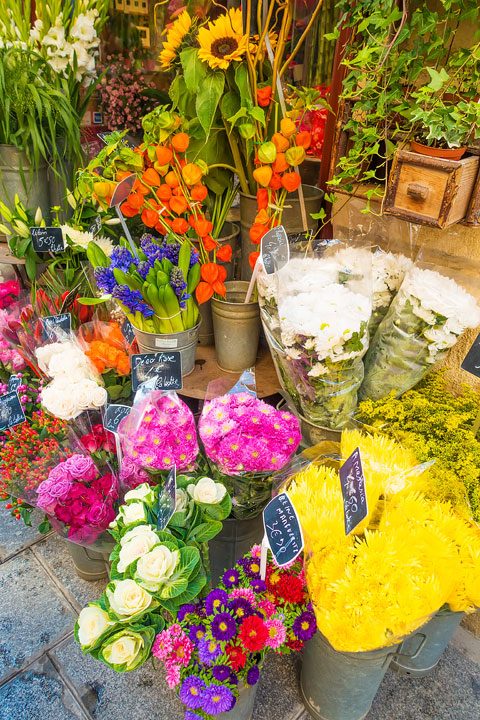 For more can't-miss views in Montmartre, be sure to check out our Walk Through Montmartre guide. It starts at the top of the Sacre Coeur and ends at Moulin Rouge. My recommendation is to go in the morning. It gets crowded as the day goes on!
Hidden Paris Walking Tour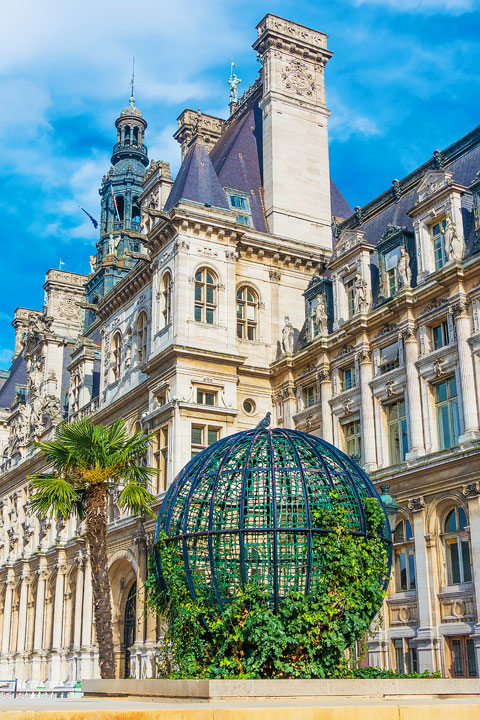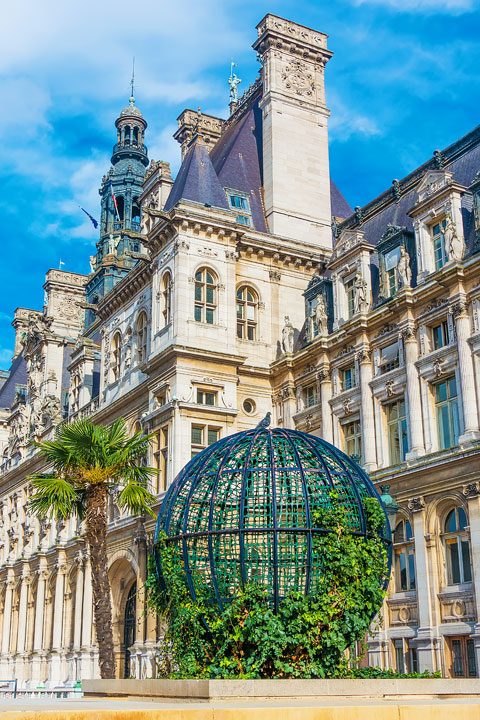 When Kevin and I were in Paris in the spring, we created a Hidden Paris Walking Tour. It's a short self-guided tour with some of the hidden, lesser-known sights in Paris that you might walk right past if you didn't know they were there!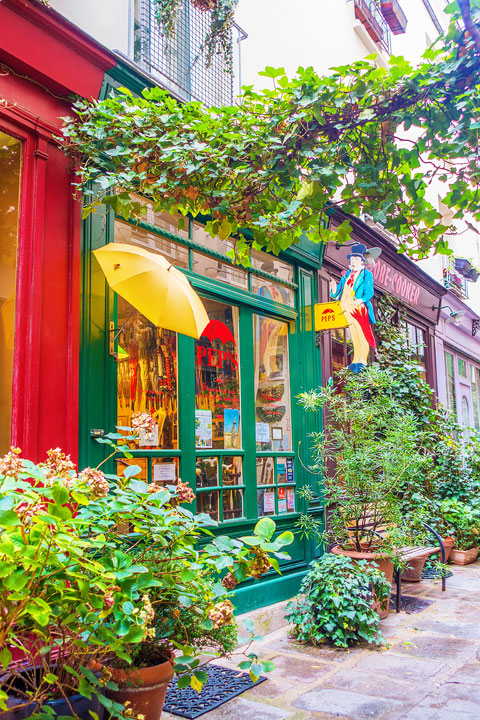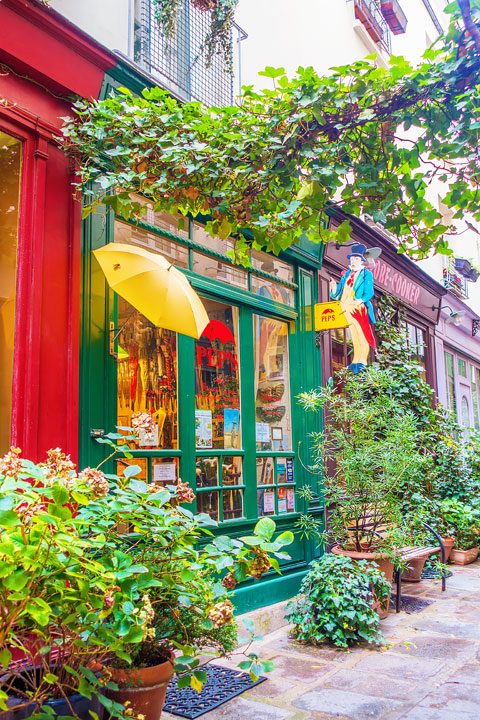 Of course I wanted to share these hidden gems with my friends. Check out our Hidden Paris guide for all the sights and a printable map. It can easily be done in an hour or two in the afternoon.
Rue Cler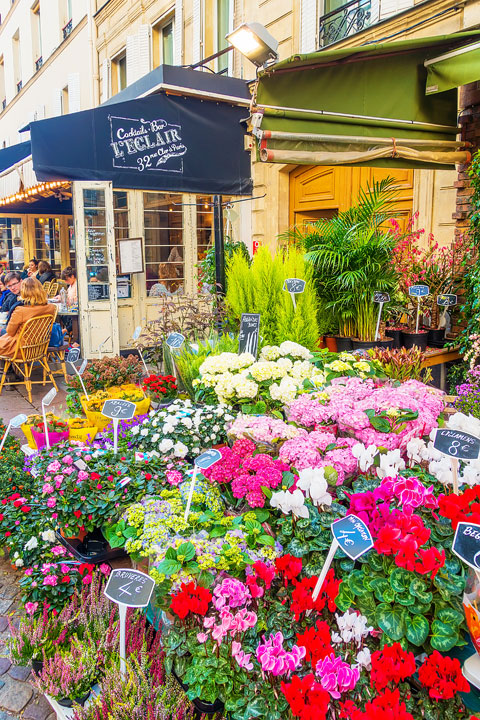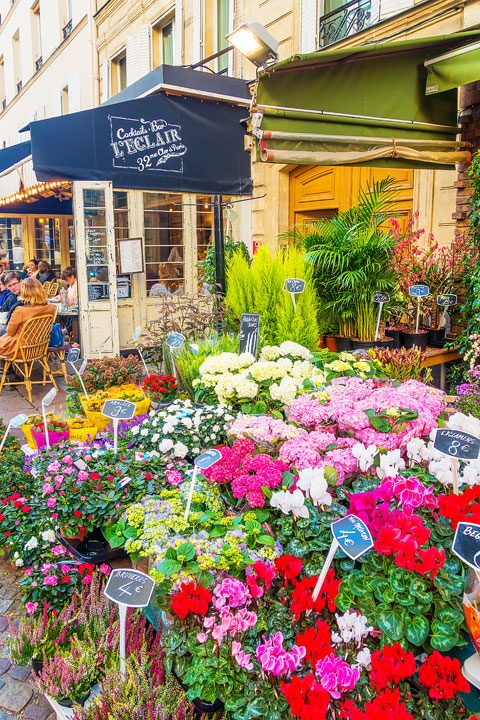 Rue Cler is one of my favorite pedestrian shopping streets in Paris! It's close to the Eiffel Tower, so you should definitely check it out. Here's another post I wrote about Rue Cler and all the fun shops you can find on it.
Eiffel Tower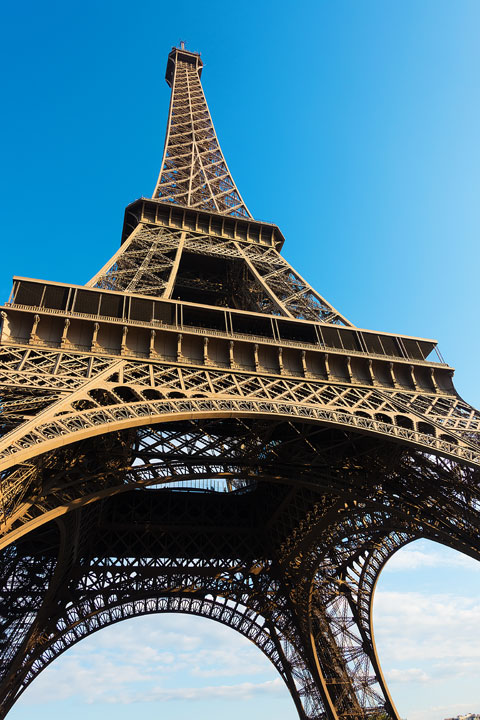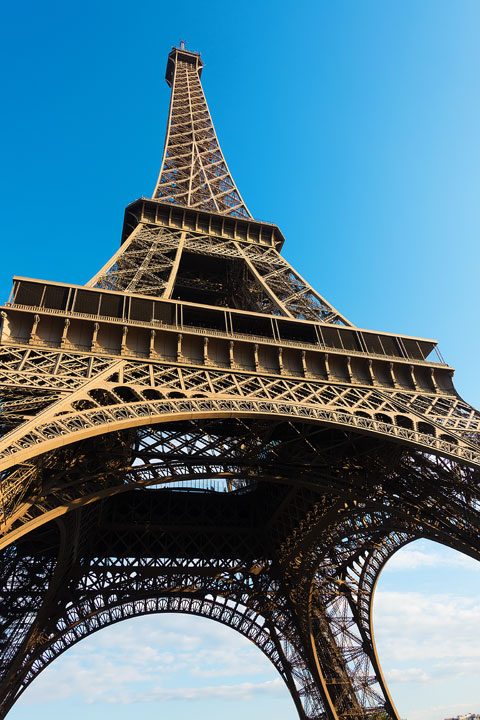 The first thing you should do when planning a trip to Paris is book a Skip the Line Eiffel Tower Tour with Fat Tire Bike Tours for your first day in Paris. My favorite one to take is the sunset tour. You get to see the view from the top of the Eiffel Tower right during the "golden hour" and be at the top as the sun sets over the city.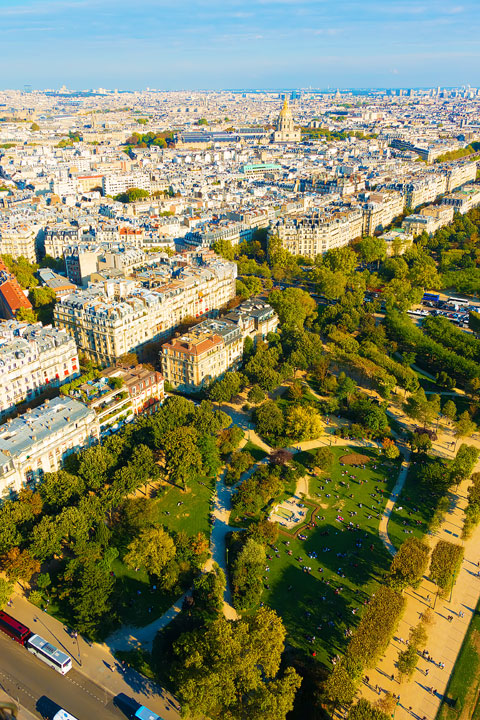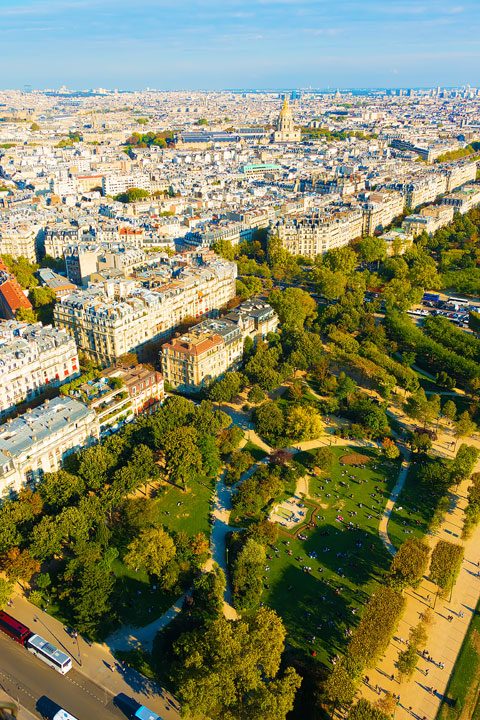 The tour is the best way to orient yourself in the city. It stops on all four sides of the tower with views facing, north, south, east, and west. At each location our guide pointed out significant landmarks and gave us interesting backstory and trivia about each site. It was entertaining enough that we could remember most of the details for the rest of our trip, and anywhere we went we could point out the landmarks and remember the most important facts about each location. We definitely felt more comfortable and familiar with the city after the tour, like we had already been in Paris for a few days. A great introduction to the city!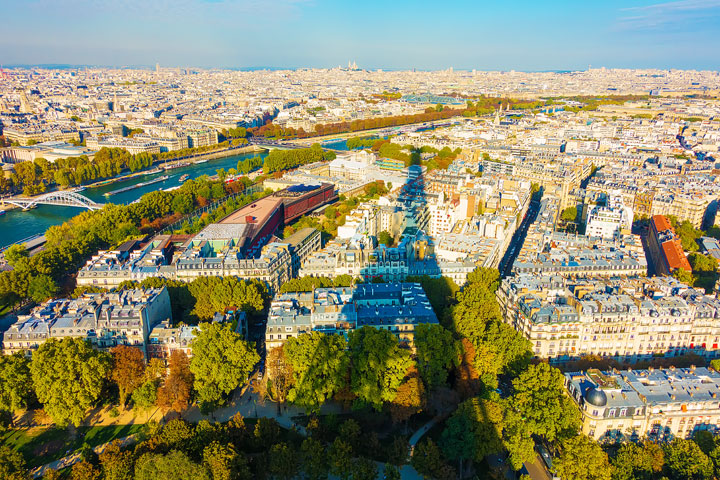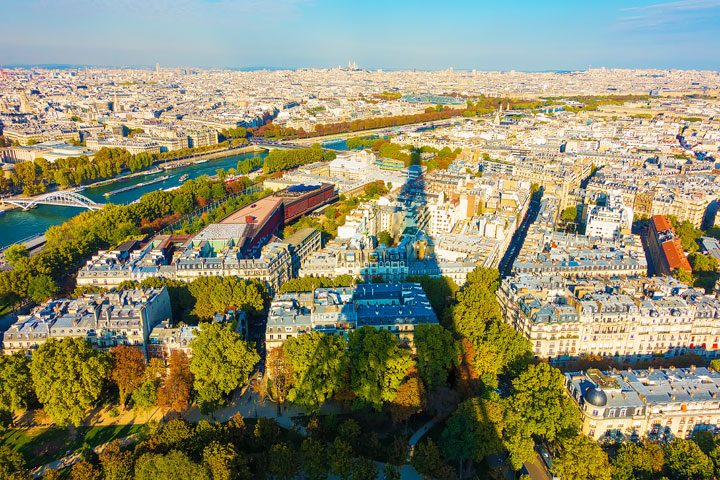 Loved seeing the shadow of the tower.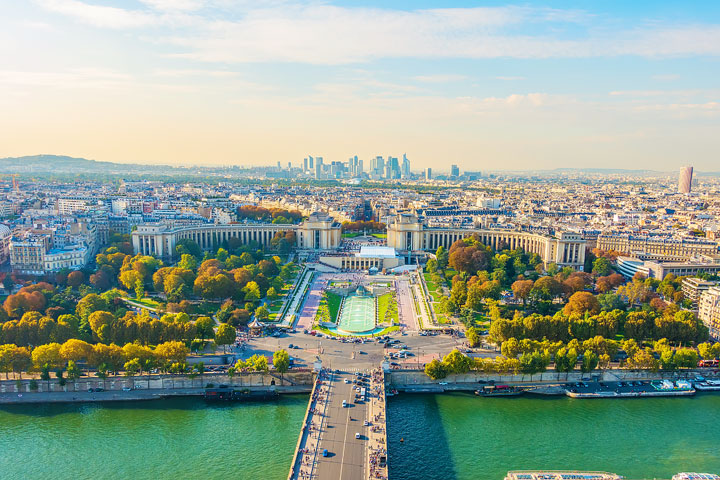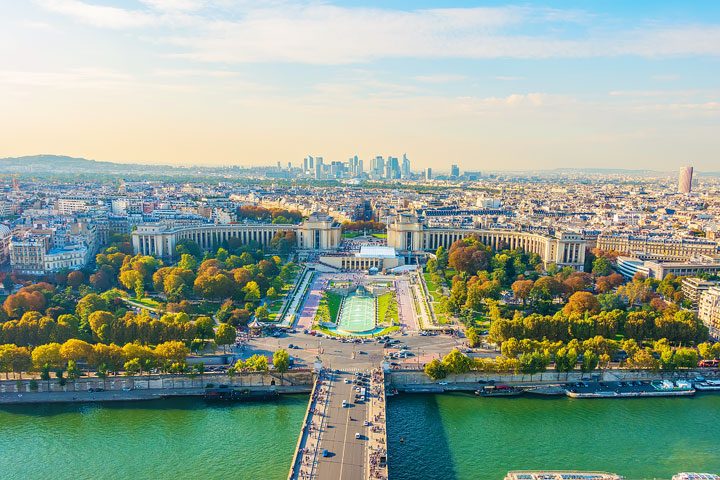 This was our view looking northwest over the Seine river, towards the Trocadéro Gardens. The Trocadéro Gardens are a great place to watch the sunset at the Eiffel Tower.
I have more favorite things to do and see that I want to share with you, but I'm going to put them in the next post. Stay tuned! :)
Where to Stay!
Oh! And for those who asked, we stayed in a Girls Guide to Paris apartment. We LOVED IT. It was huge, 2 bedrooms, 2 bathrooms, kitchen, laundry room, dining room, two living rooms, in a great location. I'm writing an entire post all about it. But it was the perfect place for us all to stay together with tons of room for us to hang out in the living areas at night. Here is the exact apartment we stayed in. If you are looking for a place to stay in Paris, I HIGHLY recommend it!
How to Get Around
We loved walking all over the city everywhere we could, but sometimes you just need a taxi. I was so glad to learn there was Uber in Paris! Have you heard of Uber?? It's your own personal, private car service and it's cheaper than a taxi. All you do is download the Uber app, and it will show you where drivers are near you, and tell you how long it will take for a car to get to you. Usually a car can be there in less than 5 minutes. Just click Set Pick Up Location and your private car is on it's way. You even set your destination so you don't have to worry about your driver not speaking English and not knowing where to take you. It's all done through the app. They also usually will have a bottle of water in the car for you. Perfect for weary sightseers!
The Uber cars in Paris are SO nice. We rode in Mercedes, BMWs, Jaguars, and Audis all week. You can watch the car live on the map as it gets closer to your location. It will send you a notification on your phone when your car gets close so you know when to go outside. No more waiting outside in the freezing cold or rain for a taxi! You add a credit card or Paypal account to your Uber account, so you never to worry about paying the driver. It's all done through the app — no money exchanges hands. You get in the car, the driver takes you to your location, and you get out. No fumbling with paying, you can just get out and leave! Tip is even included. It says so on their webpage – it's built into the price of the service. Uber is seriously the fastest, best, and safest way to get around Paris.
Use this link to sign up with Uber to get your first ride free!
Until next time!! xoxo