Thin Mint Brownies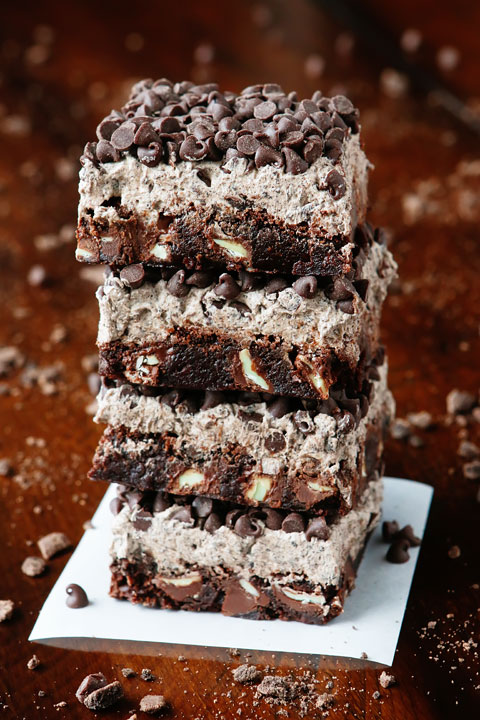 Every month Kevin has a staff meeting at work, and I usually try to send in a little treat for his co-workers to make the day a little sweeter. :) Last month I made Red Velvet Brownies and they were a MASSIVE hit. He had several requests for the recipe before I was able to get it up on the blog. They were so popular he asked if I could do something similar for the next meeting. So this month, in honor of St. Patrick's Day, I made Thin Mint Brownies!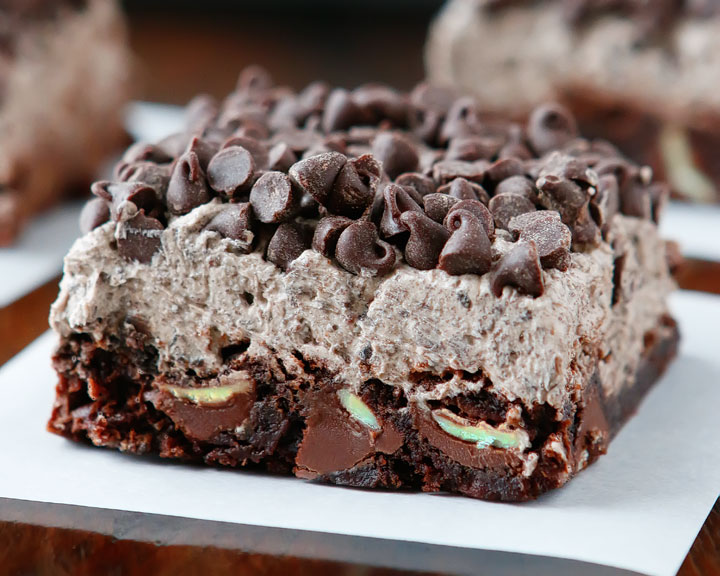 And they are seriously to-die-for. These Thin Mint Brownies are a super fudgy, chocolaty brownie topped with Thin Mint Buttercream frosting! We loved them, and everyone else must have too, because after the meeting Kevin texted me a picture of the empty plate. There was not a crumb left! :)
They are super easy to make, too. Here's all you'll need!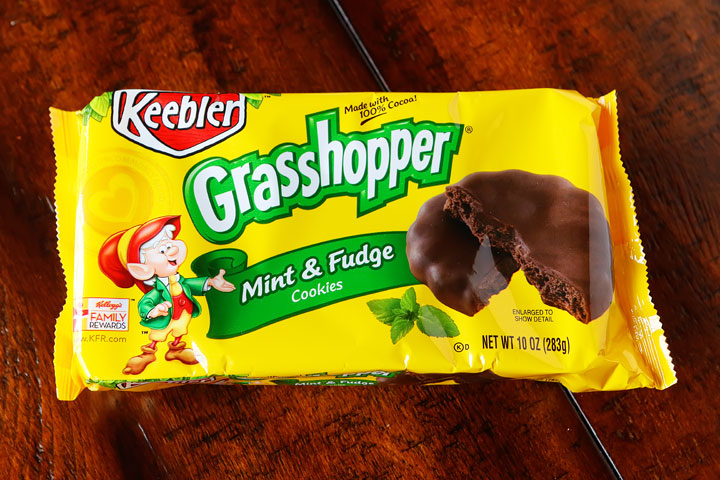 Now after all, these ARE Thin Mint Brownies…. HOWEVER. I don't know about you, but I couldn't bear to part with my beloved Thin Mints!!! I want to eat them an entire sleeve at at time. Preferably while locked in a closet so no one can disturb me. SO. I used these Keebler Grasshopper Cookies instead. They were honestly just as good! But you could definitely use Thin Mints here if you have a box to spare, maybe there's one still in the freezer from last year. :)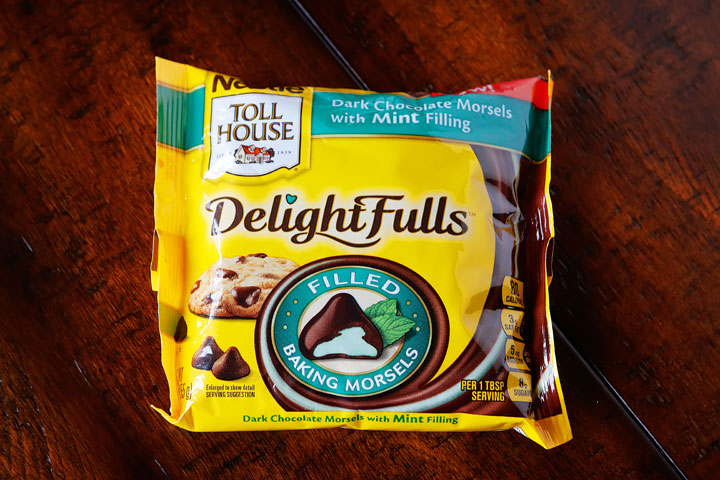 I also used these fun Mint-Filled baking chips from Nestle. Have you seen them in stores? I am obsessed with them. They also have peanut butter, caramel, and cherry flavored chips. The peanut butter chips are my FAVORITE! If you can't find these, you can use regular mint chocolate chips, chopped Andes mints, regular chocolate chips, or you can also just leave them out. :)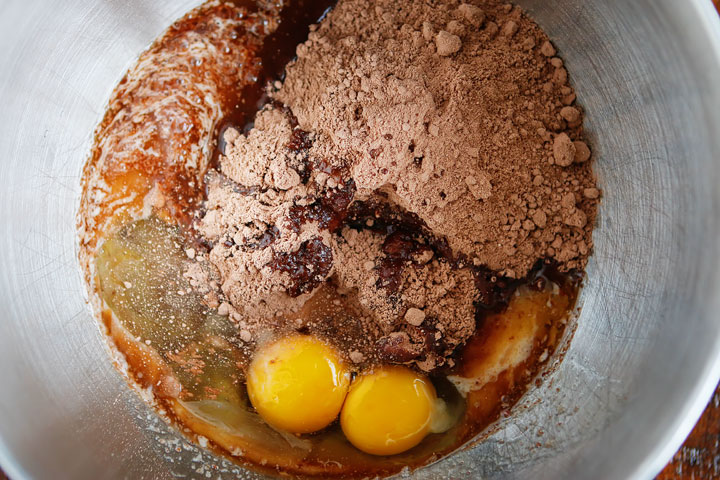 To start, beat together the Devil's Food Cake mix with melted butter and 2 eggs until well combined and you have a soft dough.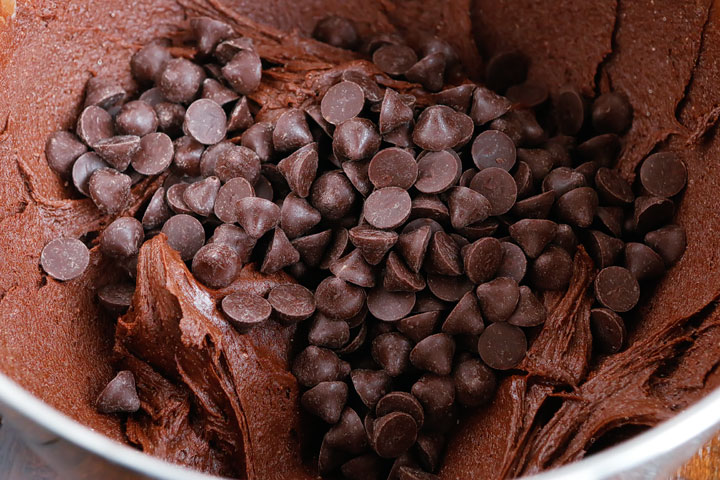 Then add the mint chocolate chips and stir until evenly distributed.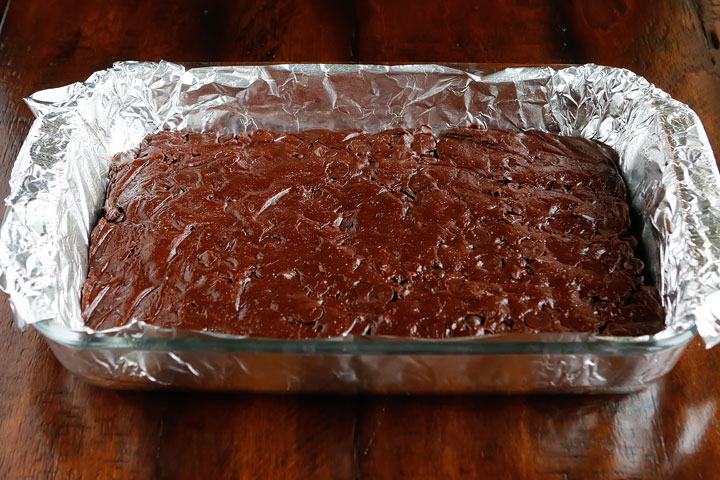 Press the dough into the bottom of a well-greased 9×13 baking dish. I like to line my dish with foil and also coat with cooking spray, because it makes the brownies so much easier to remove from the pan and cut into squares. Here's my trick that makes lining a pan with foil SO much faster.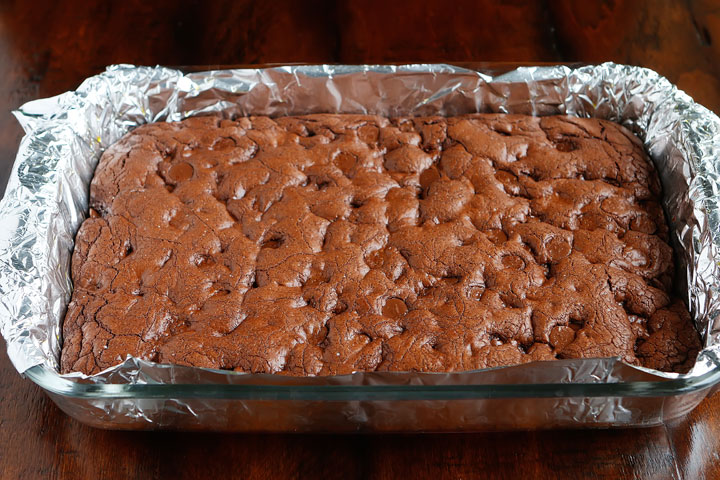 Bake the brownies for 15 minutes until the edges are just set. The middle may still be a little jiggly, but will set up completely once cooled. Do not overbake.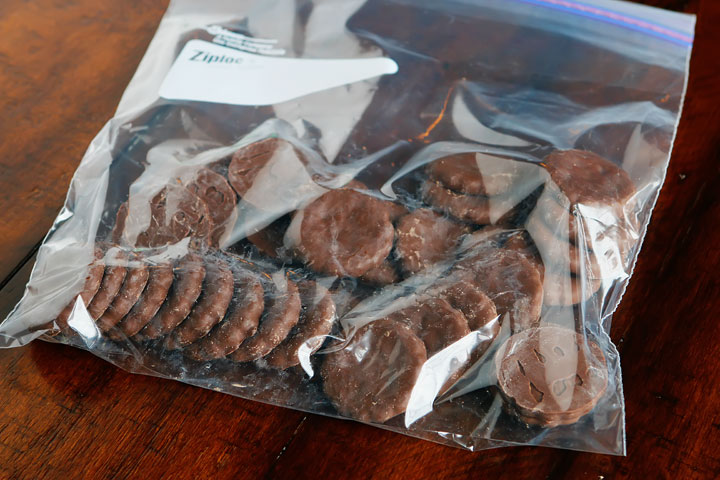 Now for the frosting! Finely crush the Thin Mints in a food processor or Ziploc bag.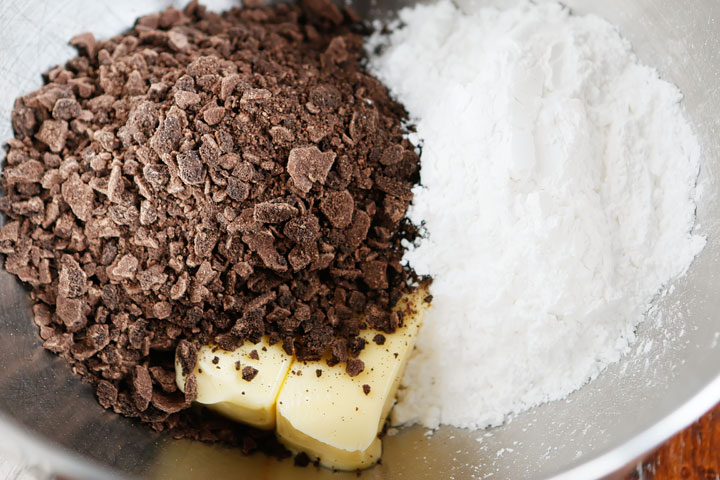 Beat together with butter and powdered sugar until light and fluffy.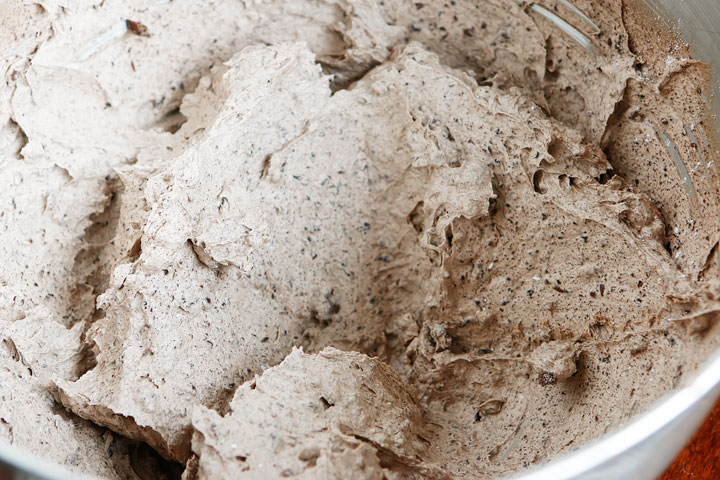 Thin Mint Frosting! So good!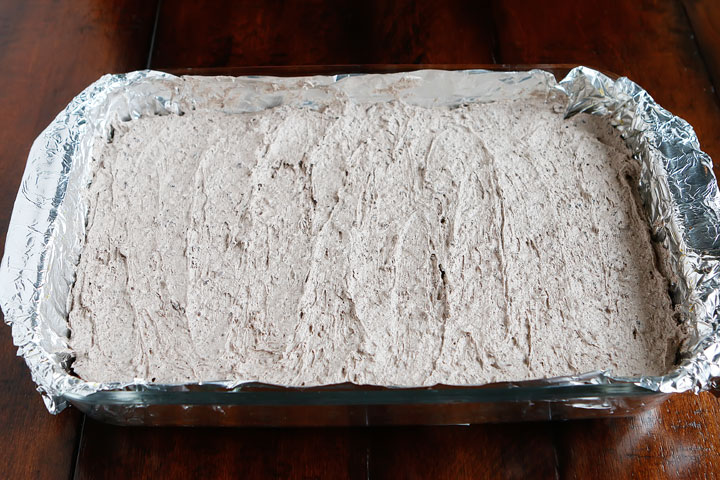 When the brownies have cooled completely, top with frosting and mini chocolate chips.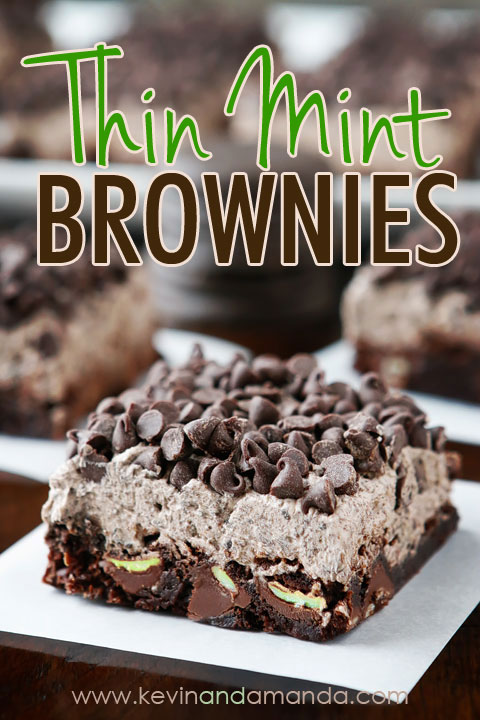 Mint Chocolate Chip Brownie Perfection!! Hope you enjoy!! :)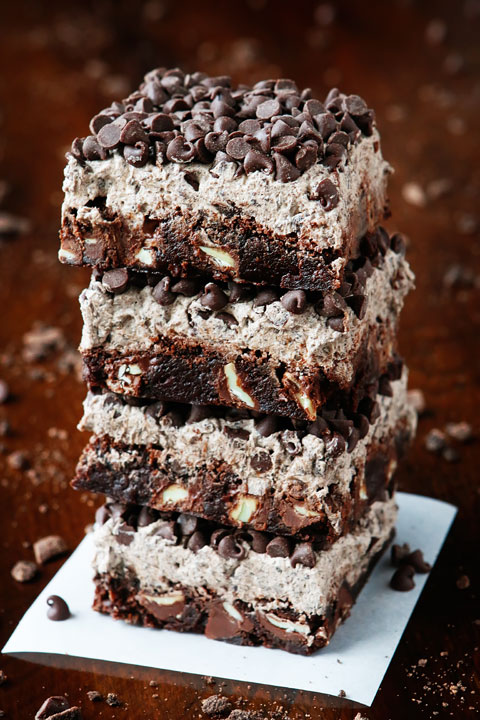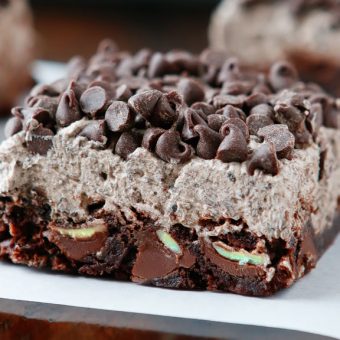 Thin Mint Brownies
Ingredients:
1 (16.5 oz) box Devil's Food Cake mix
2 eggs
1/2 cup butter, melted
1 (9 oz) bag mint chocolate chips
1 (9 oz) box Thin Mints (about 30 cookies)
2 cups powdered sugar
1 cup butter, softened
1 (12 oz) bag mini chocolate chips
Directions:
Preheat oven to 350 degrees F. Line a 9×13 baking dish with aluminum foil and coat generously with non-stick cooking spray.
With a mixer, beat cake mix, eggs, and melted butter until well combined. Then stir in mint chocolate chips until evenly distributed. Press into the bottom of prepared pan, and bake in preheated oven for 15 minutes until the edges have just set. Allow to cool completely.
For the frosting, crush the cookies in a Ziploc bag into fine crumbs. With the mixer again, beat the cookie crumbs, powdered sugar, and softened butter for 2-3 minutes until light and fluffy. Spread over cooled brownies and top with mini chocolate chips. Cut into squares and serve.
More Decadent Chocolate Recipes!