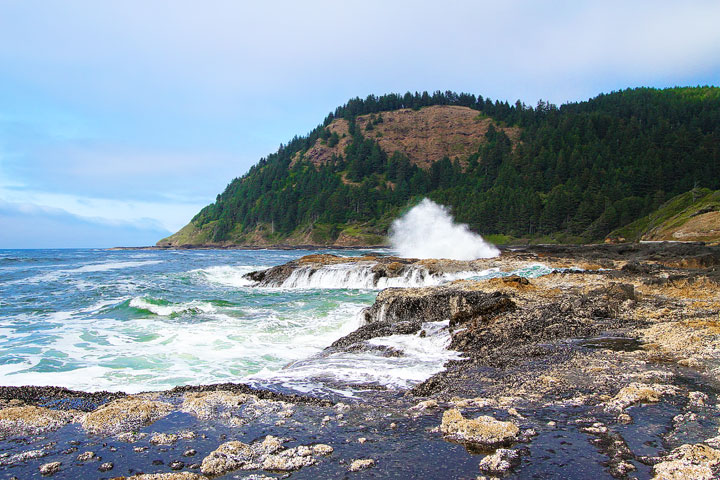 Oh my gosh, you guys. I don't know if I've ever been more excited to see a place than Cape Perpetua in Yachats, Oregon. When I first started researching our Oregon trip, one of the first photos I saw was at Cape Perpetua. I knew right then and there I absolutely had to see this place for myself. I don't even know if I can describe just how awesome this sight was, with it's steep, rocky cliffs and massive, violent waves crashing in every direction. This was like no other beach I'd ever seen.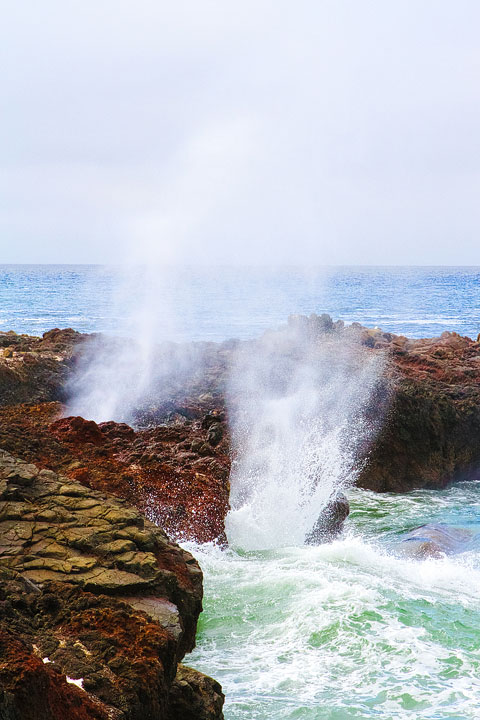 Cape Perpetua is truly a sight to behold. The first thing you'll spot is the Spouting Horn.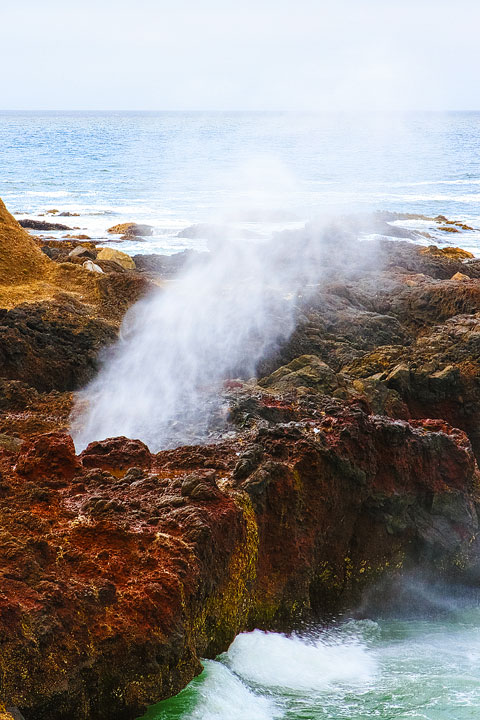 The Spouting Horn is an exploding salt water geyser that seems to come from within the cliffs at Cape Perpertua.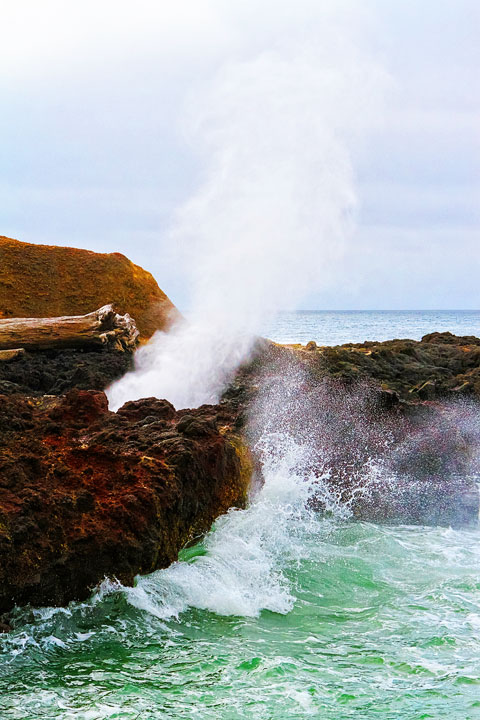 What causes the Spouting Horn?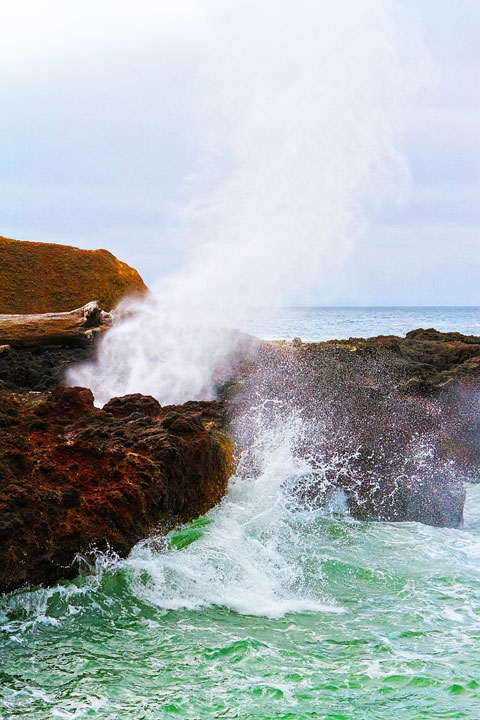 The constant pounding of the waves at Cape Perpetua have worn away at the jagged, volcanic cliffs along the shore, creating tide pools, caves, and even vent holes.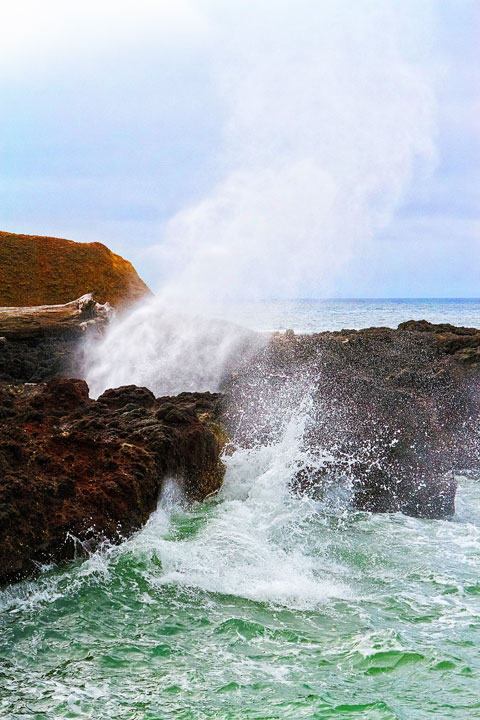 When the waves crash against the cliffs, pressure builds up inside the caves to send a sky-high fountain erupting 20-45 feet into the air.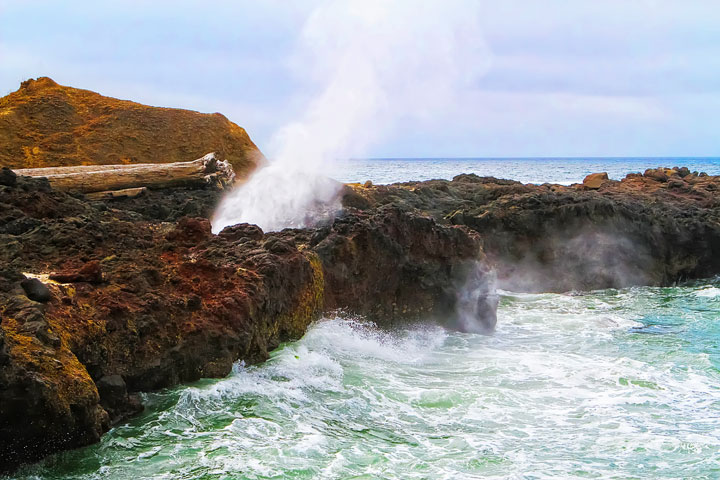 Near high tide, watch for a few moments and you are sure to see it!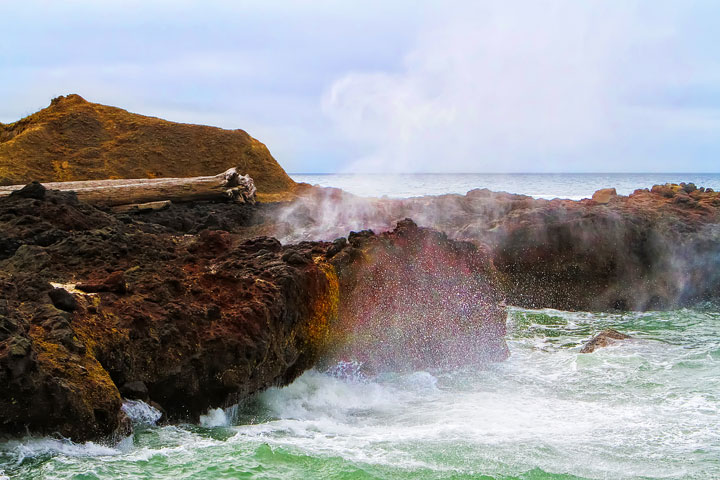 And then as quickly as it comes, the fountain disappears into the ocean's mist.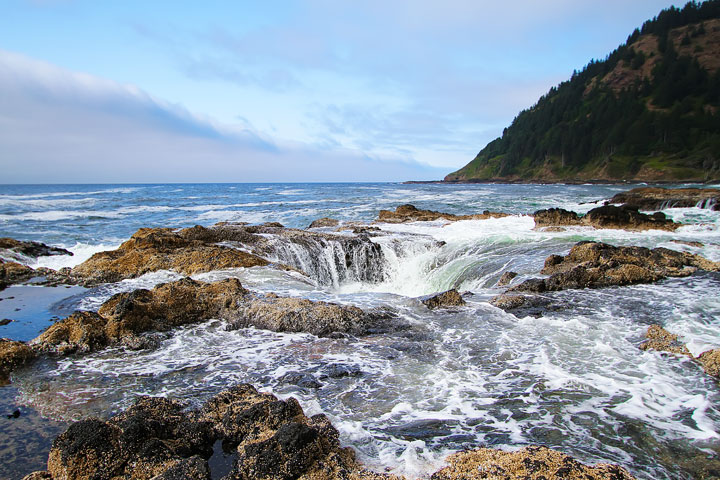 But this is the coolest thing.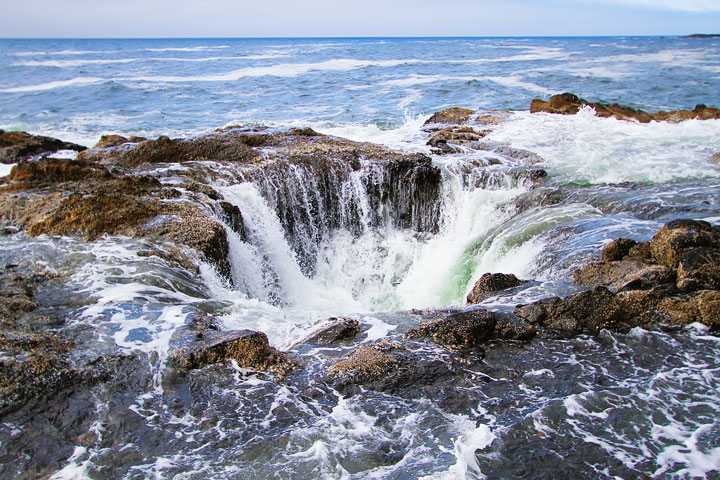 This is Thor's Well, located right along the shore at Cape Perpetua.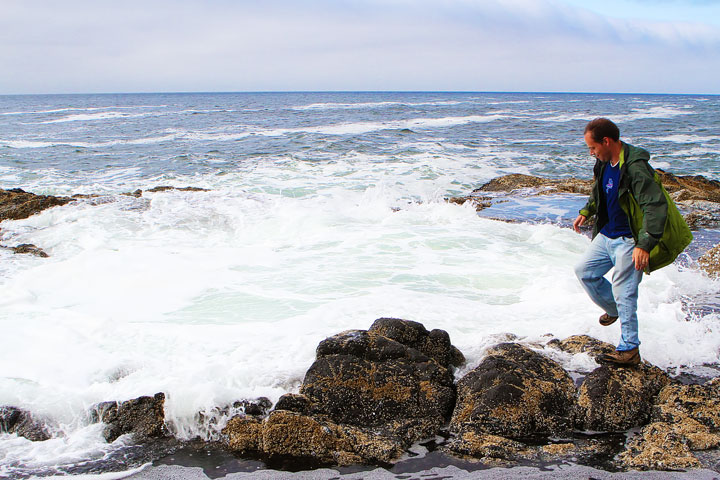 While exploring the many tide pools in the rocks, it's easy to miss this gaping pit if you don't know what you're looking for.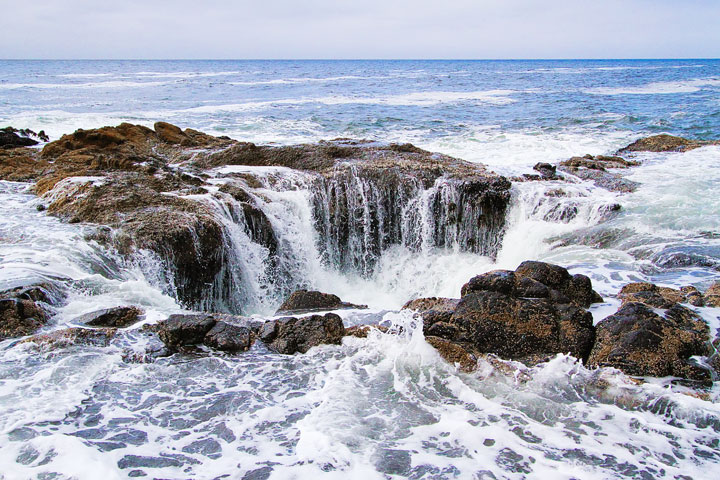 Until whoosh! All of a sudden the waves are crashing over the rocks and filling the well, pulling in everything in it's path, and collapsing right back out through the bottom of the well.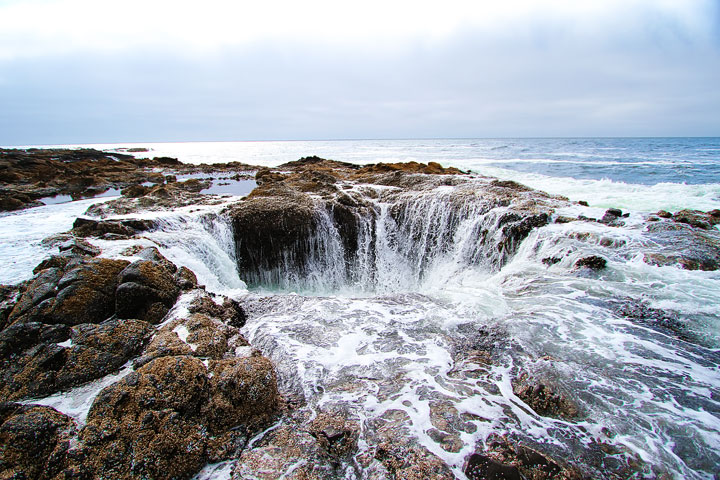 It's amazing to watch.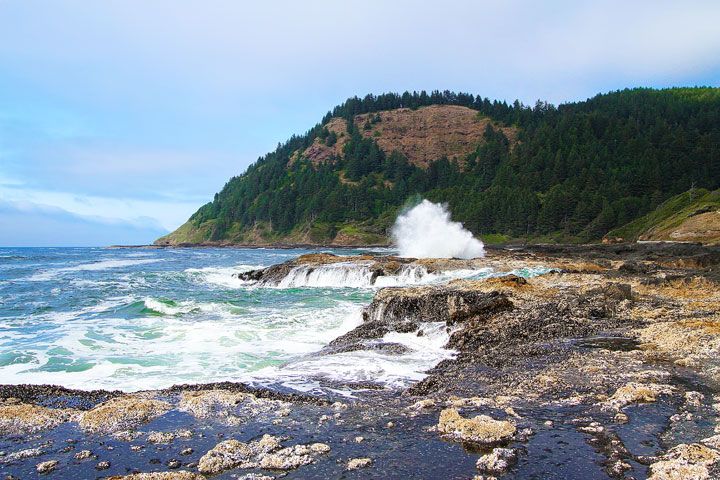 Cape Perpetua is most spectacular to explore when it's also most dangerous — at high tide.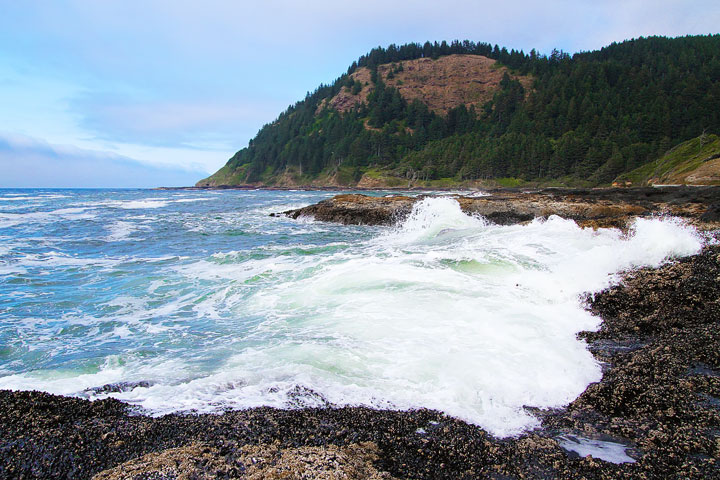 Waves come crashing over the cliffs from every direction.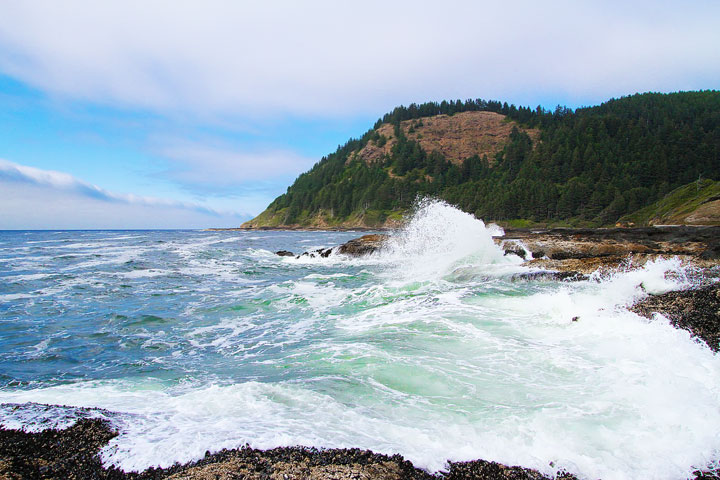 Rushing over everything in it's path.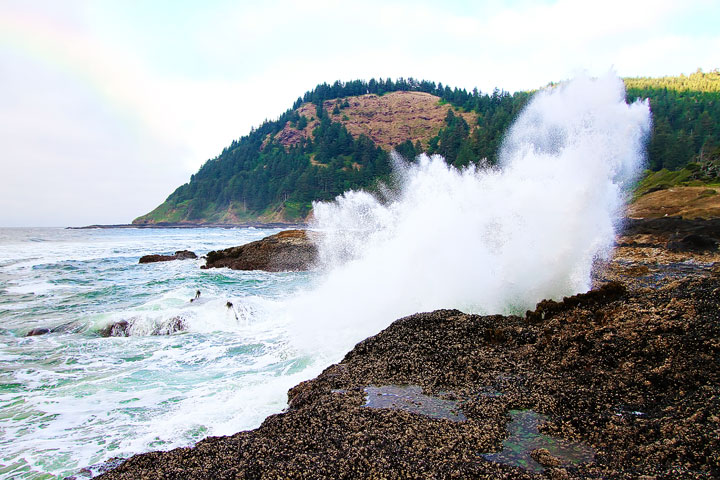 The caves and crevices along the shore can blast waves 20 feet into the air. Be very careful here and never get too close to the edge.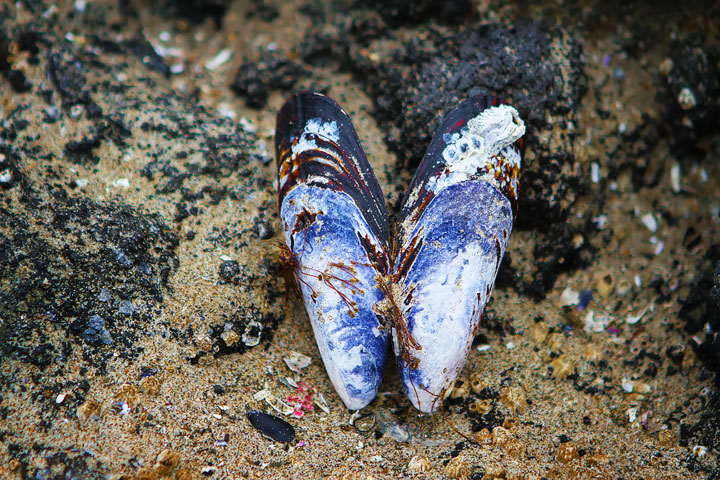 The volcanic shore is covered in colorful tide pools and sea creatures.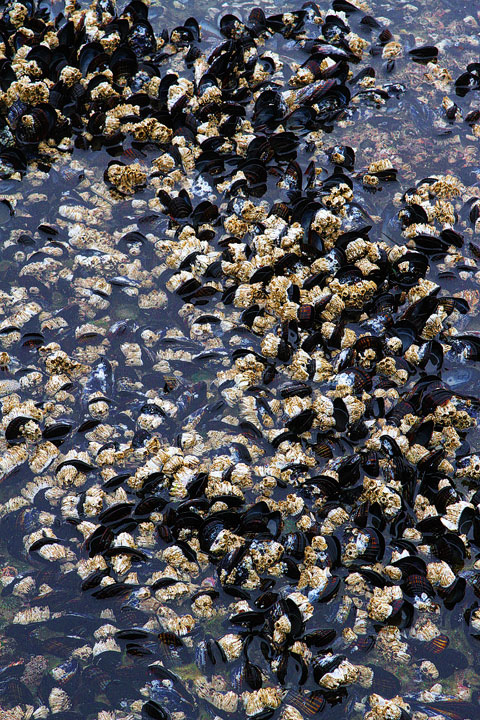 Thousands of seashells.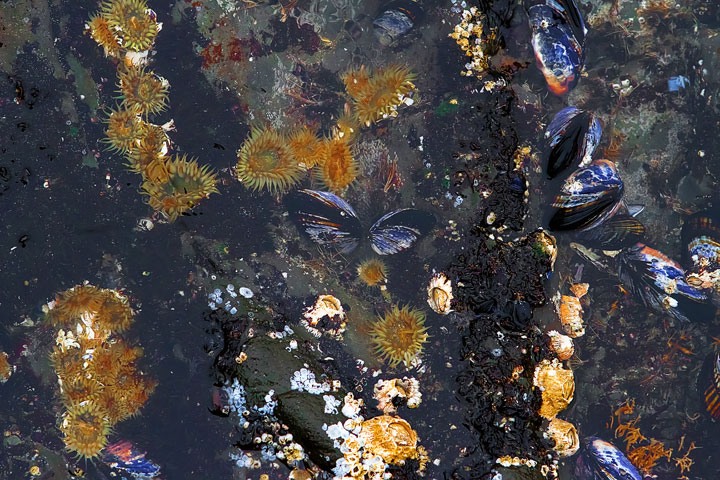 Everywhere we looked.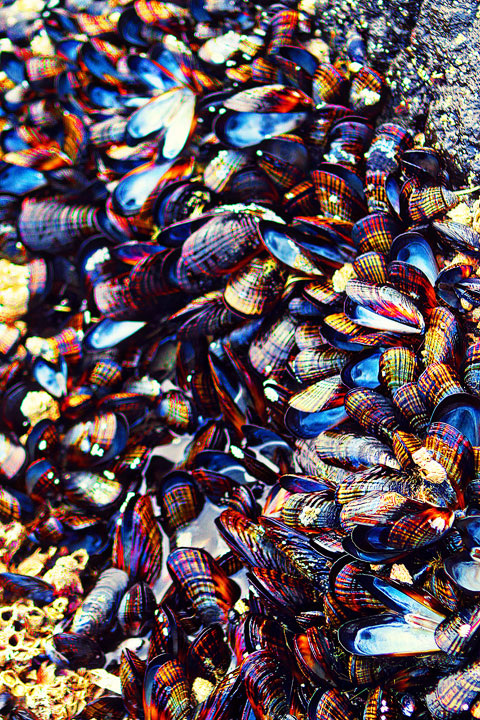 Colorful shells.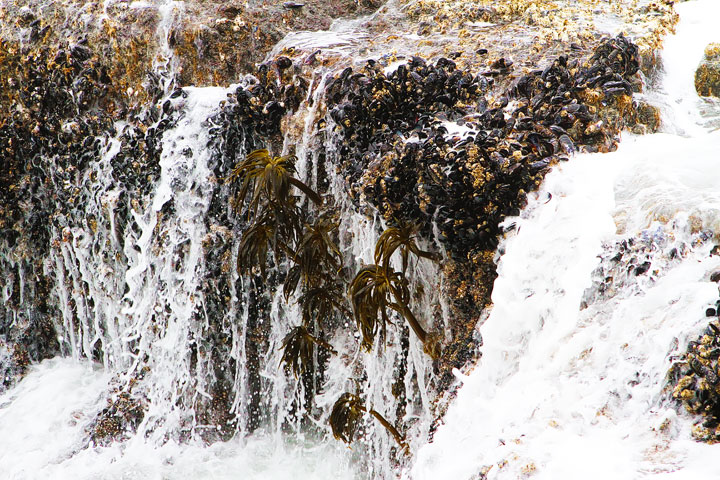 These seashells and seaweed trees are hanging on for dear life inside Thor's Well.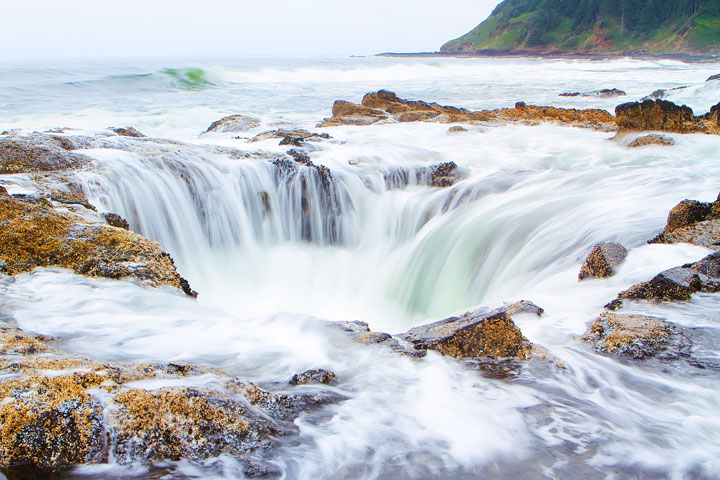 The next day we were supposed to head for Portland, but I changed our plans to spend more time at the shore. I just couldn't pull myself away!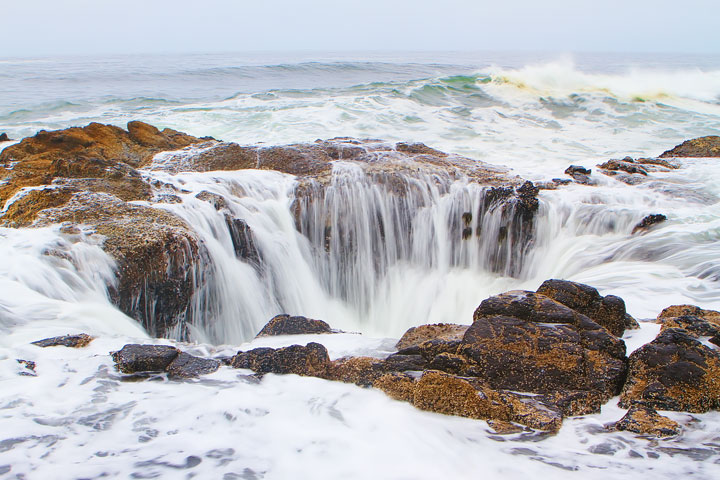 That morning the sea was stormy with a powerful tide.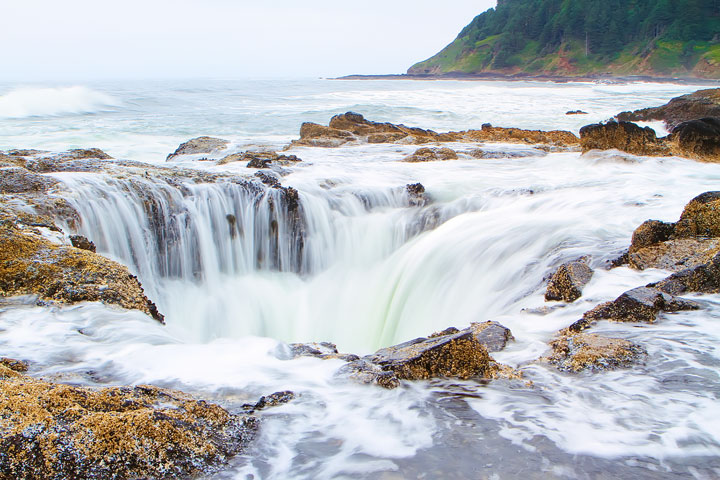 The Well was breathtaking to watch.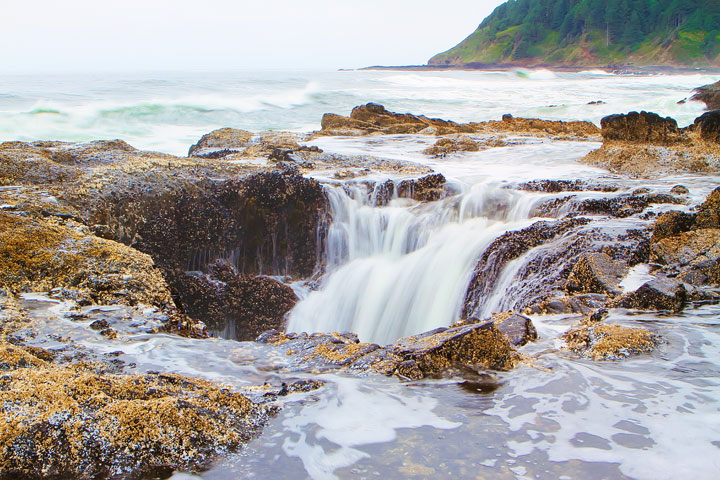 Side note — We stayed at the Overleaf Lodge and Spa in Yachats. If you ever go to Yachats, this is where you have to stay! There's an Aveda spa right in the hotel, so after a chilly, foggy morning at the coast, we bundled into the car, hurried back into the hotel and and warmed ourselves right up in their delicious sauna. Their spa is free to all guests and includes a steam room, sauna, lockers and changing rooms, flavored water, showers, and hot tubs overlooking the ocean. Of course you can also book other spa services and charge them to the room! ;) There's also a laundry room available to guests. Our room, more like a suite, was absolutely stunning — all rooms have a private balcony overlooking the ocean, a cozy seating area with a fireplace, and a whirlpool tub that overlooks the ocean, where you can watch the sunset. (Here's a picture from our room!) They also had the most delicious berry scones for breakfast! They literally had to drag me out of the room come check out time. I never wanted to leave!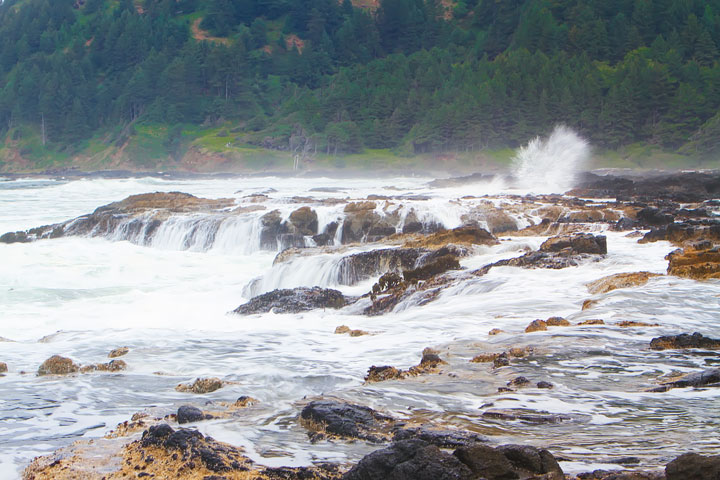 Stormy shore at Cape Perpetua.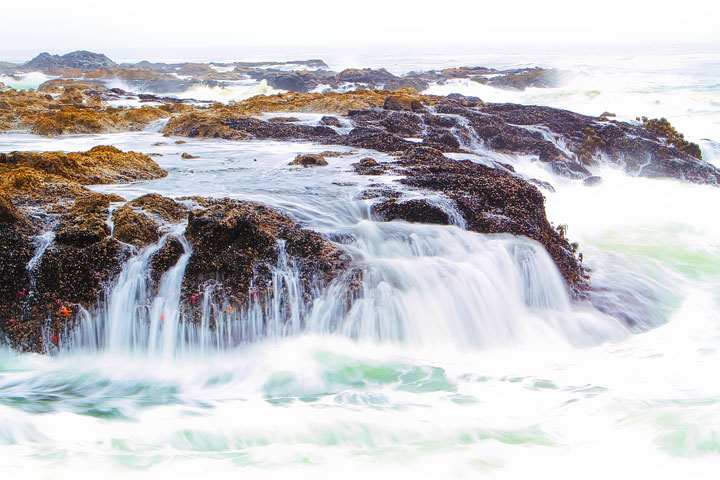 I would go back in a heartbeat to see this natural wonder.
Plan a Yachats Getaway!
Where to Stay
Overleaf Spa
280 Overleaf Lodge Lane, Yachats, OR
(541) 547-4885 ‎ · overleafspa.com
Heaven on earth.
Where to Eat
The Drift Inn
124 U.S. 101, Yachats, OR
(541) 547-4477‎ · the-drift-inn.com
Our meal here was delicious! Here's a photo of my Crab and Herb Stuffed Lobster Ravioli. Go early! It can get busy. :)
Topper's Ice Cream & Candy
153 U.S. 101, Yachats, OR
(541) 547-3273
Get local Tillamook ice cream here! It's an Oregon must! :)
What to do
Cape Perpetua Special Interest Area, Oregon
Link to Map
There's a pull off parking area along the coast on the 101. The path is paved and stroller/wheelchair accessible.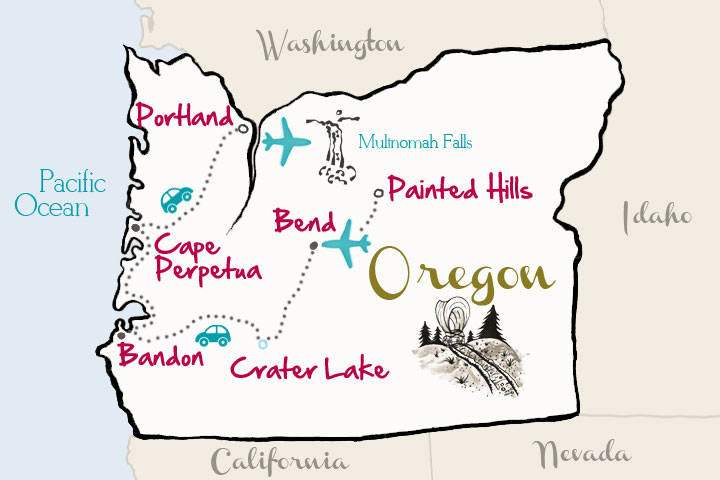 Follow along on our Oregon Adventure!
*Thanks so much to Travel Oregon for sending us on this adventure through Oregon!