Southwestern Fiesta Chicken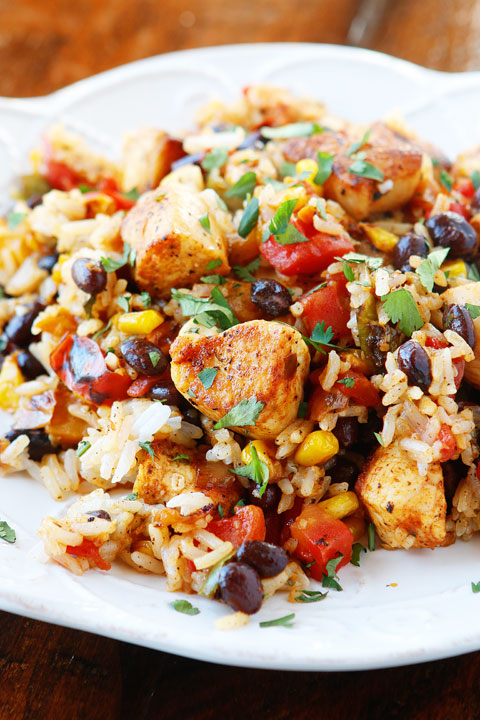 I am so in love with this Southwestern Fiesta Chicken!!  It's so good, quick, and easy. It's perfect for throwing together on a weeknight. And it's 1000% better than anything you'll get at a restaurant!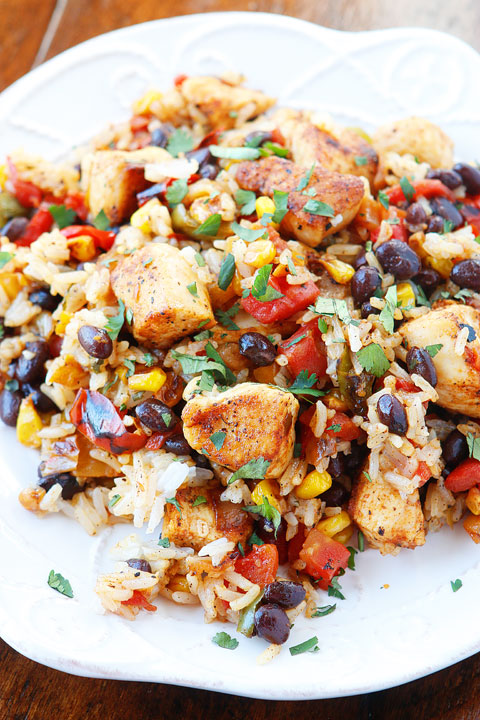 And seriously who not want to eat this gorgeous meal? It's like a fiesta on a plate! There are so many fabulous fresh flavors going on here. A party on your plate and a party in your mouth!!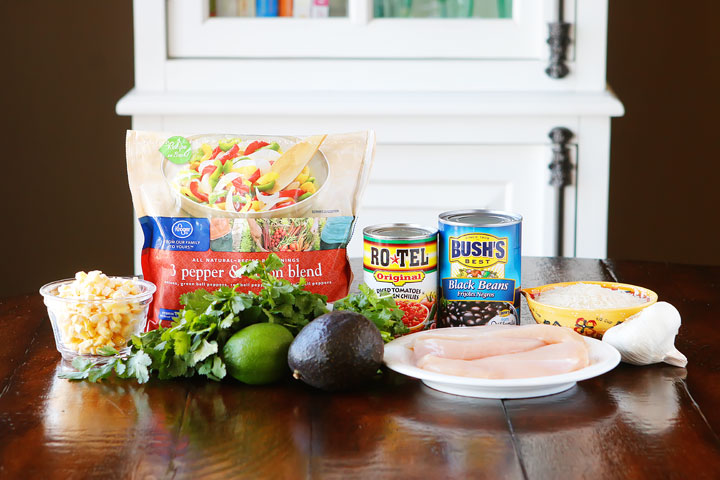 And it's seriously SO easy to make. Here's all you need!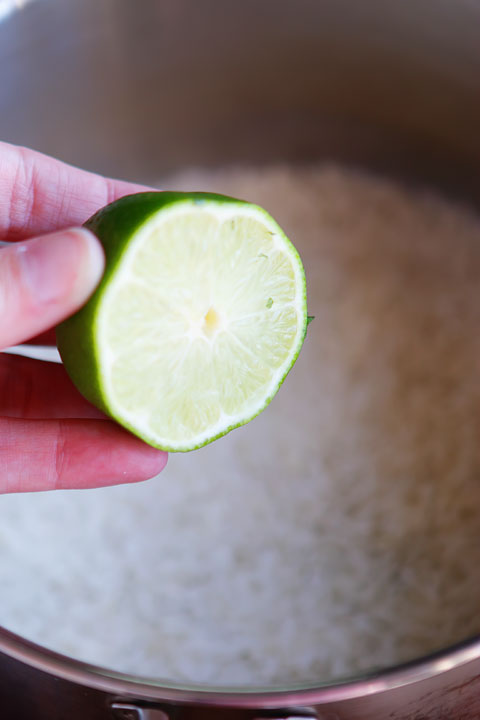 Let's start by making the zesty cilantro lime rice. The rice is the base of this dish and gives the whole meal a fabulously fresh kick!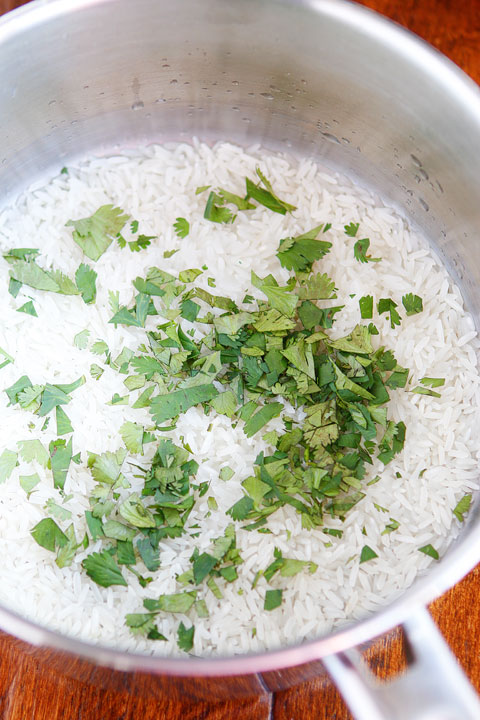 Just add rice, water, chopped cilantro, and the juice of one lime to a large pot. Bring to a boil, then cover and simmer on low heat for 14 minutes. Easy peasy! Keep covered and set aside for later.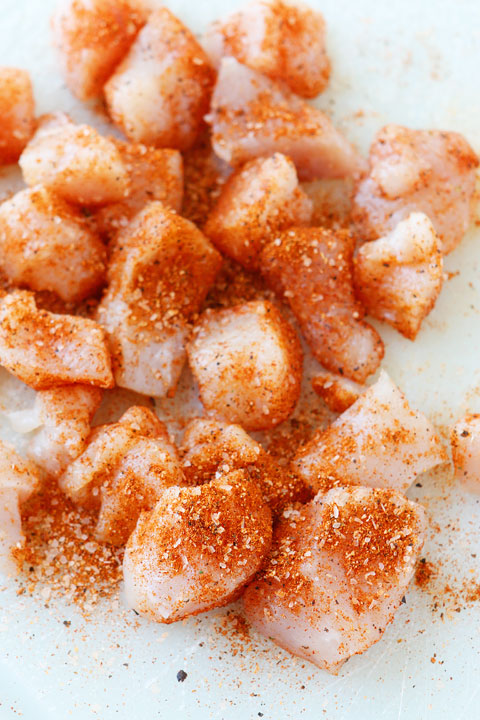 Meanwhile, cut the boneless, skinless chicken breasts into bite-sized pieces, and season with 1/2 packet (1.5 tablespoons) taco seasoning. I am using our favorite homemade taco seasoning.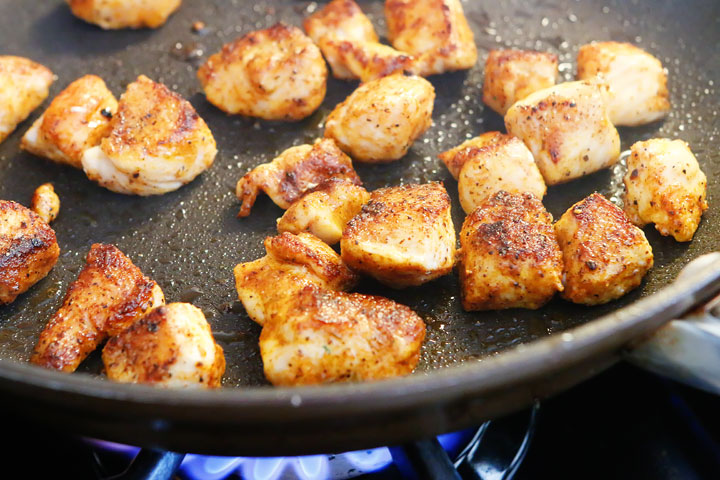 Next, heat some olive oil in a very large skillet. A dutch oven, wok, or something with high sides might actually be better here. We're going to be adding a lot to this fabulous dish!! :) When the oil is very hot, add the chicken in a single layer and cook for 5 minutes, until golden brown, flipping once halfway though.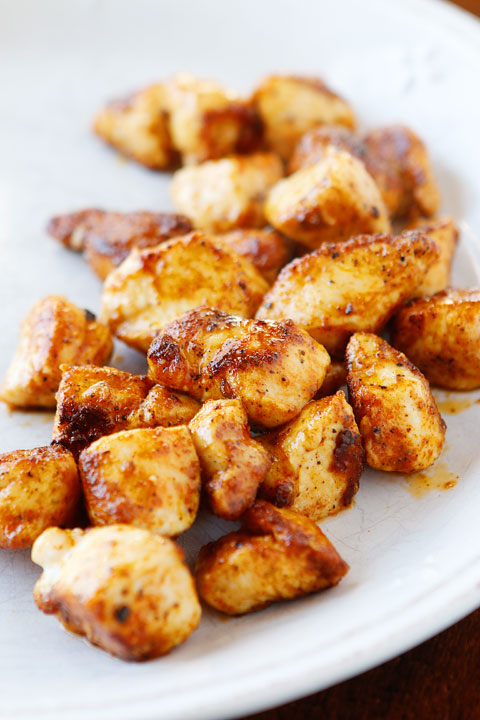 Remove the chicken to a plate and set aside. You might want to make extra because everyone will be snacking on these taco chicken nuggets!! ;)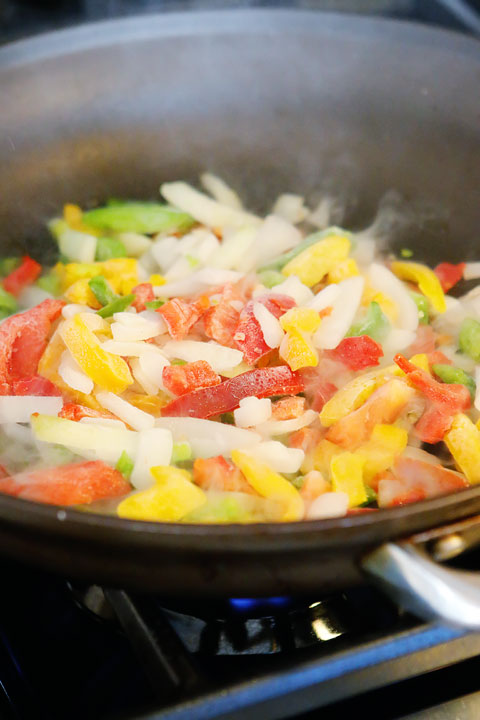 Turn the heat to high, and in the same skillet add the diced onions and bell peppers. I love using a frozen mix for this — it's already diced for you! But you could also use 1 onion and 3 bell peppers (about 2 cups each after diced).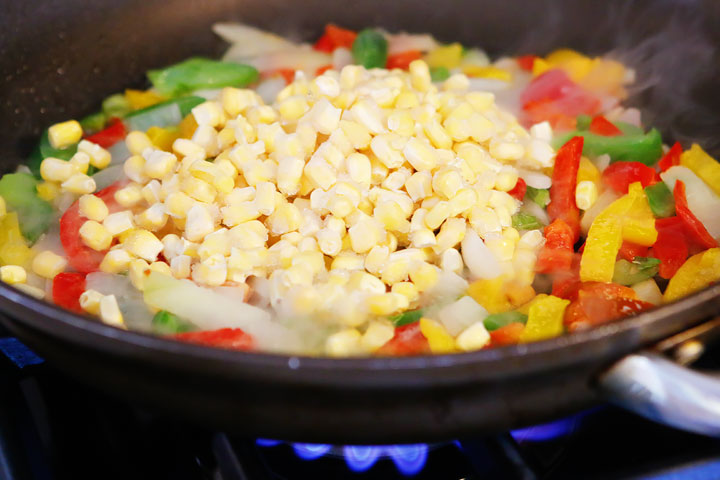 Then add the corn — I am using frozen but you could use fresh. If it's from a can just remember to drain it.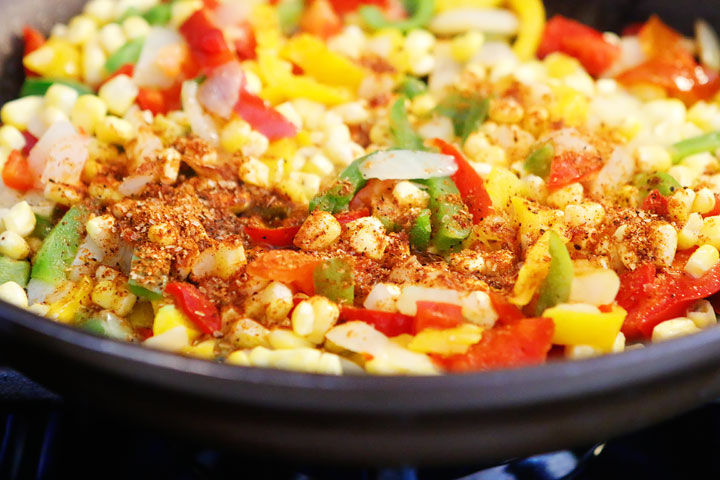 And finally add the remaining taco seasoning.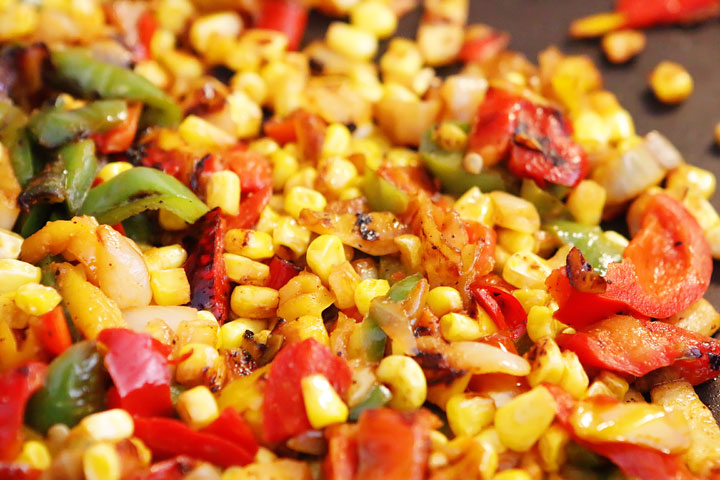 Cook, stirring occasionally, until veggies are slightly blackened around the edges.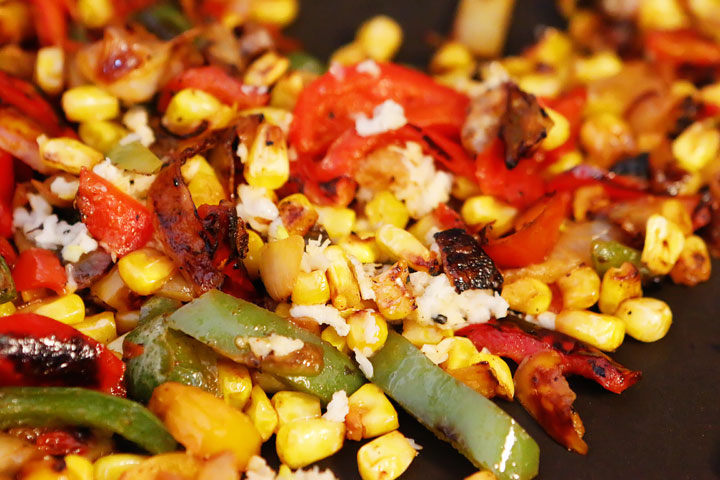 Turn heat to low, add the garlic, and stir until combined and fragrant, about 30 seconds.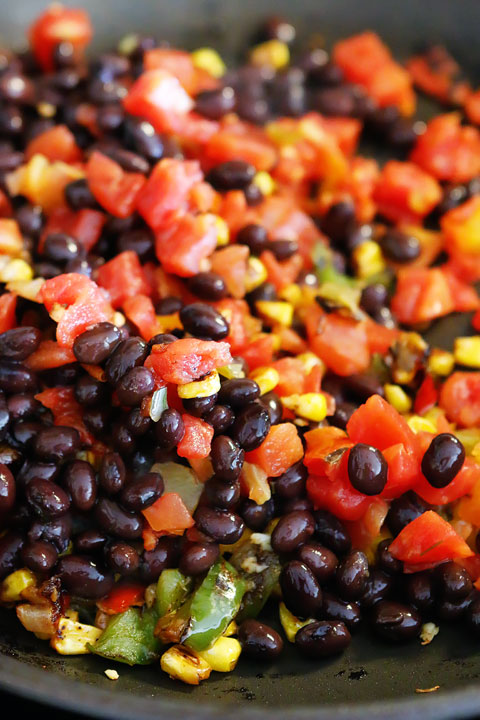 Now add the beans and diced tomatoes (both drained)…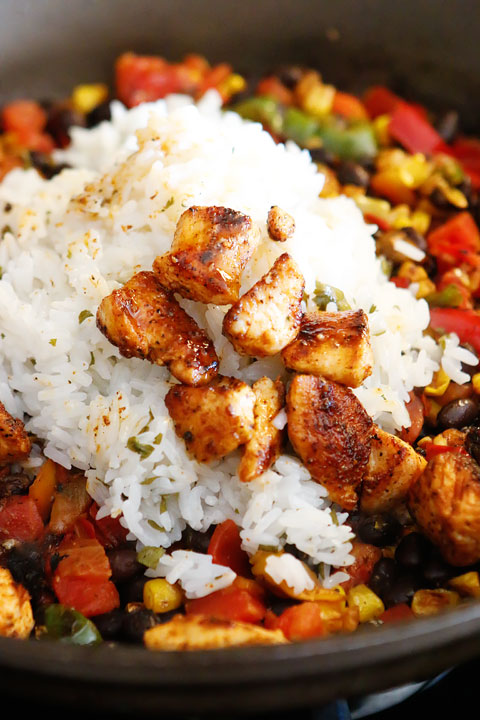 And finally the cooked rice and chicken. If you don't have enough room in your skillet for the rice and chicken, just serve the chicken and veggies over the rice on individual plates. I just like to mix it all up before serving. :)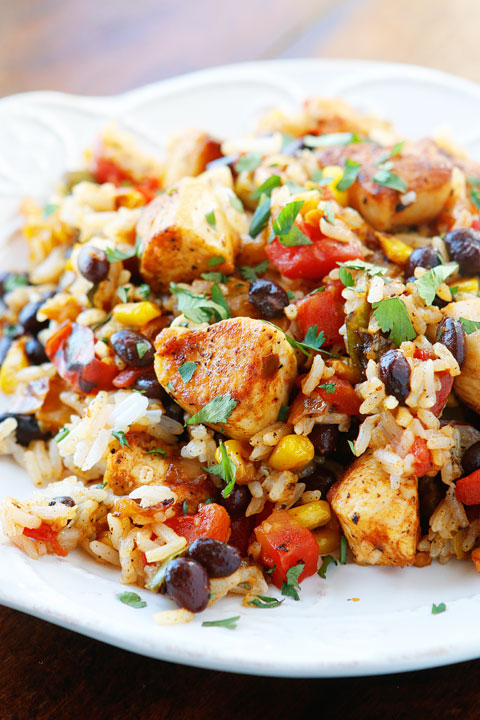 Garnish plates with a little more chopped cilantro….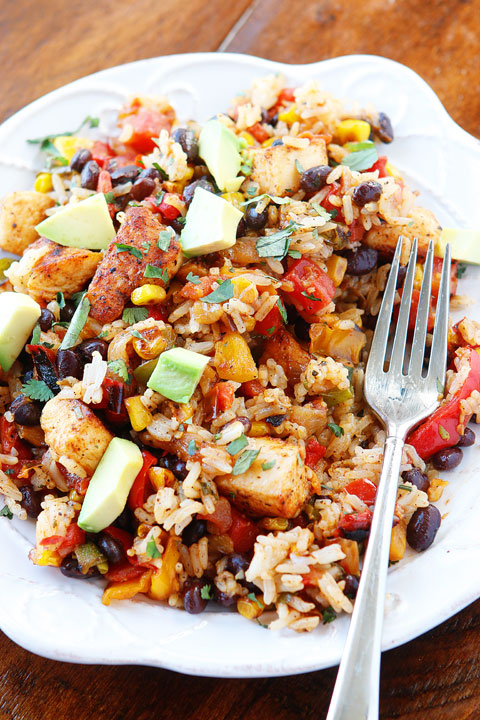 And top with diced avocado if desired! We LOVE the avocado addition. This dish is bursting with so many fresh, fabulous flavors. I cannot tell you how much we love it! Hope you enjoy!! :)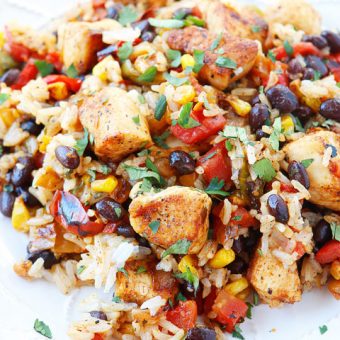 Southwestern Fiesta Chicken
Ingredients:
Cilantro Lime Rice
1 cup long grain white rice
2 cups water
1 teaspoon salt
juice of 1 lime
2-3 tablespoons cilantro, chopped
For The Chicken
1 pound boneless, skinless chicken breasts
1 envelope (3 tablespoons) taco seasoning
2 tablespoons olive oil
2 cups diced onion (about 1 onion)
2 cups diced bell peppers (about 3 bell peppers)
2 cups corn (fresh or frozen)
3-4 cloves garlic, minced
1 (14.5 ounce) can black beans, drained
1 (10 ounce) cans Ro-Tel Diced Tomatoes and Green Chiles, drained
1 avocado, diced
Directions:
Add the rice, water, salt, lime juice, and cilantro to a medium pot. Stir well. Bring to a boil, then cover, reduce heat to low, and simmer for 14 minutes. Set aside and keep covered.
Meanwhile, cut the chicken into bite-sized pieces. Season with half of taco seasoning. In a very large skillet or dutch oven, heat the olive oil over medium-high heat. Add the chicken in a single layer and cook for 5 minutes, until golden brown, flipping once halfway through. Remove to a plate and set aside.
In the same skillet, increase the heat to high, and add the onions, bell peppers, corn, and remaining taco seasoning. Cook, stirring occasionally, until veggies are slightly blackened. Decrease heat to low, add garlic, and stir until combined and fragrant, about 30 seconds.
Add the drained black beans and tomatoes, rice, and chicken. Stir all to combine. Garnish with extra chopped cilantro and top with diced avocado. Serve and enjoy!! :)