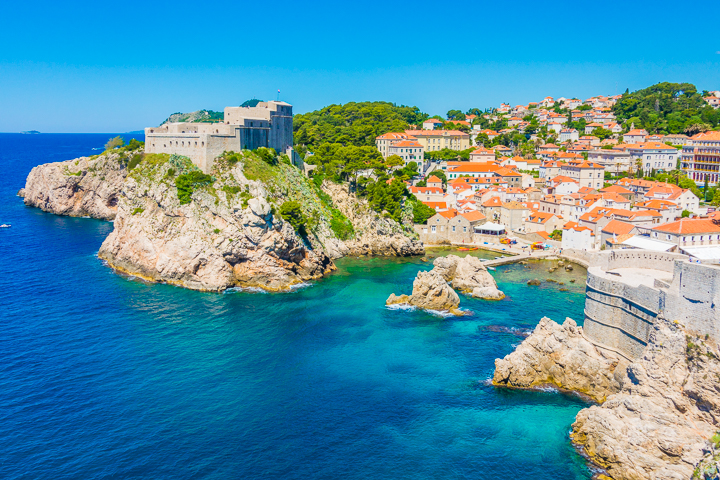 Dubrovnik is Croatia's most popular, most visited city.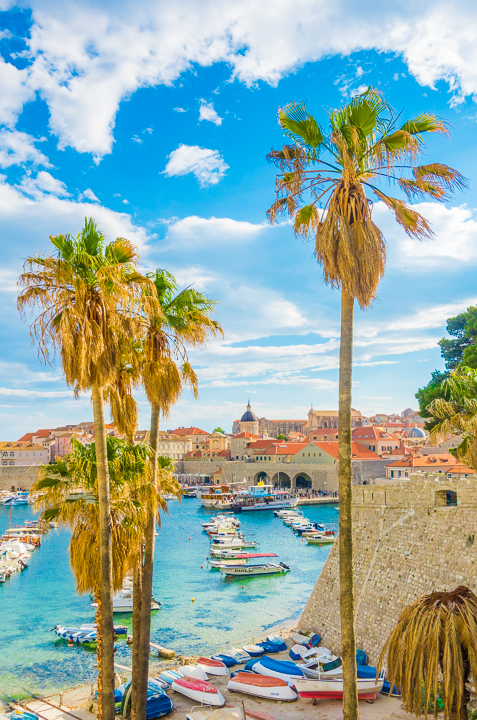 This small, medieval city is surrounded by massive stone fortification walls and nestled serenely between scenic mountains one side and the brilliant turquoise waters of the Adriatic sea on the other.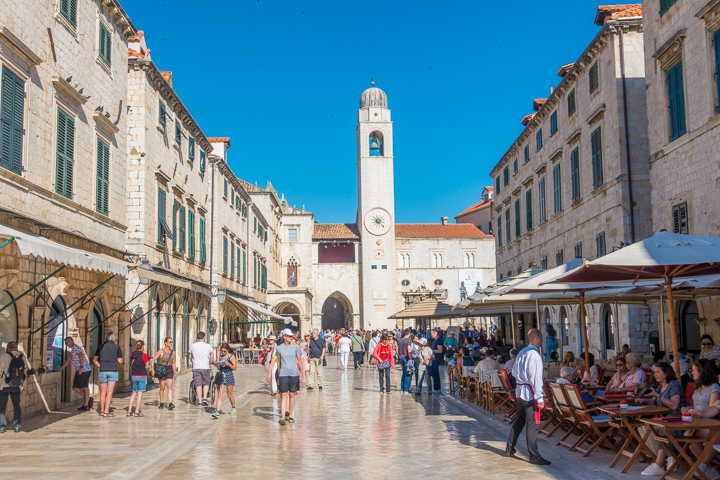 Just walking through the pedestrian streets of this charming city, it's easy to see why this stunning location has been featured in many movies and TV shows, including Game of Thrones and the new Star Wars movie, The Last Jedi.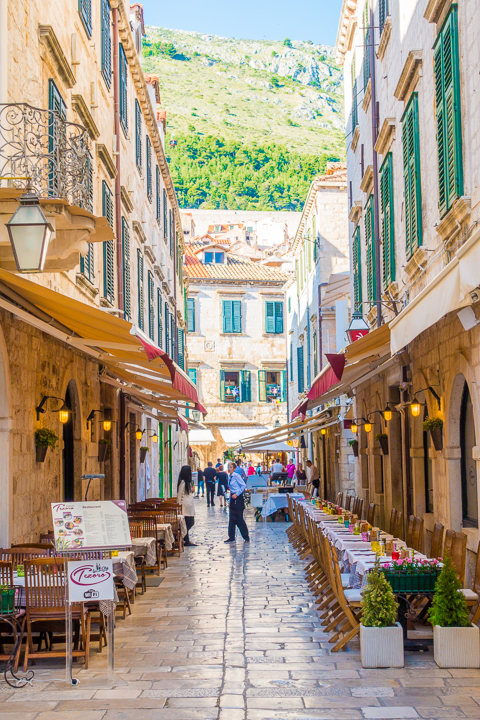 Another reason why Dubrovnik is so popular is that it's extremely well preserved for a medieval city.
Because of its prime location on the Adriatic Sea, Dubrovnik has always been a popular trade route, bringing wealth and riches into the city.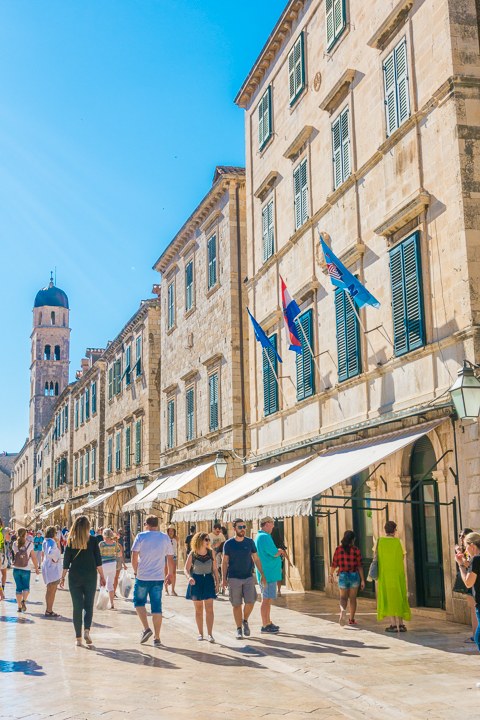 However Dubrovnik was smart. With all this new prosperity, they didn't build massive castles or extravagant cathedrals. They hid their wealth in order to stay off the radar to other trade towns in the Mediterranean.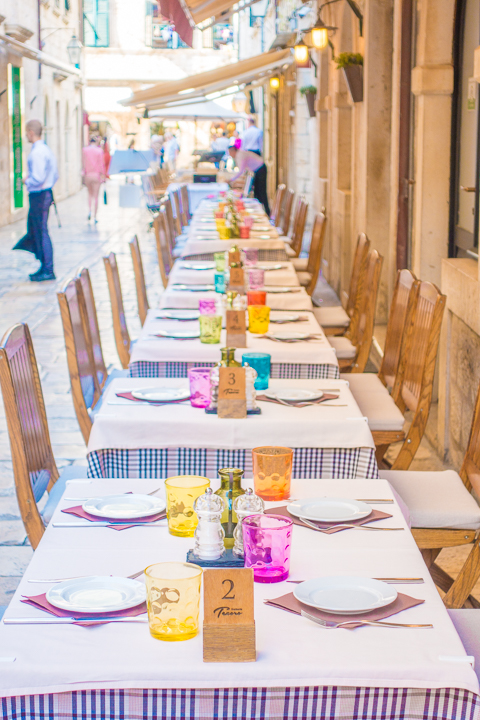 Because no one was taking notice of the increasing wealth of Dubrovnik, there were very few attacks on the city to damage the original architecture.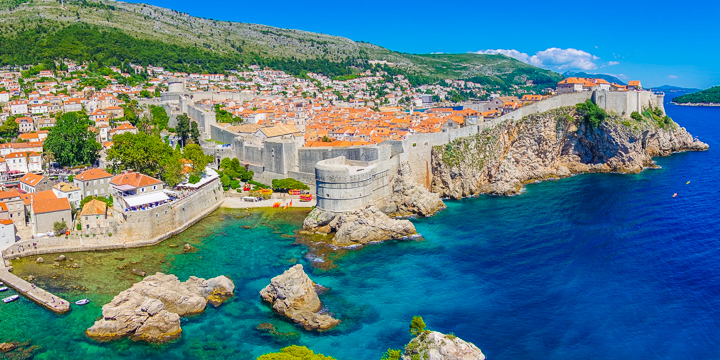 View from Fort Lovrijenac
This is how Dubrovnik was able to maintain its pristine condition!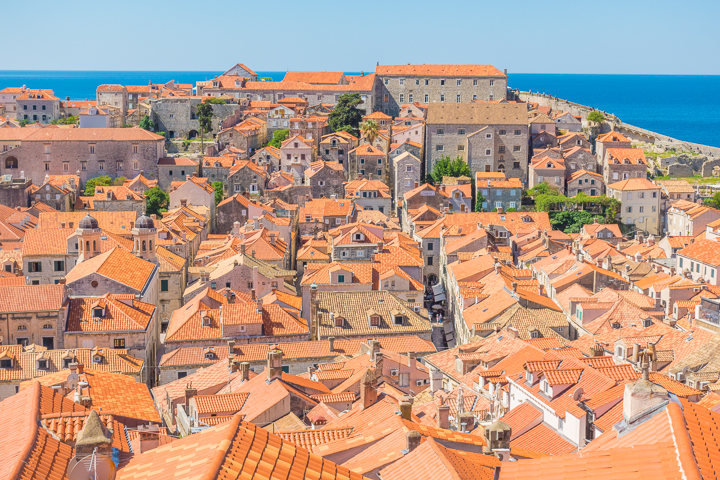 Dubrovnik is very small. The entire city is surrounded by giant stone walls, and there are only two entrances in and out. The line to get in the main entrance can get backed up during the summer. It's like waiting in line at Disney!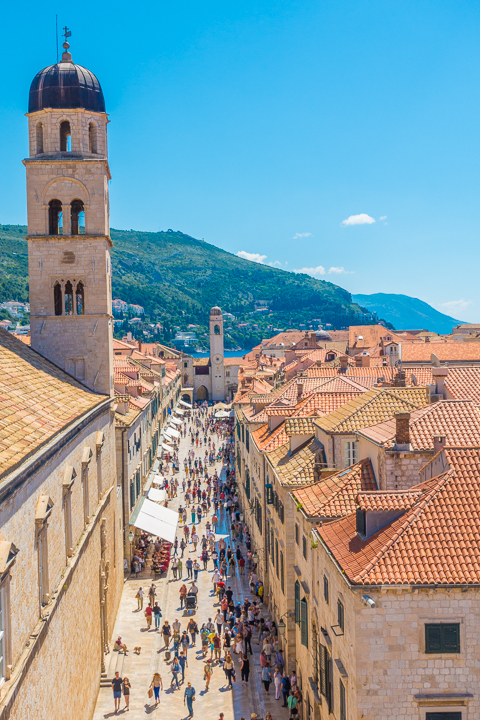 The streets inside the city are pedestrian-only. Some are narrow, and can definitely get crowded during the busy season. We were there at the beginning of May and it wasn't too bad yet. If you want to avoid the crowds, I definitely recommend going between September and May, and avoiding the summer months.
If you run into a line at the main entrance (we didn't at the beginning of May), there is also a back entrance. Look for the Ploce Gate on Google Maps.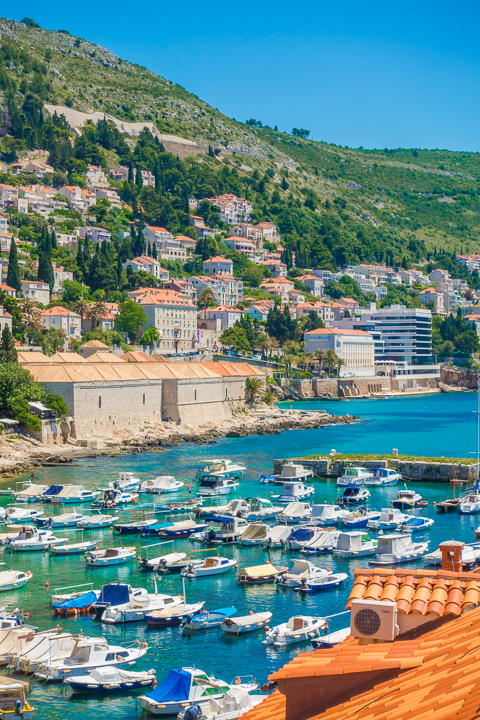 You could definitely walk all the little streets and alleys of Old Town Dubrovnik in one day. However, to really make the most of your time in Dubrovnik, I recommend at least 2 days. We stayed 2 nights and it was perfect. This will give you time for some really unique experiences in Dubrovnik.
Below are some of the highlights of Dubrovnik that you'll definitely want to put on your must-see list.
---
What To Do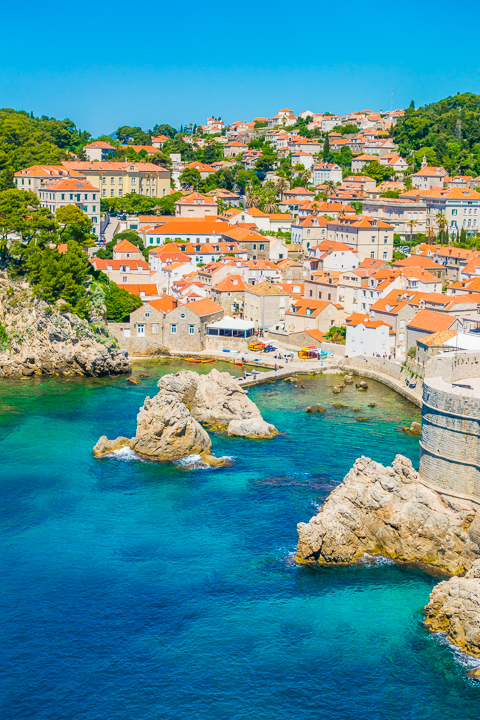 Walk the Wall.
You can walk all the way around on top of the massive stone fortification walls of Dubrovnik. It's a great way to see the city from above and get sweeping panoramic views of the old town and the amazing turquoise water all around.
You can buy tickets and start the walk right at the main entrance of Dubrovnik, but if there's a line, head to the back entrance (look for the Ploce Gate on Google Maps) and you can also buy tickets and start your walk here.
Plan to spend around 2 hours to do the entire wall.
You may want to bring water if it's a hot day, but there are a few places where you can stop for a drink and use the bathroom along the way.
If you get really tired, there are also a few locations where you can go down if you don't want to walk the entire wall.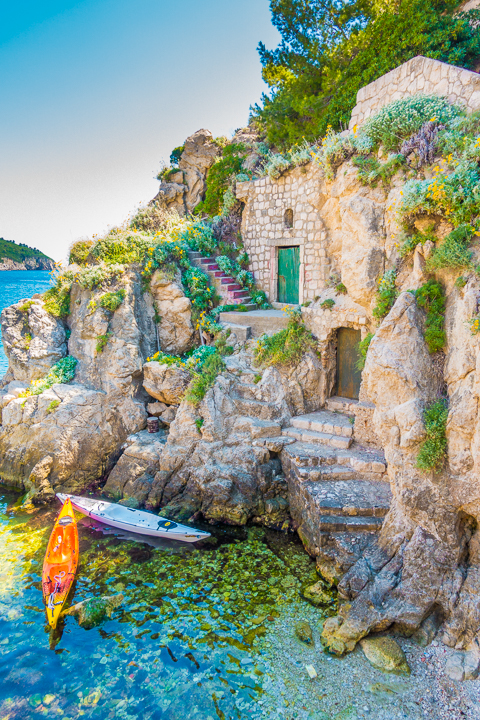 Explore Fort Lovrijenac
Fort Lovrijenac is outside of the city walls. Our tickets to walk the wall included entrance to Fort Lovrijenac.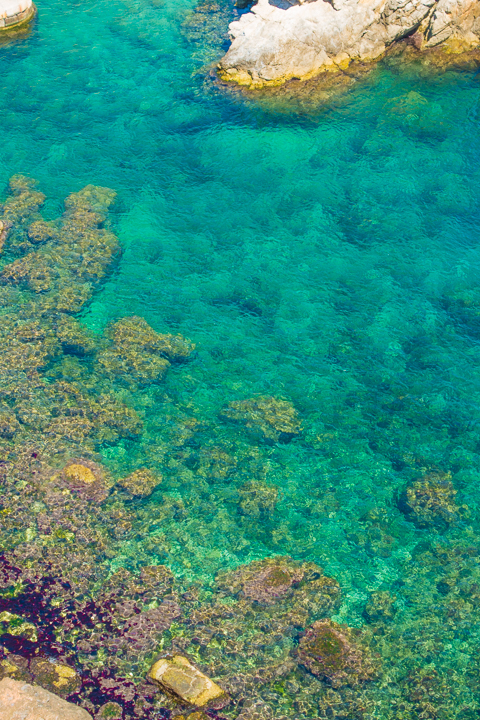 It's another place to get beautiful views of the city, the mountains, and the water!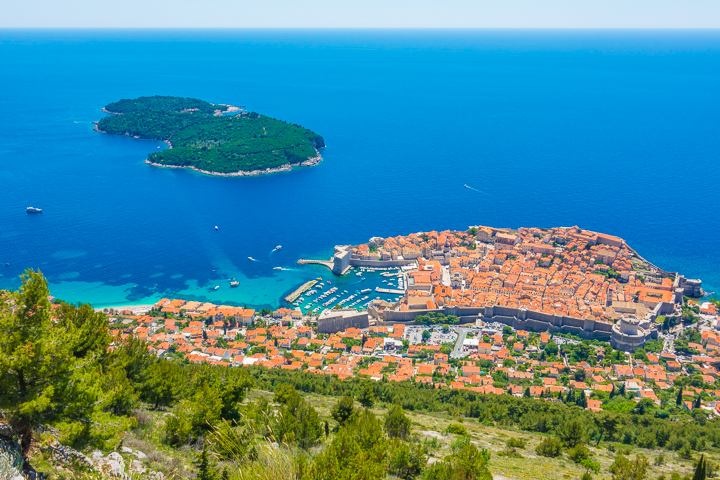 Ride the Cable Car
For even more breathtaking views, you do not want to miss the Dubrovnik Cable Car!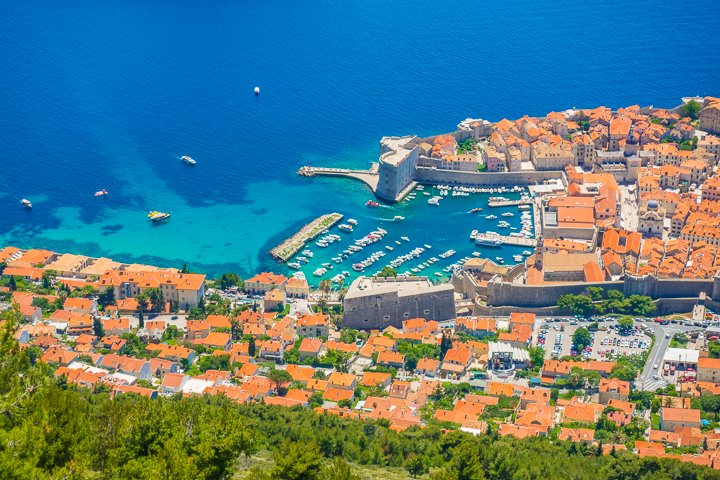 Here you'll get a birds-eye view of the walled city, the brilliant sea, and the lush green islands surrounding Dubrovnik.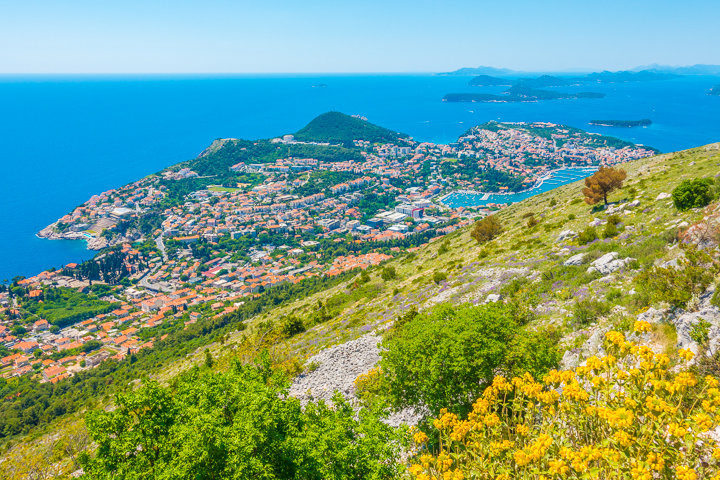 You can eat lunch up here if you like, do a bit of hiking, and take the cable car back down when you're done.
---
What to Eat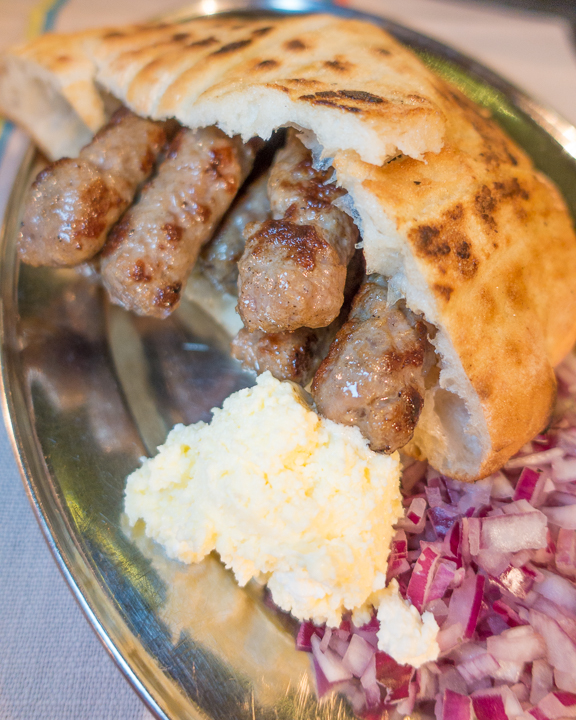 One of my favorite restaurants in all of Croatia was the Taj Mahal in Dubrovnik. When you are in Croatia, you absolutely MUST TRY cevapi. It's pronounced chevapi and sometimes written as cevapcici on the menu.
Grilled sausages are served on what may honestly the most heavenly bread on the planet. The bread is so light, fluffy, and impossibly bubbly. At Taj Mahal, it comes served with kaymak. Kaymak is sort of like a mix between cheese and butter. It's the best of both!! I am still dreaming about it!
We found out cevapi actually a traditional Bosnian dish, but since the two countries borders are so close, you can findcevapi everywhere in Croatia! It is definitely a must try!!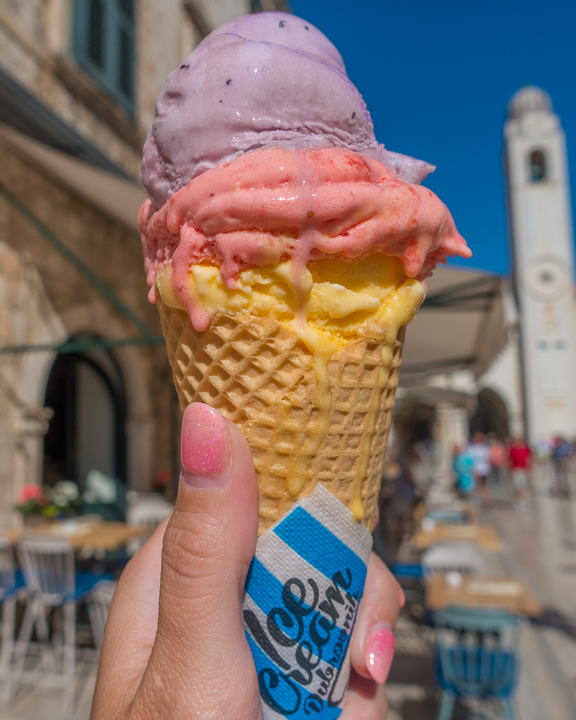 As with all major touristy places, you can expect to find ice cream shops everywhere. However we were a bit disappointed with the ice cream in Croatia. It was all commercial, nothing special or artisanal. Save your calories for all the cevapi!!!
Where to Stay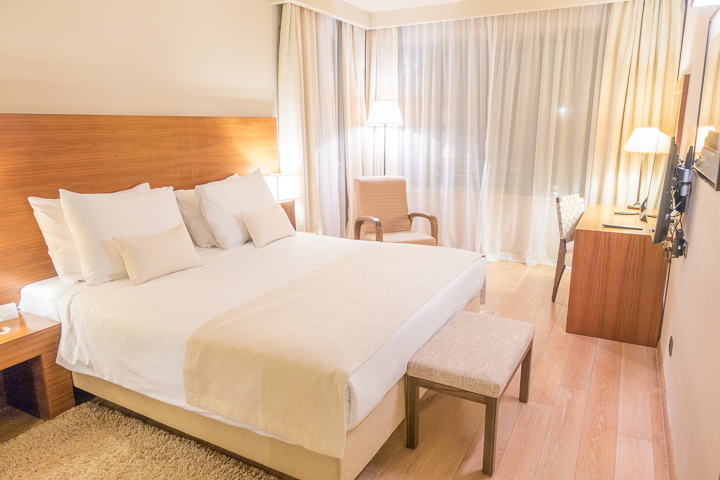 We could not have asked for a more amazing place to stay in Dubrovnik than Hotel Bellevue Dubrovnik.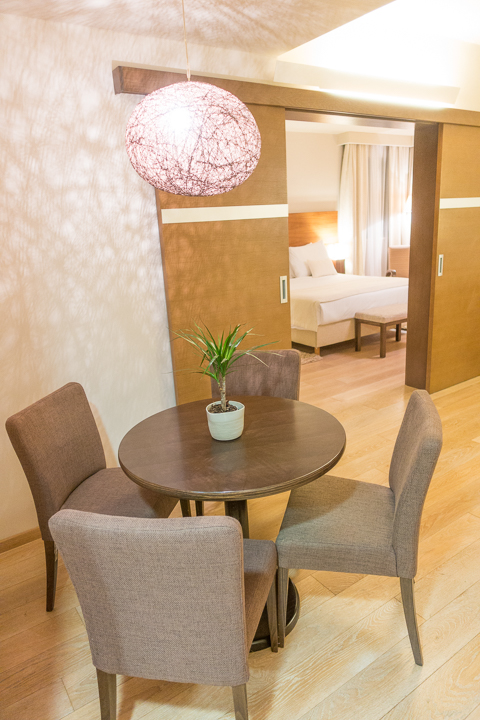 It's just a short walk from Old Town and all the rooms have oceanfront views.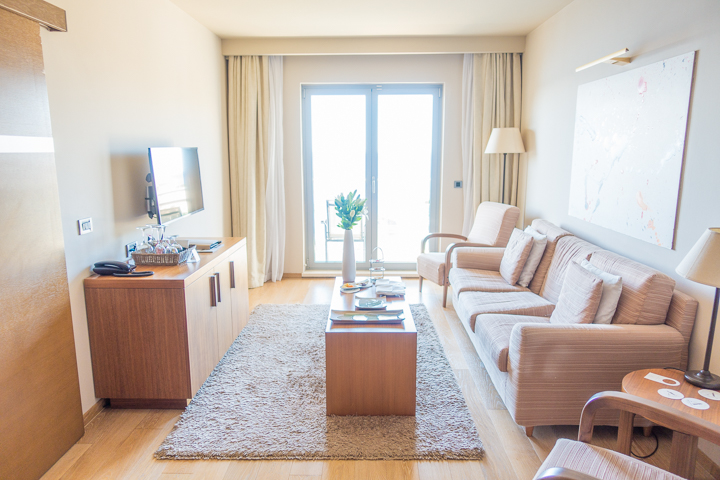 Hotel Bellevue Dubrovnik even has its own private beach.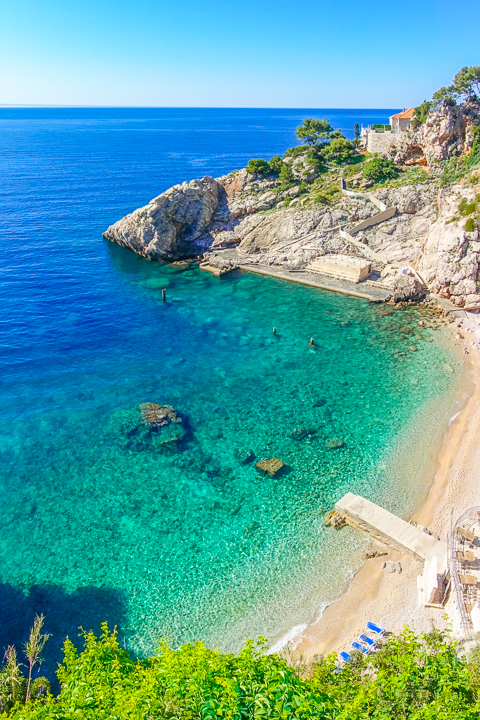 This was the stunning view from our balcony!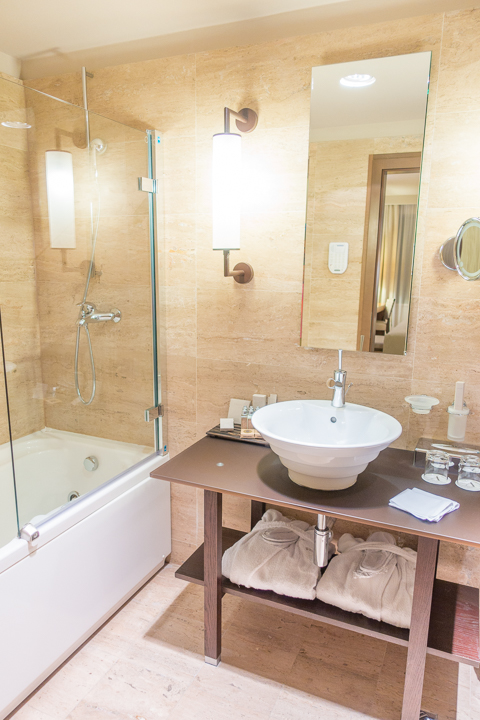 Hotel Bellevue Dubrovnik has all the modern comforts and conveniences to fully relax after a long day of sightseeing in Dubrovnik.
---
Getting There…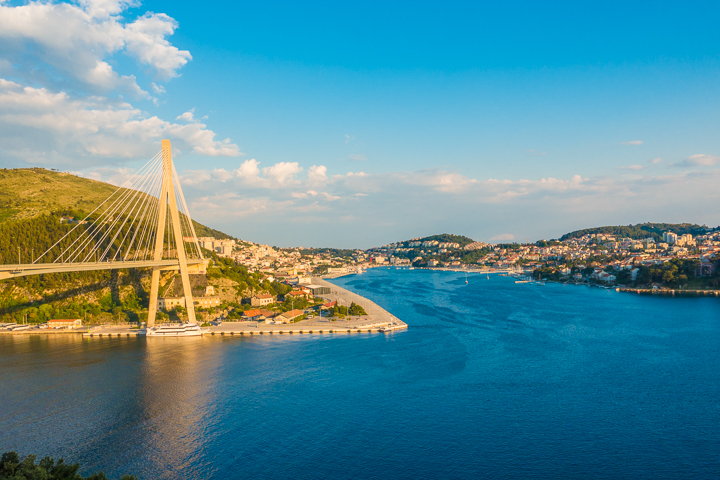 We drove from Zagreb to Dubrovnik, stopping in many charming coastal towns along the way. This was our view just as we were arriving into Dubrovnik.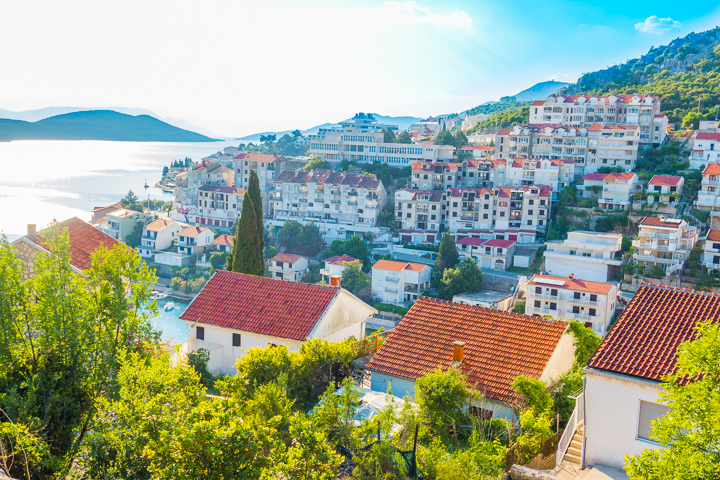 To get to Dubrovnik, you have to drive through Bosnia. If you're worried, it's absolutely no big deal. You'll even get a stamp in your passport. ;) Of course we had to stop for a photo at this beautiful Bosnian coastal village!
For more about our road trip through Croatia, stay tuned for the next post.
And to see even more of Dubrovnik, don't miss Sommer's post: Best Things To Do In Dubrovnik, Croatia
Until next time!! xoxo