This past week Kev and I were lucky enough to spend a few days in gorgeous, beautiful, perpetually sunny San Diego, California. Kev has a contact at Sony, and they flew him and a couple guys out there to play and test a new video game on their 3D TVs for three days straight. I, of course, tagged alone for the ride. :) The guys were serious about their testing, Kev would go in at about 9 o'clock in the morning and would not get back to the room until well after midnight! The first day I heard from him twice. A text in the middle of the day saying, "I'm having fun! How about you?" and then later that night, around 11 pm, another text saying, "I'm ready to come back, but I don't want to be the first to leave." He finally came in around 1 am and said, "I was still the first to leave!" :)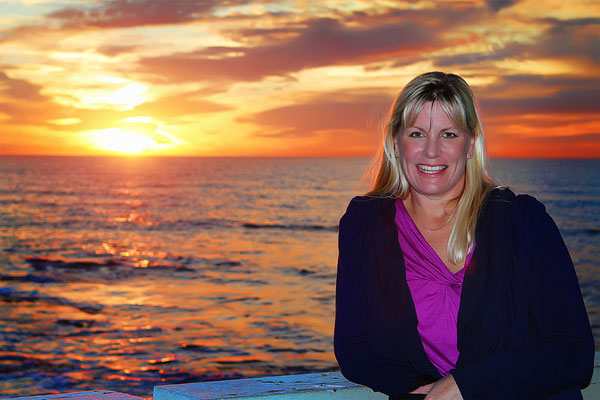 Since I had a few days to myself while Kev was at Sony, I called up my sweet friend Lori, a San Diego blogger I had the pleasure of meeting and getting to know in San Francisco. Lori's cute site is RecipeGirl.com, a phenomenal collection of over 2,500 recipes for entertaining, healthy eating, crock pot meals and more. She also has a blog called CulinaryCovers.com where she reveals the recipes of dishes found on the covers of cookbooks and magazines. Love that idea! :)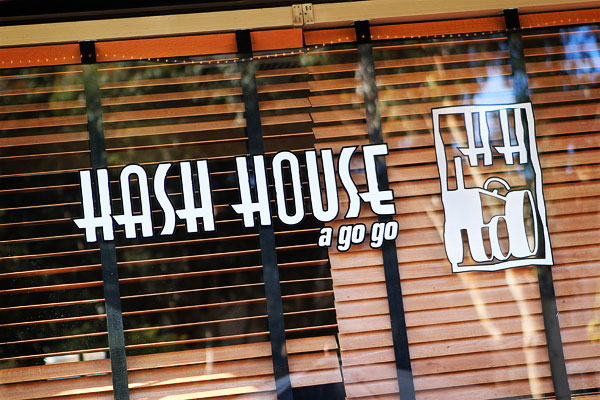 On my first day in San Diego, I met up with Lori and another San Diego blogger I'd met in San Francisco, the fabulous Kathy from PaniniHappy.com, for breakfast at Hash House a Go Go. This was such a fun spot! A reader, Ada from Life as a Chef's Wife, dedicated a "must see and do in San Diego" post for me describing Hash House a Go Go as a definite must-eat.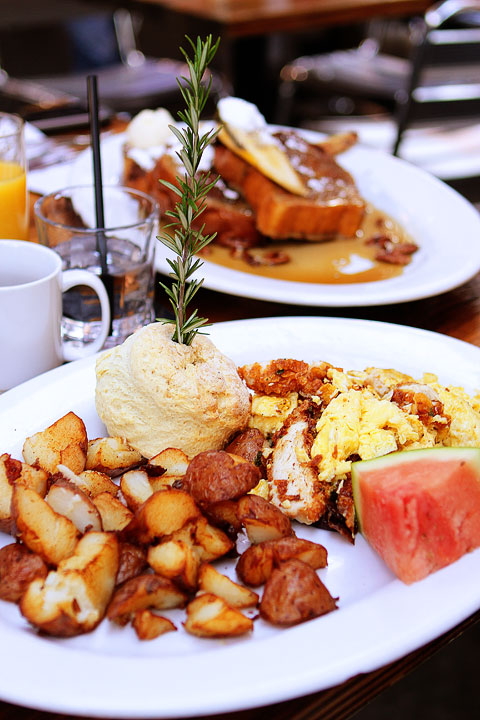 Check out these gigantic plates! I am kicking myself now for not getting a picture of us three girls together, holding our plates up. I simply did not convey how colossally large they were in this photo! Here's Kathy's sage fried chicken scramble, crispy potatoes & biscuit, with my french toast in the background. Loved their french toast! The San Diego girls got a big kick out of the biscuit, although down here in the south I grew up having biscuits for breakfast every morning. What would they have done if we'd been served grits? ;)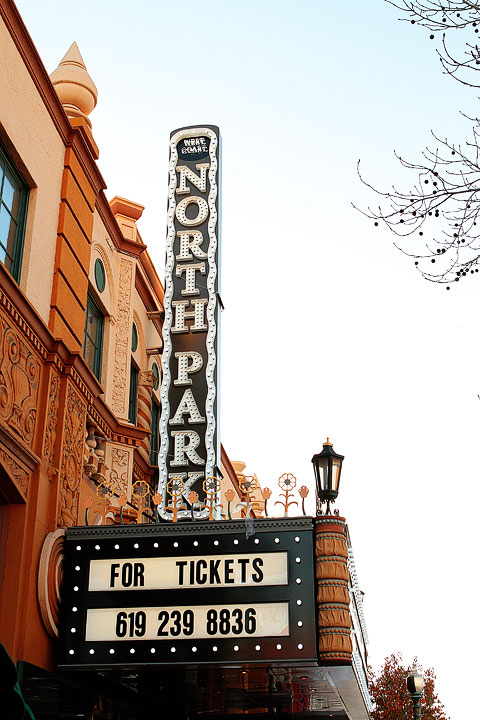 After breakfast, Lori and I headed to North Park, a lovely, hip little neighborhood in San Diego, and found some fun boutiques to wander around and do some girly shopping. But we both practically squealed with delight when we stumbled upon a delicious-looking bakery, Heaven Sent Desserts.
We took a peek inside and the next thing you know..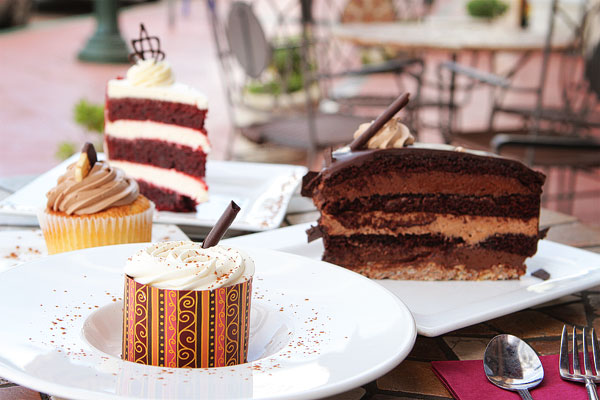 We'd ended up with quite a few desserts to taste-test!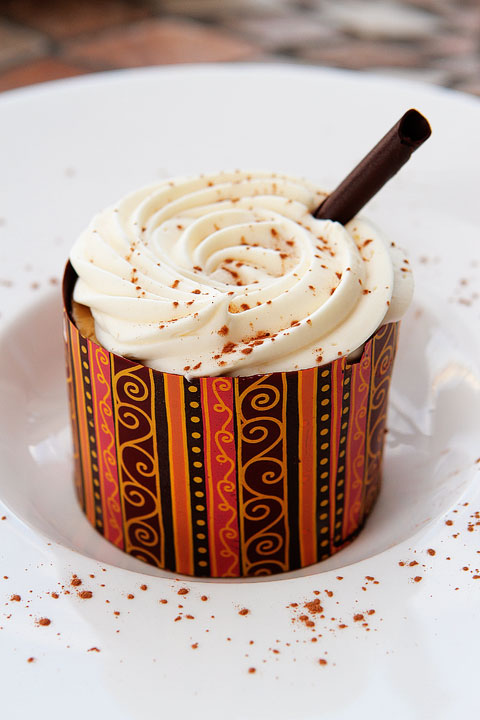 First up we have Tiramisu. Oh mama mia, that pastry cream on top was outta this world incredible!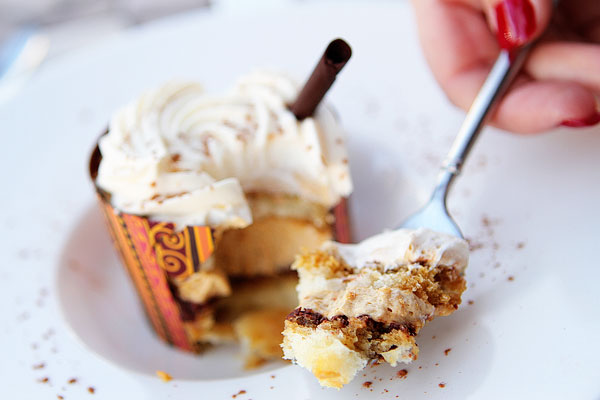 How fun was the outer, decorative shell. It was a delicious, thin layer of chocolate you could eat. Just look at all the lovely Tiramisu layers here.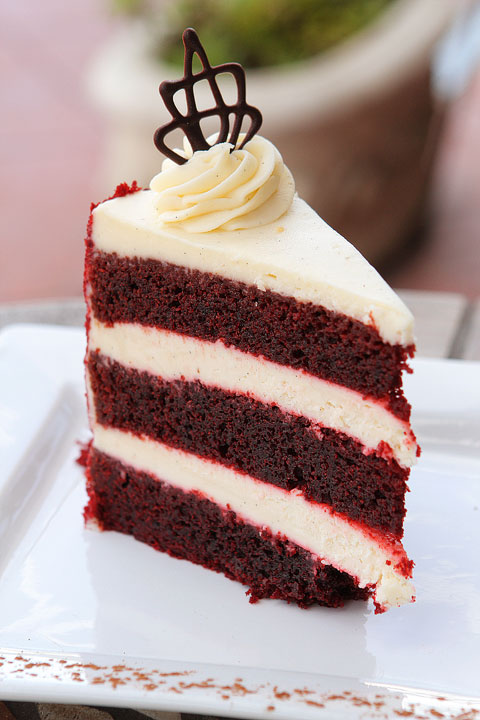 Next we have the Red Velvet cake.. Lori's favorite! Had to try this one. :)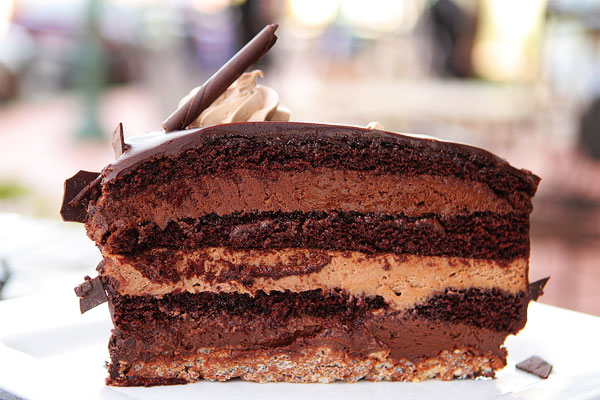 Oh heaven help me, get a load of this Midnight Madness cake. A chocolate rice crispy crust, layers of milk chocolate mouse, devils food cake, and dark chocolate mousse, with dark chocolate ganache topping. Loved. every. bite.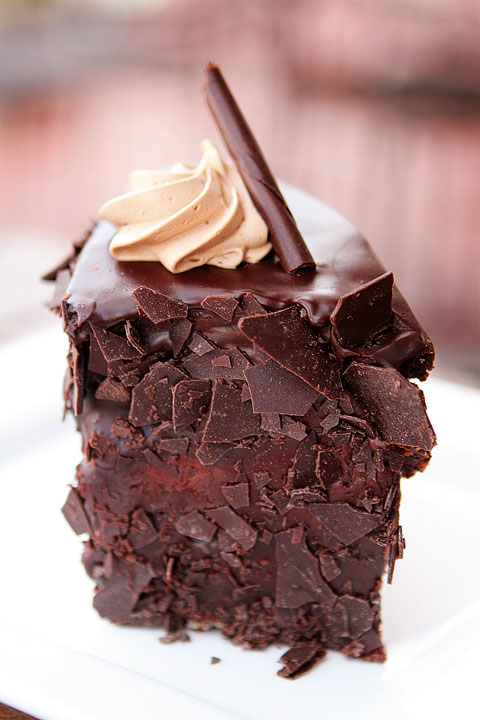 This cake was truly heaven sent.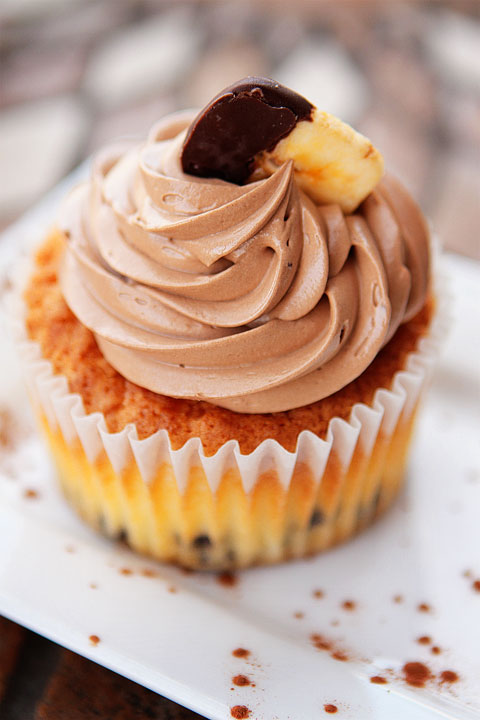 Also got this banana & chocolate cupcake for Kev. Peanut Butter + Banana + Chocolate + Any combination thereof = Kev's Weakness.  He had this waiting on him when he got in at 1 am the first night.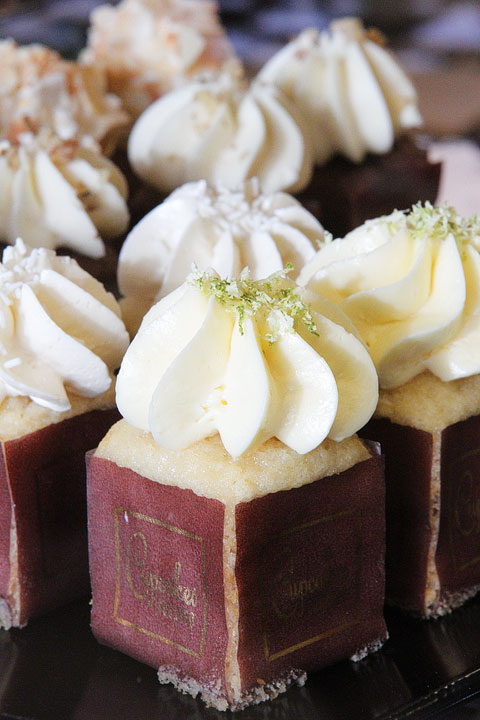 Next we stopped by fun cupcake shop Kathy told us about that specializes in square cupcakes. It's called Cupcakes Squared, how perfect! In addition to having uniquely square cupcakes, we also sampled their adventurous flavors like Passion Fruit, Coconut Lime, Chocolate Walnut, and… get ready… vanilla!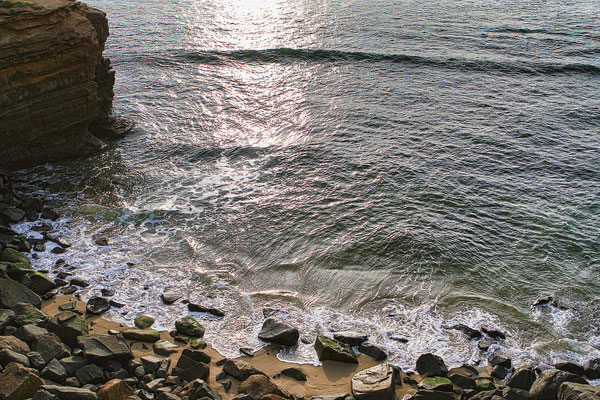 Afterward Lori and I went for a drive around San Diego, looking at all the gorgeous homes and scenery, and we ended up right here at beautiful Sunset Cliffs.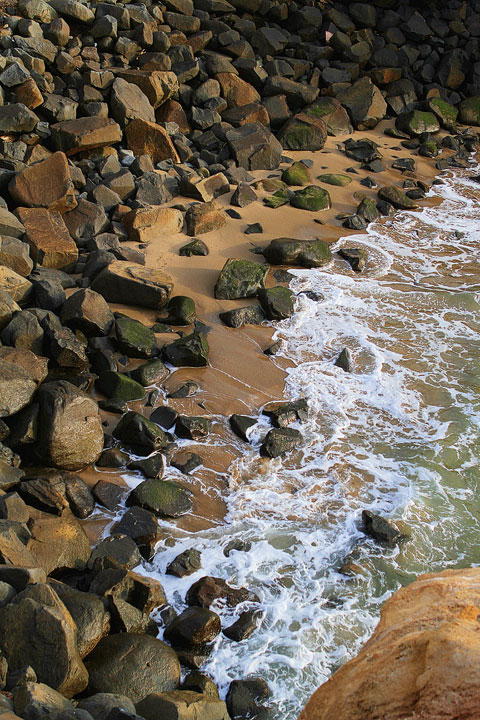 What a gorgeous spot, the waves were crashing like crazy along the cliffs.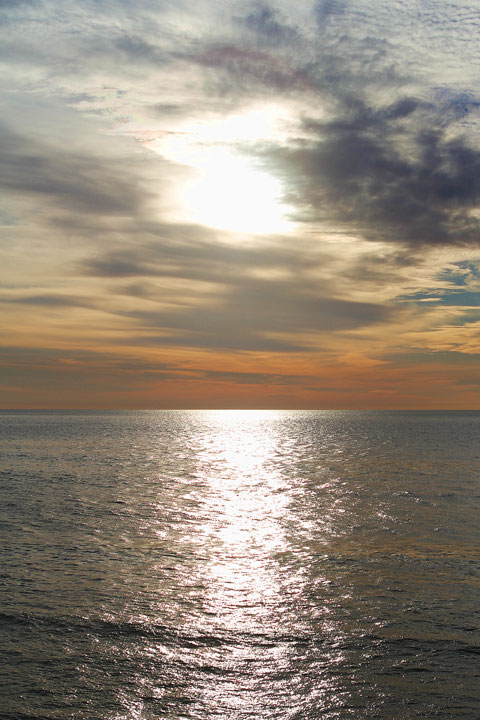 I could not believe we were the only ones here on such a beautiful afternoon!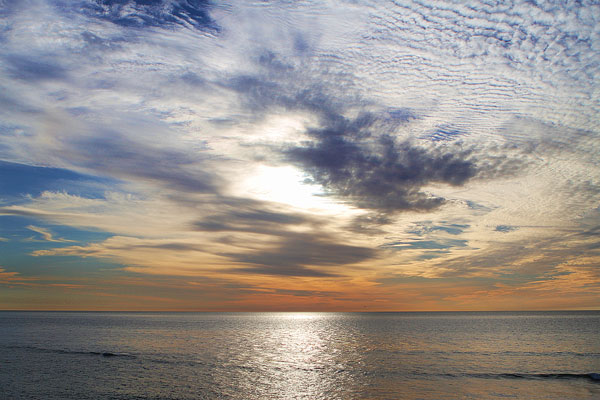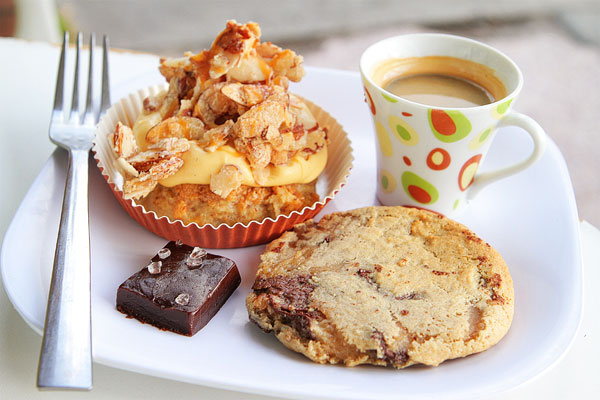 The darling owner at Cupcakes Squared told us about a wonderful Cuban bakery, Azúcar, in Ocean Beach, where we were headed for dinner, so we made a quick stop and ended up with a delightful afternoon snack. In the back we have one of my favorites of the day, an almond cake soaked in five different milks, topped with a dulce de leche glaze and sugar crusted almonds. Oh good gravy, those sugar crusted almonds were wonderful! Had to try a sweet shot of Cuban espresso (delicious!), and we couldn't resist the dark chocolate sea salt caramel or the chocolate chunk cookie. :)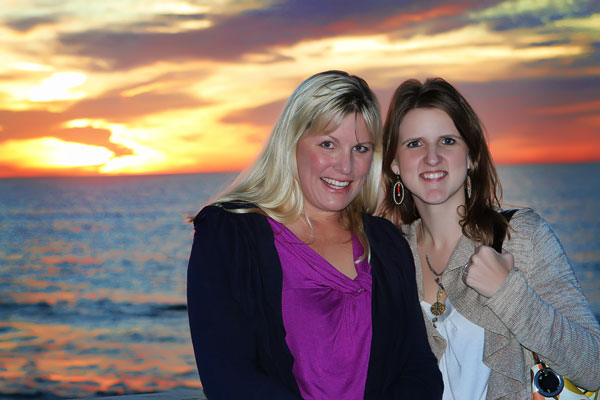 It was just about sunset and we walked down to the boardwalk at Ocean Beach for a front row seat.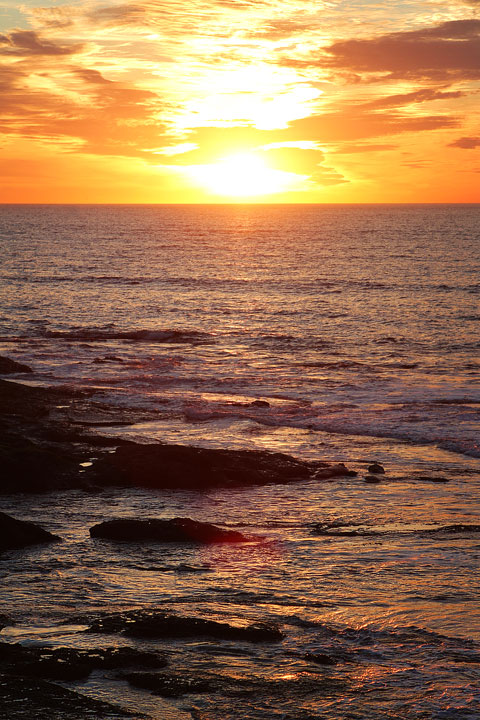 Just in time.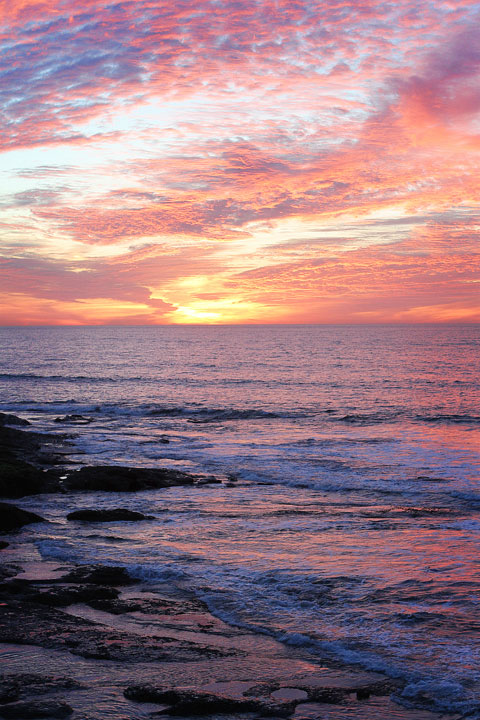 How quickly the sky changes as the sun sets!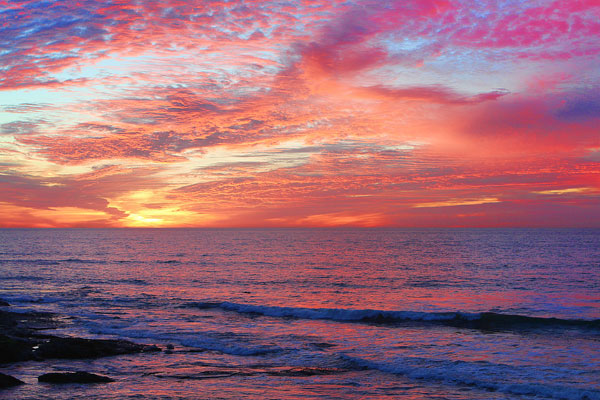 Hot pink clouds.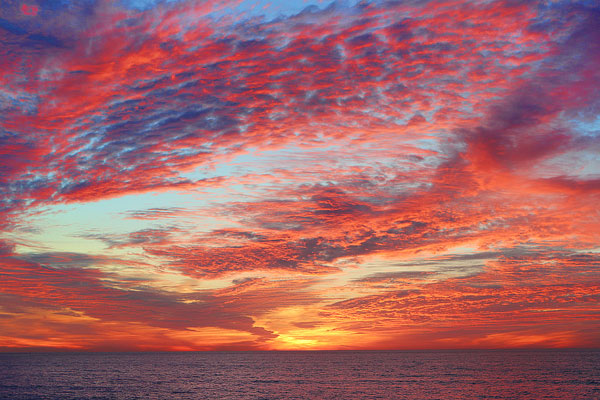 Vibrant, fiery colors.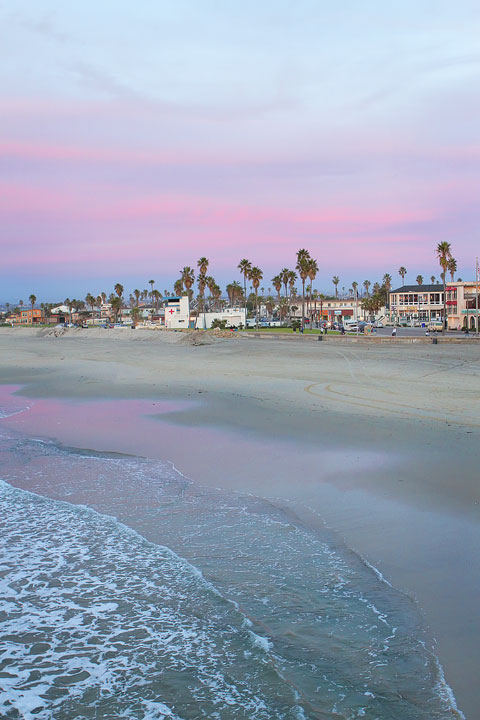 Looking to the east, I loved how pink the sky looked just after sunset.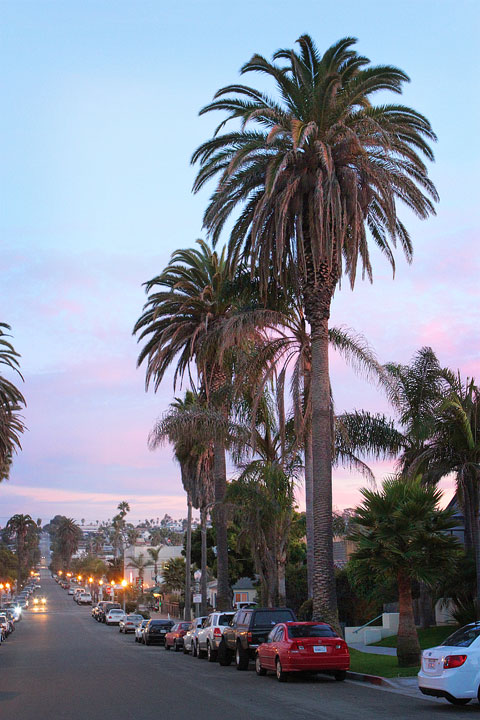 Gorgeous sunsets, pink skies, streets lined with palm trees… I wasn't prepared to fall in love with this city!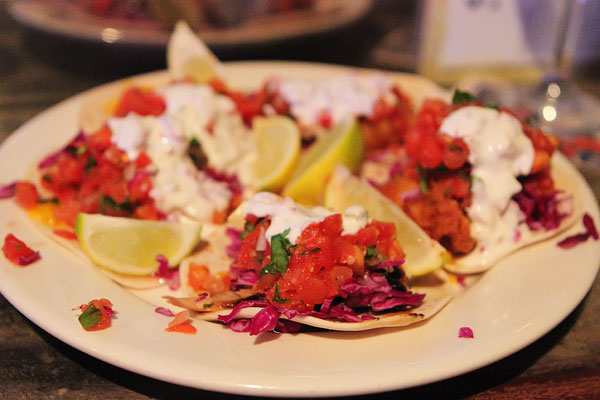 Right by the Ocean Beach boardwalk, we made a quick stop at the South Beach Bar and Grille. I am a huge fan of fish tacos, dare I say, fish tacos are my life, and this is the place I kept hearing about over and over for knock-your-socks-off fish tacos. Lucky for us, it was Taco Tuesday and all fish tacos were 1/2 price. Hooray! We split a taco platter of Mahi, Wahoo, Grilled Shrimp, Calamari & Baja. Fantastic. Loved them.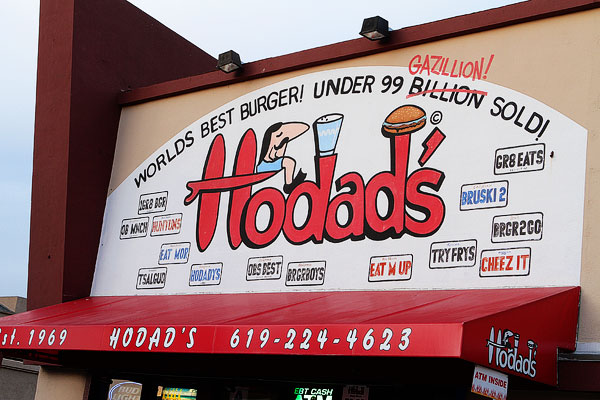 Couldn't leave OB without grabbing a burger at Hodad's! Kinda wishing I'd gotten one of their famous milkshakes now.. It's topped with three scoops of ice cream, whipped cream and syrup. They would've had to roll. me. out!