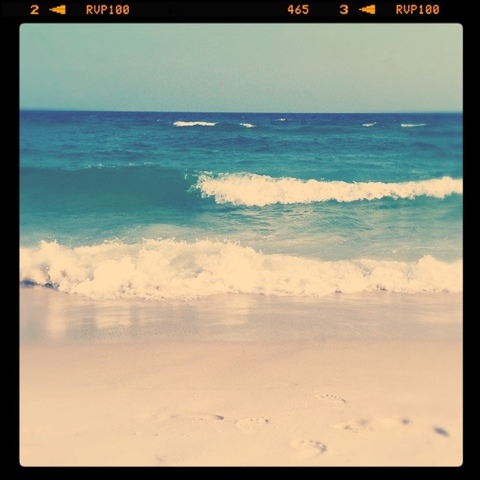 I am now officially obsessed with Instagram. A few weeks ago I joined the world of iPhone users and Instagram was the first app I downloaded. I fell in love with the app on this post, when I was in New Orleans with Jenny and Marla. Just look at that first photo. The way they quickly grabbed on-the-go snapshots of the city — photos that might've been missed had we taken the time to pull out our larger cameras — and transformed them into something magical with all the filters offered, then instantly uploaded and shared them with friends had me in awe. Not only is Instagram a tool for editing photos, but also a social networking app for sharing photos and following friends. It's like Twitter for photos. You can check in and get instant snapshots into the daily lives of friends. I'm smitten.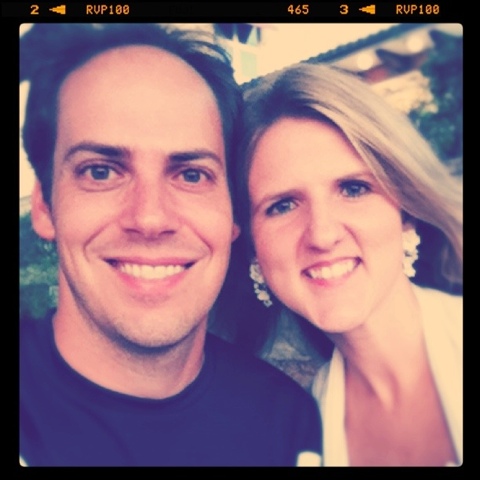 This weekend Kevin and I were at the beach in Perdido Key, Florida. Here are some Instagram images from our four days there.
I love that I was able to capture these moments that I might have missed. I always have my phone with me, but I wouldn't normally take my camera on a six and a half mile walk on the beach, or stick it out of a moving vehicle in the rain. But scroll down for more on that!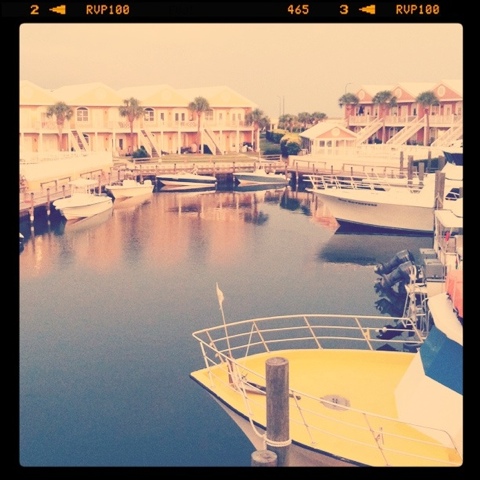 Our first night there we had dinner at a restaurant called Louisiana Lagniappe, and it was my absolute favorite meal of the trip. I had the sautéed grouper topped with crawfish tails and a garlic-beurre blanc sauce. It was heaven, and I could've eaten it every single night we were there. The service was incredible, and check out our view. They sat us outside on a private balcony with just two other tables, such a peaceful and quiet dinner.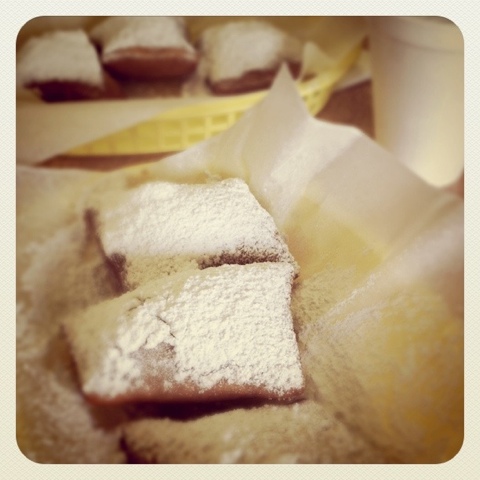 The next morning (somehow I was hungry again!) we stopped by this cute little beignet shop for breakfast, Cafe Beignet. All they served were beignets and coffee, totally reminded me of New Orleans.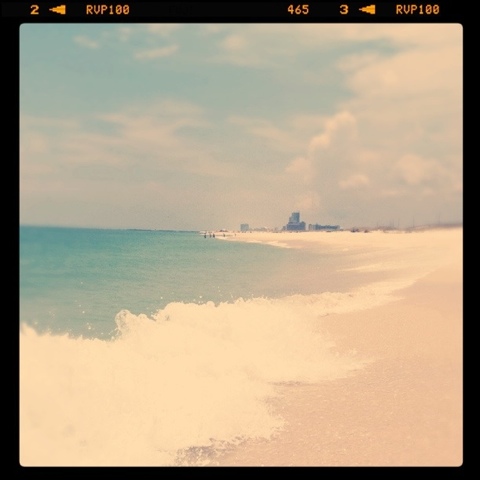 Okay, it's time to get serious. We had to walk off all those beignets. Every year we attempt to walk down the beach to the jetties — these natural piers of rocks that jut out into the ocean — which are a little over 3 miles from the condo. We never make it! Last year I got stung by a jellyfish. The year before that we got rained out. Sometimes we turn back out of heat or sheer exhaustion. This year I was determined. Can you see the rocks wayyy out there?? And this shot was taken over halfway into our trip!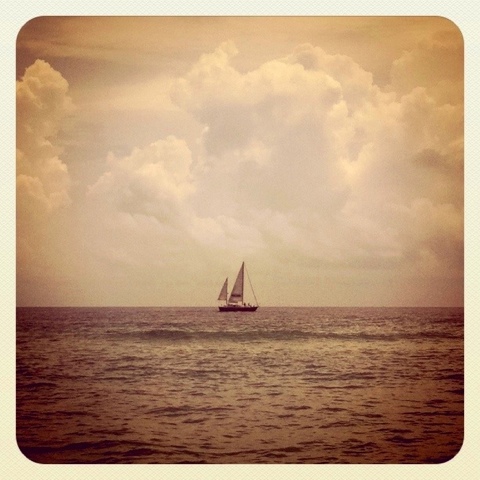 Somehow the walk wasn't so bad this year, there's always so much to see and enjoy at the beach.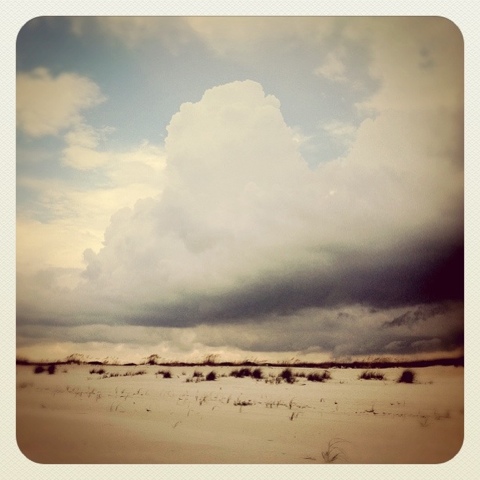 Although at one point the dark clouds started rolling in and threatened to rain us out again!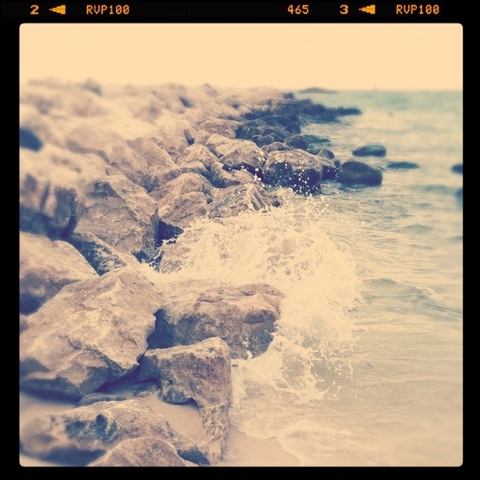 Ahh, we made it!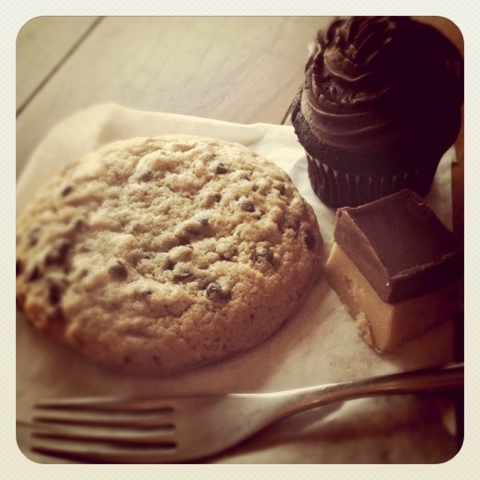 We worked up quite an appetite, and after dinner at Cobalt, we treated ourselves to a little dessert tasting from the bakery case. The giant chocolate chip cookie was soft and delicious, I wanted to heat it up and top it with a big scoop of ice cream!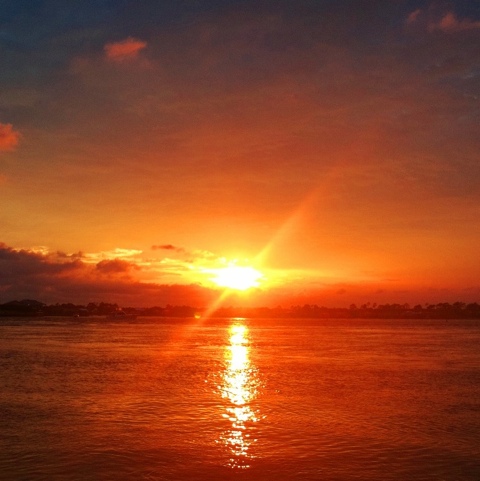 Cobalt had the best view. After dinner we walked out to the docks and watched the sun set over the ocean.
Our last day was kind of rainy, so we drove down the beach for a frozen yogurt parfait. I got white chocolate with sprinkles and cookie dough, loved it!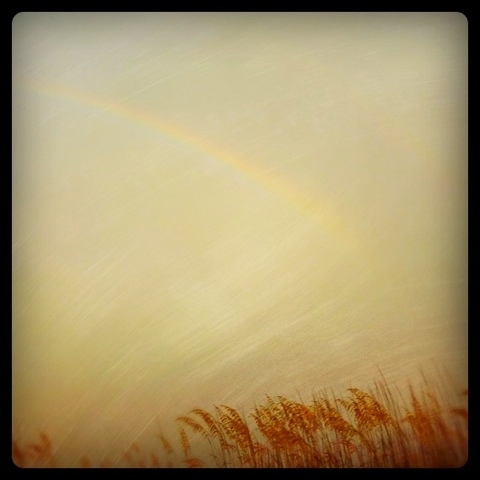 On the way back to the condo, the sun started to shine and we passed a double rainbow over the ocean. So gorgeous. It was raining, and we were in the car, but I rolled down the window and quickly snapped this pic. Can you see the second rainbow up there?
If you have an iPhone or an iPad and you're on Instagram, come find me, I'm kevinandamanda — I'd love to see your photos! And if you have an Android phone, I started using a great little photo editing app called Magic Hour on my Android just before I switched. Thanks Whitney for recommending it! The filters are gorgeous and totally customizable. Love a certain filter but wish it were a little brighter? Warmer? More saturated? Wish you could change the texture? You can totally do that. There's a free version and a paid version, and I ended up buying the paid version because you can edit photos you've previously taken, instead of having to take the photos with the camera in the app. Loved it, and then I promptly went out and switched phones.
You can also see my latest three Instagram photos in the right sidebar of my blog. Have a great Monday!