A few weeks ago (after I professed my undying affection for scarves) my lovely and creative blog pal Allie Brownie sent me this super fun link:
Make It and Love it: Knit Scarf
*gasp* … How FUN! An adorable, shabby scarf I could totally make! :) And what a cute site too, huh? I've already got several other projects bookmarked that I'm dying to try.
But I had to start with the scarf, of course.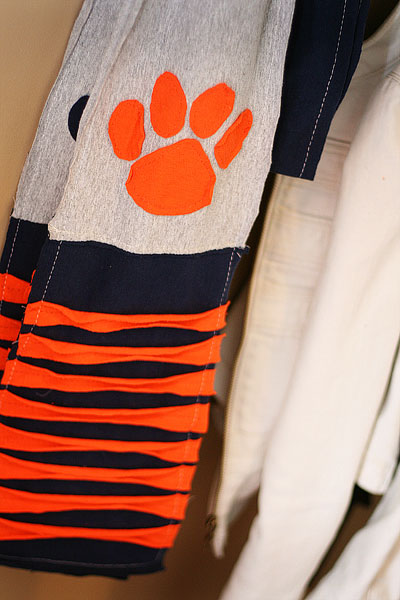 I immediately hit the fabric stores (Hobby Lobby & Hancock are all we have around here) to try and find some cute knit fabric. Unfortunately, I came up with squat. I could not find even remotely cute colors- especially not that adorable green she used!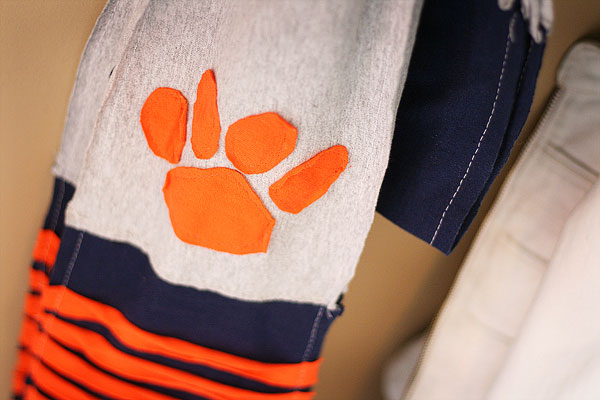 BUT, I had something else: I had just cleaned out my t-shirt drawer, (it was way overstuffed) and I boxed up a huge stack of old t-shirts that held absolutely no sentimental value anymore. Perfect for re-purposing! I still didn't have that adorable green, so I went with what I had- lots of orange and blue! :) I had been wanting an Auburn scarf all season to wear to chilly fall football games, so that worked out just fine. And the orange strips of fabric totally look like Tiger stripes! Bonus!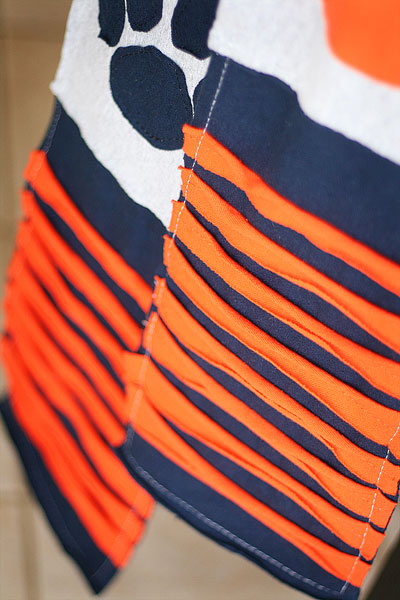 Now, in the tutorial, she calls for one long piece of fabric, 80″ x 6.5″, but since I was using t-shirts and didn't have one long, single piece, I had to improvise…
Luckily for me, the "destroyed" look is in.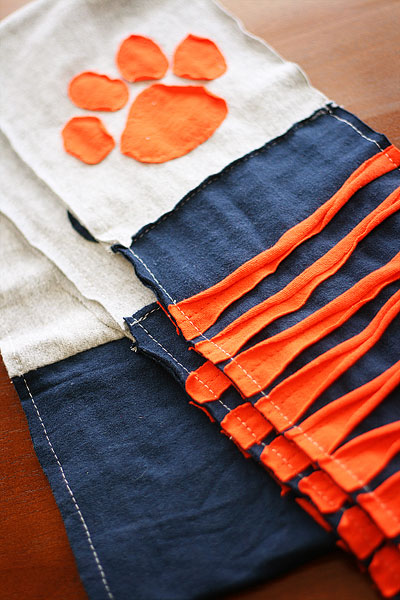 Here's what mine ended up looking like. I originally didn't have that blue piece in the middle, but the scarf looked a little short when I tied it on, so I added it at the end, before I had sewn everything together.

Now… I have to admit. I don't usually enjoy sewing projects. I mean, I can do it, I guess, a little, if it's really easy …but sewing is not something I particularly enjoy doing in my free time. I don't see cute stuff and automatically think "Ooh, I could totally make that!" You know? Let's face it – sewing requires, at the least, patience and attention to detail. I usually end up getting frustrated – the pinning, the stitching, the trimming of all the tiny little threads, the *oof*… ironing…
But this scarf was something I could totally handle! And no ironing required. To be honest… I did have fun making it! Heck- I was giddy! I was flouncing around the house, showing it off to Kevin, and mentioned how it'd be sooooo cute to have the little Auburn AU symbol on the scarf- although that would probably be hard to do. He suggested paw prints. PERFECT! Thanks babe!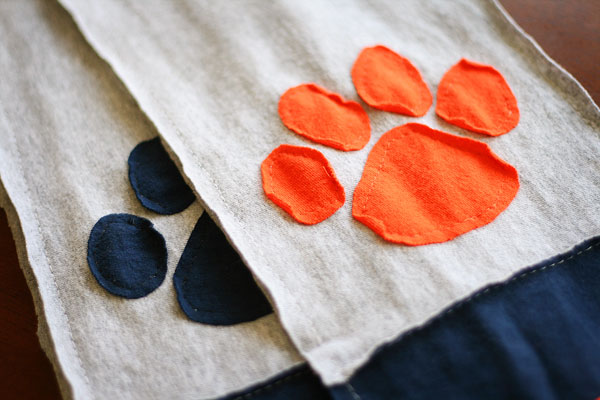 I did 4 paw prints total – 2 orange, one on each end of one side of the scarf, and 2 blue on the other- so I could switch colors with my mood – or show one of each!
(P.S. Here's a rough outline of the pawprint I used, if ya want it! The image should be 4.5″ wide with a resolution of 300 pixels/inch and all you have to do is print it out on a regular 8.5 x 11 sheet of paper for the exact size I used.)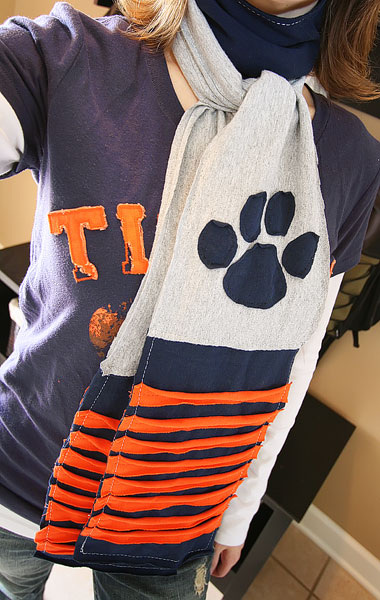 *Cute!*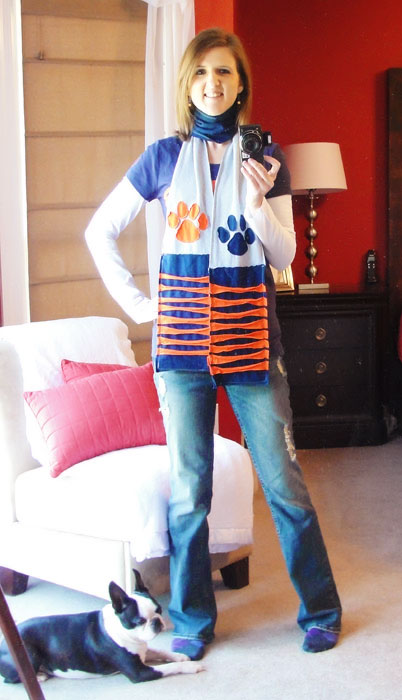 Annnd I got to proudly show it off at an Auburn baseball game last night. It was so nice to have after the sun went down and the wind picked up. But more on the game later!
This re-purposing t-shirt thing has got me totally inspired. Next I'm going to try this one – sooo shabby and cute, huh? And guess what- it doesn't require any sewing. No needles. No thread. Sweet!
***
The best thing about this scarf? Besides being adorable, one-of-a-kind, and just for me….
It didn't cost me a single penny.
I had the t-shirts, the thread, and the sewing machine, just ready to be used!
***
What have you re-purposed lately?? :) Any fun projects you have bookmarked? Share with me – I'd love to see! :)