Friday Night? How about 10 new fonts?? Head on over to our Fonts for Peas blog and check out the 9 new handwriting fonts – plus 1 doodle font! – now available for download!
Did we mention they're all free?? :)

Like this new one from Pea Terri Cherie – don't ya just love it? So fun & carefree!
***

And can you believe this one from Pea Sandra Dee?? Yes- that is really her handwriting! I had to look really close to see if it was computer generated. It's that perfect! Precious! :) But that's not all- she also has some darling doodles, so be sure to press all the extra keys on your keyboard to see what you can get to show up! :)
***

Looove this fun & funky font from from Pea Jia. Will you send us some doodles too, please Jia? :)
***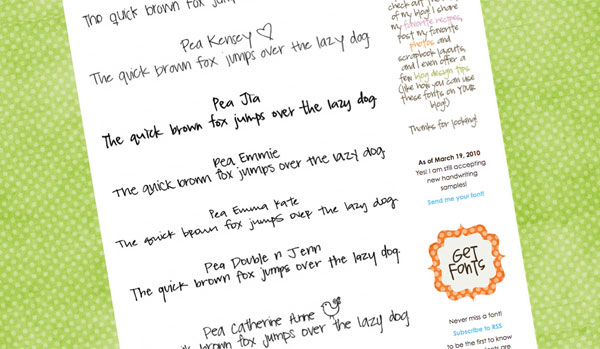 Get these and the rest of the new fonts right here on Fonts for Peas! :)
***
P.S. Thanks to all who joined us on Twitter for the Friday Night Font Party! :) Made the "work" behind fonting go by much faster! :) Let's do it again next time too, okay? :)
P.P.S. Me in my new cargos, a pic from today: http://twitpic.com/19ofyr
***
Textuality Giveaway! We have a winner!

Now if you are crazy about fonts & scrapbooking as I am, you are going to love this giveaway. I am so excited to be giving away one spot in Amy Sorensen's online Textuality class at Big Picture Scrapbooking!
Textuality is a 4-week online scrapbooking & journaling class, starting on April 22nd, 2010.
Textuality is the class that will change the way you use your text-based scrapping products. And it doesn't stop just with alphabets, either. Journaling spaces, titles, quotes: nearly every way that scrapbooking and words or letters work together is covered. You'll learn innovative methods to make your journaling inviting to read. New ways to incorporate text into your designs. Unexpected sources for letter-based products. Whether you want to get your letter products out of the storage bin and onto your layouts or use letters and wordforms in surprising ways, Textuality is the class for you.
For all the deets, read all about Amy's class here!
The Textuality class will include:
Detailed, step-by-step instructions for creating cool stuff with your word processor
Weekly assignments that help you immediately put into practice what you're learning
A handy index to all class techniques
Weekly "dig into your drawers" challenges that'll help you use even the oldest items in your stash
Bonus downloads including fonts and design elements
Detailed supply lists for sample layouts
Tips and tricks for using type that you won't find anywhere else
Pre-class assignment, available when you sign up
Audio messages in streaming audio, downloadable MP3, and transcripts
Weekly welcome messages from Amy
Private posting gallery to share your work
Message board to interact with other students
Live chat with Amy
And here's a special intro to the class straight from Amy: Intro to Textuality
Doesn't that sound completely inspiring? I'm totally already jealous of the winner of this giveaway! :)
***
And the winner is…

Congrats Samantha! I know you'll love the class- come back and tell us all about it, okay?? :)
Registration for the Textuality class is still open, so join Samantha and reserve your spot! :)
***
The Details
To be entered to win this giveaway, all you have to do is leave a comment on this post!
Entries will be accepted until Monday, March 22 at noon CST. The winner will be chosen by his or her comment number (using Random.org's number generator) and announced on this post on Monday- Check back to see if you're the winner!!! :)
***
That's it– good luck! And thanks for looking! :D