In honor of the Fourth of July, here are three ways to perfectly capture the magic of fireworks — with your DSLR, Point & Shoot, or iPhone! Fireworks shows don't last long, so make sure you're prepared with the perfect settings for fireworks photos in any situation.
DSLR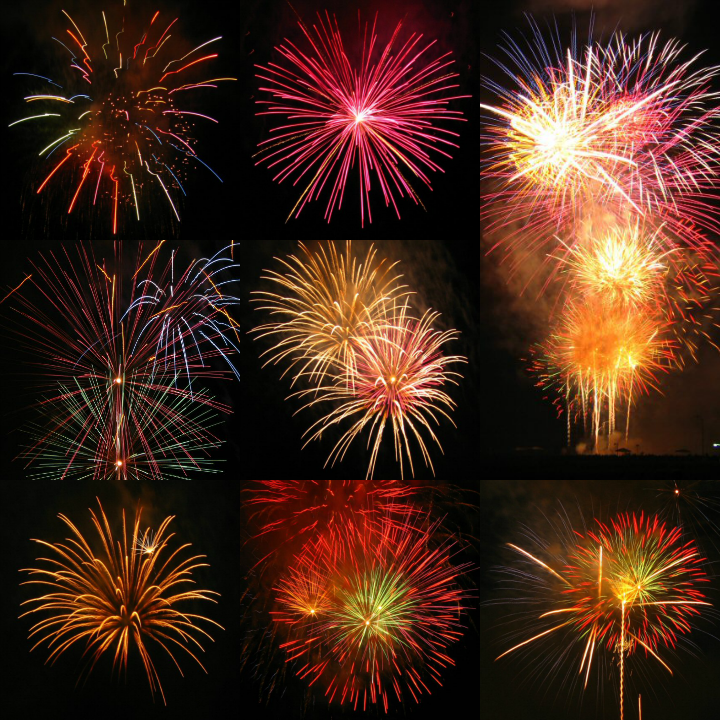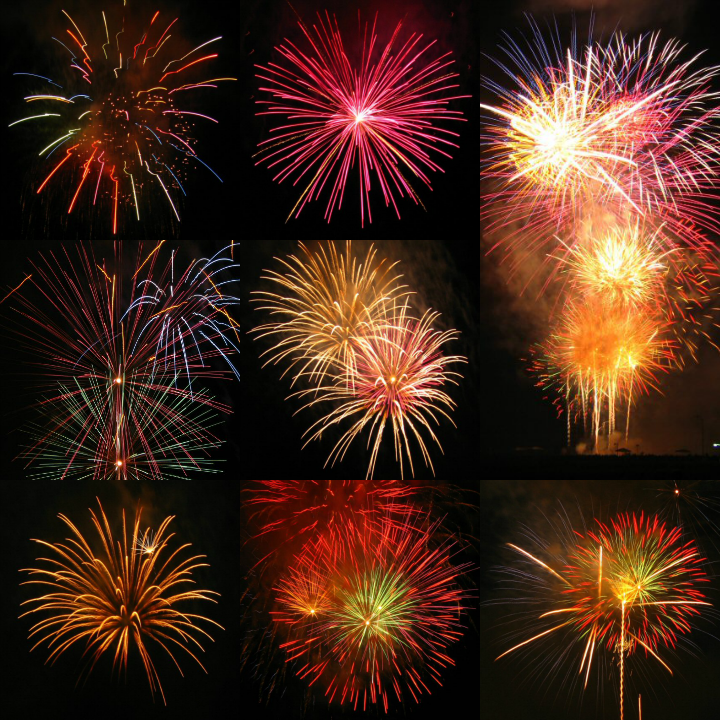 Here are my go-to settings for taking pictures of fireworks with my DSLR. You'll also need a tripod or something steady you can set your camera on and still have it pointing up at the sky.
Set the ISO to 100. Night photos can get grainy pretty easily, so I always try to use as low of an ISO as possible.
Put the camera on a tripod or something steady so that it won't move at all.
Put the camera in Shutter Priority mode (TV for Canon, S for Nikon). Set the shutter speed anywhere from 15-30 seconds. That means after you press the button, it won't be done taking the picture for 15-30 seconds. The camera cannot move at all during this time. You can play around with this number depending on how you'd like your fireworks to look. Thirty seconds may be too many fireworks in the photo, 15 seconds may not be enough.
Use the two-second self timer – I do this to avoid accidentally shaking the camera when taking the photo. If you bump the camera at all, the fireworks will look shaky.
Extra Credit
For a refresher course on Aperture, Shutter Speed, ISO, and Focusing, be sure to read A Quick Guide to Understanding Your DSLR.
For more DSLR tutorials, like What Lens Should I Choose? and What Settings Should I Use? Check out the Photography Tutorials category of Kevin & Amanda.
If you'll be posting your action photos online, be sure to use this tutorial to fully optimize and sharpen your images for web-sized viewing: Saving and Sizing Your Images for Blogging
In most cases, you can change all of these settings from the screen on the back of your camera. If you can't figure out how to change a certain setting, try checking the manual.
Point & Shoot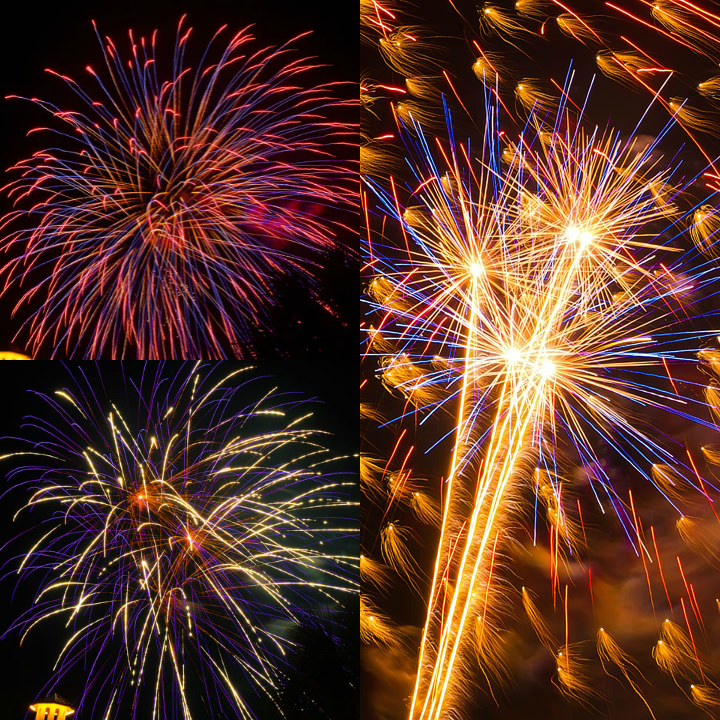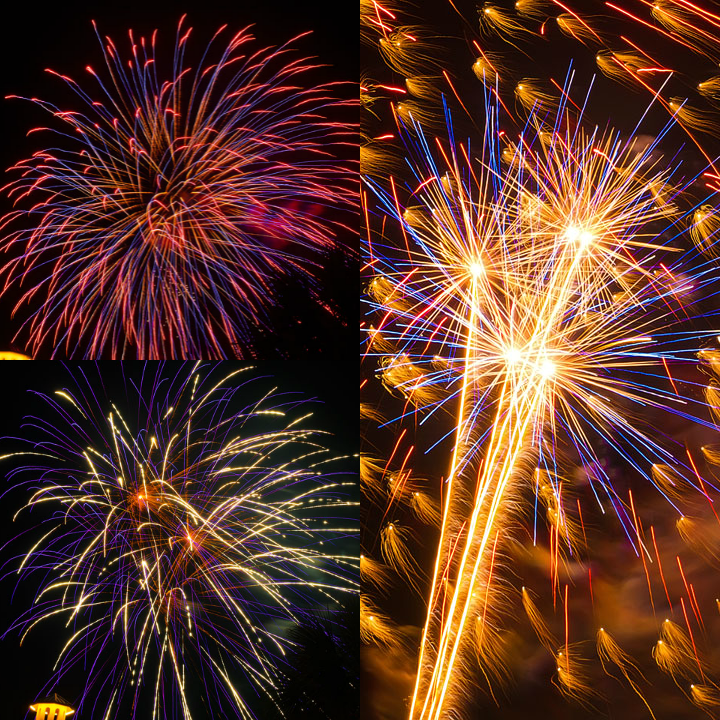 Most point & shoot cameras have a fireworks setting. I took these using the Fireworks setting on my Sony DSC RX100M III. It's my new favorite pocket-sized travel camera. I take it with me everywhere when I don't want to lug around my DSLR. I used it for all the photos on our San Francisco and New York trips. It is SO nice. It really makes it seem like a vacation when I don't have to carry my huge camera around. And it takes amazing fireworks photos! I didn't even use a tripod for these. It was literally just point and shoot.
If your camera doesn't have a fireworks setting, you can try to trick the camera into keeping the shutter open for longer. When you hear the firework launch, just before it bursts while the sky is still dark, press the shutter button and hold the camera as still as possible. The darkness of the sky should cause your camera to keep the shutter open longer, capturing the streaks of the fireworks.
iPhone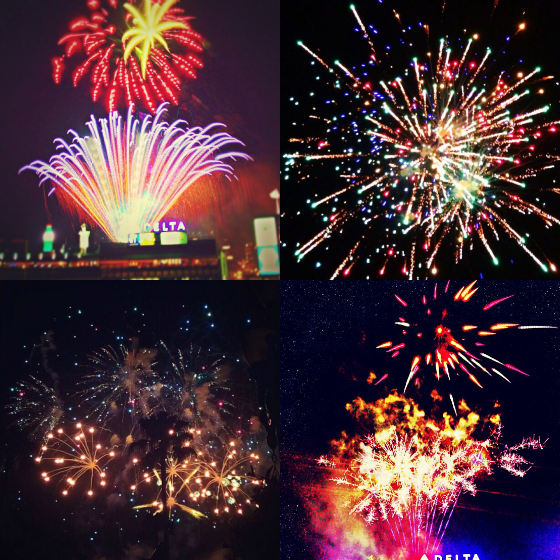 There are two ways you can take fireworks photos with your phone.
First is with an app. My favorite app for slow-shutter photos is Slow Shutter ($0.99 for iPhone only). You'll need a steady surface to set the phone on — you can't hand-hold the phone and take the photo with Slow Shutter or your fireworks will turn out shaky. Usually I just prop the phone up against a cup or something.
With the Slow Shutter app, you can set the shutter speed as long as you want — 4 seconds, 15 seconds, 30 seconds, 60 seconds, or longer. I usually do 4-8 seconds. I used the Slow Shutter app to take the top left and bottom right photos in the collage above.
The second way to take fireworks photos with your phone is by video. For the top right and bottom left photos, I took a video of the fireworks, then watched the video until I got to the perfect "burst", paused it, and took a screenshot. You can do this without an app, but I REALLY like the Perfect Pic app for saving photos from video. You can easily scroll through the video frame-by-frame to make sure you pause it right at the perfect burst.
You can even save a high-resolution image from the video so you could print it out if you wanted. Perfect Pic is free to download and try, but if you want to save the high-resolution version, it's a $1.99 in-app purchase. I believe you can upload to Facebook for free though.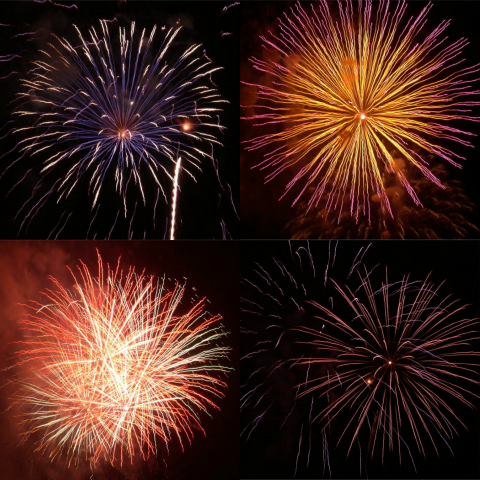 Hope this helps with your firework photography this weekend! Have a happy and safe holiday friends!! xoxo