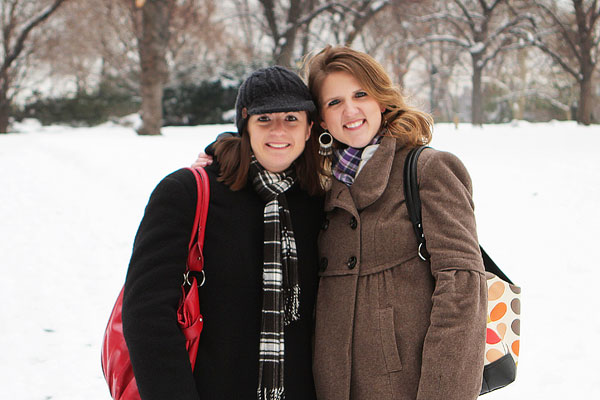 Last week was such an incredible whirlwind of excitement. I was in snowy NYC for a two-day launch party thrown by I Can't Believe It's Not Butter, where they unveiled their new celebrity spokesperson. But more on that later! As a sometimes rather dawdling Alabama girl, I'm completely enamored with the hustle and bustle of NYC, so a few of us gals decided to get there a few days early and make the most of our trip. The darling Maria from Two Peas and Their Pod and I were the first to arrive, and we had a blast running around on our first day in the city.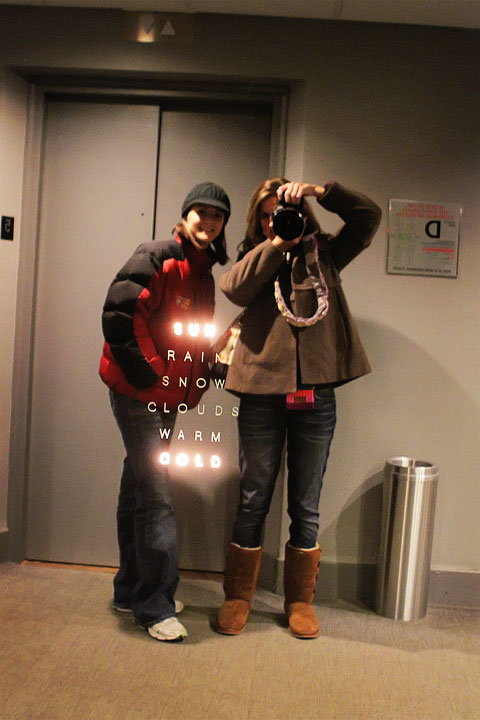 We consulted the giant weather-forecasting mirror the hotel had by the elevators on every single floor for how to dress. I got such a kick out of this thing! We bundled up like snow bunnies for what turned out to be the coldest day in NYC since 2005.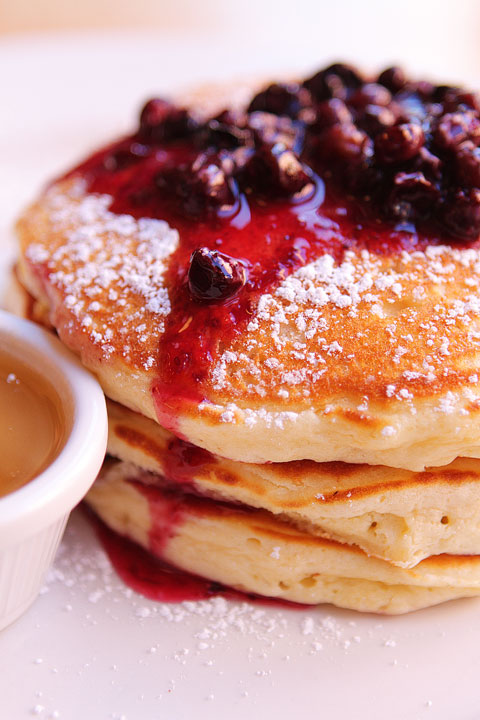 Our first stop was breakfast at Clinton Street Baking for some of their famous blueberry pancakes. Talk about scrumptious! Loved the warm maple butter for drizzling. Or in our case, dunking.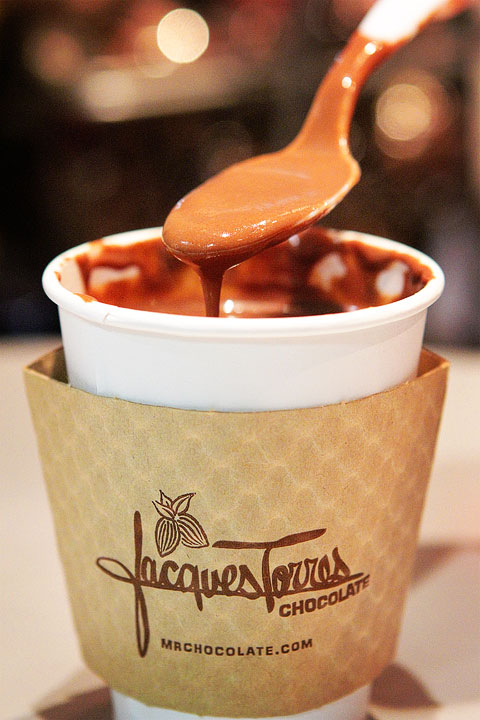 Did I mention it was cold?? After breakfast we popped into Jacques Torres for some hot chocolate to warm up. Oh my gosh, check out how completely rich and decadent this was.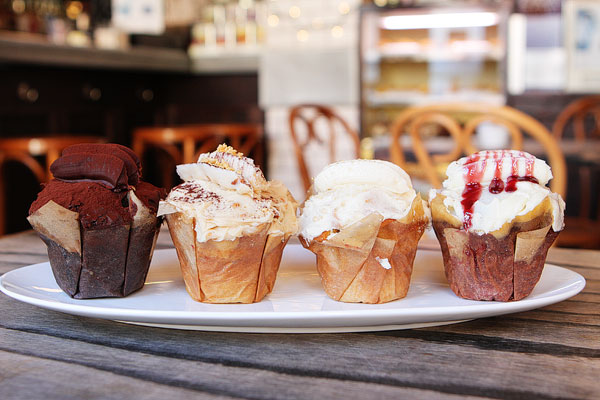 Warmed up and on a sugar high, we found our way to a charming cupcake shop, Sweet Revenge. I nearly fainted when they brought these out to the table.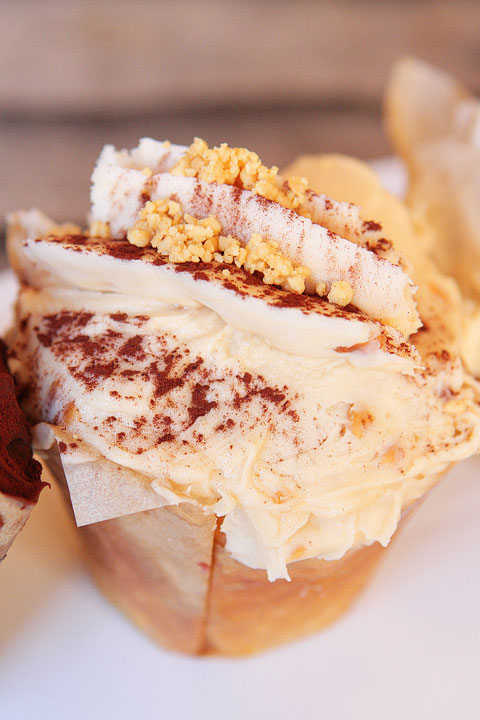 LOVED these gorgeous cupcakes. Here we have their signature cupcake, the Sweet Revenge. A Peanut Butter Cake with chocolate ganache center and peanut butter fudge frosting.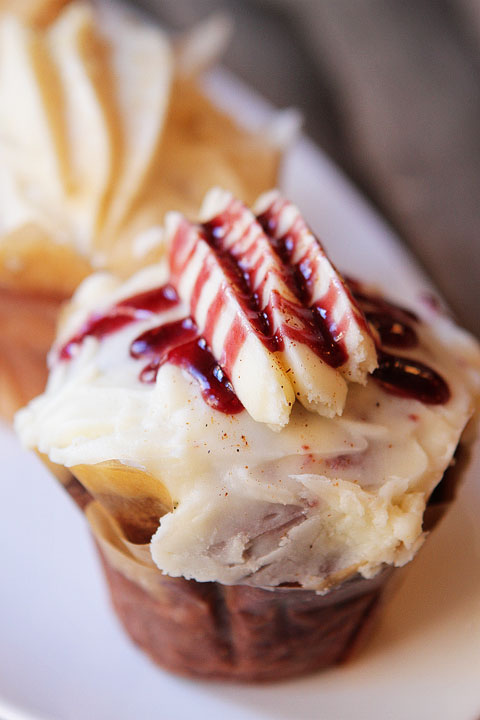 The Raspberry Red Velvet Cake with Cream Cheese Frosting. I really liked this one.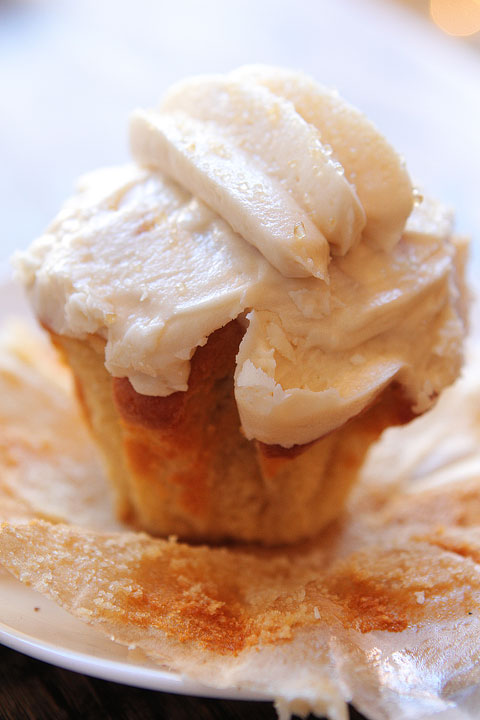 And the Mexican Vanilla Cake with Mexican Vanilla Buttercream.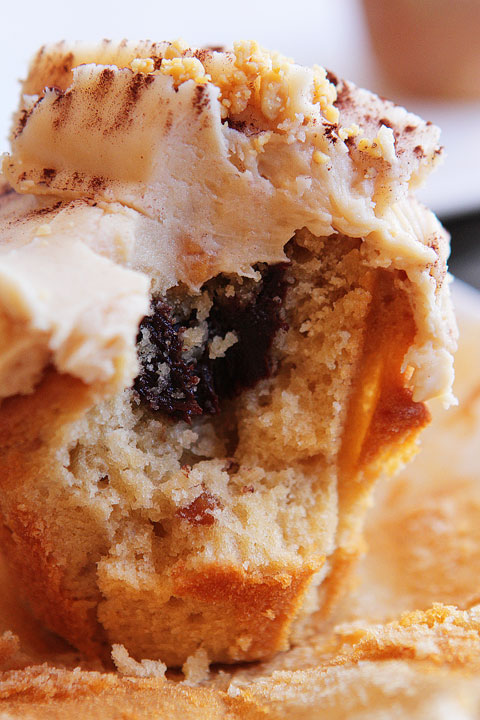 I've never had anything like these cupcakes! They were so incredibly dense, totally reminded me of buttery pound cake. The Peanut Butter Cake was definitely a favorite.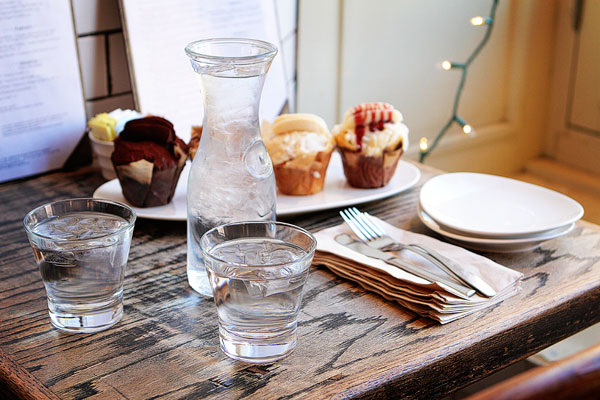 Such a cute place, definitely check them out if you are in the area!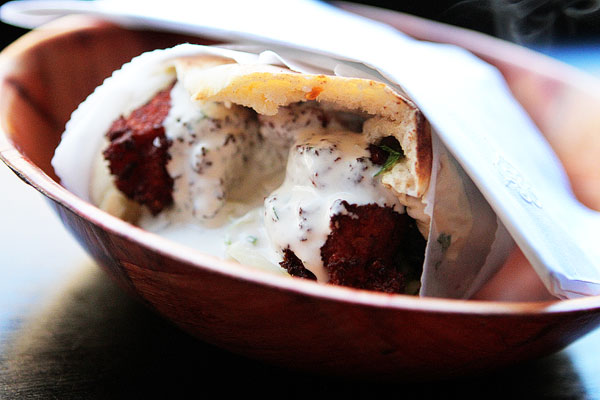 For lunch I was dying to try a falafel sandwich. Can you believe I've never had one? Maria took me to Taïm, voted by Serious Eats as the best falafel sandwich in NYC for a roasted red pepper falafel. I think this was one of Maria's favorite meals of the trip!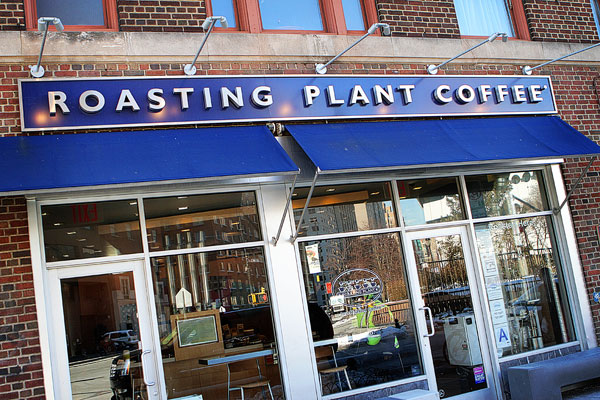 Right next door was The Roasting Plant, famous for their chocolate chip cookies. You know we had to check it out.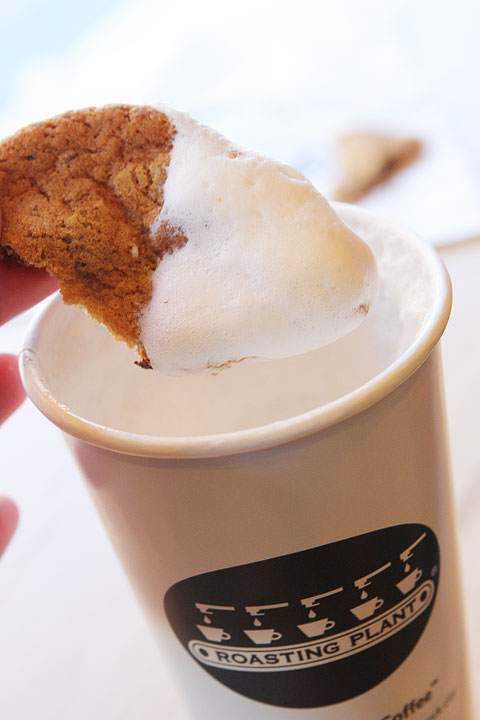 When we got there I absolutely could not resist trying the Vanilla Hot Gelato Shake. I'm not sure what all they did to it, but I did see them steaming it in the espresso machine to warm it up. Tasted just like a vanilla hot chocolate!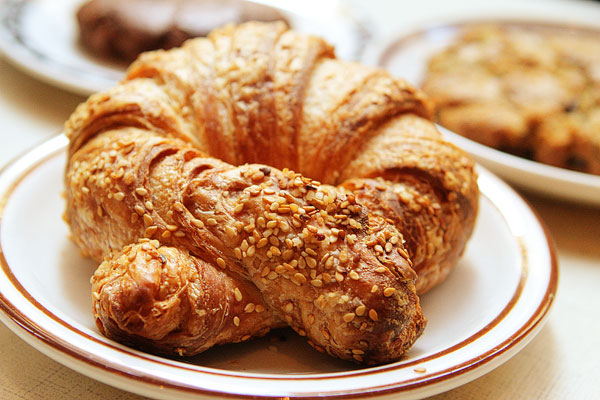 That afternoon we made our way over to City Bakery. I'd been dying to try their pretzel croissant since the last time I was in NYC.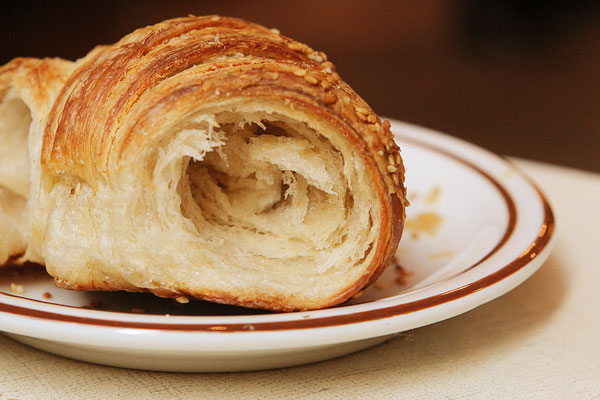 It's got a delicious, salty, crackly outer shell, with a decadently soft and buttery croissant interior. Goodness gracious, this was heavenly!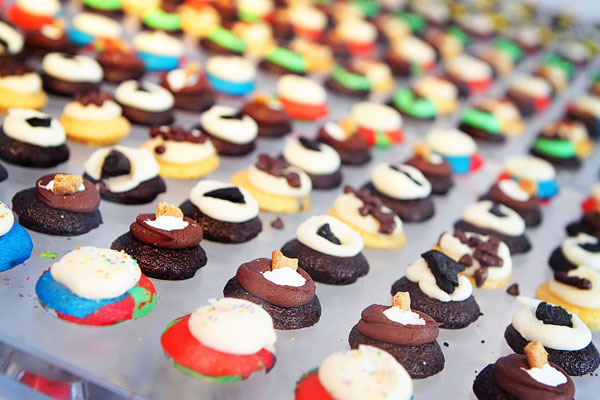 We also stopped by this totally fun little cupcake shop called Baked by Melissa.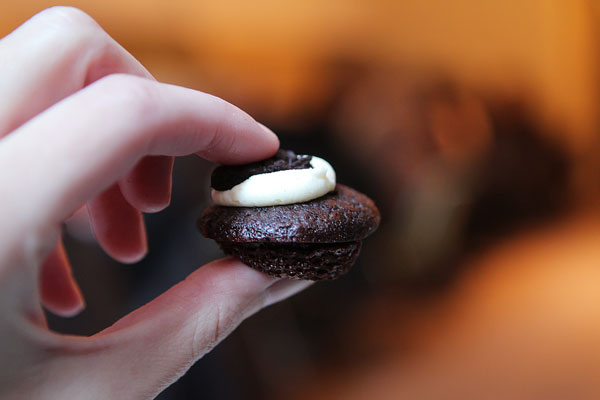 Check out how tiny they were! Loved this place, they had a Chocolate Chip Pancake cupcake that changed my life. I could've eaten quite a few of those bad boys.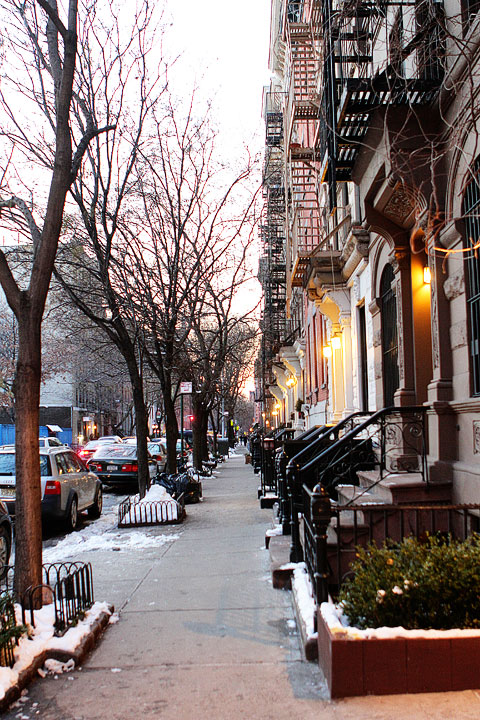 Maria and I walked all over NYC. I absolutely loved these gorgeous, snow covered streets.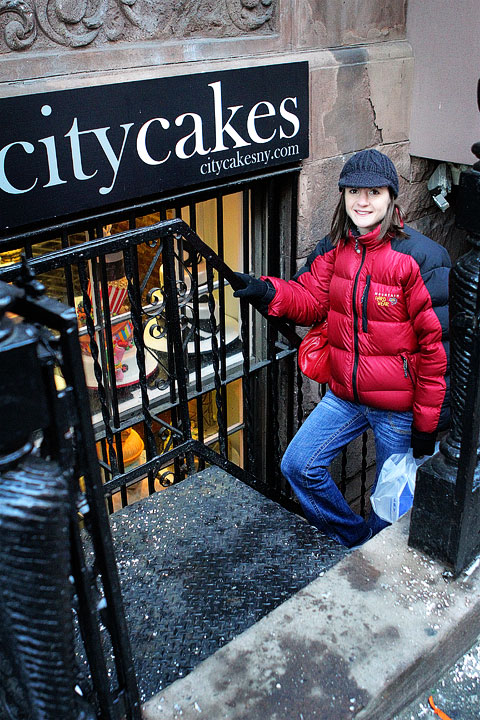 We were making our way to Chelsea Market, but got distracted by these cute cakes!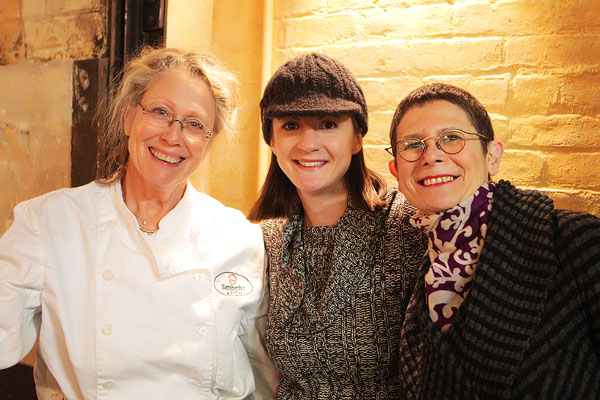 When we got to Chelsea Market we met up with Dorie Greenspan at Sarabeth's Kitchen. Last time I was there I got some heavenly Strawberry Raspberry jam. Strawberry jams are my weakness. Dorie introduced us to Sarabeth herself, such a pleasure to meet these two precious ladies!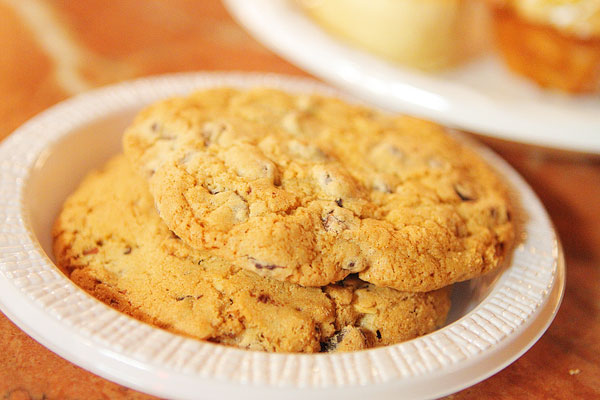 We also got to sample a few of Sarabeth's treats!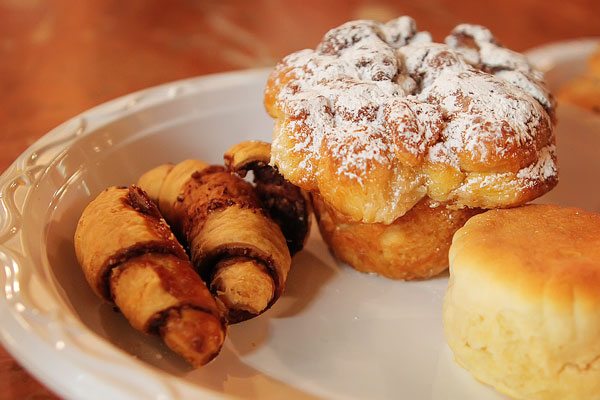 I don't remember what this sugary, buttery, flakey muffin was called, but it sure was dreamy.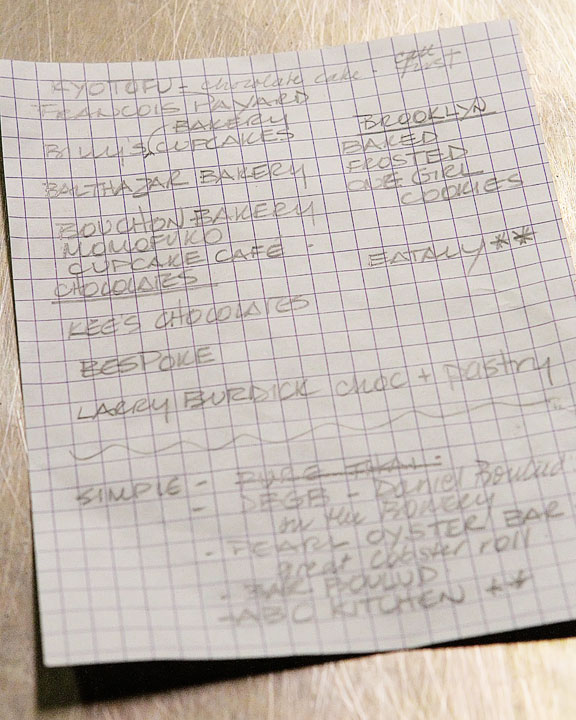 Dorie gave us a wonderful list of bakeries, cookies, cupcakes and restaurants to try over the next few days on our NYC adventure. I treasured this sweet handwritten note.
Dorie has cute handwriting.
Dorie is an excellent speller.
I'm not sure I would've been able to handle all those French names without the internets.
______________________________
New Feature
Starting with this post, you can click on any of the photos to view the EXIF data for that image. It'll tell you what camera I used, plus the aperture, shutter speed, and ISO. Not that this is particularly life-altering information here. But it might be nice to have at some point. Just in case.
See you tomorrow!