Guess what! I just added 6 new fonts to the Free Scrapbook Fonts page! I know! I haven't added new fonts there in forever! But I had been waiting until I could get up off my lazy heiny and redesign the page, and I finally got a chance to do that this week. Head on over there and check out the new digs- oh and the 6 new fonts, too, of course- there's even a button to download just the new fonts all in one download.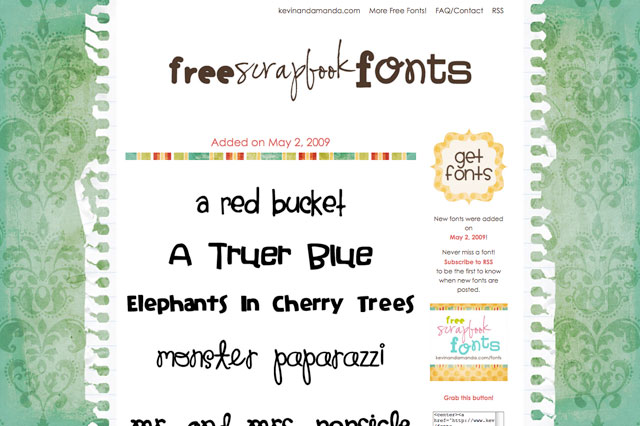 As a sidenote, all the Free Scrapbook Fonts have now been updated- so if anyone is having a problem with the fonts being cut off, just delete the font you have and download the new font from my site.
And have you heard? :) Crystal's newest Project 365 Kit is out! :)  The May kit is gorgeous! I used her super cute tags and frame elements to make the sidebar buttons on the new Free Scrapbook Fonts page. You guys know how much I love Crystal's kits- they are perfect for someone who's been wanting to give digital scrapbooking a try! She includes these really awesome templates and all you have to do is drag and drop the pictures, papers, embellishments, and POOF! You have your first digital scrapbooking page! :) (Watch how easy it is on this video tutorial on Crystal's blog) That's why I'm so exciting to be giving one of these away today!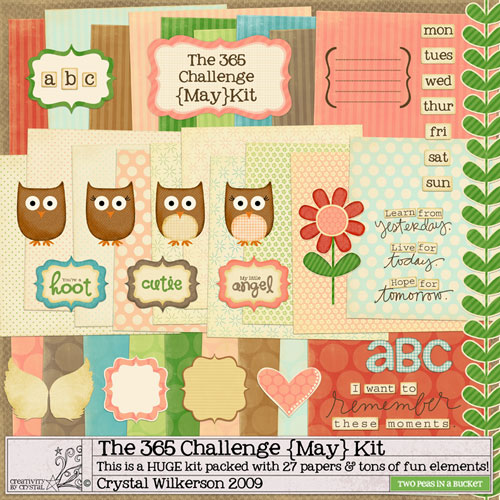 For a chance to win Crystal's May Project 365 Kit, leave a comment on this post. One entry per person, please! The winner will be chosen by his or her comment number, which will be picked by Random.org's number generator. Contest will run until 11:59 pm CST on Sunday, May 3rd, 2009.
Thanks for looking and good luck!!! :)