I really, really wish I had a picture of our laundry room {before}. It was bad. It was really, really bad. It was so bad, I didn't even want to take a picture of it when we first moved into the house. I looked through all my old pics, all my old backup CDs and external hard drives and nothing. I couldn't bear to take one single picture of the laundry room! I took pictures (and posted them right here on this webpage) of our bathrooms & toilets for cryin' out loud and I wouldn't even post pics of the laundry room. Apparently I had to draw the line somewhere. :p
But! I do have do have a picture of our laundry room from the apartment. And it looks really similar. Same plain wall color. Same washer/dryer we had before. Same wire shelving. Same small space. (Although actually I think the apartment laundry room was bigger…) But you get the idea. So for the sake of this laundry room before and after makeover, let's pretend this is my laundry room before…
The Laundry Room { BEFORE }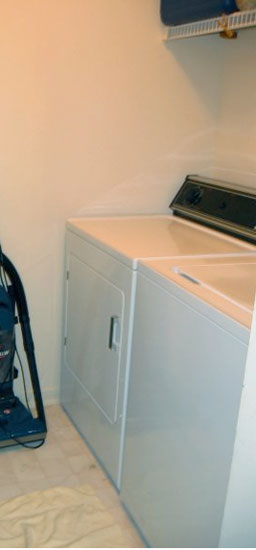 Can you see it? Are you visualizin'? Okay and now…
The *real* laundry room…
The Laundry Room { AFTER }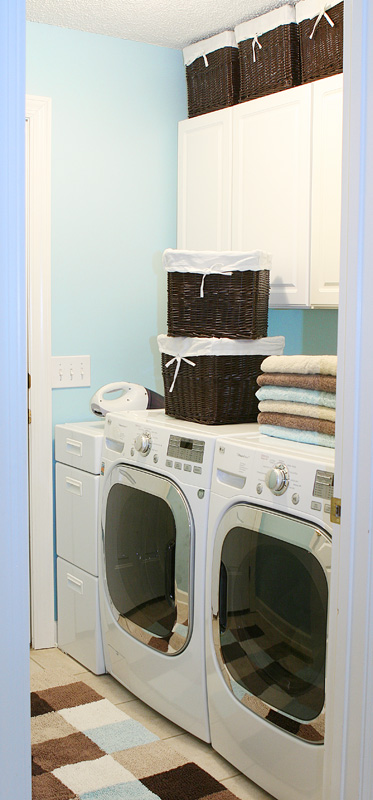 The Washer / Dryer
We got this LG washer and the matching dryer from HHGregg. We were on our way to Lowes & Home Depot to look at washer/dryers and someone suggested HHGregg to us. It was right on the way, so we decided to pop in and look. And I am so glad we did! :) It was a Saturday afternoon, but someone was immediately available to help us. And let me tell you. That guy knew every single thing about every single washer and dryer they sold. I wasn't exactly sure what I wanted, so I told him what features I thought I needed, what my current machines didn't do that I really wish they did, and stuff like that. He made some suggestions for us and we walked around the store looking at the machines. I had never owned a front-loading washer before so I had to ask him practically what every single button did! LOL. He answered every single question and didn't even have to stop and think.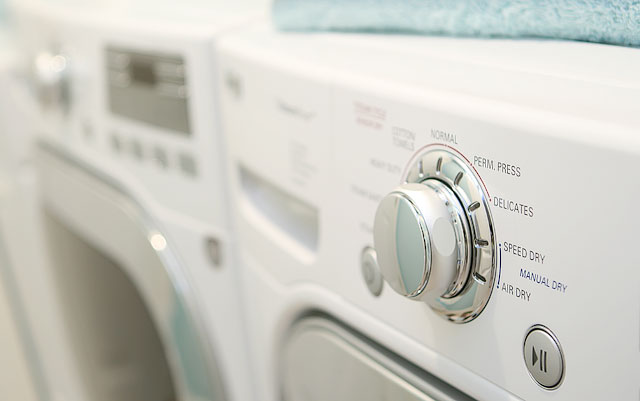 After tons of questions and looking at all the different models, we were pretty sure we wanted the above LG pair. But we did want to go check Lowes & Home Depot just in case. Well, on Saturday afternoon, Lowes & Home Depot were packed and we couldn't get anyone to help us. They both only had one salesperson on the floor and there were about 5-6 customers ahead of us. We walked around and looked, and price checked, but then went home. We looked around on the internet and read reviews and price checked the machines from HHGregg. HHGregg had the best price, we couldn't even find it cheaper on the internet!
We went back to HHGregg later that afternoon and ordered the LGs. I think they had some kind of shipping deal that most places have these days- you pay up front for shipping and delivery and they give you a mail-in rebate to make it "free". Well, I hate mail-in rebates. They never seem to come. LOL. So we just asked- Hey, we don't like mail-in rebates- can you take the shipping/delivery fee off our total? They said "Sure!" and didn't even blink. And guess what- they still gave us the form for the mail-in rebate, and said we could mail it in and still get our "money back" for shipping even though we didn't pay for it. Neat, huh? But what was really cool- like I said, we ordered it on a Saturday afternoon- and they delivered it the next day. On a Sunday! Isn't that weird?? But cool! It would've been awesome if our old washer and dryer were broken and we had a laundry crisis and had to do laundry right away. lol
After using the new washer and dryer for a couple of weeks, I'm very pleased. I really wanted to be able to wash our huge, fluffy, king-sized down comforter. It just wouldn't fit in our old machine. The middle wouldn't even get wet. lol. It did great in the new washer and came out so bright and clean. I can also wash all 5 of the dog beds in one load- compared to 2 at the most in our old machine- and that Sanitary cycle sure comes in handy! LOL
Pedestals
I originally thought I wanted pedestals. I didn't want to do all that bending down. lol. Plus I really liked the extra storage space. We shopped around for the best price on the LG pedestals and found them for about $70 cheaper on Newegg.com than what HHGregg was selling them for. We printed out the shopping cart page from Newegg and brought it into HHGregg. We told them we were very pleased with their service and would like to buy the pedestals from them too, but found them for a better price online. The guy took the piece of paper, went behind the counter and got the price down to within $7 of the Newegg price. No questions asked!
We ordered the pedestals from HHGregg, and they too were there the next day. My dad came up that weekend and he and Kevin spent the better part of a Saturday afternoon installing the pedestals… But after seeing them in my laundry room… I didn't really like them. :\ It made it feel more closed in… I guess because the washer and dryer were higher? And also, I couldn't keep laundry baskets on top of the washer and dryer anymore- the cabinets were in the way. And I had a harder time reaching items in the cabinets. As far as bending down? Well, I found I actually prefered it! See, I would take the clothes to the laundry room in a laundry basket. Then when it was time to move them to the dryer, I just opened the door, scooped all the clothes in the the basket, slid it over and scooped the into the dryer, all in one big scoop. If the clothes were up high, on the pedestals, I would have to pull each item out of the washer separately to make sure it wasn't attached to any other article of clothing- because I've done that before and it always falls on the dirty laundry room floor. Fun! lol
So my poor dad and Kevin spent the rest of the afternoon taking the pedestals OFF the washer and dryer and returning them to HHGregg for me. *sigh* :)
The Cabinets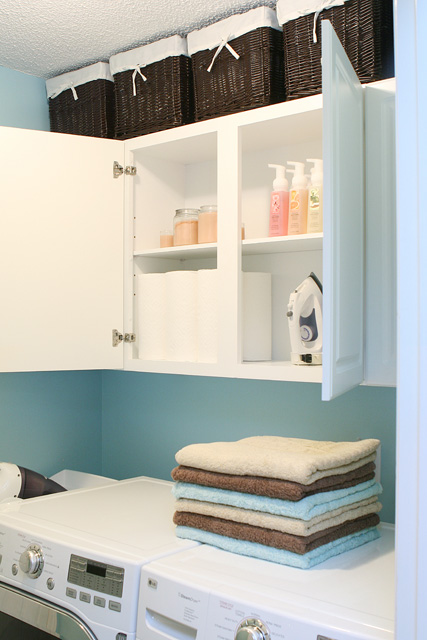 These were just pre-made cabinets that we bought at Lowes. They were a perfect fit, and such a huge improvement over the wire shelving!!

The Baskets
I got these from Target. They were originally a lighter, honey color, but I wanted them dark so I spray painted them. Worked great! :) And for those wondering- no, I definitely can't reach them without some kind of vertical assistance! ;)  But Kevin has freakishly long monkey arms and can reach them easily without a step ladder. So I keep things he normally takes care of up there- like extra light bulbs. :)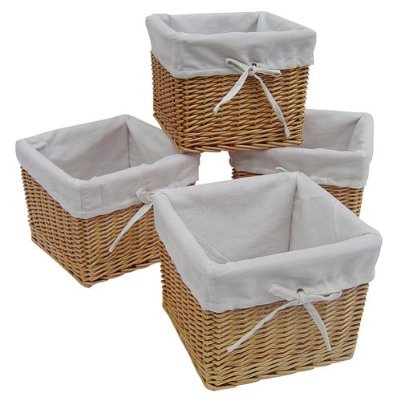 The Rug
The rug was the "inspiration piece" for the room. ;) I saw it at Bed, Bath and Beyond and *had* to have it. I knew it would be perfect to liven up the laundry room! I took the rug to Home Depot  and they color matched the blue in Behr paint for the wall color.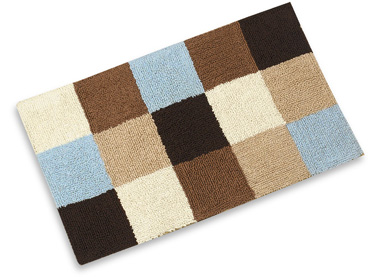 Oh, and btw… This stuff is *awesome*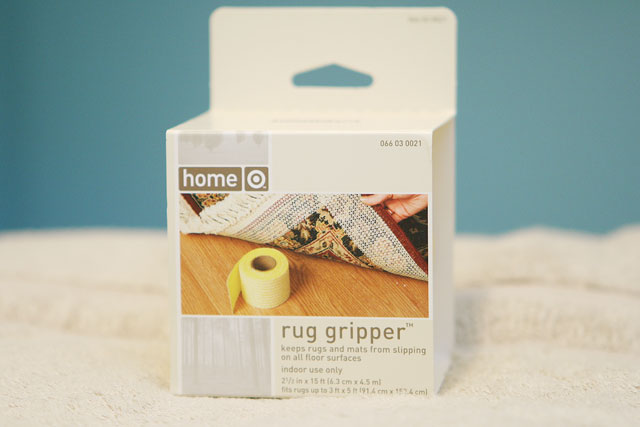 I wanted the rug so bad, but didn't think it would work in the laundry room because of the two doors- there wasn't enough room to put the rug down without the doors catching on it and flipping it up every single time- annoying! So I bought this tape from Target and it rocks! It's strong enough to hold the rug down- the doors don't get caught on it and I can even vacuum it! But when I got ready to throw the rug in the wash before taking these pics, it was easy to get up.
The Laundry Tower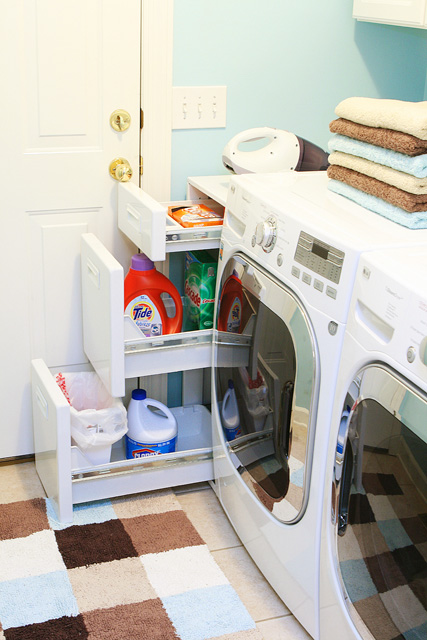 Since I didn't get the pedestals, I decided to splurge and get this Whirlpool laundry tower (special ordered from Lowes). I had one of those little cheap, plastic rolling carts there initially, and it worked fine, but this one is nicer. :D I love the drawers, and I love that there's enough room to fit a little mini-trashcan down there for lint. It holds all the essentials- detergent, bleach, fabric softener and dryer sheets all right there. Btw. Yes. That's indeed Cascade you see in there. It's my secret for whitest whites. ;)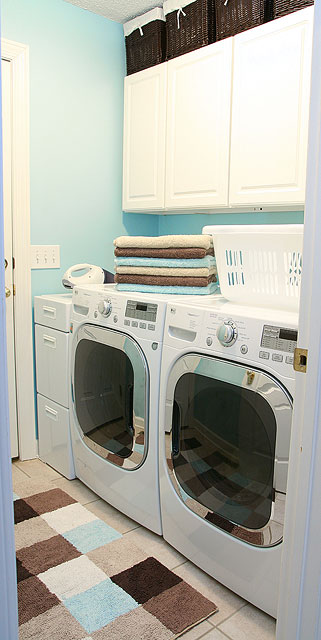 Thanks so much for looking! :) Whew- I don't think I've left anything unsaid, but if you have any questions, I will be happy to answer them in the comments! :)