Mighty Meaty Nachos (with homemade tortilla chips!)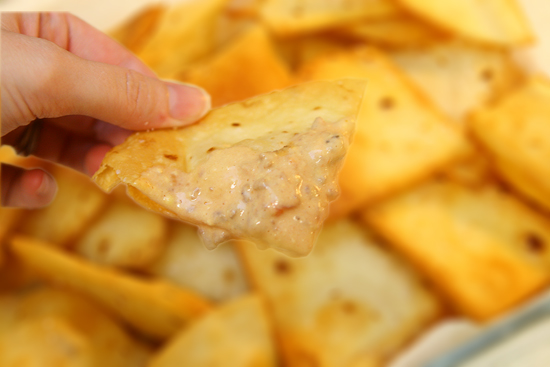 Homemade tortilla chips = Yum. Yum yum yum yum yum. Homemade tortilla chips that are this delicious need a dipping sauce that is equally extraordinary – something that can step up to the plate and match the taste "WOW factor" – bite for bite. That's where Mighty Meaty Nachos come in…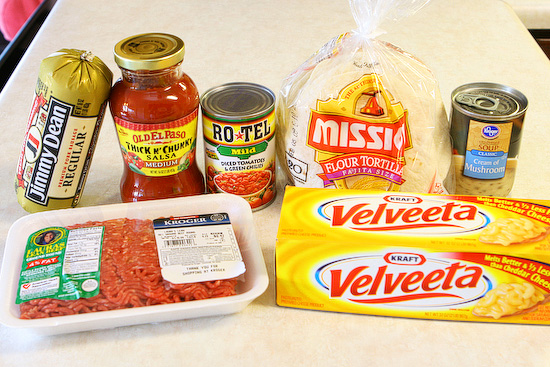 The ingredients: 1 lb breakfast sausage (can use regular or hot), 1 lb hamburger meat, 1 small jar of salsa, 1 can Rotel tomatoes and green chiles (can use mild or regular… if you can handle the heat ;)), 1 can cream of mushroom soup and 32 oz velveeta cheese.
For the tortilla chips: small, "fajita sized" tortillas (about 6″ in diameter), 3-4 cups vegetable oil & kosher salt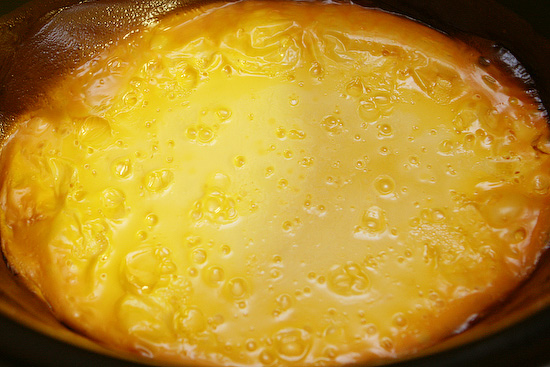 About 2 hours before serving time, slice the Velveeta cheese and place in a crock pot that has been sprayed with Pam. (Keeps it from sticking to the side. Um, yeah. I forgot to do that.) Melt cheese over "High" heat. About 2 hours later, it should be melty and bubbly- like this. :)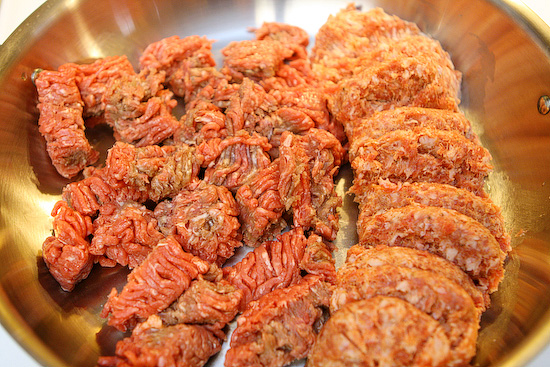 Turn the crock pot to Low and put the lid back on. Now it's time for the Might- I mean the meat – of this recipe. In a large skillet (this one's 12″), brown, then drain the hamburger and sausage.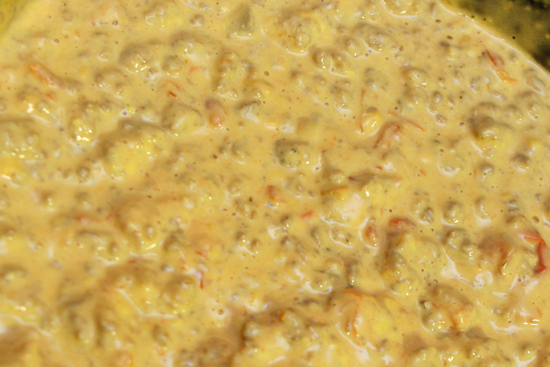 Now it's time to get serious. Go back to all that melty, cheesy, Velveeta-y goodness in the crock pot. Stir in the meat, Rotel, cream of mushroom soup and the small jar of salsa. Now I never know what a small jar of salsa is, so normally I just buy whatever size I can find, then fill my empty (10 oz) Rotel can with salsa and use that amount.
Note to all the mushroom haters out there: Yes, you can leave the cream of mushroom soup out. I do it sometimes too. I wouldn't touch mushrooms with a 10 foot pole- I can't even stand the smell of them. The cream of mushroom soup just makes the dip… Creamier. Not mushroomier. :D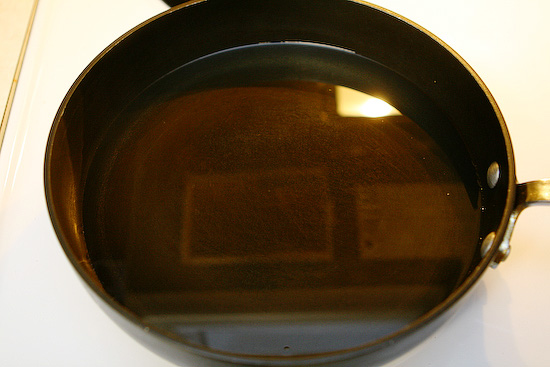 Ok YAY! My favorite part! The tortilla chips! :) These are so fun and your friends will be so impressed. :) Fill a small (10″) skillet with about 1″ of vegetable oil (about 3 cups, but I don't measure). Begin heating over medium to medium high heat for about 10 mins.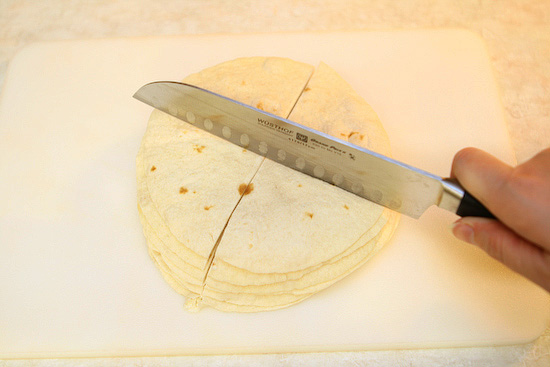 Meanwhile, lets make chips. :) Grab a stack of tortillas- for the 2 of us, 10 tortillas is just about right. Cut into 1/4's to make perfect little chips.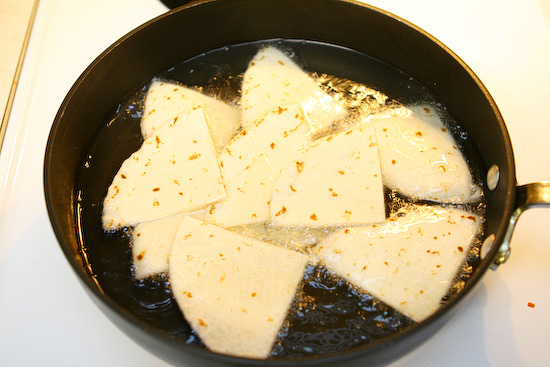 After about 10 mins the oil should be hot enough. We're going to make the chips in 4 batches, so take one stack of chips and place them in the oil, one at a time.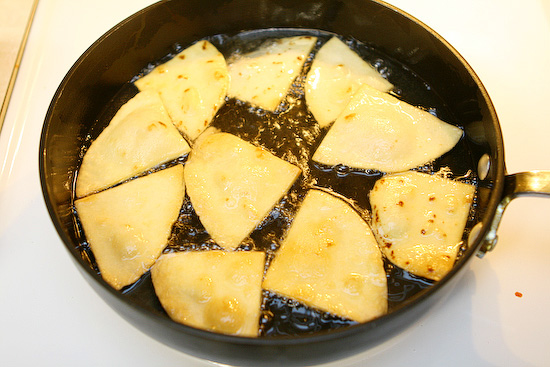 Flip one over and check on it after about a minute or so. My first batch usually takes a little longer because the oil isn't as hot yet. But as soon as one side starts to get golden, flip them over.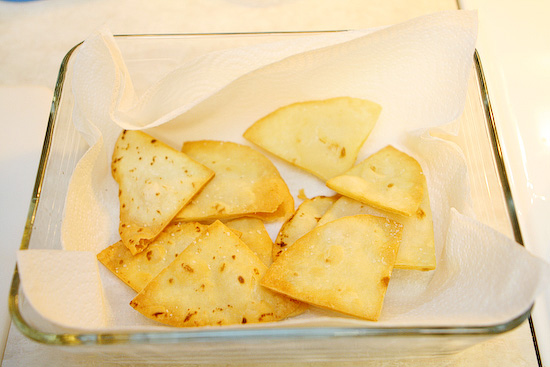 When both sides are brown and golden, immediately remove from oil (with tongs! :)) and place in a bowl lined with a paper towel. Immediately sprinkle with a healthy pinch of kosher salt.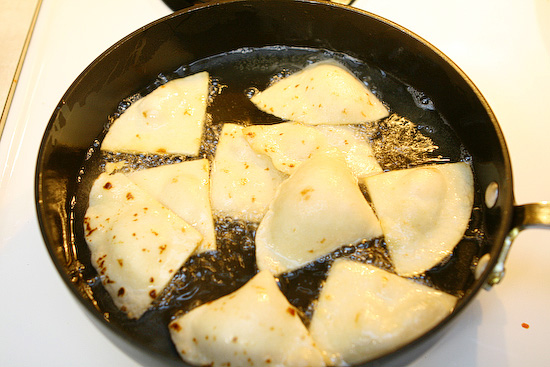 Repeat the process for the rest of your chips.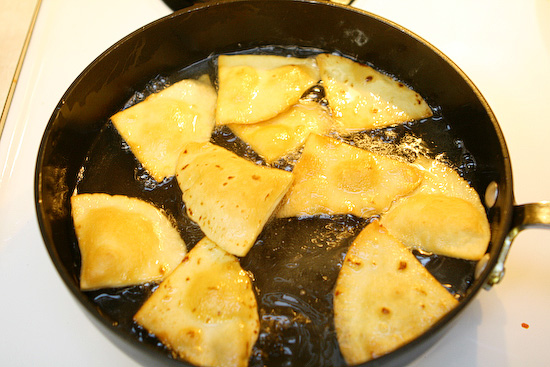 They are usually golden, bubbly and perfect after cooking about 1 min on each side.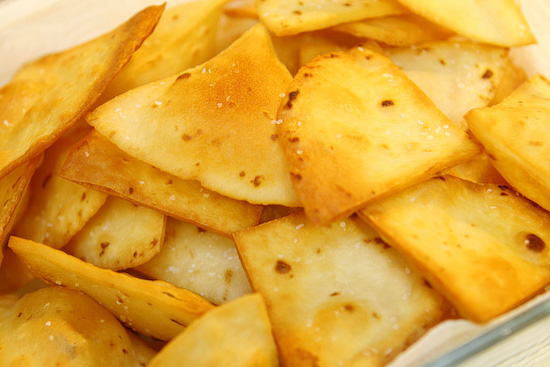 Sprinkle with a pinch of salt after each batch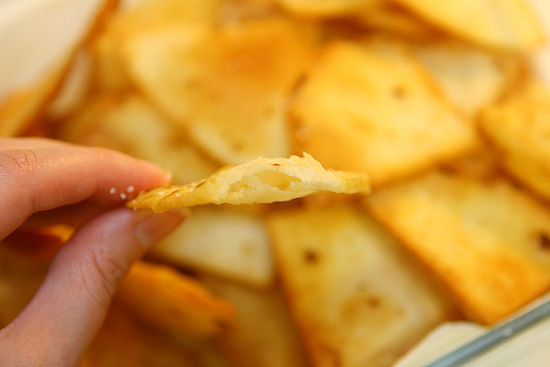 Now, the really cool thing about flour tortillas is that that are golden and crispy on the outside, but when you bite into them it's like a wonderful surprise- they're kinda soft and flakey!! Definitely different from your average tortilla chip, but OMG. So good. Now if you prefer a more traditonal tortilla chip you can use corn tortillas. They have the traditional taste and crunchiness that you're probably used to. Kevin prefers the corn tortilla chips, but I'm a flour tortilla kinda girl. I just cannot get enough of these chips. :D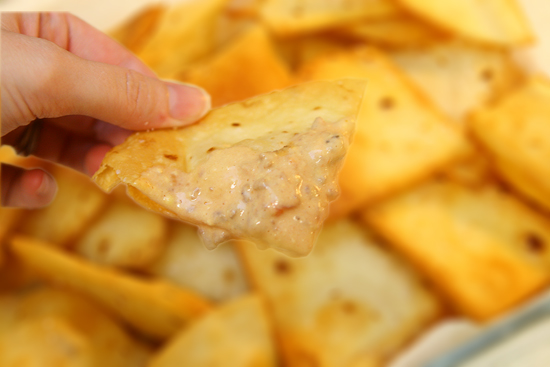 Dip them into the Mighty Meaty Dip and it's Nacho Perfection. These will be the hit of any party- the dip makes a *lot*, but I never bring home leftovers. :D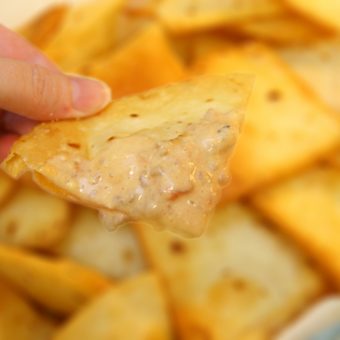 Mighty Meaty Nachos with Homemade Tortilla Chips
Ingredients:
(32 oz) Velveeta cheese
1 can Rotel tomatoes and green chilies
1 lb sausage, browned and drained
1 lb hamburger, browned and drained
1 small jar of salsa
1 can cream of mushroom soup
For the chips
small, fajita sized flour tortillas (about 6″ in diameter)
1-2 cups vegetable oil
kosher salt
Directions:
Spray crock pot with Pam and melt Velveeta cheese on high for 2 hrs. Then add tomatoes, meat, salsa and soup and mix together. Keep warm while making chips.
For the chips
Heat about 1″ of oil in a skillet over medium to medium high heat. Cut tortillas into 1/4ths to make chips. Heat chips in oil for about 1 min on each side until golden. Remove chips to bowl lined to paper towels and sprinkle with a healthy pinch of salt.
Serve chips and dips together to make Mighty Meaty Nachos!