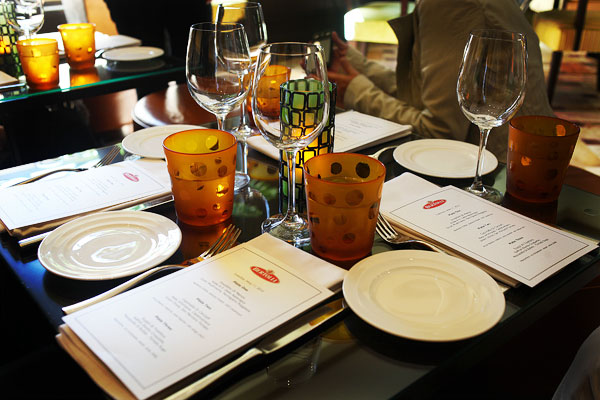 Photo via Briana
The grand finale of our "Into the Heart of LA" culinary experience with Bertolli was a private, intimate meet and greet with celebrity chef Rocco DiSpirito. After a whirlwind day full of pampering, limos, celebrity treatment, meeting new friends, tasting new foods, exploring LA's unique culinary scene and uncovering its passion for food, Bertolli saved the best for last.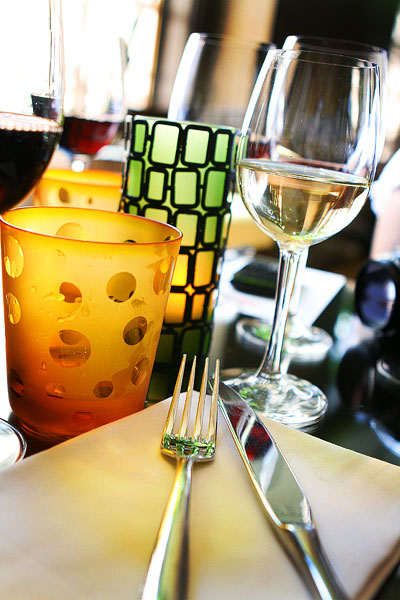 We were taken to Culina, the newly opened Italian restaurant at the Four Seasons' Beverly Wilshire, and escorted to a private back dining room where we all waited anxiously for Rocco to arrive.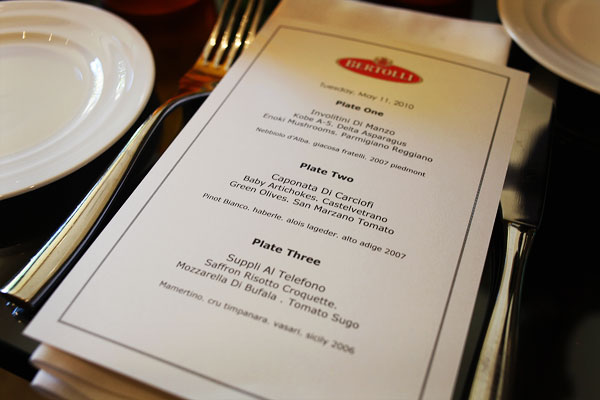 Photo via Briana
We were in for a treat with the special small bites tasting menu designed especially for us.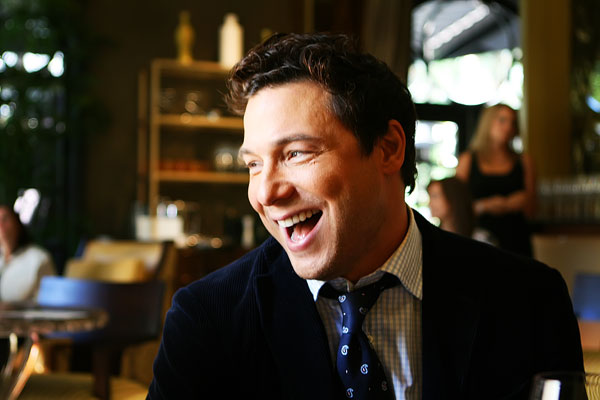 And then came Rocco. He sat down, and I was within wine glass clinking distance!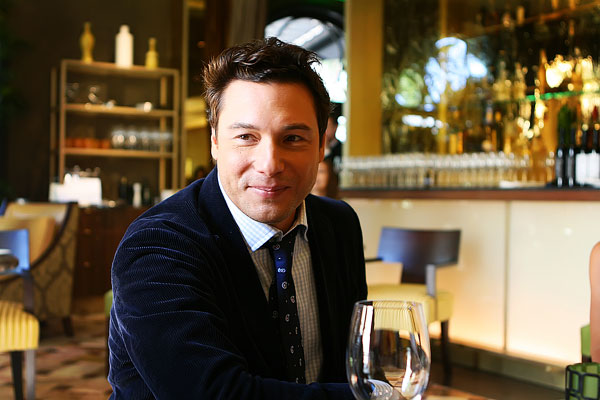 Rocco asked us about ourselves, our blogs, and our day in LA.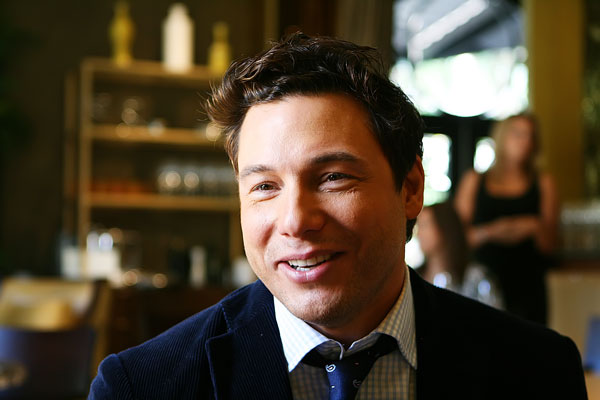 He told us about his recent trip to Italy with Bertolli, his passion for fresh, local ingredients, and where he finds inspiration.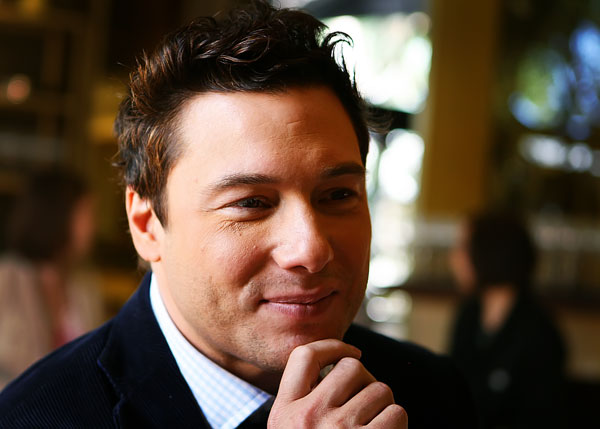 Deep in conversation with Jenny from Picky Palate about food, family, and flavor.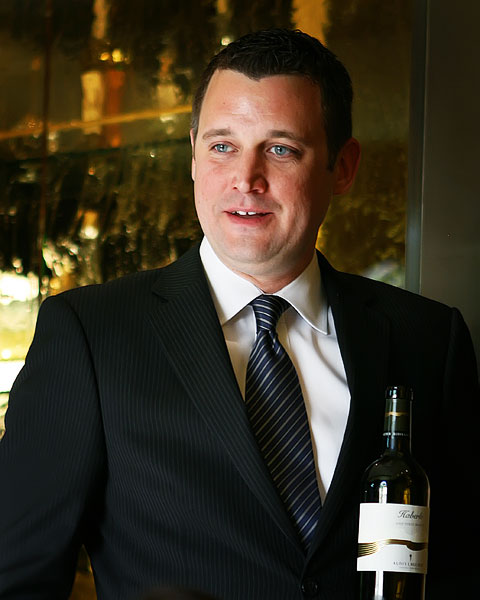 Culina's sommelier, Brick, explains our wine pairings with each course. Lucky for you, Briana gently explained to me what a "sommelier" was. I was just gonna call him "Brick the Wine Guy". *blush*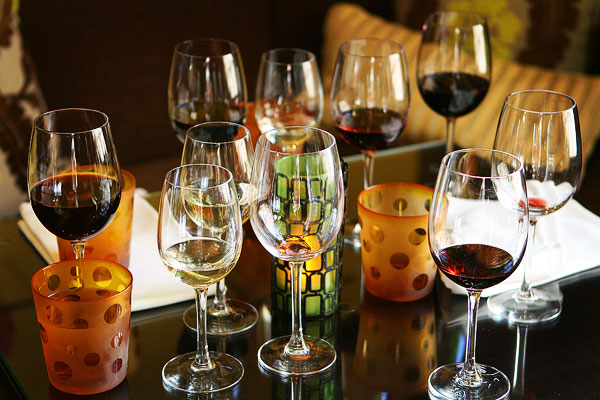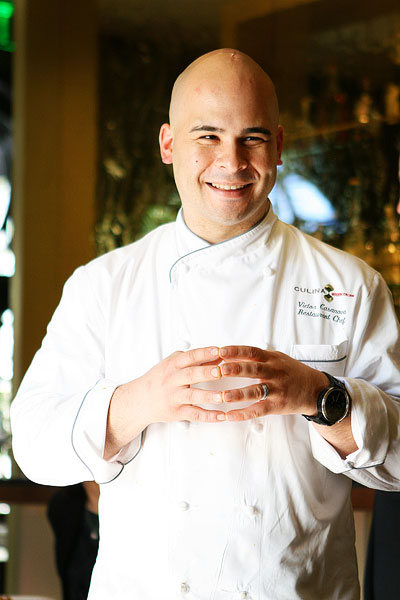 Culina's new modern Italian chef, Victor Casanova (love his name!), came out to greet us and tell us about our courses.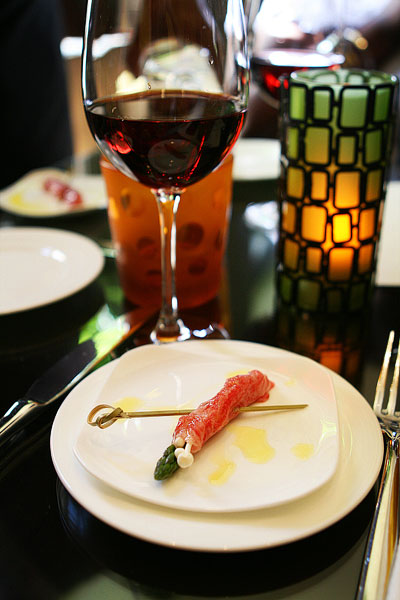 Plate One
Involitini Di Manzo
Kobe A-5. Delta Asparagus. Enoki Mushrooms. Parmigiano Reggiano.
Wine: Nebbiolo d'Alba. giacosa fratelli. 2007 piedmont.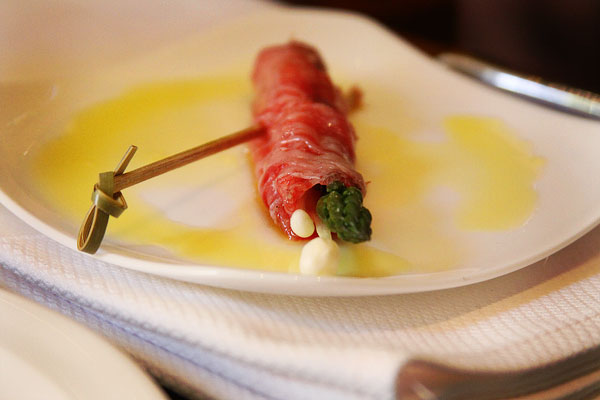 Photo via Jenny
Melt-in-your-mouth, buttery Kobe beef wrapped around a spring of asparagus, tiny enoki mushrooms, and Parmigiano Reggiano.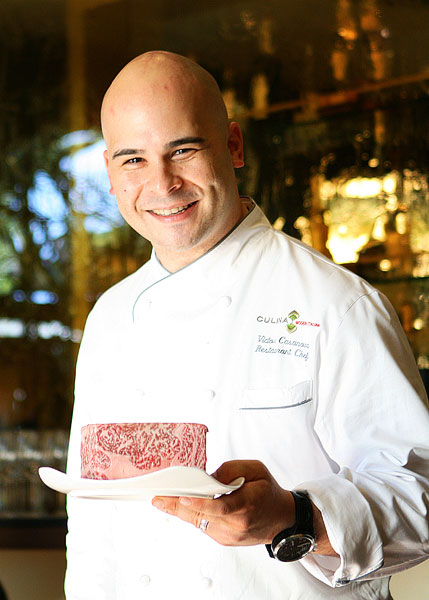 Rocco asked Chef Victor to show us his prized Kobe beef, a delicacy cut from cows that are massaged daily to produce this highest quality of flavor, tenderness, and marbled texture.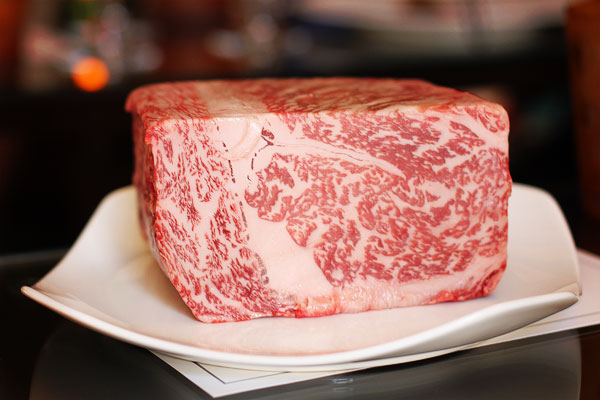 Photo via Shelisa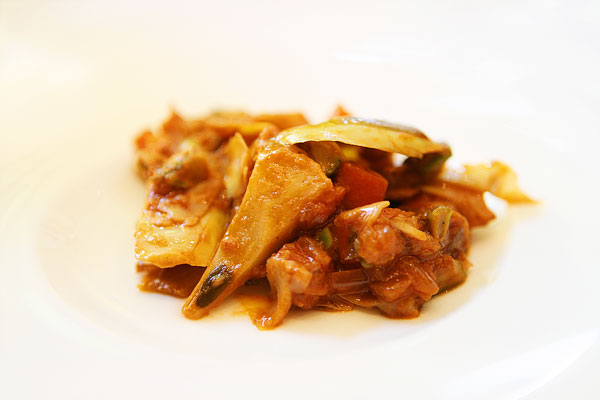 Plate Two
Caponata Di Carciofi
Baby Artichokes. Castelvetrano Green Olives. San Marzano Tomato.
Wine: Pinot Bianco. haberle. alois lageder. alto adige 2007.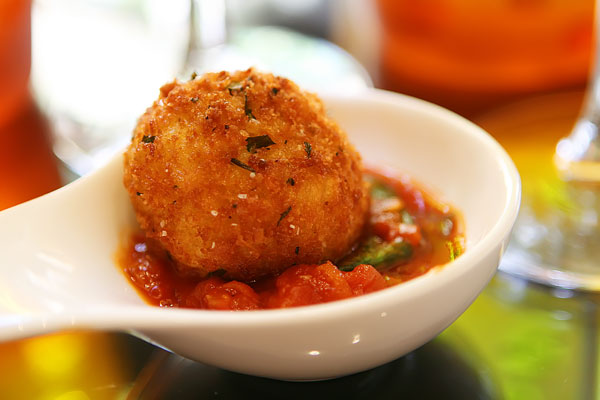 Plate Three
Suppli Al Telefono
Saffron Risotto Croquette. Mozzarella Di Bufala. Tomato Sugo.
Wine: Mamertino. cru timpanara. vasari. sicily 2006.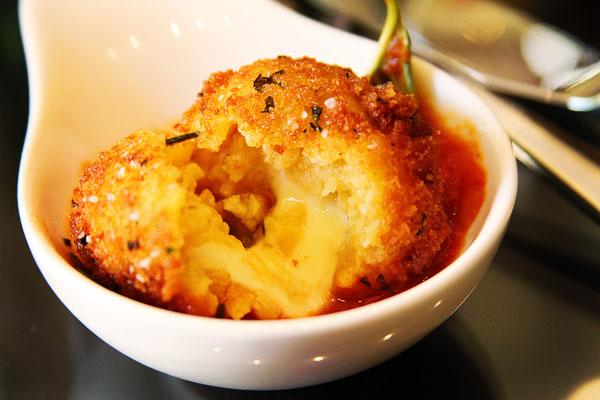 Photo via Jenny
Gorgeous photo of our third plate by Jenny. It was as incredible as it looks.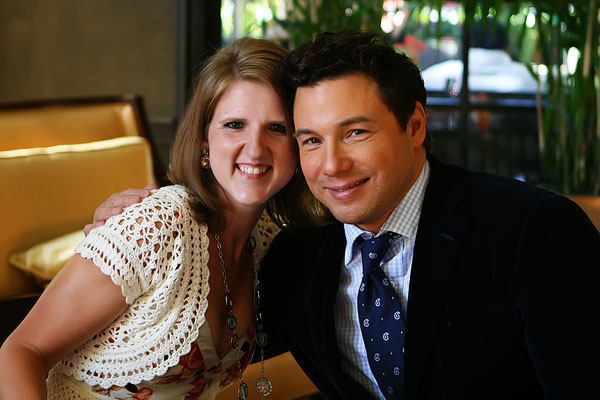 After our dinner with Rocco (it lasted about an hour!) we each got to sit down and chat with him, have our pictures made, and get our books signed. Bertolli had given us all copies of his newest book, Now Eat This, in our welcome gift bags.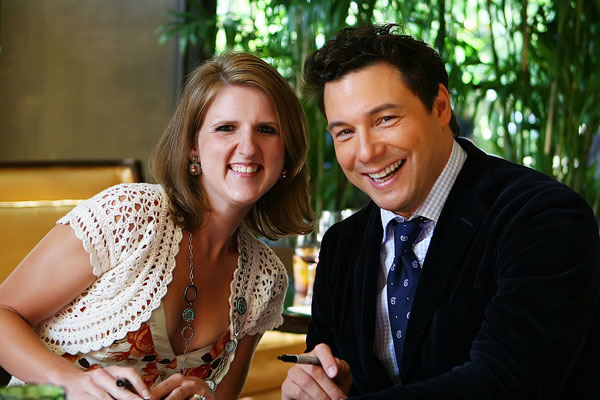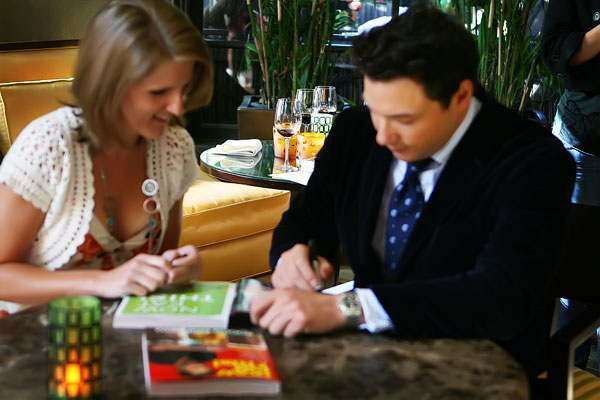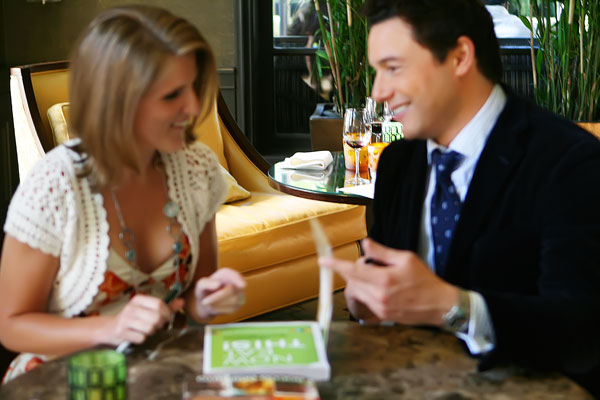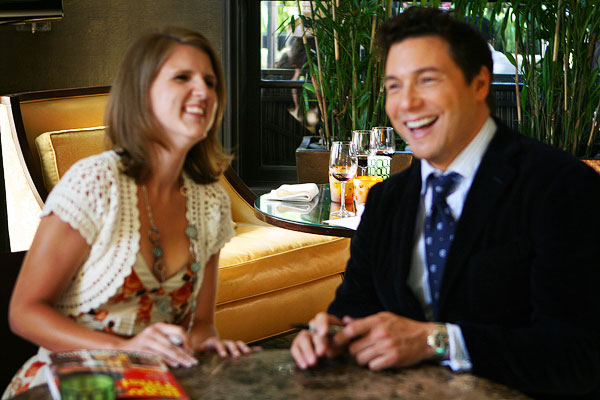 Apparently Rocco was quite charming. Do I look smitten? *blush*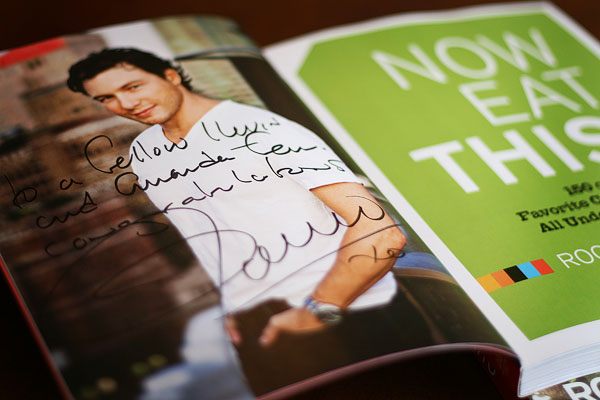 I also brought along an extra book for Rocco to sign… Can you tell what it says? I'll give you a hint…
"To a fellow Kevin and Amanda fan. Congratulations! Rocco XO"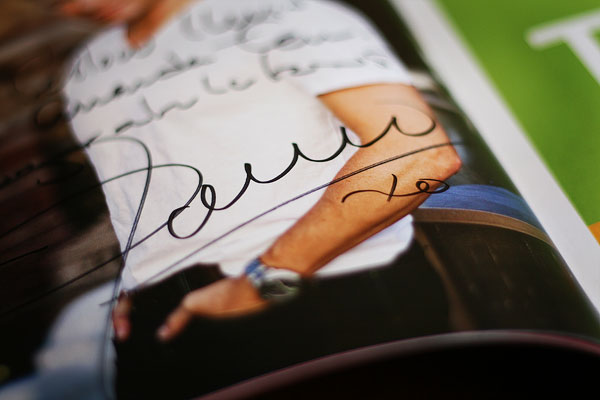 Rocco asked if my readers were mostly female, and when I said yes, he added the XO. ;)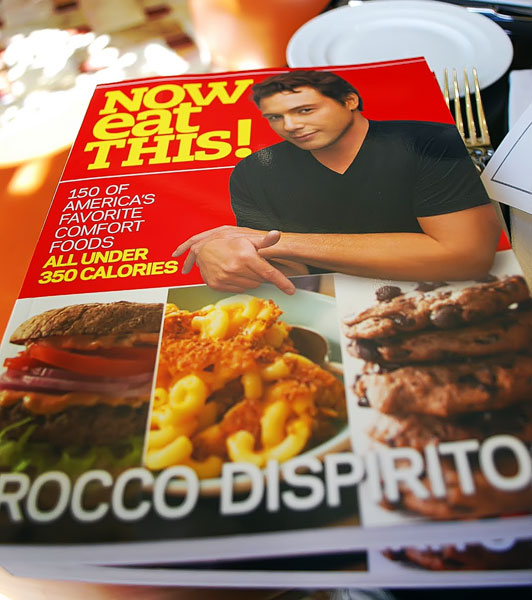 Photo via Pat
Giveaway!
If you'd like this copy of Rocco's new book, Now Eat This, dedicated to a special Kevin & Amanda reader, just leave me a comment on this post by 7pm, Saturday, May 22nd. :) I'll announce the randomly chosen winner on Monday. :)
Winner!
Congrats to #416 Becky! "Thanks for sharing your amazing pics. I would love love love to win his book. He's a cutie."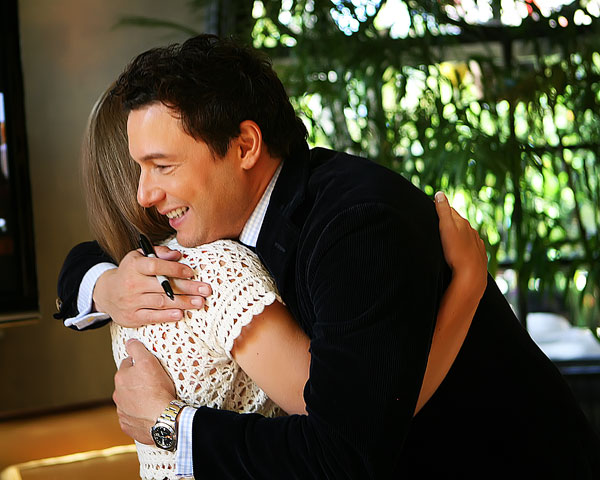 There's more…
My trip to LA didn't end here… I stayed an extra 3 days in California and took in the gorgeous beaches of Santa Monica, Malibu, and Venice, the glitz of Hollywood, Sunset Blvd, & Melrose, and even drove down to the OC to bake with Jenny in the Picky Palate kitchen. :) Stay tuned… :)