Hazelnut Butter Cookies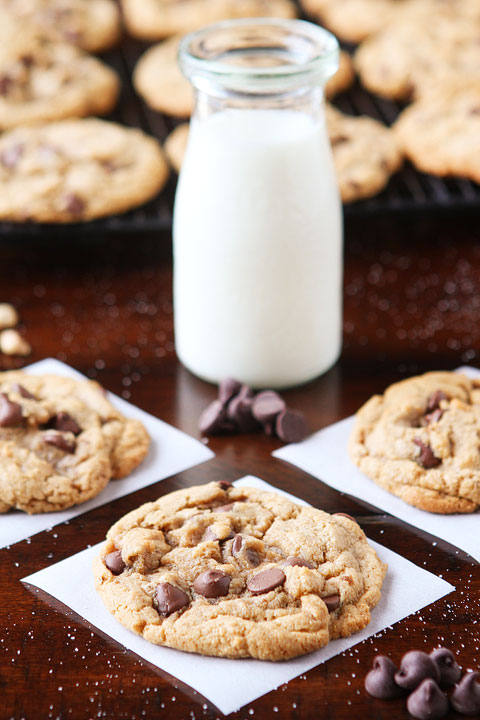 So excited to share these chewy Hazelnut Butter Cookies with you today!! They combine sweet, rich, creamy hazelnut butter with just a hint of chocolate for one decadently dreamy cookie. They're like Nutella in chocolate chip cookie form!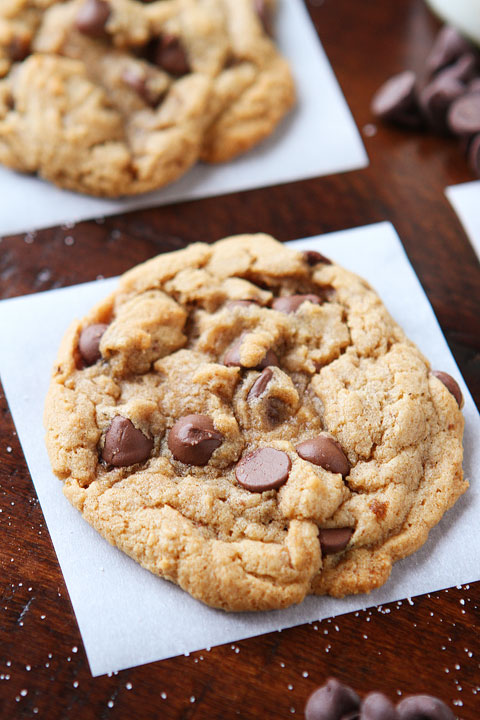 I am in love with the fabulously nutty flavor of hazelnuts. I mean, hello Nutella! Chocolate + Hazelnuts = best combination in the world. I wanted to incorporate the rich flavor of hazelnuts with just a hint of milk chocolate so the hazelnuts and cookie could really shine through. What I love about these cookies is that the chocolate doesn't overpower the delicate flavor of hazelnut. They perfectly complement each other.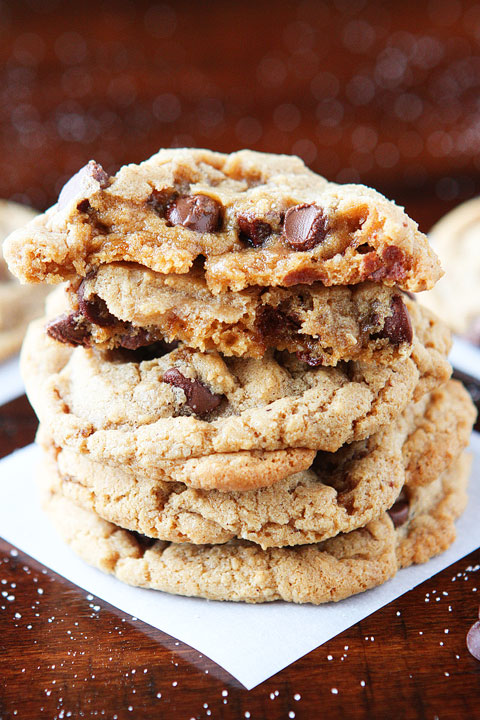 But here's the most important part: I prefer my cookies without nuts! I have a strict no-nut policy in my cookies. I love nuts, but it's a texture thing. I want my cookie to be soft and chewy. Fortunately hazelnuts are about the easiest thing in the world to turn into hazelnut butter, and the addition of hazelnut butter into the cookies makes them impossibly soft and chewy! They are seriously a dream come true.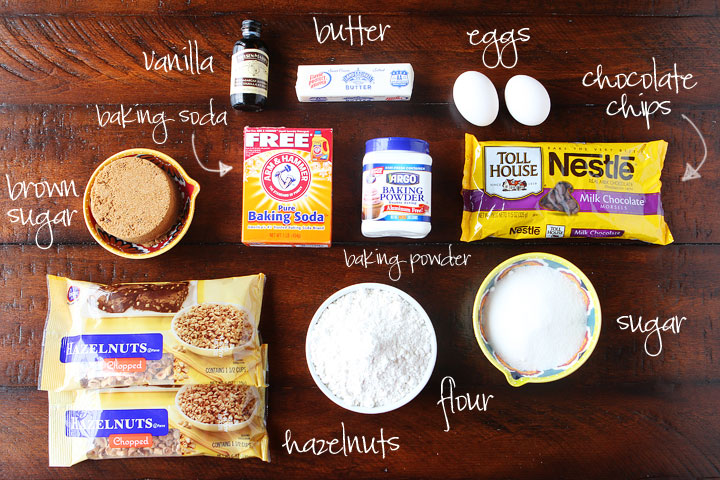 Here's all you'll need for these cookies — your regular chocolate chip cookie ingredients plus two bags of chopped hazelnuts.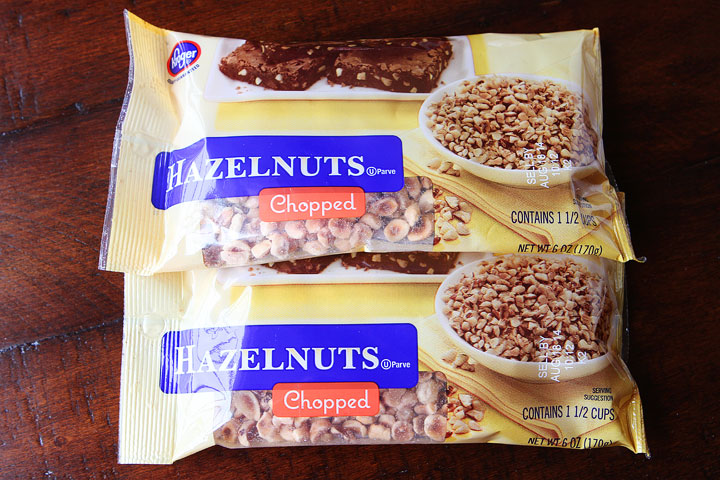 I found these in the baking aisle at Kroger. You can use chopped or whole hazelnuts, you just want to make sure they don't have the skin on. They may be labeled as "blanched." You can also look for Filberts — they are hazelnuts under a different name! :)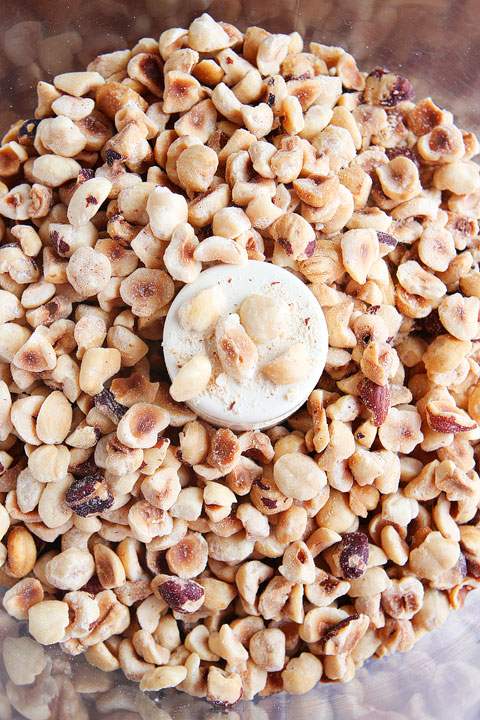 Add both bags to the workbowl of a food processor…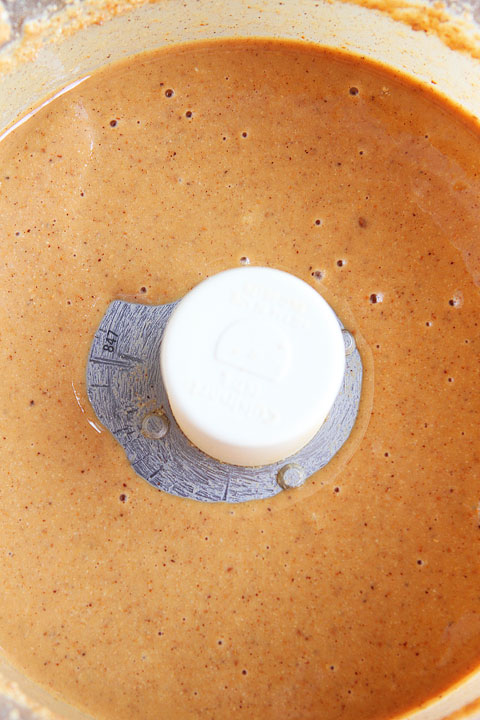 And just let it process for 2-4 minutes. By 3 minutes in, my hazelnuts had turned into pure, liquid gold.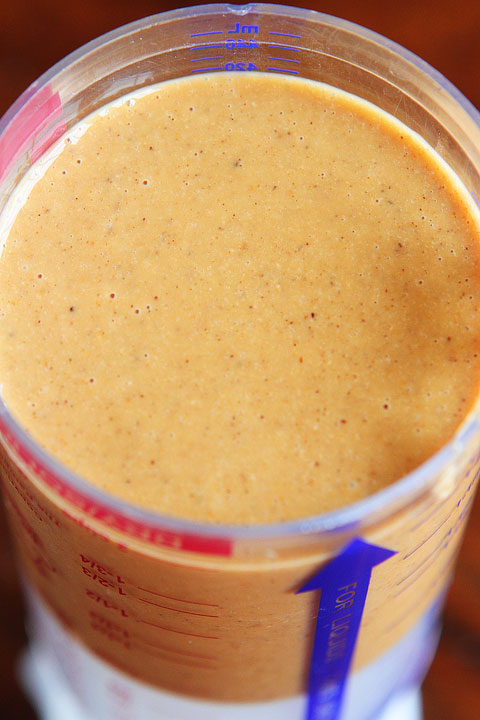 Two 6-ounce bags produces almost exactly 1 cup of hazelnut butter, which is exactly what you'll need for this recipe.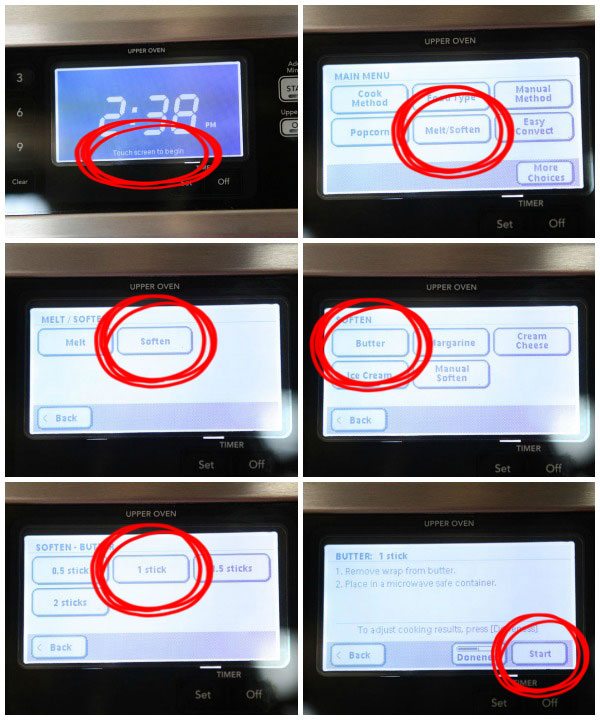 You'll also need one stick of softened butter, but I never plan far enough ahead of time to actually soften my butter on the counter. I love that my new Kitchenaid Microwave has a setting for softening a stick of butter. It comes out evenly softened every single time. It's not like my old microwave which would give me a mostly-solid stick with some completely melted holes, lol! And I no longer have to constantly watch the microwave or start and stop to turn the butter over every five seconds. I can set it and forget it.
(P.S. See our kitchen makeover and new appliances here!)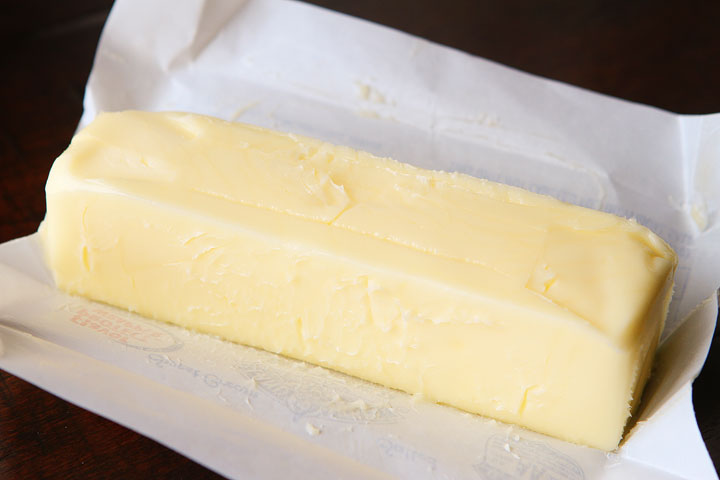 Perfectly softened in just one minute and I didn't have to stand there and watch it to make sure it didn't melt! :)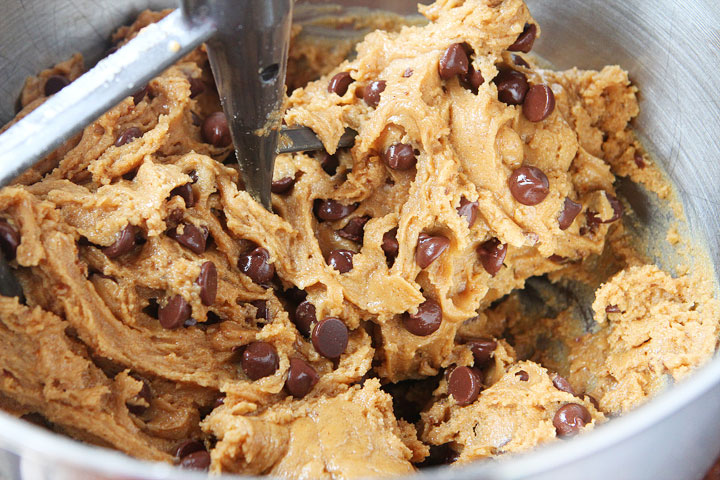 Mix the butter, hazelnut butter, sugar, flour, salt, baking soda, baking powder and chocolate chips together to get one seriously fabulous cookie dough!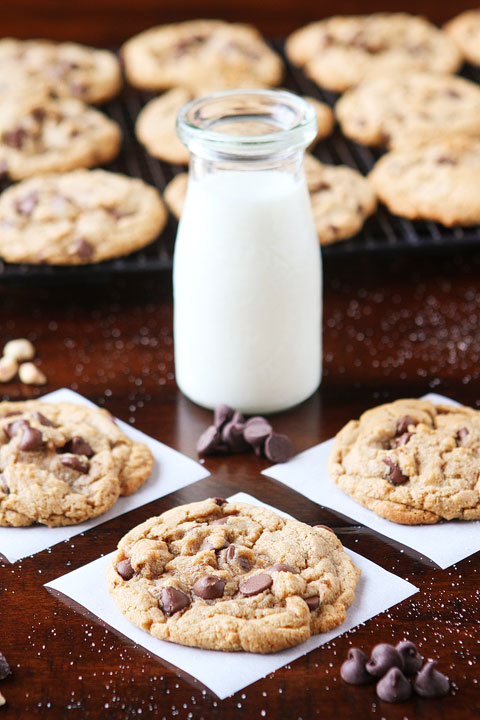 Bake it at 350 for 10 minutes until the edges just starting to turn slightly golden.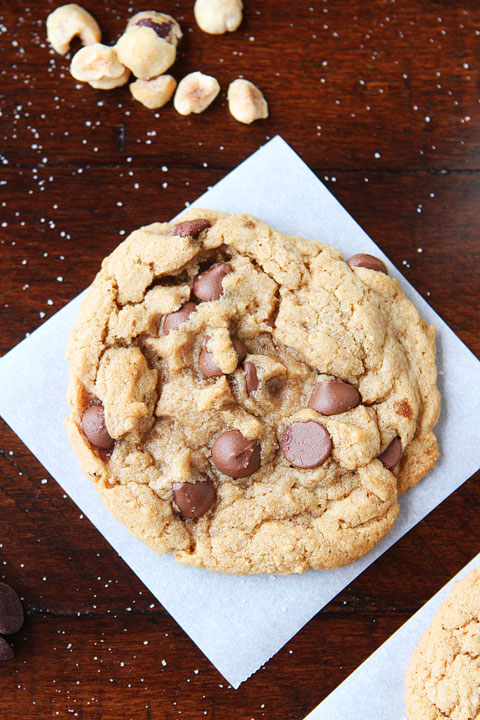 Love the chewy decadence the hazelnut butter adds to these cookies!!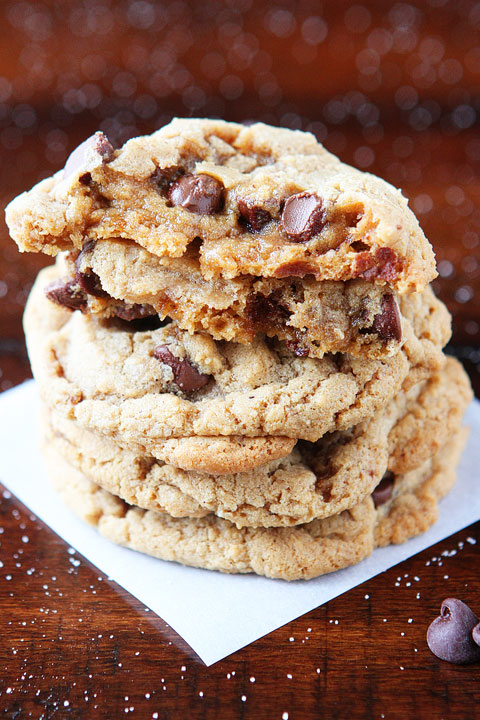 Make these cookies ASAP!! :) Hope you enjoy!! :)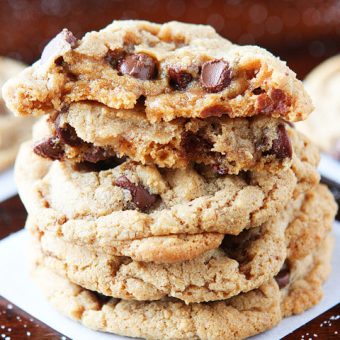 Hazelnut Butter Cookies
Yield: Makes approximately 3 dozen cookies.
Ingredients:
12 oz chopped or whole hazelnuts without skin
1/2 cup (1 stick) butter, softened
1 cup sugar
1 cup brown sugar, packed
2 eggs
1/2 teaspoon vanilla
2 1/2 cups flour
1 tsp baking soda
1 tsp baking powder
1/2 tsp salt
1 bag (10-12 ounces) chocolate chips
Directions:
Preheat oven to 350 degrees F. Add the hazelnuts to the workbowl of a food processor and process for 2-4 minutes until liquified and smooth.
Beat butter, sugars, and 1 cup of hazelnut butter on medium-high speed for 3 minutes. Add eggs and vanilla and mix on medium speed for 2 minutes. Whisk together flour, baking soda, baking powder, and salt then add to wet ingredients and mix on low speed until just combined. Add chocolate chips and stir until just combined.
Use a medium (1.5 tbsp) cookie scoop to form dough into balls. Place on a cookie sheet lined with parchment paper. Bake at 350 for 10 minutes until edges just start to turn golden brown. Cool on a wire rack.
More Decadent Chocolate Recipes!