Have you ever considered running a 5k? You should! Check out my experience running my first 5k, plus more fun stuff we did this week!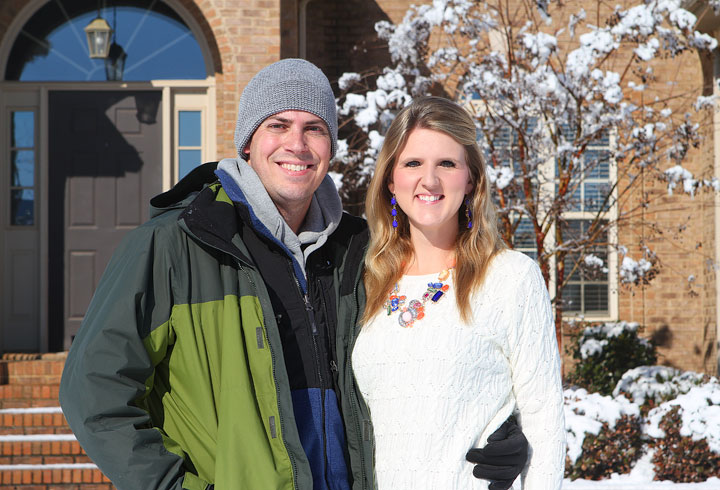 Valentine's Day
1. Happy Valentine's Day!! Yesterday was a snow day for us! We got about three inches, which is basically a ton. It doesn't even snow every year here, so we're happy when we get just a flurry! Three inches in Alabama means roads are closed, schools are closed, and everybody stays home from work. So of course we took full advantage of the opportunity and headed outside first thing in the morning to play in the snow! We had a snowball fight with the neighbors, went sledding, made snowmen, and then we invited everyone inside to warm up at the hot chocolate bar. When the roads cleared up later we all went out for pizza and froyo. Pics of our winter wonderland to come next week. Miley and Howie joined in on the fun too! ;)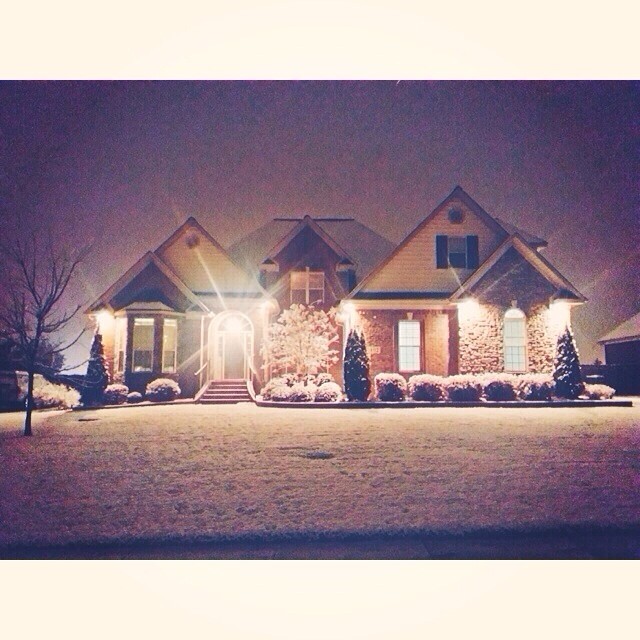 2. You guys. The most random thing happened to me the other night. So, I'm pretty much addicted to Buzzfeed. If I only had two apps on my phone, it would be Instagram and Buzzfeed. I seriously read it nonstop when I'm killing time / should be working. They are always posting silly personality quizzes, and I almost always think they're pretty eye-roll worthy, but of course I still take every single one. Obviously.
The other night they had a "What Font Are You" quiz, and of course I totally took it. However I was admittedly slightly more interested in this quiz than usual since I do make and love fonts.
You guys.
Guess what font I got.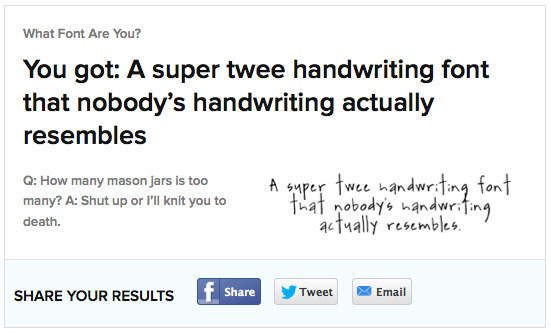 I got MY OWN HANDWRITING FONT.
Like, MY REAL handwriting that I made into a font eleventy billion years ago when I first started making fonts.
How totally crazy/random/freaky/fluky/amazing is that?! I am still laughing my head off.
P.S. They're right. My real handwriting looks nothing like the font. Snort!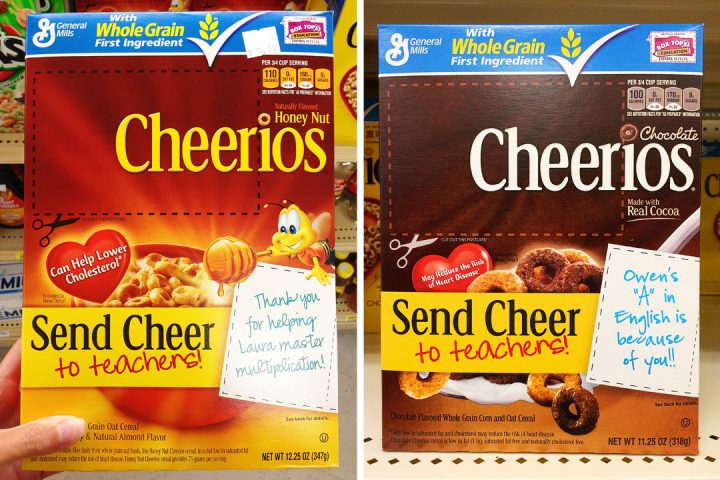 3. Speaking of fonts! When someone buys a commercial license for a font, I don't always know how the font will be used. It's always a fun scavenger hunt to see where they'll turn up next! I totally got a kick out of seeing a few of the Pea Fonts make an appearance on these Cheerios boxes! :) I love Cheerios! The fonts used here are Pea Amy, Pea Hannah Vanilla, and Pea Sadie. Thanks for using the fonts, Cheerios!! :) xoxo
P.S. Keep an eye out for the fonts at Target soon. ;)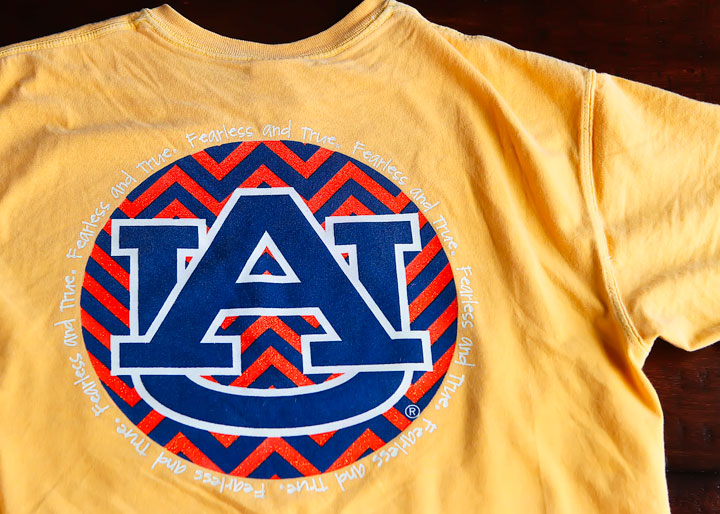 4. This one I TOTALLY loved seeing. I was back in my hometown and was at a fan/sports clothing store. They had an Auburn shirt with one of the Pea fonts on it!! This one's Pea Sarah Lynne. Of course I had to get it!! Sorry it's a little wrinkly here. I wear it all the time! :)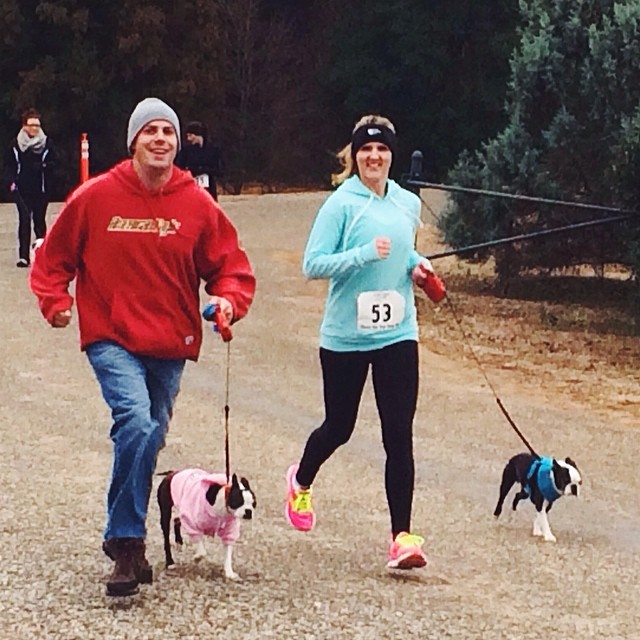 Running a 5k
5. Last weekend I ran my first 5k! Afterwards, Miley and Howie got to run the 1-Mile Doggie Dash Fun Run with me! :) We totally did not think they would actually run, but once they saw all the other doggies running, they wanted to run too! :) They did so good! Wish they could run every race with me!! :) xoxo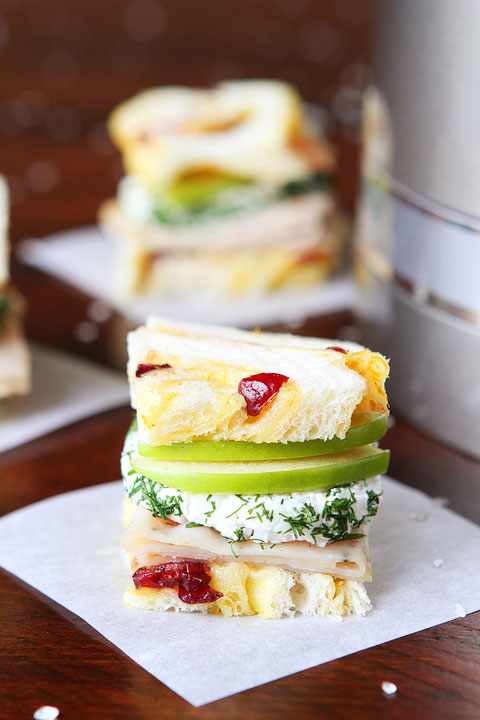 6. I made Turkey and Apple Goat Cheese Tea Sandwiches with Homemade Cranberry Orange Bread over on the KitchenAid blog!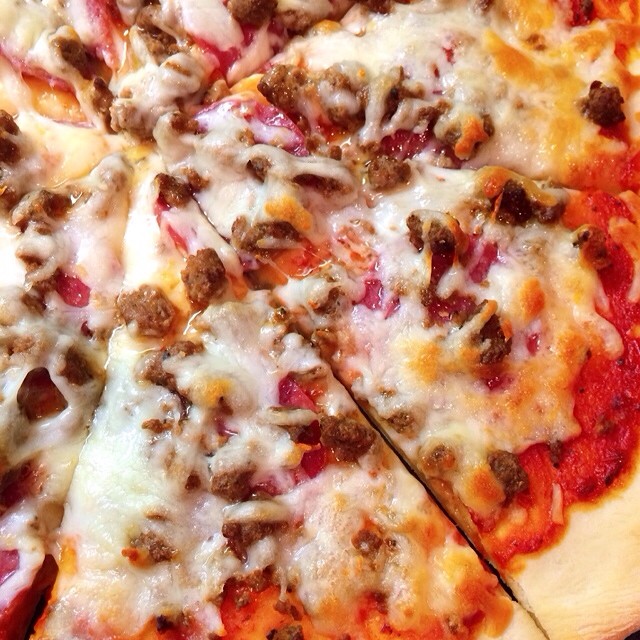 7. I also made Picky Palate's Honey Whole Wheat Pizza Dough for dinner one night last week. It was a huge hit! Seriously so soft and chewy, great flavor, and it doesn't even have to rise! You can have this dough ready in 15 mins.
8. Has anyone tried the Younique 3D Fibre Lash mascara? I'm intrigued!
9. The King of Queens: The Complete Series is now only $24.99 on Amazon. I got this as a stocking stuffer for Kevin this year!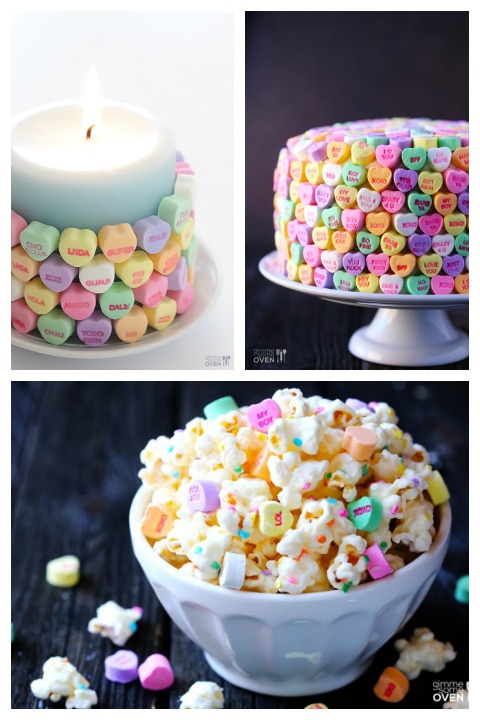 10. I am LOVING these fun ideas for conversation hearts from Gimme Some Oven!! I am TOTALLY doing those candles next year for Valentine's Day!!
Conversation Heart Candles
Conversation Heart Cake
Conversation Heart Popcorn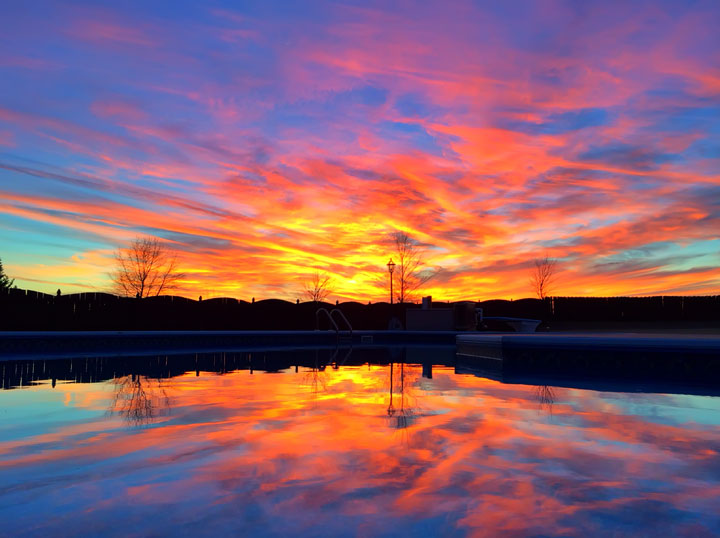 11. Last week our backyard looked like this. I think I'll keep it.
12. Are you on Pinterest? If you're into tried and true recipes, here are some awesome boards to follow! :)
Kevin and Amanda on Pinterest
Most Pinned Recipes
Best Weeknight Dinners
Most Pinned Desserts
BEST Comfort Food Recipes
The "PINspiration" Place
13. Make it a goal to go here and get a biscuit and grits as soon as humanly possible. You're welcome.
Thanks so much for looking! Have a great weekend!! :)
XOXO,
Amanda