Scotland Day 3 — Skye to Oban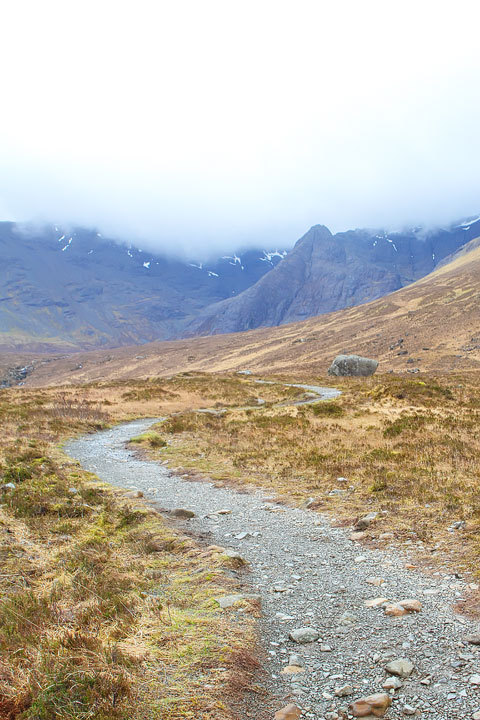 One of the things I was most looking forward to seeing on the Isle of Skye were the famed Fairy Pools of Scotland. So after breakfast on our first morning in Skye, we made our way to the mystical, spooky trail that would lead us to the Fairy Pools.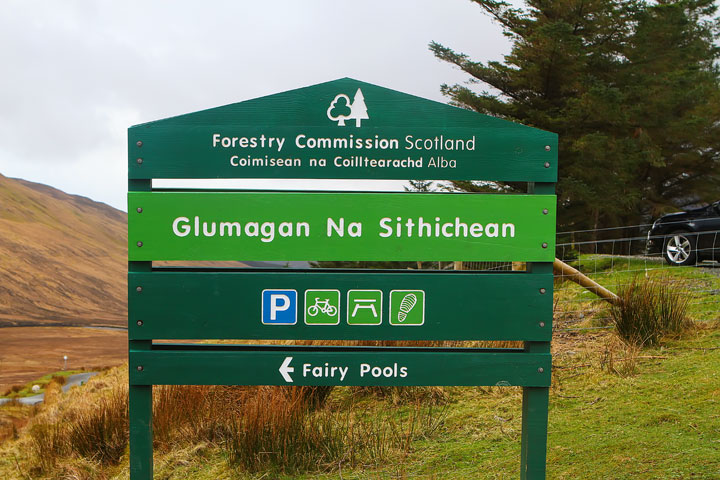 The trail was very well marked and even had a small parking lot at the trail head. Here is some more information on hiking the Fairy Pools, including directions, maps, and GPS coordinates of the trail head if you're interested: Hiking the Fairy Pools.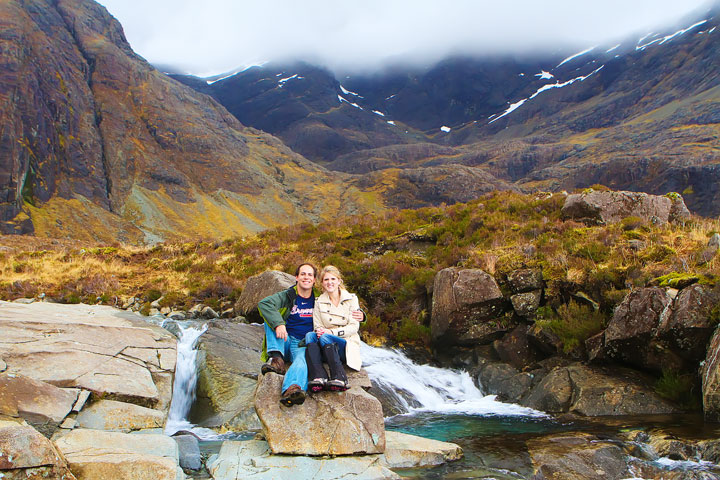 Kevin and I love hiking and especially waterfalls. Every year for our anniversary we try to get back to nature for a weekend and spend a few days hiking and waterfall sight-seeing. So, so neat to be able to do this in Scotland!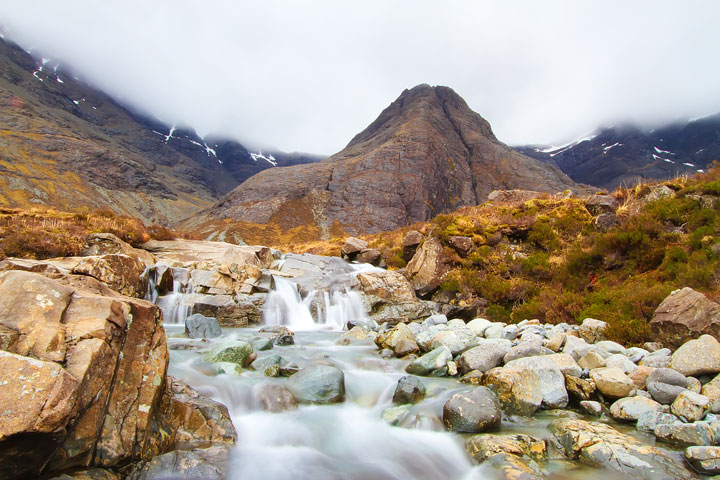 The trail follows a crystal clear stream full of pools and waterfalls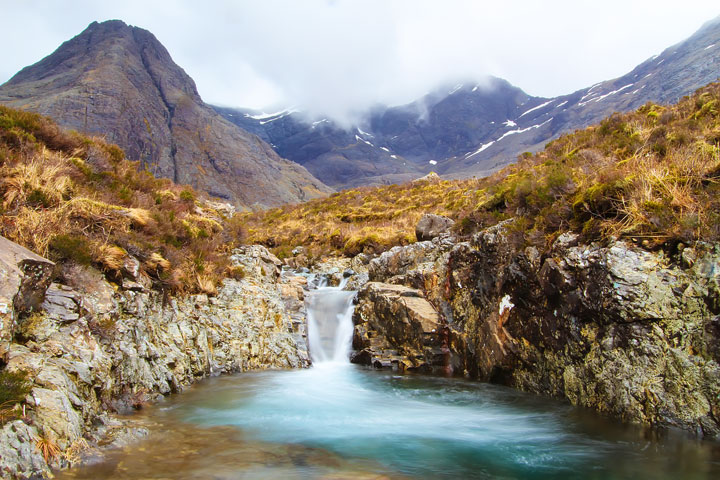 I could not get over how vibrantly turquoise blue the water was in the deep, mysterious pools.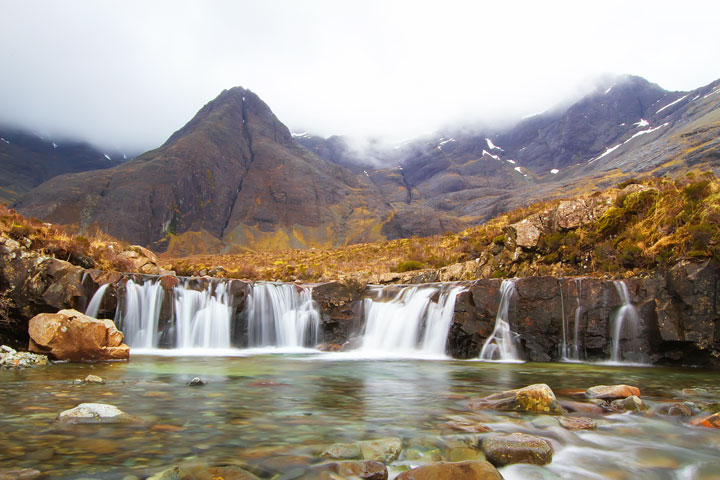 It was like nothing we'd ever seen back home.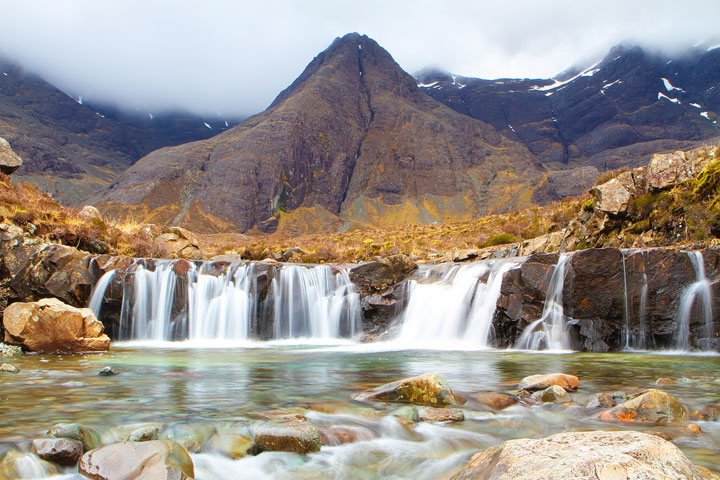 Beautiful views of the Cuillin mountains.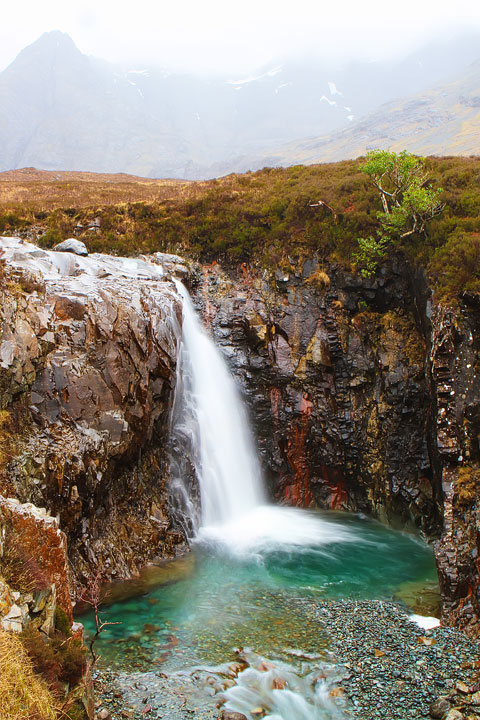 The trail is relatively flat and easy. It takes about 45 minutes (one way) and follows the stream. The trail crosses the stream several times, but there were always plenty of rocks to step on to cross, so we didn't have to get our feet wet. I wore these hot pink L.L. Bean Waterproof Hiking Boots, and they kept my feet dry through rain and puddles. I also wore these knee-high gaiters to help keep my jeans from getting wet and muddy from splashes. If you step in knee or ankle-deep water, they probably won't keep you 100% dry, but they help protect against water and mud splashing up. They worked great, especially when it started pouring rain out of nowhere as soon as we were about a 45 minute hike away from our car. We attempted waiting it out at first, but quickly realized it wasn't going away. It poured the entire 45 minute hike back. Since I had on my long waterproof trench coat with hood, waterproof boots, and gaiters, only my knees got wet. Kevin was soaked from the waist down.  Anyway, I'm glad I had the gaiters, but they were kind of expensive for just a one-time thing. At the least, a waterproof jacket with a hood is a must in Scotland!! :) I also had this waterproof backpack for my camera equipment.
After about 45 minutes, the trail continues on and turns left away from the stream, but we turned around at this point and headed back for the car.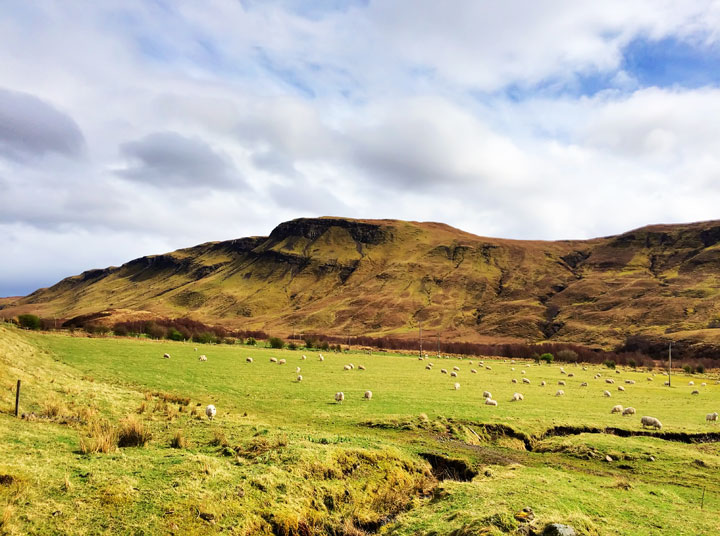 Of course as soon as we got back to the car, the rain stopped and the sun came out like it'd never even been raining, lol!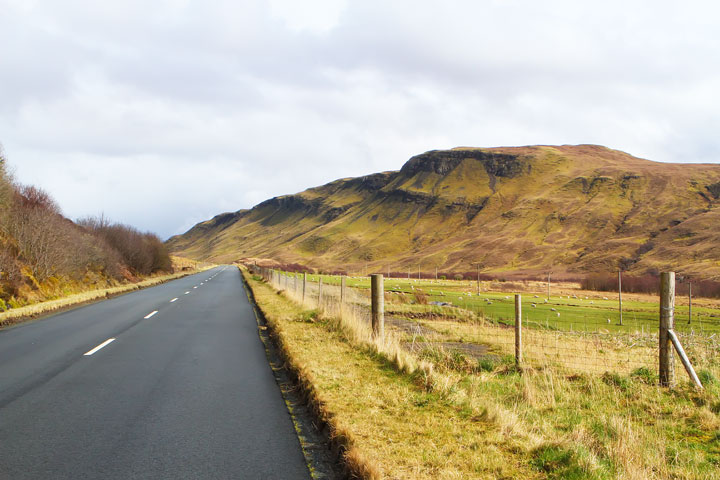 We headed down the west Scotland coast and through the highlands to Oban, our next destination and home for the next two nights.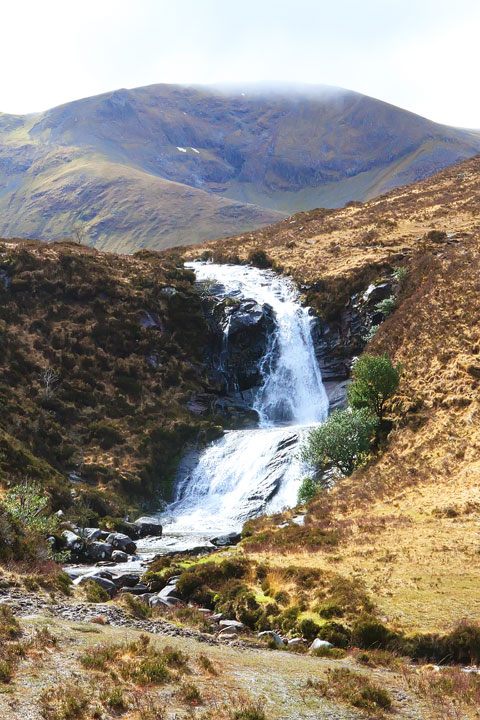 One thing I could absolutely not get over in the Scottish highlands were all the waterfalls! There were tons of them, everywhere, just hanging out on the side of the road. Kevin said if we had waterfalls like this back home, they'd build stairs, a viewing platform, and a parking lot around it, and charge you $5 to get in, lol! This was just on the side of the road. You could pull off, hike down, and be at the base in 5 minutes.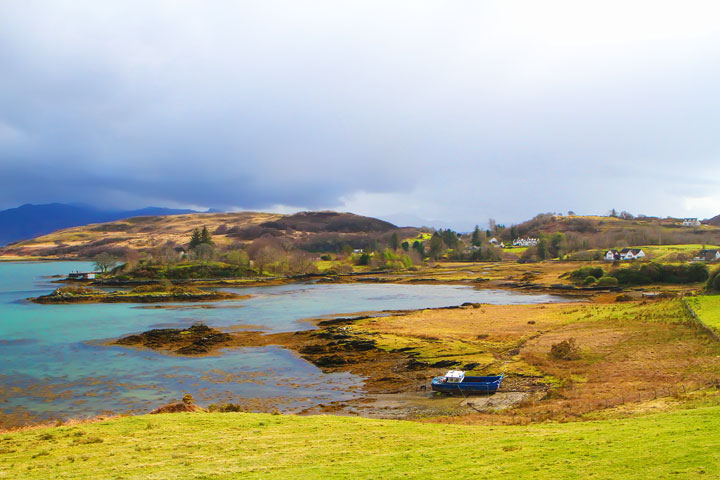 Gorgeous turquoise waters everywhere in Scotland!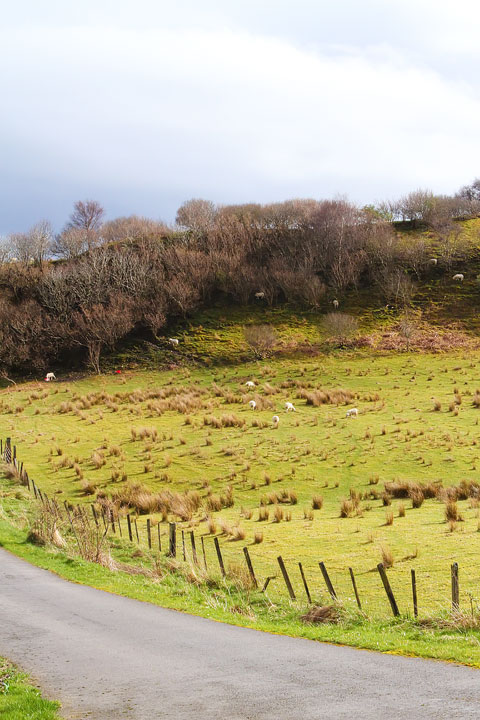 And sheep everywhere. :)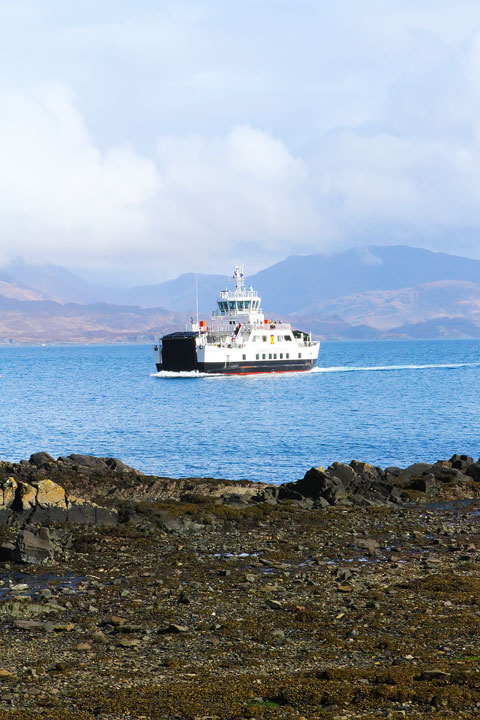 We took the scenic route from Skye -> Mallaig -> Ft William -> Glencoe -> Oban. This involved taking a ferry from Skye to Mallaig, so we could make the scenic drive from Mallaig to Fort William. This is definitely the scenic route — you can go another way and take a bridge to get to Ft William. But the ferry is the only way to get to Mallaig. This took up a little extra time, as the ferry only runs once every hour (on the hour) and was a bit expensive (I think around $30 to take the ferry) but the drive from Mallaig to Fort William was one of my favorites and one of the most beautiful routes of our entire trip. I would do it again in a heartbeat. It was also Kevin's first time on a ferry, so that was fun!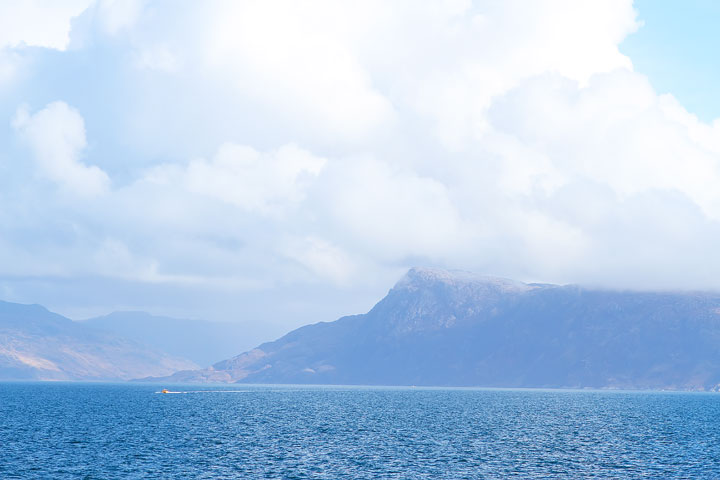 It also didn't hurt that we had a gorgeous day!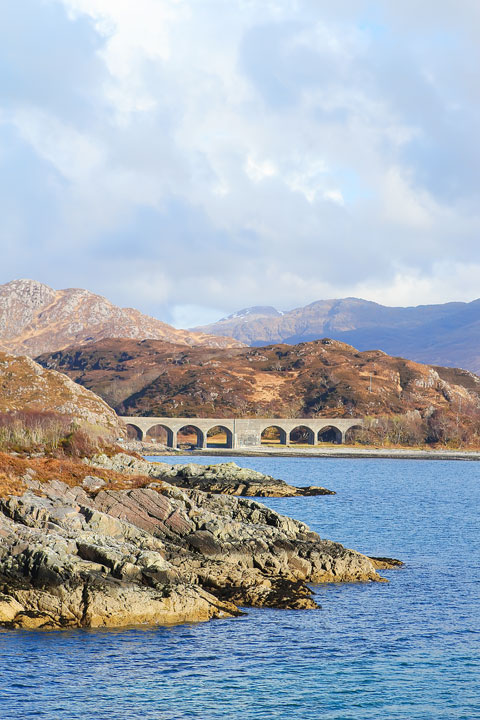 In Fort William, we passed the viaduct for the Jacobite steam train.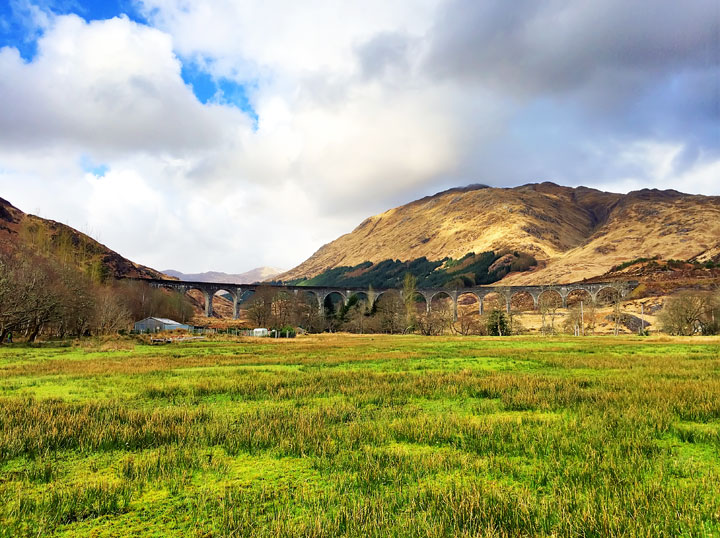 This is the famous 21-arched Glenfinnan Viaduct shown in the Harry Potter movies.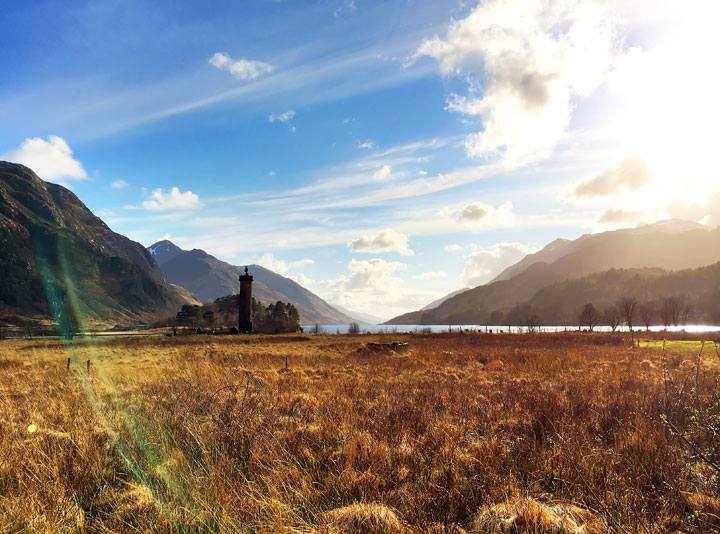 Loch Shiel and the Jacobite monument.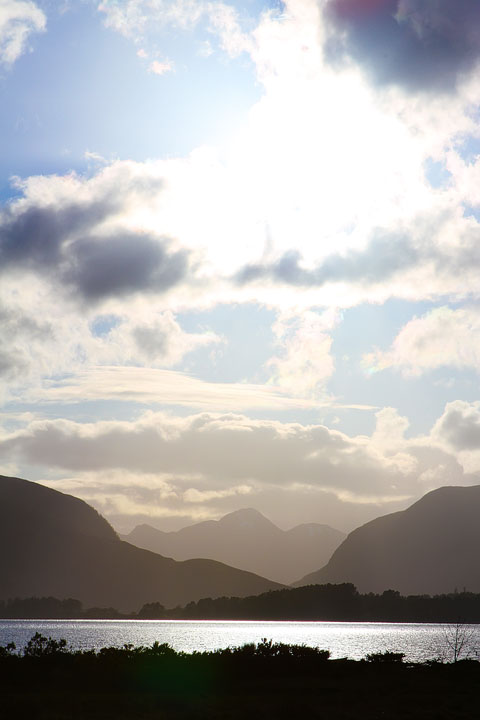 Afternoon on the west coast of Scotland.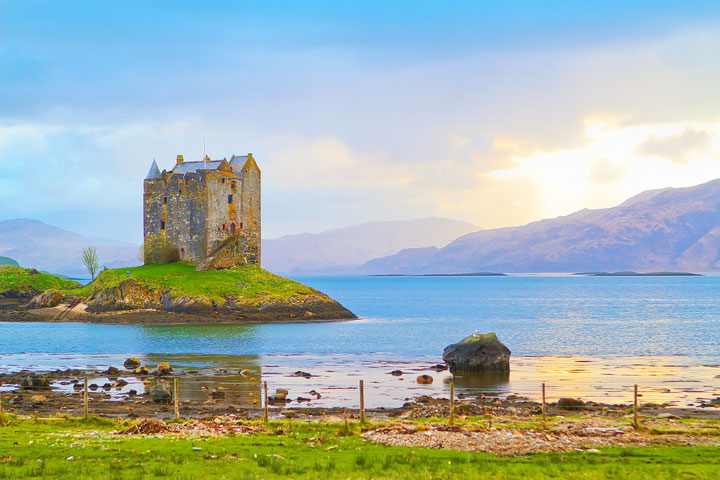 Just before arriving in Oban, we passed Castle Stalker and pulled over to watch the sunset.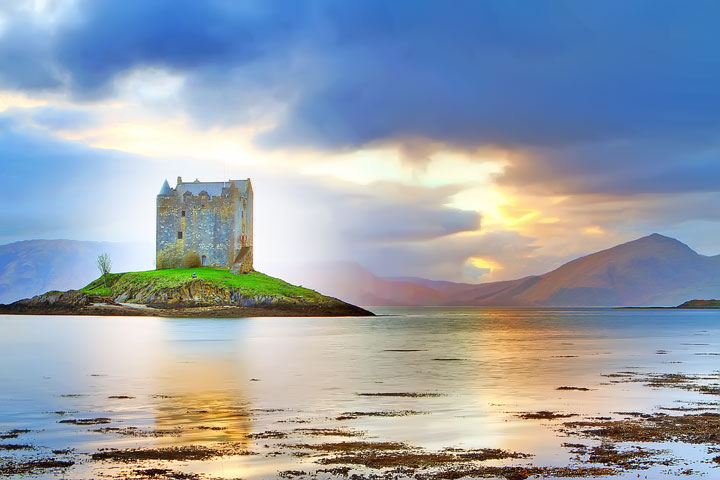 A castle on it's own private island.

View Scotland Day 3 — Skye to Oban in a larger map
Here's a map of our route for Day 3 in Scotland. Click on any of the icons for more info.
More to come soon! :) Next we explore the islands of Mull, Iona, and the mysterious Fingal's Cave… also known as the Cave of Melodies.
Follow along on our Scotland, London, and Paris Vacation!
Scotland
Scotland Day 1 & 2 — Inverness, Loch Ness, Skye, and Talisker Bay
Scotland Day 3 — Skye, Fairy Pools, The Highlands, and Oban
Scotland Day 4 — Islands of Scotland: Mull, Iona, and the Cave of Melodies
Scotland Day 5 — Fa'side Castle, Edinburgh
Scotland Day 6 – Edinburgh & Castle Driving the Coast of Scotland
Everything I Ate In Scotland
London
London Day 1: Notting Hill, Seven Dials, and The London Eye
London Day 2: Tower of London, Borough Market, and Big Ben
London Day 3: Trafalgar Square, Piccadilly Circus, Fortnum and Mason
London Day 4: Bakery Hopping, Harrods Food Hall, and the London Tower Bridge
London Day 4: Sunset at The View from The Shard
Where We Stayed In London: Hotel Indigo Tower Hill
Everything I Ate In London
Paris
Paris Day 1: Sunrise and Sunset at the Eiffel Tower