Scotland Day 4 — Mull, Iona, & Staffa Tour from Oban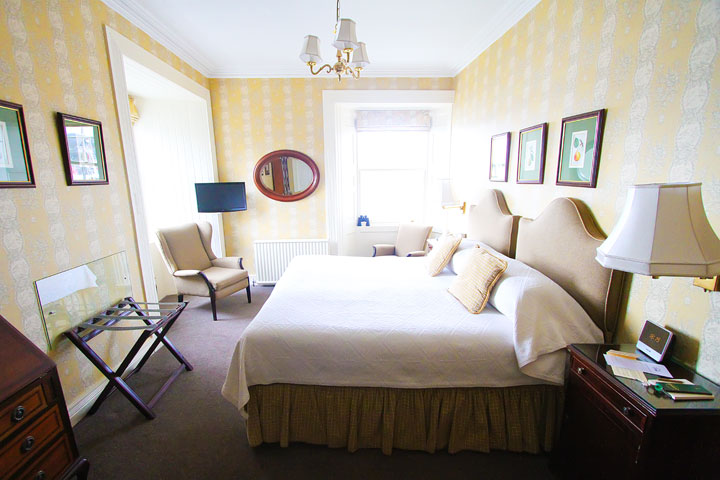 On our fourth day in Scotland, we woke up early at our hotel in Oban for our Early Bird Three Isles Excursion to Mull, Iona, and Staffa with Staffa Tours. This was another one of the things I was most looking forward to doing in Scotland! This was our room at The Manor House Hotel. It was right on the harbor and had gorgeous views across the Oban Bay from both windows. There were even binoculars in the window for wildlife watching. It was also just a 5 minute walk from the Oban Ferry Terminal where we'd catch the 8am ferry for our tour.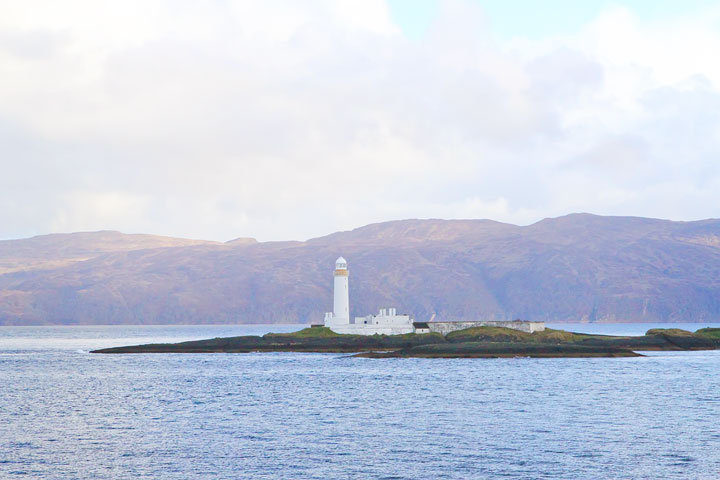 It was about a 45 minute ferry ride to Mull, where we'd arrive at Craignure, then hop on about a 60-minute bus ride across Mull to Fionnphort.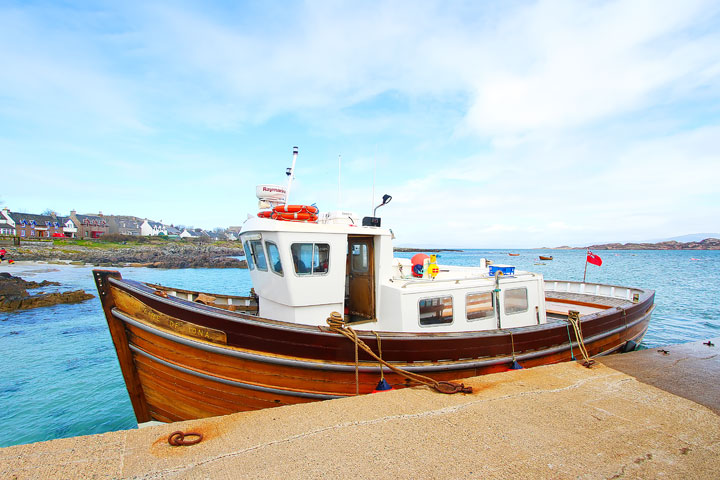 From there we'd get on a boat and travel to our first stop of the tour, a mysterious sea cave on the uninhabited island of Staffa.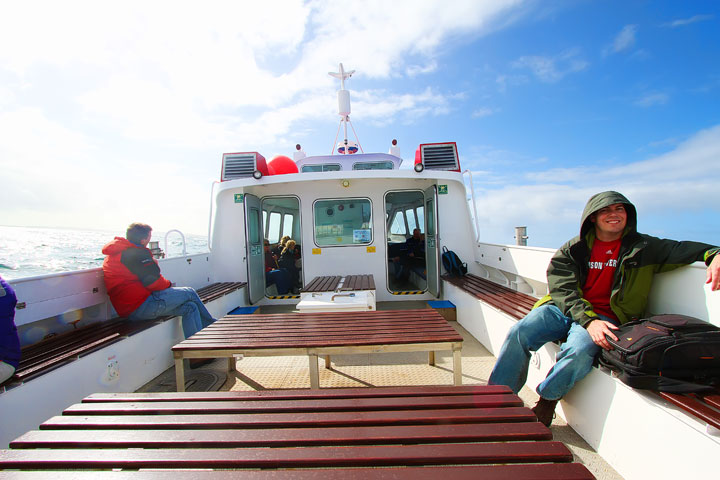 We were warned that the boat would only land on Staffa in good conditions, and now I know why. Even on a beautiful, sunny day, the swells getting out to the island were just… massively gargantuan! Huge, huge, huge waves. Fortunately I don't get even remotely seasick, but if you are prone to seasickness, you might want to take some precautions before getting on this boat. :)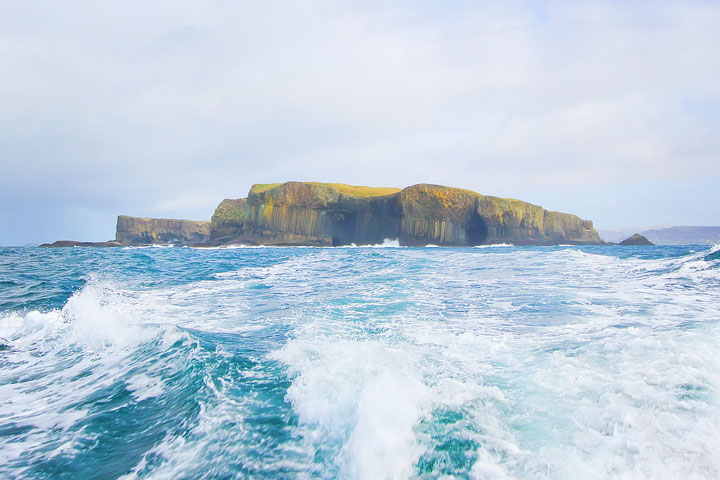 After about a 30 minute ride, Staffa was in our sights.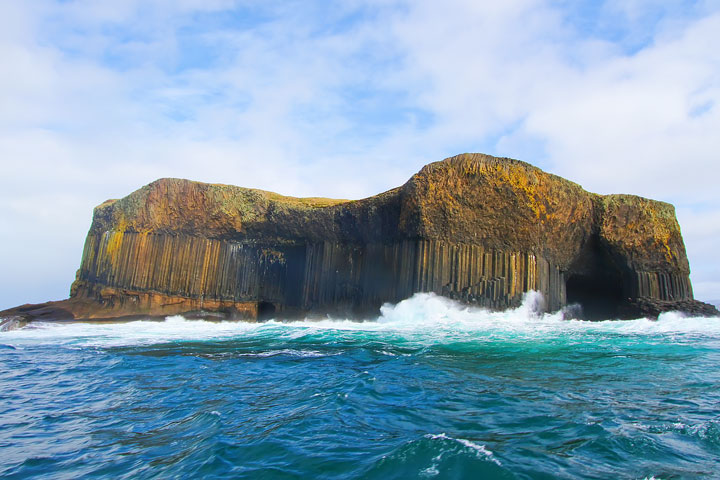 To the right, you can see the entrance to the deep and mysterious Fingal's Cave.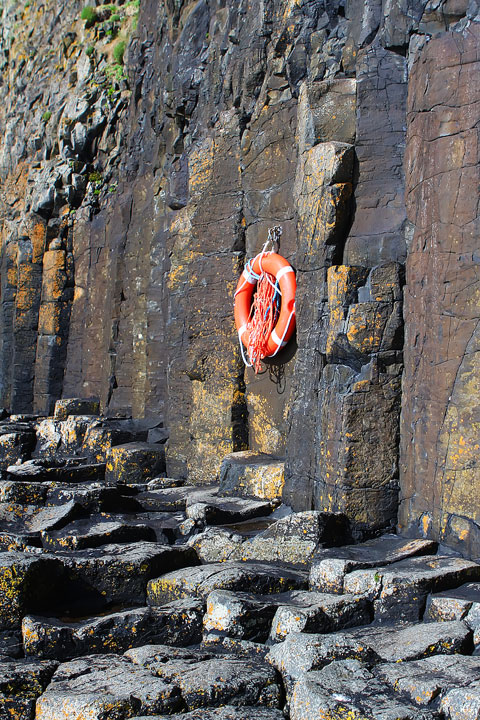 Staffa's unique landscape is formed entirely of hexagonal basalt lava rock columns.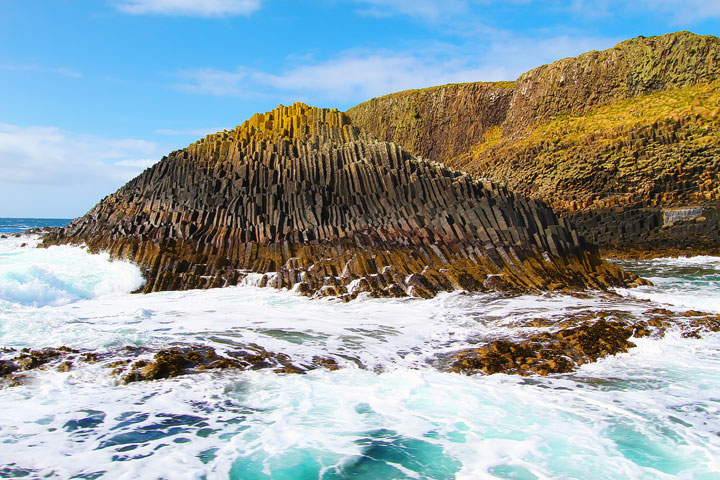 See what I mean?? :)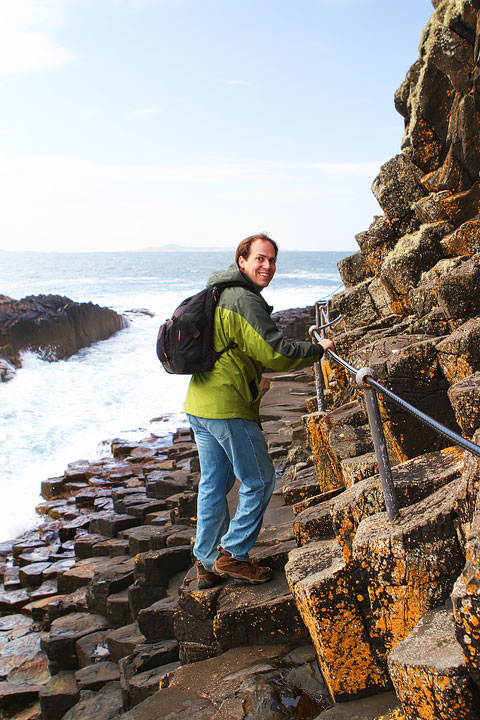 It was seriously, so, so cool.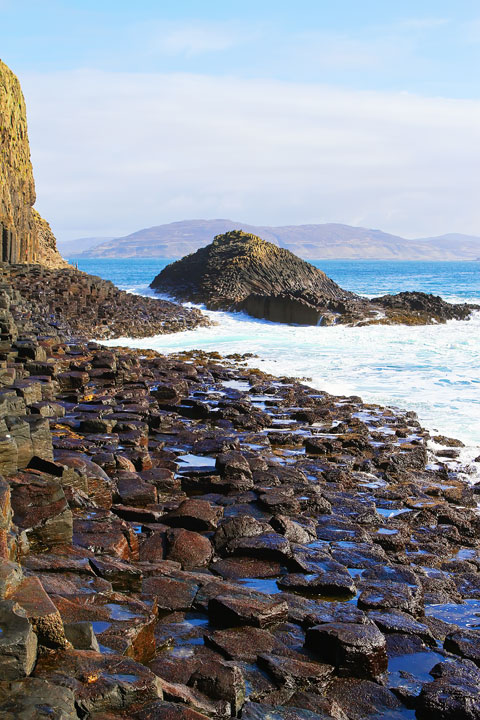 I could not get over it.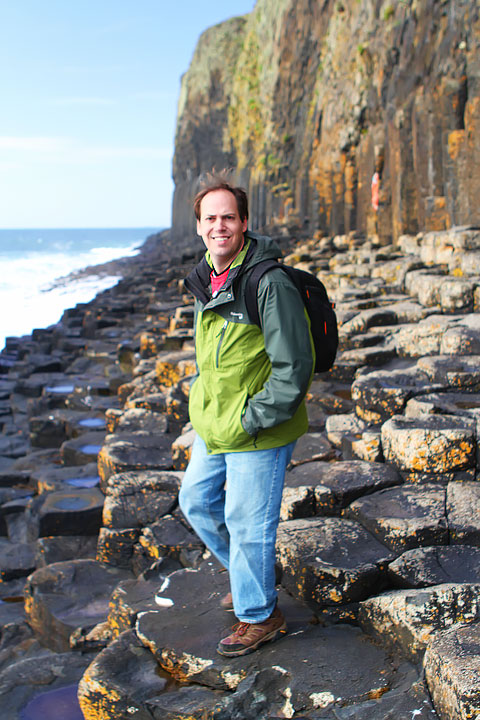 As soon as we landed we made our way to Fingal's Cave.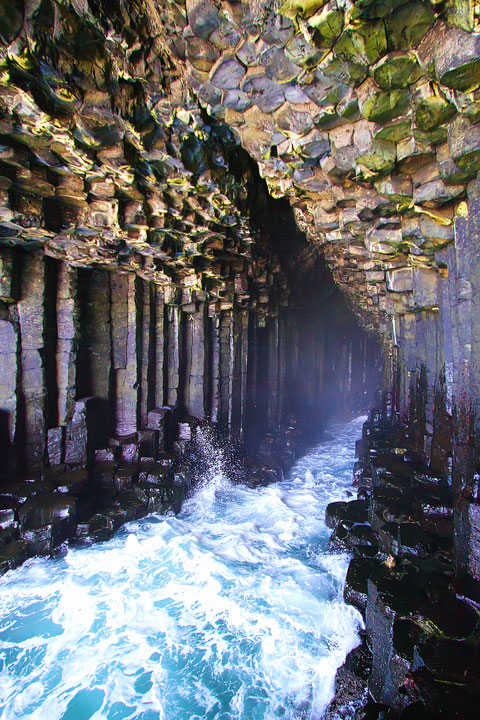 This mysterious cave's size, naturally arched roof, and eerie sounds produced by the echoes of waves give it the atmosphere of a natural cathedral.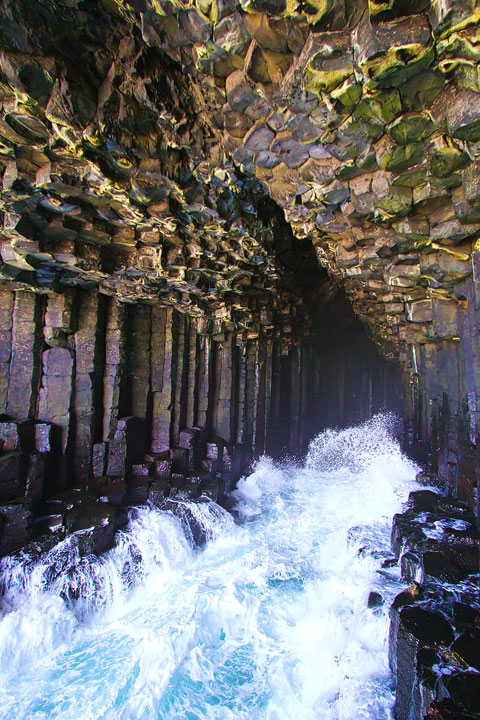 Romantic composer Felix Mendelssohn visited the cave in 1829 and wrote an overture inspired by the mysterious echoes in the cave, and thus it's been called the "Cave of Melodies."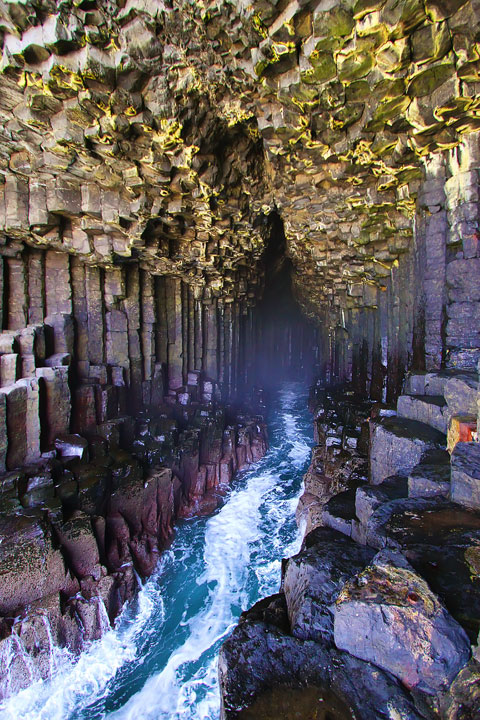 Nowhere else in the world is there a sea cave formed completely in these hexagonally jointed lava rock columns.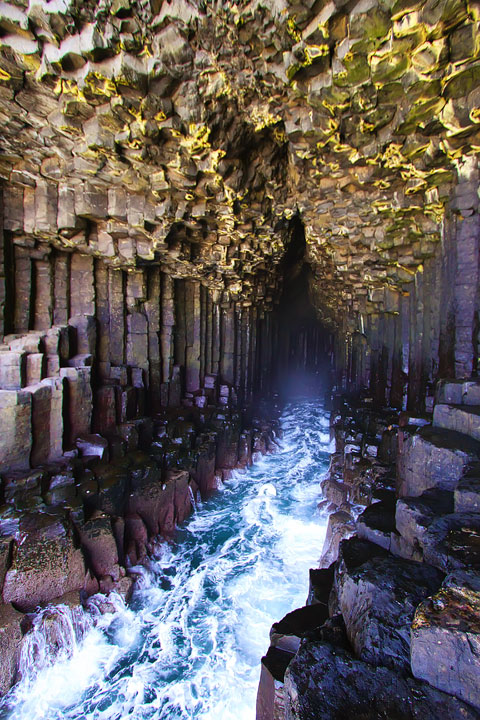 What will you hear when you go?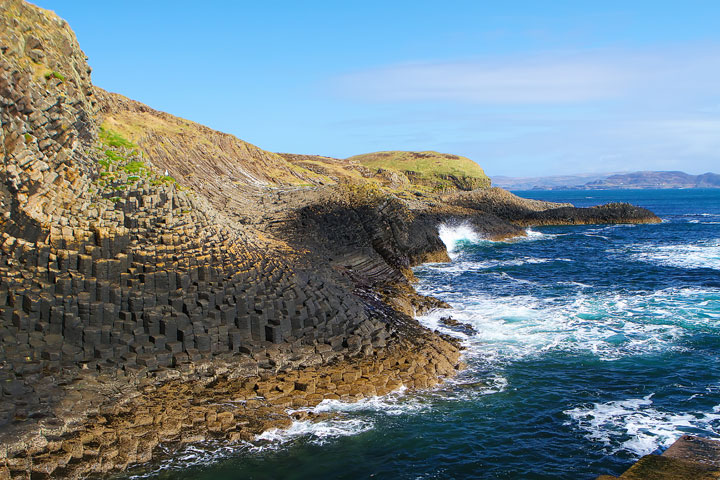 After a few reflective moments in the cave, we set out to explore the rest of the island.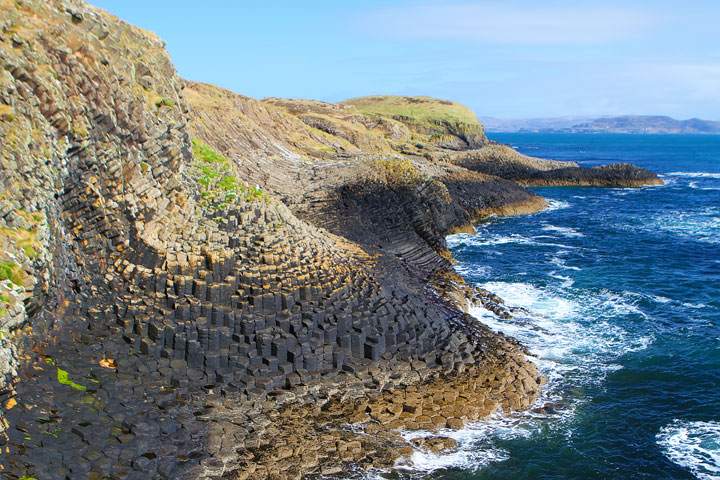 I wish we'd had more time on this island. The tour advertises 1 hour on Staffa and 2.5 hours on Iona, but we really only had 50 minutes on Staffa. We spent almost all of that in the cave, and there was still a whole island to explore! I wish we'd had the option of staying longer on Staffa and coming back to Iona with a different group. I fell in love with this island!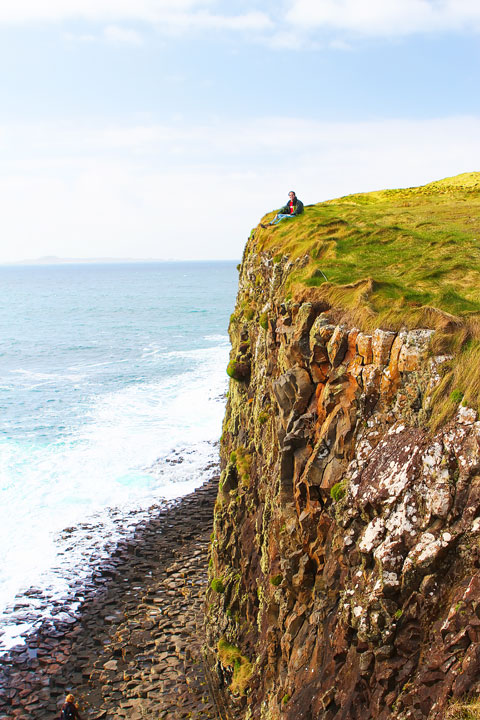 We did try to at least make our way to the highest point on the island. Well, Kevin did! ;)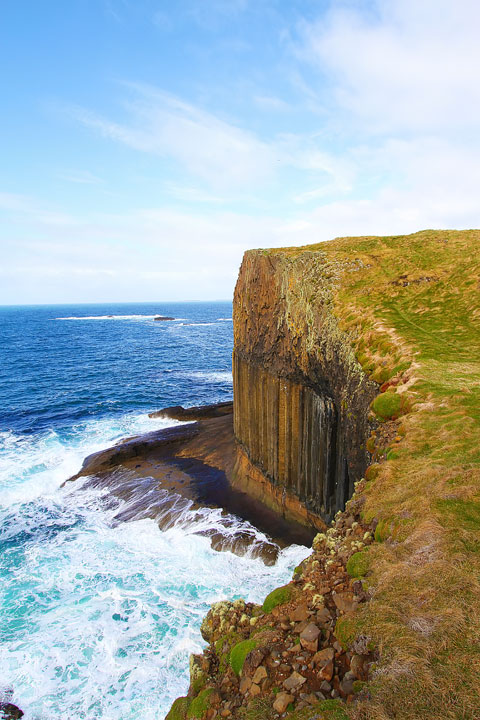 We followed the trail while the waves crashed against the rocks far below.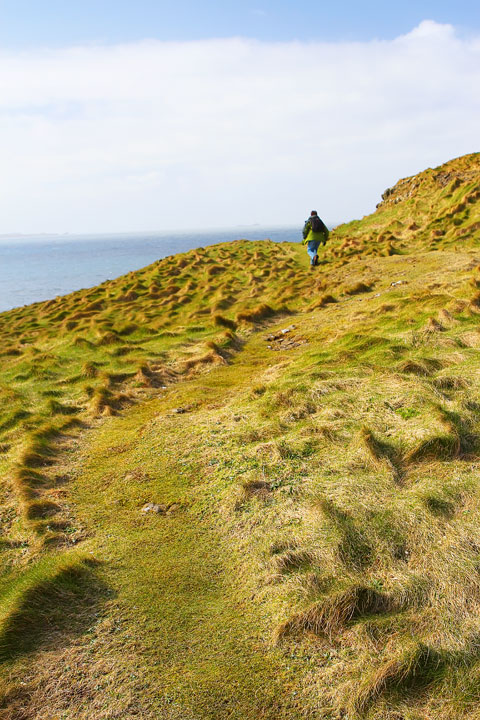 Staffa is covered with a surface of rich soil and lush grass.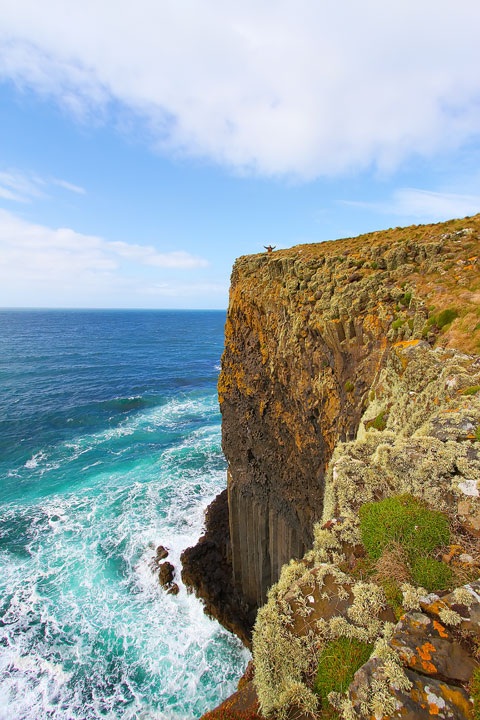 Made it to the top! I could barely look while taking this picture!!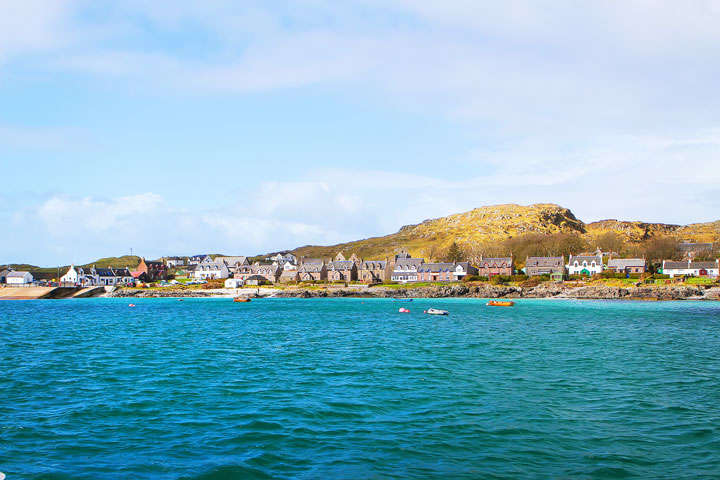 Our time was up far too quickly, and we got back on the boat headed for Iona.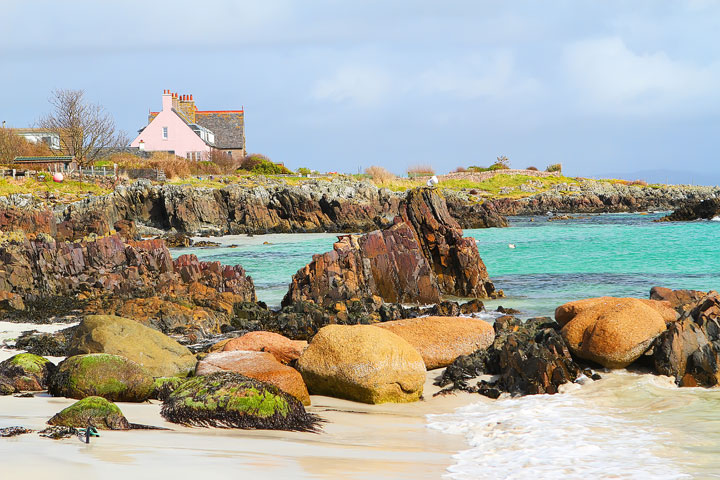 The charming beach on Iona was beautiful and colorful.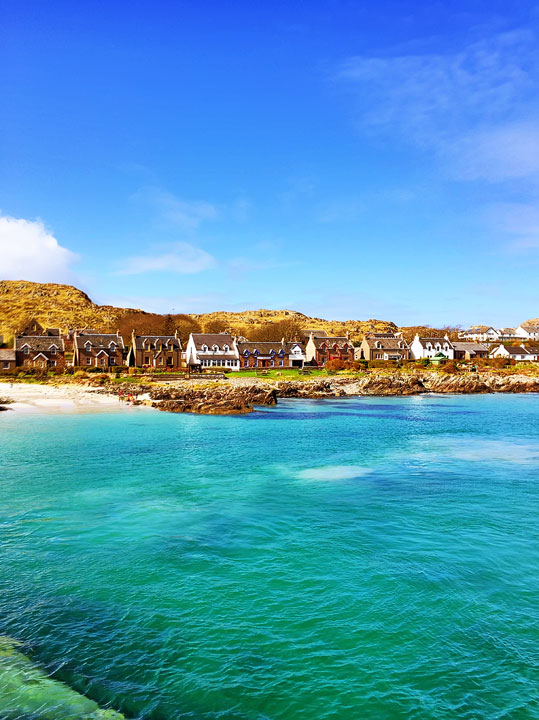 These turquoise waters are not photoshopped!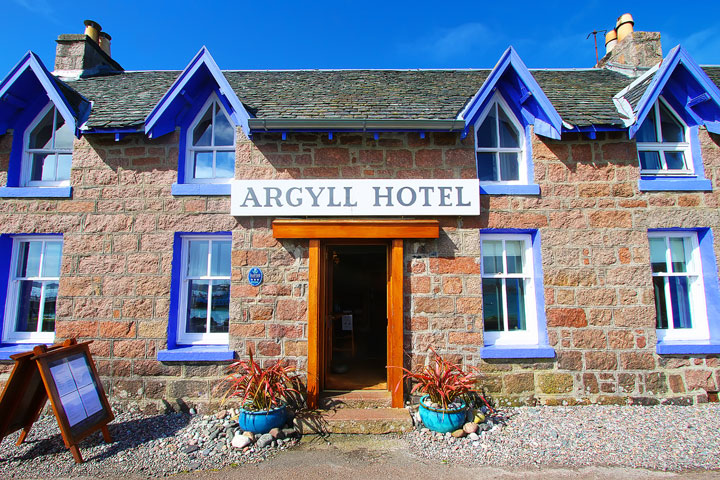 Loved the colorful homes and buildings.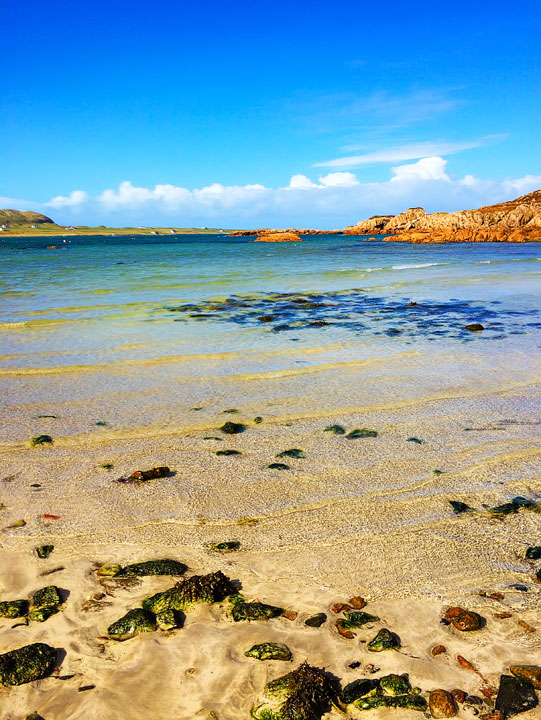 Next we caught the small ferry from Iona to Fionnphort, where our bus was waiting to take us back to Craignure, where we'd hopefully catch the big ferry back to Oban.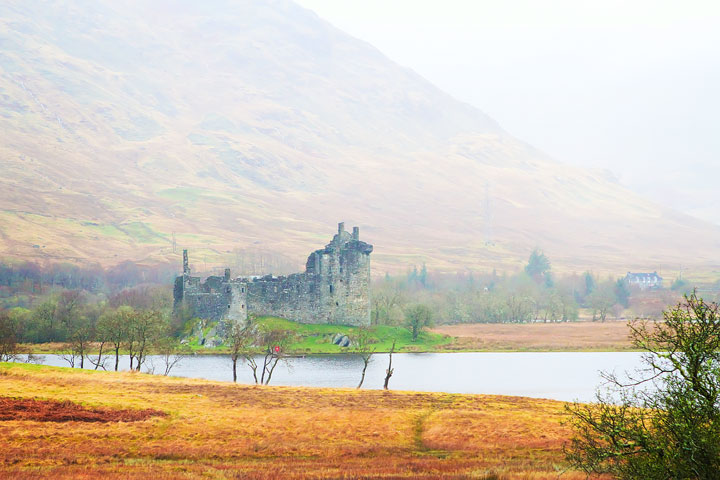 But remember how I was telling you about the one-way roads in Scotland that are only big enough for one car? If another car was coming  from the opposite direction, one car would have to pull off the road to let the other car pass. That was our road for the entire 60-minute bus ride through Mull. There were several pull-off spots along the way where cars could pass, but sometimes there were places with bridges, cliffs, or drop-offs where'd it'd be impossible to pass, and one car would have to back up to the previous pull-off to let the other car pass. On the way back, about 30 minutes before our final ferry terminal, the driver gets word that there's a wreck up ahead and because of a drop-off, there's no way the bus can get around it. No problem, he says, they'll just send another bus that will pick us up on the other side of the wreck. So we wait for the other bus as the time for our ferry to depart gets closer and closer. There are only two ferries left for the day.
We finally see our bus pull up, and it's a giant, double-decker, open air bus. The top deck is completely open and exposed to the elements. I'm sure it's lovely in sunny, 80-degree summer weather, but not so wonderful when it's 40 degrees outside. And even though we'd had a beautiful, sunny day on the islands, by this point it had started to get cold and drizzly. Fortunately, there were enough seats inside to fit everyone, so we grabbed two together and waited to depart. Then we learn that we're waiting for another bus that was coming right behind us to take them to the ferry too. Good thing we got here first! We got the good seats! ;) But when the other passengers start to get on the bus, we realize…. The other bus is a senior citizen tour! Snort! They all had canes and walkers. We looked at them, looked at the narrow, steep staircase to get to top deck, then looked at our strapping young selves plopped down on the comfy, warm inside chairs. There went our good seats, lol!!
When we hunkered down in our rainy, windy top deck seats, and got a better survey of the roads, it was then that it hit me. If these roads are too narrow to even go around a wreck… How the heck is this double-decker bus going to TURN AROUND to get us back to the ferry??! I started slightly panicking. Why didn't it turn around before we all got on?? There's no way for it to turn around here anyway. There's a sheer drop-off to the side of the road! Then we start backing up. This giant, clunky, double-decker bus is going in REVERSE on narrow, twisty country roads! With a sheer drop-off on the side! Now, the drop-off isn't that steep. If we were inside, there's a good chance we would've been banged up, but survived. But us top-deckers? We'd be goners!
Fortunately, after not too far, the driver comes to the teeniest, tiniest pull-off to the side of the road. It looks impossible for this massive bus to turn around here, but sure enough, the driver manages to pull it off and get us back on the right track. We're finally on our way! By this time, our ferry leaves in 5 minutes, and we're still a good 20 minutes away. We'll arrive 15 minutes after the ferry leaves, and have to wait 2 hours for the next one. We were kinda bummed, because that meant we wouldn't get back to the hotel until super late, and we were looking forward to spending the evening in Oban.
Now at this point, one of the other passengers is talking on her phone. She'd been talking rather loudly on her phone the entire time since we'd learned about the wreck. I'll admit it was starting to get on my nerves a bit because we were out in the middle of nowhere, and she must've had terrible reception because all I ever heard her say was "Hello? Hello? Hello?" loudly and over and over again. Sometimes she'd say how far away we were from the ferry. She must've had a ride waiting for her at the terminal, I thought. Lucky.
But about 5 minutes before we get to the terminal, she announces to the bus, "They're going to hold the ferry for us!!" "Are you serious??" we all said?? "Yes!!" The entire bus cheered!! She must've been trying to reach the ferry terminal the entire time to get them to wait on us. Don't I feel like a jerk now! Sure enough, when we finally pulled up to the terminal, the ferry is there and waiting. Now you should know, this ferry is massive. It has three stories, a full restaurant, bar, casino, and shops. It's almost like a cruise ship. It can hold up to a thousand people and hundreds of cars. It's huge. And there are maybe 30 of us on this bus. And it waited for us.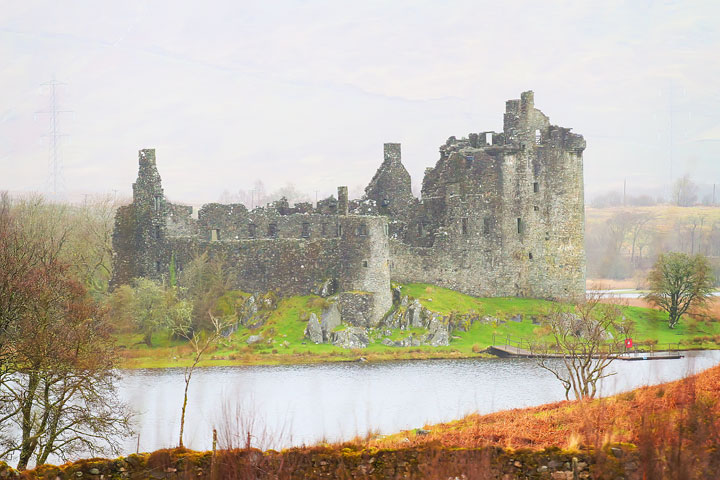 All in all, I loved our day exploring Staffa and Iona, but it was a lot of traveling from Oban for just 4 hours on the islands. It was at least 4 hours of traveling just for 4 hours on the islands. The ferry was neat, and the bus ride through Mull was beautiful, and while it wasn't a tour bus, the driver would slow down and point out wildlife when we passed it. If we'd had more time on Staffa, it would've been totally worth it. But we only had less than an hour on Staffa and 3 hours on Iona, and I got a little bored after an hour on Iona. It's tiny. I wish it would've been more even — 2 hours on Staffa and 2 hours on Iona. I tried to look into a private crossing to Staffa so we could spend as much time as we wanted there, and I know they have them, but the tour we did was really the only thing I could find online. Maybe if we were staying in Iona or Fionnphort and had a few days there, I could've looked into it once we got there, but for this trip, with our other itinerary, what we did was perfect. I would totally do it again in a heartbeat. I wouldn't have changed a thing, because I loved being able to fit all the other fun stuff in too! :)
The next morning (Day 5) we said goodbye to Oban and headed for Edinburgh, passing Kilchurn Castle (above) along the way. Our next stop was our own private castle in Edinburgh!! Stay tuned for more!! :)

View Scotland Day 4 – Mull, Iona, & Staffa Tour from Oban in a larger map
Here's a map of our route for Days 4 & 5 in Scotland. Zoom in or click on any of the icons for more info.
Follow along on our Scotland, London, and Paris Vacation!
Scotland
Scotland Day 1 & 2 — Inverness, Loch Ness, Skye, and Talisker Bay
Scotland Day 3 — Skye, Fairy Pools, The Highlands, and Oban
Scotland Day 4 — Islands of Scotland: Mull, Iona, and the Cave of Melodies
Scotland Day 5 — Fa'side Castle, Edinburgh
Scotland Day 6 – Edinburgh & Castle Driving the Coast of Scotland
Everything I Ate In Scotland
London
London Day 1: Notting Hill, Seven Dials, and The London Eye
London Day 2: Tower of London, Borough Market, and Big Ben
London Day 3: Trafalgar Square, Piccadilly Circus, Fortnum and Mason
London Day 4: Bakery Hopping, Harrods Food Hall, and the London Tower Bridge
London Day 4: Sunset at The View from The Shard
Where We Stayed In London: Hotel Indigo Tower Hill
Everything I Ate In London
Paris
Paris Day 1: Sunrise and Sunset at the Eiffel Tower