If you're planning a trip to Scotland and looking for restaurant recommendations, here's an overview of everywhere and everything I ate in Scotland! :)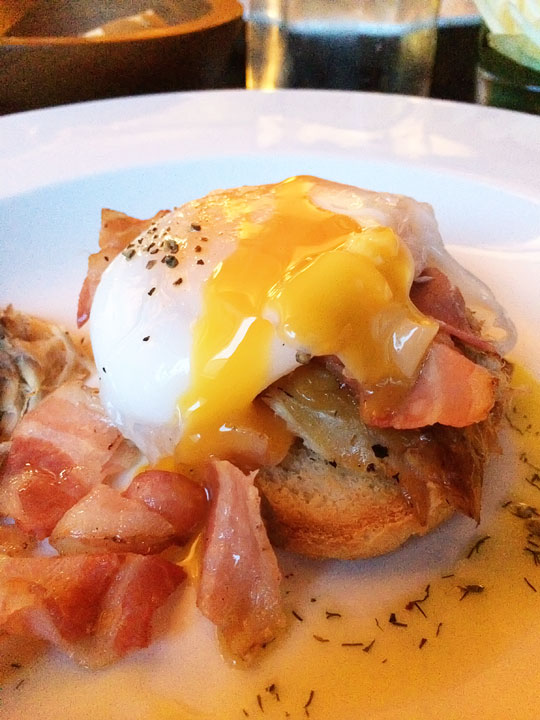 The River House
Inverness, Scotland
Our very first meal in Scotland was at The River House restaurant in Inverness, located right on the water. This was a very small restaurant with just a few tables, and it filled up fast, so try to get a reservation if you want to go at a peak time!
The menu changes weekly, but when we were there I had this smoked monkfish sandwich topped with bacon and duck egg on Scottish ale bread. I think it was technically a starter, but this was the perfect portion for me! I ate the whole thing. :)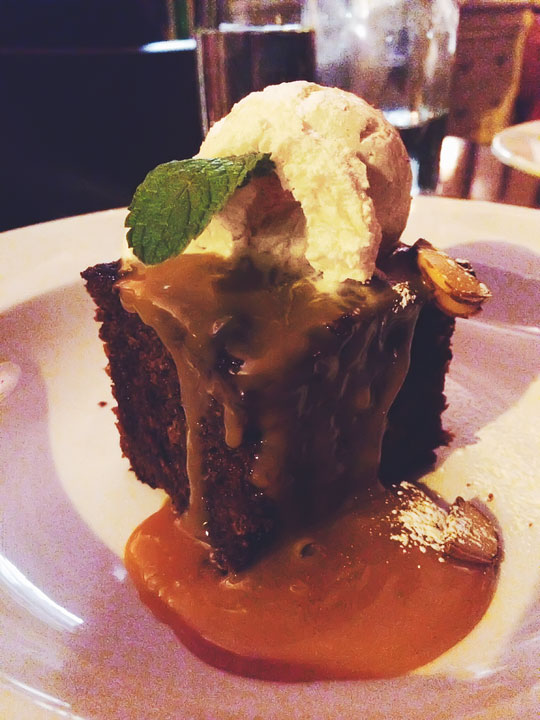 Of course we had to try their Sticky Toffee Pudding as well! Delicious!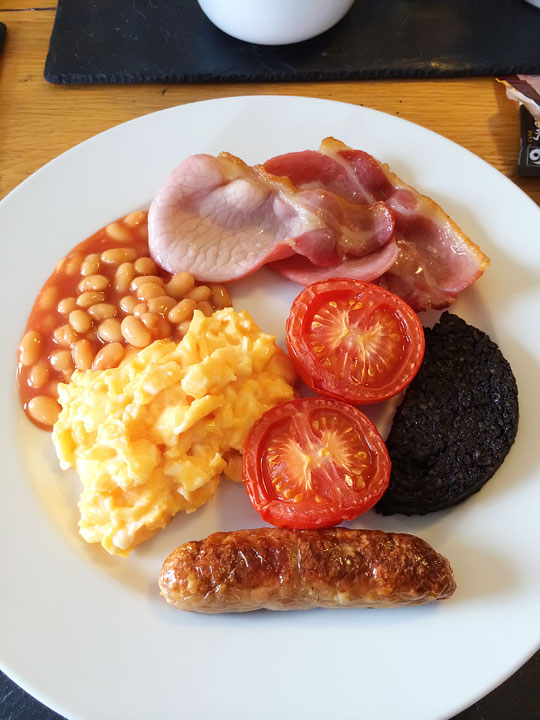 Beach Cottage B&B
Inverness, Scotland
The next morning we had breakfast at our B&B in Inverness. The meal was beautifully plated and there were tons of fresh fruit, breads, cereals, and granolas on the table to snack on as well. Beans and tomatoes for breakfast were a totally new and weird experience for me, lol!! This was also our first encounter with Black Pudding (on the right). Now, I had no idea what black pudding was. I had heard from several people that I haaaaaaaaaaaaaaad to try it and to not ask what it is, just try it. So I did. Those people are not my friends anymore, btw. To be fair, it tasted fine. It tasted a bit like Thanksgiving dressing. Then I found out what it was. And I honestly felt sick the rest of the day. I guess the moral of this story is that I am not one of those people that needs to try something just to say I've tried it, lol! Next time I'll ask what it is. Suffice to say, I didn't have haggis this trip either, lol!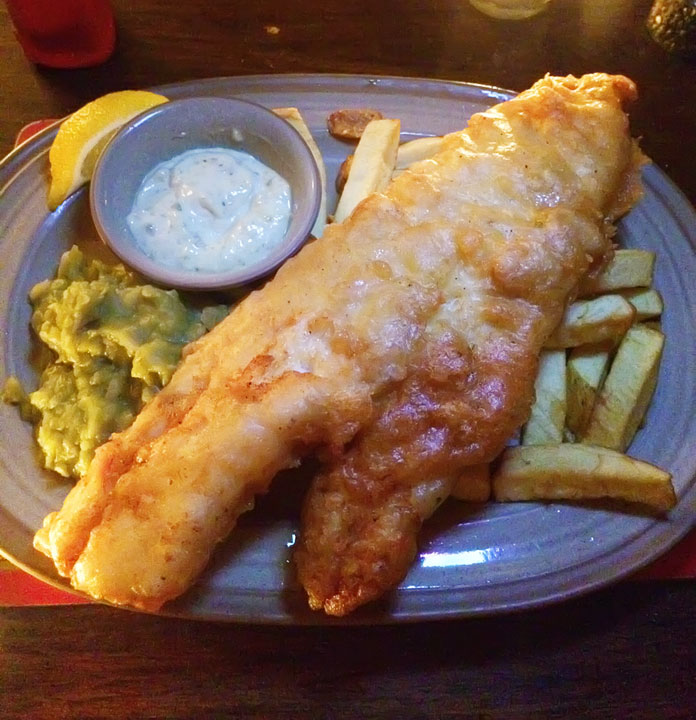 The Old Inn
Carbost, Isle of Skye
I finally almost sort of felt like eating again by dinner that night. But we had an ordeal finding a restaurant! Where we were staying in Carbost, there was basically only one restaurant anywhere near us. The Old Inn. It was that or nothing. We knew we wanted to watch the sunset at Talisker Bay, so we walked down to the Old Inn from our B&B around 6pm. But when we got there, they said they wouldn't be serving dinner until 6:30. So we came back at 6:20, but then they said they had just seated a group of 4, and evidently their kitchen is very small, because they wouldn't be able to take our order until after 7. Since sunset was just before 8, we knew we wouldn't have time get to the beach if we waited, and since I still didn't really feel like eating anyway, we went ahead to the beach. After the gorgeous sunset and hike back, we got back to the restaurant around 9pm. Unfortunately, when we got there, we were told, "Sorry! The kitchen just closed!" Omg!! Lol!! But the chef came running out and said, "It's okay! I can take 2 more! But all we have left are the Fish & Chips." Well, we'll take the fish and chips, we said, lol! :)
We only had fish and chips twice our entire trip (once in Scotland and once in London) and this place was probably my favorite. The homemade tartar sauce was delicious!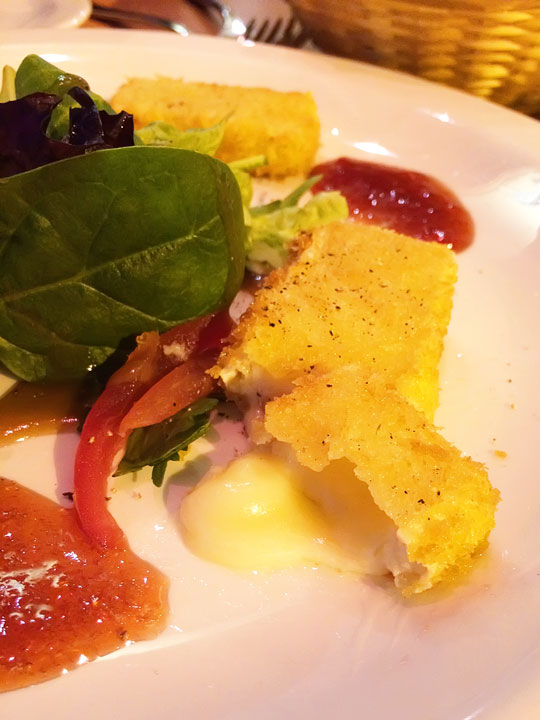 Ee-Usk
North Pier, Oban, Argyll
To be fair, let me first start out by saying we were actually trying to get to The Waterfront Fishhouse Restaurant for dinner (for their famous Lobster Ravioli) on our first night in Oban. But remember when I was telling you that addresses in Scotland don't have street names, let alone numbers, lol?? So we just asked someone, and they pointed us to this restaurant, and I honestly didn't realize it wasn't the right one until I just now checked when doing this review. Oh well!
We started out with the Deep Fried French Brie served with redcurrant jelly. Best fried cheese ever!!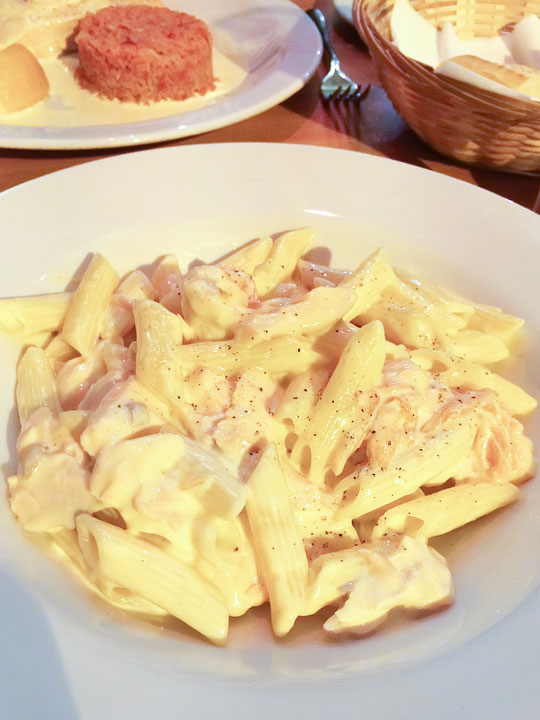 I had the Penne Seafood Pasta in mornay sauce with prawns and fresh and smoked salmon. It was very good, but not life changing or anything. :)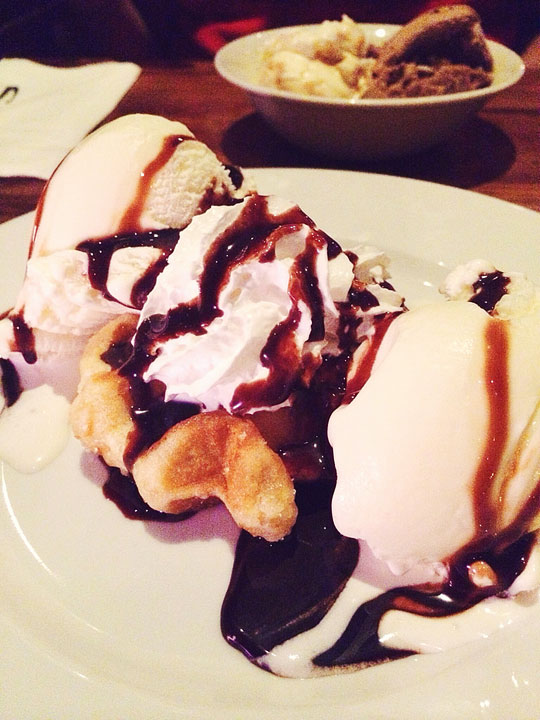 Cuan Mor
60 George St, Oban, Argyll
PA34 5SD, United Kingdom
But now the next night. You guys. (See, we were actually able to find this place because it had a real address!! ;)) If I had known about this place on our first night in Oban, we would've eaten here two nights in a row. Hands down!! For dessert I ordered the Warm Belgian Waffle served with two scoops of award-winning Scottish dairy ice cream and drizzled with chocolate sauce.
First of all, I completely fell in love with Scottish ice cream when we were in Scotland. I have never anywhere had ice cream so rich, creamy, and delicious!! I am craving it right now. It was even better than gelato. Don't tell Italy! So just the ice cream alone made this dessert incredible. But that waffle. The waffle was a pearl sugar waffle, like the kind you get at the Wafels & Dinges truck in NYC or the Waffle Window in Portland.
Pearl sugar waffles are made with little pearls of sugar (like sugar cubes, but pearls) folded right into the batter. When the hot waffle iron bakes the waffle, the sugar caramelizes and gets a fabulous crisp texture and caramel flavor. The texture of the waffle is super dense and thick, not light and fluffy like a regular waffle. They are out of this world. I already know and love pearl sugar waffles.
But THIS waffle. This particular pearl sugar waffle from Cuan Mor in Oban, Scotland was hands down, the BEST pearl sugar waffle I have ever had. Even without the life-changing, best ice cream I've ever had, just this waffle would've been one of the best desserts I've ever had. But put them together?? Life. Altering. Best. Dessert. Ever.
They also have a selection of Scottish Luxury Ice Creams by the scoop, so Kevin ordered a couple of flavors. Still the best ice cream ever. I want to go here one day when I'm starving and just eat ice cream all day.
When things get quiet and my mind starts to wander, I still dream about this waffle and that moment we shared in Oban. I loved it so much I even checked to see if they were open for breakfast the next morning, and I would've totally gotten this waffle with ice cream for breakfast. Sadly, it wasn't meant to be. We left early the next morning for Edinburgh, and I left a tiny piece of my heart with this Warm Belgian Waffle in Oban. I hope we meet again soon.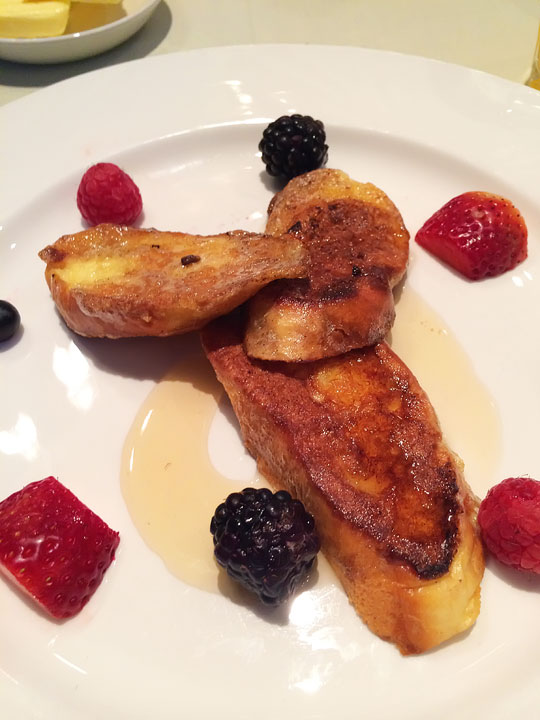 Manor House Hotel
Gallanach Rd, Oban
The next morning we had breakfast at our B&B in Oban. I got the French Toast. It was totally average. Maybe I was just judging everything too harshly after having one of the best desserts of my life the night before, but this French Toast was three very tiny slices and I didn't even finish that because it was so just meh. But they also had plenty of other things on the buffet like bread, toast, fruit, cereal, yogurt, and granola, so I didn't go hungry. :)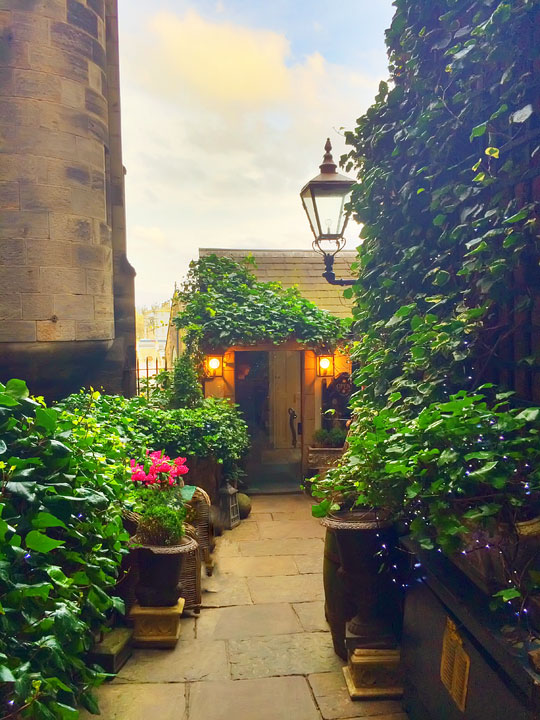 The Witchery by the Castle
352 Castlehill, Edinburgh
That night we had dinner in Edinburgh at The Witchery by the Castle. We made reservations online before we left on our trip.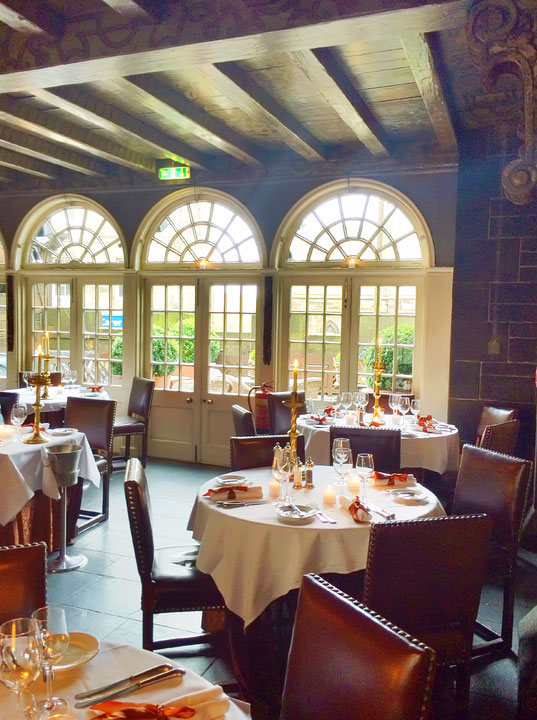 We had dinner in The Secret Garden and it was gorgeous and very fancy. Honestly, it was probably a little too fancy for us. We are not that fancy of people! ;)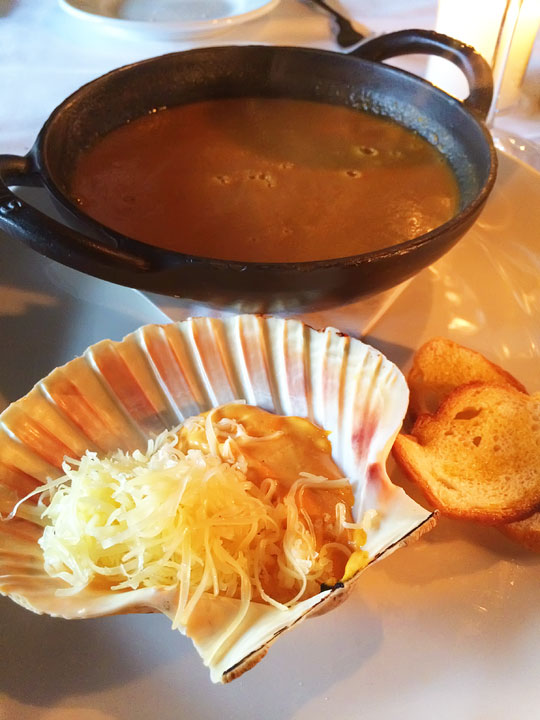 I started with the shellfish bisque with gruyere, rouille, and croutons. The seashell was a fun touch, but the soup was just okay. :)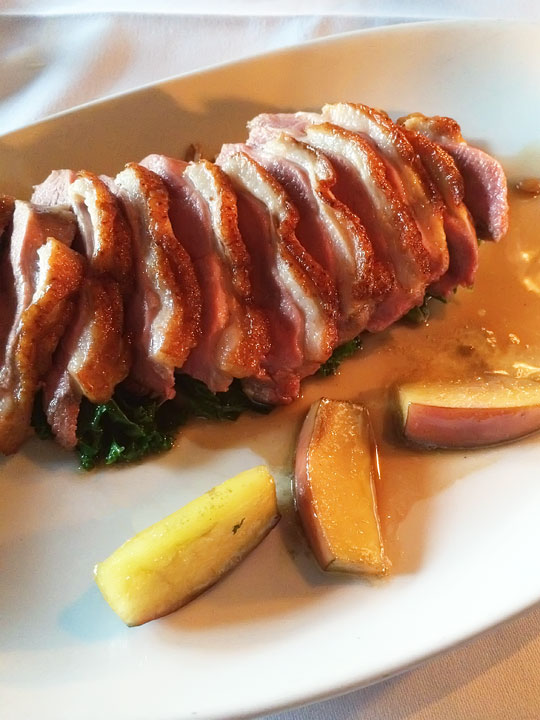 For my main course, I had the duck breast with tarragon spelt risotto and caramelized apples. The duck and risotto were fine. The apples were very good! Kevin had the "Three Little Pigs" entree and liked it.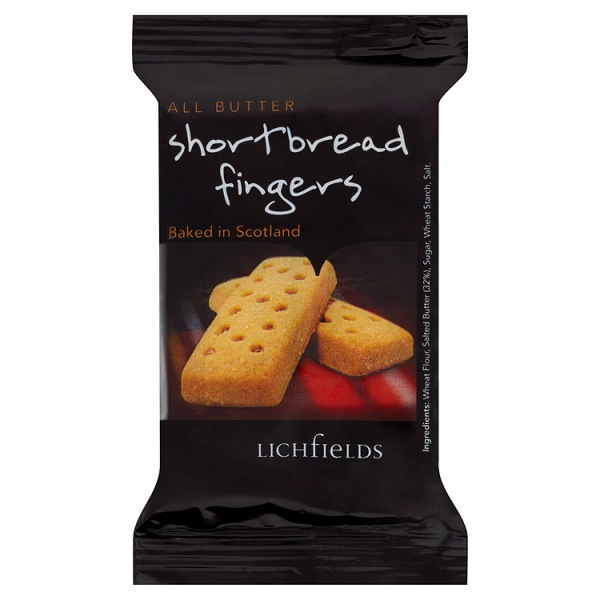 The next morning we had breakfast at our castle in Edinburgh, and it was there that I was introduced to Lichfields Shortbread Fingers. Oh my word. Lichfields makes the most heavenly shortbread ever!!! They were so buttery and delicious and just melted in your mouth. Plus they were tossed in sugar for an insanely delicious crispy shell! Crispy and sugary on the outside, buttery and melt-in-your mouth on the inside. I am completely and totally obsessed with these!! I love them. When we got to London, I looked EVERYWHERE for them in grocery stores to bring them back home with me in bulk, but could not find them anywhere. So sad!!! I've got to scheme up a way to get this shortbread back in my life!! :)
Thanks so much for following along with us on our Scotland vacation!! :) Next stop… London!! :)
Follow along on our Scotland, London, and Paris Vacation!
Scotland
Scotland Day 1 & 2 — Inverness, Loch Ness, Skye, and Talisker Bay
Scotland Day 3 — Skye, Fairy Pools, The Highlands, and Oban
Scotland Day 4 — Islands of Scotland: Mull, Iona, and the Cave of Melodies
Scotland Day 5 — Fa'side Castle, Edinburgh
Scotland Day 6 – Edinburgh & Castle Driving the Coast of Scotland
Everything I Ate In Scotland
London
London Day 1: Notting Hill, Seven Dials, and The London Eye
London Day 2: Tower of London, Borough Market, and Big Ben
London Day 3: Trafalgar Square, Piccadilly Circus, Fortnum and Mason
London Day 4: Bakery Hopping, Harrods Food Hall, and the London Tower Bridge
London Day 4: Sunset at The View from The Shard
Where We Stayed In London: Hotel Indigo Tower Hill
Everything I Ate In London
Paris
Paris Day 1: Sunrise and Sunset at the Eiffel Tower