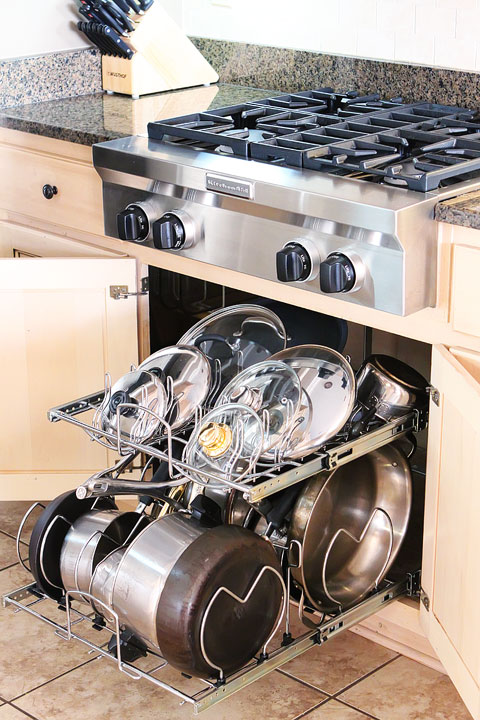 You guys, I am SO excited to share how I organized my messy kitchen storage cabinets with this awesome new pot rack! I had tried other kitchen cabinet organizers before, but this is the BEST pots and pans organizer I have ever used. It's been 5 years and I still use it and love it every day!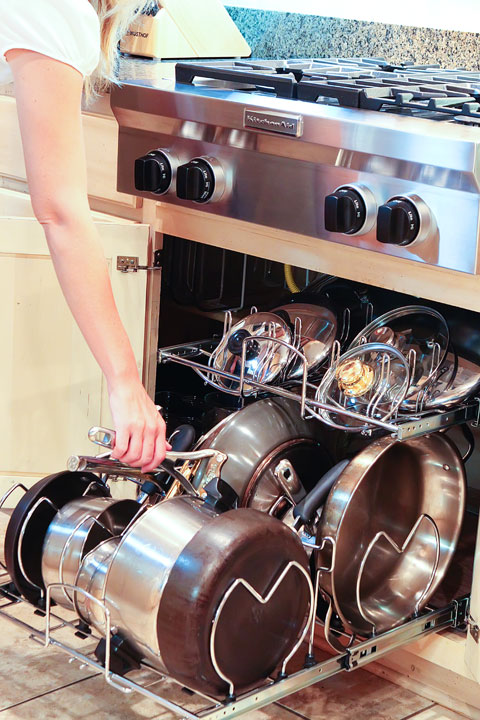 I can now quickly and easily grab anything from this pot rack and put it right on the stove. And then when it's clean, it slides right back into place in my kitchen storage cabinets.
(The top rack is pulled out a little bit in this picture, but it goes all the way back in for full access to the bottom rack)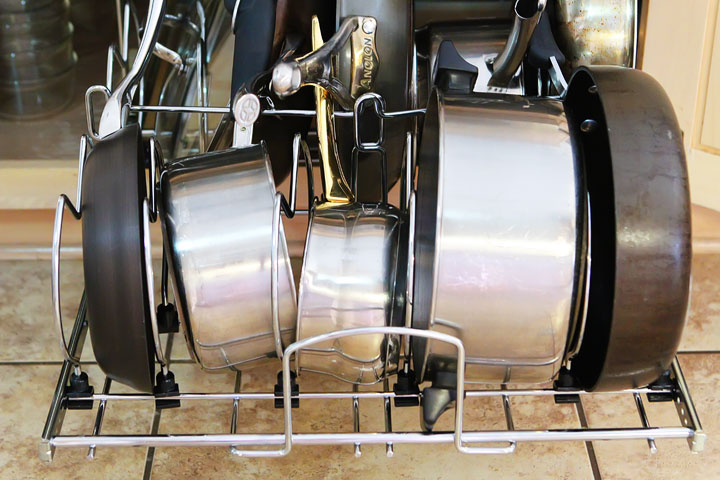 The pot rack dividers are adjustable. It comes with extra dividers so you can put in as many or as few as you want, making any sized slots you need for truly customized kitchen storage cabinets.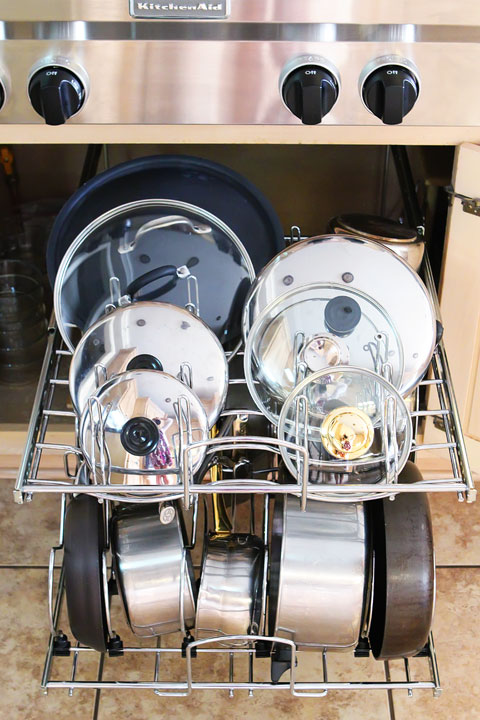 There's even a place for all the lids! They're all together and easy to find! I didn't know kitchen cabinet organizers could make me this happy!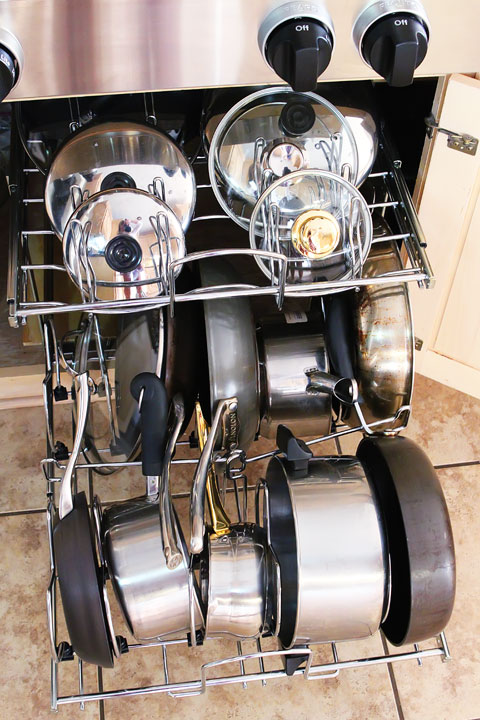 The top and bottom racks move independently for easy access — just like a dishwasher.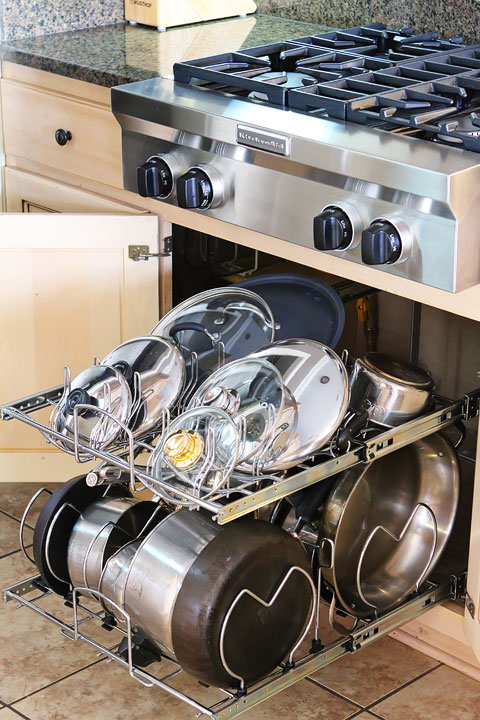 The pot rack really doesn't take up all that much room either. It is a TOTAL space saver in my kitchen storage cabinets. Here are the actual product dimensions for this pots and pans organizer:
Pot Rack Dimensions
Actual Product Dimensions
Width: 20.75 inches
Depth: 22.0 inches
Height: 18.13 inches
Minimum Cabinet Space Required
Width: 20.5 inches
Depth: 22.25 inches
Height: 18.38 inches
I combined three cabinets worth of messy overflowing pots and pans into this one, organized, easily accessible space. My cabinets are so much cleaner and brighter now!
My Kitchen Storage Cabinets Dimensions
Here are my cabinet dimensions, by the way, just for reference:
Width: 30 inches
Depth: 24 inches
Height: 20.5 inches
Depending on your cabinet layout, you can mount it on the bottom, back, side or all three for total stability. Ours is mounted at the bottom and back.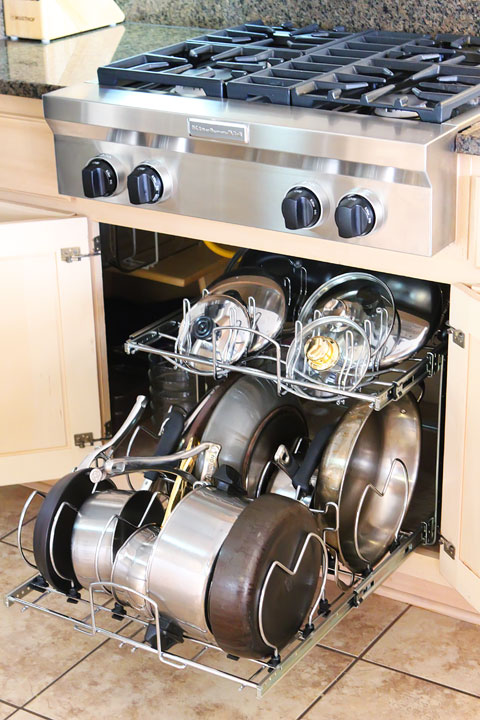 Pots and pans have always been the bane of my existence. I don't like to have to "dig" for stuff. It seems like you just have to take everything out of the cabinets, get the one pan you need, and then put everything back in again. Then do it all over again when the pan is clean to put it away.
More Organizers for Kitchen Storage Cabinets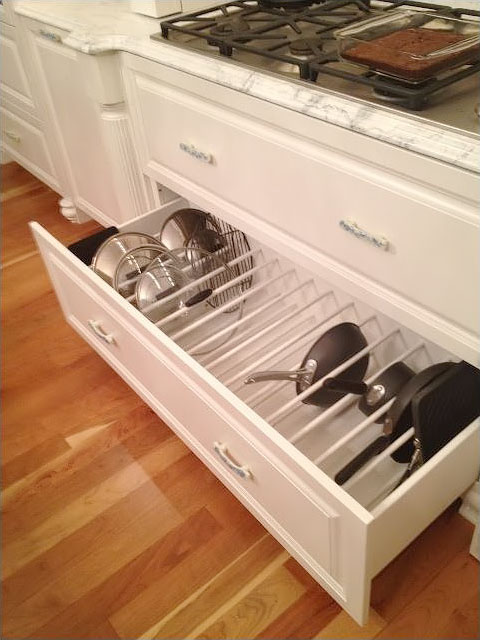 Before I found my pot rack, I looked at other options on Pinterest. I originally thought about doing something like this drawer. I still love this idea for a pots and pans organizer! But I had kitchen storage cabinets, not drawers.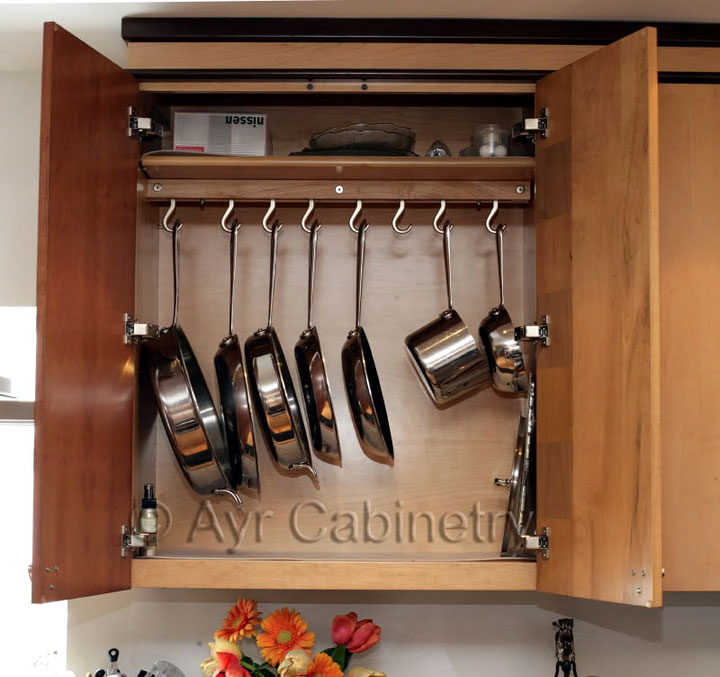 I also thought about this pot rack for my kitchen storage cabinets. Super creative idea! A pot rack hidden inside the cabinet. But with mine being a lower cabinet, I'd still have to get down on my hands and knees and crane my neck to see under my deep kitchen storage cabinets any time I wanted to hook or unhook a pan. Plus, what would I do with all the lids??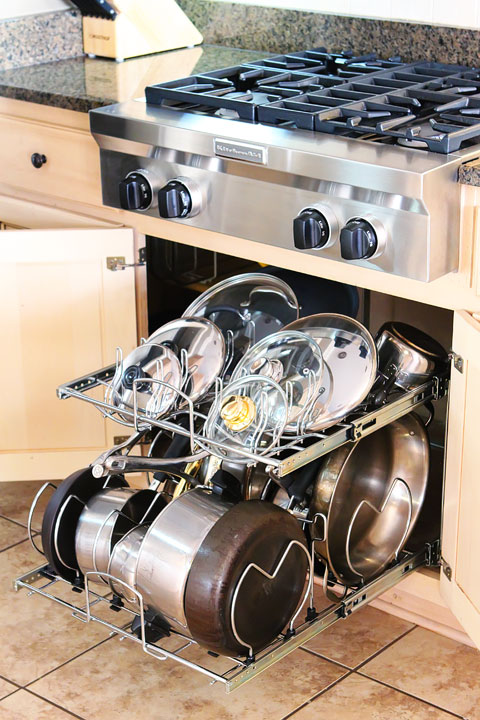 Out of all the other kitchen cabinet organizers, I knew this pot rack was exactly what I wanted. It had everything I was looking for to organize my kitchen storage cabinets. It's easily accessible, adjustable, has room for my biggest pots and pans, and even a place for the lids.
This pot rack is very well made and you can tell the creators really put a lot of thought into the design and thought about everything. I love products like that.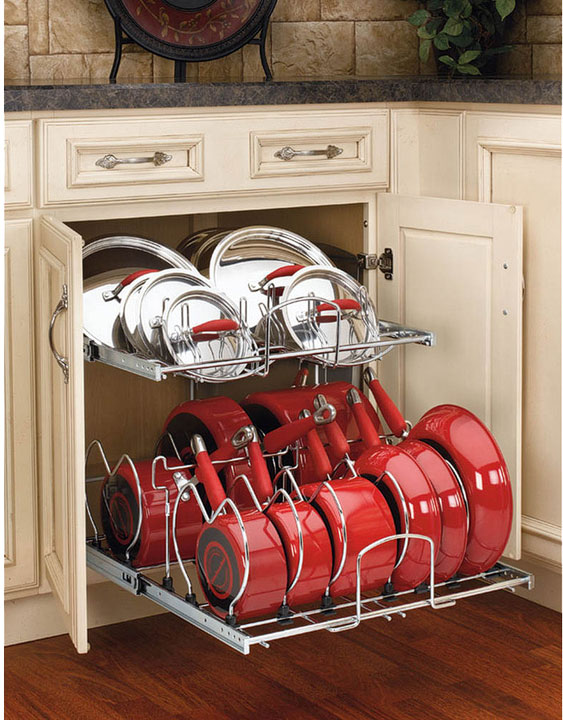 Here's the "Pinterest Worthy" picture if you want to save it to Pinterest!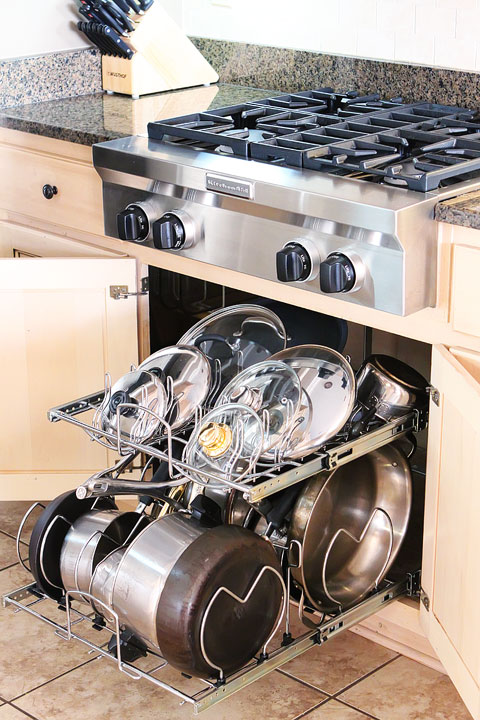 The Best Pot Rack For Kitchen Storage Cabinets
But I am just as in love with my "real-life" version! :)
Here's where you can find one of your own:
Rev-A-Shelf 2-Tier Pullout Cookware Organizer — We got ours from our local Lowes store. It was in stock and there was a display model on the floor to test out.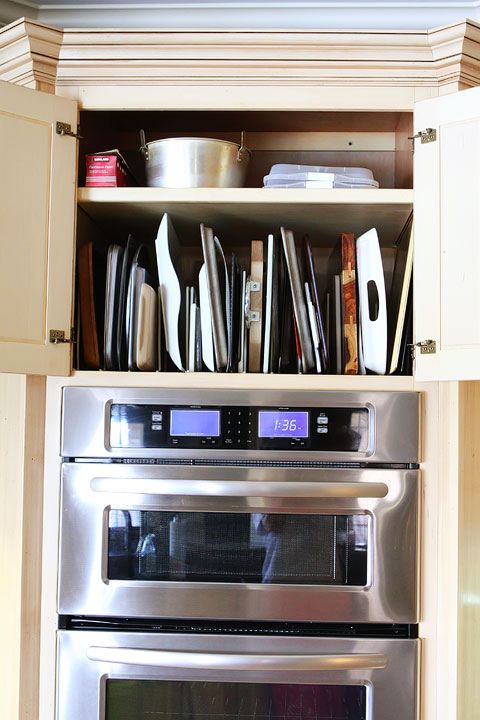 My Other Kitchen Cabinet Organizers
Now let me show you my other kitchen cabinet organizers that I cannot live without.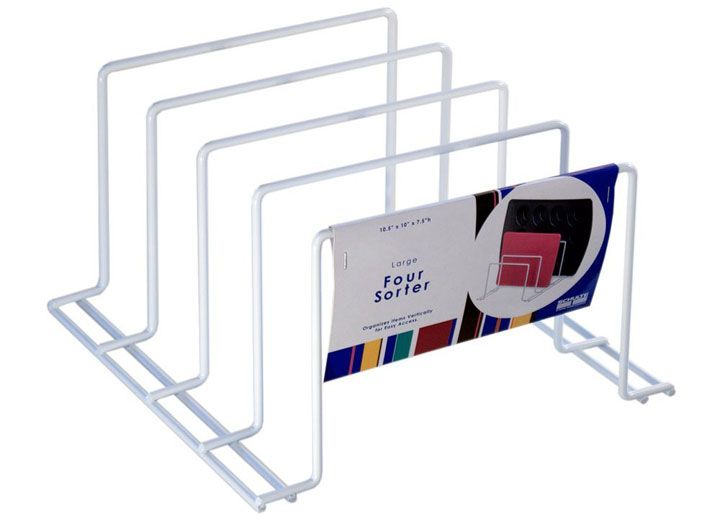 These are "vertical slotted organizer racks" and I have seen them at Walmart, The Container Store, and Amazon.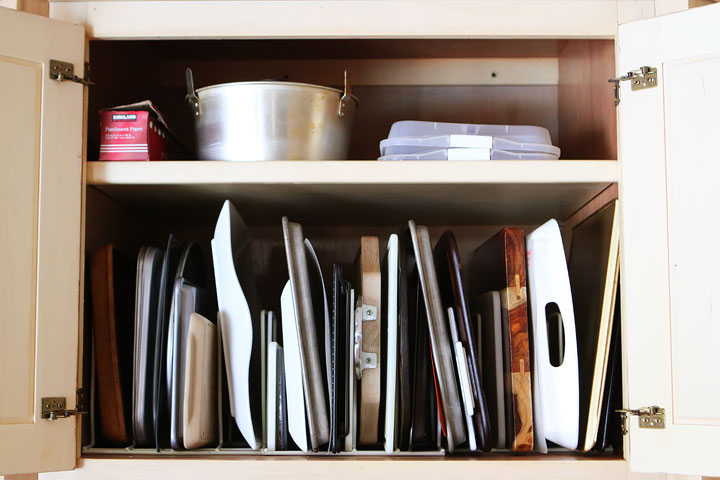 They are awesome for everything — Serving trays, cutting boards, sheet pans and more!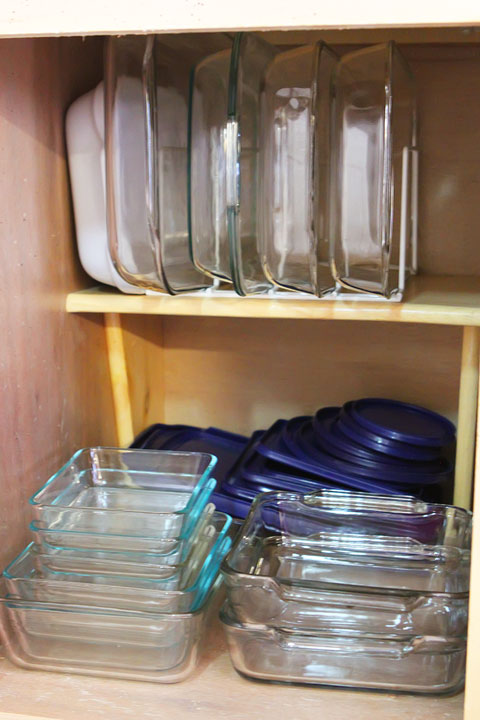 These kitchen cabinet organizers work great for pyrex and baking dishes!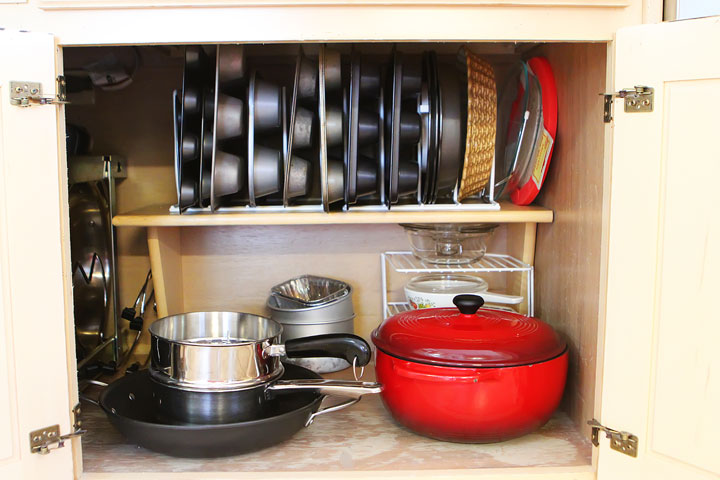 Even muffin tins and pie plates! I seriously have these kitchen cabinet organizers in almost all of my kitchen storage cabinets!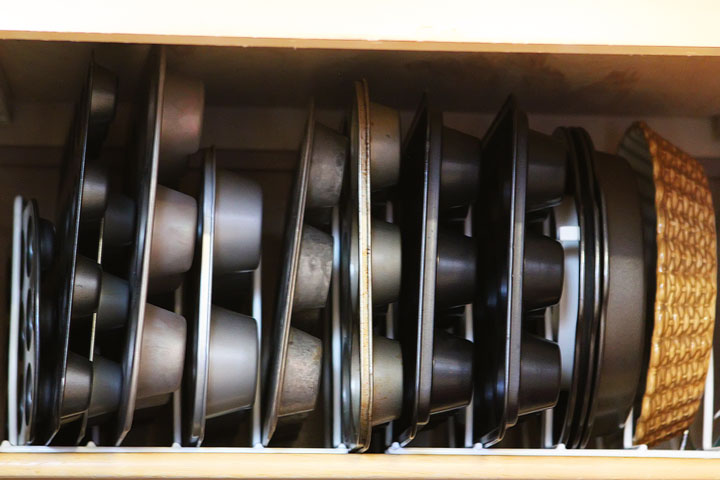 These kitchen cabinet organizers rock my face off!! They organize my entire life. I love them!
The Best Kitchen Cabinet Organizers
Here's a link to the exact ones I have: Organized Living 4 Sort Large Divider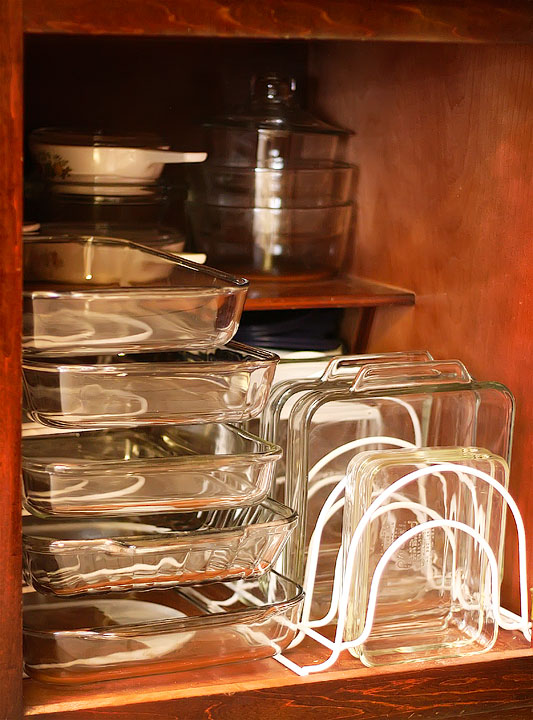 Here's how these kitchen cabinet organizers looked in our first house, when we had much less cabinet space. Click the link below for more photos and info: