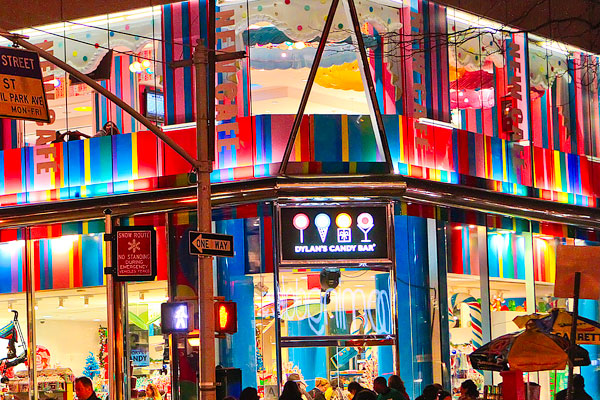 Hey guys! So, oh my gosh. Have y'all heard of Dylan's Candy Bar in NYC? Oh my gosh. It is this giant candy store with three entire floors filled with every kind of chocolate and candy you can imagine! It is all about the chocolate from candy bars and truffles to chocolate fashion, jewelry, and chocolate flavored lip gloss and scented lotions. There's even a chocolate restaurant upstairs! It is chocolate, chocolate, chocolate as far as the eye can see. It even has a fun little section with celebrities who have visited with their photo and favorite kind of candy. Such a fun little candy shop!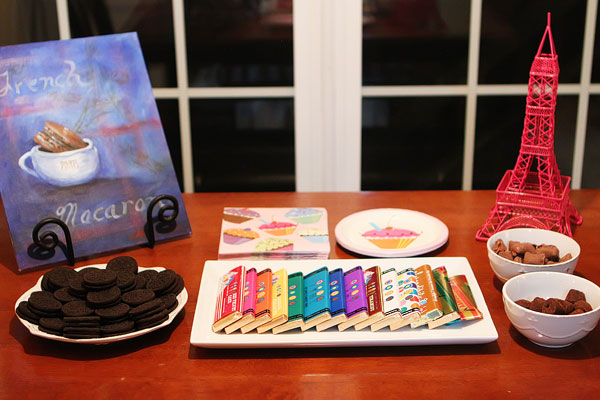 So when I saw this giant spinning rack, bigger than I could reach my arms around, glowing with a light from above, filled with over a dozen different flavored candy bars in rainbow colored wrappers, I knew right then and there. I had to try every single one of them. And so I wouldn't eat all 14 candy bars in one sitting, I invited a few friends over to help me taste test them. I supplemented the chocolate with more chocolate, in the form of Cold Stone Creamery hot chocolate with french vanilla marshmallows, chocolate-filled Trader Jo Jo's, chocolate covered peanut butter filled pretzels, and french truffles from NYC which is, hands down, the best chocolate I've ever had.
Now let's get on to the taste testing!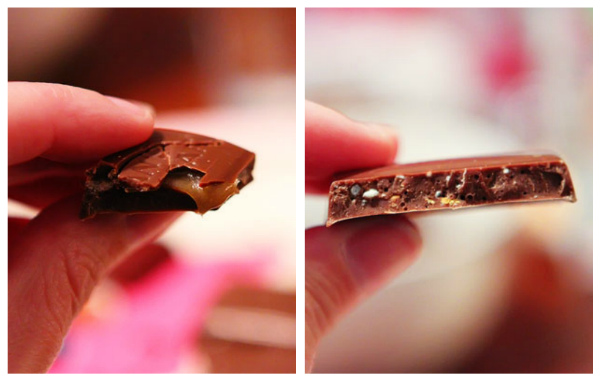 Each candy bar was stuffed with fun flavors and fillings and offered its own unique, delicious taste. Pictured above are caramel and S'mores. Can you see the marshmallows and graham crackers in the S'mores bar?? :)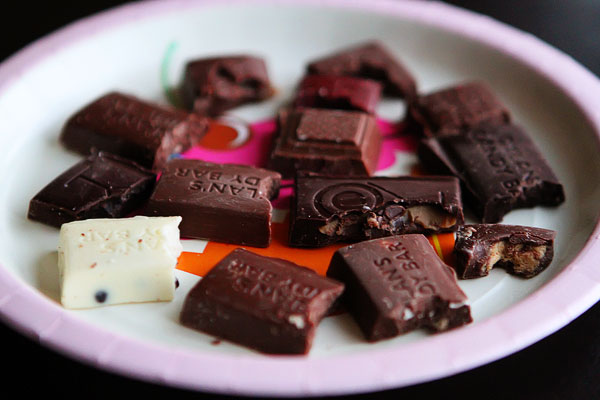 Here are the flavors we sampled:
Red Velvet Cake

– Filled with cream cheese frosting!

Peanut Butter

– Stuffed with creamy peanut butter.

Caramel

– Tasted like a Rolo!

Banana Cream Pie

– Banana flavored chocolate with bits of vanilla wafers.
Espresso – Coffee flavored chocolate, with little bits of crunchy coffee beans. I really liked this one, but it was not a crowd favorite. The general consensus was that the coffee flavor was too strong! Oh well, more for me. :)
Hazelnut – Tasted just like a Nutella chocolate bar!

Milk Toffee Crunch

– Milk chocolate with a nice crunch. Reminded me of a Nestle crunch bar.
S'mores – Loaded with little bits of marshmallow and graham cracker! This one is the fun of a S'mores stuffed into a candy bar.

Tiramisu

– I think this one was the crowd favorite! Rich, delicious chocolate stuffed with an ultra creamy and sweet coffee flavored filling.
Cookies and Cream – This one is like the creamy filling of an Oreo stuffed with little bits of crushed Oreo cookie.
Malted Milk Chocolate – I wanted to love this one, I loved malted milk chocolate, but it was not a favorite.
Naughty Devil's Food Cake – Oooh, this one was another favorite! Rich, Beligian dark chocolate stuffed with gooey chocolate fudge frosting. This one's a winner.
Nice Angel Food Cake – Sweet, innocent, pure white chocolate.

Serendipity's Frozen Hot Chocolate Bar

– This one is the flavor of Serendipity's frozen hot chocolate… in a bar! I picked this one up at Serendipity which is just down the street from Dylan's.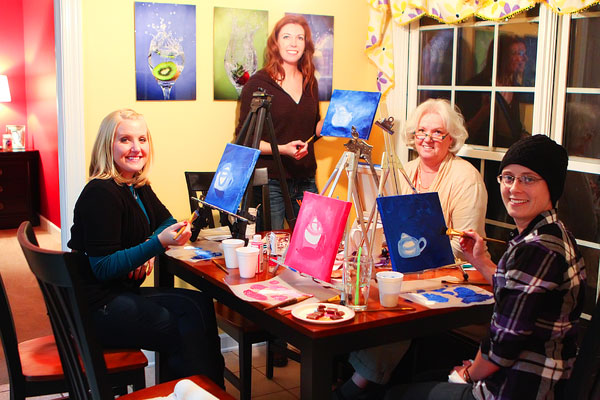 Let's meet our fabulous chocolate taste-testers. Here we have Brekke, Stephanie, Dolly, and Kim.
After completely stuffing ourselves silly with all 14 flavors of chocolate, we had a nice sugar high and a major case of slap happiness going on! It was the perfect time to start our painting. The amazingly talented Stephanie from All Artful, created a gorgeous picture of a decadent chocolate macaron for us to paint. Now I have never painted anything in my entire life, not even an art class in high school! But Stephanie held our hands through the whole process with her easy to follow step-by-step instruction.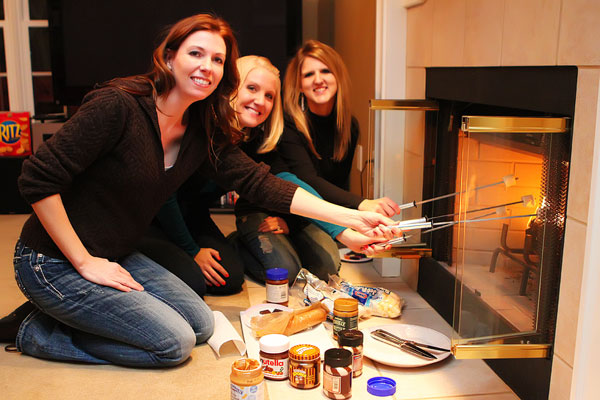 S'mores break! After we got the outline of our macaron painted we took a quick S'mores break while our backgrounds dried.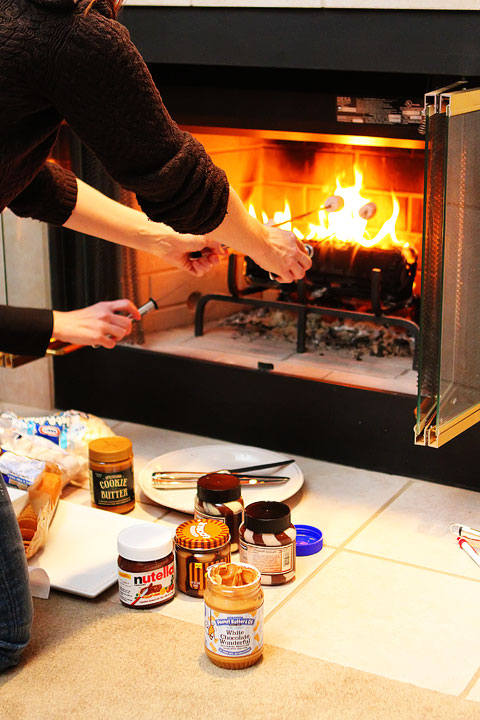 I found these fun chocolate & vanilla swirl marshmallows that I knew would be perfect for our taste testing party!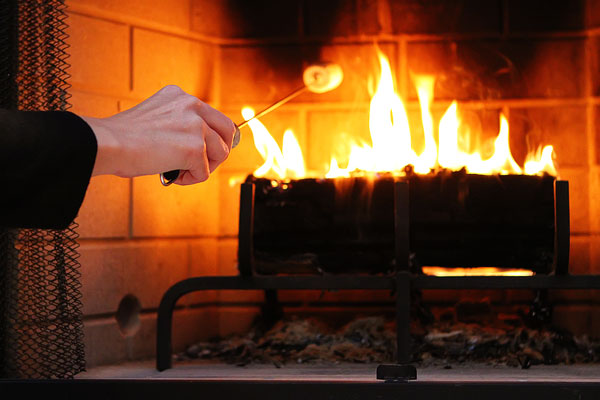 Thanks so much to Kim for taking these gorgeous S'mores photos. She grabbed my camera and went to town.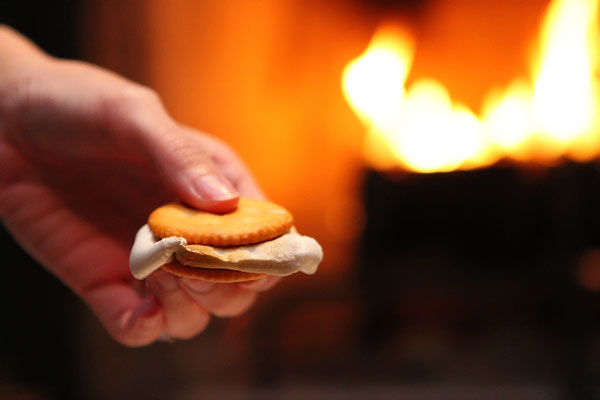 Now I don't know about you, but I am a huge fan of Ritz crackers with toasted marshmallows! It's the perfect combo of salty and sweet. You gotta try this.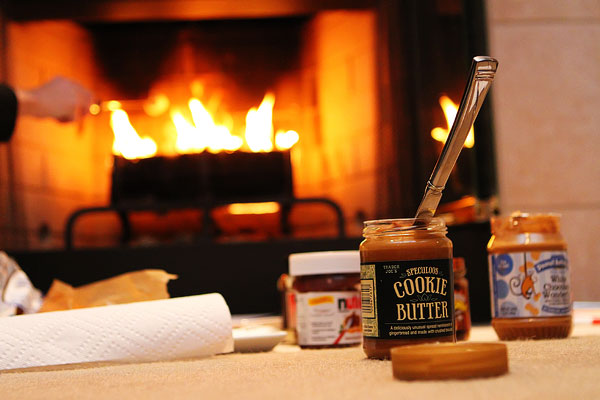 I also had some fun spreads for us to try with our marshies, I think this Speculoos Cookie Butter from Trader Joe's was the winner! This is how Trader Joe's does Biscoff.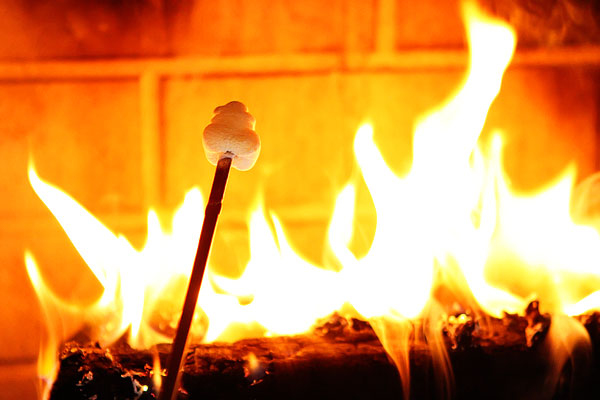 I found these cute little snowman-shaped french vanilla flavored marshmallows that we used in our hot chocolate earlier. I had to toast one of these little guys!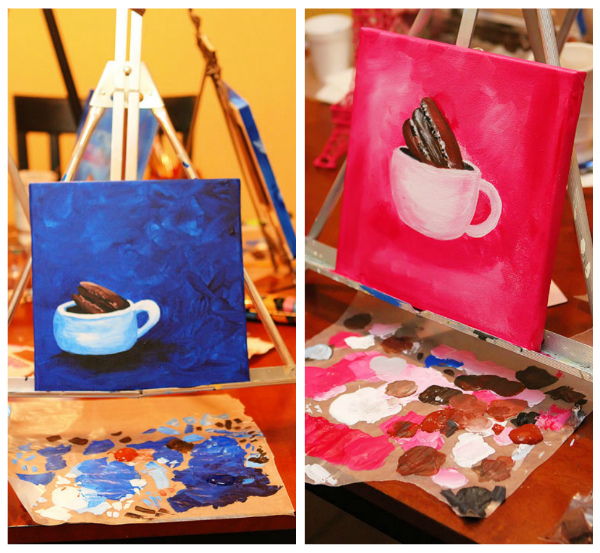 Now back to our painting! It's time for the finishing touches. On the left is Kim's gorgeous macaron, and you can probably guess who the hot pink one on the right belongs to. :)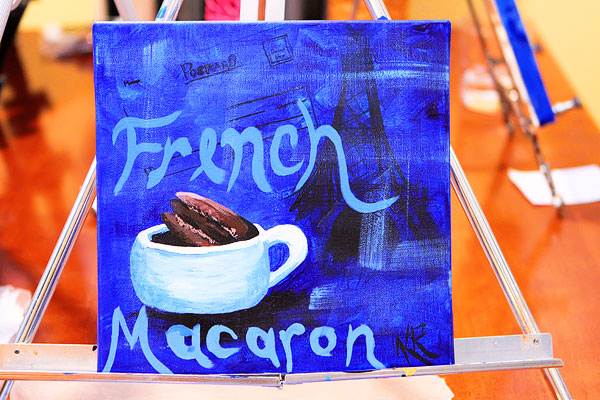 Stephanie gave us lots of options for customizing our paintings — adding an Eiffel Tower, Parisian accent stamps, and french macaron calligraphy. Here's Kim's finished painting.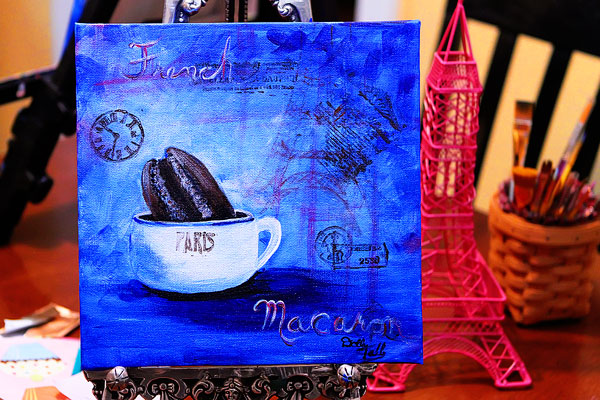 This one belonged to Dolly. How amazing does her Eiffel Tower look?? That was not a stamp, all these talented ladies painted their Eiffel Towers all on their own. Wow!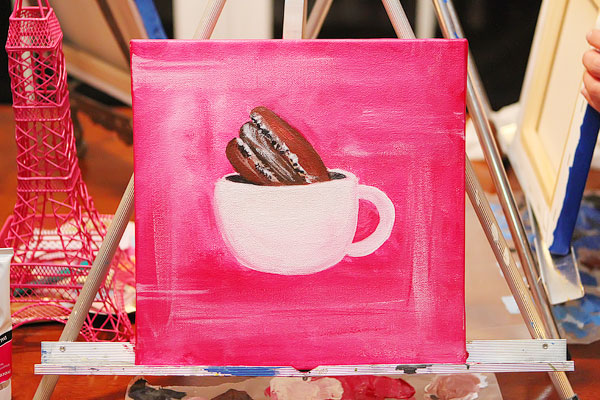 Here's mine. It's so me. Pink and simple.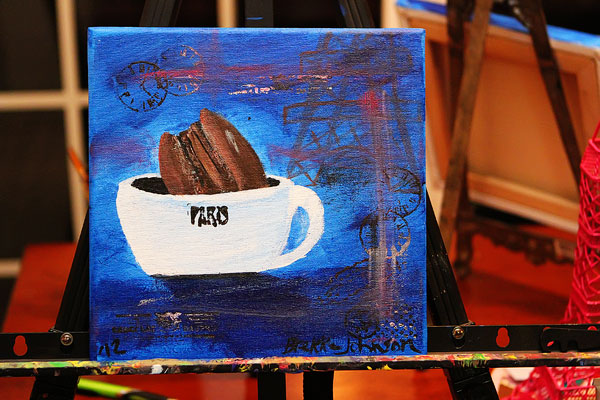 I love how Brekke's turned out! So gorgeous and collage-like.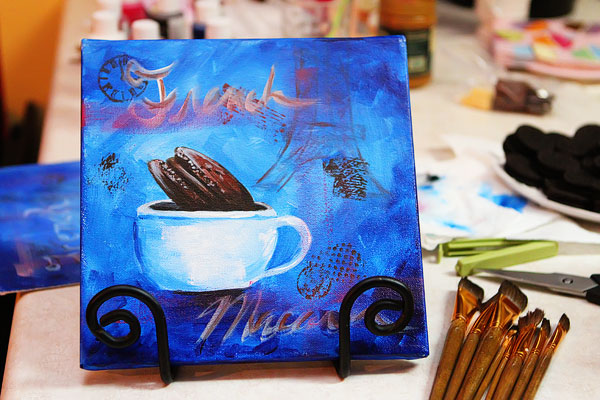 And here's Stephanie's! She effortlessly painted this one while standing up and holding the canvas in one hand and the paint brush in the other while showing us each stroke step by step. You can also see her painting in the very first photo of this post which we used as a guide for our painting party.
UPDATE: Check out Stephanie's step by step video tutorial to paint your own macaron in a mug!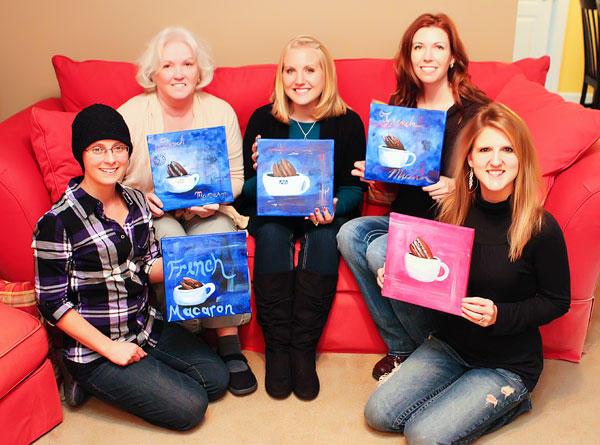 I love how unique each of ours turned out to be.
Thanks for coming to our little party! See you soon!