An absolutely incredible recipe for Becky Higgins' Garlic Chicken Farfalle with a few edits from myself. This is going to be your new go-to dinner recipe!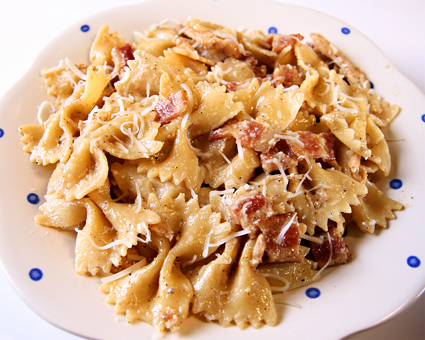 Becky Higgins' Garlic Chicken Farfalle
Oh. My. I just tried this recipe from Becky Higgins and OH MY. It is seriously the most flavorful, most AMAZING tasting pasta I have EVER had!!! Beats ANYTHING I've ever had at Olive Garden HANDS DOWN. And it was soooooooo super amazingly easy, you MUST try this. ASAP. I was simply stunned at how *flavorful* it was!!! And how all the flavors were just went together perfectly!! I've had this recipe for several weeks now and I cannot BELIEVE I didn't make it sooner!! I am kicking myself!!! I will be making this *all the time*. Next person to come over to my house will get this. Becky Higgins' must be a culinary *genius*!!!! ;)
Okay, enough with the teasing, and onto the recipe!!!! I'm posting the recipe exactly like she has it on her webpage, but read afterwards for my slight adjustments. But trust me this thing does NOT need to be adjusted much!! :)
My Adjustments
If this were my recipe, I'd call it Spicy Chicken Farfalle. :D Or something like that. All the flavors of this pasta are simply amazing. Have I said that yet?
My crockpot died on me, so I google'd it, and the oven temperature equivalent of a crock pot is 200 degrees. So I cooked my chicken (since it was just me and Kevin, I only used 2 chicken breasts) in the oven for 6 hours at 200 degrees and it was juuuuuuuust perfect. I also made it 2 days in advance and just refrigerated it until I was ready to make the pasta. I heated the chicken up in the microwave for 1 min before mixing it in with the pasta. It turned out just fine, it was not dry at all.
16 oz of pasta makes a tooooooooooooooooooon!!! Definitely enough to feed *at least* 4 adults. Next time, if it's just me and Kevin, I'm definitely cutting the pasta down to 8 oz but leaving everything else the same. Except for the rest of my adjustments below. :D Oh and boil your pasta with ONE TABLESPOON of salt. Yes I said it! 1 whole tbsp!! It's one of those hidden secrets that no one ever tells you that can really add that "secret ingredient effect" to your dish. But I am telling you now so try it. Trust me. ;)
Okay, she warns you about the pepper, and I really do like pepper but MAN! She ain't lyin'!!! lol. I used the whole tbsp like she said, and it wasn't so peppery it was ruined, but it might've been for those who don't like pepper. I DO like pepper and next time I'm cutting the pepper back to a half tbsp, and then taste testing it right before I mix everything together to see if I want to add more.
The bacon adds this *amazing* taste to the pasta like you would NOT believe, so don't skimp on the bacon and don't use bacon bits!! lol. They just won't do! ;) The trick to frying bacon in a pan is to cut your bacon in half and cook on loooooooow to medium low heat (on my electric stove which ranges from 1 – 9, I put it on like 4) and just watch it. It takes a loong time but when one side starts to get brown, flip it over and do the other side. Just keep on checking it. lol. Make layers of bacon and paper towels on a plate until you're all done. I fry up a lb at a time on the weekends and freeze it and use it whenever I need it. I pulled out about 16 slices to make this pasta and heated them up in the microwave for 1 min. They weren't too crispy, so I couldn't "crumble" them, but I sliced them up with a big knife and they did just perfect. :)
I love cheese so I used more like 1 cup of cheese in the sauce. :D And remember, it calls for *shredded* Parmesan cheese, which is not the same thing as grated Parmesan cheese that comes in a cylinder like you put on spaghetti. Shredded Parmesan cheese comes in a bag like next to the shredded cheddar cheese. Publix didn't have the shredded Parmesan cheese, so I got one of those 6 cheese Italian mixes (finely shredded) and it was wonderful. I ate a couple handfuls just plain. Oops, did I say that outloud.
Whew, that went on longer than I thought. And here's a pic of my new FAVORITE meal ever!!!!! :)
Print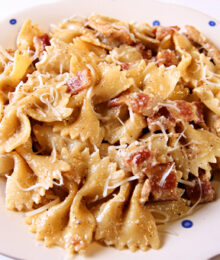 Becky Higgins' Garlic Chicken Farfalle
Prep Time:

10 minutes

Cook Time:

6 hours

Total Time:

6 hours 10 minutes

Yield:

4

servings

1

x
Category:

Dinner

Method:

Crock Pot

Cuisine:

American
Description
An absolutely incredible recipe for Becky Higgins' Garlic Chicken Farfalle with a few edits from myself. This is going to be your new go-to dinner recipe!
Scale
Ingredients
16 ounces

Farfalle pasta

1 cup

heavy whipping cream

3

–

4

chicken breasts (boneless, skinless)

2

to

3

cloves garlic, crushed OR garlic salt (I do a spoonful of crushed garlic)

1 tablespoon

pepper

1/2 cup

butter

1

pound bacon, cooked and crumbled

1/2 cup

shredded Parmesan cheese

1

(12 oz) Lawry's mesquite marinade with lime juice
Instructions
Crock pot chicken and bottle of marinade on low for 6 hours. Pull marinated chicken out of the juices, allow to cool a little bit, and shred (I pull it apart). Set this aside.
About a half-hour before serving, boil the pasta. In a small saucepan, melt butter, add garlic, whipping cream, pepper, parmesan cheese, and crumpled bacon. Whisk together on low heat for 3-4 minutes. In a large bowl, pour over cooked, drained pasta, add chicken and stir through.
Sprinkle a little bit more shredded parmesan cheese on top.
Keywords: pasta dinner, farfalle recipe, pasta dish, pasta dish with chicken, chicken pasta, chicken pasta recipe, garlic chicken pasta, chicken dinner recipe, crock pot dinner recipe