Are you going to Athens, the capital of Greece? Use this guide to help plan your trip so you don't miss any of the BEST things to do in Athens Greece!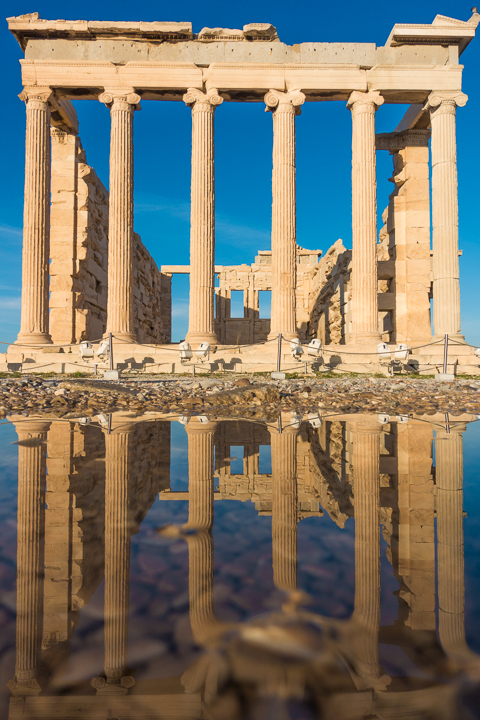 How Many Days To Spend In Athens Greece?
In 1 day you can see the most popular things to do in Athens, like the Acropolis, the Parthenon and the other incredible archeological sites of ancient Athens.
If you have 2 days to spend in Athens Greece, you can explore some of the colorful neighborhoods like Monastiraki and Plaka.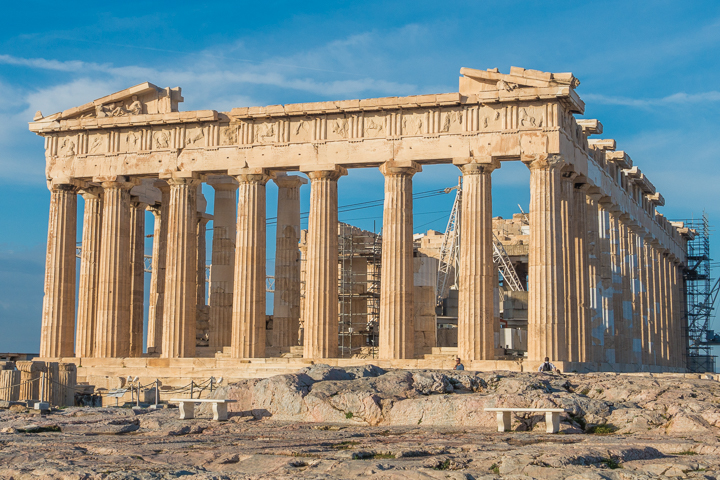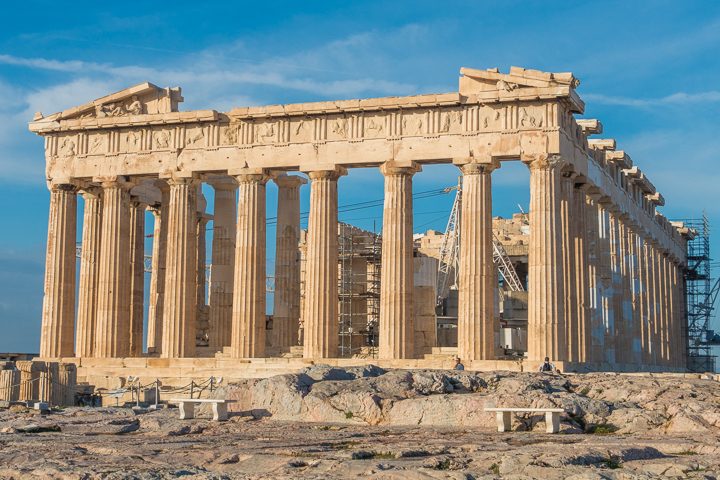 Best Things To Do In Athens Greece #1 — Acropolis of Athens
Start your day at the Acropolis at 8 AM, right when they open. This will help you avoid the most crowds. We arrived at 8 AM and there was hardly anyone there, but when we left 2 hours later it was packed!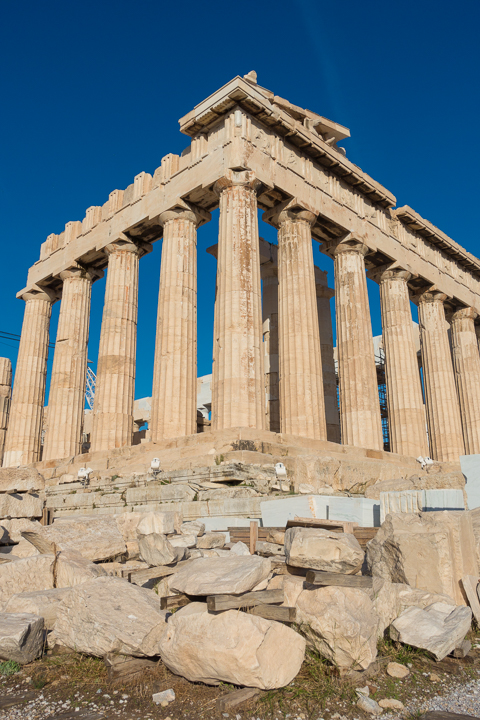 What To See At The Acropolis of Athens:
The Acropolis is a large complex with a few different sites you will want to visit. Plan to spend about 2 hours to fully explore the Acropolis.
The Parthenon
At first I thought the Parthenon and the Acropolis were two different places in Athens Greece. But actually, acropolis just means "hill".  So the Parthenon is the most famous building, and the acropolis is the hill that it's on.
Besides the Parthenon, there are a few other interesting sites to see on the acropolis.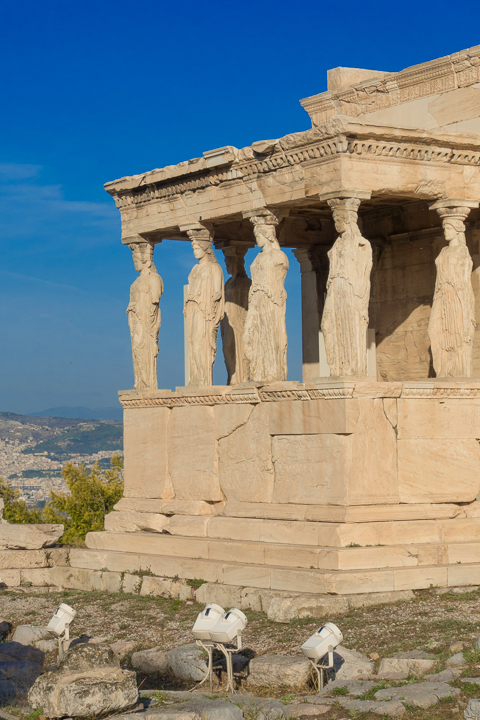 The Erechtheion
The Erechtheion is an ancient Greek temple dedicated to Athena and Poseidon. It's famous for the six female figures carved into supporting columns, know as the "Porch of the Maidens". Look closely at the carving of the dresses. They are still in such incredible condition for being over 2,400 years old!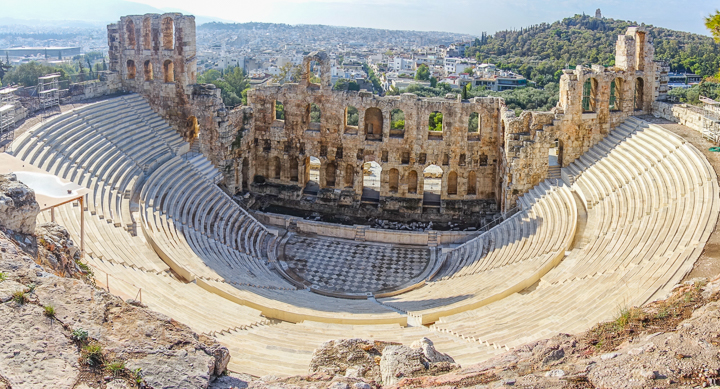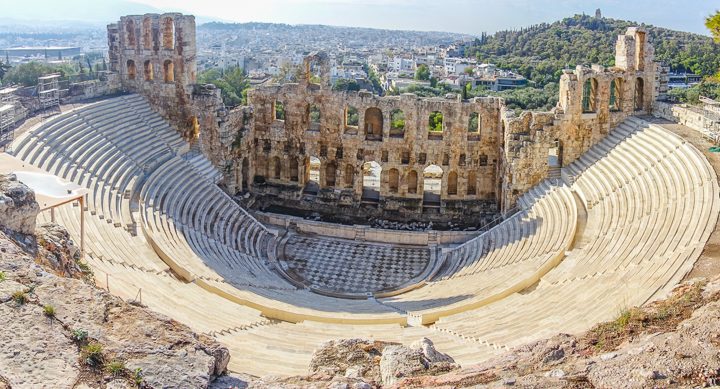 Odeon of Herodes Atticus
The Odeon of Herodes Atticus is a stone theatre built in 161 AD. It was restored in 1950, and concerts and other performances are still held here today.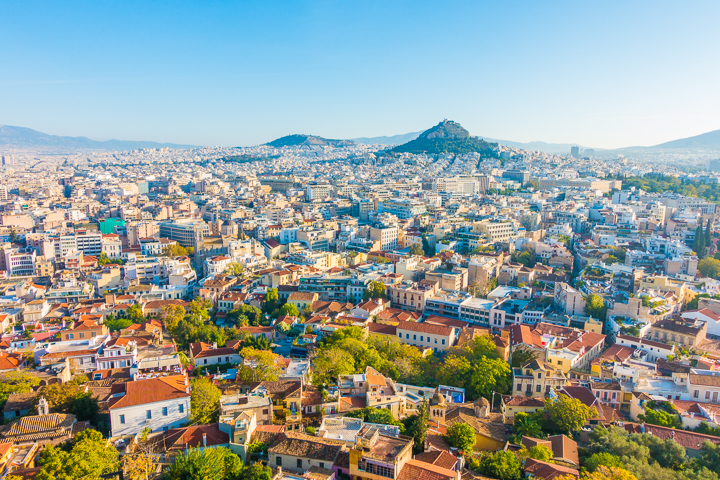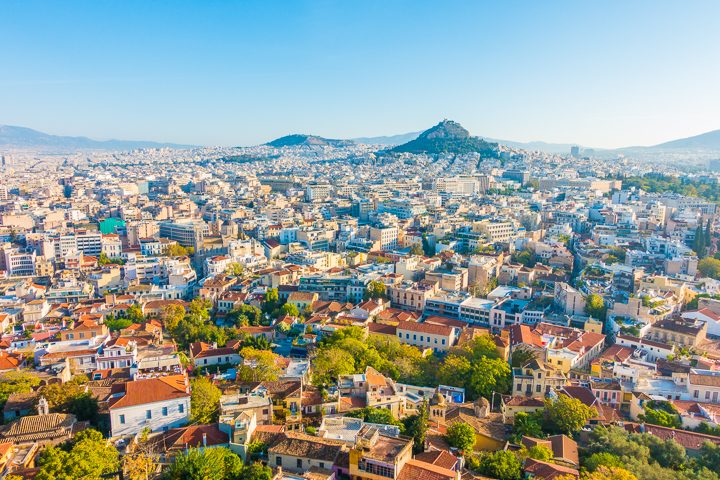 View from the Acropolis of Athens
The acropolis has the most incredible views of Athens Greece!! Some of the best views are over by the flagpole with the Greek flag.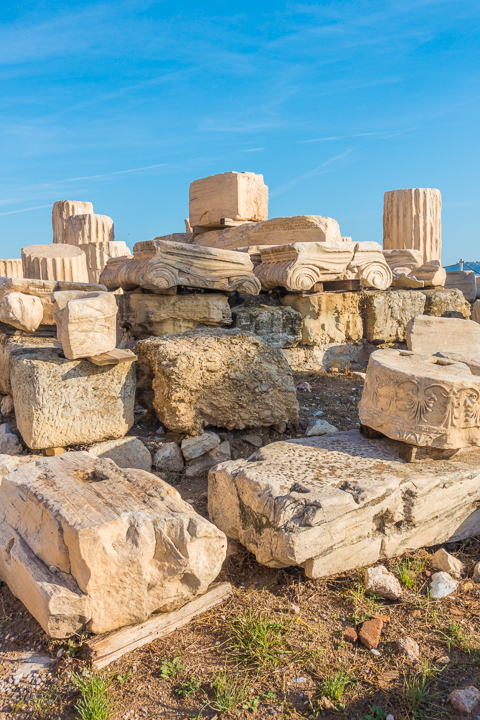 Theatre of Dionysus
The Theatre of Dionysus is possibly the world's first theatre. It could seat as many as 17,000 people and was renowned for its excellent acoustics. The theatre is carved directly into the hill of the Acropolis.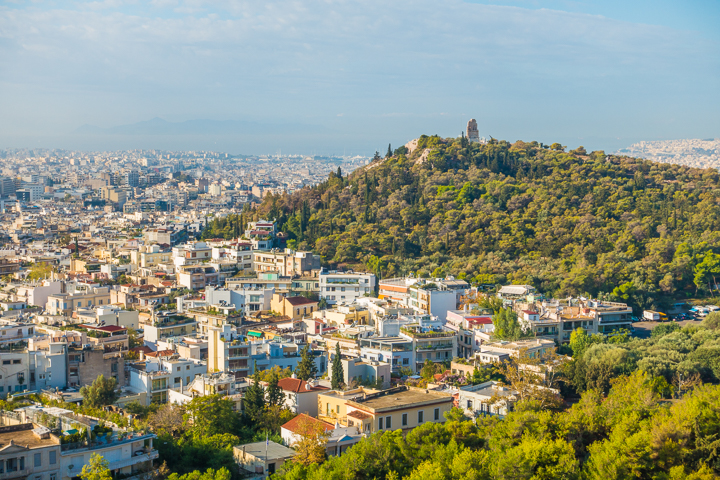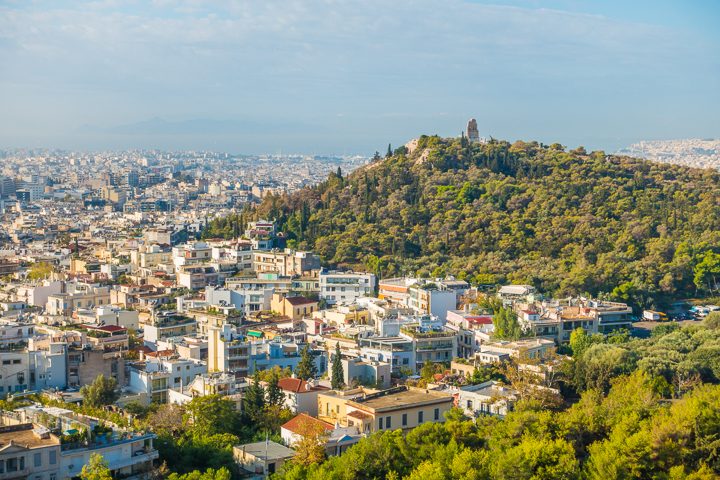 Temple of Athena Nike & Propylaea Gate
The two other main sites you shouldn't miss at the Acropolis of Athens are the Temple of Athena Nike & the Propylaea Gate. The Propylaea is the monumental gateway that was the original entrance to the Acropolis.
A temple dedicated to the goddess Athena Nike was built right next to the gate in 430 BC.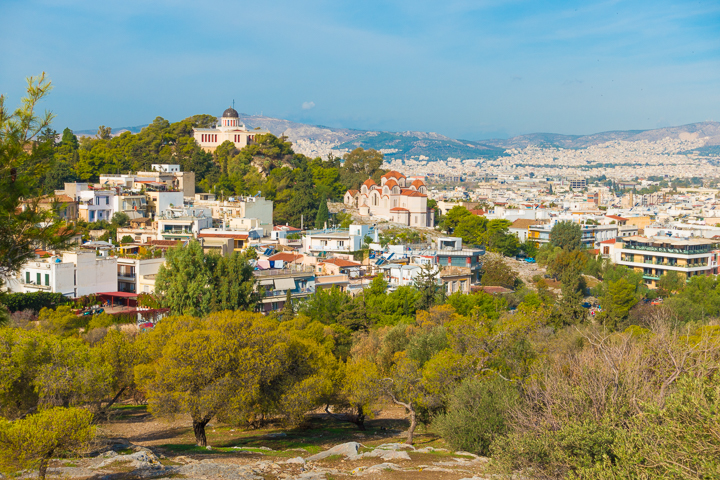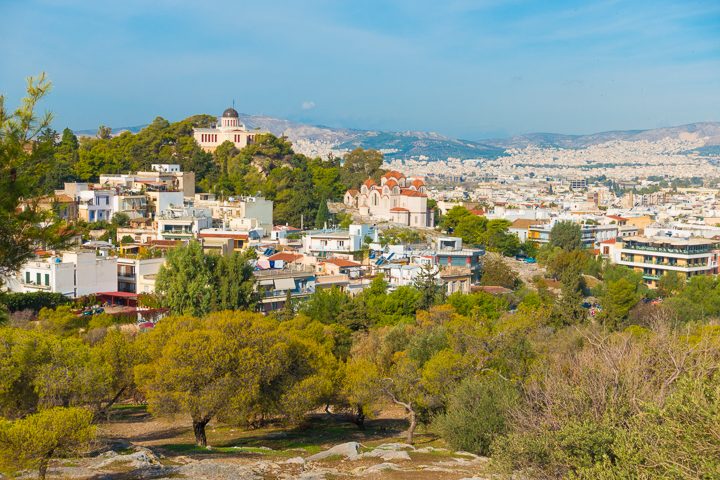 Areopagus Hill (Mars Hill)
Right as you exit the gate to the acropolis, but before you walk down the hill to where the cars are, you'll see a rock/hill to the right with a staircase you can go up for another great view of Athens Greece.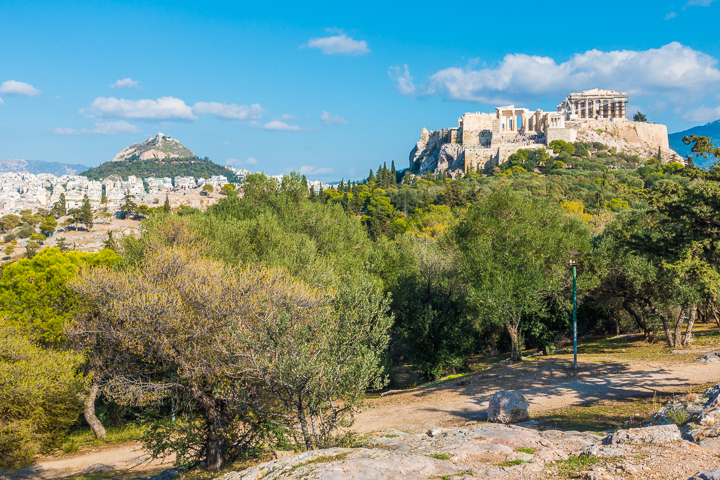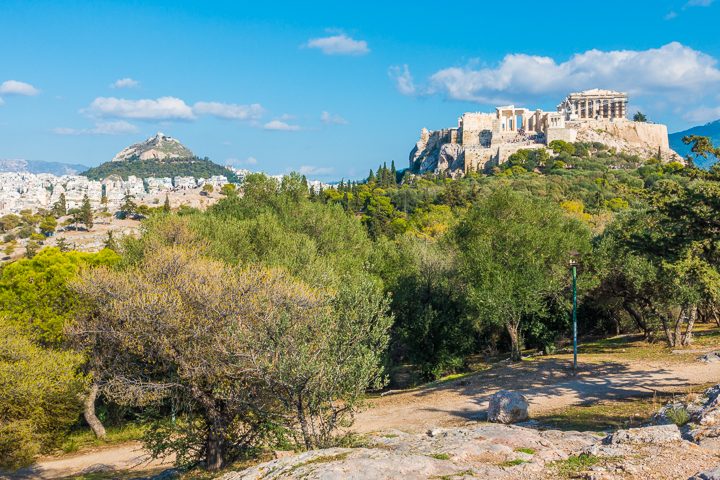 Best Things To Do In Athens Greece #2 — Best View of the Acropolis
If you like taking pictures and you're looking for the postcard-perfect view of Athens Greece, you can get the best pictures of the Acropolis from Pnyx Hill.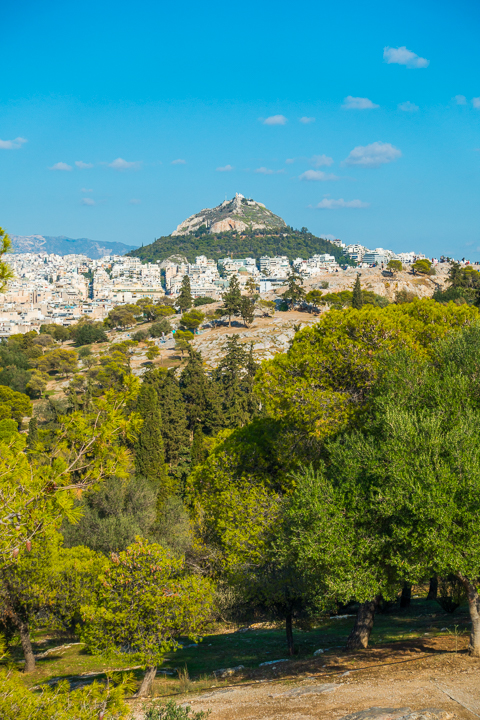 From Pnyx Hill you have a great view of Mount Lycabettus.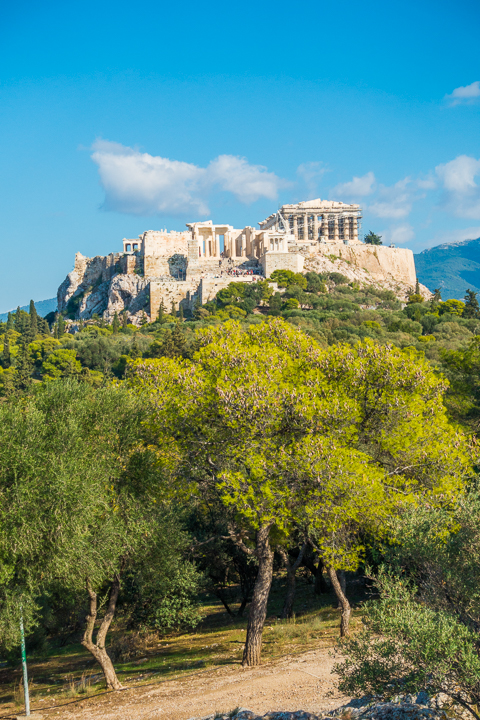 And from here you also have the best view of the Acropolis and Parthenon in Athens Greece.
Best Things To Do In Athens Greece #3 — Hadrian's Library
After the acropolis, make your way to Hadrian's Library. Here you can see the ruins of an ancient Roman library built in 132 AD.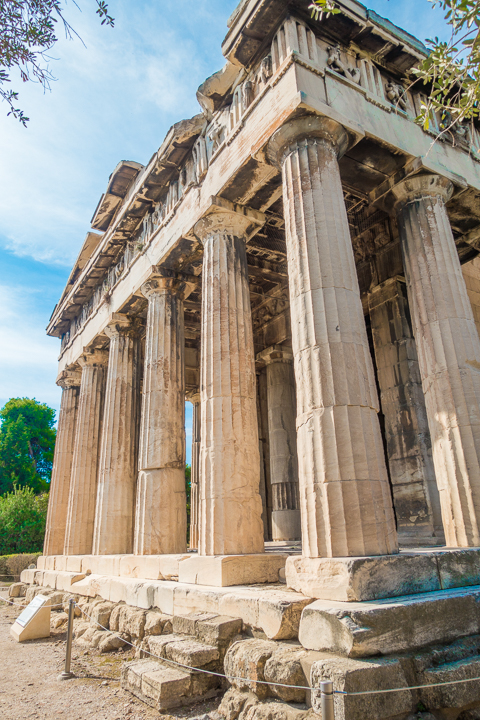 Best Things To Do In Athens Greece #4 — Ancient Agora of Athens & Temple of Hephaestus
Just a short walk from Hadrian's Library is the Ancient Agora of Athens where you can see the Temple of Hephaestus.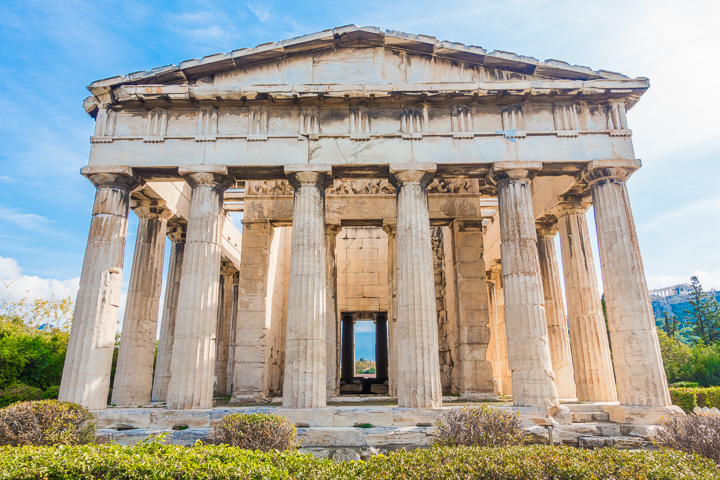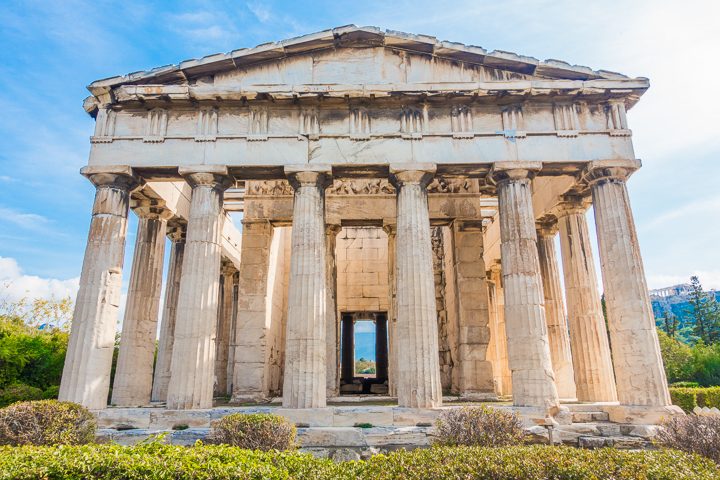 Plan to spend another 2 hours exploring Hadrian's Library, the Ancient Agora, and Temple of Hephaestus.
By this time you'll probably be very hungry, so now's a good time to stop for lunch. If you walk back towards Hadrian's Library on Adrianou Street you will see many cute restaurants and cafes with outdoor terraces. It's the perfect spot for lunch and people watching in Athens Greece.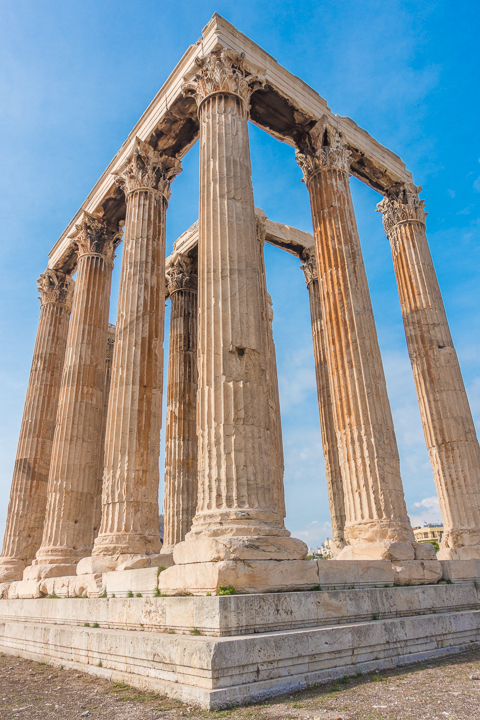 Best Things To Do In Athens Greece #5 — Temple of Zeus
After lunch make a quick visit to the Temple of Zeus.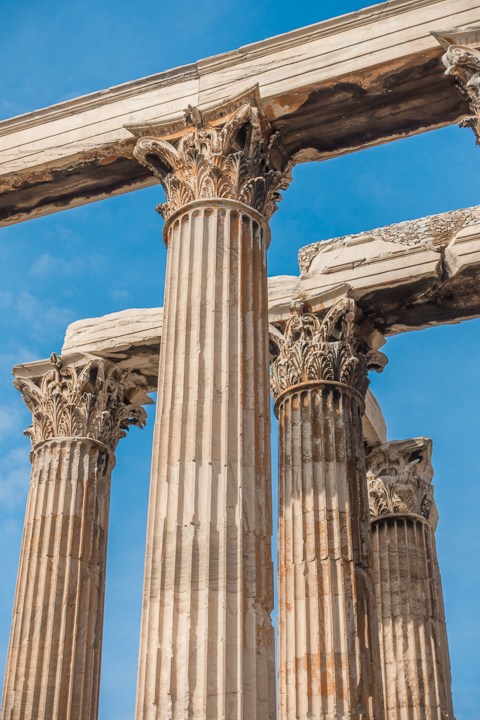 The Temple of Olympian Zeus is dedicated to Zeus, King of the Olympian gods.
Be sure to look up and notice the intricate detailing on the columns.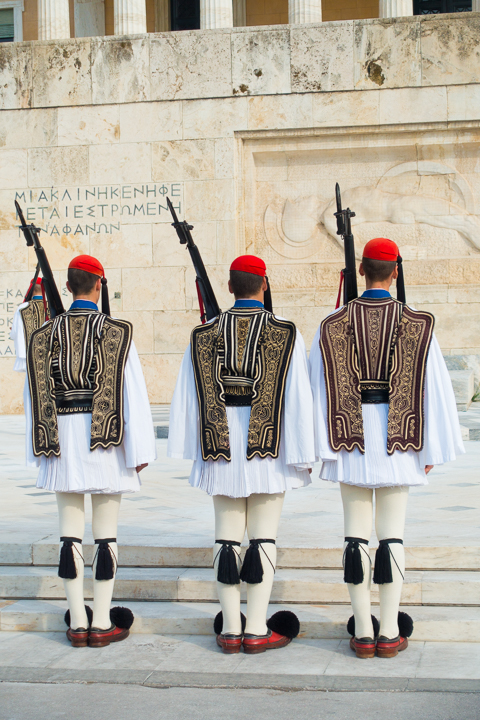 Best Things To Do In Athens Greece #6 — Changing of the Guards at the Greek Parliament Building
If you happen to be in Athens Greece on a Sunday, there is a ceremonial changing of the guards outside the Greek Parliament building.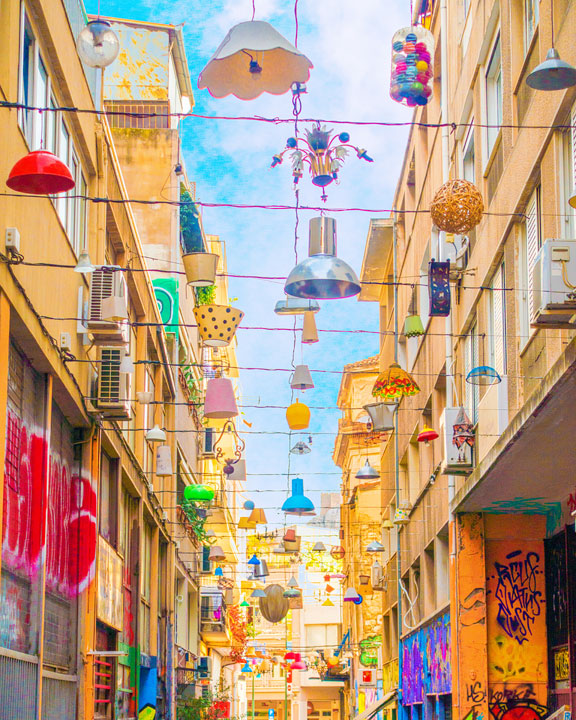 Best Things To Do in Athens Greece #7 — Explore Monastiraki
Monastiraki is a colorful, vibrant neighborhood near Hadrian's Library and the Ancient Agora of Athens. Below are some of the best places to visit in Monastiraki.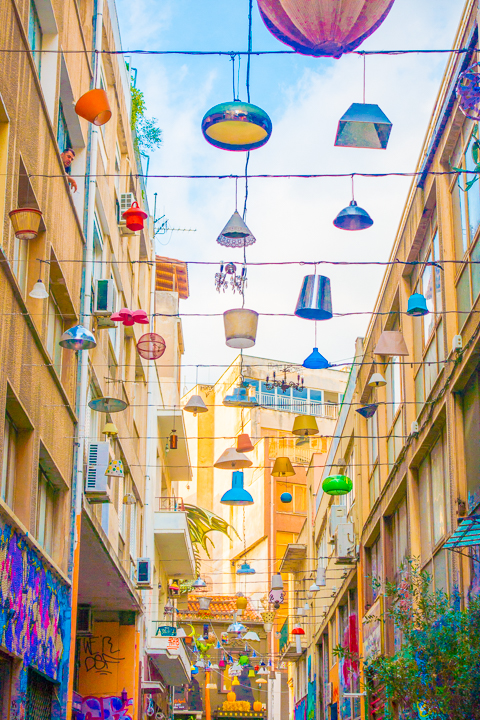 Pittaki Street
This magical lantern street in Athens Greece is on Pittaki street near the Little Kook Tea House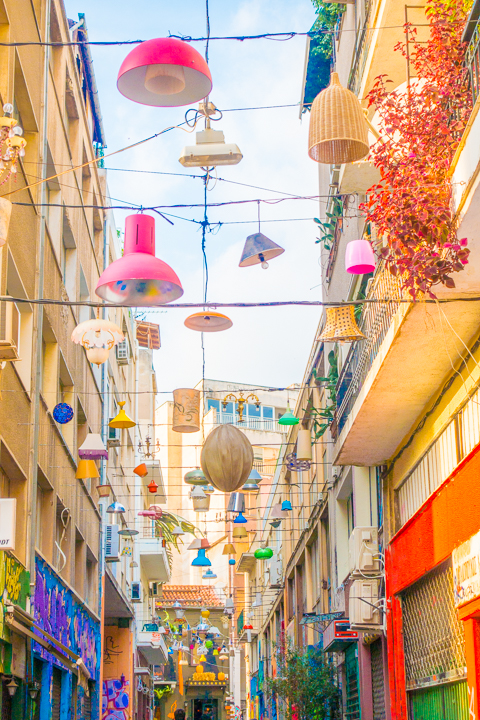 It would be so fun to come here at night and see all the lanterns lit up in this cozy alley.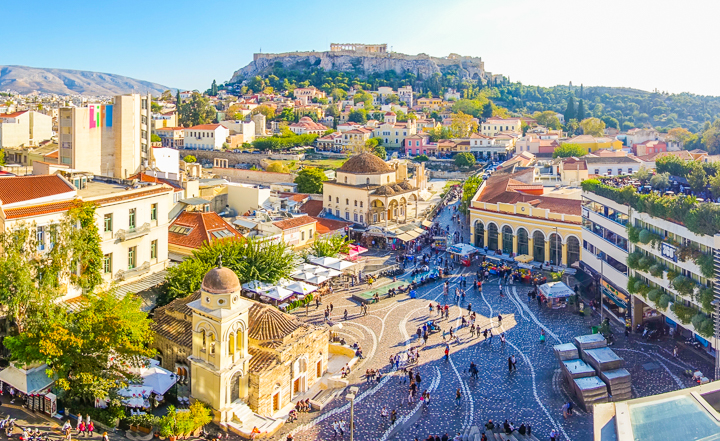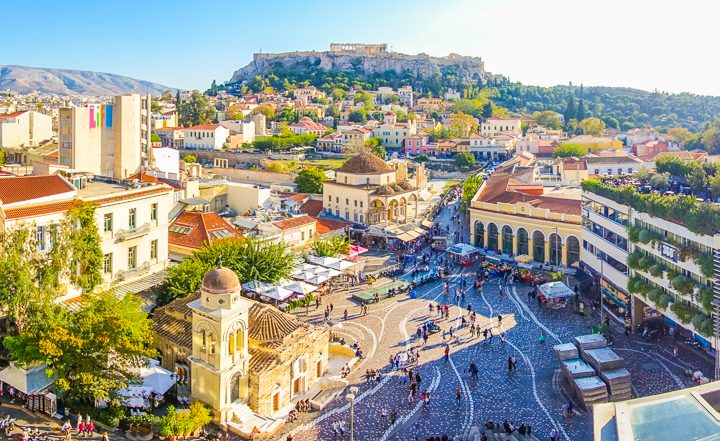 A for Athens Cocktail Bar
The view from the rooftop terrace at A for Athens Cocktail Bar is in my opinion the very best view of Athens Greece.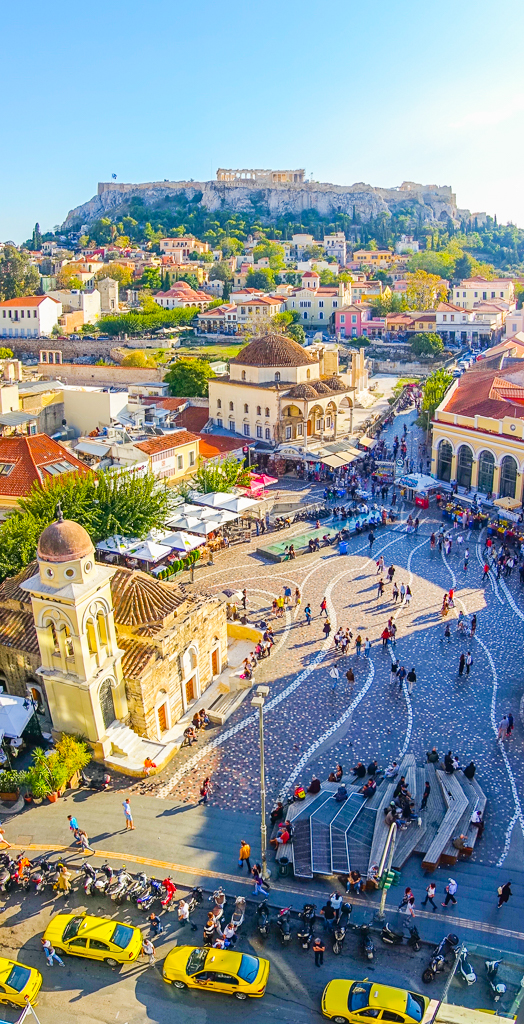 Look at this amazing view of the Acropolis and the Monastiraki neighborhood!
After a busy morning exploring all the sites, definitely come to this rooftop bar in Athens Greece for a relaxing drink with incredible views.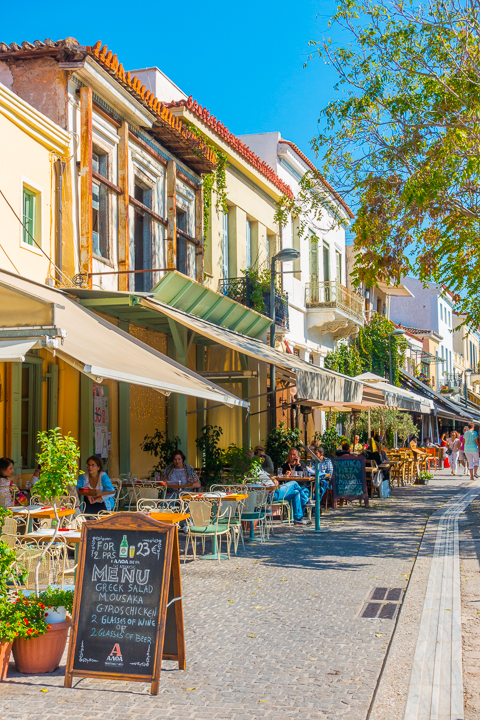 Adrianou Street
Adrianou Street starts at Hadrian's Library and ends near Thissio Metro.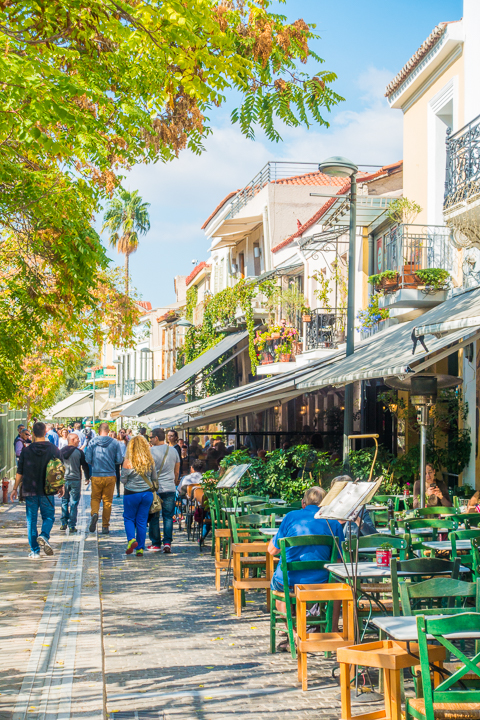 Colorful cafes and restaurants with outdoor seating line this narrow pedestrian walking street.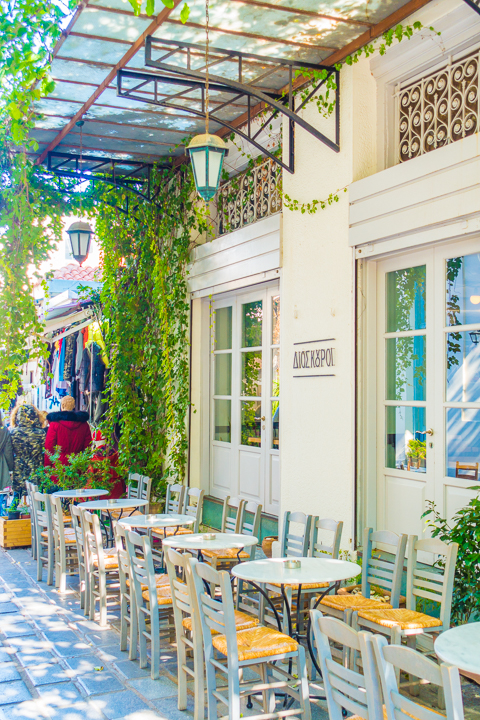 Adrianou Street is the perfect place to relax in an outdoor cafe in Athens Greece.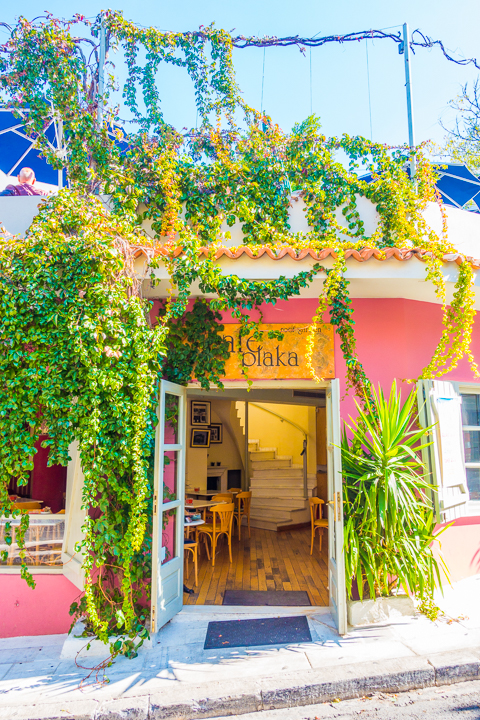 Best Things To Do in Athens Greece #8 — Explore Plaka
Plaka is another fun neighborhood to explore in Athens Greece.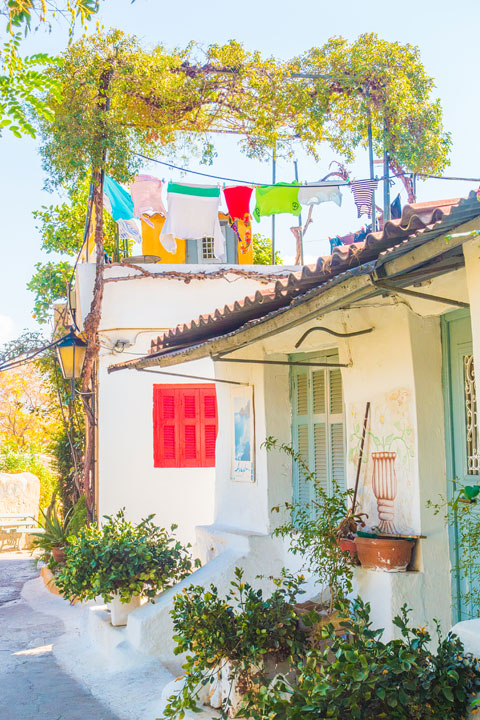 Plaka is the historic neighborhood in Athens. There are many narrow streets and pedestrian-only alleys with colorful home and charming cafes. It's a great place to spend a few hours wandering around and exploring.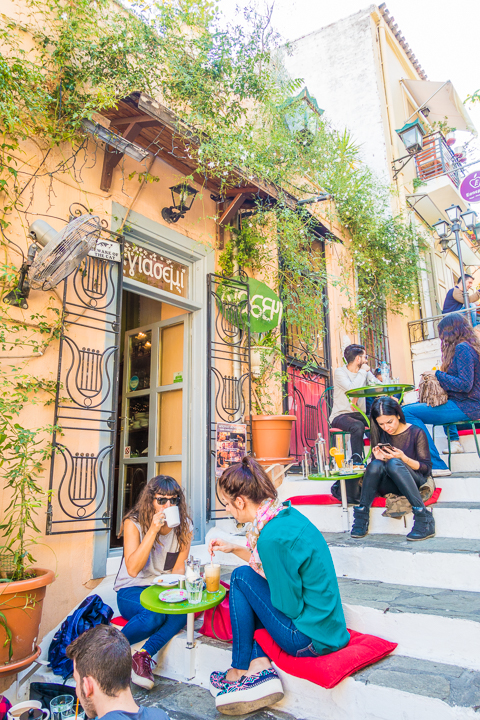 Plaka Stairs
The Plaka Stairs are definitely something you should see in Plaka. Dozens of cafes literally line these famous steps with tiny tables and seat cushions for sitting on the steps and sipping coffee or grabbing a pastry. This would be a great place to stop for a little break or a coffee in Athens Greece!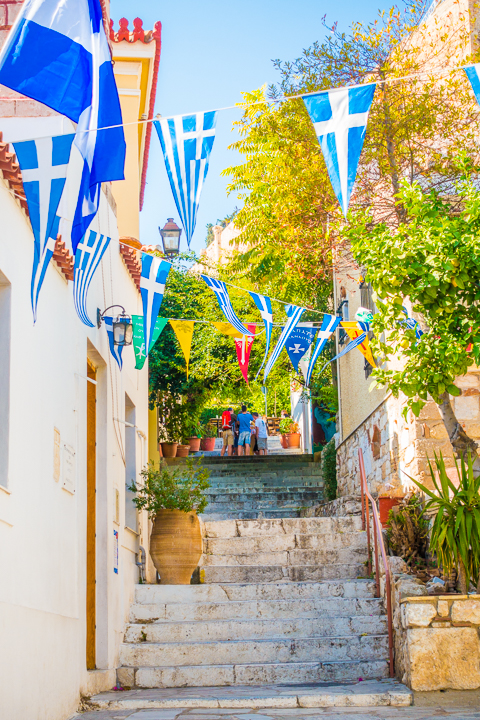 Private Tours in Greece
You can easily get to all the main sites in Athens on your own, but if you are looking for a private driver in Greece, I have one I can highly recommend. We booked a 6-Day private tour all around Greece, and it included a Full Day Athens Tour.
I did a LOT of research and sent dozens of emails back and forth before finally deciding on a tour company. The one that was the most responsive and the most willing to customize our itinerary for our needs was Hellenic Private Tours.
We had an absolutely amazing experience and I would 100% book with them again when we go back to Greece. I cannot recommend them enough!
Our English-speaking driver/guide from Hellenic Private Tours took us to all the major sites and told us all about the historic monuments we were about to visit. His English was excellent and he was very easy to understand.
Our guide was extremely knowledgable and went out of his way to make sure we were comfortable, supplied with water bottles, and saw everything we wanted to see. I had saved a few pictures from Pinterest of places in Athens Greece that I definitely wanted to see, but I had no idea where they were. I showed them to our guide and he immediately knew exactly where every single picture was taken and took us there. His knowledge of the city was seriously impressive!
---
Best Restaurants In Athens Greece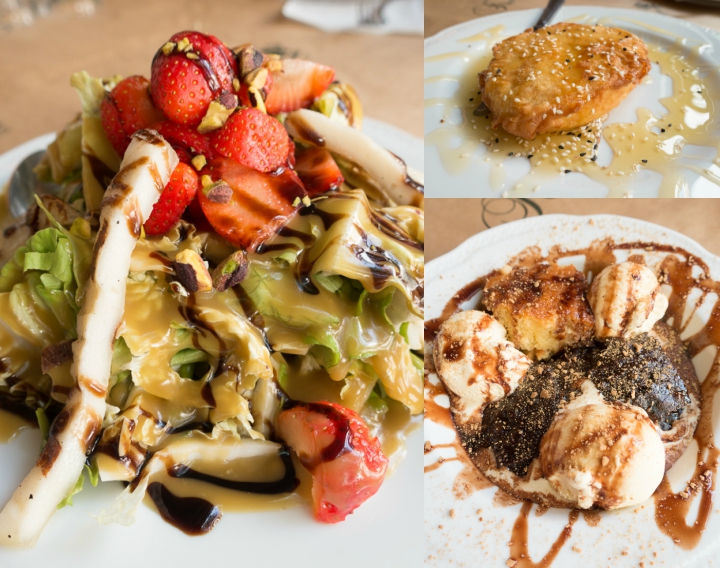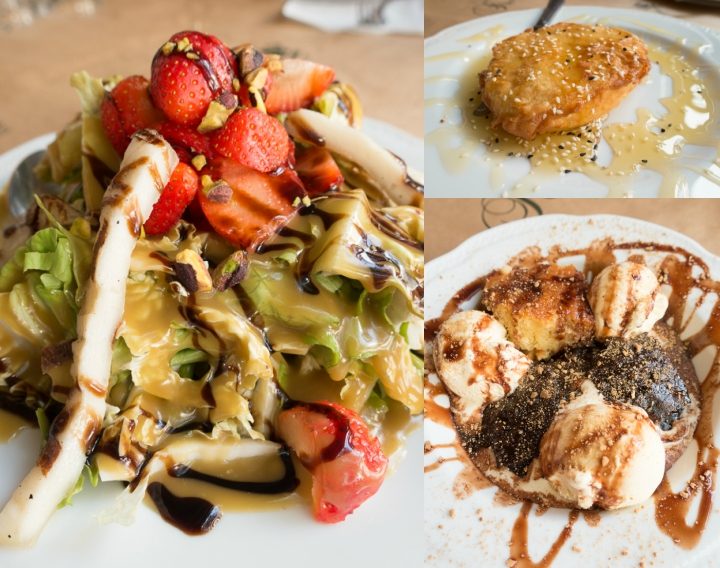 Kappari
We had one of the most amazing, memorable meals out of our entire two weeks in Greece at Kappari in Athens Greece. They offer authentic Greek cuisine, friendly hospitality, and it's off the beaten path. You won't find too many other tourists there! If you only have one meal in Athens, make it at Kappari!!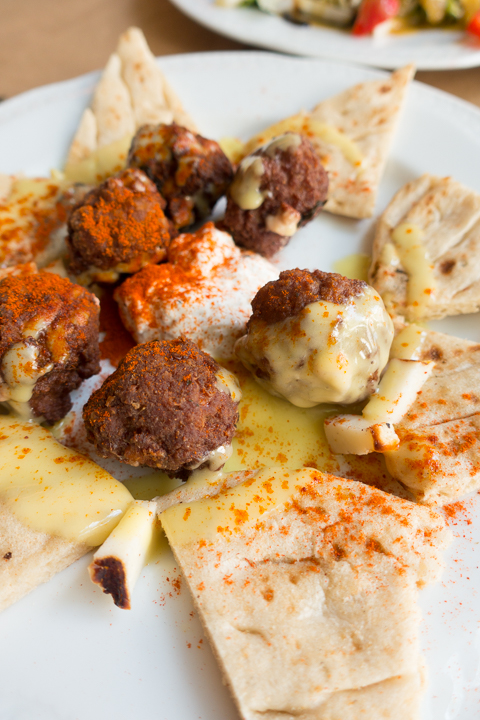 Everything on the menu at Kappari looked SO good. We got a few appetizers to share so we could try many different things. I loved everything we had here. They even give you a complimentary dessert!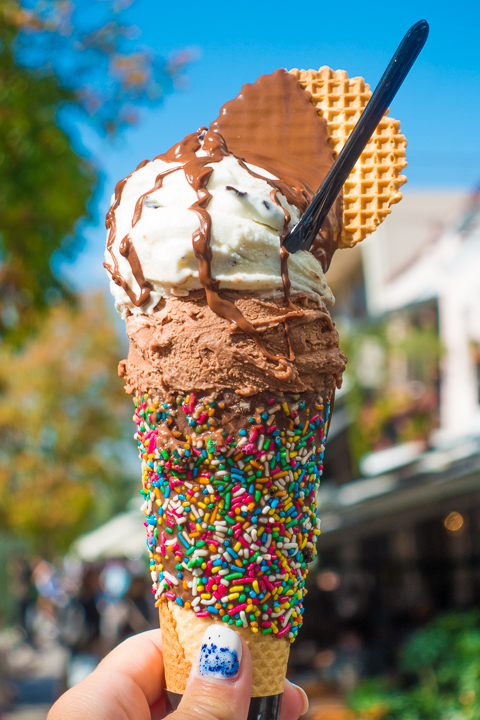 DaVinci Artisan Gelato
Be sure to look for this fun artisanal gelato on Adrianou Street in Monastiraki. It's the perfect spot for an afternoon ice cream in Athens Greece!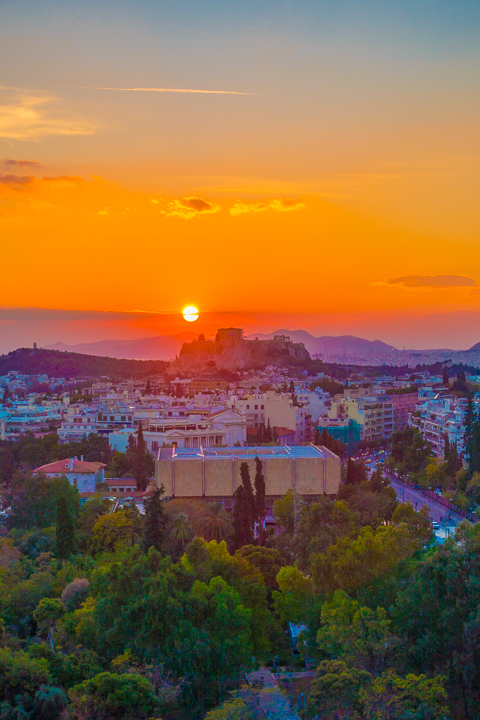 Galaxy Restaurant & Bar
For the BEST sunset view in Athens Greece, head to Galaxy Restaurant & Bar on the rooftop of the Hilton Hotel in Athens. How gorgeous is this sunset view over the Acropolis??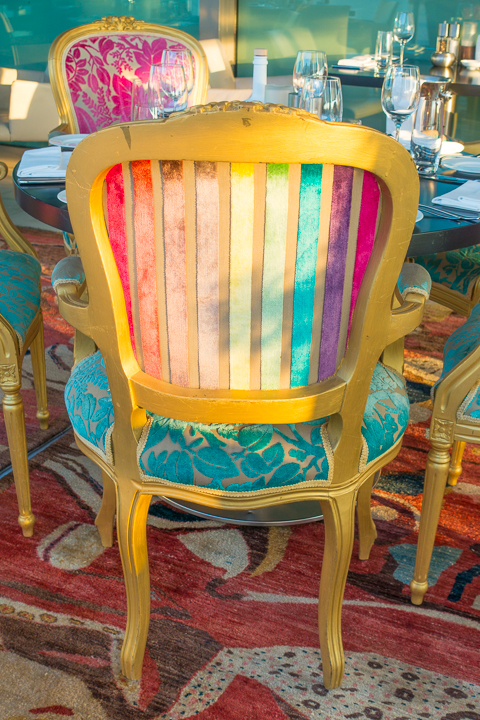 The restaurant is super cute and colorful. The menu is more international, but I would definitely recommend coming here for a drink at sunset just for the view!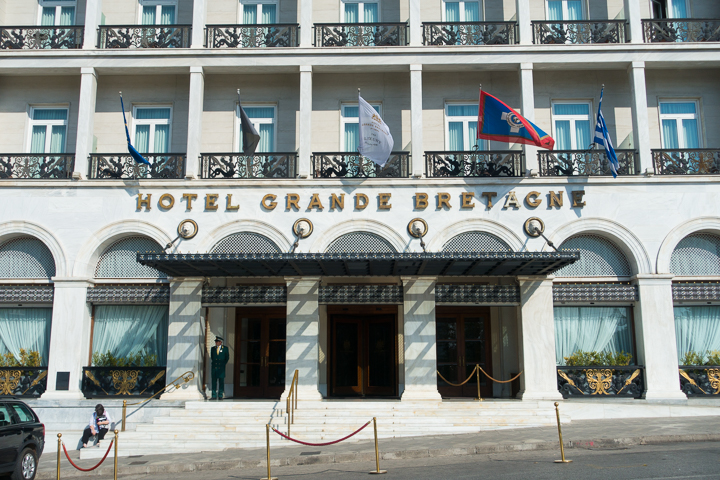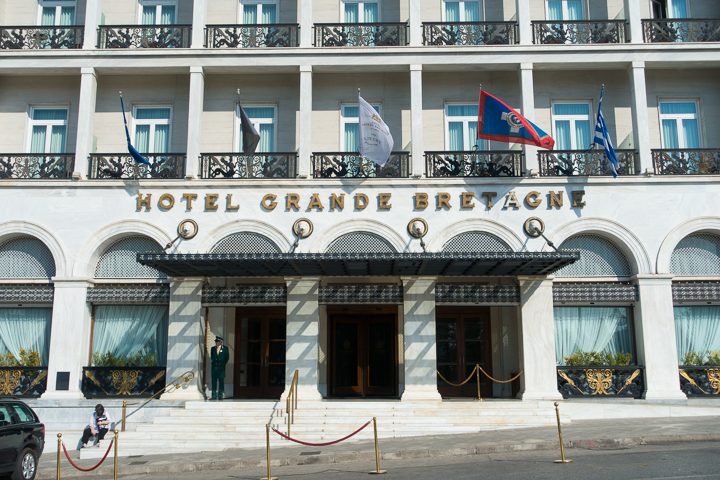 Best Hotels In Athens Greece
If you are looking for the best hotels in Athens Greece, we absolutely loved the Hotel Grande Bretagne.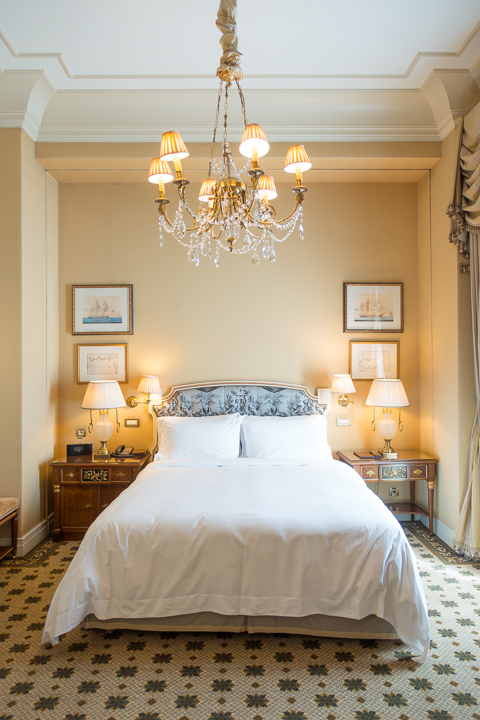 This was honestly the most comfortable bed I have ever slept on. I got the BEST sleep on my life here.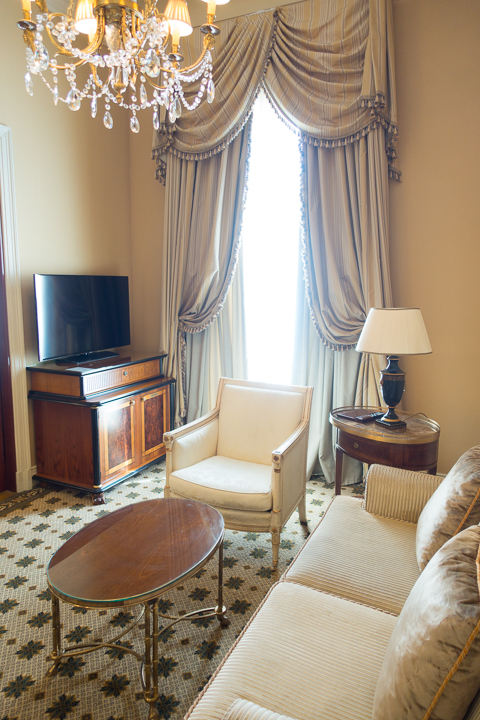 The rooms are super quiet and sparkling clean.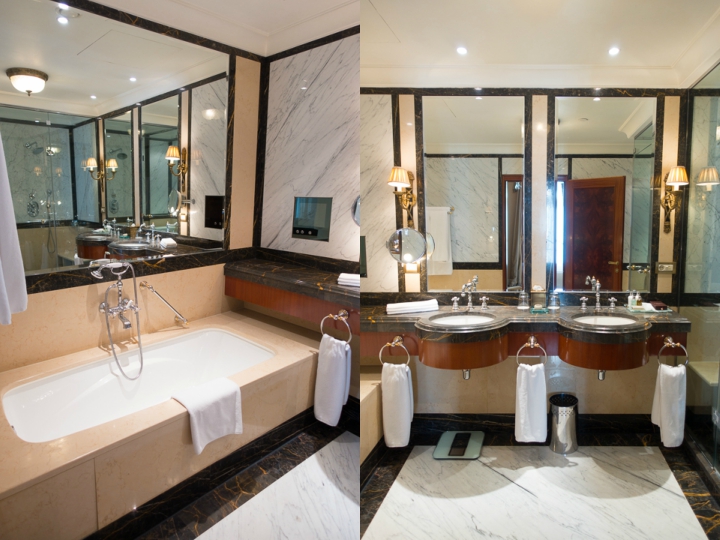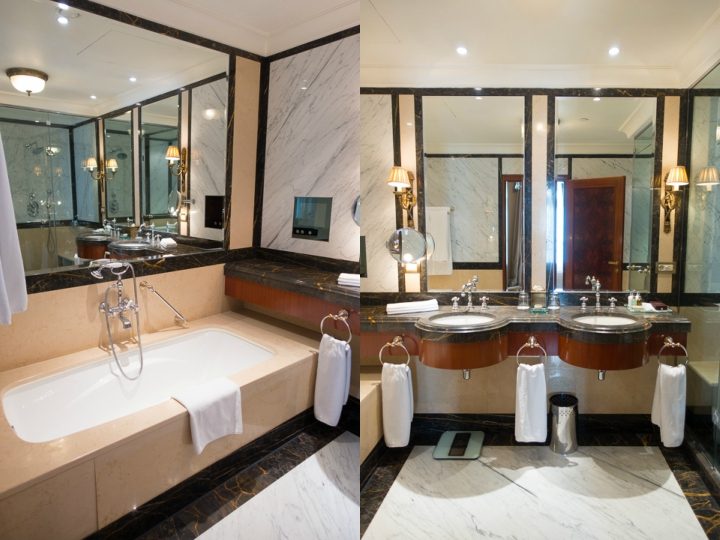 I really appreciated all the counter space in the bathroom!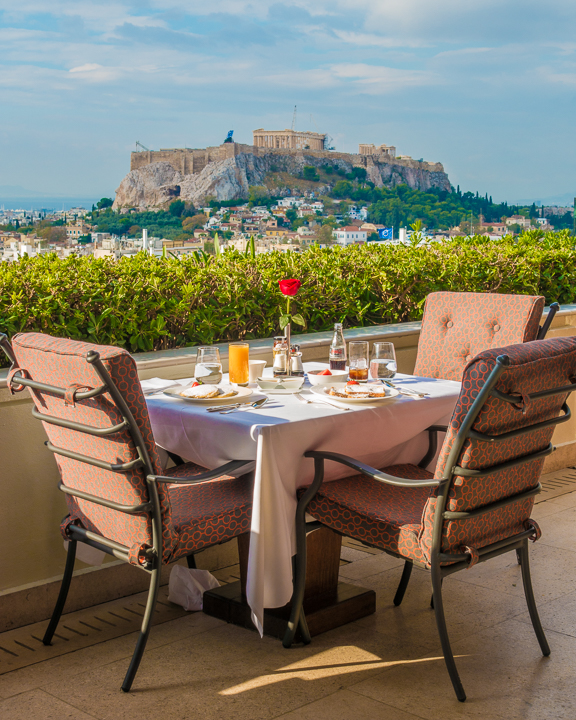 But the most amazing thing about the Hotel Grande Bretagne is the breakfast view.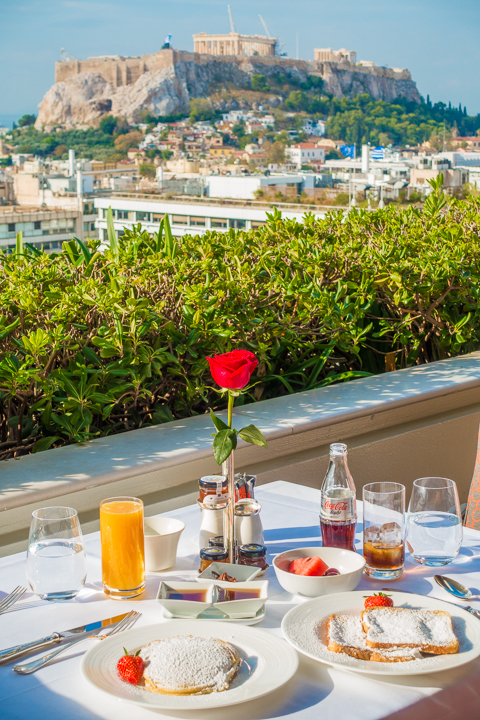 We had this incredible view every morning for breakfast in Athens Greece.
---
Don't lose this post! Save it on Pinterest!