I could've never imagined that the first email I read this morning would set the day off in such a whirlwind of activity and excitement! If you've been following along with my clues on Twitter & Facebook, you might already have a guess… :) Bertolli, who sponsored the last giveaway where I made my own basil fettuccine, contacted me about another giveaway… An incredible, once-in-a-lifetime giveaway…
Are you ready?
An all-expenses paid trip for me AND one lucky kevinandamanda.com reader to attend a fun, culinary-inspired day and an exclusive, intimate meet-and-greet in Los Angeles, CA with celebrity Chef Rocco DiSpirito!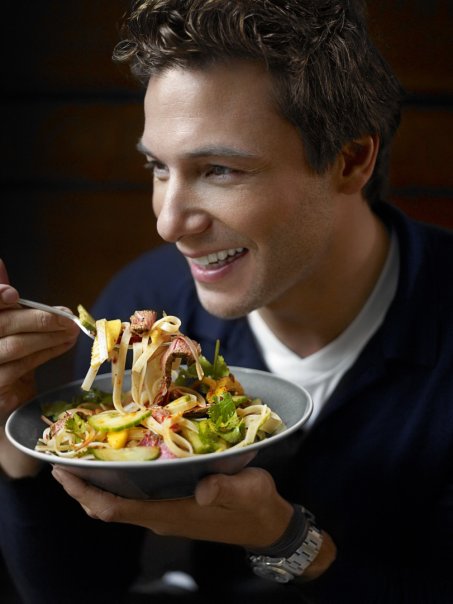 We're going to LA!
And we get to meet *him*!!!
***
Time's Up!!!
The winner of the Bertolli Giveaway Trip to L.A. has been chosen and notified!
(I wish I could take you allllll with me!)
Keep in touch with with me next week on Twitter and Facebook – I'll keep you updated every step of the way! :)
Thanks so much for looking – See you next week! :)
***
It's all happening next week! And yes- you read that right! Me AND a reader!! Sound like fun?? Want to come with me?? :)
If you'd like to join me in Los Angeles for an all-expenses paid trip to meet Rocco here's what you need to know:
HOW TO ENTER…
To be entered to win, all you have to do is answer a question in the comments section of this post! :)
For this "Week of Bertolli" Giveaway, I will post a video every day starting today until Thursday, May 6th (4 videos total). The first video will be at the bottom of this post. The rest of the videos will be posted here, every day:
https://www.kevinandamanda.com/giveaway/bertolli
Bookmark that page and check it every day this week for the new videos! :) To enter, simply watch the videos and answer the question I ask about the video in the comments section of this post. To make it easy on me, always come back to this original post to leave your comment.
You may enter up to 4 times by watching all 4 videos! :)
NOTE: You don't have to watch all 4 videos in order to win – just one entry is all it takes to win! :)
You also don't have to leave a comment on the same day the video was posted- it doesn't "expire". If for some reason you don't see this post until Tuesday, you may leave both your comments for Monday and Tuesday's videos on Tuesday. Or if you don't see it until Thursday, you may leave all 4 comments on Thursday. Make sense? :)
EXTRA ENTRIES…
You may Tweet about this giveaway once per day for another 4 entries! Twitter entries must include @kevinandamanda, @Bertolli, and a link back to this giveaway post. Use this link to reference this post: http://bit.ly/bxQoIW Leave a separate comment on this post for each tweet!
You may Share on Facebook once per day for another 4 entries! Facebook entries must be tagged with the (new!) Kevin & Amanda Facebook Fan Page & Bertolli's fan page. To do this, become a fan of Kevin & Amanda and Bertolli on Facebook. Start typing a status update and type the @ symbol, then (with no space) start typing Kevin… or Bertolli… and you will see the fan page pop up. Click on it to "tag' us in your status update. Entries must also include a link back to this post. Use this link to reference this post. Leave a separate comment on this post for each Share!
You may enter up to 8 extra times by Tweeting & Sharing every day! :)
THE RULES…
– Contest ends Thursday, May 6th at 11:59 pm CST.
– Winners must be traveling from within the continental U.S. and be able to attend a trip to Los Angeles, CA with date range of May 10 to May 12, 2010.
***
Got that?? :) *whew!* Alright! Here is the first video!! :)
Join Rocco Dispirito, Marisa Tomei and Dan Cortese as they begin their culinary adventure in the beautiful walled city of Lucca. Watch as our trio unlocks the secrets of talented local artisans and chefs, learns that one ingredient is as valuable as money, and discovers the inspiration behind Bertolli Frozen Meals' Chicken Florentine and Farfalle.
And the question to answer is… (I'll go easy on you for the first video! ;))
What was your favorite scene in this webisode? Was it when Rocco, Marisa, and Dan had to match which cheese came from which animal? How fun was that little game?? I would've loved to try and guess! :) Was it when Marisa learned the secret to the perfect pinch of farfalle pasta?? I totally want to try making my own cute little pinched farfalle bows now! :) Meep! :) Or was it something else? What was your favorite?? :)
***
Oh! And BTW! :) There will be another blogger and her reader joining us – And guess who it is! Well… you will have to wait until tomorrow to find out! :) She hasn't posted on her blog yet and I don't want to scoop her. ;) But I have a feeling you will be just as excited as I was! :) I can't decide who I'm more excited to meet: Rocco or………. ;)
Thanks so much for reading and entering… I can't wait to meet the winner!