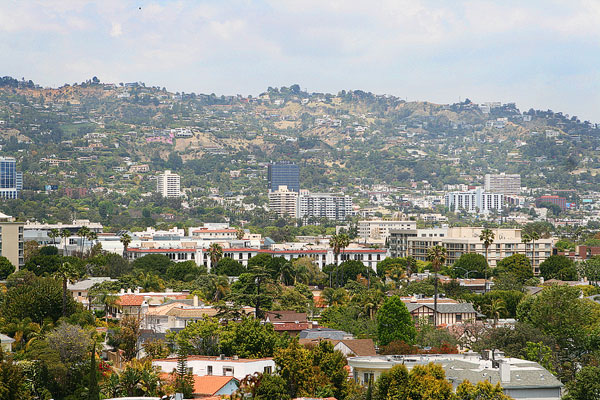 I'm back from LA! Last week Bertolli sent me (and one of my lovely readers!) on an all-expenses paid trip to Los Angeles to experience an unforgettable culinary tour of the city and meet celebrity chef Rocco DiSpirito.
Everything happened so quickly- Bertolli asked me on a Monday if I was interested in participating, and the next Monday at 6:30 am, I was on my flight to LAX! I wasn't exactly sure what to expect, but it turned out to be an amazing, extraordinary trip of a lifetime. I'll never forget the the food, the flavors, the friends, the fun. Bertolli truly rolled out the red carpet and treated us like royalty.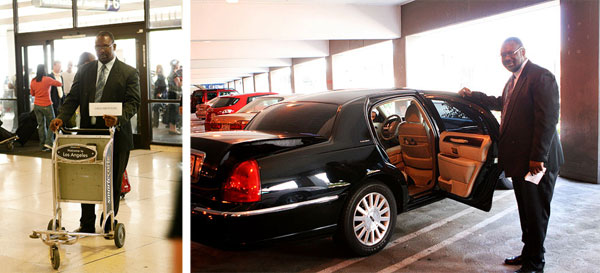 My flight landed in LAX at 11 am. When I got to baggage claim, there was a driver holding a sign with my name! And he had a luggage cart! He quickly whisked my carry-on luggage on the cart, grabbed my checked bags from the conveyor belt, and escorted me to my car. There were mints and chilled bottled water waiting for me in the backseat.
We stayed in the boutique Thompson Hotel of Beverly Hills, located just steps from Rodeo Drive.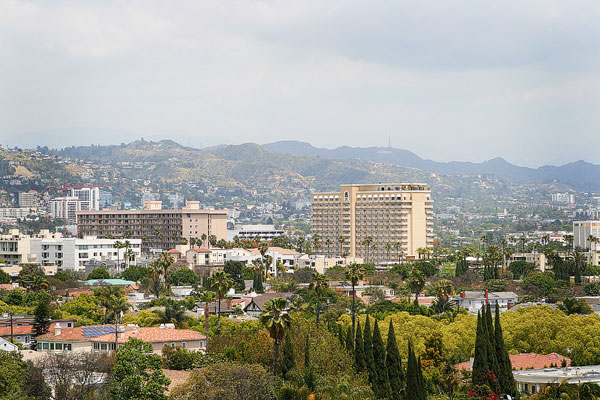 The 360º view of Beverly Hills, Hollywood, & Los Angeles from the rooftop was spectacular. We could see the Hollywood sign!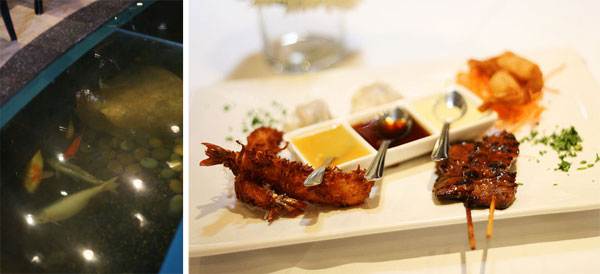 My reader, Jenny, was already there, and we were starving! We walked down to Crustacean, a restaurant I'd heard about on "The Best Thing I Ever Ate" to try An's Famous Garlic Noodles. I don't know how I didn't end up with a picture of the noodles!? But pictured above is the special appetizer plate the server brought out for us. It wasn't on the menu, but it was 2 of every single appetizer on the menu- just for us to sample! :) Oh, and check out that FLOOR! Yes! That is a huge fish tank! On the floor! We followed the fish tank path through the bar area and walked over a little bridge to the seating area. Very cool.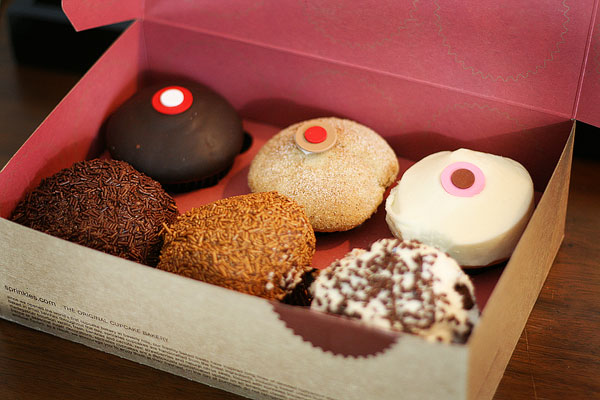 Right across the street from Crustacean was… Sprinkles Cupcakes! We had to get several to sample! Clockwise from top left: chocolate marshmallow, cinnamon sugar, vanilla, black & white, mocha, and milk chocolate.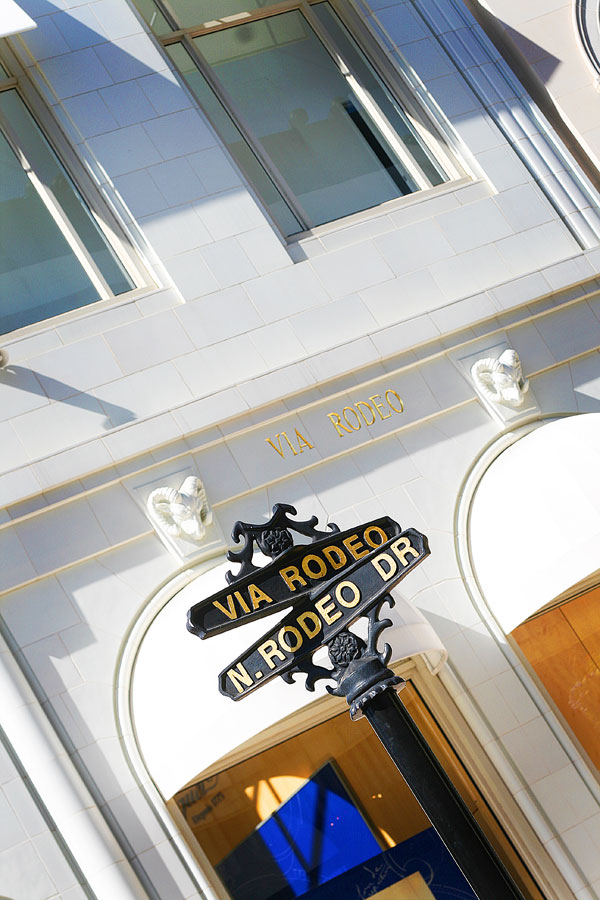 Just two short blocks from Sprinkles was Rodeo Drive!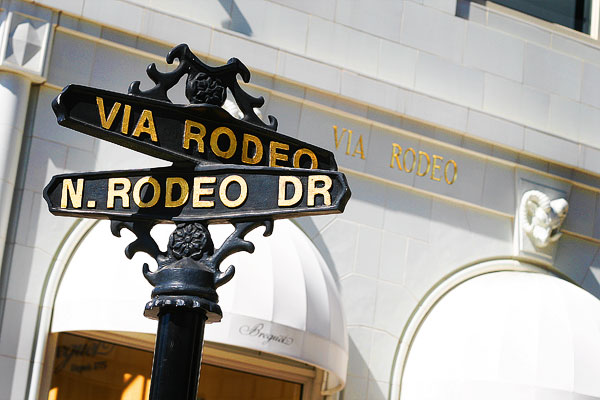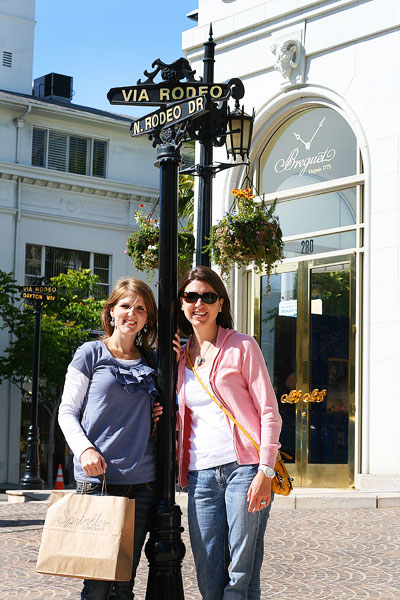 We shopped, gawked at all the excess and got our picture taken with the sign. :)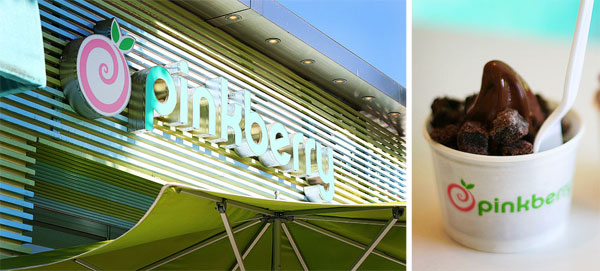 After we had thoroughly worn ourselves out shopping, we headed back to the hotel to meet up with the other girls who were arriving. But first we stopped at Pinkberry for some frozen yogurt!
I was super excited to meet Jenny from PickyPalate! She is as sweet & precious as she looks in pics. :) We all had rooms right next to each other and we were as giddy as school girls. We also met up with Brittney who won the trip from Briana of Blisstree.com. Brittney is hilarious and the life of the party! She smooth-talked the very large security guard into letting us all into a very swanky, very LA, private party on the roof. It was a premiere party for a new show called Haute & Bothered. We crashed the red carpet and had our pictures made- just like we were supposed to be there! (Yeah right!)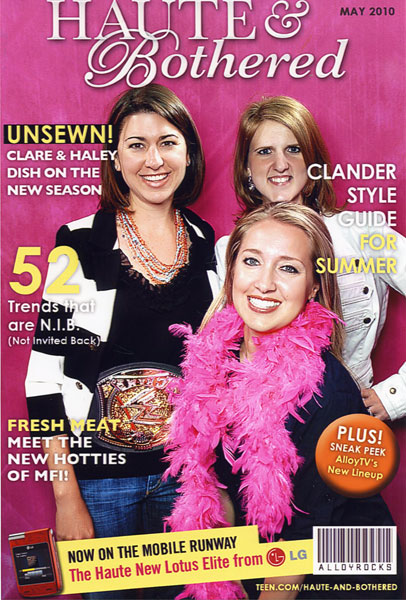 We didn't stay long- it was way past dinner & we were starving again! My guest Jenny had the most brilliant idea- as soon as we got back to our rooms we all changed into our PJs and ordered room service for a PJ Party! Bertolli graciously told us- "Whatever you want, charge it to the room." ♥
We ordered practically one of everything from the entire menu! It all sounded so delicious- how could we choose?? :) There were 5 girls, but the room service waiter kept bringing in plate after plate!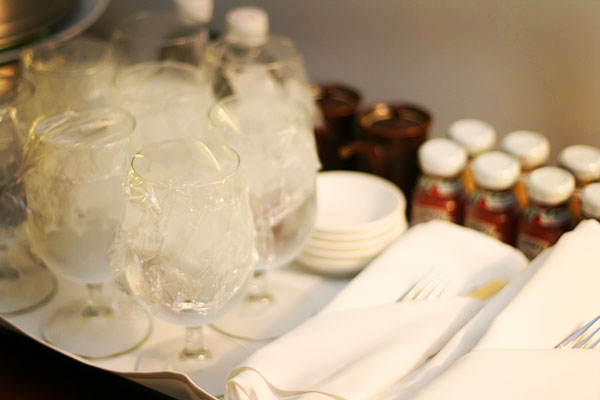 We needed one whole tray just for the water, utensils, and condiments!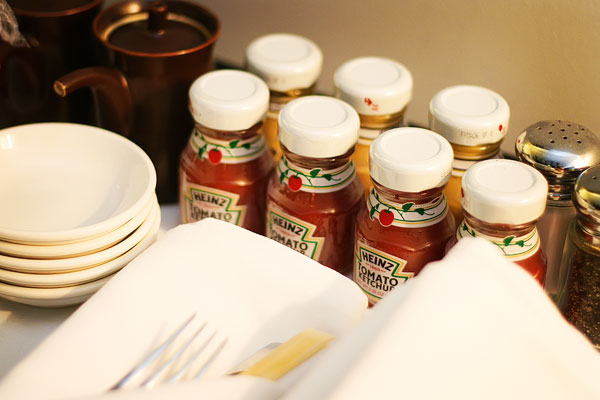 I loved these tiny ketchup bottles!! :)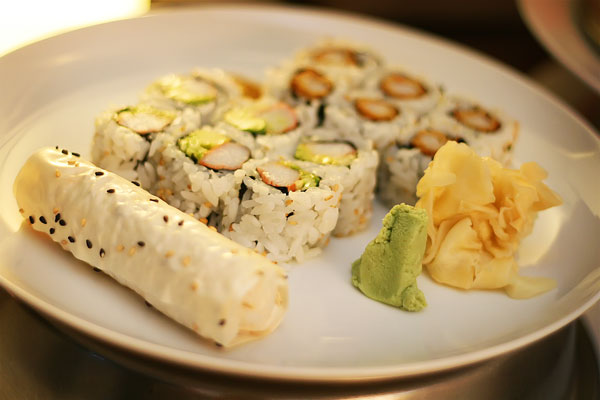 Of course we had to have sushi! Baked King Crab Dynamite Hand Roll, California Roll, and Seasame Crusted Shrimp Roll.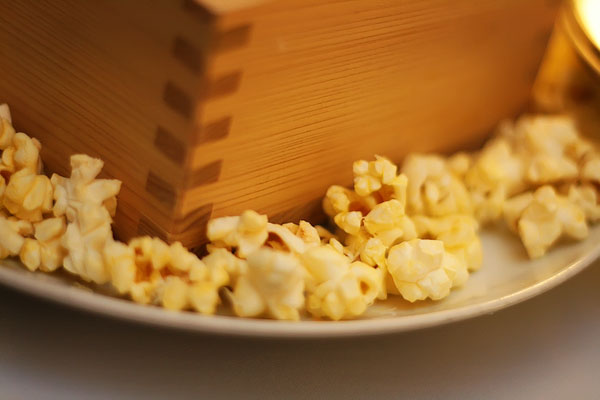 and tasty Parmesan Truffle Popcorn…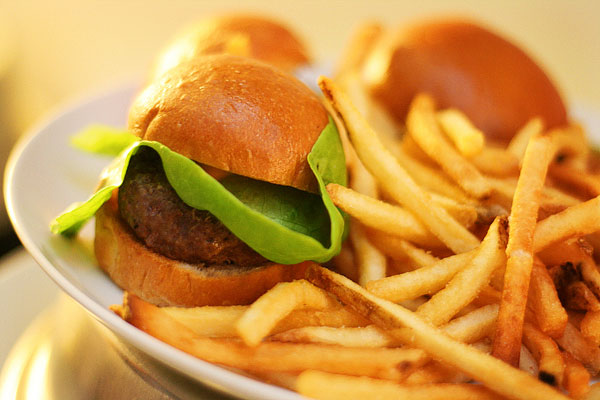 Delicious Kobe Beef Mini Sliders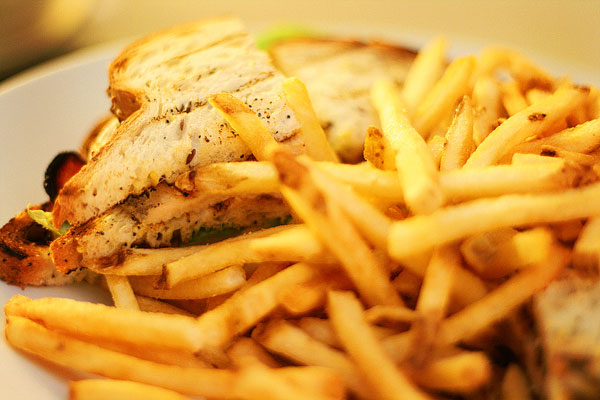 Chicken Club – I can never resist a club sandwich! Loved the fries.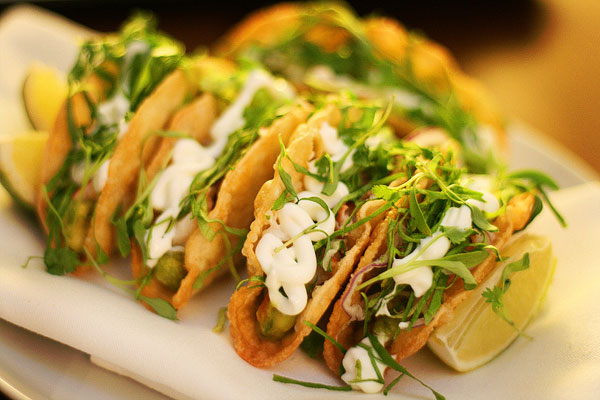 Lobster Tacos (incredible!)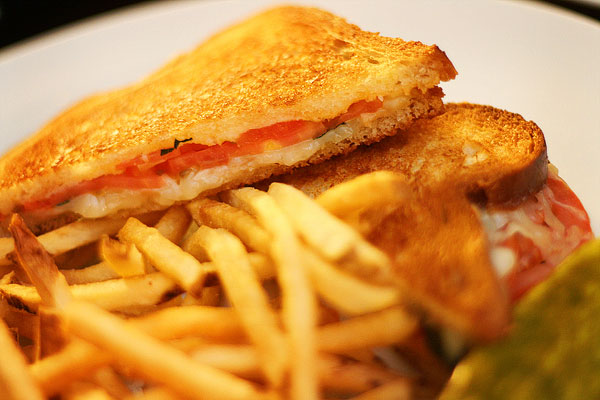 My absolute favorite from the night: Grilled Cheese with Tomato & Basil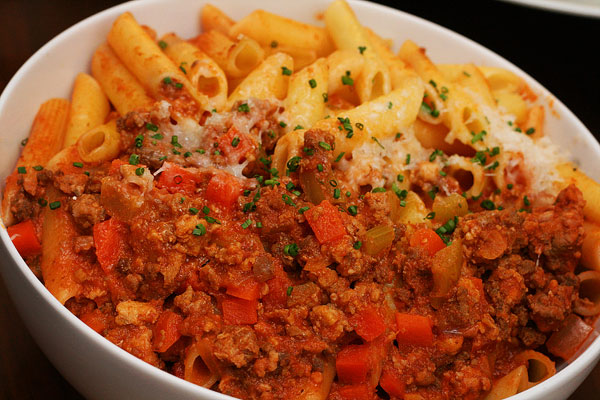 Penne Bolognese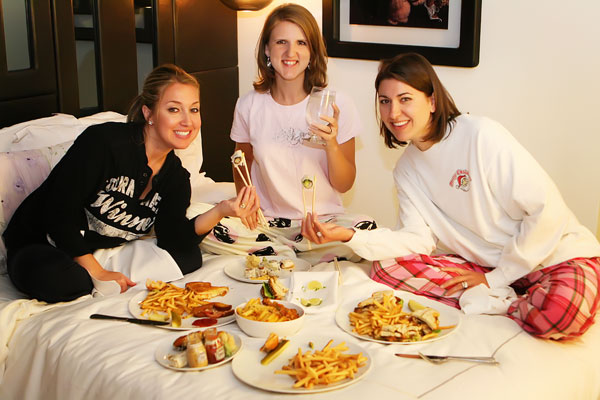 Here's just half of what we ordered! :) We put it all on the bed and tried some of everything.
We also ordered house-made vanilla & espresso ice cream and fresh baked cookies & milk… but I guess we devoured those too quickly before we got a pic! :)
We ate, chatted, got to know each other, and speculated about our big day in the morning.
Best. PJ Party. Ever.
***
Stay Tuned!
Tomorrow I'll post pictures of our incredible day exploring L.A.'s unique culinary scene- starting with our amazing breakfast & tour of LA's oldest and original Farmers' Market.
Thanks for looking!! :)