This easy recipe for Ultimate Baked Beans is going to be your new go-to beans recipe. They're super flavorful and topped with bacon – what's not to love?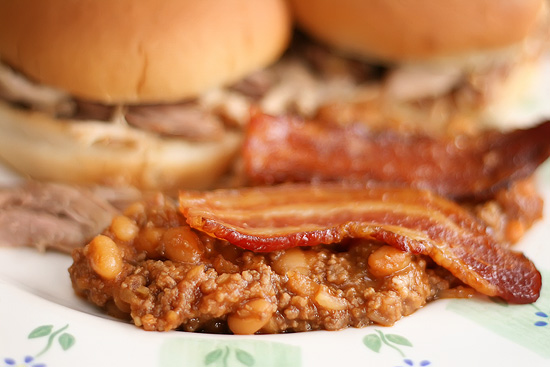 Ultimate Baked Beans
These baked beans aren't just any baked beans- they are manly baked beans. They're meaty, mouth-watering, and topped with bacon. They're perfect for parties, pot lucks and 4th of July. They also are an excellent accompaniment to this Perfect Pulled Pork.  Not only is this scrumptious side dish sure to please, it's also quite convenient- you can make it up a day ahead and pop it into the oven when you get ready to make it. If your goal is to win friends and influence people at your 4th of July party- make these right away. ;)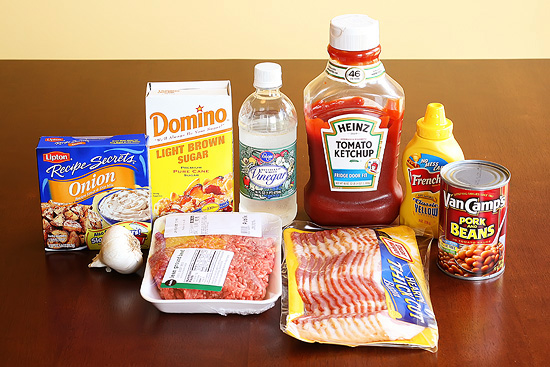 Here's what you'll need. Wait. First let me say- since I made this for just me and Kevin, I halved my usual recipe. It normally makes an entire 9×13 dish of baked beans. Which, yes, of course I could eat the entire thing, all in one sitting, because they're just that good– but anyway. Bathing suit season people. I halved it. The half recipe makes an 8×8 dish. If you want to double this recipe, double everything except the onion soup and the bacon. Still use just one package of onion soup and 1 lb of bacon, even if you double it. Got that? Alright. :) Here's what you'll need for the half recipe:
1/2 lb ground beef
1/4 cup water
1/2 tbsp white vinegar
1 pkg onion soup mix
1 (15 oz) can Van Camps pork & beans
1/4 cup ketchup
1/4 cup brown sugar
1 tbsp prepared mustard
1 garlic clove, minced
1 lb  bacon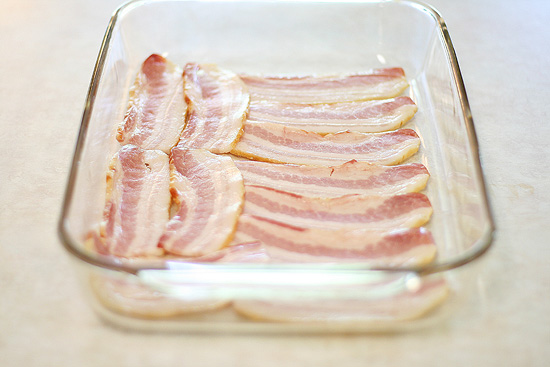 How to Make The Best Baked Beans
I start by cutting my bacon in half (to get it out of the packaging) and putting it in the bottom of a 9×13 dish. It takes two 9×13 dishes, and if it doesn't quite fit, I just shove it in there anyway. :) There's no way I'm using more than 2 dishes! I'm not even happy about using the two- but it's *way* better than doing it on the stove.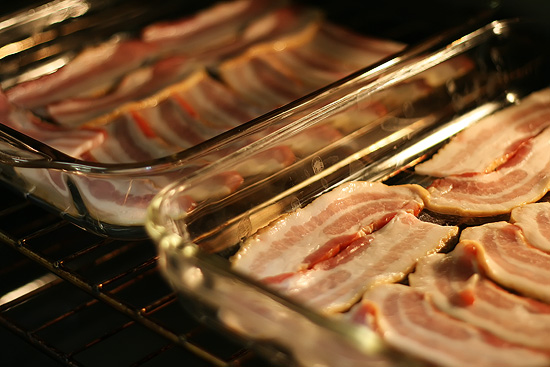 Oh yeah! I'm doing my bacon in the oven these days. Turns out great! I've even got my *dad* doing it and he is the KING of frying bacon. I don't mind doing bacon on the stove, it's just that you have to stand there for 30+ mins and watch it the whole time. With the oven, you can just stick it in there and forget about it for at least 25 mins. Here's how I do it- put the bacon in a cold oven, then turn the heat to 400 degrees. Check on it after 25 mins. If it's not done to your liking, check on it every 3-5 mins after that. For this recipe, you don't want it allllll the way done. It's still going to cook for another 45 mins in the oven on top of the baked beans. So you don't want it to be extra crispy or anything. But you do want it to be mostly done. (I did mine for 25 mins.) Got that?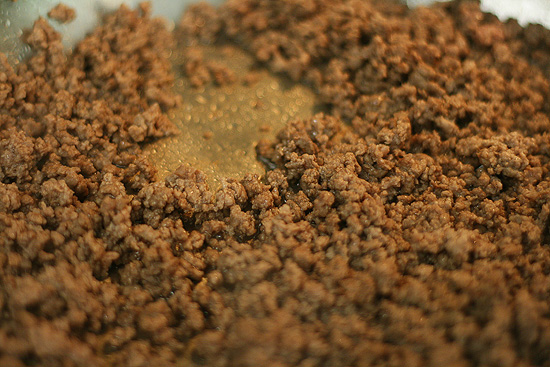 While the bacon's going, brown and drain the hamburger meat.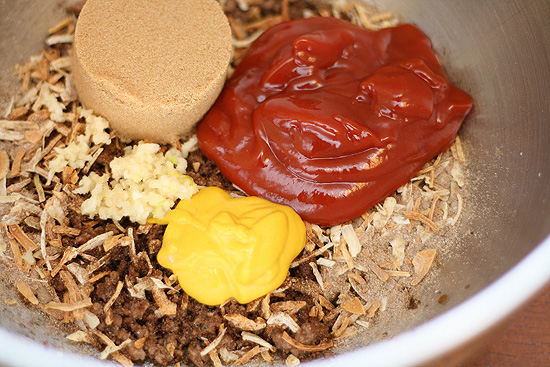 Then throw the hamburger meat, and all the other ingredients- the water, vinegar, onion soup, beans, ketchup, mustard (don't skip this even if you hate mustard like I do :D), brown sugar, and garlic- into a large bowl. Now, I like to let my Kitchenaid mixer (with the paddle attachment, on low) stir this up for me. But you could certainly also just use a spoon, of course. :)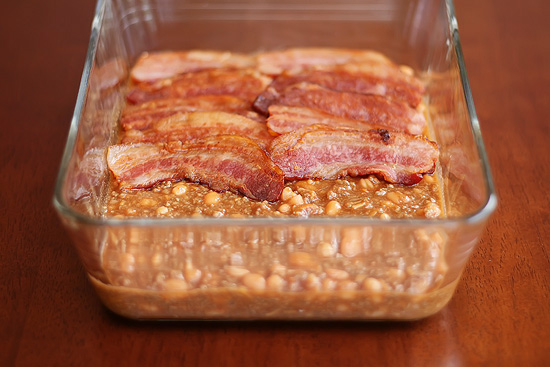 Whoops! Did you notice anything missing from the mixing bowl picture?? The BEANS! I forgot add the BEANS!! But don't worry- I remembered and added them before I got to the dishing up point. :P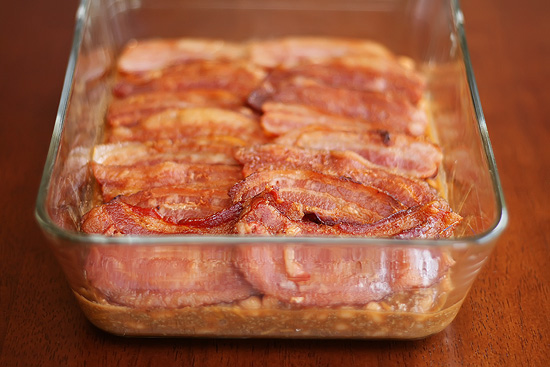 When the meat and beans mixture is combined, layer it in the bottom of an 8×8 baking dish and cover it with plenty of bacon. Yes. I realize that doesn't really look like an 8×8 dish. As it turns out, all of my 8×8 dishes were dirty. Along with the two 9×13 dishes I used to make the bacon in. I'm going to have a lot of dishes to do tonight. But anyway! Since I didn't have an 8×8 dish, I used the next size up. Not quite as big as a 9×13 dish, but slightly bigger than 8×8. Oh, nevermind. Now at this point, I wasn't ready to cook it, so I covered it with plastic wrap and put it in the fridge overnight. But you could definitely go ahead and make it right away if you wanted to.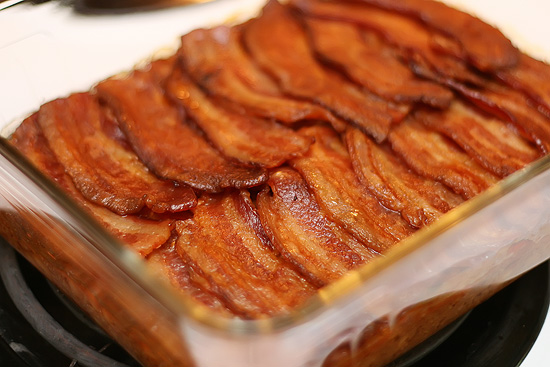 Either way, when you get ready to make it, preheat your oven to 350, cover the beans with aluminum foil, and bake covered for 30 mins, and then uncovered for 15 mins, for a total of 45 mins cooking time. And when it comes out it'll look crispy and delicious. :D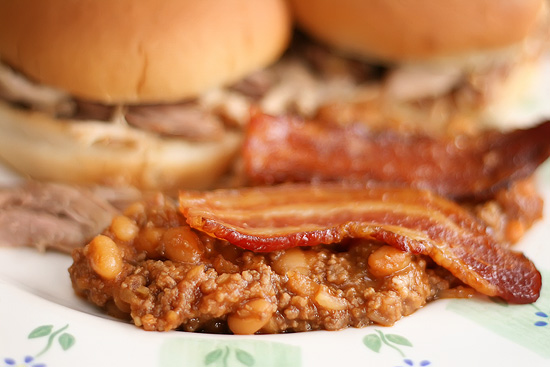 When it's ready, dig in! And be sure and get plenty of that bacon. :D We had this tonight with Perfect Pulled Pork sandwiches. I'm happy to report that I tried the pulled pork in the crock pot for the first time today and it turned out great! For a 5lb roast, it needed at least 10 hours on low. I put it in at 8 this morning, and by 6 pm, my meat thermometer was reading 198. Usually I cook it to an internal temperature of 200, and then turn off the oven and let it cool for another couple of hours until it cools down to 170, but tonight I just couldn't wait so I went ahead and pulled it at 198. It was perfect and literally falling apart in my hands. Just right. :)
Have some baked beans leftover? They make a *great* lunch- it's got your beans and your meat all in one dish! :) I'm only slightly embarrassed to admit I've eaten this straight from the fridge- cold. It's GOOD! :)
Whether you're looking for something to make for a crowd or just a weeknight side dish- give these Ultimate Baked Beans a try! :)
Print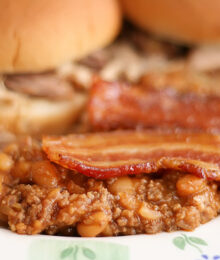 Ultimate Baked Beans
Prep Time:

15 minutes

Cook Time:

45 minutes

Total Time:

1 hour

Yield:

8

servings

1

x
Category:

Side

Method:

Oven

Cuisine:

American
Description
This easy recipe for Ultimate Baked Beans is going to be your new go-to beans recipe. They're super flavorful and topped with bacon – what's not to love?
Scale
Ingredients
2

(15 oz) cans Van Camps pork & beans

1

garlic clove, minced

1

pkg lipton onion soup mix

1/2 cup

water

1/2 cup

ketchup

1/2 cup

brown sugar

2 tablespoon

prepared mustard

1 tablespoon

white vinegar

1

lb ground beef, browned and drained

1

lb mostly cooked bacon
Instructions
Preheat oven to 350. Mix all ingredients except bacon together and spread in a 9×13 dish. Top with cooked bacon. Cover with aluminum foil and bake covered for 30 mins, then uncovered for 15 mins.
Keywords: easy baked beans, easy baked beans recipe, baked beans recipe, best baked beans, best baked beans recipe, how to make baked beans, healthy side, side dish, side dish recipe