*New feature on Kevin & Amanda! Use the left and right arrow keys to scroll between photos.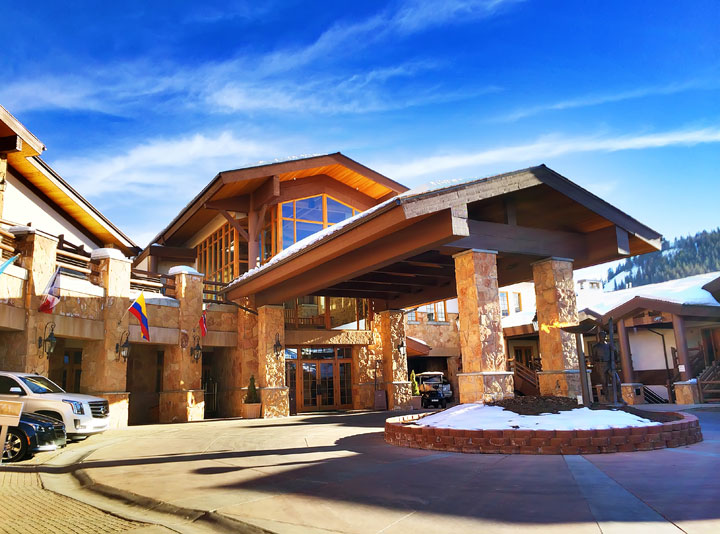 The majestic Stein Eriksen Lodge was our home for five days last week while we were in Deer Valley, Utah. The Stein Lodge is Deer Valley's premier on-mountain luxury hotel, and it is also the ONLY Forbes five-star rated Hotel & Spa in the entire state of Utah. On the way there our driver told us the Stein Lodge is where all the celebrities stayed when they were in Park City for Sundance just a few days before we got there. Many of them he drove himself! He told us he'd just driven Kate Hudson, Ethan Hawke, Claire Danes, and "someone from The Walking Dead". We were beside ourselves at the chance to stay there. And seriously hoping there'd be some celebrities still hanging around after Sundance, lol! :)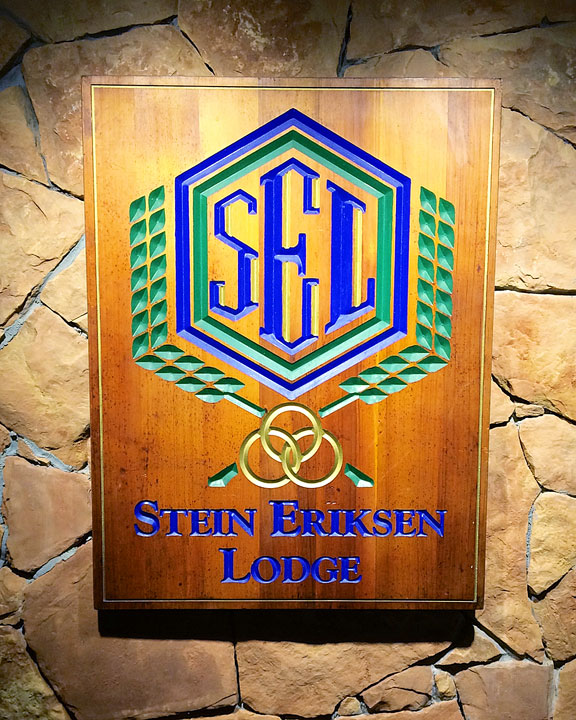 Photo via Stephanie
Here are just a few of the amenities the Stein Lodge offers:
Ski-in / Ski-out access to Deer Valley Resort
Full-service ski locker room and ski valets
Shuttle service to Park City and anywhere in Deer Valley
Twice-daily maid service
Turndown service
Secure parking in heated underground garage
The driveway to Stein Lodge is also heated, so you never have to worry about driving in the snow, or stepping in snow when you get out of the car. That's why there's no snow on the rotunda in the photo above! Crazy, huh?? :)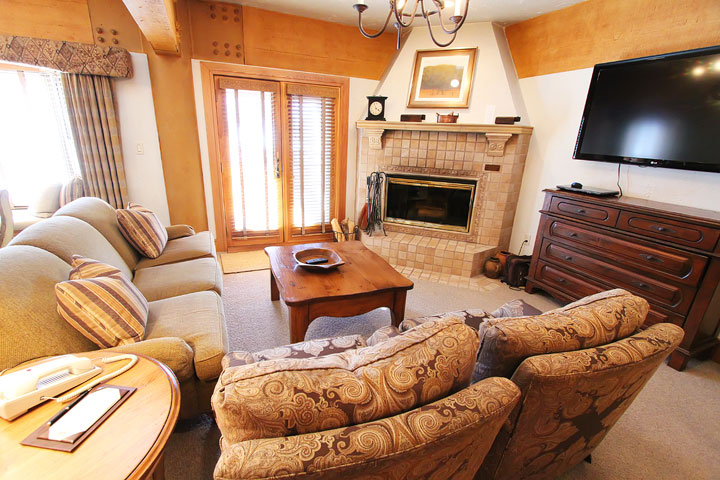 For the four of us, we had a 2-bedroom, 3-bathroom suite which was TONS of room. We could've easily fit at least one more couple in there. :) Click here to see a floorplan. There was a pull-down Murphy bed off the living room. We loved hanging out in here by the fire after a day of skiing. When you're ready for a fire you can call down to the front desk and they will send someone up to build a fire for you. :) The Stein Lodge went above and beyond to make sure we were comfortable and had everything we needed. We felt like royalty.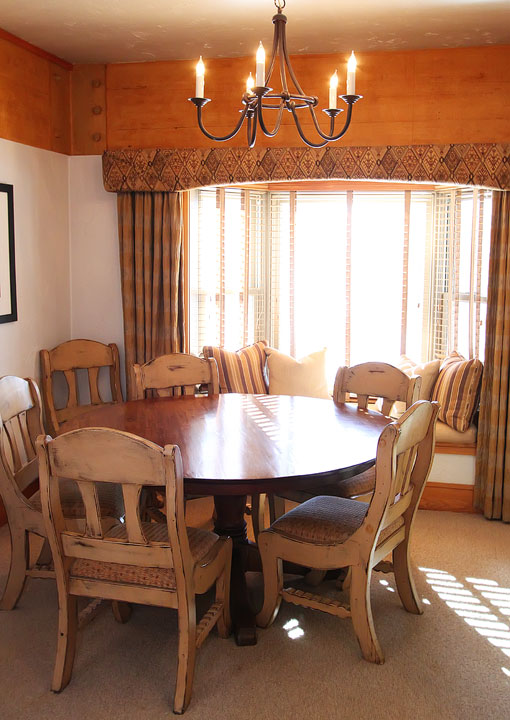 Loved this cozy little area in the dining room. The big bay window had a comfy cushioned seat with lots of extra fluffy pillows and had a beautiful view of the mountains, ski slopes, and sunset. I could sit here and read all day. :)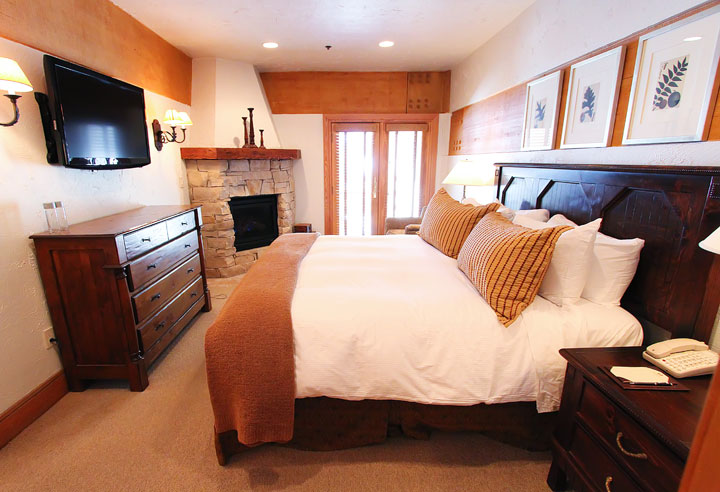 The master had a king bed and it's own fireplace you could turn on with a switch. Out back is a private deck with private hot tub with access from the master or living room.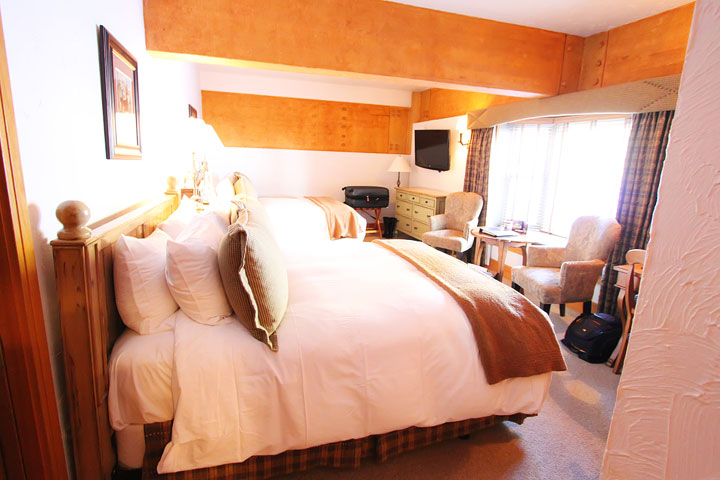 The second bedroom was huge. There was tons of space between the beds so Stephanie and I didn't feel like we were right on top of each other. :)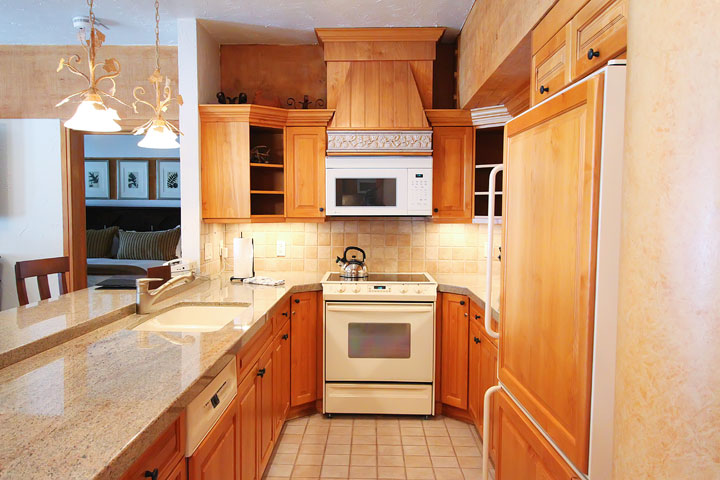 There was even a full kitchen in case we wanted to do meals in the condo. :)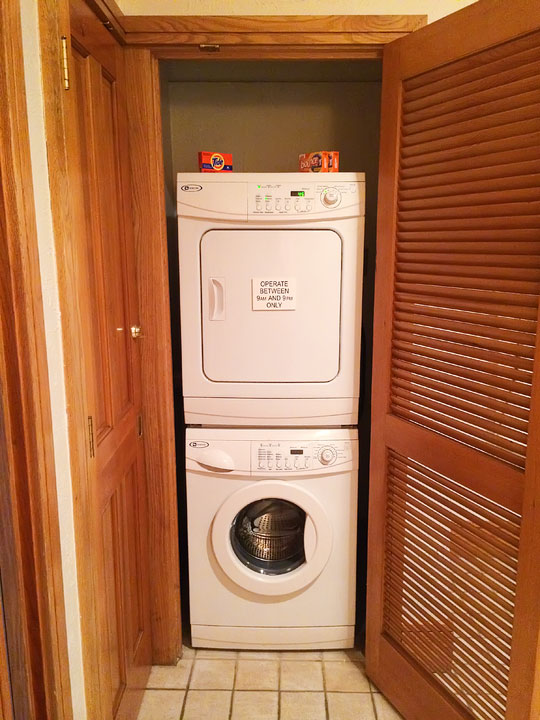 I loved the little laundry room with the cute mini boxes of Tide and Bounce! It was nice having one right in our suite. We put it to good use after a day of skiing. I dried my scarf so I could wear it again to dinner and so it'd be nice and warm and toasty when I put it on. ;)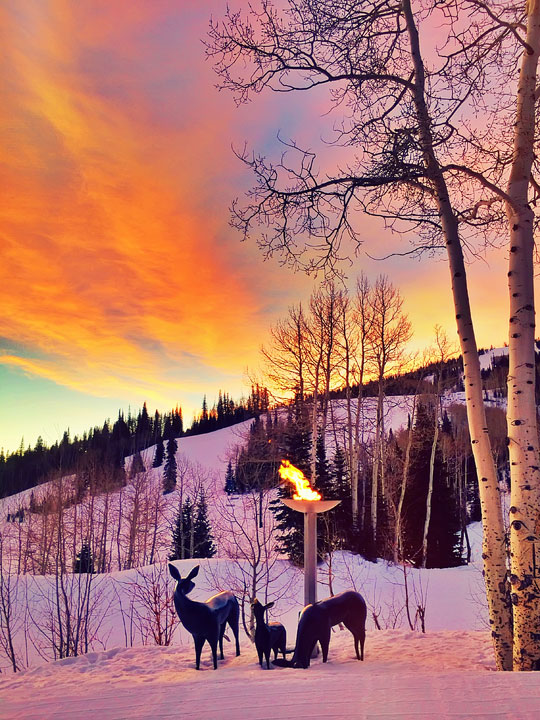 Even the sun is on vacation at Deer Valley! When we were there the sun didn't rise until about 8 am, giving us plenty of time to sleep in, yet still see the sunrise. Every morning we'd go down early for breakfast and watch the sun come up. It was the highlight of my day. :)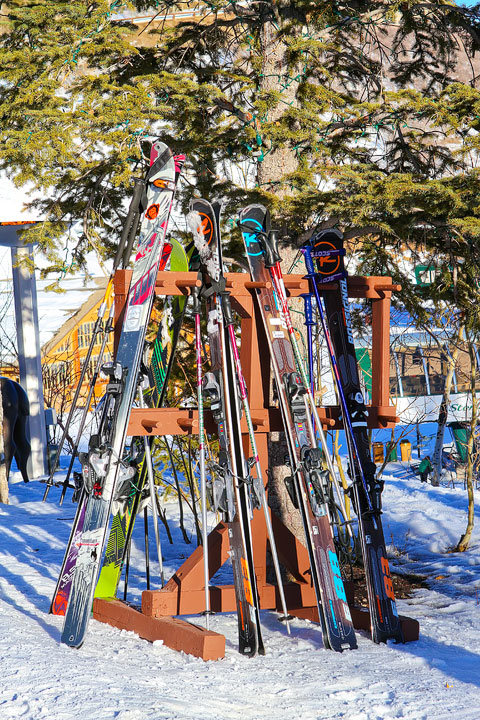 The Stein Lodge is located right on the slopes with ski-in/ski-out access. After breakfast, we'd head down to the ski valet for a day of skiing.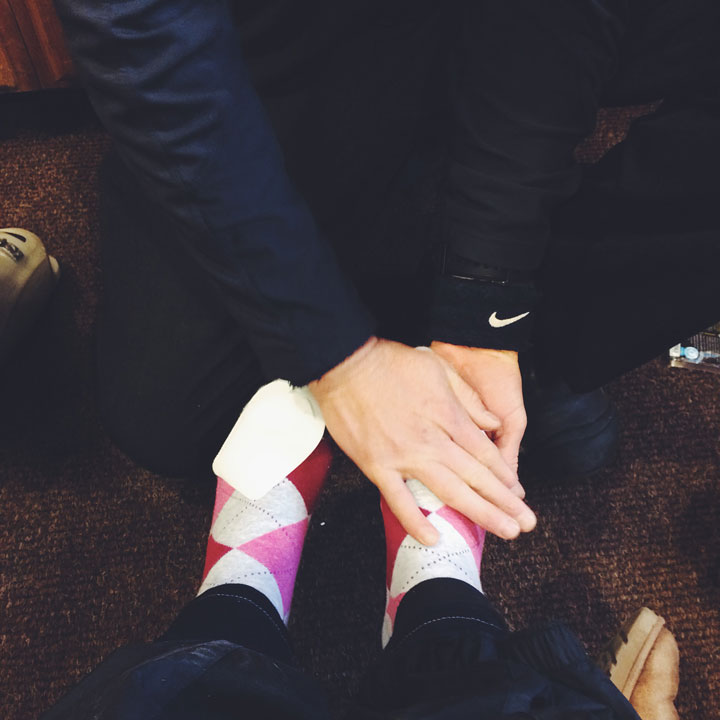 Can I just say again how much I love Deer Valley's Ski Valet service?! Before the cute young ski valet guy put on my ski boots for me, I asked if I could put on toe warmers to keep my feet warm during the day. I'd never worn toe warmers before, so I had no clue how to put them on. Before I knew it he was saying "Of course!" and was taking them out of the package, shaking them up to get them warm, and applying them in the perfect spot for optimal heat distribution. What a dream! Talk about exceptional service. Deer Valley and Stein Lodge are all about making sure you are taken care of down to every last detail. :)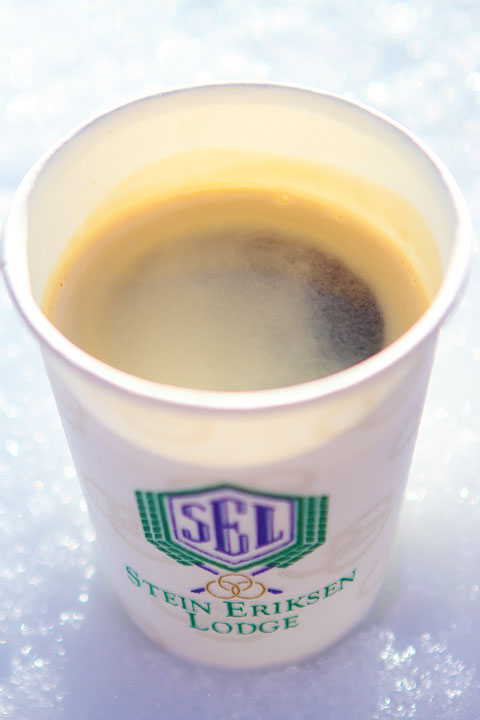 Okay, if there is one thing you seriously have to do at Deer Valley, it is get a cup of the Hot Apple Cider located at the Stein Lodge Ski Valet area!!! When you head out for a day of skiing, or when you come back in for lunch, or for the day, or anytime, they have a hot chocolate and hot apple cider bar with complimentary drinks to warm you up. We loved coming in from a day of skiing and grabbing a hot chocolate or hot cider! The hot apple cider was — no joke — seriously one of the best things I have ever tasted. It tasted like Jolly Ranchers!!! I have never had anything like it!! I could not get enough of this apple cider. I seriously need the recipe for this!! I am still dreaming about it!! :) If you are anywhere near Deer Valley, seriously get yourself up there for some of this cider. :) So delicious!! :)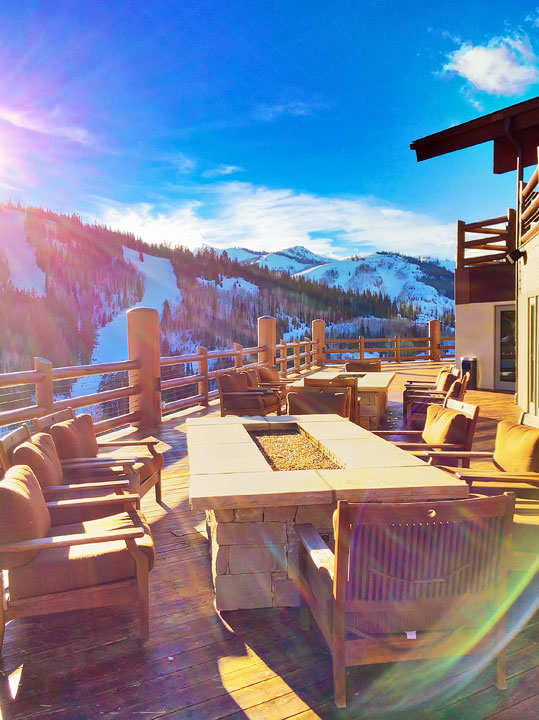 After a day of skiing, we would come back up to the lodge and drink hot chocolate or cider by the fire pits outside with a beautiful view of the mountains and skiers in the background.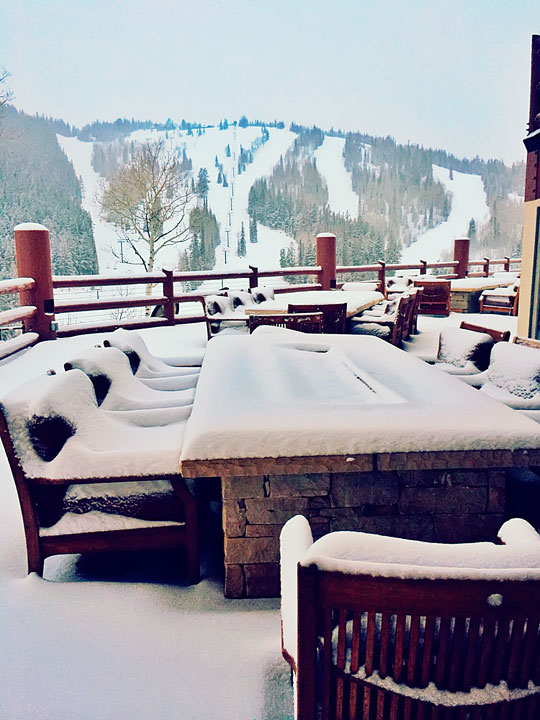 One morning we woke up to seven inches of fresh powder to ski on! Everything was covered in a peaceful blanket of soft white snow.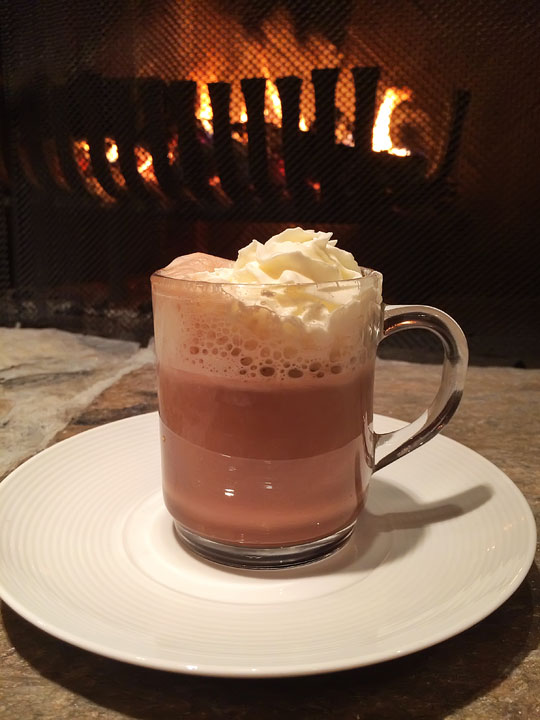 Good thing there was always a big fire going in the lobby to warm up next to with a big mug of hot cocoa and whipped cream. :)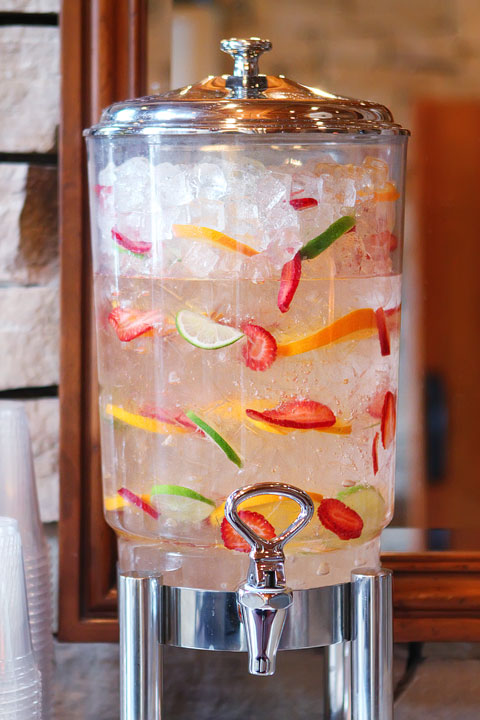 Another one of my favorite features of the Stein Lodge was the spa water in the lobby. Because of the elevation in Park City it is important to drink lots of water and stay hydrated. I loved the spa water in the lobby! They make it so easy for you. :) It was a different delicious flavor every day, and I'd always have to grab a cup every time we walked by. I seriously drank gallons and gallons of this stuff! :)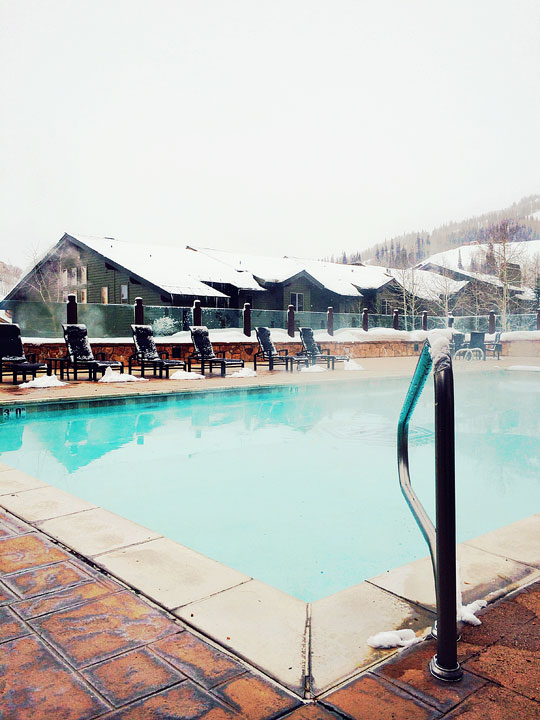 Aaaand of course I had to check out their 23,000 square-foot Five Star luxury spa. :)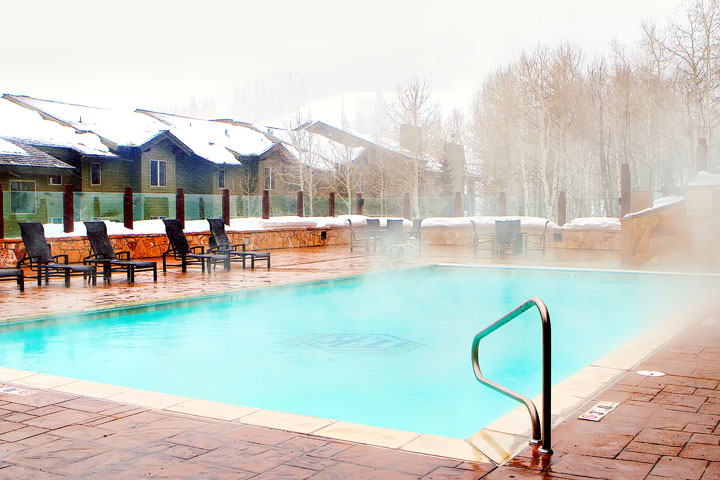 Anyone for a swim?? It is heated after all! :)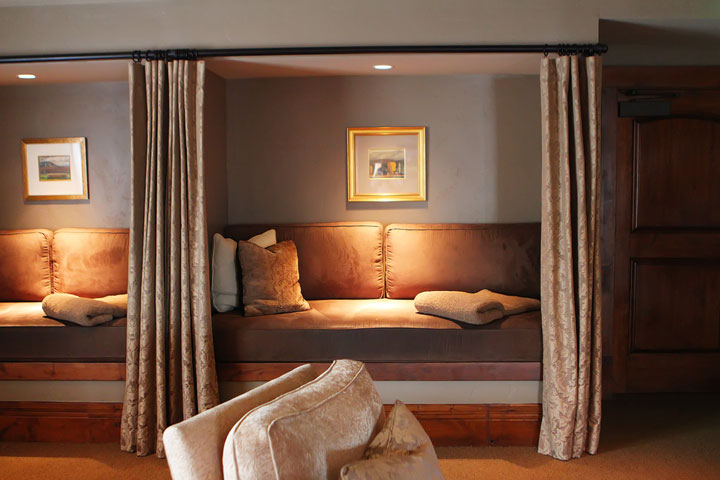 After a day of skiing, you could go go hang out in the spa lounge. They even had these cozy little private booths! :) The spa at Stein Eriksen offers dozens of customizable treatments including massage, facials, even full salon services. I could totally spend a day just hanging out at the spa. :)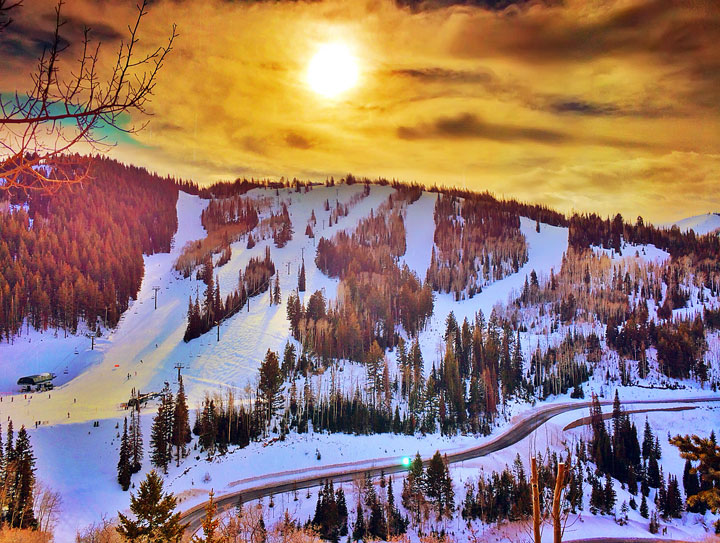 My favorite aprés ski activity was watching the sunset from our warm, toasty room, cuddled up with a blanket on the bay window. :)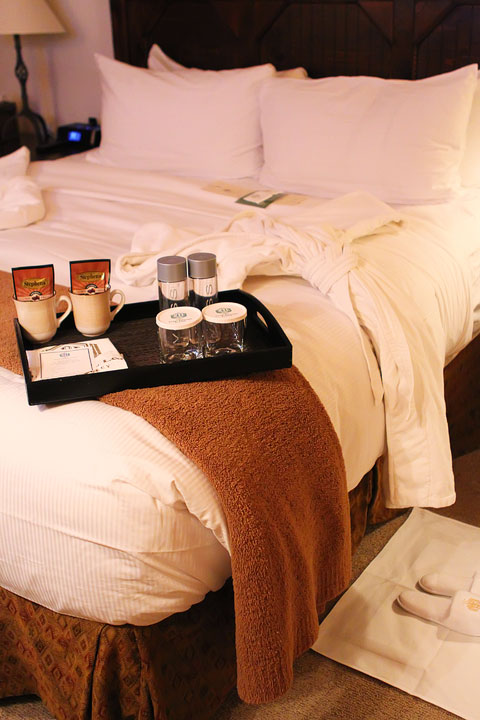 And finally, every night we were spoiled with turndown service. They left chocolates on our pillow along with  a tray of mugs, hot chocolate, and bottles of water. Stein Lodge anticipated our needs and always made sure we had plenty of water bottles in the room to stay hydrated! They were always looking out for us. Oh! Another really awesome thing they did for us — the outlets in the room were a little hard to reach, so they brought me an extension cord so I could charge my phone right on the nightstand. All I did was call down and they brought it right up. Any time I called down, they were there in seconds!
Everything at the Stein Lodge was exceptional. The staff was incredibly helpful and friendly. We couldn't have asked for a better place to stay. Thank you so much to the Stein Lodge for hosting this week at Deer Valley!
Thanks so much for looking! Have a great weekend!!