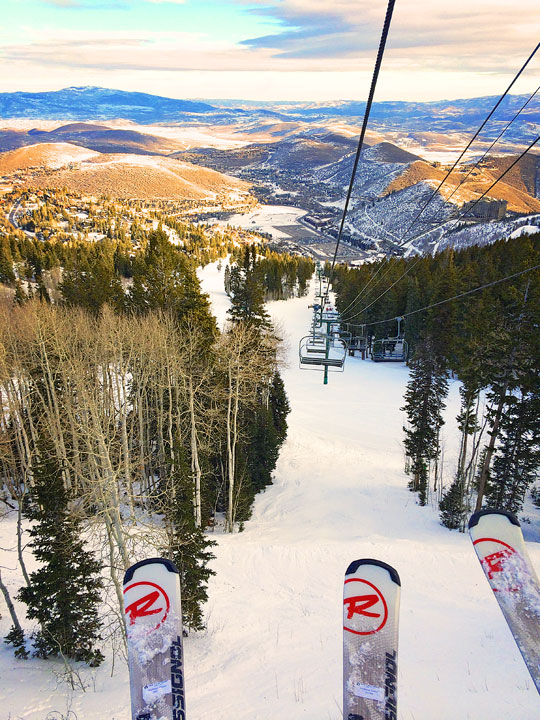 When I was growing up, my parents — my dad especially — LOVED to ski. We didn't get to go every year, but they planned and saved up, and the trips we did get to take were extremely special and meaningful. My dad taught me to ski at a fairly early age, and I always felt very fortunate that this was something we were able to do together. Being from Alabama, not too many people skied — it hardly ever even snows there! — so I definitely felt special that we were able to do something so "exotic" and unique. :)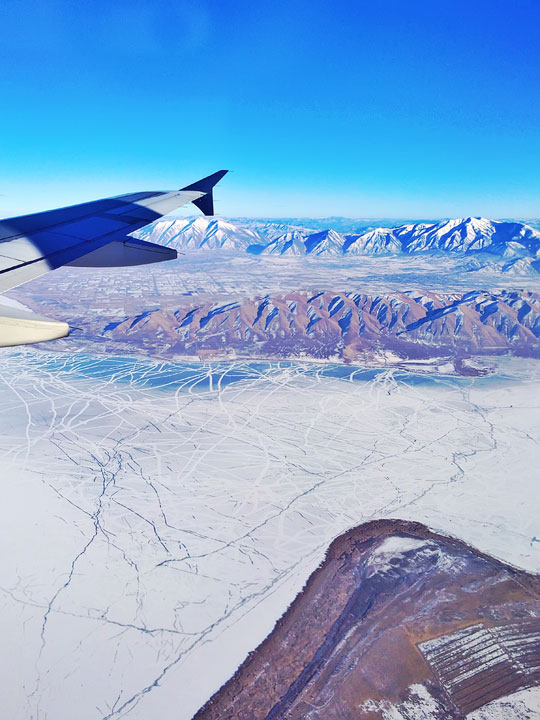 Flying over frozen Utah Lake.
Whatever we did, my parents worked hard and saved and always made travel a priority for us. My favorite, most cherished memories growing up are all our fun road trips we took. My dad loved to drive, and we went all over — from way out west to Wyoming for a church mission trip, an educational road trip up north to Gettysburg, Pennsylvania and Williamsburg, Virginia, or all the way to the southern tip of Florida for sun and fun.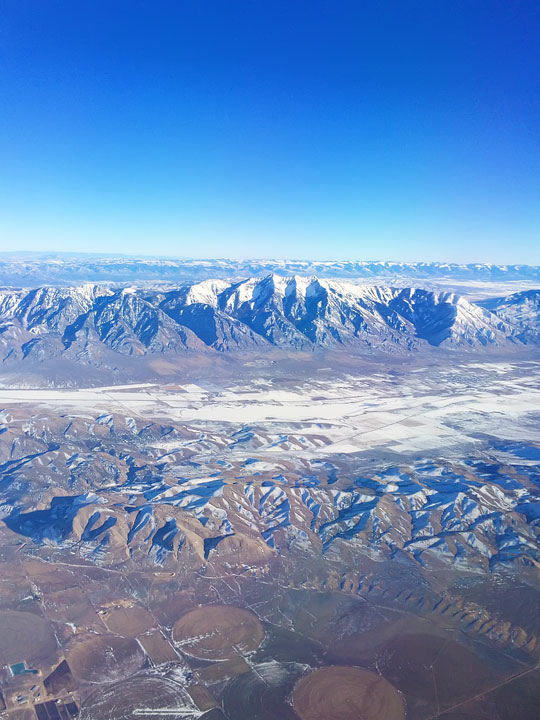 My parents always made sure I was loaded up with plenty of books to read for the ride and disposable cameras for taking lots of pictures. I have always loved taking pictures. :) I still have the scrapbook I made when I was in 7th grade of our snorkeling trip to the Florida Keys.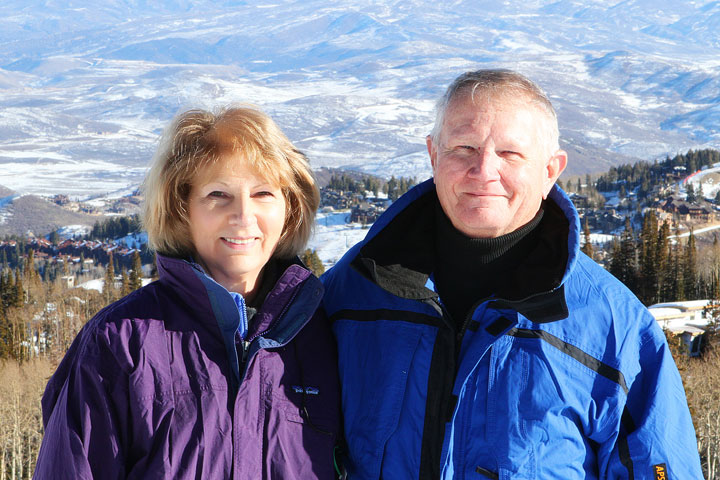 My parents still do so much for us now. I'm so lucky to have them. They are so generous to us with their time and skills. My dad built an amazing scrapbook room for me, and after we moved to our new house they gave up many of their weekends to help us with home projects, installations, and remodeling that otherwise we would've had to hire someone to do, even though they are in the midst of building their own house, with their own hands. And of course, they always take such good care of Miley and Howie for us when we are traveling. :)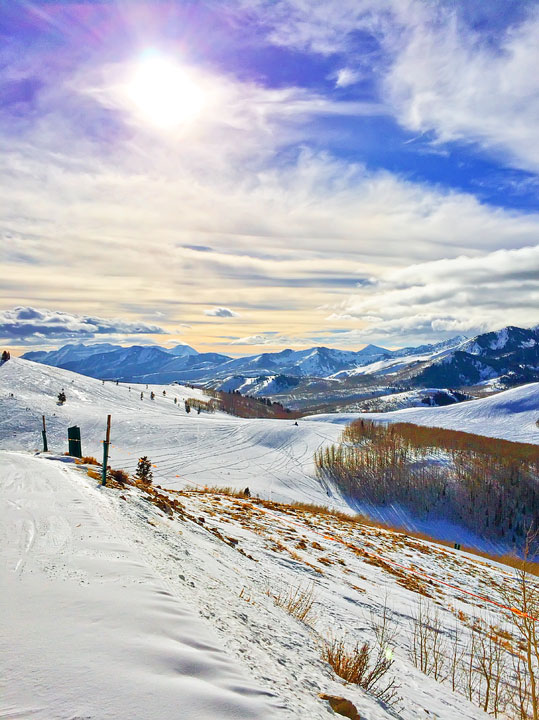 Last week Deer Valley invited us to come back and ski with them for the second year in a row. We were beyond shocked and thrilled. It was truly a honor to be able to take my parents skiing again as a "thank you" for all they do for us. Thank you Deer Valley for making that possible.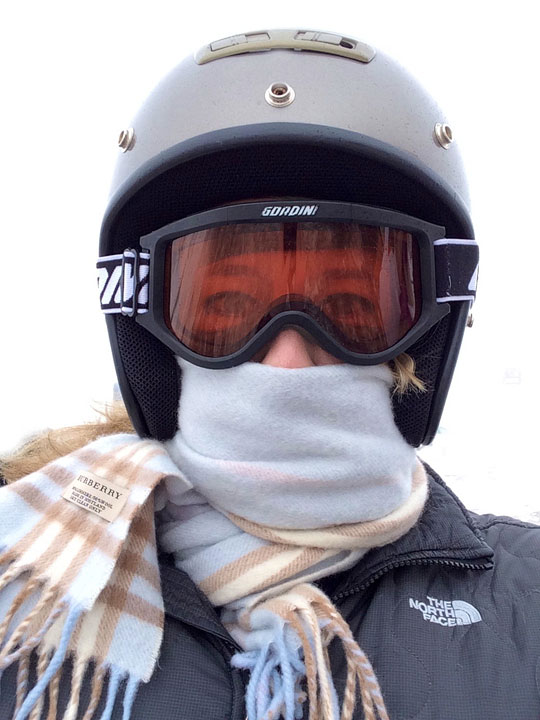 Photo via Stephanie
Kevin had a project going on at work, so this year I brought along a friend and fellow food blogger, Stephanie from PlainChicken.com. If you haven't been to Plain Chicken yet, Stephanie's blog is an amazing resource for quick, easy, and delicious dinner recipes made with simple ingredients that can be found at any grocery store. No hunting all over town for complicated ingredients! Most of her recipes feature ingredients that are pantry and fridge staples anyway, so you're likely to already have the ingredients on hand, making them perfect for no-fuss, crowd-pleasing, everyone-can-agree-on weeknight dinners. Plus Stephanie grew up in Auburn too, just like me! And her parents still live there, just like mine. :) She also took that awesome first photo of this post. :)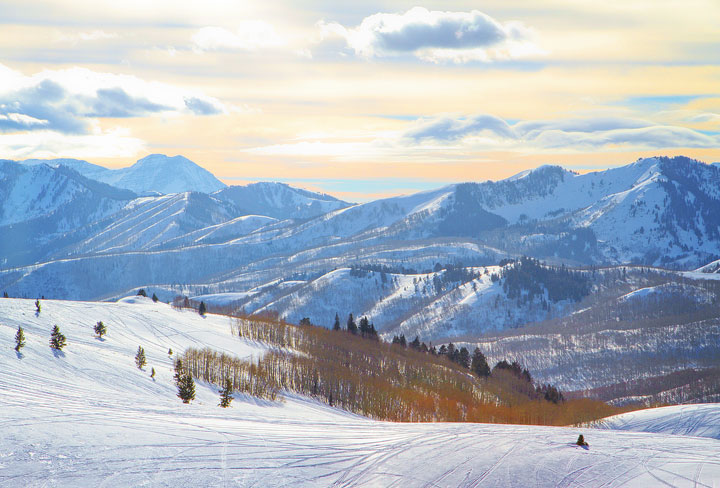 After we went to Deer Valley last year, my dad said he was never going anywhere else again. And I can totally understand why. It would definitely be hard to go back to any other ski resort after you've experienced Deer Valley!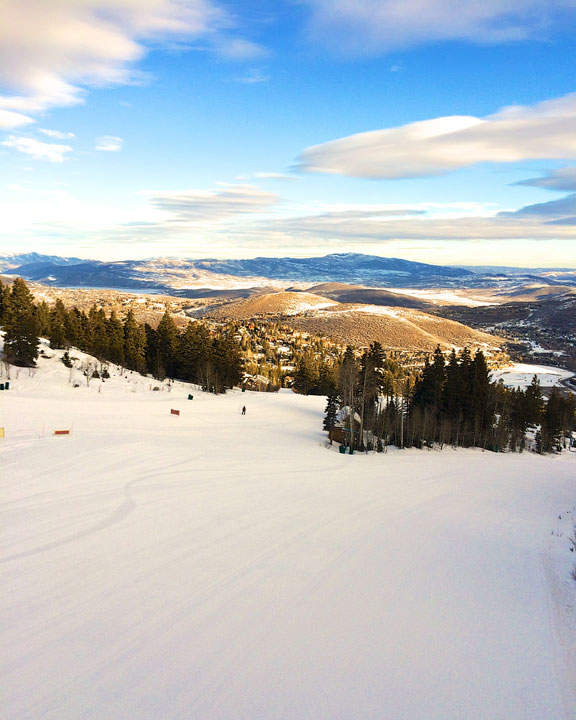 Photo via Stephanie
First of all, Utah has The Greatest Snow On Earth. :) But when I think of Deer Valley, the number one thing I think of is service, service, service. They treat you like absolute royalty from the moment you step on the property. They strive to exceed their guests' expectations on every front. I have honestly never experienced anything like it anywhere else. Let me tell you, it's hard to go back to the harsh world of airline travel after a few days of being treated like the Queen at Deer Valley, lol!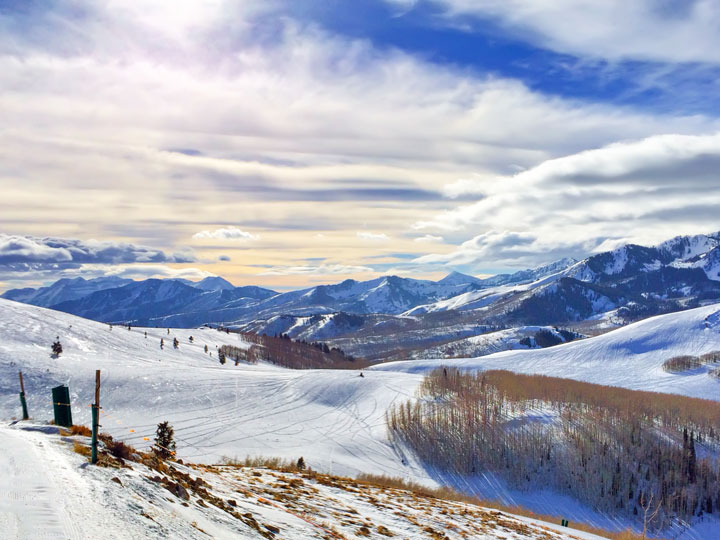 Their unique approach is working, too. Deer Valley was recently named United States' Best Ski Resort by the World Ski Awards — also known as "the Oscars of the travel industry." They are also consistently ranked #1 in guest service for ski resorts in North America by the readers of SKI Magazine. The "Deer Valley Difference" is service, attention to detail, first-class amenities, luxury accommodations, and award-winning cuisine.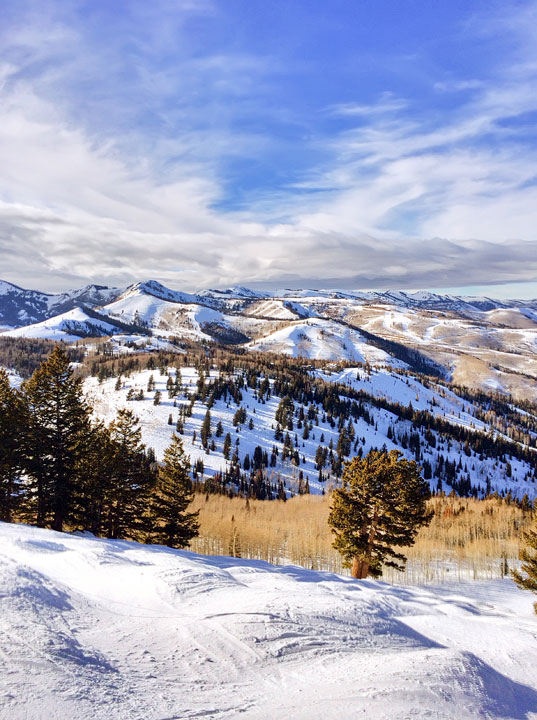 They have thought of everything — even right down to providing easy-to-grab tissues when you're in line for the chair lift. I always need a tissue when my nose is cold! They are just so detail-oriented like that.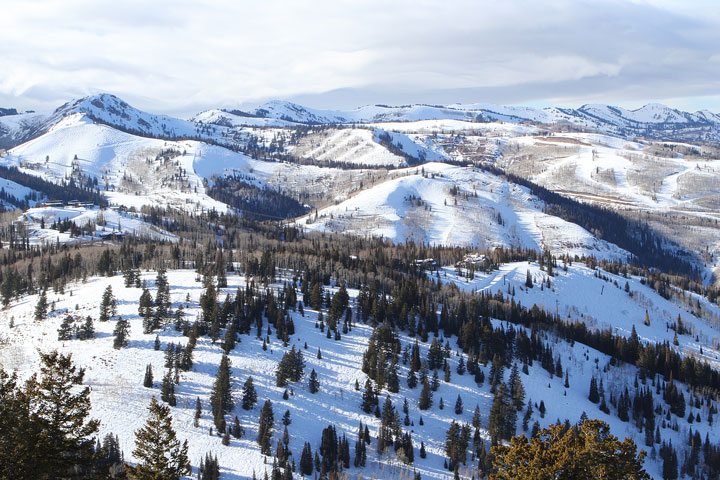 One of my favorite features of Deer Valley is their ski valet service, which I've never encountered anywhere else. Basically, you never have to touch your skis at Deer Valley. When you're ready to ski in the morning, the ski valets help you on with your boots, then lay out your skis and poles for you, so all you have to do is step in your skis and ski off. They're even right there to help you get in your skis.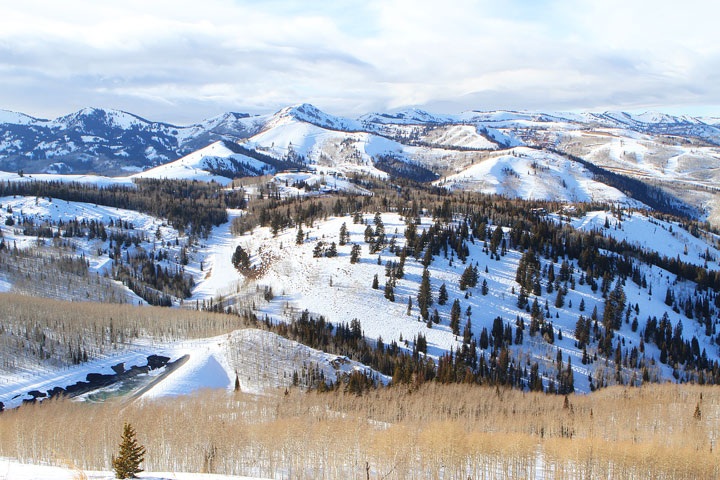 When you're done for the day, they come out and help you take your skis and boots off, and they bring it all in for you. You can leave all your equipment — boots, poles, helmet, gloves, etc — in your locker so you don't have to cart it back and forth to your room every night.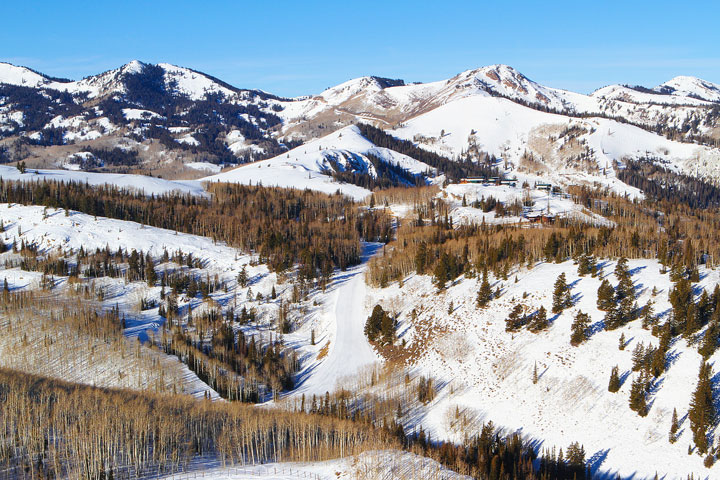 That is such a huge, huge thing for me. Carrying long skis, pointy poles, and clunky boots — plus a million other little things required for playing in the snow — is awkward and unwieldy! But you can rest easy knowing all your stuff is taken care of by the ski valets. Your equipment is locked up and guarded, so you never have to worry about it.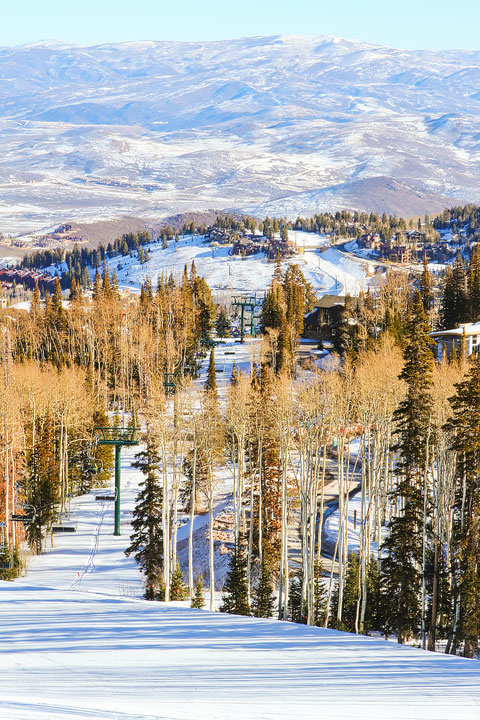 I would seriously come in from a day of skiing, and before I knew it, my boots and skis were being whisked off, and my warm, comfy Uggs were being slipped onto my tired feet before I even knew what was happening. I was seriously asking myself, "Is this real life??!"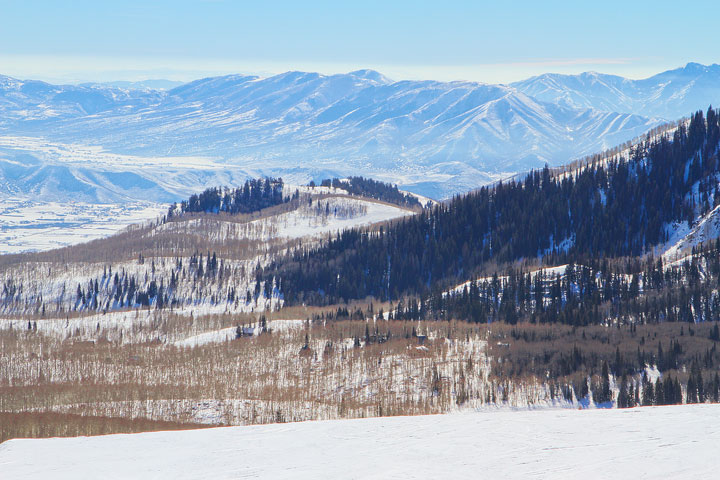 Even though I've been skiing a long time, I always like to start the trip with a ski lesson on the first morning. Deer Valley has excellent teachers! And no matter what your ability level is — whether you've never, ever been before, like Stephanie, or are kind of intermediate-beginner like me and my mom, or you're more advanced like my dad — there's always something new to learn to improve your technique. I love Deer Valley's Max 4 classes. We all took one first thing on Monday morning.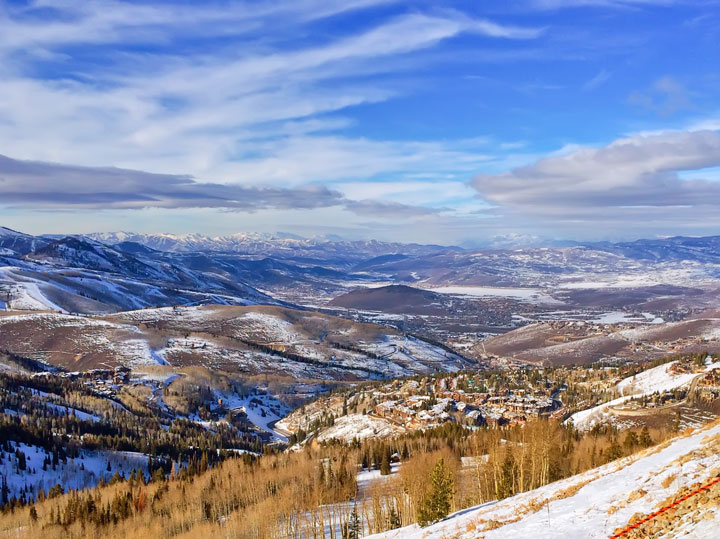 With a maximum of four students per group, these classes offer the comfort of a small-group setting with a more personal and one-on-one experience with the instructor than a larger class. When you arrive at the lesson area, skiers are grouped by age, ability, and comfort level, so no matter what your age or ability, you can fit in and benefit from a lesson. Don't worry, if you're an adult they won't put you in a class with 6 year olds, lol! :) And if you need more attention, they'll call another instructor over to make sure you're getting the assistance you need. It's all about service at Deer Valley!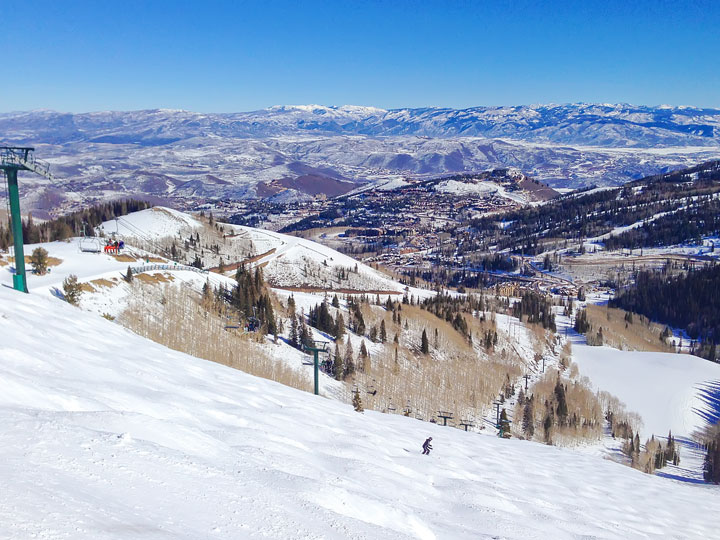 That's me, flying down the moguls after my lesson! ;) Not.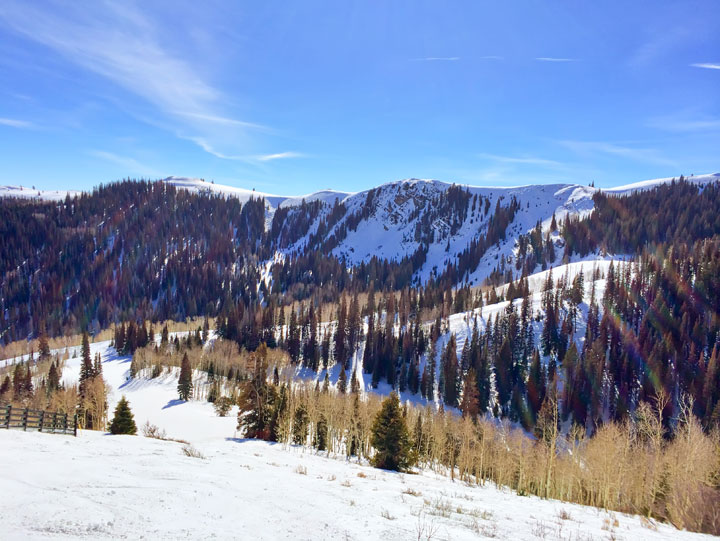 However, I was able to make it to the top of Empire Mountain, the highest peak at Deer Valley, which only has Intermediate and Advanced slopes down. I took this picture at the top for you. ;)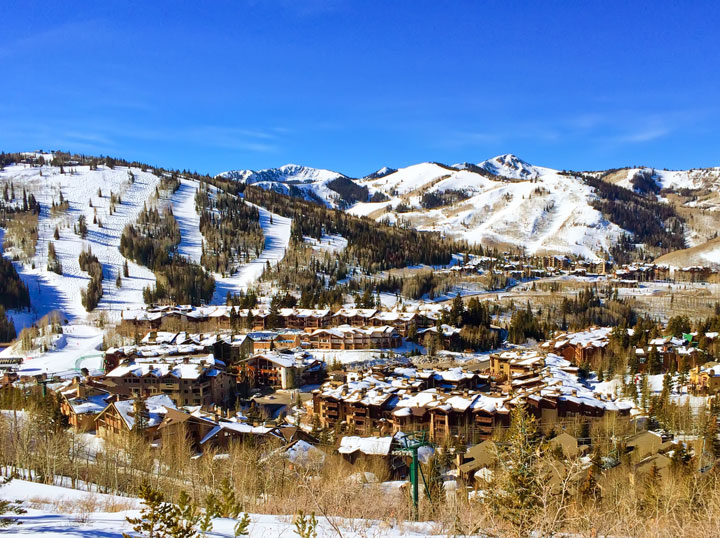 Another cool thing we got to see — The 2014 U.S. team heading for Sochi was competing in the Freestyle Ski World Cup Event at Deer Valley while we were there — on very the same runs used during the 2002 Olympic Winter Games.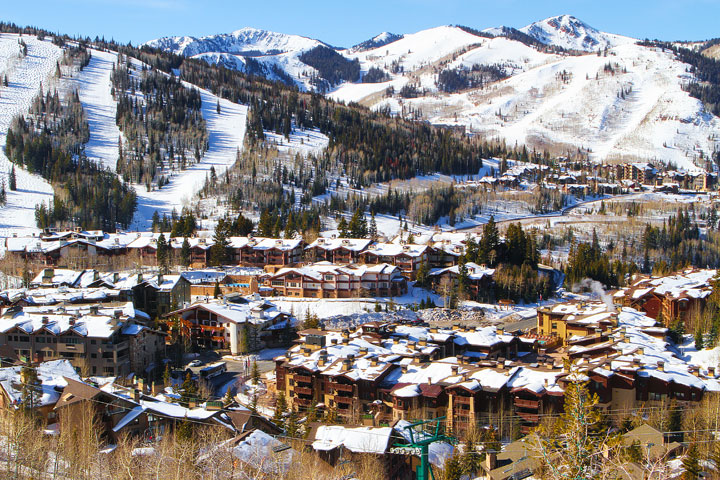 We got to see lots of jumping, twisting, flying, and skiers catching LOTS of air… and sometimes snow. :)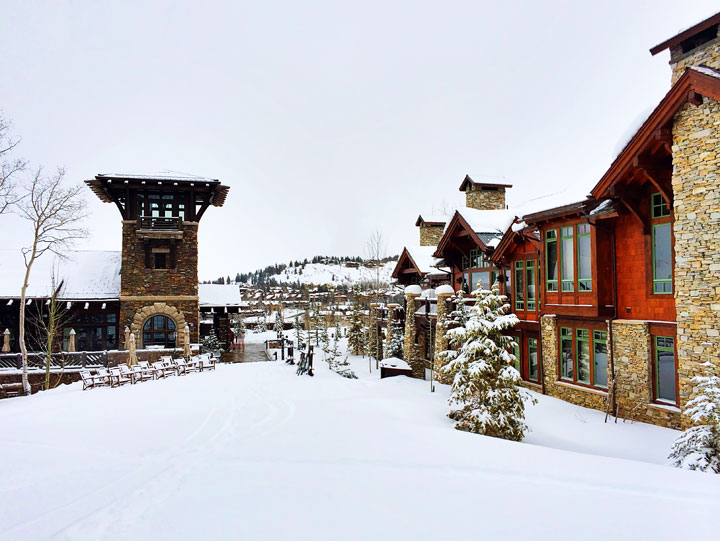 Isn't this place like right out of a fairytale??!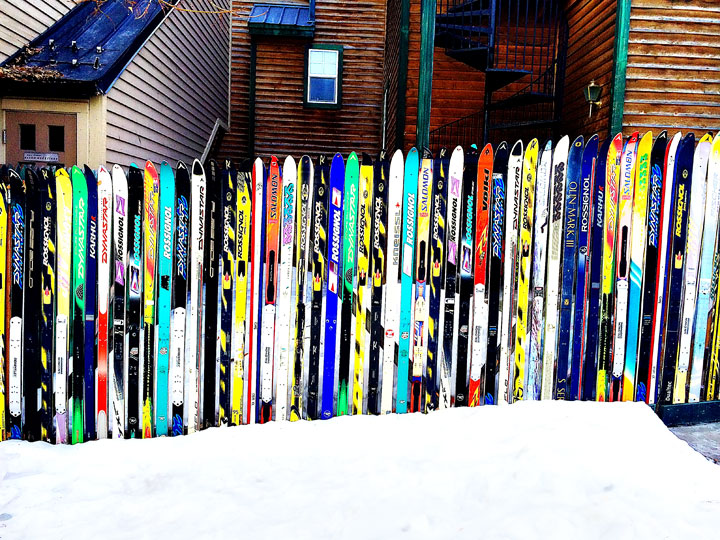 One afternoon we had the shuttle at our hotel take us down into Park City for some fun and touristy shopping. Main Street Park City is such a fun little street! Lots of restaurants and fun souvenir shops. One of the houses even has this fun ski fence!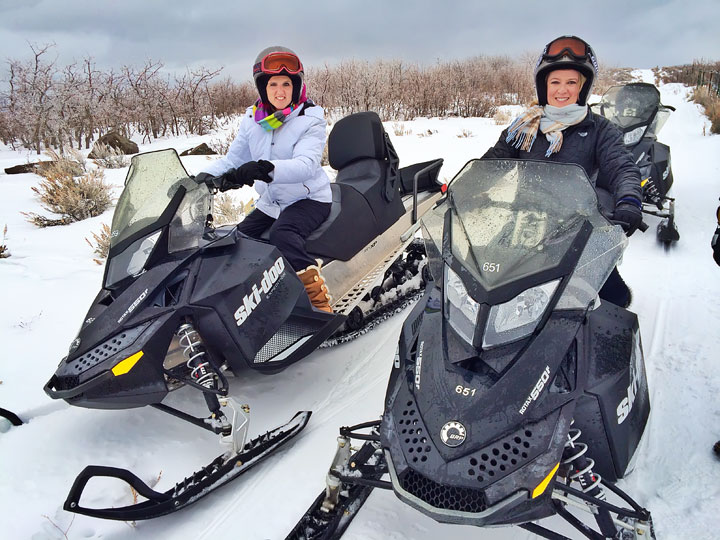 Another afternoon we went on a SNOWMOBILING ADVENTURE!! :) We were speed demons! ;)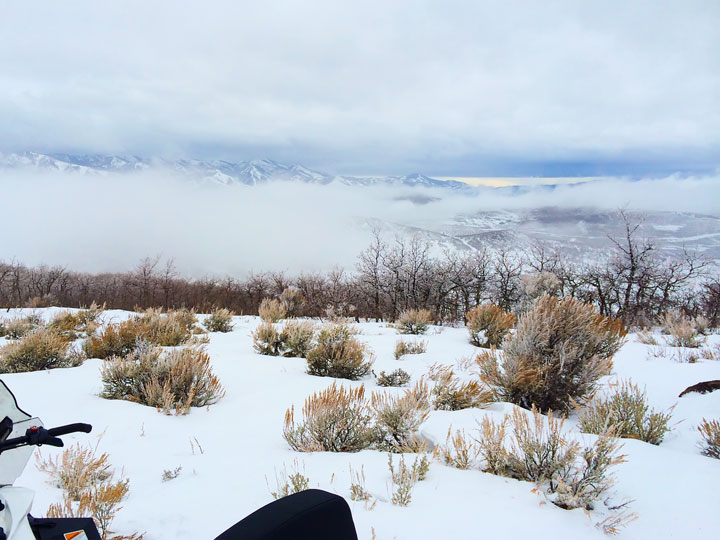 We drove all over on our two-hour guided tour through 7,000 acres of private land on a ranch in the Wasatch Mountains. Lots of fun! We even saw moose tracks. I wish we'd seen a moose! :)
***
I have so much more to share, but I think I'll pause here and save the rest for another day. I have pictures of where we stayed, s'mores, hot chocolate, sunrises and sunsets, and the food. The FOOD!!! :) Can't wait to share more. :)
Thanks so much for looking!