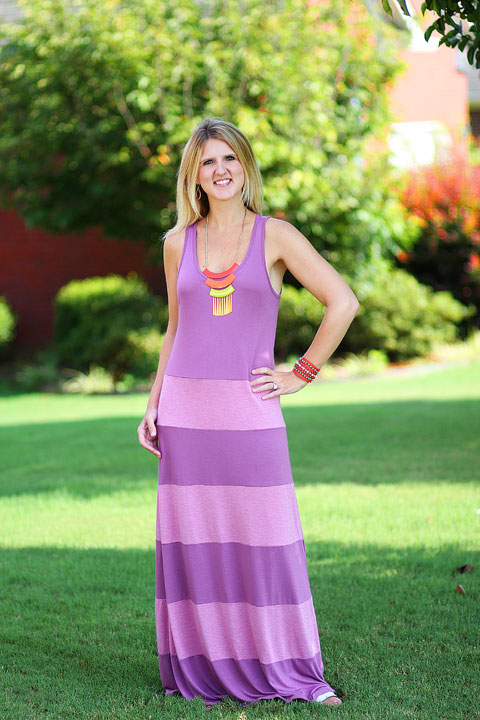 Dress — Gap. Necklace — Francesca's Collections. Bracelet — Francesca's Collections.
I am so in love with maxi dresses. I have seriously lived in them this summer! They're perfect for all seasons — especially spring and fall when the weather is unpredictable and it can be hard to figure out what to wear and stay comfortable! But with a simple scarf or cardigan, maxi dresses effortlessly transform from light and breezy in the summer sun to warm and snuggly for crisp fall nights.
Know you're going to be outside all day, walking around in the heat? A light, breezy sleeveless dress is just what you want to stay cool! Going to dinner in a chilly restaurant at night? Throw on a cozy cardigan for an extra layer of warmth.
And oh my gosh, they're so super comfy! It's basically like wearing PJs all day. But you look cute and dressed up. Yay!
And that's another thing I love — how versatile they are. You can wear them anywhere. They can be dressed up or dressed down. They are perfect for just about every occasion. And they're comfy! And cute. Did I say that already?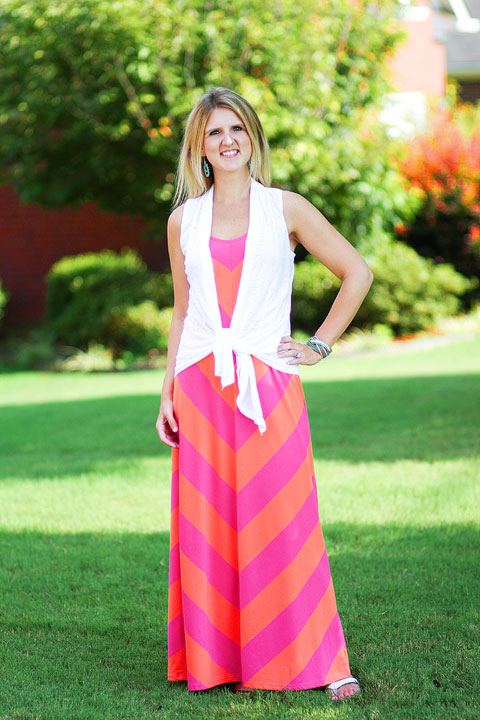 Dress — Gap. Sleeveless Cardigan — Maurices. Bracelet — Anthropologie. Earrings — Ann Taylor LOFT.
Dresses with wider straps are great, so I can still wear my favorite all-day comfy bra (oh my gosh, I can't believe I just said bra. On the internet. I'm sorry), but if a dress has teeny spaghetti straps, I'll add a light, sleeveless cardigan to hide the straps. Because there is not a strapless bra on the planet that is comfortable. True story.
Photo Posing tip: If you've got a free arm dangling (like my right arm in these photos) pull your elbow back and tuck it behind your waist. You'll instantly look slimmer. You will see me posed like this in every single photo I take! *blush*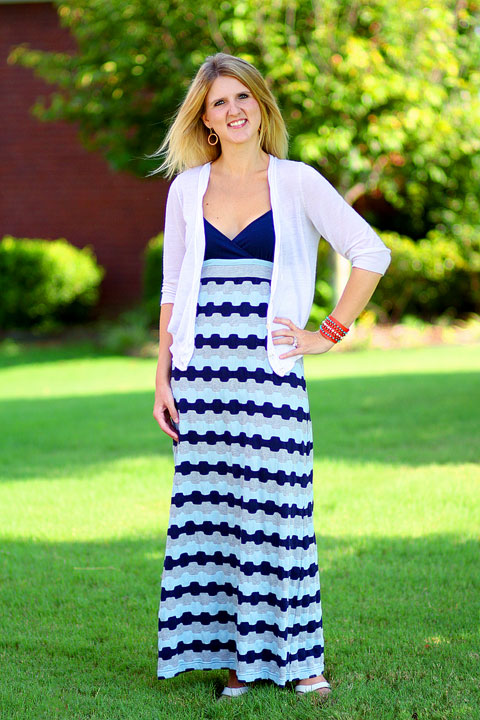 Dress — Anthropologie. Cardigan — Ann Taylor LOFT. Bracelet — Francesca's Collections. Earrings — Ann Taylor Loft. Shoes — Sanuk Yoga Mat Flip Flops.
This is pretty much my uniform for traveling. It's light and airy, so I don't have to worry about things getting bunchy and uncomfortable if I'm sitting for a long time. And the light cardigan is perfect for when I have to be on an airplane — which can sometimes get chilly — or unbearably hot if you get stuck sitting on the tarmac!
And I love that I can wear my comfy flip flops in 'em — which is also an added bonus for airplane travel! I know I'll be comfortable and ready for whatever the day brings, whether it's lots of sitting or lots of walking, blazing sun or full-blast air-conditioning.
And I think I've said "comfy" one too many times in this post. I may have a problem. ;)