So, last week when I was talking about my current love affair with scarves, somehow in the excitement of all the commenting, and what I can only imagine was some sort of scarf-induced high, I let myself get talked into making… a video. That's right, a real, live video documenting a few of my favorite ways to wear scarves.
Not that I'm an expert scarf-wearer or anything.
But today, right here on kevinandamanda.com, I am posting that video.
Before you watch, you should know- yes. I am a dork. A complete, and total dork. There you have it.
So, in conclusion, and in addition to me being a dork, while those certainly aren't the only ways to tie a scarf (and you probably already knew most of them) they are the 5 ways I most often wear them. They're quick, they're easy, they're relatively pain-free… and the looks could work for either winter or spring.
A couple of questions I meant to answer in the tutorial… but forgot.
How do you store your scarves?
Mine are just wrapped on a regular clothes hanger- tied on just like the first method I showed you in the video. You can kinda get an idea from the picture below- I just took the hanger from my closet and hung it up on the hook on the back of my door to take the pic. I meant to hold up the hanger and show it to you in the video, but I took all the scarves off the hanger first. You know, to make it easier to put them on while taping myself. Oops. Way to plan ahead there. Anyway, one regular-sized hanger holds about 10-12 of my scarves (they're pretty smooshed on) – and I have about 15 scarves, but at any given time, the other 3 are usually either on me, hanging on the coat rack in the foyer, or strewn somewhere else about the house.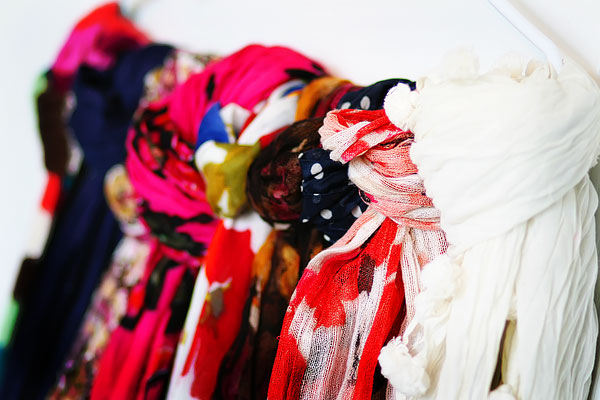 I did see this hanger the other day in The Container Store though. It looks pretty cool for a real scarf collecting enthusiast.
Where do you get your scarves?
The scarves in the video, in order of appearance are from Coach (striped scarf), LOFT (pink & white floral scarf), LOFT (purple paisley scarf) and Old Navy (solid white scarf with poms). All of my other scarves are from either LOFT or Old Navy- except for the pink one I got @ Gloss in Birmingham for Valentine's Day. :) Now uh, hook a girl up here- where do you get your scarves??
So, I think that's about it. Oh, and, just so ya know- The making and editing this video had me so flummoxed that at one point, without my knowledge, the webcam on the iMac snapped a picture. This, in all its deer-in-the-headlights glory, is that picture.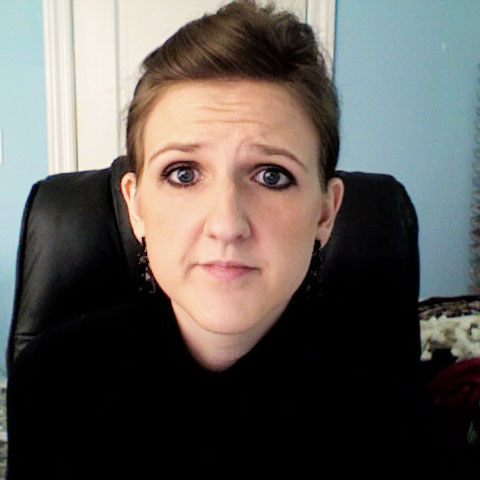 And I am a dork.
And I look like I belong in an infomercial for Bumpits.
That is all.
***
Wear a scarf this weekend! :)