Peanut Butter Rice Krispy Treat Pralines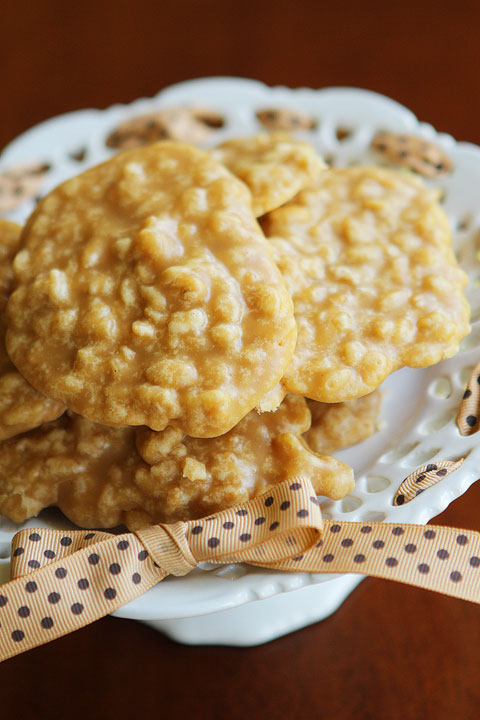 I am a huge fan of traditional southern pralines. They're soft, buttery, gooey, chewy, and completely loaded with sugar. And they could not be easier to make — you can whip these up in less than 15 minutes. Definitely right up my alley! I was so excited when we learned to make pralines a few weeks ago at the New Orleans School of Cooking, and I couldn't wait to get home and try some of the variations tossed around in the class with a room full of foodies.
I knew the first one I had to attempt. Peanut Butter Rice Krispy Treat Pralines.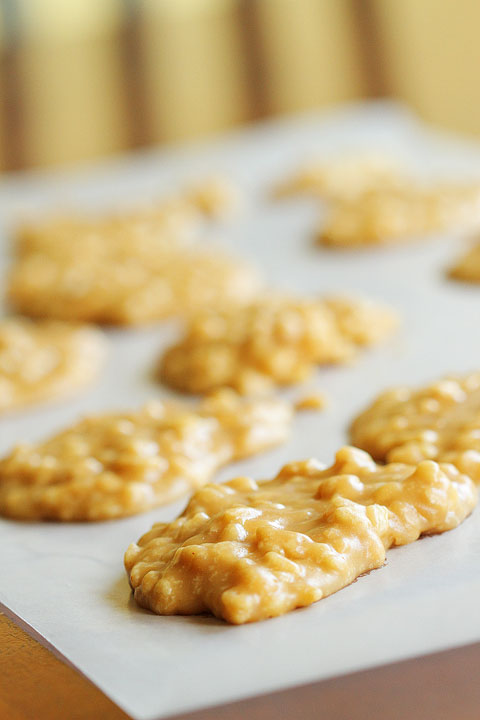 Definitely give these a try at home so you can taste one when they're warm and fresh — that's when pralines really shine.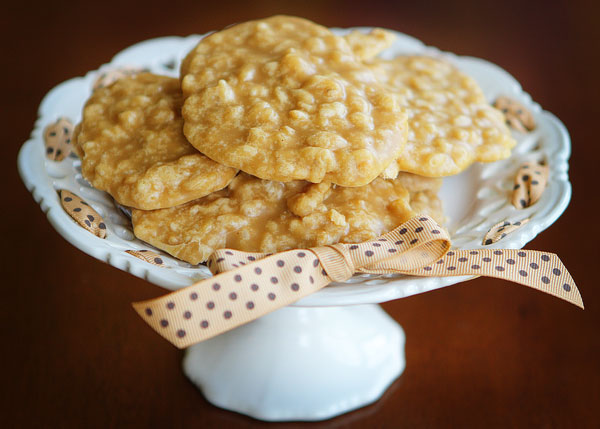 These are so quick and easy to make, it's dangerous. Try one this weekend!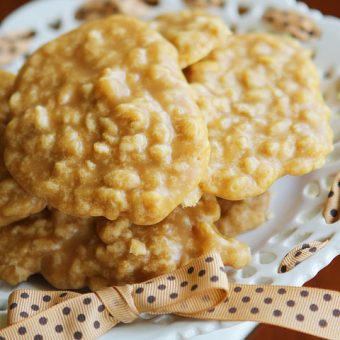 Peanut Butter Rice Krispy Pralines
Ingredients:
1 1/2 cups white sugar
3/4 cup light brown sugar, packed
1/2 cup milk
6 tablespoons butter
1 teaspoon vanilla extract
1/3 cup peanut butter
1 1/2 cups Rice Krispies
Directions:
Lay out a large sheet of waxed paper and spray with cooking spray. Make sure to do this before starting to cook the pralines.
Combine the sugars, milk, butter and vanilla extract in a large pot, at least 4 quarts, over medium-high heat. When it comes to a boil, stir constantly for 3 minutes while the mixture is bubbling. In the last 20 seconds, stir in peanut butter.
Remove from heat and stir constantly until the mixture thickens and becomes creamy and cloudy. Stir in Rice Krispies, then spoon out onto the greased waxed paper.
For traditional pralines, omit the peanut butter and rice krispies and add 1 1/2 cup chopped pecans to the pot with all the ingredients at the beginning of the recipe.