Oatmeal Buttercream Pies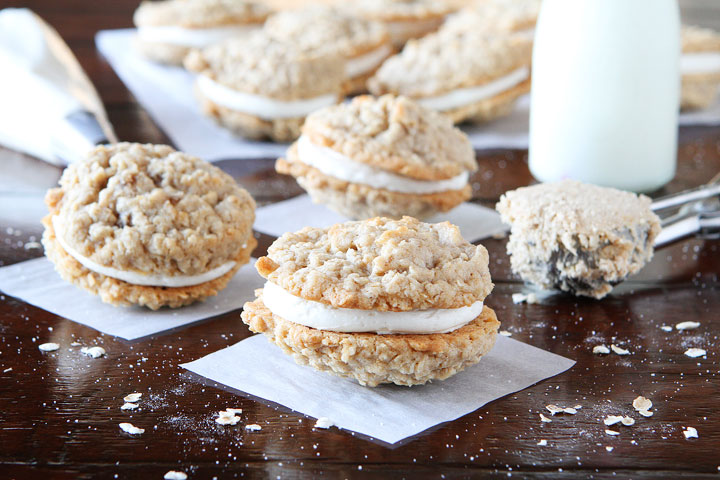 This summer I was at a Fourth of July party at my neighbors. After we'd finished eating, and were sitting around the table chatting — completely stuffed from the usual, delicious Fourth of July fare — another neighbor walked in, dropped off a plate of cookies and said:
"Here. I had to get these out of my house. They were too dangerous."
Well, like a moth to the flame, I immediately was drawn to these cookies and had to see for myself.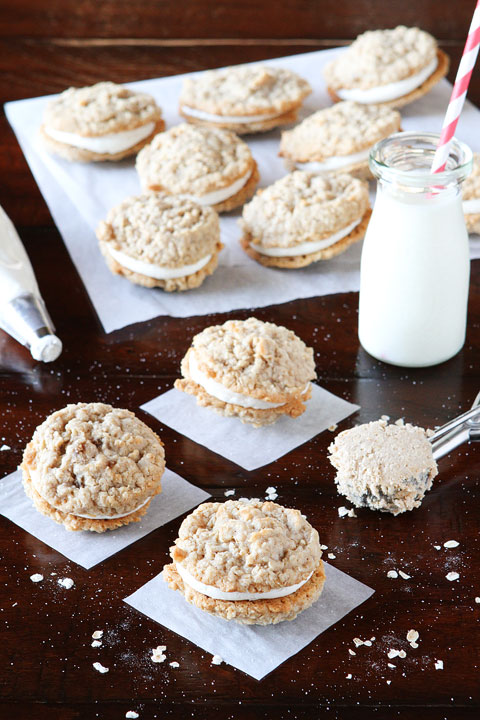 A cookie? Too dangerous? That has my name all over it.
I was completely stuffed, so I just cut one in half for a little taste.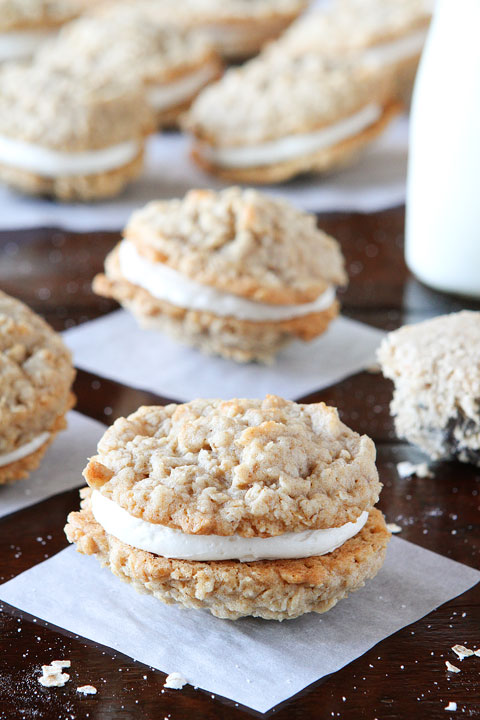 But one bite of these devilish cookies and I knew I was a goner.
Don't be fooled by their innocent little oatmeal cookie appearance. They're unlike anything I've ever had before. Basically, these cookies are EVIL.
Of course I immediately went back and retrieved the other half and devoured it. The cookie made me do it.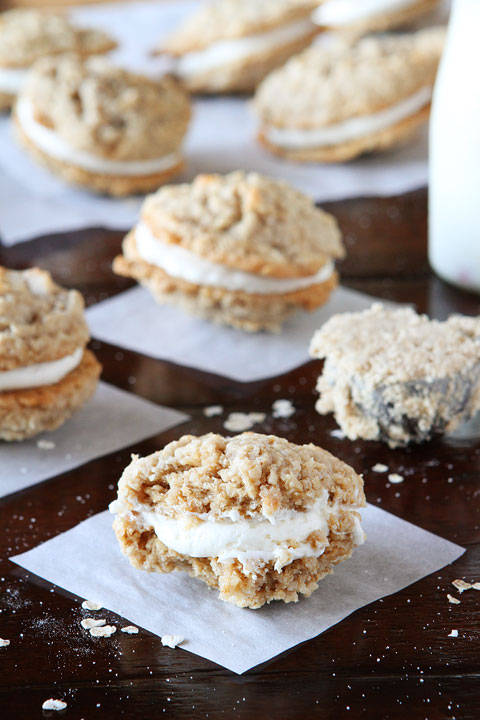 They are insanely good. The perfect oatmeal cookie. Decadently buttery and chewy on the inside with perfect oatmeal-crisp edges. And stuffed with buttercream frosting.
I immediately asked for the recipe and my neighbor was happy to share.
And today, I am deviously delighted to pass on the recipe to you.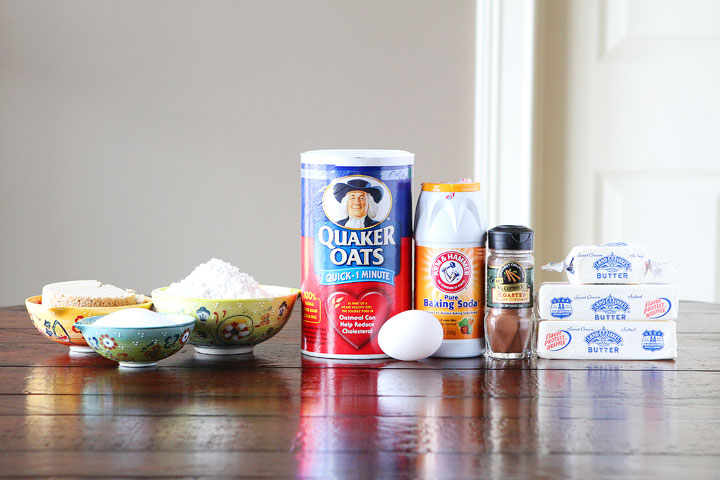 Warning: Make these at your own risk. ;)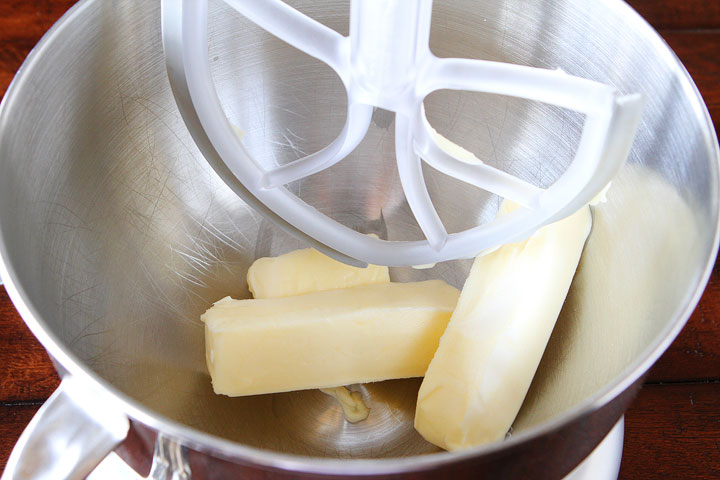 To start, you'll need 2 1/2 sticks of butter.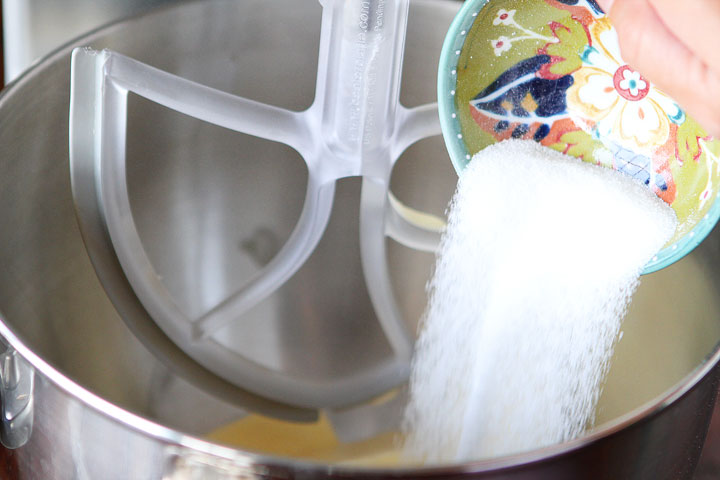 Add 1/2 cup sugar.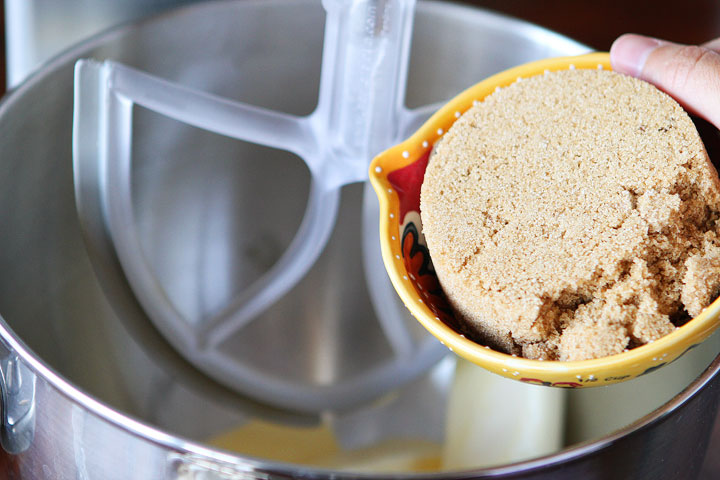 And 1 cup packed brown sugar. Beat on medium speed until light and fluffy, about 3-5 minutes.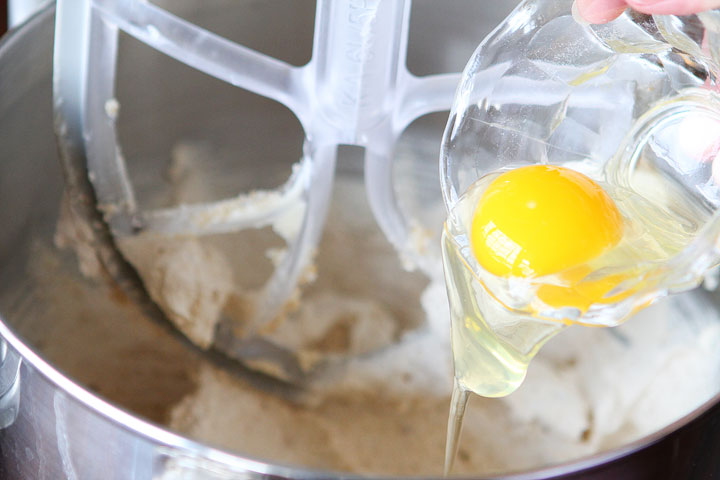 Next add in one egg.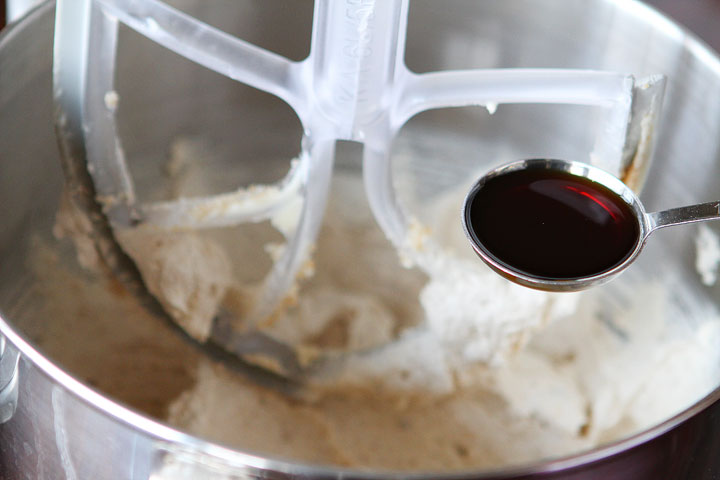 And a tablespoon of vanilla extract. Mix until fully incorporated, about 2 minutes.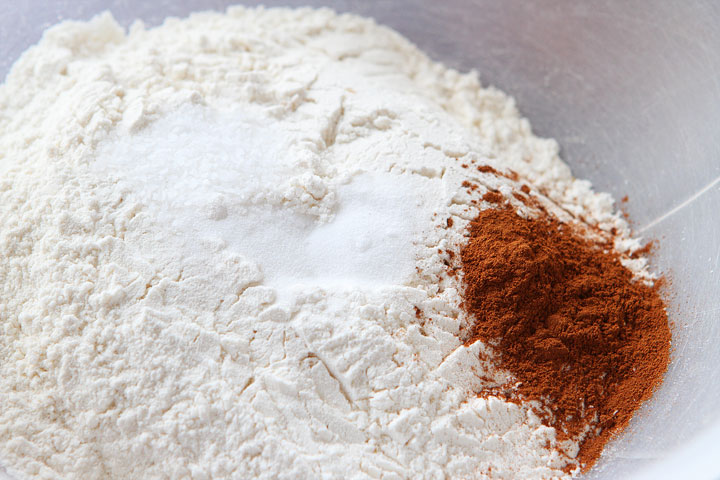 Meanwhile, whisk together the flour, baking soda, salt, and cinnamon.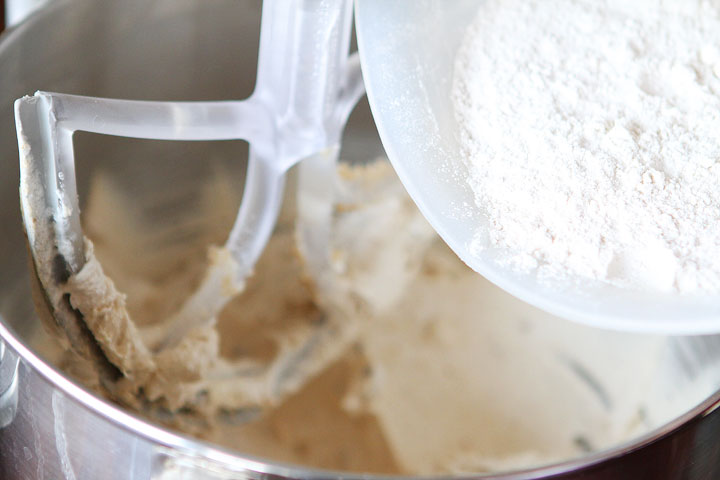 Add to bowl and mix on low speed until just combined.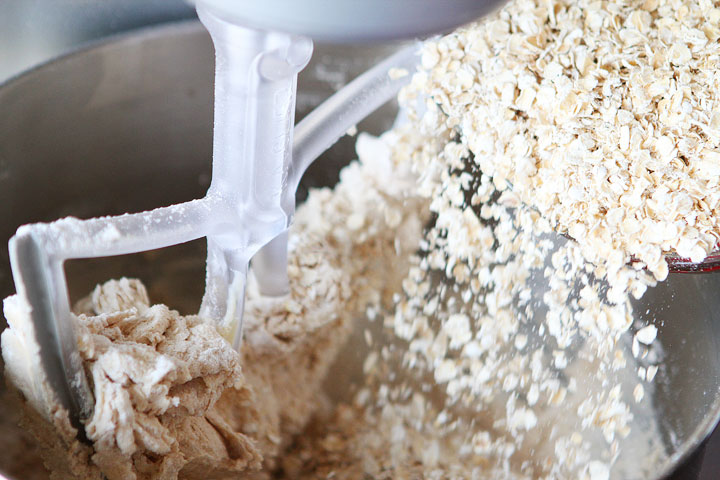 Then pour in 3 cups of quick oats and mix until just combined.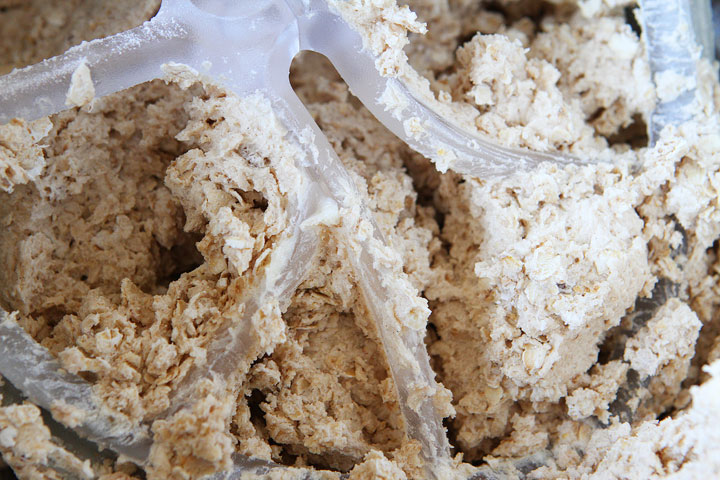 Omg, could not stop taste-testing this cookie dough!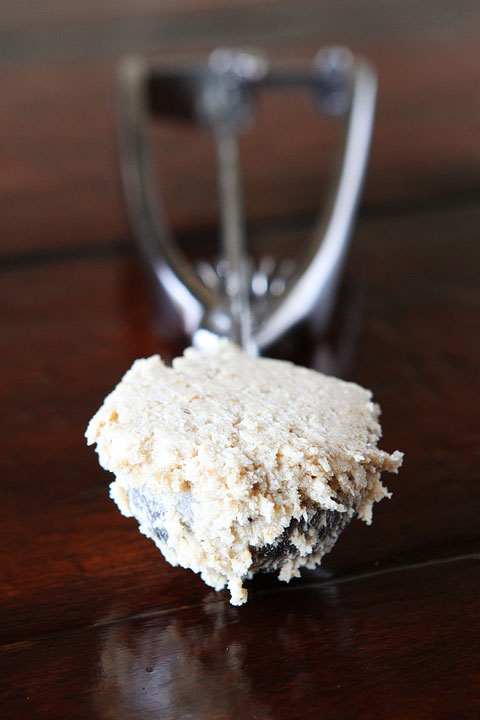 To help make all my cookies the same size, I used a medium cookie scoop to shape and drop the dough onto the baking sheet.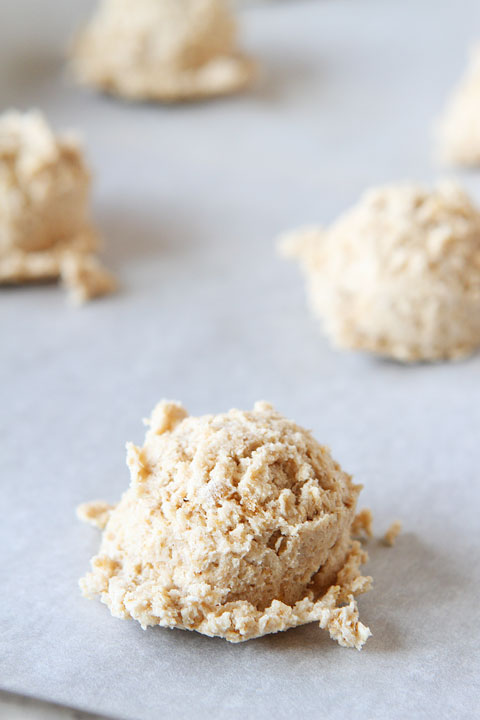 Bake these beauties up at 350 degrees F for 10 minutes.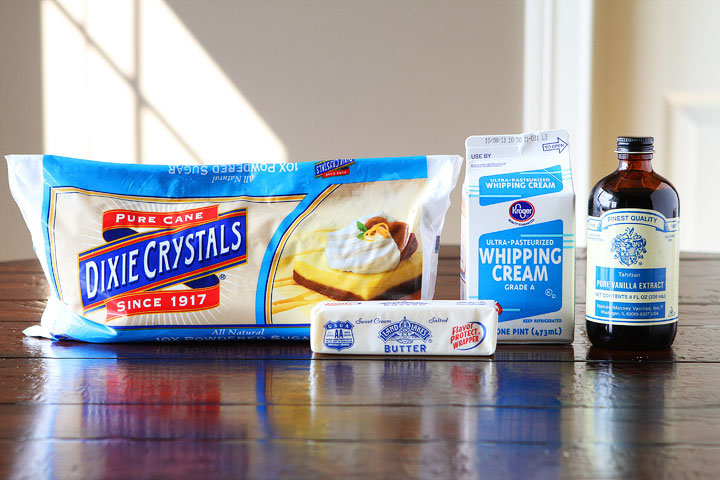 Meanwhile, we can make the perfect buttercream frosting filling for these oatmeal cookies.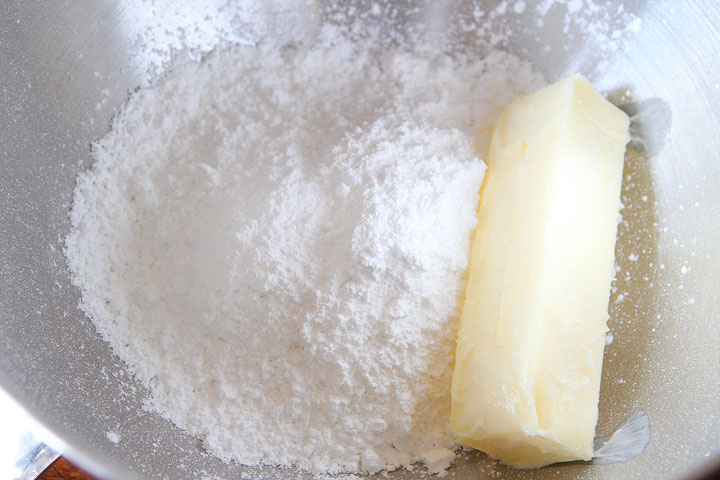 You'll need 2 cups of powdered sugar and 1 stick of butter.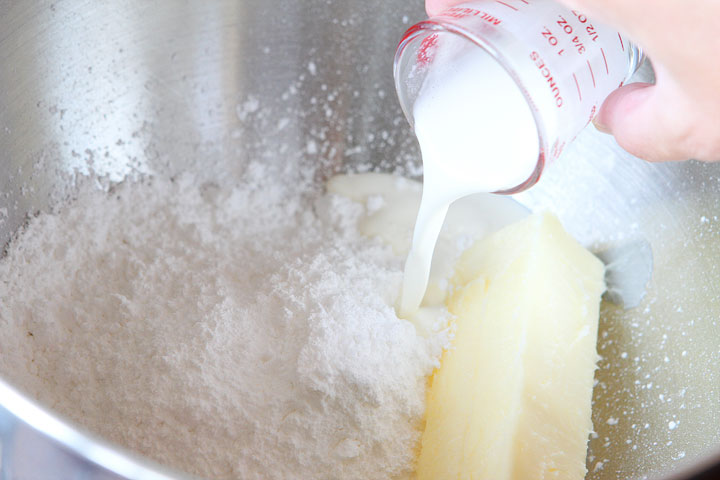 Two tablespoons of heavy cream (or milk).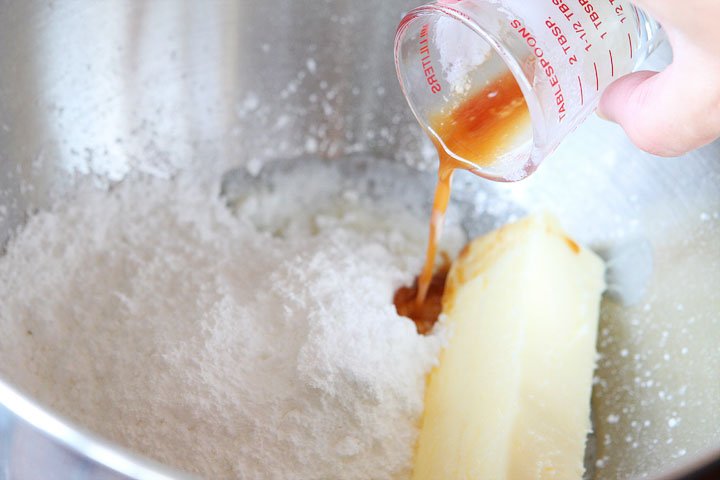 And one teaspoon of vanilla extract. I always use Tahitian vanilla in recipes that don't call for baking, like frostings and ice cream. It really does add a WOW factor that people can immediately recognize. It's my secret ingredient. Try it sometime! :) But it's susceptible to heat, so don't bake with it.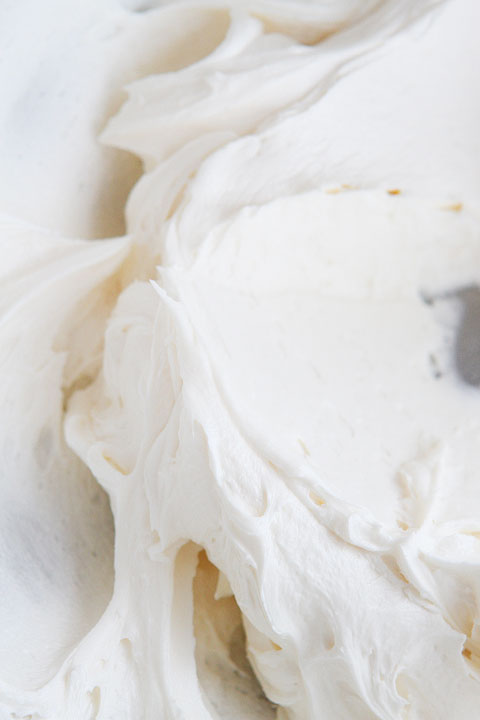 Beat this on medium speed until light and fluffy, about 2-3 minutes. Love how smooth and shiny it is!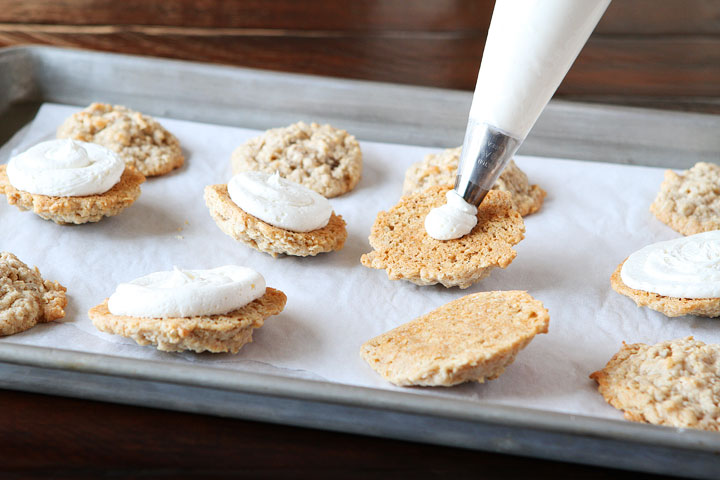 When the cookies are cool, match up pairs of similar-sized cookies and flip one of the mates over. Add frosting to the bottom of the cookie.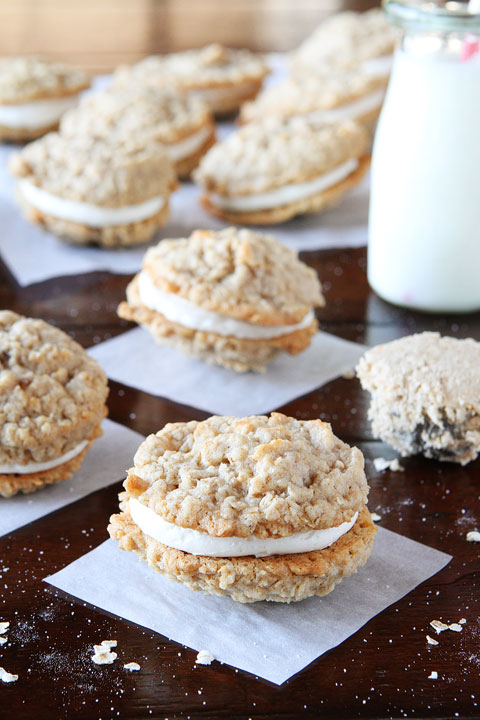 Then smush the cookie pairs together to make these beautiful Oatmeal Buttercream Pies!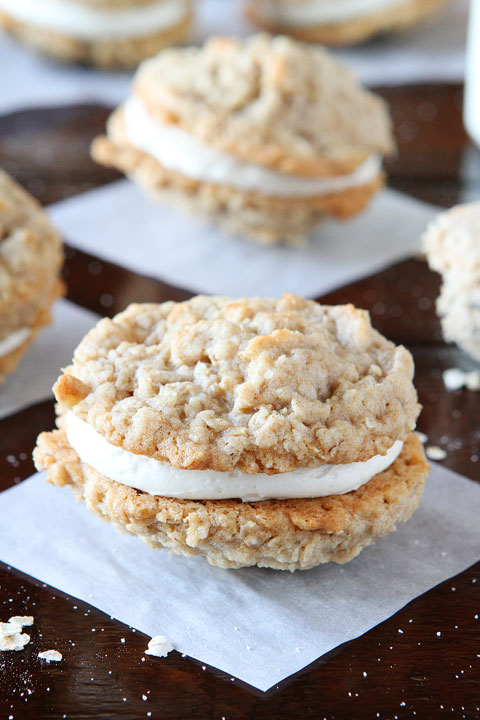 Chewy, toasty, buttery, and delicious. They are so good!!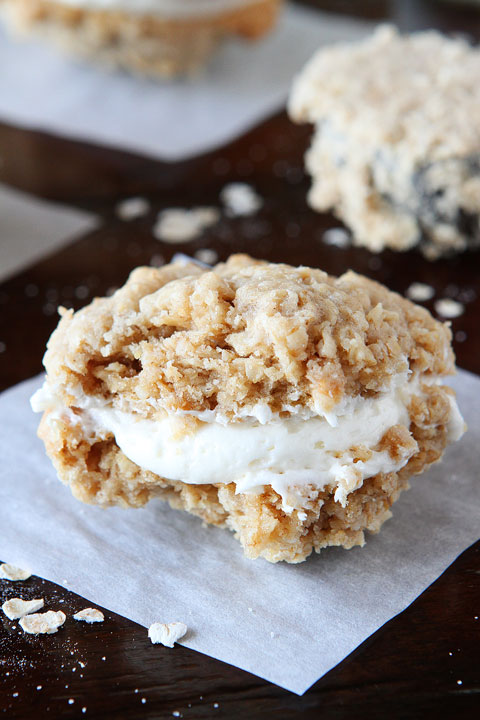 I normally send treats I make to work with Kevin for him to share.. but these are so good, I'm keeping them all to myself. :D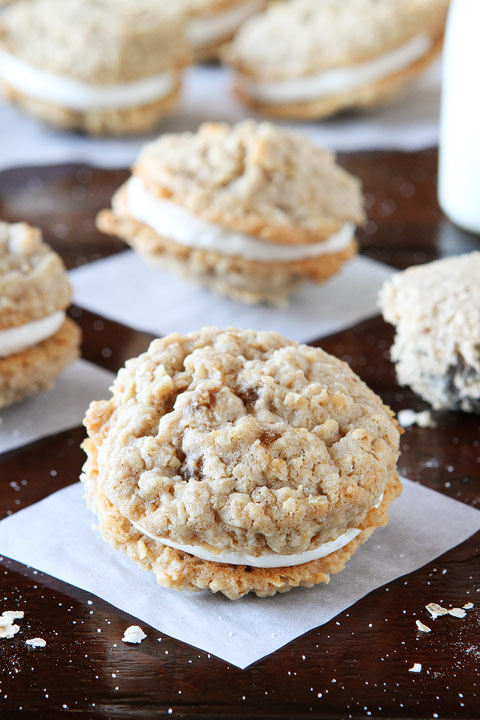 Make these the next time you seriously want to wow someone!! :) And if it's football season, you should definitely do this and shape them into footballs!! :) Too cute!!
Enjoy!! :)
Oatmeal Buttercream Pies
Ingredients:
1 1/4 cup (2.5 sticks) butter
1 cup brown sugar, packed
1/2 cup sugar
1 large egg
1 tablespoon vanilla extract
1 1/2 cups all-purpose flour
1 teaspoon baking soda
1/2 teaspoon salt
1/2 teaspoon cinnamon
3 cups quick oats
Buttercream Frosting
1/2 cup butter
2 cups powdered sugar
2 tbs whipping cream
1 tsp vanilla
Directions:
Preheat the oven to 350 degrees F. With an electric mixer, beat the butter and sugars in a large bowl until well combined, about 3-5 minutes. Add the egg and vanilla mix until light and fluffy, about 2 minutes.
In a separate bowl, whisk together the flour, baking soda, salt, and cinnamon. Add to butter and mix on low speed just until combined. Add the oats and stir until just combined.
Use a medium (1.5 tbsp) cookie scoop to place dough on a cookie sheet lined with parchment paper. Bake at 350 for 10 minutes until edges start to turn golden brown. Cool on a wire rack.
To make Buttercream Frosting
Place the butter, sugar, whipping cream and vanilla in a large mixing bowl. Beat on medium speed until smooth and creamy, about 2-3 minutes.
When the cookies are cool, sandwich frosting between two cookies. Enjoy!! :)