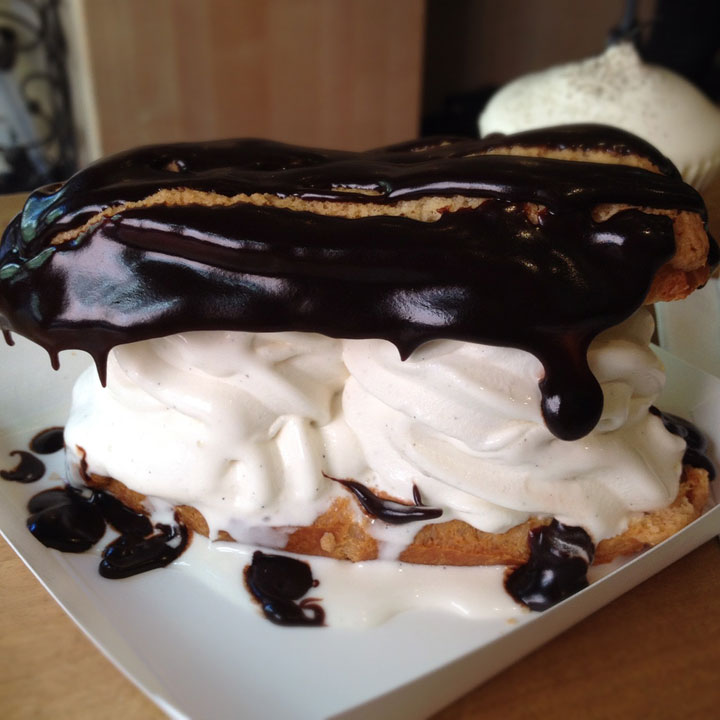 I had so, so much fun cruising all over NYC and Philly with Shaina this past week! It was a totally unplanned, last minute thing, but such a whirlwind of sugar and fun. Last week Shaina and I were talking on the phone as we took long walks around our neighborhoods on a beautiful, breezy evening after dinner. Shaina told me she was going to be in New York and Philly for five days with book signings, demos, and taste-testing parties for her new Desserts in Jars book at night, but totally alone (and free to have fun!) in the city during the day. When she invited me to tag along, and I found an unbelievably cheap last minute ticket, and knowing I'd have a free place to stay all week, I had to say yes! :) I bought my ticket Sunday night and hopped on a plane at 6 am Monday morning.
We both arrived in NYC around noon on Monday. It was absolutely sweltering, and everywhere we went all we wanted to eat was ice cream! :) We ended up taking our own impromptu ice cream sandwich tour of NYC. Pictured above is the Cookie Eclair Ice Cream Sandwich from ChikaLicious Dessert Bar in the East Village. It's their famous cookie eclair topped with hot fudge and piled high with soft-serve vanilla bean ice cream. Holy yes. So perfect for a hot day!!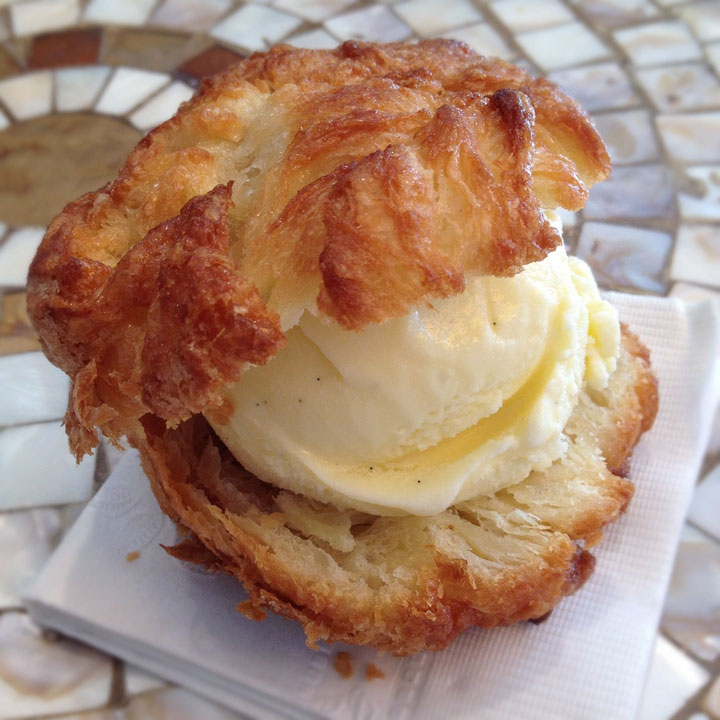 But oh my gosh. This. This was my absolute favorite. This is a Kouign Amann Gelato Sandwich, and it's available to only those savvy few "in the know" from Dominique Ansel Bakery in SoHo. It's not on the menu, but if you ask for one they will totally give you a wink — like you're in the secret club — and make you one! And it will draw stares of jealousy from all around. I cannot tell you how much I love kouign amann, and without a doubt the best place I've ever had it is at Dominique Ansel. It's a buttery, flaky pastry, like a dense croissant, but it's covered with a crunchy, sugary crust for that perfect combination of buttery and sweet crunchiness, chewiness, and flakiness in every single bite. It's glorious, glorious heaven. I would walk back to NYC right now for another one of these!! :) If you've never had kouign amann, definitely try it without the gelato first. But then totally order another one with gelato! ;) You will be hooked!!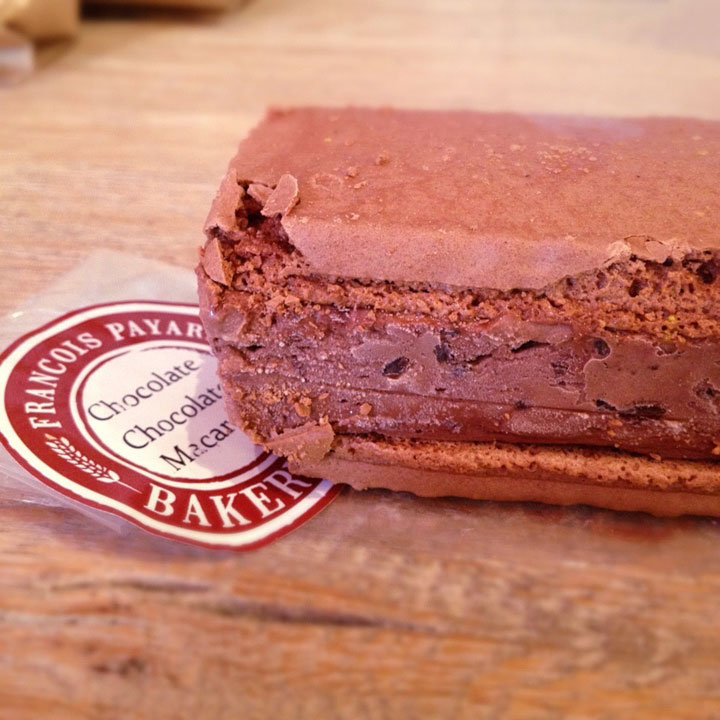 Oh you know I had to get this! :) This is a double chocolate french macaron ice cream sandwich from Francois Payard Bakery, just up the street from Dominique Ansel in SoHo. You guys know my obsession — my pure, unadulterated love — for french macarons, so I totally loved this! And it's gluten free! If you're into that sort of thing. Such a fun ice cream sammy. :)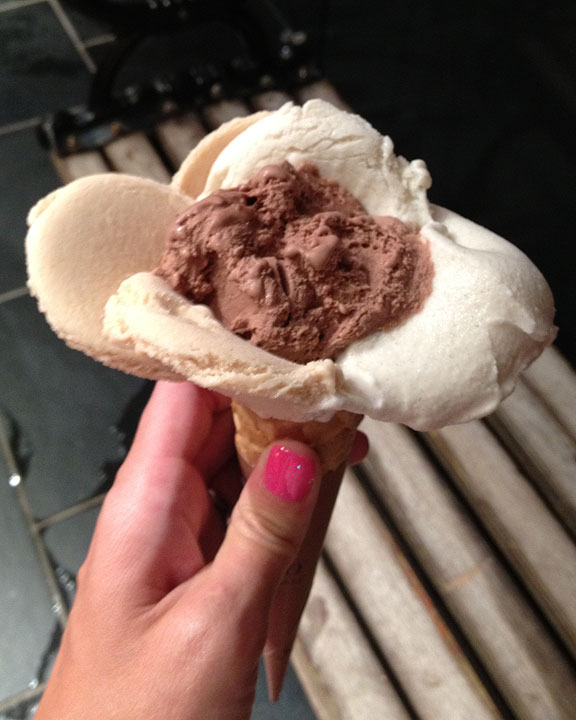 Oh my gosh, you guys. This was so good! How fun is this petal-shaped gelato cone from Amorino in Greenwich Village?? :) I got Vanilla Bean, Biscoff, and Nutella, and that Biscoff was SO good!! I will definitely be going back for more of that Biscoff. So insanely good. And they shape it like a flower! :) I am not usually a cone person, but I had to get the fun floral cone from here! :)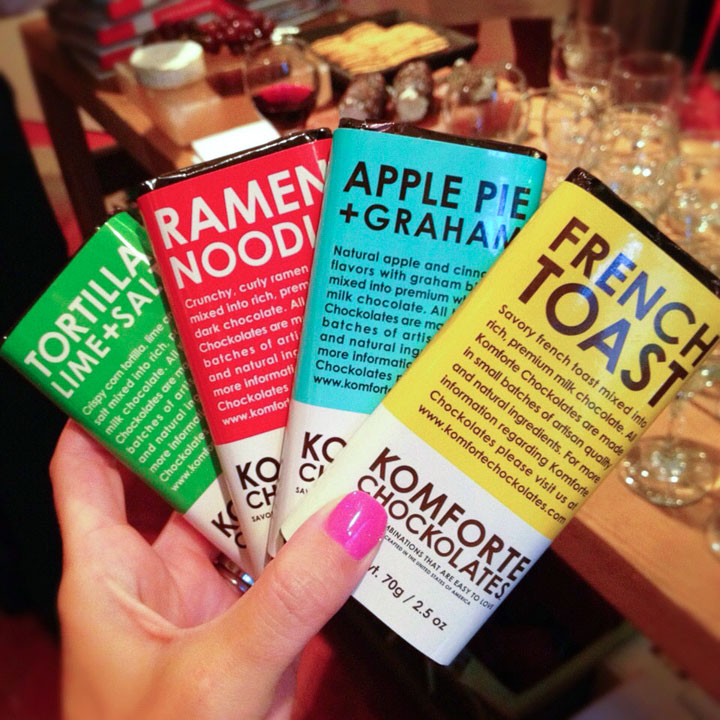 One of Shaina's book signings was at The Meadow, a delicious little shop in Greenwich Village specializing in gourmet chocolate and sea salts from around the world. When Amber and I saw these fun chocolate bars we knew right then and there we needed to have a little mini chocolate taste-testing session! I thought for sure the French Toast would be my favorite, but I was absolutely blown away by the Tortilla Lime Salt!! It was so far and above superior to the other three flavors, I barely even remember what they tasted like. I ended up buying four more of those darn Tortilla Lime Salt bars! I haven't decided if I'm going to share them or hoard every last one for myself. ;) If you're wondering about the Ramen Noodle, it was totally just a gimmick. I have to say that the chocolate was a very, very good chocolate, but you could not taste the Ramen Noodles at all. There did appear to be bits of Ramen Noodle in the bar, but I couldn't even tell they were there at all, not even texture-wise. But the chocolate was a very good chocolate. It would would make an excellent (and at $4 for 2.5 ounces, very expensive) chocolate chip cookie! ;) But if you only get one, definitely get the Tortilla Lime Salt! :)
Apparently The Meadow is the only store in NYC that carries this dreamy brand of chocolate, and it's not too far from Amorino, so after you get your cold and creamy petal-shaped cone of gelato, walk it off and head to The Meadow and pick up a few of these bars for souvenirs. :)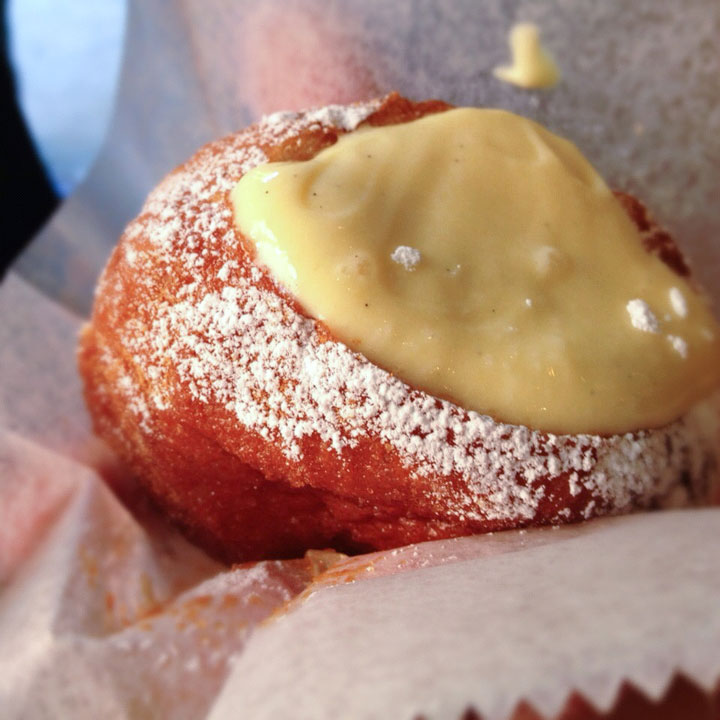 One last stop in NYC before we headed to Philly! :) This beauty is the Sloppy Dough, also from ChikaLicious Dessert Bar. It's a warm cimmamon-sugar donut filled with Vanilla Bean Pastry Cream. To die.
*Update May 2013: A reader wrote in and told me this item has been removed from the menu. Sad! You may want to call to check first before you go out of your way!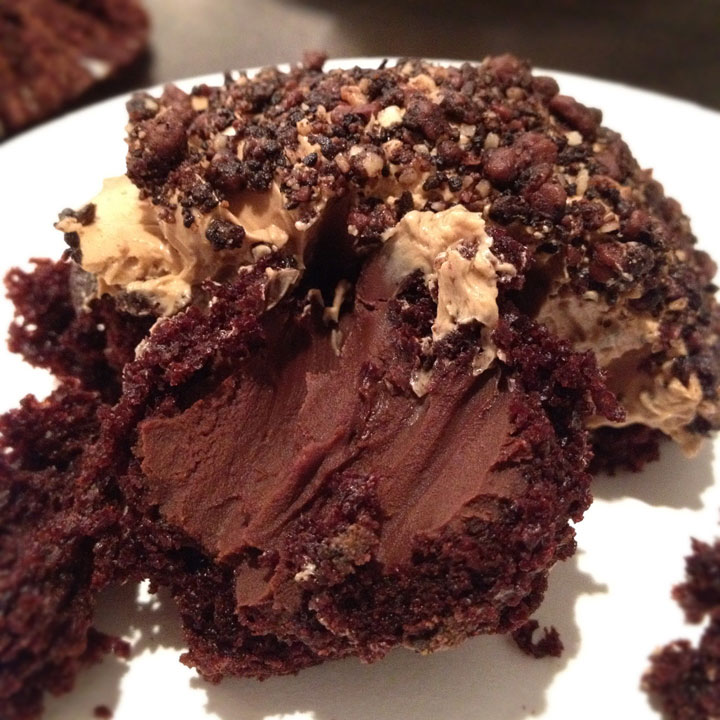 Oh my goodness, this was so fun! One of Shaina's book signings in Philly was at the delightfully hip cupcake bakery Sweet Elizabeth's Cakes — yes!! We had a signing AT a cupcake shop!! Personally I thought this was the best idea ever, and I think all book signings should be held at cupcake shops from here on out. Not only did we get to taste-test samples of Sweet Elizabeth's fabulous cupcakes, we also got to sample sweet treats in jars from Shaina's book! Best idea ever. Pictured above is their dreamy little chocolate cupcake with chocolate ganache filling, espresso buttercream, and a coffee crunch garnish topping. Loved it.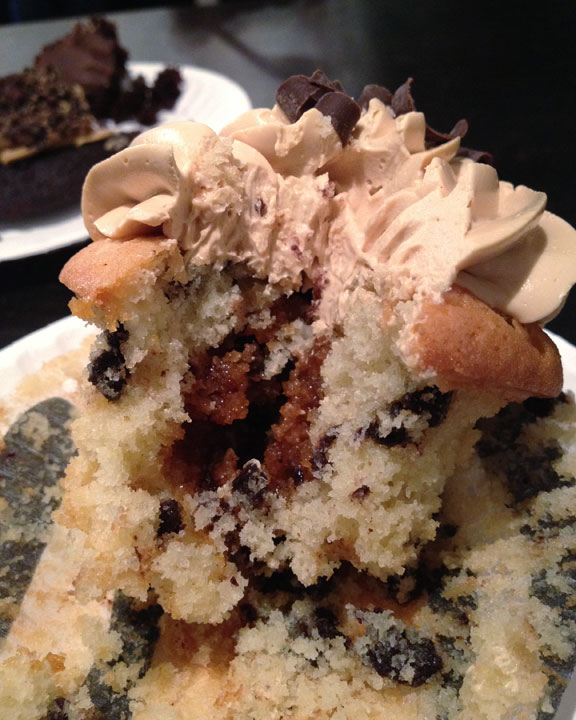 Oh my word, this was a Chocolate Chip Pound Cake Cupcake with Salted Caramel Buttercream and stuffed with more gooey caramel. I absolutely loved this pound cake cupcake. It had such a wonderful, unique texture and full, sweet flavor. I think my next cupcakes will definitely be pound cake cupcakes!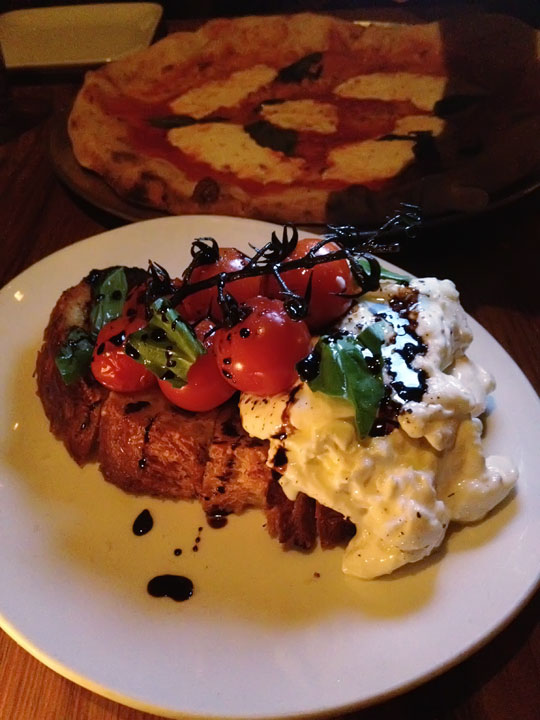 Now let me tell you about this place. After completely stuffing ourselves silly with Sweet Elizabeth's fabulous cupcakes, we decided we needed dinner as well. ;) Elizabeth and her hubby Owen recommended Barbuzzo. And I am so glad they did. It would be an absolute tragedy to come to Philadelphia and not eat at Barbuzzo. We started with the Burrata, a fresh ball of mozzarella exploding with cream and served on toast. It's then drizzled with a balsamic glaze and topped with roasted tomatoes and basil. It is absolutely life changing. But wait until you see what we had next. Side note: In the back, you also see their margherita pizza, which is topped with house-made fior di latte. Totally some of the best cheese I have ever had.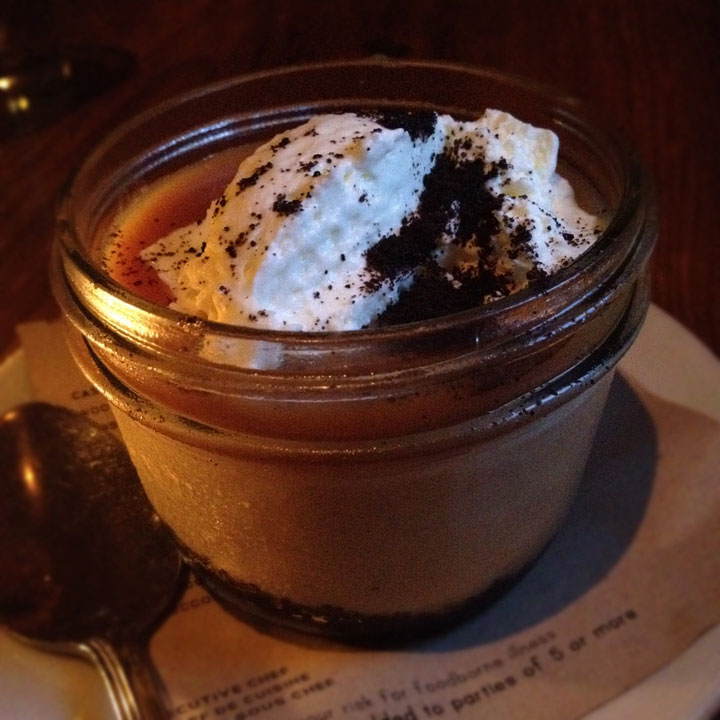 This was absolutely the star of the evening. This is Barbuzzo's Salted Caramel Budino. And it comes in a jar. And it rendered me completely and totally speechless. This budino was like nothing I've ever had before. It is one of the best desserts I've ever had. Hands down. I was stunned. All I could say was Oh my gosh.
Oh my GOSH.
OH. My gosh.
Oh. MY. Gosh.
Fortunately for my poor, pathetic soul, which will now never be the same after having this earth-shattering dessert experience, there's a recipe online from Barbuzzo. And I've heard it produces very accurate results. And it looks pretty easy too! This just shot it's way to the top of my MUST MAKE ASAP list.
What's the best dessert you've ever had?