Time's Up!
The winner of the Brand New Jif Hazelnut Spread Taste-Tasting Giveaway! is:
#520 Tabby: I SO want this….they are much bigger jars than Nutella :), and the possibilities are endless!
Congrats Tabby! I've sent you an email! :)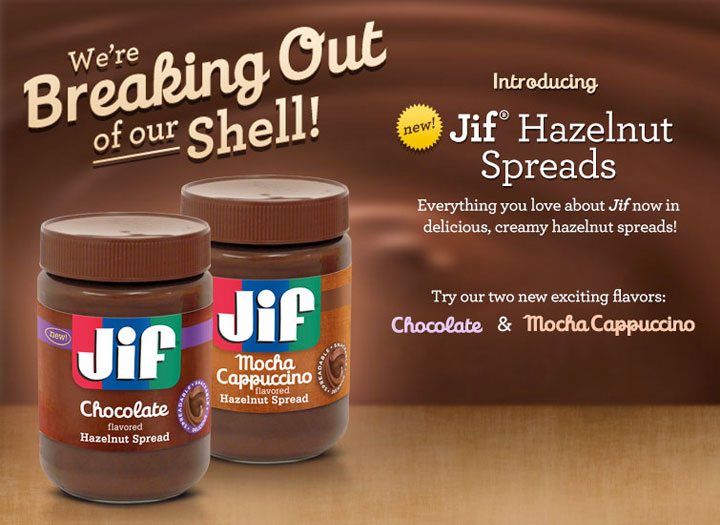 Oh my GOSH you guys!! Have you seen this?? The makers of Jif recently launched two fabulous new hazelnut spreads!! Jif Chocolate Flavored Hazelnut Spread and Jif Mocha Cappuccino Flavored Hazelnut Spread. I am DYING!! :) I seriously ate half the jar of the Chocolate Hazelnut the first time I tried it. I've since seen it at Target, you have to go find some!!
To celebrate, Jif would love to offer one (1) Kevin & Amanda reader a chance to win everything needed for your own personal chocolate hazelnut taste-testing party. Love that they even included a spoon! Just one, because trust me, you will not want to share!! :)
Give your favorite snacks, desserts and even beverages a delicious hazelnut twist using this new product. To get started, here are some fun ideas for ways to use these new hazelnut spreads:
Breakfast: Spread on top of toast, waffles or pancakes for a delicious way to start the day.
Hot and Cold Beverages: Add to coffee, hot chocolate or a milk shake for a unique twist on a favorite beverage.
Snack: Use in S'mores instead of chocolate bars for a tasty treat or simply enjoy with pretzels or graham crackers.
Dessert: Use as an icing on your favorite brownies or drizzle over ice cream.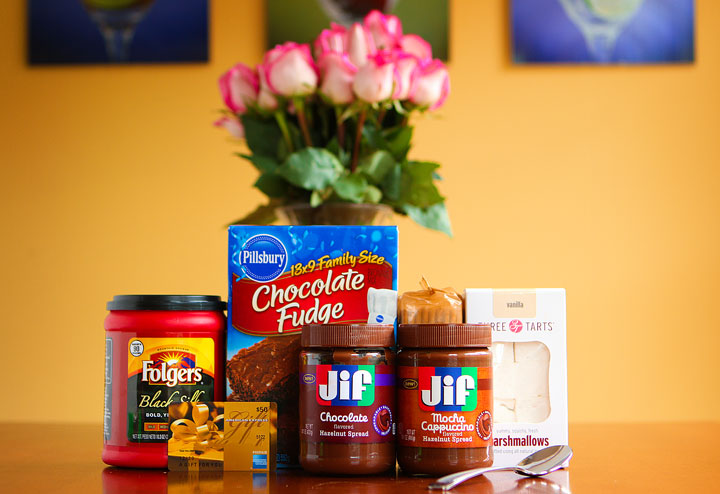 Jif Hazelnut Spread Tasting Kit Giveaway
Jif Chocolate Flavored Hazelnut Spread
Jif Mocha Cappuccino Flavored Hazelnut Spread
Homemade Marshmallows
Graham Crackers
Pillsbury Chocolate Fudge Brownie Mix
Folgers Black Silk Coffee
Silver Spoon
Recipes and Tips
$50 AMEX Gift Card
How to Enter
To be entered to win the Jif Hazelnut giveaway, all you have to do is leave a comment on this post. How will you try the new Jif Hazelnut spreads first?? :)
Contest ends Saturday, July 28 at 8 am CST. One entry per person, please. Winner must have a US mailing address. Winner will be chosen by Random.org and notified by email. Giveaway graciously provided by Jif.
If you're on Facebook, come check us out here! :)
Good luck!!! :)