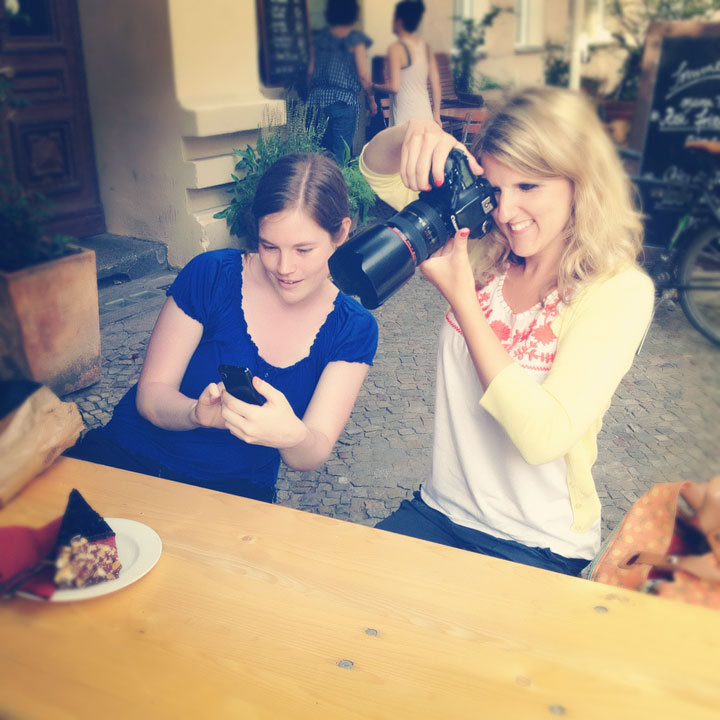 Before my dad and I headed home from Sweden, we made a slight detour down to Berlin. Germany has always been at the top of my travel list, so I'm so thankful we were able to spend some time here. We filled our two short days with tours and sightseeing, but I was also so happy to squeeze in some time to meet up with my friend and fellow blogger Erin from Texanerin Baking. She's a Texan named Erin who's currently living in Germany where Texanerin means "female Texan". How cool is that?? She's also the one with the amazing homemade peanut butter recipe that inspired my honey roasted peanut butter cookies!
Erin's blog specializes in 100% whole grain, reduced-sugar baking recipes that don't taste healthy — they just taste fabulous! She generously brought me a sample of her 100% Whole Grain Peanut Butter Filled Brownies, and oh my word, I am an instant believer!! She probably brought me half the pan, and I am only slightly ashamed to say I ate the entire thing in practically one sitting. Hey, they're "healthy" right? :D Totally. You gotta try 'em. They are ooey, gooey, fudgy and fabulous. Forget that they're 100% whole grain, I just loved how fudgy they were!! My perfect kinda brownie. :)
Berlin Bakery Tour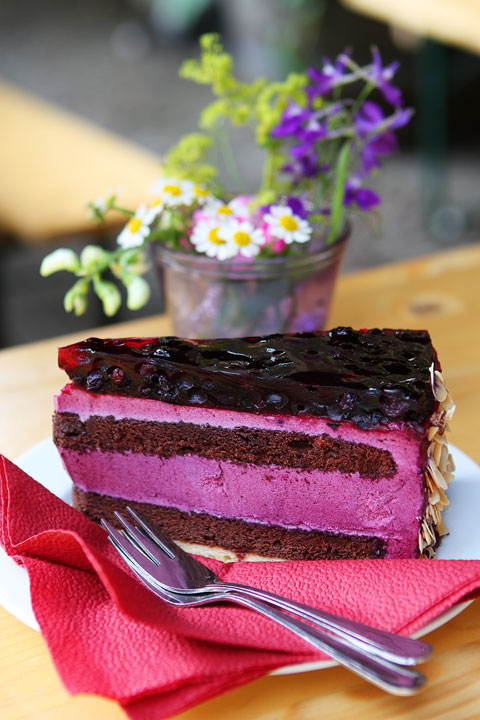 Erin totally knows her sweets, and I had so much fun exploring her charming neighborhood in East Berlin on our fun bakery tour! We started with this gorgeous chocolate blueberry cake from Kaffeehaus SowohlalsAuch.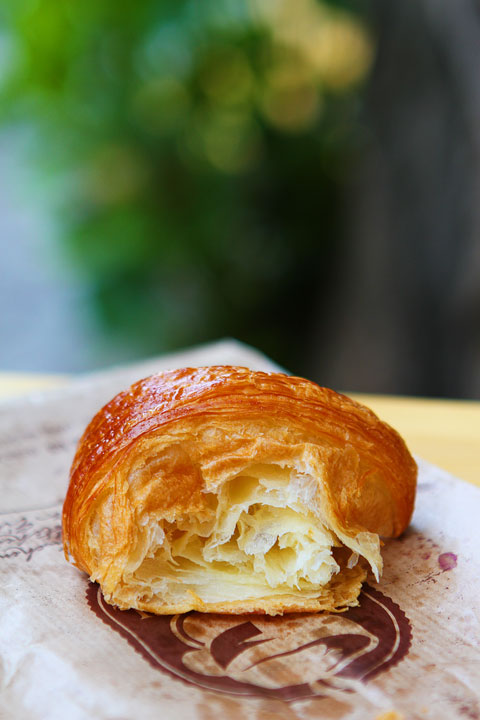 But this was why we came to Kaffeehaus SowohlalsAuch. Oh my gosh. This may just look like your average croissant, but oh my gosh. This was the flakiest, butteriest, dreamiest crossiant I have ever had. I am still dreaming about this croissant!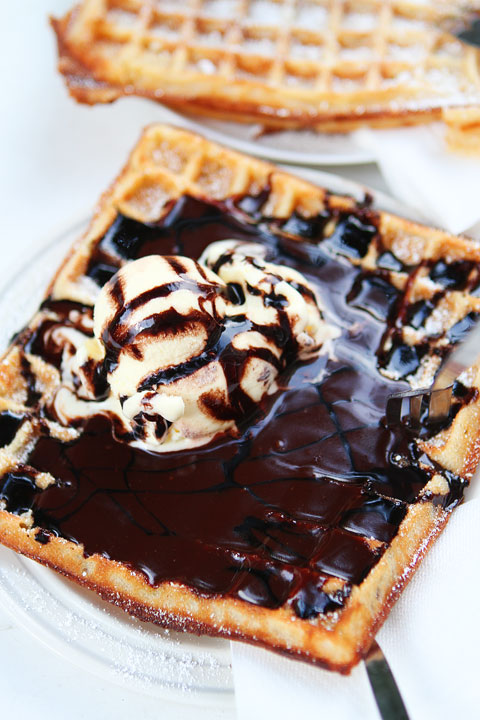 And how fun was this hot, crispy waffled topped with powdered sugar, gelato, and hot fudge from Kauf Dich Glücklich?? My belly is growling just thinking about this fun treat. :) I loved every second of our sweet bakery tour. Thank you for showing me around Berlin, Erin!! :)
Where We Stayed: Hotel Indigo, Berlin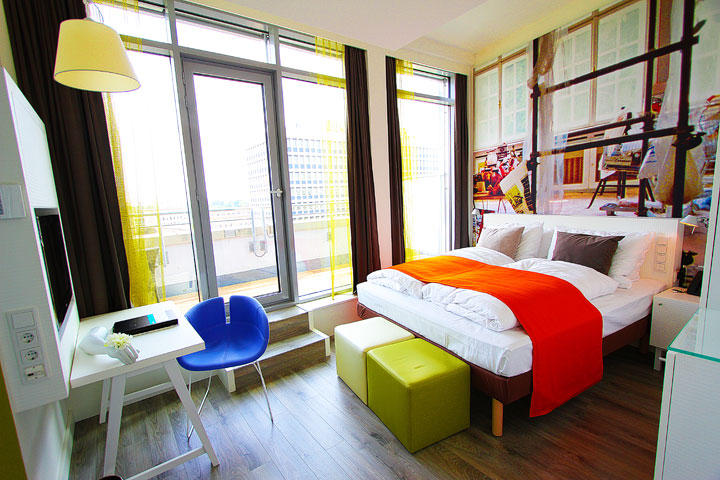 Okay, I had to show you our cute Berlin hotel! I loved our room at the Hotel Indigo in San Diego, so when I saw this one in Berlin I knew I wanted to stay here.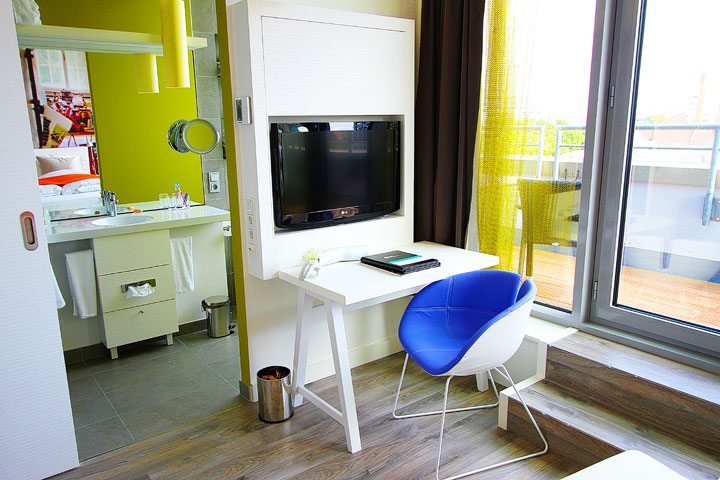 How fun are their bright, funky colors?? This room is totally right up my alley. :)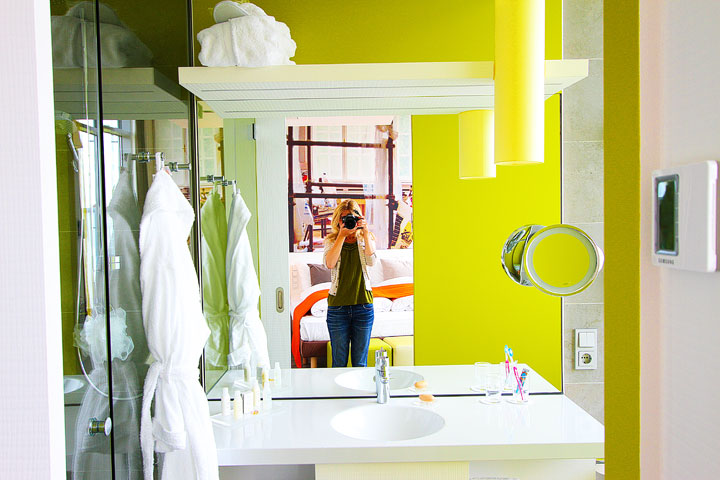 Hi!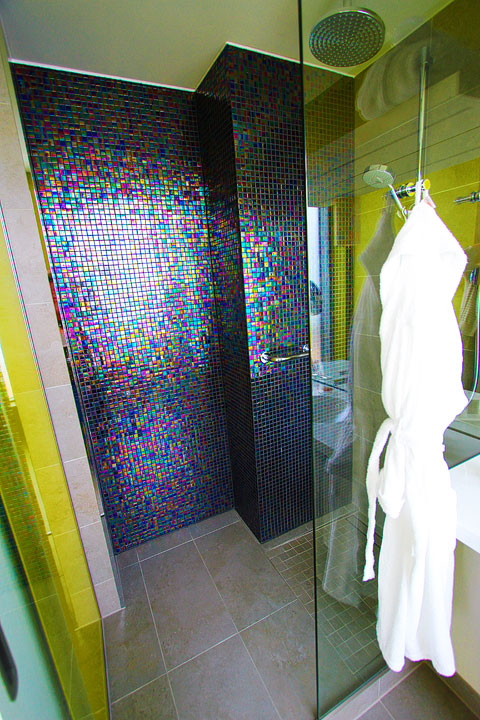 Rainbow mosaic tiled shower? Yes!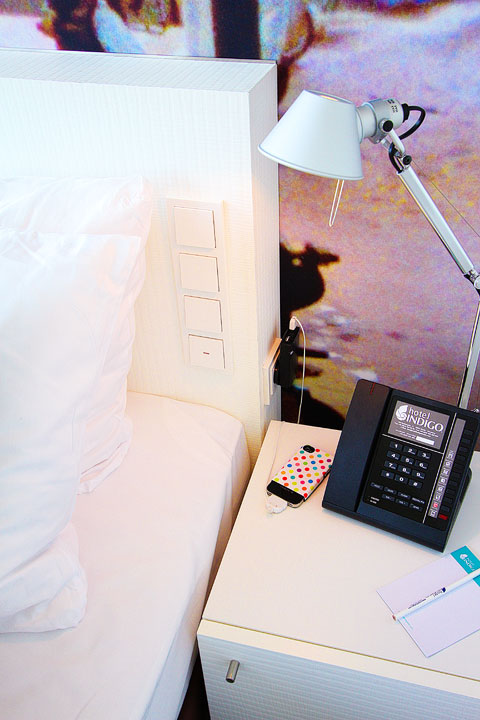 All the lights in the room were also control by these switches by the bed — even the ones in the bathroom! So if you got all comfy in bed and forgot to turn out a light, no problem! You could just reach over and touch one of these switches. The bottom switch even turned on a nightlight illuminating the floor in the bathroom if you had to get up in the middle of the night but didn't want to blind yourself by turning on the overhead light. LOVE this idea!! Oh, and it had outlets right in the headboard for charging, which is something I personally think all hotel rooms need to have! :)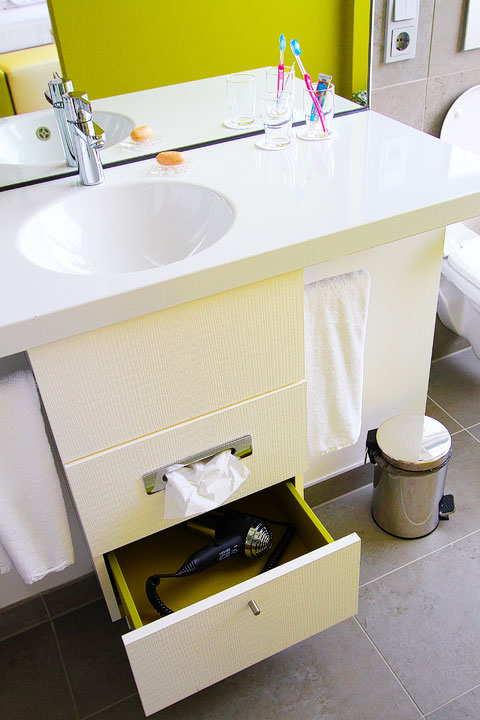 The drawers in the bathroom were those drawers that closed on their own — so all you had to do was give them a push and they gently guided themselves shut.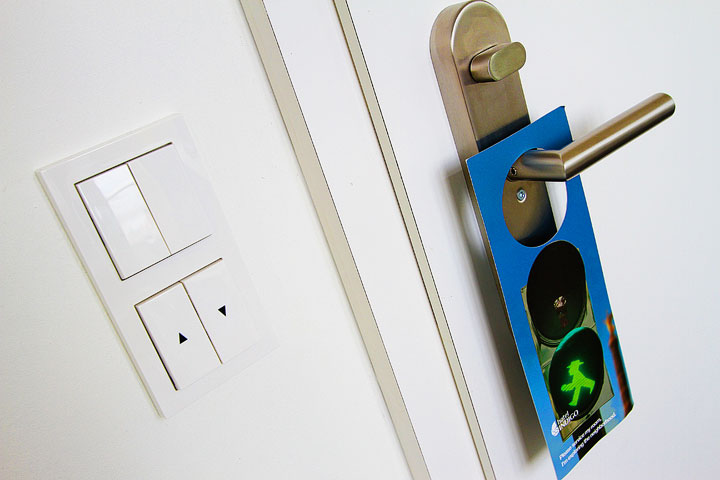 See these arrow switches?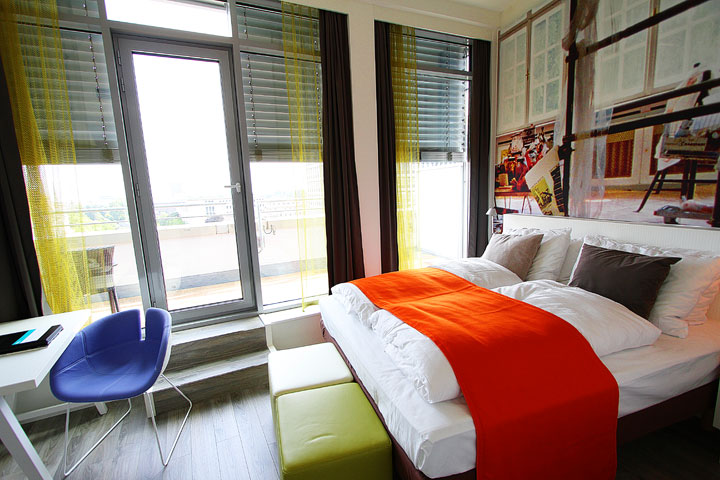 They controlled the blackout shades. :)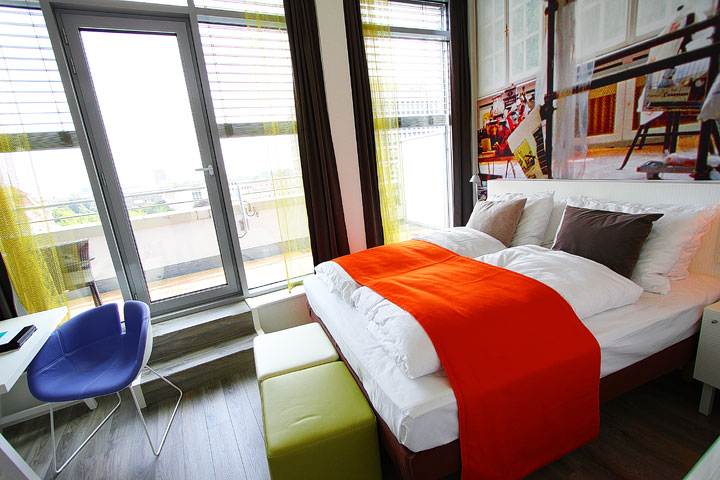 You could even open and close the blinds with 'em!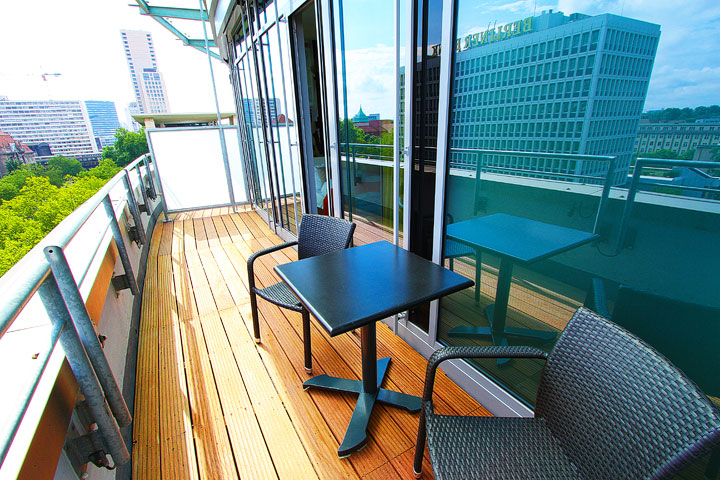 Ahh, then there was the balcony. The perfect place to sip coffee and eat croissants in the morning.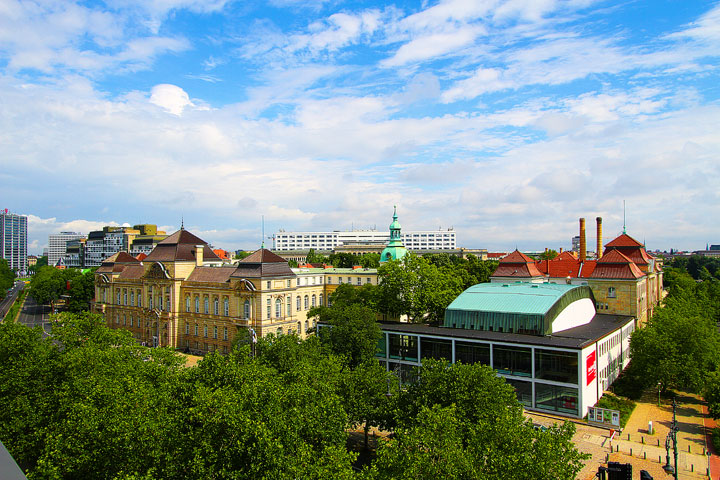 Here was the view from the balcony.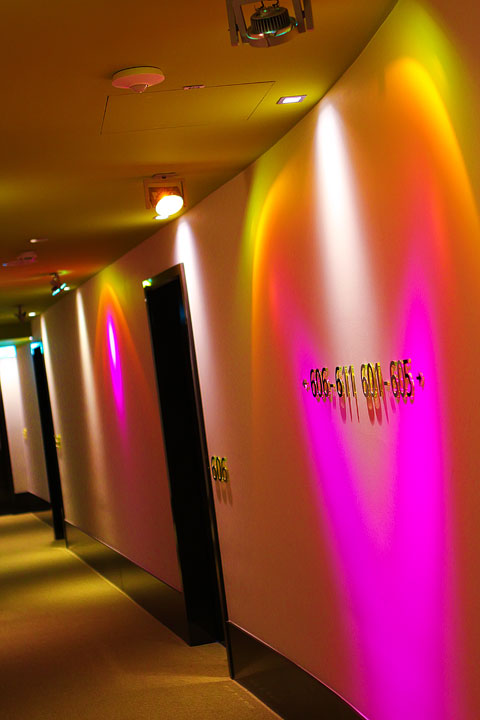 And how fun is this hall?? The hot pink lights lit up as you walked down the hall towards the room. So neat.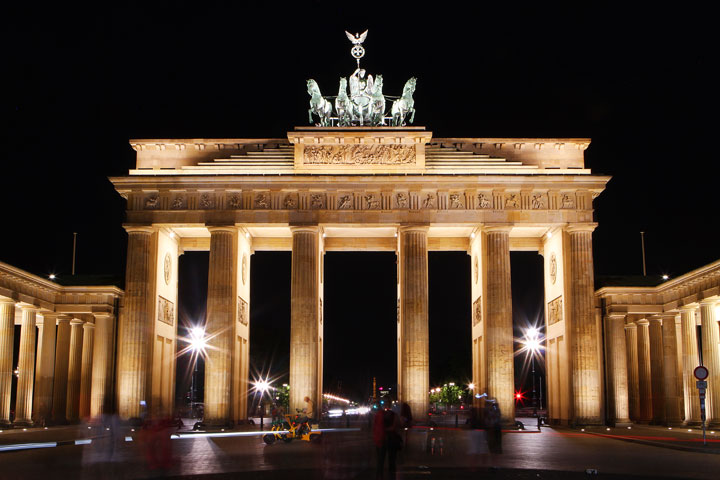 On our last night in Berlin, Erin and I walked down to the Brandenburg Gate — we had to walk off all those sweets! ;)
Thanks so much for looking. Until next time!