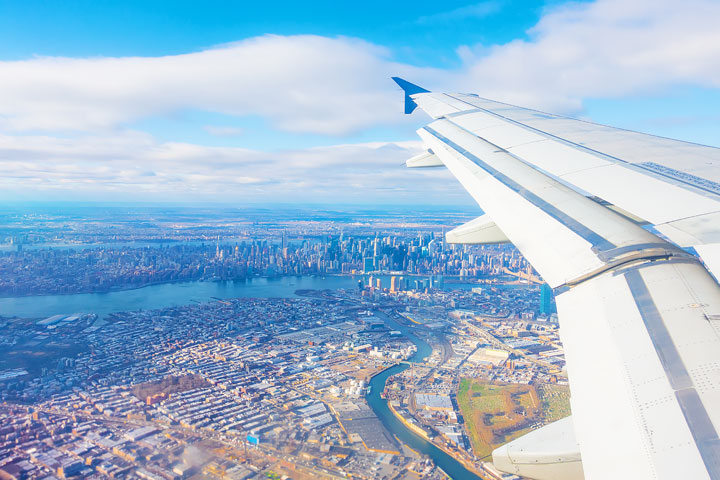 For Kevin's mom's 60th birthday, we surprised her with a trip to New York at Christmas. She'd never been to New York before, and it has always been her dream to go at Christmas! For her birthday, Kevin gave her one of his famous travel brochures. :)
Since she had never been before, we had to fit in all the highlights of NYC and NYC at Christmas in just one short weekend. Fortunately, we came prepared. Here's what we did, and our checklist of the must-sees and dos for the ultimate NYC weekend! :)
---
Hotel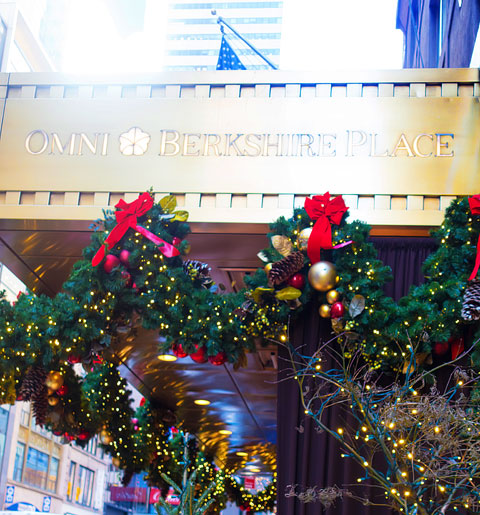 A huge advantage is a good hotel in a central location (so you can quickly and easily get everywhere) and on a quiet street so you can get your much-needed sleep after a busy day! :) I always love staying at the Omni Berkshire Place in NYC because it meets these criteria. The Omni was all decked out for Christmas. The decorations were so gorgeous!!
---
Getting Around
We took the subway or called a private car with the Uber app. Have you heard of Uber?? It's your own personal, private driver for the same price of a taxi. When you open the Uber app, it will show you where drivers are near you, and tell you how long it will take for a car to get to you. Just click Set Pick Up Location and your private car is on it's way. You can even watch it on the map as it gets closer to your location. It will send you an alert when your car gets close so you know when to go outside. No more waiting outside in the freezing cold or rain for a taxi! You add a credit card or Paypal account to your Uber account, and you never to worry about paying the driver. It's all done through the app. You get in the car,  the driver takes you to your location, and you get out. No fumbling with paying, you can just get out and leave! You don't even have to tip — it's built into the price of the service (which is still competitive with a taxi!).   It's seriously the fastest and best way to get where ever you need to go!
Use this link to sign up with Uber to get your first ride free!
---
Pizza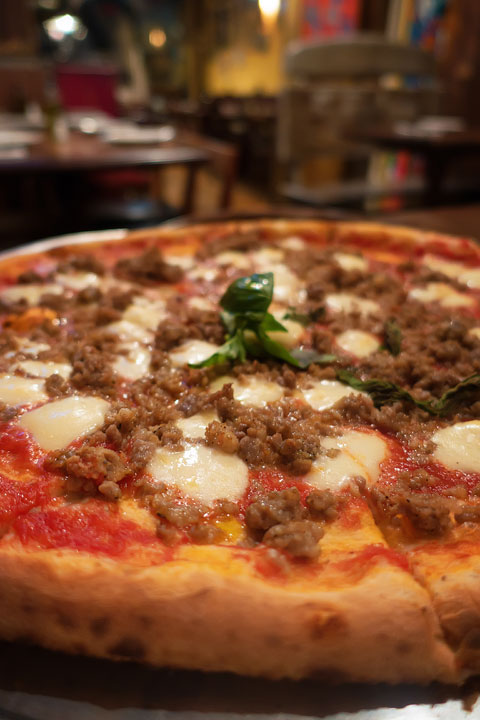 Our first order of business was an authentic slice of NYC pizza. We were starving after being on a plane all morning! :) Now one of my favorite places for truly authentic NYC pizza is Bleecker Street Pizza. However, Bleecker Street is not really your typical restaurant. It's more of a walk-up, grab a slice, and eat it on the go place. They do have 3 or 4 small tables where you can sit if you want though (first come, first serve). But it's not a "sit down and order and have a waiter wait on you" type place.
For our first meal off the plane, we wanted some place we could sit down and relax — and somewhere that takes reservations so we would be sure to get a table and not have to wait. I knew we'd be hungry! :) For this, we chose Luzzo's Pizzeria.  It's authentic Italian (Naples) style pizza. It was delicious and exactly what we were looking for! I'd definitely go back.
---
Radio City Music Hall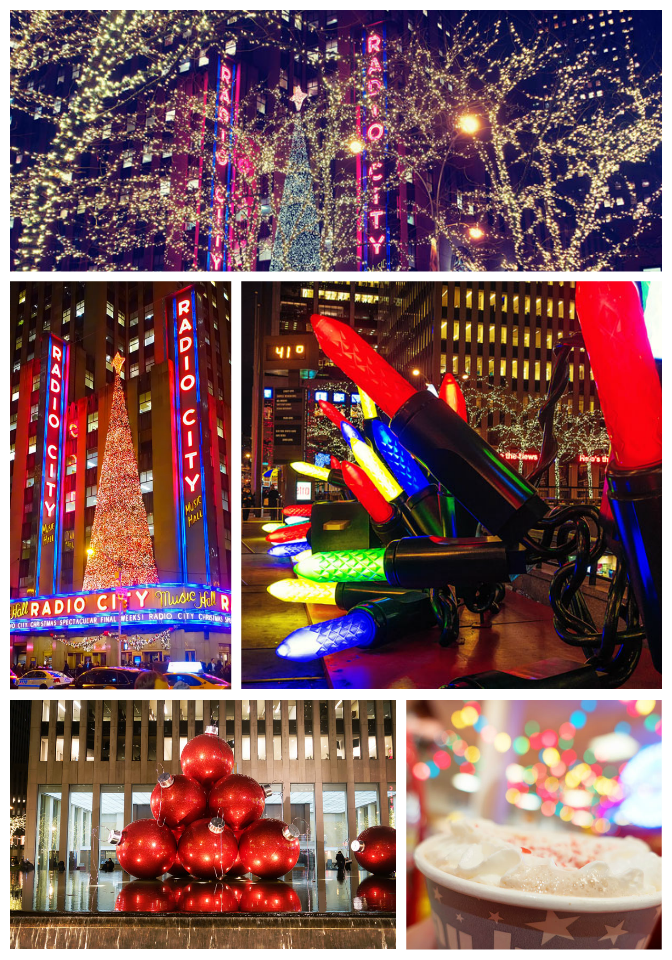 After dinner we bundled up and took a stroll around Radio City Music Hall to look at all the Christmas lights and decorations. The big Christmas lights statue and pyramid of red Christmas balls are caddy-cornered from Radio City Music Hall (and across the street from The Tonight Show with Jimmy Fallon!)
---
Rockefeller Center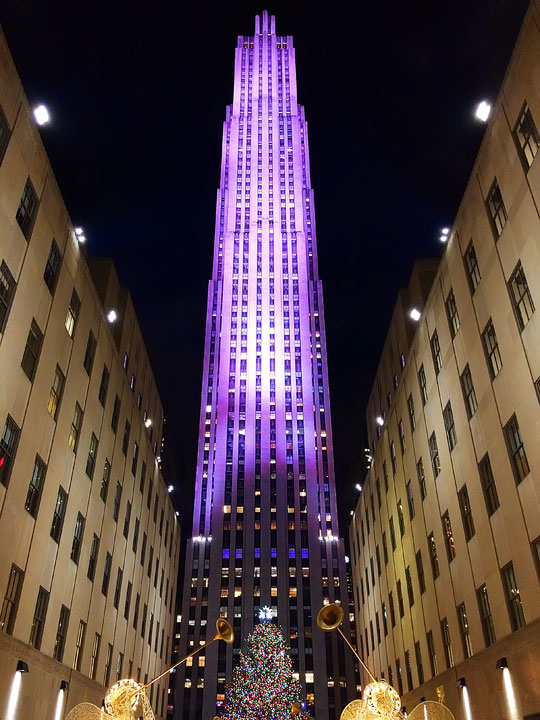 Just down the street is Rockefeller Center, the skating rink, and The Big Tree. This is such a fun area at Christmas! Around here there's the big Lego store, the NBC store, a Nintendo store, and the big Anthropologie.
Also be sure to walk down 5th Avenue to see all the Christmas lights and window displays, especially at Saks and Tiffanys.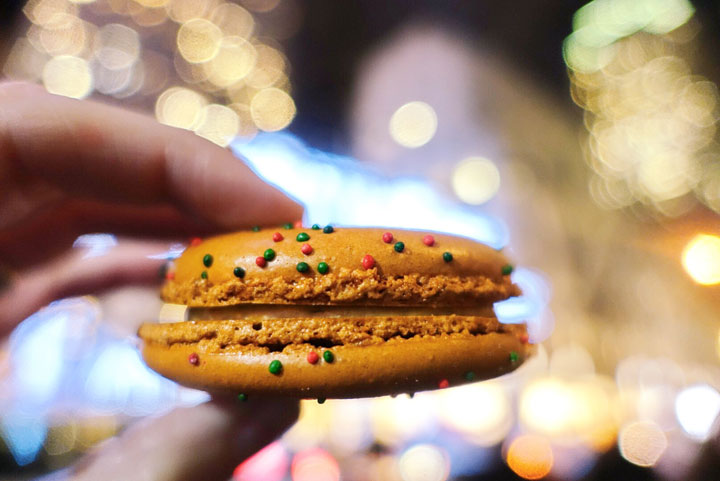 Right across from the rink is Bouchon Bakery. No trip to NYC is complete without a big vanilla macaron from Bouchon Bakery! By this time we were ready to warm up with a tall cup of hot chocolate and a sweet macaron from Bouchon. We got a vanilla and this seasonal gingerbread macaron. Phenomenal! Loved the hot chocolate from Bouchon! It was so thick and rich!
---
Central Park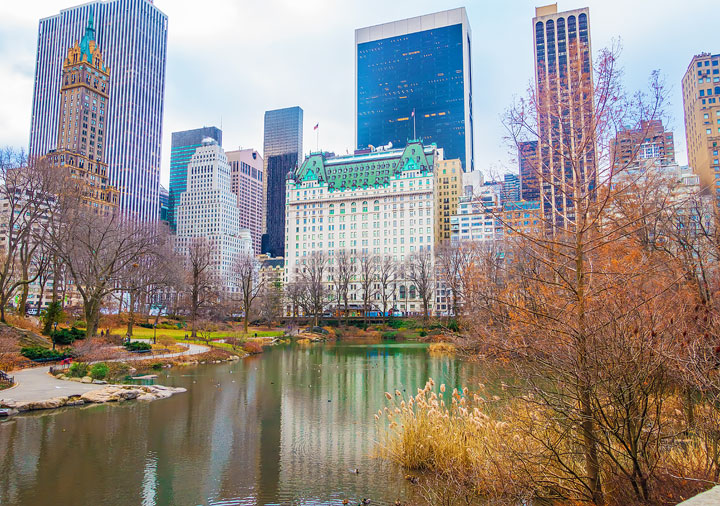 The next morning we walked to Central Park, stopping by The Today Show (at Rockefeller Center right across from the rink and Bouchon) and Good Morning America (on the corner of West 44th Street and Broadway in Times Square). We saw Matt Lauer interviewing Ben Stiller in the studio as we walked by The Today Show!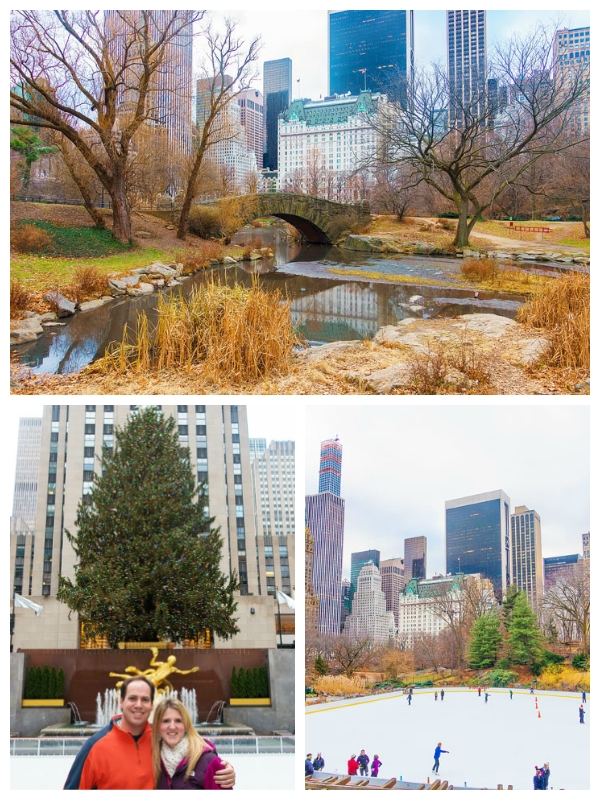 As we were walking by The Today Show, we stopped by the skating rink / tree get a picture in the morning before it got crowded. :) There was no one there!
In the southeast corner of Central Park is Gapstow Bridge, featured in Home Alone 2: Lost in New York. The Plaza Hotel  is in the background. We also walked by the Central Park skating rink.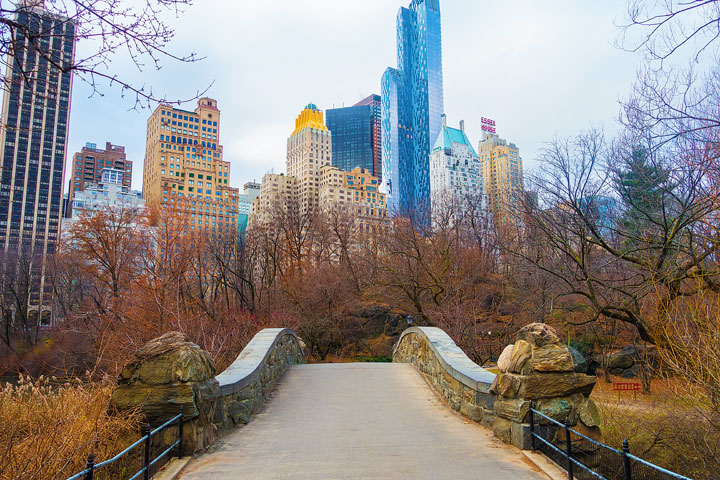 The is Gapstow Bridge. So pretty!
---
Upper West Side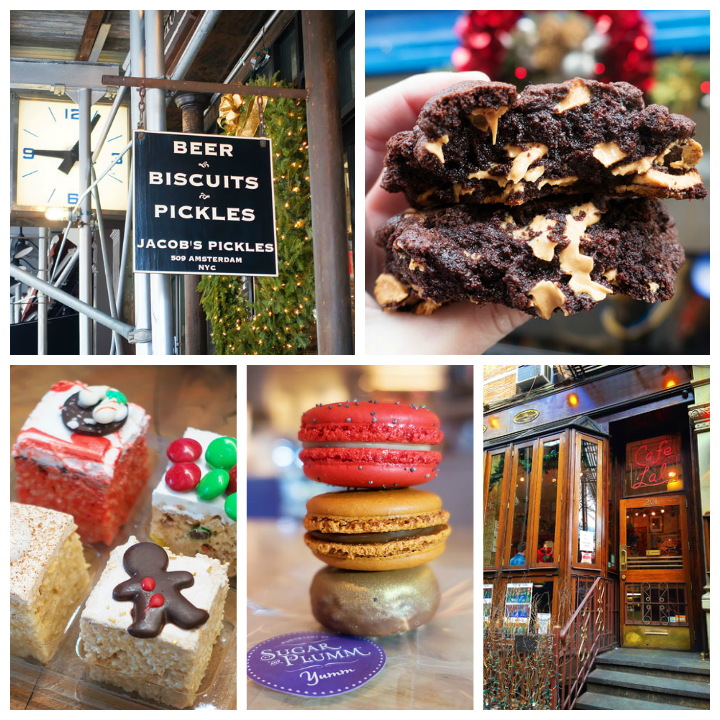 The Upper West Side is one of my favorite neighborhoods in New York. It's quiet, you'll see lots of families, and there is a ton of fun stuff to do. A warm cookie from Levain Bakery is a must!! My favorite is the Chocolate Peanut Butter cookie. Be sure to ask for a warm one! :)
Also in that area is Sugar and Plumm, a super cute restaurant, bakery, and candy shop. Definitely fun to pop in and grab a cookie, macaron, or just look around! I've eaten here for brunch and they have such a fun menu. They also have some seriously amazing-sounding gourmet milkshakes on the menu that I have yet to try, but are next on my bucket-list!! :)
Another fun stop in that area is The Treat House. They're a fun bakery specializing in mini gourmet Rice Krispy Treats. (See my full review of them here! :)) They had some super fun Christmas flavors like Gingerbread, Eggnog, Peppermint, and Red & Green M&M. :)
Right across the street from The Treat House is Cafe Lalo, which was featured in the movie You've Got Mail. It's the scene where Tom Hanks and Meg Ryan are finally going to meet up, and she's waiting for him inside the cafe with a book and a rose, and he's outside saying "She's got to be! She's got. to. be!" It's always fun to see the real-life sets of your favorite movies. They've even got pictures from that scene hanging in the window.
And finally, we made our way to our final destination on the Upper West Side, Jacob's Pickles. This is a new brunch spot that I've been wanting to try. They're famous for their biscuits!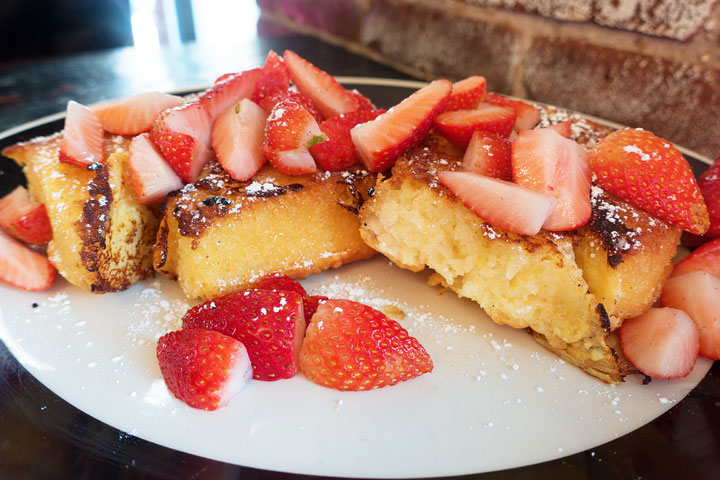 They serve brunch every day and have a Biscuit French Toast on the menu that I'd been dying to try. Delicious!
---
The Rockettes Christmas Spectacular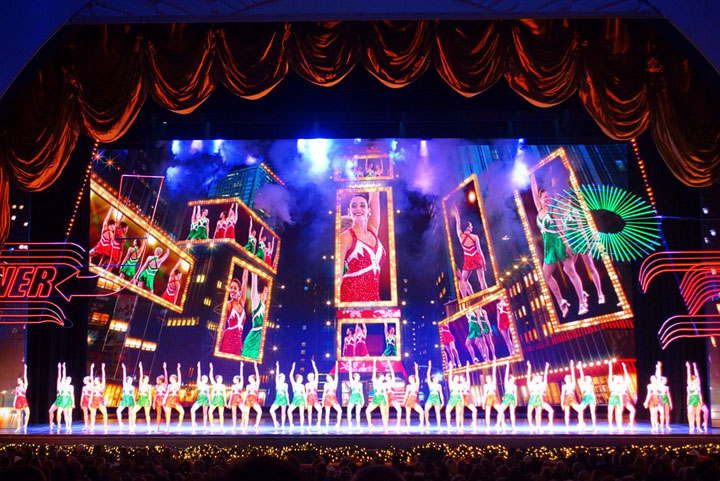 That afternoon we went to see the Rockettes Christmas Spectacular at Radio City Music Hall. This was such a fun show! I'd never seen the Rockettes before, but it was way better than I was expecting it to be. It's more than just kicking and dancing. :) It's a huge production! It's up there with Wicked. :) I would highly recommend adding this to your Christmas weekend itinerary!
---
Chelsea Market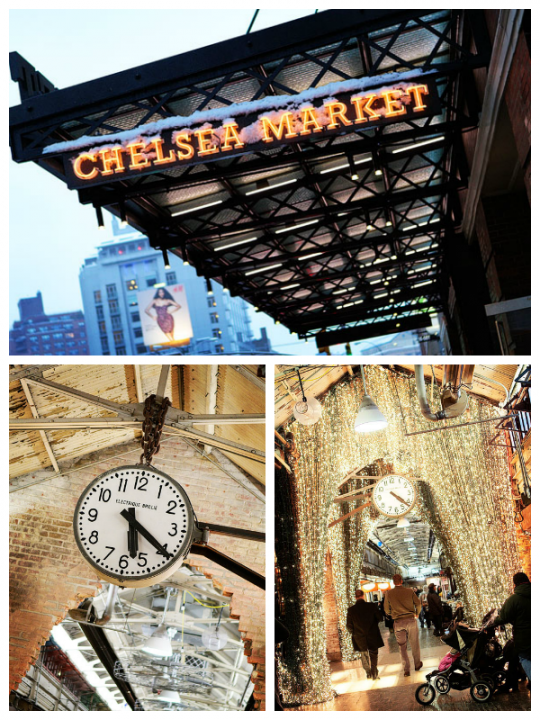 After the show we made our way to Chelsea Market, another fun area in New York. Chelsea Market is full of fun stores and food shops. The perfect place to pick up a souvenir. And it's always so gorgeously decorated for Christmas.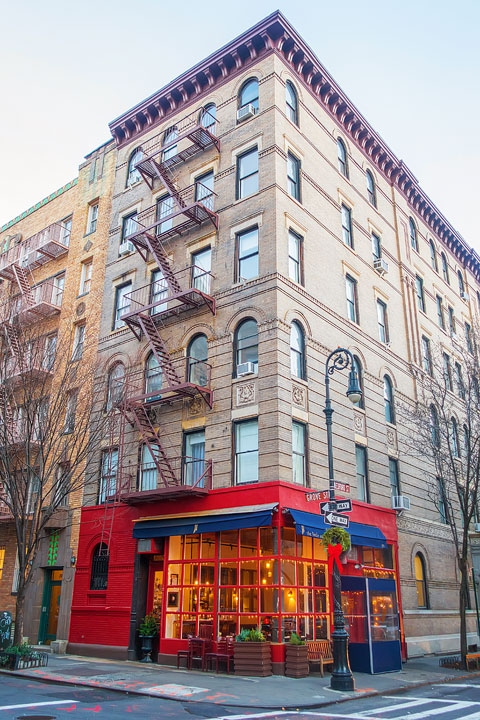 Nearby Chelsea Market, in Greenwich Village, is this familiar building. This was where the Friends' lived! :) It's at the corner of Bedford St. and Grove St.
---
Max Brenner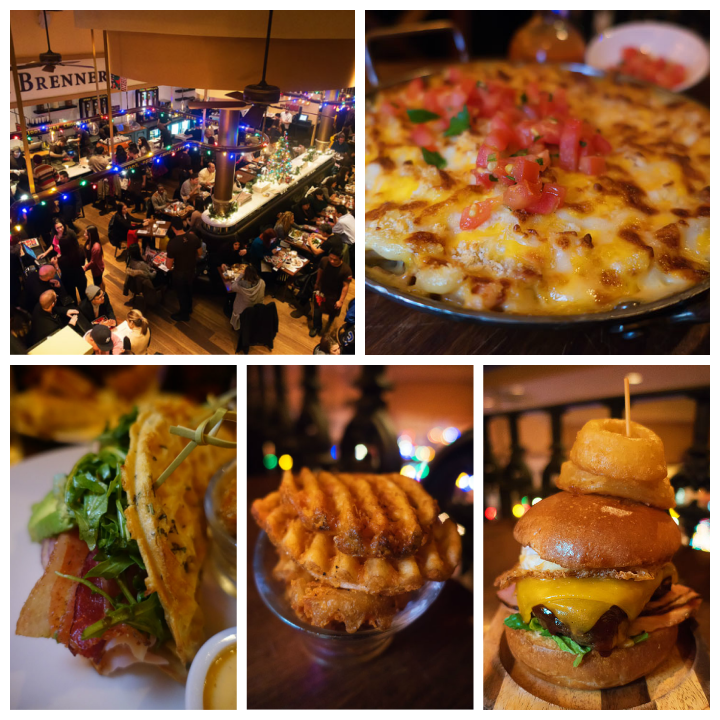 Max Brenner is one of my favorite places to eat in NYC! It's always at the top of my list. Their Mac & Cheese and waffle fries are to die for! And check out my fun Rosemary Waffle Club Sandwich! Reservations here are a must, especially at Christmas, and I recommend getting there at least 30 minutes early. We had to wait in line 20 minutes just to *check in* for our reservation!! Craziness!! Fortunately the line was inside and they were bringing around chocolate for us to sample. :)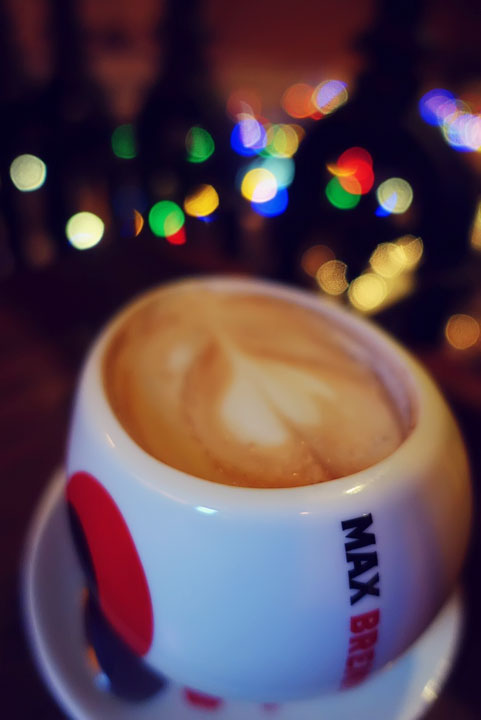 But the best thing about Max Brenner is the CHOCOLATE. Max Brenner is chocolate heaven!! I love coming to Max Brenner when it's cold because they have the BEST hot chocolate in the world. Get the Italian Thick Hot Chocolate in milk, dark, or white chocolate. We got it in Milk and it was insanely out of this world good!! Plus the mug is perfectly shaped for wrapping your hands around it to keep your hands warm. It's 8 degrees here right now, and I would love to have a cup of this hot chocolate to warm me up right now!! :)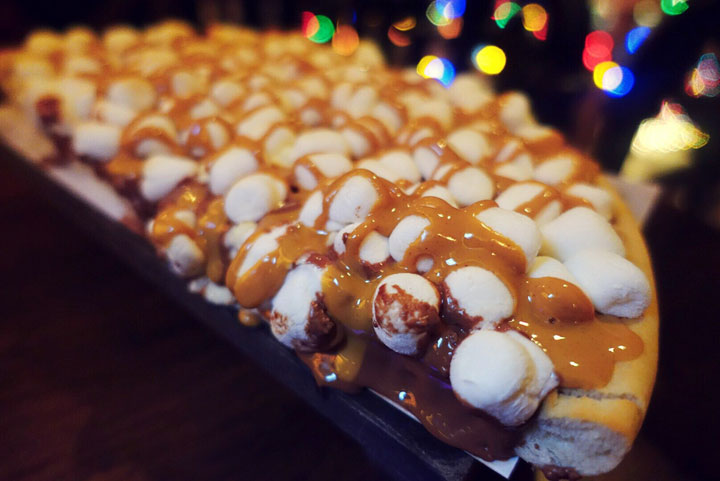 I'm also in love with their chocolate pizza!! It's soft, sweet dough, topped with chopped milk and white chocolate, covered in melty, toasty marshmallows, and drizzled with warm peanut butter. Crazy good. You guys. I can't even. It's so good.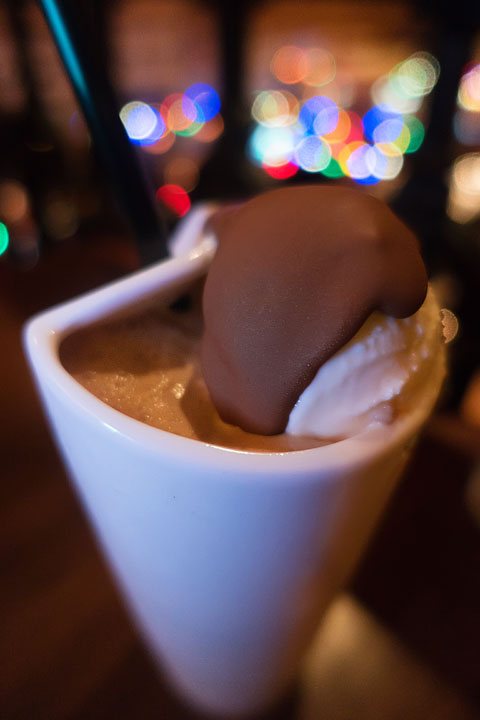 Okay, now I know we are crazy, but you absolutely cannot go to Max Brenner without getting the 80's milkshake. It's the best chocolate milkshake in the world. And I don't even like chocolate milkshakes. I am a vanilla girl all the way, but I would take this chocolate milkshake any day of the week. Plus it's topped with a scoop of vanilla ice cream covered in a thick layer of chocolate magic shell. The three different textures combined together are phenomenal!! :)
Another great thing about Max Brenner is that it's in Union Square, and at Christmas, the Christmas Shops at Union Square are set up. They are super fun to walk around and you'll for sure find a fun souvenir. If you see the "No Chewing Allowed" chocolate truffles be sure to take some home with you!!
Also nearby:
Eataly — a fun gourmet Italian market. It's like a super fancy food hall with a coffee shop, gelato shop, panini place, gourmet grocery store, pizza place, and more. Definitely fun to pop into and take a peek around.
Flat Iron Building — Right by Eataly. Neat to see!
Fishes Eddy — Near Union Square. A super cute kitchen store. A must see if you are into kitcheny things.
---
Breakfast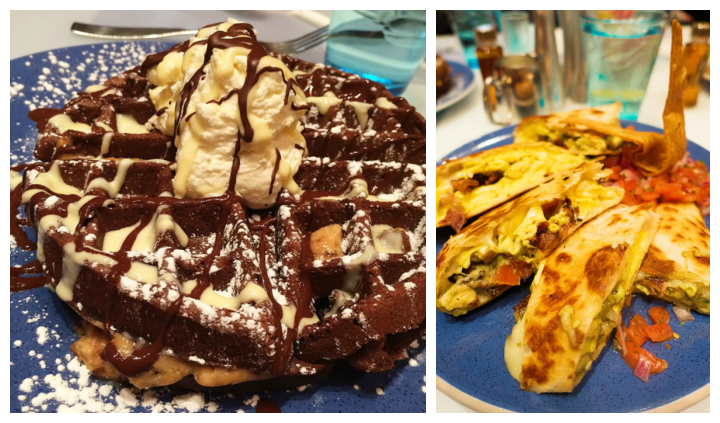 The next morning we had breakfast at Norma's inside the Le Parker Meridien Hotel. This is a super fun and delicious breakfast, and while it's slightly on the expensive side, you definitely won't leave hungry. They serve breakfast every day and are open until 3pm. Reservations recommended. Kevin got this insanely fabulous chocolate peanut butter waffle sandwich. The waffle is split in half and stuffed with peanut butter! I had so much chocolate at Max Brenner the night before, I decided to go with a savory breakfast. I got this Breakfast Quesadilla with scrambled eggs, bacon, monterey jack cheese, and guacamole. Hands down the BEST breakfast quesadilla I've ever had. Definitely would order this again. I would have a hard time choosing between this breakfast quesadilla and some of there other fun sweet breakfast menu items! It was that good!
Also try to find the hidden burger joint in the Le Parker Meridien lobby! ;)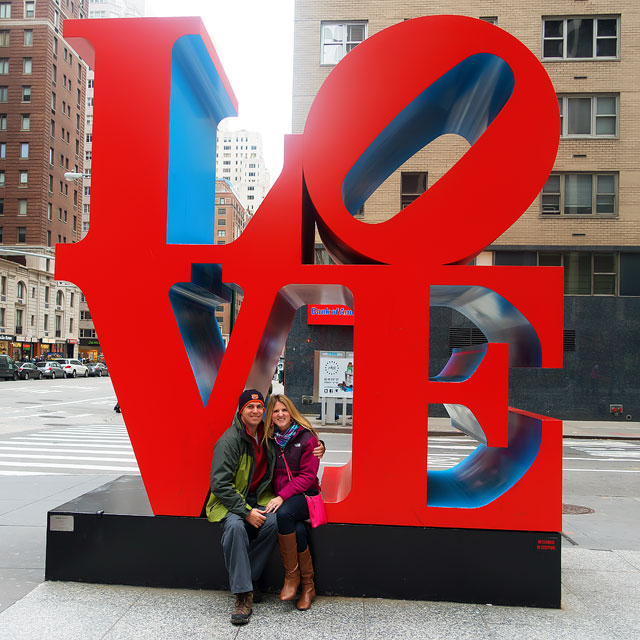 Oh, forgot to mention this! On our way to breakfast, we walked past the LOVE sign! So fun. It's located at 1359 Ave of the Americas (on the SE corner of 6th Ave and W 55th Street).
---
Top of the Rock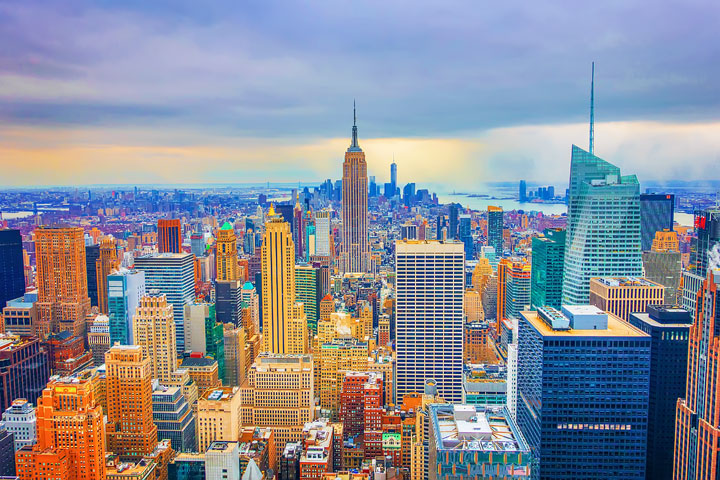 Another must-see in New York is the observation deck at Rockefeller Center. I much prefer Top of the Rock to the Empire State building, because there are no crowds! Plus you can see the Empire State Building from Top of the Rock. You don't need a fast pass or anything. You can buy your ticket online ahead of time if you know about what time you want to go. They give you a 30 minute window to show up, you don't have to be there at an EXACT time. Then you can spend as long as you want up top. When we went to the Empire State Building, the top was so crowded that there was a wall three-people deep just to get to the edge to see anything. The top of Top of the Rock is not crowded at all. You can easily walk up to any edge to look out. Plus you can take the stairs all the way up to the very top where there is no glass for better pictures.
Photo tip: If you want better pictures of the Empire State Building, go in the morning. If you want better pictures of Central Park, go in the afternoon.
---
Times Square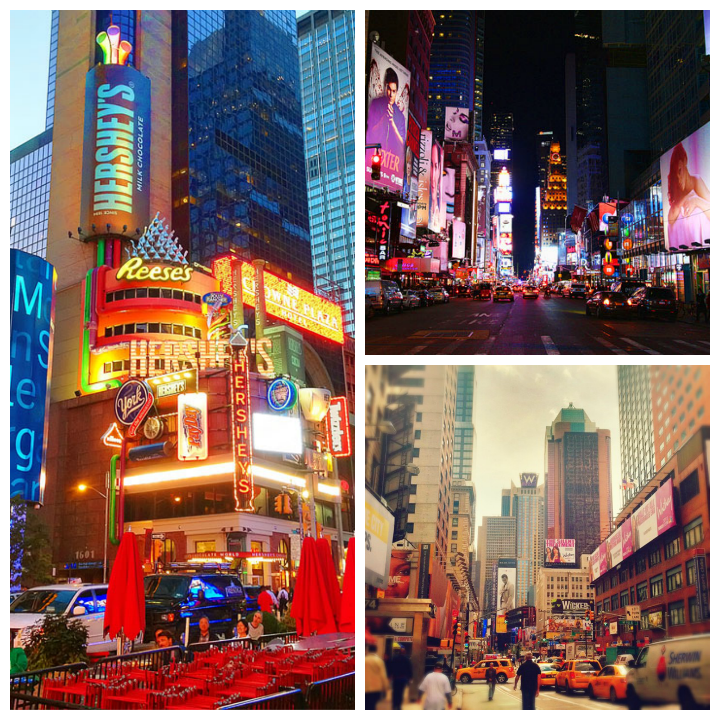 No trip to New York is complete without a visit to Times Square! I love going into the M&M store and the Hershey's store. There's also the big Toys R Us! And if you go at Christmas, you can get a peek at the ball that will drop on New Years Eve. :)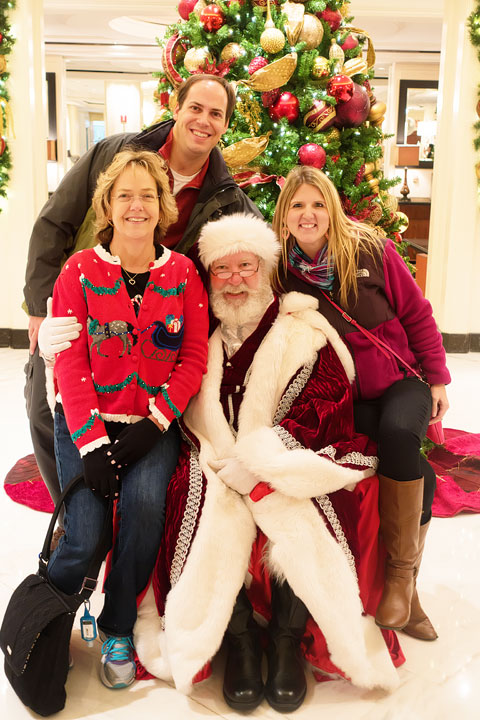 That afternoon we made a quick stop by the hotel and who did we find??! Santa was at the Omni Hotel! On Saturdays during Christmas Santa makes a stop by the Omni for visiting and pictures. So nice for Omni guests! There was no line, so of course we had to go see him! How cute are his boots?? :)
---
FAO Schwarz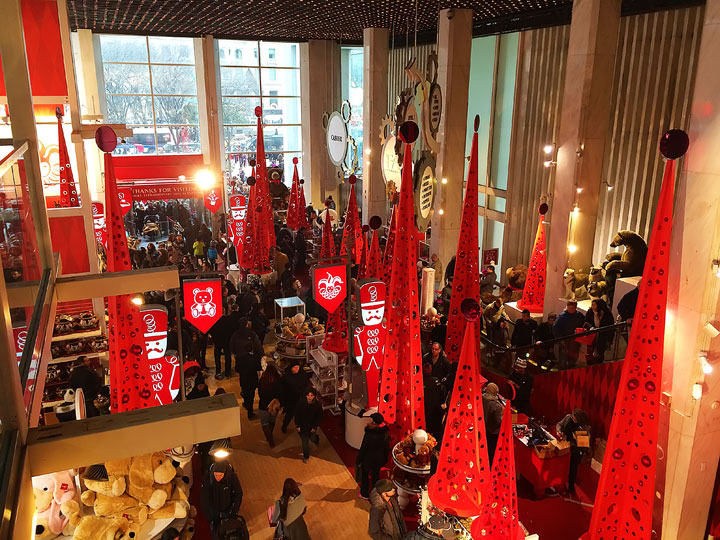 The iconic three-story toy store in New York! On the top floor is the Big Piano from the movie Big. On the ground floor is the Zoltar machine. Inside all the employees are playing with and showing off the toys. It's like an amusement park / toy store! Definitely a fun stop. When we went this year there was a line wrapped around the building just to get inside!! But it moved fast, and it wasn't too crazy crowded inside. We've been during other times of the year (even the first weekend of December) and it was not that crowded. This time we were there the weekend before Christmas. If you can go first thing in the morning it would probably be less crowded! :)
UPDATE: FAO Schwarz is permanently closed.
---
Serendipity III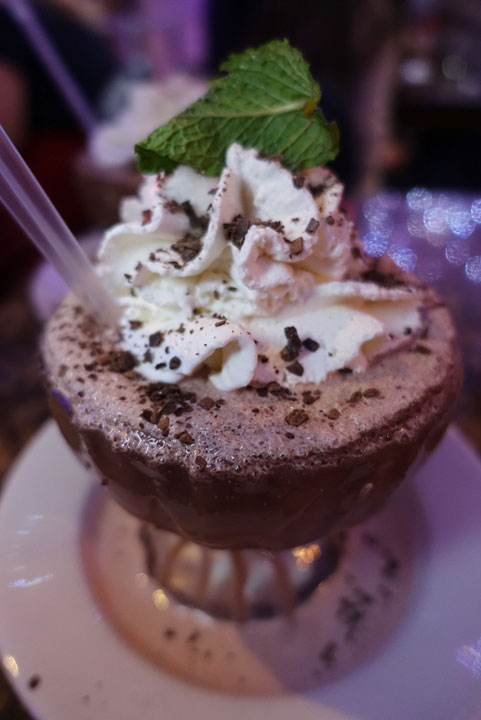 This is one of my all time favorite places to go in New York!! I always try to go here whenever I'm in the city. They have the BEST Frozen Hot Chocolate in the world!! I'll be honest — I've never really liked any of the real food I've ordered here, but that's not what they're about. The Frozen Hot Chocolate is where it's at!! Reservations are highly recommended — and make them as early in advance as you can. There was a 3 hour wait when we got there for the people without reservations, and you have to wait outside! There's also a minimum order, so you can't just go in and split a Frozen Hot Chocolate. But that's okay, because even though they're ginormous, you'll want one all to yourself!! They also have a Peanut Butter Frozen Hot Chocolate (tastes like Reese's Cups!) and a Mint Frozen Hot Chocolate that tastes like Thin Mints!! They are both SO good. Go with a group and order all three. You won't be sorry!! :) We had to get one even though it was 30 degrees outside, lol!! That's how good they are. :)
We also always like to stop by Dylan's Candy Bar on our way to Serendipity. It's a massive three-story candy shop! So fun. We like to plan at least 30 minutes before getting to Serendipity to look around here. Right across the street is also Bloomingdales, which was fun to look around at Christmas.
---
Broadway Musical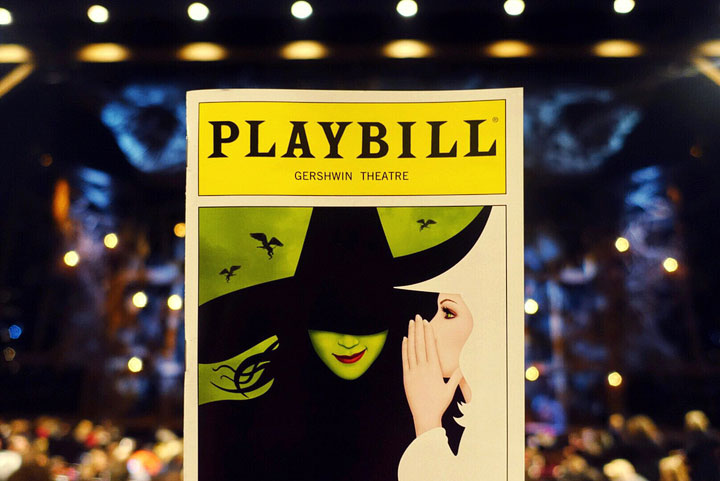 For a first trip to New York, a Broadway show is always a good idea. And Wicked is an absolute must.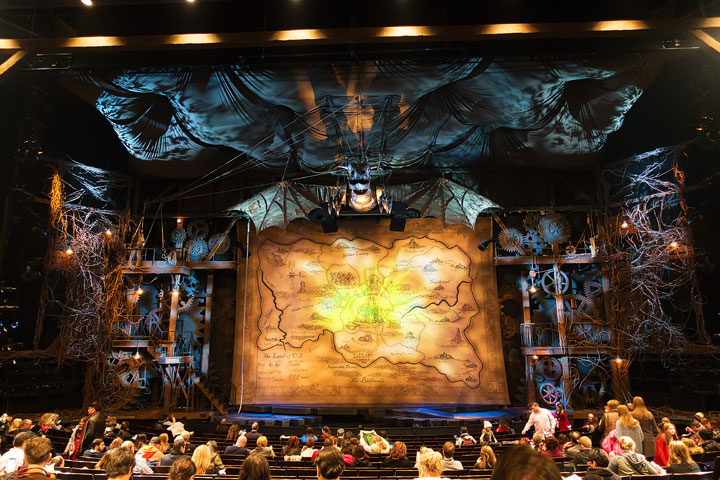 This is a life-changing show, and if you ever have the opportunity to see it in New York or on tour, go see it for sure!! It is a treasure.
---
Brooklyn Bridge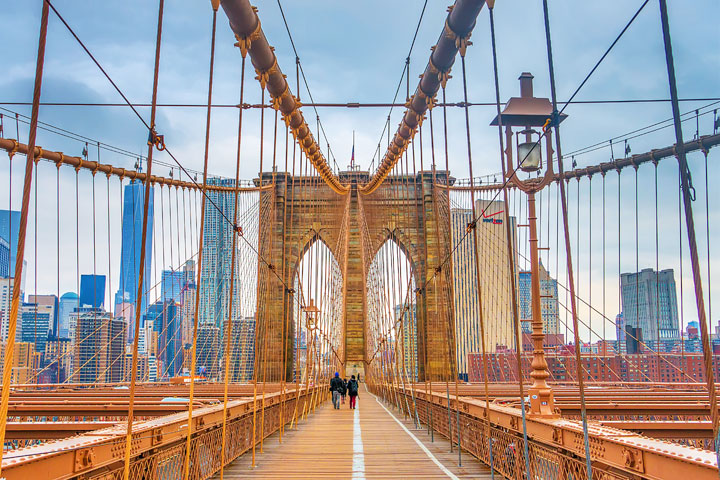 On our last day in New York, we made the most of our short morning in the city before catching a plane back home. We took the subway to High Street station in Brooklyn, and walked across the Brooklyn Bridge.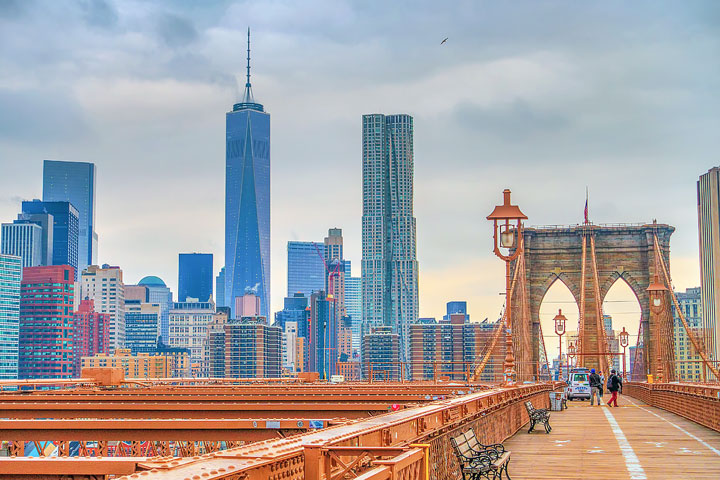 The views were gorgeous.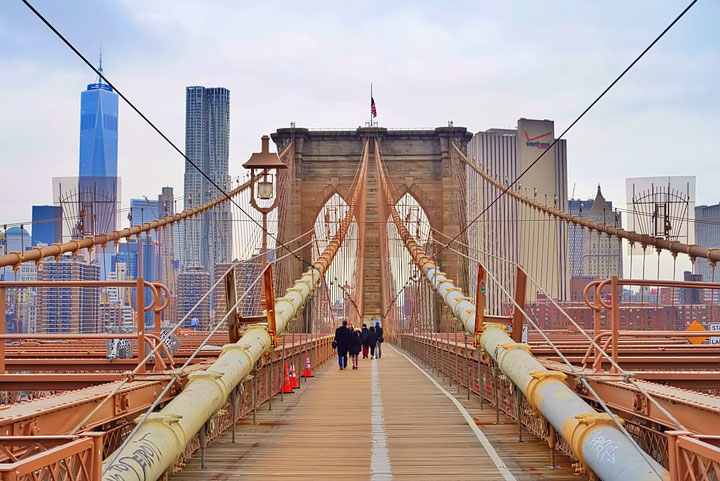 The bridge was stunning! It takes about 30 minutes to walk across the bridge. We stopped a few times for pictures, but we didn't dawdle because it was cold! :)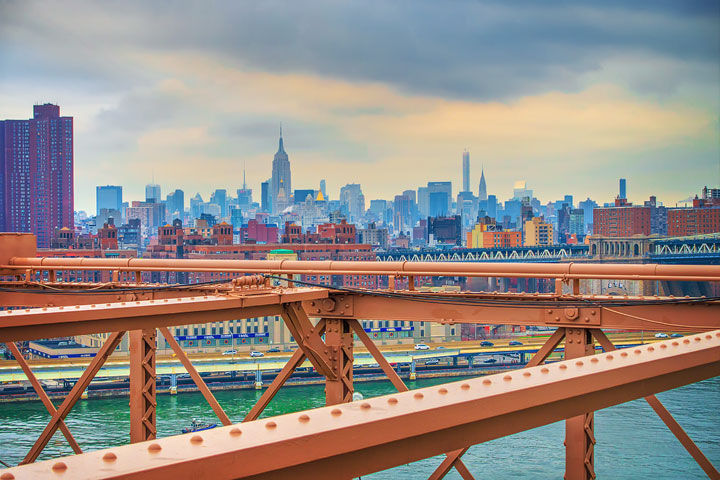 In all my trips to New York, I had never walked across the Brooklyn Bridge before but it is definitely something I'll be doing again. This was one of Kevin's mom's favorite things we did all weekend.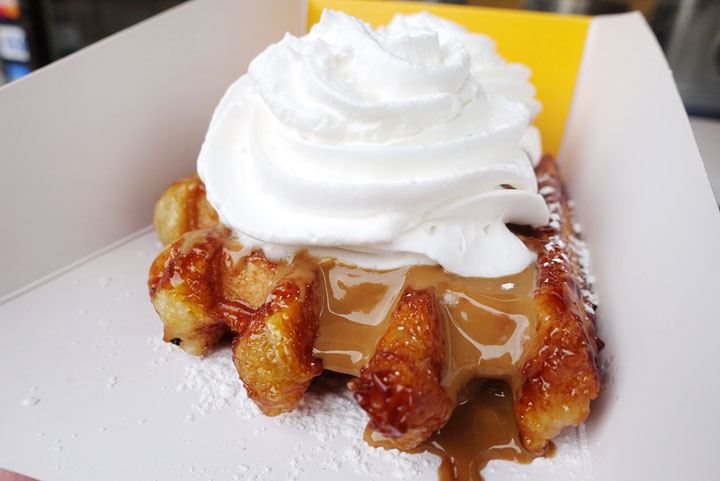 Right at the end of the bridge on the Manhattan side is a Waffles & Dinges cart! They have the BEST waffles ever. If you ever see one in New York (they're all over! The SW corner of Central Park near Columbus Circle, The Christmas Shops at Union Square, and more) definitely get one. We warmed up after our walk with hot chocolate and waffles for breakfast. The perfect last day in NYC breakfast. :)
---
World Trade Center Memorial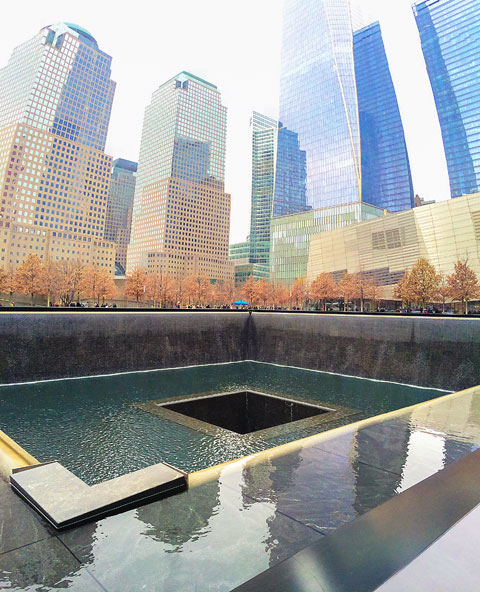 From the bridge it's a short walk to the World Trade Center memorial pools. These are FREE to go to and see. Just walk to the corner of Liberty St. and Greenwich St. and you'll see them.
---
Wall Street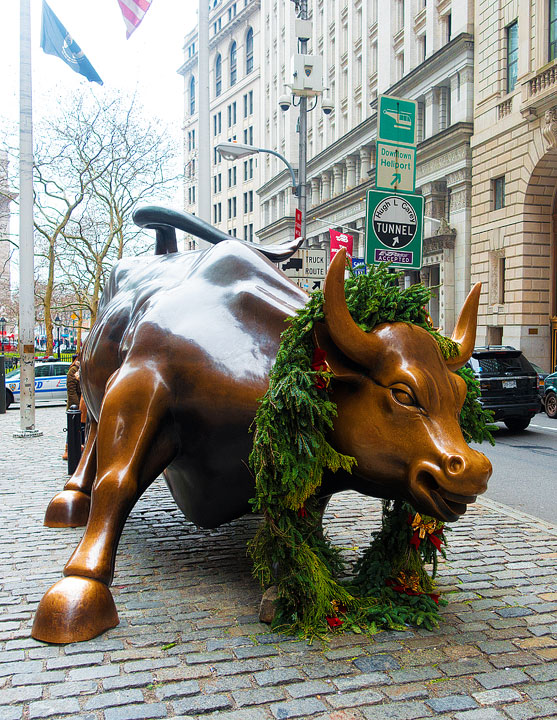 And from The World Trade Center Memorial it's another short walk to the Charging Bull of Wall Street! He was all dressed up for Christmas! :)
---
Statue of Liberty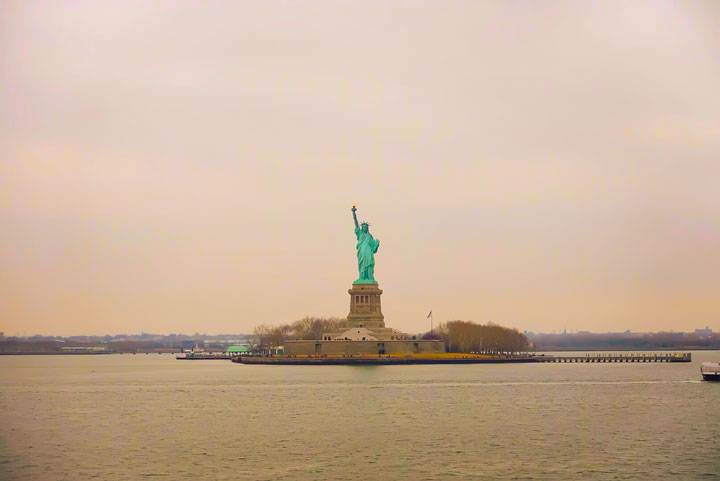 We were working our way down to the Staten Island Ferry. It's free to ride and you get a great view of the Statue of Liberty from a distance. This is a great alternative if you just want a good view of the Statue and you don't actually want to go up in it or anything. The ferry is about 20 minutes one way, and you have to get off when you get to Staten Island, but you can get right back on. Round trip is about 45 minutes.
This whole little excursion took about 3.5 hours from the time we left our hotel. The perfect last morning in NYC!
If you want to actually go to the Statue of Liberty, Statue Cruises is the only authorized provider of ferry service to the Statue of Liberty and Ellis Island. Tickets can be purchased online or at the Statue Cruises ticket office inside Castle Clinton at Battery Park and each ticket includes access to both islands. If you purchase an e-Ticket, you can bypass the lines at the ticket booth. Skip the crowds! Departures before 10:00 a.m. and after 2:00 pm are typically less crowded.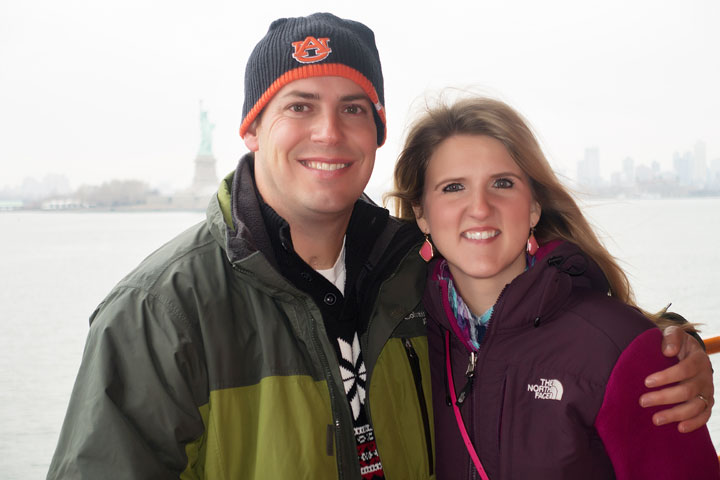 View of the Statue of Liberty from the Staten Island Ferry.
---
The Map
Here's a map of everything we did in NYC in one weekend if you want to plan your own special trip to New York at Christmas. :)
Click here to see the map in a new window, and see a list of everything on the map.
For more of our favorite things to see and do in New York, check out these posts.
P.S. I used my  Sony DSC RX100M III for all these pictures in this post. LOVE IT for traveling!! It's so tiny and light!! It fit right in my small crossbody purse. (You can see how small my purse is in the LOVE sign picture.) Plus it connects automatically to my phone so I could instantly share photos on Facebook or Instagram right as I was taking them.
Thanks so much for looking! Let me know if you have any questions about New York. :)