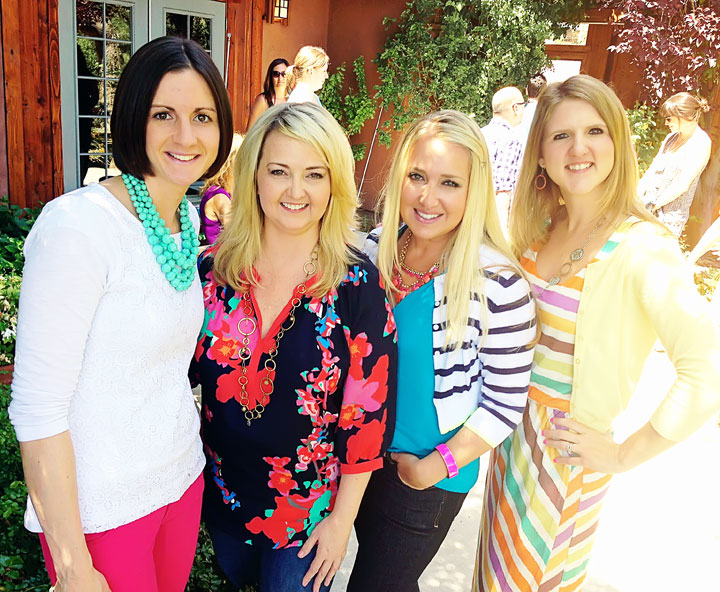 A few weekends ago I attended The Big Traveling Potluck blogging conference in southern California. I really, really love attending blogging events and try to make it to as many as I reasonably can. I love catching up with my sweet blogging friends — it's like seeing everyone I feel like I talk to everyday through their blogs and getting to hug them and hang out with them in person —  and I love that I get to meet new bloggers and new friends, and even after 11 years of blogging, I always learn something new and come away inspired by my fellow bloggers.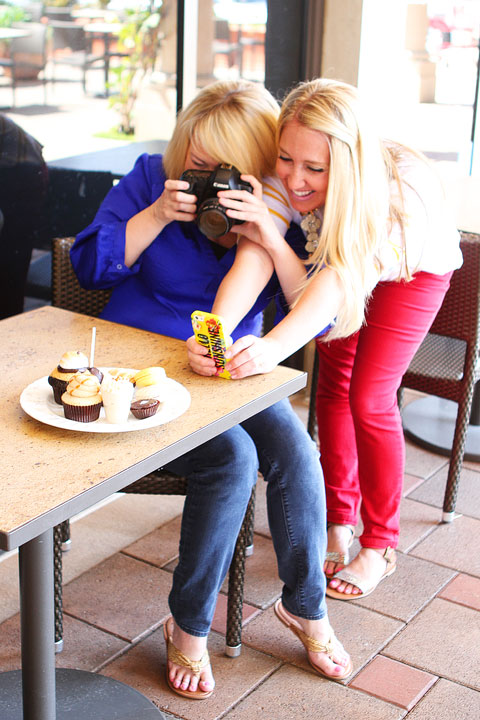 My weekend started with these two cuties Angie @ Bakerella and Jenny @ Picky Palate picking me up from the airport Orange County, California.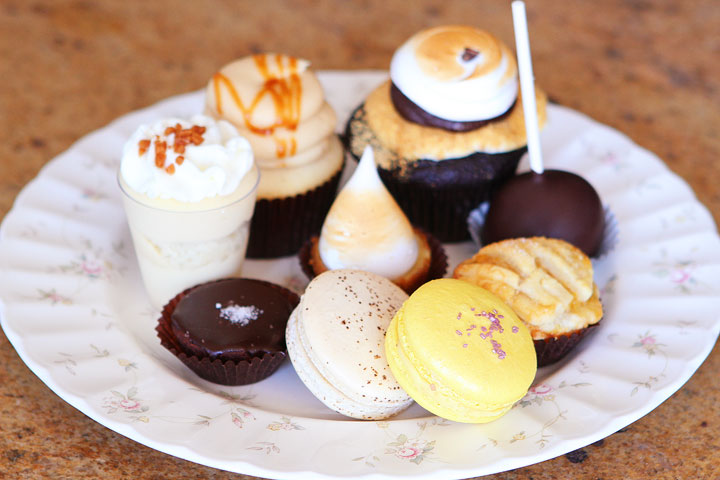 I was immediately informed we had a very ambitious day lined up for us! :) We headed straight for a fun bakery, the Sweet and Saucy Shop in Newport Beach, and ordered this beautiful plate of goodies.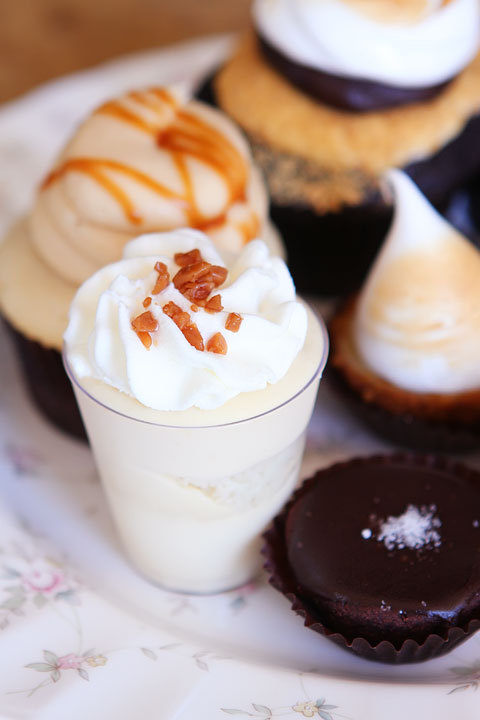 Butterscotch Toffee Pudding. Mmm.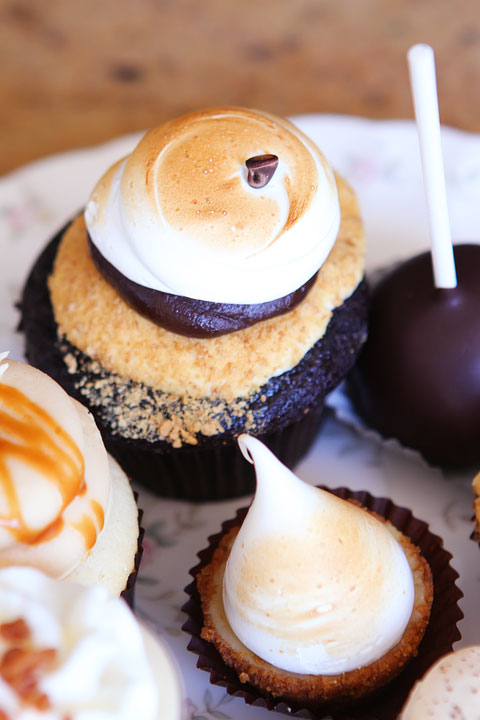 Decadent s'mores cupcake a teeny key lime pie tart. I love that they offer tiny treats so you can sample a few and not feel too full! :)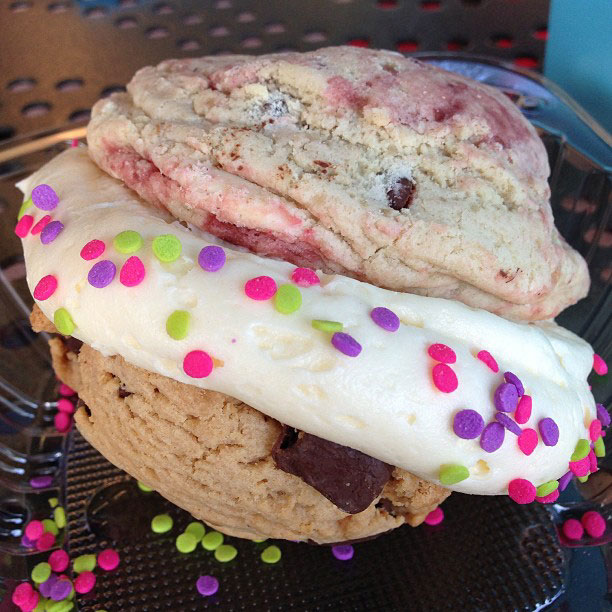 Now for the complete opposite of tiny, lol! :) Next we headed for one of my Newport Beach favorites, Wonderland Bakery. We had to get one of  their massive cookie sandwiches. You can pick any cookie/icing combination and they will make it for you on the spot and even warm up the cookies. We chose a chocolate peanut butter chunk cookie and a raspberry white chocolate cookie with vanilla buttercream frosting. Swoon. If you want to see in perspective just how gigantic this cookie actually is, you must check out Bakerella's recap of our visit! ;)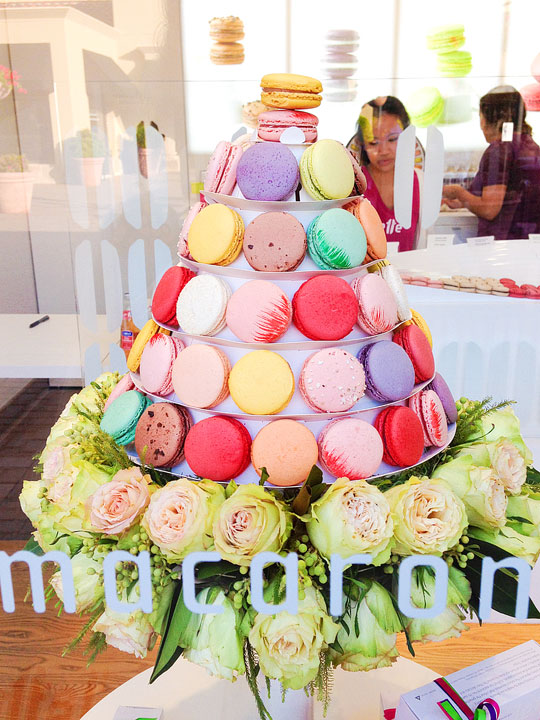 French macarons! Had to stop by 'lette to pick up a few of these to go. ;)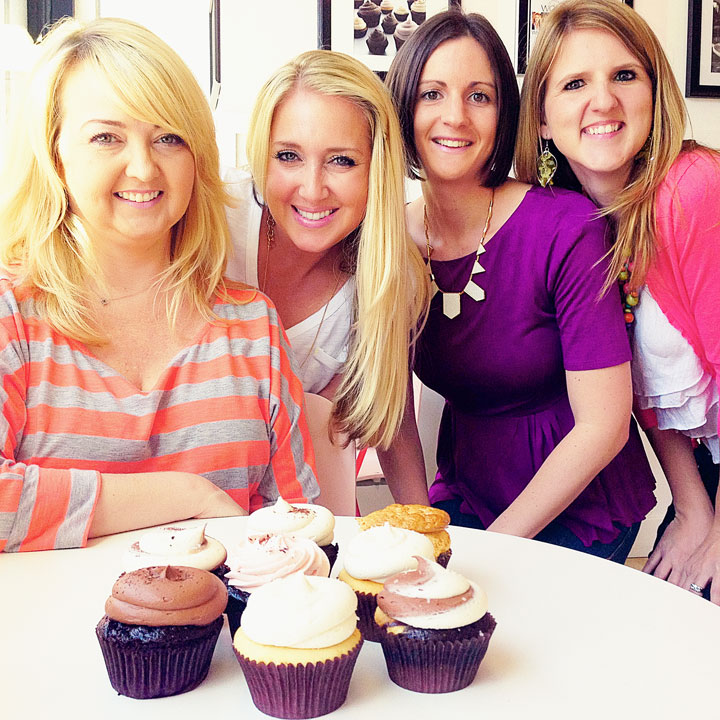 The next day we headed to the conference site in Temecula and met up with the fabulous Maria of Two Peas and Their Pod. As soon as we all got together we decided we wanted go makeup shopping, so we headed for the mall just up the road. And seriously, right across from Sephora and MAC was a cupcake shop called Truly, Madly, Sweetly. How cute is that?? We had to pop in. We were not even remotely hungry, but their cupcakes looked so gorgeous, we had to try a few. ;)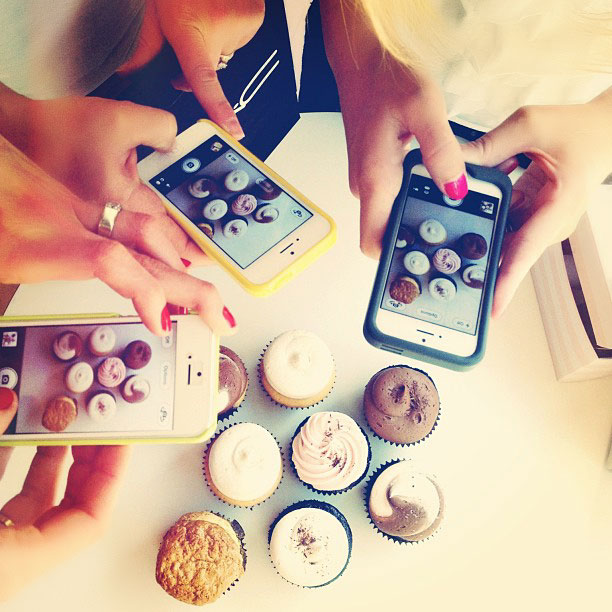 Photo via Bakerella
How fun is this photo Angie caught of us, lol!?? That's me at the top right with the neon pink nails. Totally not staged. Love it! :)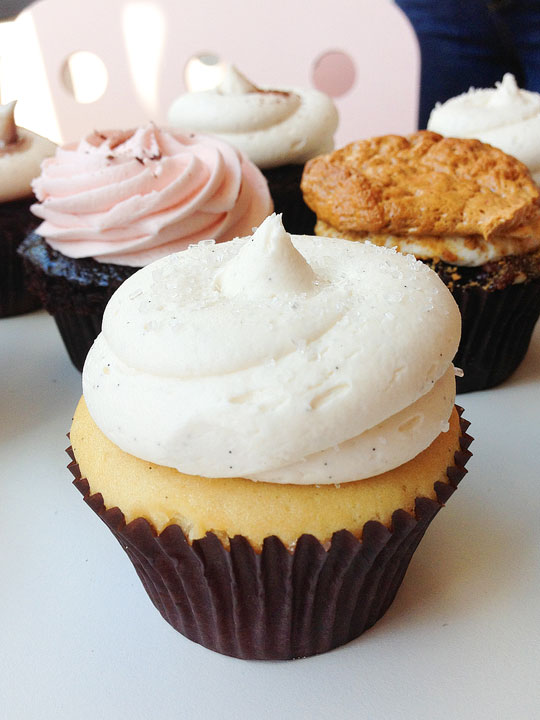 And here's what we were taking photos of… See what I mean?? :) Gorgeous cupcakes. :)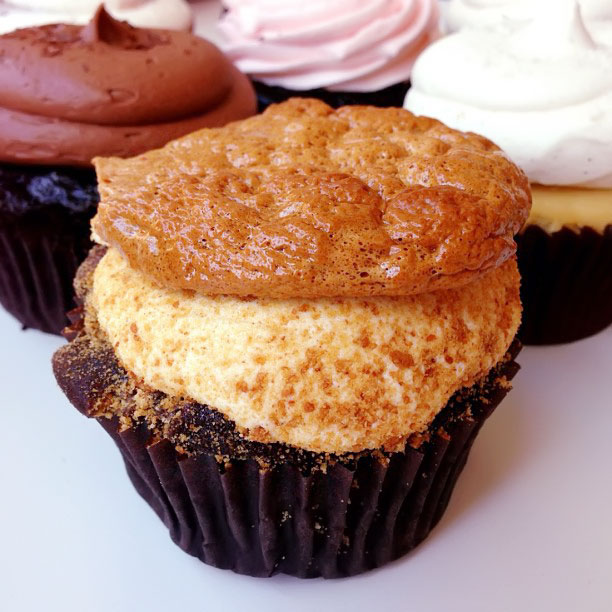 But this one, you guys. Oh my gosh. This one was the real winner. Here we have a S'mores cupcake and it is seriously one of the best cupcakes I've ever had. Let's start with the top and work our way down, shall we? This cupcake is topped with a caramelized toasted marshmallow, so it tastes just like a perfectly golden, toasted marshmallow, but it's caramelized and crunchy like a decadent creme brulee topping. To die. Next comes the fluffy, graham cracker vanilla bean frosting, and it's sitting on top of one of the most luscious devil's food cake cupcakes I've ever tasted. It's like it was fresh out of the oven: warm, gooey, soft, and perfect. Loved it!!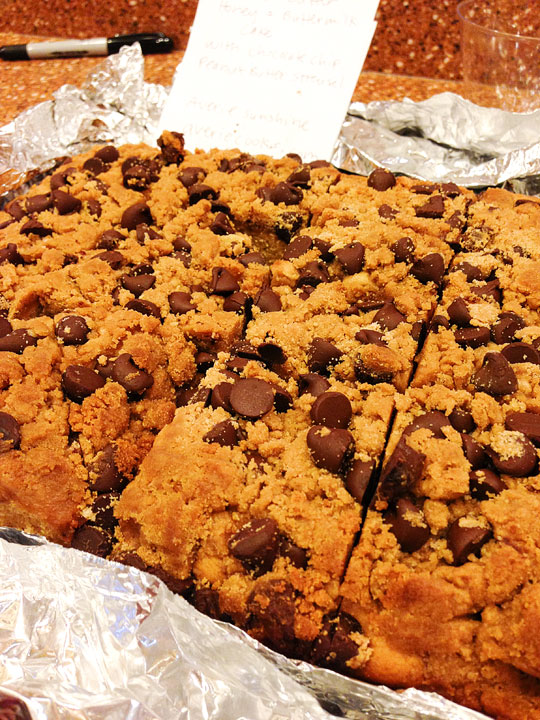 Later that night we had dinner we had our big potluck dinner with everyone at the conference and I got to try one of Averie Cooks homemade treats. This is her Honey & Buttermilk Cake with Chocolate and Peanut Butter Streusel. Yum!!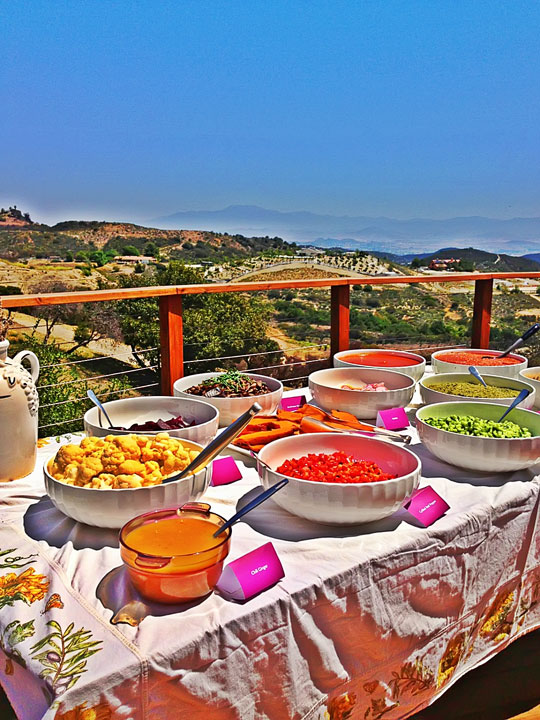 Here's where we got to spend all day at the conference — with this as our view. Did I mention we had a make your own guacamole bar?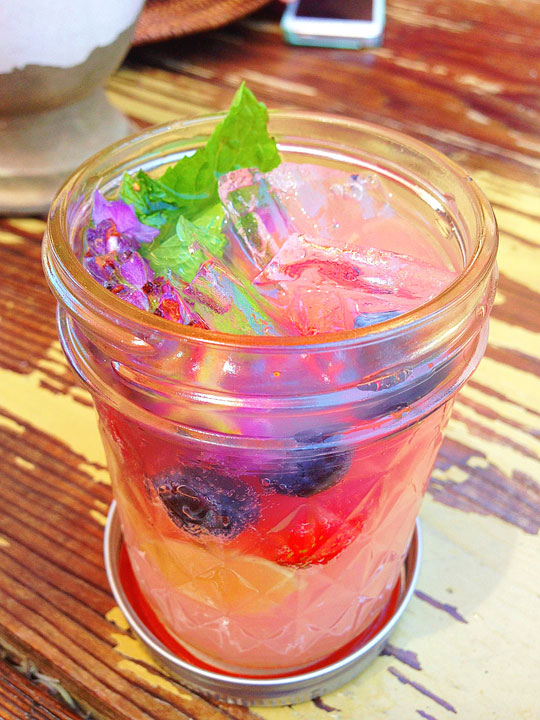 And we always had a generous supply of fruit-infused water readily available. This is totally my kind of conference! Great friends and fabulous food.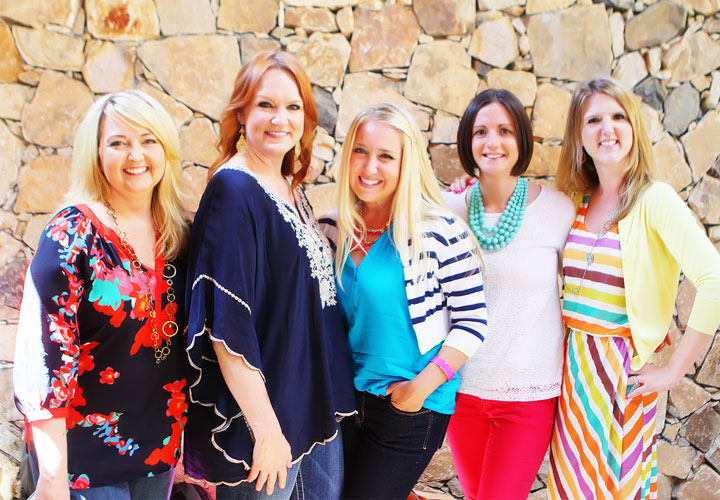 Always fun seeing the beautiful and inspiring Ree, The Pioneer Woman! I loved that this was a smaller conference — I felt like I really got to spend quality time with everyone there.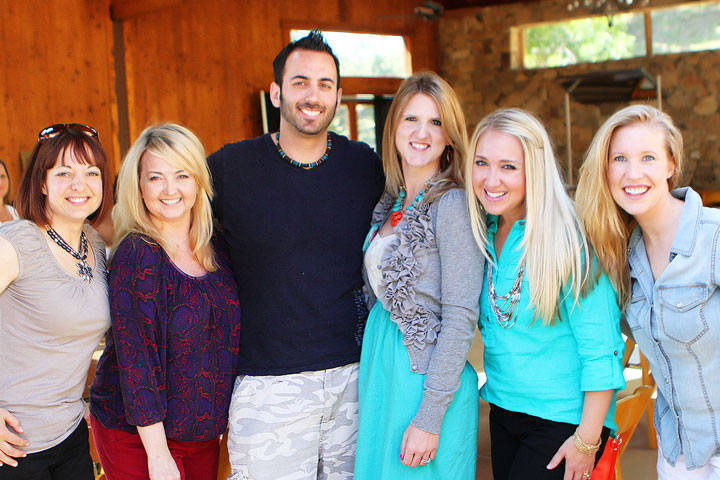 If you've ever wanted to attended a blogging conference, I highly recommend one. They're the best! You don't have to be invited, or be a member of anything, or anything, just do a Google search for "blogging conferences 2013" or "blog conference 2013" and start looking for one near you — or one in a fun city you want to visit! :)
More fun recaps from Big Traveling Potluck 2013 :)
Picky Palate
Two Peas and Their Pod
Bakerella
Reluctant Entertainer
Foodie Crush
Bake Your Day
A Thought for Food