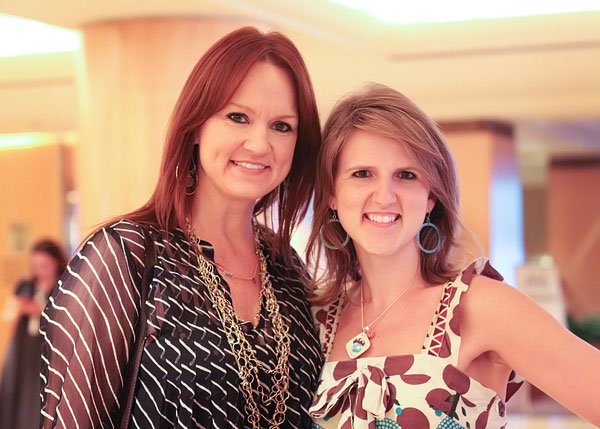 Saturday was an insanely crazy day in NYC! First I met Adam Gertler and won a new cell phone at the BlogHer expo. Next we had some deliciously decadent cookies from Levain Bakery. Then late Saturday afternoon I got a message on my phone saying I'd won a book from the expo. Jenny and I headed back to the Hilton to pick it up. We were standing in the hotel lobby, and you will never guess who walked through the doors…
Ree! The Pioneer Woman!
I had my back turned, and I heard Jenny say hi to someone. Jenny knew everyone at the event, so I wasn't too surprised! :) But when I heard her say Ree my head whipped around so fast you would've thought it was going to pop off!
I was so surprised, I don't think I could even remember my name, much less introduce myself. But Ree hugged us and said "It's like meeting old friends!"
Then she turned to me… I still don't think I had been able to utter an intelligible word out of my gaping mouth at this point… and she said,
"Amanda, your scarf tutorial changed my life!"
*Pick me up off the floor!*
The Pioneer Woman has seen my dorky little scarf tutorial?!! The one I only begrudgingly posted because you guys talked me into it?! She's seen it and recognized me from it, and could immediately place me?? Oh my goodness, I think I just about fainted at that point.
Let me just say, Ree was so, so sweet. And beautiful. And sweet. So glad I got to meet her! She seemed to be in no hurry, she just stood around with us in the lobby, talking, making conversation, and gabbing like girlfriends. She told us about falafel, her Today Show appearance, and going out to dinner with her husband. She joked about wearing Spanx. She asked where we were off to next and we told her Sephora. She said, "Oh, Sephora, I love that place! I wish I could go with you girls!" I just love her. :)
Well, Jenny & Ree talked. I mostly just stood there with my mouth open.
Who knew I was the star-struck type!